As the U.S. federal government crafts new, sweeping legislation to enhance food safety, many food companies are on the lookout for new ways to identify potential contaminants and quality defects in their food sources and finished products. The recent IFT Annual Meeting & Food Expo® in Anaheim offered attendees the opportunity to hear about or examine the latest food testing methods and analytical techniques and services. Following are several noteworthy highlights.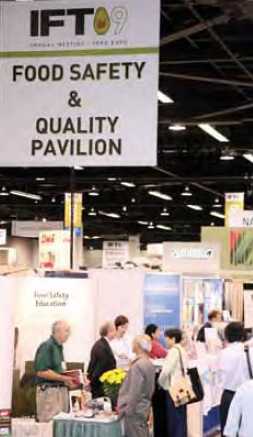 Food Safety
Melamine and cyanuric acid have been verified as the cause of human and pet food contamination, most recently in the adulteration of infant formula and other milk-based products in China. The National Food Lab (www.thenfl.com) has been quick to respond to the food industry's needs. Its skilled scientists have developed some of the lowest detection limits along with the most cost-effective packages to analyze for melamine and analogs. NFL has adopted the FDA method, using GC/MS/MS, with a detection limit of 2.5 ppm for melamine and analogs.
To expand its service offerings, the National Food Lab has recently hired two professionals, who will be integral in leading company growth. Nurliza Buyong, Food Safety Manager, holds a Ph.D. in food science and is leading NFL's Food Safety team. Terry Berman, Commercialization Manager, has a 20-yr proven track record in product and process development, R&D management, and co-packer coordination.
Silliker (www.silliker.com) highlighted its capabilities in the detection of pathogens and food contaminants. Its network of global laboratories employs a wide range of test methodologies, including FDA, USDA, AOAC, and client-specified methods to verify the microbiological safety and quality of products. Testing includes both qualitative and quantitative determination. Employing a wide array of tools and technologies, such as LC-MS/MS, real-time PCR, and HPLC, laboratories provide expert testing for food contaminants. Standard services include physical testing, extraneous matter, and heavy metal (arsenic, cadmium, lead, mercury) analyses. In North America and Europe, Silliker testing centers employ approved methods for the detection of melamine, pesticides, mycotoxins, allergens, and genetically modified organisms (GMOs).
NP Analytical Laboratories (www.npal.com) provides comprehensive chemistry and microbiology testing based on more than 80 years of food testing experience. Complete nutrition label testing packages are available, including state-of-the-art testing for trans fat, dietary fiber, and sugar alcohols. Product and ingredient testing services provide sugar profiles, gelatinized starch, omega-3 and omega-6 fatty acids, fat quality and stability, amino acids, vitamins, minerals, heavy metals, and pesticide residues. A full-service microbiology laboratory offers rapid and reliable pathogen testing, including Salmonella, E. coli, and Listeria. Both microbial stability and microbial pathogen studies can be designed to ensure the safety and quality of your products.
ASI Food Safety (www.asifood.com) assists companies in selecting the most appropriate Global Food Safety Initiative (GFSI) benchmarked standards. ASI can provide audits to the GFSI standards' British Retail Consortium (BRC), International Food Standard (IFS), and Safe Quality Food (SQF). Packaging facilities may benefit from BRC IOP. This standard covers hygiene and product safety. For logistics, ASI recommends BRC and IFS. Processors could benefit from SQF, BRC, and IFS. Another important factor for suppliers to keep in mind is the standard accepted by the customer. Some customers may accept all three or one in particular.
Sensory Services
Compusense (www.compusense.com) previewed its new U.S. operation to be headquartered in Michigan and led by new President Dana Craig-Petsinger. The diversification of Compusense into providing a full range of Sensory and Consumer Research services has led to the need to create a U.S. company, which will focus on the Product Creation Life Cycle. The company's Internet-based Compusense at-hand software can deliver high-value research anywhere. Such a tool needs a first-rate team in the U.S. to offer additional strategic value to its clients.
Alpha MOS (www.alphamos.com) showcased solutions to measure and evaluate sensory (odor, taste) and chemical features in food ingredients, prepared foods, beverages, plastics, and packaging products. At its booth, the company demonstrated its E-Nose and E-Tongue instruments in the beverage industry—specifically applications for wine and fruit juice, E-Nose as sensory quality control tools, sensory quality control and sensory evaluation of peanut products using an E-Nose, and E-Nose and E-Tongue to optimize sensory features during product development.
--- PAGE BREAK ---
Physical and Other Testing
Brookfield Engineering (www.brookfieldengineering.com) celebrated its 75th anniversary by introducing the DV-II+Pro EXTRA viscometer. The instrument features a ball bearing suspension system for added durability during exceptionally heavy use, multiple operators, or dusty work environments; EZ-Lock spindle coupling, which allows technicians to quickly and easily attach/detach; quick-action lab stand to easily move the viscometer up and down; and free Rheocalc software for controlling the instrument from a PC and collecting and analyzing test data, generating multiple plot overlays, and running math models.
C.W. Brabender Instruments (www.cwbrabender.com) introduced the Consistometer Model E—an instrument that can measure viscosity of almost any food material you are looking to investigate. It utilizes high-precision, torque-cell technology to measure the viscosity of Newtonian and non-Newtonian materials. Instrument can be used to evaluate a wide range of materials—fluids, pastes, slurries, and semi-solids with particulates—for the laboratory, production, and quality control. It may be used to characterize the flow behavior of materials and to predict consistency or stability.
Reichert (www.reichert.com) showcased its line of portable and laboratory refractometers for food and beverage applications. Its liquid-filled refractometer adjusts automatically for temperature compensation.
Ocean Optics (www.oceanoptics.com) featured NIRQuest—a low-cost spectrometer for near infrared measurements in a variety of applications. This compact, plug-and-play spectrometer is available in versions for 900–1700 nm, 900–2100 nm, and 900–2500 nm coverage. Instrument has lower noise electronics and a high gain mode option that improves system sensitivity by a factor of 5 for low light-level applications and lowconcentration absorbance measurements.
Moisture Analysis
Decagon (www.decagon.com) highlighted its AquaLab Duo, which measures both moisture content and water activity in a single instrument. Benefits include reduced test times (< 5min), no heating, water activity range 0.10–0.95, moisture content repeatability 0.02%, and accuracy to moisture content reference method 0.1–0.5%. Arizona Instrument (www.azic.com) displayed its new Computrac MAX 4000XL moisture analyzer, which facilitates faster throughput via a forced air cooling system. It also features a temperature ramp rate control option, which allows the user to control the rate at which the instrument heats from idle to test temperature. A Web server option enables test results to be downloaded and test parameters to be uploaded via a local Intranet. Test results can also be captured directly from the instrument using an external flash memory device.
Software
ESHA (www.esha.com) demonstrated its Genesis R&D Product Development and Labeling software, which automates and integrates hundreds of tasks, handling everything from nutrient analysis to complicated moisture and fat adjustments. The database tracks 160 nutrient components for more than 37,000 foods and ingredients. The software features a variety of NLEA label formats. Version 9.3 introduces a user interface with improved functionality and flexibility. In addition to an updated interface, Version 9.3 lets users combine all elements or all reports into a single printout. Furthermore, the company's database team has added many new foods—including the USDA Standard Reference 21—and updated existing foods.
Vicinity Manufacturing (www.vicinitymanufacturing.com) unveiled Vicinity 2.7—a manufacturing software that integrates critical production processes for manufacturers, including recipe and formula  management, inventory control, lot tracking/recall, QC results/testing, production scheduling, compliance, and more. Coupled with the financial and distribution offerings of Microsoft Dynamics, the software package offers a comprehensive ERP system.
Bob Swientek is Editor-in-Chief of Food Technology and Director of Publications at IFT
[email protected]