The fifth edition of The Power of Meat, a joint study by the American Meat Institute and the Food Marketing Institute, finds that the recession is continuing to impact food purchasing and consumption behavior, including the meat department. The report, which details the findings of a national online poll of 1,174 consumers conducted in November 2009, seems to present a pretty clear view of today's climate in the marketplace.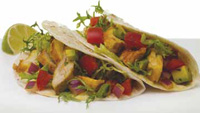 The report noted that while meat consumption measured in tonnage was up significantly in 2009, the dollars are lagging behind as shoppers opt for cheaper cuts and do more shopping around for the best deal in price. Others are finding ways to stretch their meat dollar by cooking casseroles and pasta dishes as well as meatless dishes. Sixty-two percent of the shoppers who saw a significant drop in household income altered their meat shopping—more customers, for example, are cooking at home versus eating out, leading to an increase in meat purchases at supermarkets and other retail outlets.
Despite the economic factors, health and well-being are still highly valued in today's society, and food plays a major role, the report indicated. As part of the shoppers' healthy-eating strategies, they are the most likely to cut back on meat/poultry portion sizes or second helpings, followed by selecting low-sodium processed meats and eating fish or seafood more regularly. Some shoppers are cutting back on their meat intake both from a savings point of view and as a strategy to improve their diets. In terms of ingredients, shoppers' focus is back to fat, sodium, and calories.
Meat industry scientists and technical experts discussed this economic reality and the impact it has had on technical development at the Meat Industry Research Conference, which was held in conjunction with the AMI International Meat, Poultry & Seafood Industry Conference and Exposition (part of 2009 Worldwide Food Expo). In particular, speakers looked at global consumer behavior and the role of technical developments for a sustainable food industry. They also identified opportunities to enhance product value, focusing on ways to improve the value of fresh meat and utilize new ingredients and formulation techniques to improve the bottom line. The conference also emphasized that, regardless of the state of the economy, food safety remains a constant of the meat industry, and as such, innovations and issues related to food safety were specifically highlighted in the program.
From a research and development standpoint, a variety of prototypes were featured at the 2010 Research Chefs Association's Annual Conference & Culinology® Expo. This event brought 1,200 professionals to learn more about newest developments that reflect the blending of culinary arts and food science. Many of these ingredient developments have particular application in the formulating of meat and poultry products. For example, Bell Flavors & Fragrances Co., Northbrook, Ill. (phone 847-291-8300, www.bellff.com), featured reduced-sodium Peruvian Braised Short Ribs nestled on a bed of Aji Amarillo Whipped Potatoes topped with a Cilantro Lime Curtido and garnished with Fresh Garlic Plantain Chips, as a way of demonstrating a number of its flavors. Grande Custom Ingredients Group, Lomiria, Wis. (phone 920-269-7188, www.grandecig.com), used its whey protein ingredients to add texture, flavor, and nutritional properties in Beer Cheese Soup with Smoked Sausage. And TIC Gums, White Marsh, Md. (phone 410- 273-7300, www.ticgums.com), incorporated a gum system, Ticaloid® LC SR5, in its weet Corn & Bacon Pancakes.
Meat formulators today have to address a number of critical issues such as sodium reduction, fat replacement, fortification, and food safety, to name just a few. And they have to do all of this in a difficult economy. To find solutions, formulators turn to such ingredients as salt alternatives, fat replacers, proteins, antioxidants, antimicrobials, flavors and seasonings, and many others. The ingredients they choose must not compromise the taste, texture, appearance, and functionality attributes of the finished product, and may even have to improve or enhance the product's existing taste or quality to remain viable in the marketplace. As a case in point, consider the development of a marinade or sauce that can help give less expensive cuts of meat the same eating quality as more expensive cuts. None of these tasks are necessarily easily and their importance is only heightened by the pressures of the current economy.
This article will look at a number of available ingredient solutions that can help formulators overcome these challenges. Many of these systems are promoted as helping to reduce costs—an important consideration as food manufacturers search for ways to offset climbing ingredient and energy costs.
--- PAGE BREAK ---
Developing More Authentic Meat Flavors
Flavor companies are adopting increasingly sophisticated approaches in the development of authentic meat and poultry flavors. The resulting flavor profiles frequently meet specific taste preferences from different regions of the world. Here is a quick look at what a few flavor companies are doing.
• A new range of authentic, natural beef flavors based on culinary benchmarks have been created by International Flavors & Fragrances Inc., New York, N.Y. (phone 212-765-5500, www.iff.com), using an approach that led to a successful line of natural chicken flavors in 2008. This approach was shaped by the company's CulinEssence™ program—a combination of cutting-edge flavor technologies and global culinary arts.
According to Chef Florian Webhofer, IFF went to great lengths to ensure that it created the truest benchmarks of the best-loved beef profiles. "While we could have used more gourmet cuts of beef prepared in exotic ways such as sous-vide, we would have missed those crucial authentic and familiar notes that consumers crave," said the chef.
While the new beef flavor introductions are global in scope, the flavor profiles have been localized to the taste preferences in different regions. "In Europe, the flavor profiles include Rare, Marrow Bone, Boiled, Roast, Grilled, and Stewed Beef," explained Jos Muilwijk, the company's Global Category Director. North America, on the other hand, may not have the same taste preferences. "Our research showed that North American consumers liked the comforting, nostalgic, home-cooked qualities associated with grilled, roasted, and braised flavor profiles, so these form the basis of our offerings for the region," noted Teresa Supnet-Rosa, North American Category Marketing Director. She added that the flavors are based on traditional preparation and cooking methods.
The new range of beef flavors is suitable for use in bouillon, soups, gravies, marinades, and noodles. At a media event held in July 2009, IFF showcased its beef flavors in a number of food applications, including Braised Beef Cheese Steak, Grilled New York Strip Steak with Corn Flan and Aged Balsamic Vinegar, and Beef Carpaccio with Baby Argula and Chimichurri Sauce.
• Advancements in a chicken taste program, TasteEssentials™, were recently unveiled by Switzerland-based Givaudan Flavors (phone +41 22 780 9111, www.givaudan.com), to help develop products in tougher market conditions. The new ingredients are said to add greater authenticity to the chicken flavor profile, capturing, in particular, specific nuances, and may be used in such formulations as chicken soups, bouillons, burgers, and nuggets. The authentic, richer, chicken flavors can also provide low-sodium solutions. The company's ongoing ingredient development activities are guided by its consumer insights program supported by sensory capabilities. A special flavor language has been created to aid creation teams and help customers identify which flavor combinations are likely to succeed locally.
• Authentic chicken flavor can be provided by a new range of yeast-based products, Maxavor Chicken YE, from The Netherlands-based DSM Food Specialties (phone +31 (15) 279 3474, www.dsm.com). The ingredient, which can be simply labeled "yeast extract," may be used in savory applications such as soups, sauces, dressings, seasoning mixes, and noodles. According to the manufacturer, it can deliver a high impact, authentic flavor, generate mouthfeel and aroma, and present labeling benefits. The ingredient, available in different flavor profiles, was nominated in the best savory/meat innovation category at the Fi Europe awards.
• A marinade has been developed by Symrise, Teterboro, N.J. (phone 201-288-3200, www.symrise.com), that can improve the flavor and tenderness attributes of meat products. According to James Lamkey, Applications Manager for the company's Technical and Culinary Center for Protein Foods, the marinade can give less expensive cuts of meat the same eating qualities as more expensive cuts. The ingredient may be listed as a natural flavor.
• Four new flavor-enhancing ingredients for use in soups, sauces, and gravies were developed under the name Savory Booster™ by Hormel Foods Corp., Austin, Minn. (phone 908-236-7009, www.hormelingredients.com). The products in this line include Turkey Booster (#20901), Chicken Booster (#20908), Pork Booster (#20919), and Beef Booster (#20911). All are designated as natural and are available in dried form and in 50-lb boxes.
• A savory blend of beef extract and select flavorings is the newest product addition from International Dehydrated Foods Inc., Springfield, Mo. (phone 417-881-7820, www.idf.com). Powdered Beef Broth #5432 is said to have a beefy, meaty flavor, bringing richness and savory meat notes to a variety of foods. It is described as less expensive than pure beef extract and is easier to handle than pure beef extract. In some instances, it can be used to replace or reduce the amount of beef extract used in the formulation.
--- PAGE BREAK ---
Salt Reduction in Meat
Researchers and product developers have been trying to reduce sodium in processed meats with some difficulty. Sodium contributes to the flavor of processed meats but also adds functionality to meat systems. Salt has functional benefits which include preservation, emulsification, tenderness, and juiciness.
Nu-Tek Products LLC, Minnetonka, Minn. (phone 952-936-3603, www.nu-tekproducts.com), has developed a technology to chemically modify potassium chloride to make it taste more like sodium chloride. According to the company, the modified potassium chloride enhances water-holding capacity and improves yield similar to or better than sodium chloride in meat systems. The reaction during processing of the potassium chloride in this proprietary process enhances the functionality of the potassium chloride, thus aiding the yields in the meat system. The ingredient was evaluated in ground beef systems.
A new solution for salt reduction in meat was introduced by Brussels-based Galactic at the Food Ingredients Europe 2009. "The formulation of our Promeate Plus allows you to reduce the amount of salt in a frankfurter sausage by 40% without impacting the taste, texture, color, and shelf life," said Ruud Peerbooms, Sales and Marketing Director at Galactic. The ingredient is suitable for use in both cured and non-cured meat products, and is said to help ascorbic action to maintain the redness of the meat.
A new low-sodium phosphate blend, Curavis So-Lo 93 from Innophos Inc., Cranbury, N.J. (phone 866-631-7394, www.innophos.com), is said to enhance processed meat and poultry without compromising taste. The company reports that the ingredient offers 93% less sodium than standard sodium phosphates, has excellent binding qualities, and its pH is formulated for optimum taste and appearance.
A sodium reduction system, Grindsted® SaltPro™, was recently launched by Danisco USA Inc., New Century, Kan. (phone 913-754-8100, www.danisco.com), a Danish global ingredient supplier with North American headquarters. The ingredient is said to retain the characteristics of a full-salt product, leading to similar mouthfeel, texture, and palatability, while reducing sodium up to 50%. Tom Rourke, the company's Senior Business Development Manager, notes that it has "great potential" in meat and poultry products because it can involve a simple one-to-one replacement for normal salt. For example, it may be used in ham, bacon, corned beef, pastrami, and other products that consumers associate with high sodium content.
As part of its TasteSolutions™ program, Givaudan has developed an extensive portfolio of building blocks and ingredients to help its flavorists enhance salt perception in low-sodium applications. Rather than trying to replace salt, the company looks first to understand its taste functionality in the customer's application and then a flavor is created which builds back those important taste aspects of the salt curve needed to drive consumer preference when sodium levels are reduced. This approach, which involves a thorough understanding of flavor and food matrice interactions as well as sensory validation, has enabled flavorists to develop solutions in areas such as meat products, soups, and savory sauces.
At the 2009 Annual Meat Conference, Wixon Inc., St. Francis, Wis. (phone 800-841-5304, www.wixon.com), served samples of its Reduced-Sodium Turducken Sliced Luncheon Meat, made with the company's sodium alternative, KCLean Salt™. The ingredient—a combination of potassium chloride, sodium chloride, and a flavor blend—enables this featured application to have half the sodium of regular table salt while delivering a salty taste. The flavor blend contained in the formulation eliminates the typical bitter metallic flavor or aftertaste usually associated with potassium chloride, giving the product its distinctive table-salt flavor.
--- PAGE BREAK ---
Oat-Based Blend Promotes Moisture and Flavor Retention
An oat-derived flavor modifier from Wixon extends the shelf life of meat and poultry products while promoting moisture and flavor retention. The all-natural proprietary blend, marketed under the name Wix-Fresh™ OatMax, reportedly adds the benefits of fiber, enhances the overall savory notes of protein, and reduces the warmed-over flavor often found in pre-cooked meats.
According to Ron Ratz, the company's Director of Protein Development, the ingredient increases mouthfeel and moisture retention up to 15 times that of its inclusion rate (up to 1.5%), allowing for greater yields in a variety of meat applications. The flavor modifier provides a natural, neutral taste and offers an even distribution within the blend, while inhibiting oxidation to give seasoning and flavor systems a longer shelf life. "An alternative to other meat extenders such as soy or starch, this flavor modifier intensifies inherent savory notes without adding any visual distractions or off flavors that could negatively impact product taste," noted Ratz.
The ingredient can be used in applications that include fresh, frozen, pre-cooked, and further-processed meats. It is said to be highly effective in conjunction with ground and emulsified meats, minimally affecting pH. At the recent Annual Meet Conference, held on March 7-9 in Orlando, Wixon demonstrated the use of the ingredient in Buffalo Turkey Sliders.
The Wix-Fresh technologies were developed by the Protein Group Division in Wixon's Meat and Poultry Pilot Plant. The group—staffed by meat scientists, flavor chemist, food technologists, and analytical and quality experts—offers its protein expertise for both retail and foodservice, and can help in the areas of ideation, research and development, flavor mapping, and the formulation of product prototypes. expertise for both retail and foodservice, and can help in the areas of ideation, research and development, flavor mapping, and the formulation of product prototypes.
The protein division has the ability to assist its customers with methods and techniques on how to chop meat formulations for maximum benefit; extract higher percentages of available protein for better bite and yield; control temperature during emulsifying; add salt, phosphate, sodium erythorbate, and spices for maximum benefit; and produce two- and three-part base and coarse emulsions.
Culture Provides Solution to Oxidation
A new meat culture—Bactoferm® Rubis—earned its developer, Denmark-based Chr. Hansen A/S (phone +45 45 74 74 74, www.chr-hansen.com), the Savoury/Meat "Innovation of the Year" award at FI Europe 2009. The winning development reportedly solves the problem of oxidation in pre-packaged meats, preserving the product's appearance during shelf life without changing the flavor.
Removal of residual amounts of oxygen can have a major impact on the appearance and shelf life of vacuum or modified atmosphere packed slice meat products, explained John Jensen, the company's Marketing Director for Meat Cultures. If not reduced or eliminated, trace amounts of oxygen can affect the color stability of meat products, giving them an undesirable pale, grayish look.
"The new culture simply consumes oxygen as part of its natural metabolism without otherwise affecting the sensoric quality," Jensen said. He emphasized that "with this culture, meat producers can add value to their product by the use of a natural ingredient which eliminates the need for antioxidants or synthetic oxygen scavengers." It also offers easy application for the producer with no change in the processing layout.
In today's food market, attractive appearance is extremely important in the consumer's decision to purchase a food product, Jensen noted. In the market for pre-packaged sliced meat products, this is even more so. Often the meat product is partly or fully visible to underline the freshness and appeal of the product, and the new culture caters to that need.
--- PAGE BREAK ---
Fermented Ingredients Control Listeria 
A new range of natural fermented ingredients from Purac America, Inc., Lincolnshire, Ill. (phone 847-634-6330, www.purac.com), can extend shelf life and control food safety in meat products. These ingredients, marketed under the name PuraQ™, are derived from various food cultures and can reportedly provide consumers with a cleaner label.
PuraQ Verdad NV 55, listed as cultured sugar and vinegar on the finished product label, is said to be the most effective antimicrobial against Listeria monocytogenes in the company's product portfolio, making it highly effective in both cured and uncured meat and poultry products. Research demonstrated that the ingredient enabled processors to achieve Listeria control for more than 90 days in uncured turkey products.
PuraQ Verdad NV15, listed as cultured corn sugar and vinegar on the finished product label, is best suited to inhibit Listeria monocytogenes growth in cured products. In an external study carried out by PHD technologies, the ingredient controlled Listeria for 120 days in cured frankfurter sausages.
According to the company, the neutral pH of both ingredients makes them suitable for ready-to-eat meat and poultry products, including hot dogs, turkey breast, smoked ham, roast beef, and other products. An addition level of 2.0% to 4.5% (w/w) is recommended for the ingredients, depending on the application.
Also available is PuraQ Verdad NV10, a cultured corn sugar for extending shelf life of fresh, enhanced meat and poultry products, as well as fresh sausages. Research was completed on enhanced beef containing the ingredient to determine its effect on shelf life. Studies showed that an addition of 3% reportedly extended microbial shelf life to 15 days as well as increasing color stability. Research also found that addition of the ingredient extended microbial shelf life in fresh pork sausages by 40% to 60%.
Binding Agreements
At the 2009 Worldwide Food Expo, the California Dried Plum Board, Sacramento, Calif. (phone 800-729-5992, www.californiadriedplums.org), demonstrated how dried plums can provide such functionality benefits as moisture binding in chicken tenders, Cajun lifter steaks, and Asian pork loin steaks. Also, in an onstage presentation (part of the Cooking Pavilion Booth), chefs prepared Asian pork loin and BBQ Korean beef, both marinated with dried plum ingredients, to show how the use of dried plums can enhance the taste and texture of underutilized meat cuts and lesser grades. Because of their ability to retain moisture and extend shelf life, dried plums may be used to replace phosphates.
A natural meat binder, LuraLean® M, can lower processing costs by holding moisture better and creating a heat-stable gel specifically designed for a variety of meats, including sliced meat, ground meat, poultry, sausage, beef, and pork. This ingredient from AHD International, Atlanta, Ga. (phone 404-233-4022, www.ahdintl.com), is a new grade of LuraLean, a plant fiber from Japan that absorbs up to 200 times its weight in water, helping meat hold juice better and providing increased yield. According to John Alkire, president of the company, the heat-stable gel created by the new grade can produce meat products with special qualities. "The heat-stable gel will give sliced meat an increased yield; packaged meat will have less drip and cookout; and cooked meats will hold their juices, making them more flavorful even when going from the freezer to the table," said Alkire. The meat binder is said to be zero calorie, tasteless, odorless, and colorless.
A line of non-allergen meat and poultry binders is available from BindMax Proteins, New Berlin, Wis. (877-543-2463, www.bindmax.com). The non-allergen versions have high water-binding capacity and their formulas are made from various combinations of ingredients including fermented corn syrup, mustard, cane sugar, and potato starch. Each qualifies as USDA natural except corn syrup and can be used to replace milk, soy, and sodium phosphate in meat or poultry. These binders can be injected into hams, roast beef, turkey breast, chicken filets, and more, and can be used in ground or emulsified products such as wieners, bologna, salami, beef patties, chicken patties, and nuggets.
An ingredient system, Actobind, works by stabilizing internal moisture. This system, developed by Advanced Food Systems, Somerset, N.J. (phone 732-873-6776, www.afsnj.com), can be used for injection, tumbling, or other processes in end products ranging from raw marinated to fully cooked to retorted products. According to the company, the system can partially or completely replace sodium phosphate while reducing cost. It may be customized to meet specific processing and product requirements. Other specialized ingredient systems from the company include ActoGlaze, which stabilizes surface moisture, reducing or eliminating texture degradation and freezer burn, and Actoloid, which prevents breakdown of emulsions due to the effects of ice crystallization in frozen foods.
--- PAGE BREAK ---
A Frankfurter in Frankfurt
To put it quite frankly, the showcasing of a better-for-you, cost-effective frankfurter sausage at FI Europe 2009 seemed especially applicable this year considering the location of the event—Frankfurt, Germany. The tasty prototype was developed by Cargill, Minneapolis, Minn. (phone 952-742-7575, www.cargill.com), using a combination of ingredients from its extensive portfolio of texturizing solutions.
According to the company, functional systems are gaining widespread appeal among the meat industry in meeting the challenge of cost-competitive reformulation. A major advantage of reformulating with a functional system is that it can help to reduce both development and processing overheads for manufacturers who are looking for creative solutions that will work under actual conditions.
The featured prototype was made with chicken thigh meat and a vegetable-derived fat replacer that functioned as an alternative to the pork fat typically used in emulsified sausages. The fat replacer consisted of sunflower oil, water, and Adrogel™ SFR 201—a system based on a jellifying alginate and soy flour that is available in a powdered form. This system has been developed to obtain a restructured fat by mixing it with water and vegetable oil and working it into an emulsion. The vegetal restructured fat reportedly has a consistency that makes it a suitable animal fat substitute in emulsified meat products. It can be used immediately in blended meat products such as frankfurters, or chilled overnight to form a white substance for use in product such as salamis where visible pieces of white fat are required.
A native potato starch (C*Gel 3002) functions as an economic thickener in the formula. It has a neutral taste and provides a long cohesive gel texture while retaining moisture.
A blend of citrus pulp fibers and a gelling carrageenan (CitriTex™ REM 310) contributes emulsifying, absorbent, and jellifying properties to the frankfurter. The interaction between the different ingredients provides mass stabilization while cooking, avoiding fat and gelatin separation in the meat product while improving texture.
A composition of food phosphates (Fosfosal™ PC) is used to prepare brines for absorption or injection in cooked meats. It obtains a low viscosity and easy solubilization in the brine and maximizes the juices hold when cooked.
A salt alternative (Unimix™ Salt .02) was also used in the formulation. The organoleptic characteristics and functional properties of the product obtained with this ingredient are said to be very similar to those produced with salt, but the sodium content is greatly reduced.
These ingredients can help deliver functionality and a desired sensory experience while reducing costs.
What's on the Horizon?
As can be seen, meat formulators have to consider a number of issues—regardless of the economy and even more likely fueled by the economy. This article has tried to provide a number of solutions that may help address some of the challenges that formulators are facing. But what's up ahead? Researchers continue to look for new ways to ensure that meat products are safe from pathogens or to boost their health profiles.
For example, University of Missouri food scientists have come up with a new two-step method that can distinguish between dead and living E. coli cells. As reported in the Journal of Applied Microbiology, the researchers employ a technique called a real-time polymerase chain reaction (PCR)—a quick, reliable method for detecting and identifying pathogens in food. PCR, however, cannot differentiate viable from dead microbial cells. The presence of dead pathogenic cells may result in false-positive findings which could lead to unnecessary product recalls, noted Azlin Mustapha, Associate Professor of Food Science in the MU College of Agriculture, Food, and Natural Resources. To prevent this, Azlin and colleagues stained samples with a dye called ethidium bromide monoazide. EMA cannot penetrate live cells, but it can enter dead cells, where it binds to DNA molecules, making them insoluble and therefore invisible to PCR tests. The researchers have successfully tested the technique on ground beef. Testing takes about 12 hours, as opposed to older methods, which require up to two days for results.
--- PAGE BREAK ---
A study published recently in Food Chemistry shows that marinating beef in green-tea-containing products may reduce the levels of potentially cancer-promoting compounds. Researchers from Portugal examined the effect of a green tea marinade on the formation of heterocyclic aromatic amines (HAs) in pan-fried beef cooked at 180-200°C for 4 min each side. Compared with the unmarinated samples, marinating in green tea reduced levels of heterocyclic amines by up to 75% after marinating for 6 hr. Descriptive sensory analysis revealed no significant differences between control samples and tea-marinated samples for all the attributes evaluated.
At FI Europe 2009, Kemin launched NaturFort, a combination of rosemary and green tea that retains maximum flavor and color of meat. According to the company, the combination curbs lipid oxidation in fresh meat and preserves the red color of the meat better than rosemary or green tea alone. Because of its low flavor profile, it may be used at higher rates and will not affect the taste of the finished product.
A recent study by the Faculty of Food Technology and Biotechnology at the University of Zagreb concluded that a small addition of sugar beet fiber (Fibrex® from Denmark-based Nordic Sugar) to a coating mixture gave a decreased oil uptake to deep fried chicken meat. At the same time, the water loss from the fried meat was reduced with improved texture resulting. The study was highlighted by Nordic Sugar at FI Europe 2009.
The essential oils in orange peel and pulp kill E. coli O157:H7 and Salmonella according to research presented at the 2010 Beef Industry Safety Summit. This ongoing study is looking at these natural byproducts, created by making juice, as a potential feed ingredient for cattle.
An interesting packaging development may also hold potential in the marketplace. The Flexible Packaging Association presented the Highest Achievement Award to Sealed Air's Cryovac® brand for its Marinade on Demand™ package. The development combines marinade and fresh meat or poultry in a single package, where they remain in separate pockets until the end-user is ready to marinate and cook. Keeping the marinade separate from the meat allows the use of functional marinade ingredients such as acids, alcohols, and tenderizers that cannot be used in pre-marinated meats because they can affect product texture and flavor over time.
And for those interested in getting a glimpse of some of the future directions that meat concepts may be taking, hopefully you've checked out the sidebar on page 50. I have only two words for you. "Meatloaf cupcakes." Enough said.
Next month's Ingredients section will look at how formulators can make foods and beverages better for children (and adults) using a strategy sometimes referred to as "stealth health." This approach slips such ingredients as whole grains, salt alternatives, fruits and vegetables, soy products, and fiber into a formulation, but it does so with little fanfare—an interesting departure from the marketing norm. Ideally, the consumer will not notice any difference between the better-for-you product and the original version.  
---
New Concepts Get to the Meat
Thinking outside the pork chop can create a variety of new opportunities for the meat formulator, especially one that is stressed by the current economic climate. Here are seven possible concepts, ranging from a "meatloaf cupcake" to "chocolate-covered bacon," that can suggest some interesting directions in terms of flavor, format, and nutrition.
--- PAGE BREAK ---
1. "Meatloaf cupcakes," a prototype developed by David Michael & Co., Philadelphia, Pa. (phone 215-632-3100, www.dmflavors.com), can be eaten as appetizers, snacks, or even meals. Inspired by two trends—the resurgence of comfort foods and a growing emphasis on smaller portiom sizes or minifoods—this creative product would be ideal for the freezer case, as it is pre-cooked for a quick and easy heat-and-eat item. A filet mignon flavor was used in the beef-pork-veal blend for some gourmet flair and the product itself is topped with flavored whipped potato icing. (Flavors, such as sweet potato, can also be added to the icing.) At the company's 2009 Innovation Roadshow, the concept was highlighted in two versions—Italian Herb Flavored Meatloaf Cupcake with Butter Parmesan Flavored Potato Frosting and Caramelized Onion Flavored Meatloaf Cupcake with Brown Sugar Cinnamon Sweet Potato Flavored Frosting—and (although I usually don't make endorsements) I found both to be dangerously addictive.
2. "Perky Jerky" is the name of a caffeinated beef jerky product recently introduced into the marketplace. Developed by the Performance Enhancing Meat Snacks Company in Denver, Colo., this beef jerky contains 100% all natural beef flavored with a guarana extract. Guarana, a plant native to Brazil, bears a fruit similar to the coffee bean and delivers the natural caffeine that makes this product so distinctive (marketers call it the world's first energy jerky). The low-carb meat snack is said to provide 150 mg of caffeine per two-ounce bag, which is slightly less than the amount found in two standard energy drinks. So you see, you may feel a little "jerky" after eating this jerky and you may not necessarily want to eat more than one bag at a time. (Half a bag may even be better, just my opinion.) Guarana, by the way, has GRAS status and its addition does not affect the taste of beef jerky and may even make the meat more tender.
3. "Pig in a chocolate" might be a more apt term for this next product. As discussed in the March 2009 Ingredients section, chocolate and bacon are becoming an increasingly popular pair. The concept of strips of bacon covered in chocolate may have originated at events such as country fairs and festivals. However, this twosome may be gradually finding its way into the mainstream. One confectionery bar, Vosges Mo's Bacon Bar, contains applewood smoked bacon bits in the chocolate to create an exotic taste. Savory possibilities, such as sauces, that combine chocolate with other meats are certainly not unthinkable. How about a chocolate-covered Perky Jerky bar?
4. "Breakfast empanada," a prototype highlighted by Wixon Inc., St. Francis, Wis. (phone 414-769-3000, www.wixon.com), at the 2009 Worldwide Food Expo, demonstrated some of the novel directions that future breakfast foods may be taking. The item consisted of chimichurri-seasoned scrambled eggs, chicken chorizo sausage (25% reduced sodium), and black bean mole. Encased in a fluffy pastry crust, it was served with a Fiesta Southwest Goji Berry dipping sauce.
5. "Meat and Potatoes" describes the next idea pretty well, I think. Cargill (Witchita, Kan.) and H.J. Heinz Co. recently formed a promotional partnership that pairs Cargill ground beef and Ore-Ida frozen potato products. The "Back to Basics" program, which ran from Feb. 15 to April 5, 2010, was featured at more than 1,800 retail grocery locations across the country. It included healthful recipes for meals such as Shepherd's Pie, Beefy Mushroom Stew, Cheesy Sloppy Joes, and Cowboy Meatloaf & Potato Casserole. "Sales of both ground beef and frozen potatoes are up, so this collaboration makes sense in that it highlights affordable, easy-to-prepare recipes incorporating both products," said Elizabeth Gutschenritter, Cargill's Brand Manager. With nearly 70% of the population consuming ground beef an average of 2.3 times every two weeks, according to the National Cattlemen's Beef Association, the fresh meat case, and specifically, ground beef, make a powerful partner for complementary products, she noted.
6. "Rice Bowls" are growing in popularity in many segments of the foodservice industry. In the K-12 segment, for example, they are an ideal way to promote healthful eating habits, allowing students to "customize" their meals and for schools to easily incorporate the latest culinary trends. The USA Rice Federation, Arlington, Va. (phone 703-236-2300) sponsors the "Healthy Rice Bowls Contest" so school foodservice directors from across the country can share their ideas and success stories for serving healthy meals for school lunch. This year, the San Diego Unified School District earned the grand prize for its rice bowl entry, which included Sweet and Sour Shrimp, Teriyaki Chicken with Asian Vegetables, Beef with Broccoli, and Fajita Chicken.
7. "Turmeric-Spiced Chicken" can give traditional grilled chicken products an ethnic twist for a memorable experience. The dish, served with tomato-avocado salsa, was described in the McCormick Flavor Forecast 2010, released by McCormick & Co., Hunt Valley, Md. (phone 410-527-8753, www.mccormick.com). Turmeric, best known for its leading role in yellow curry powder and Indian cuisines, can team up with vine-ripened tomatoes to accent their subtle sweetness and add a mildly bitter, earthy note.
www.ift.org
Members Only: Read more about meat formulating online at www.ift.org. Type the keyword in our search box at the upper left side of our home page.
by Donald E. Pszczola,
Senior Associate Editor 
[email protected]