A more dynamic, interactive ift.org is now live, and offers new and better ways for members to connect with each other and our food science community. The new Web site is a unique digital resource that will evolve as members participate and discuss issues important to them.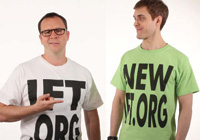 Every day, food science and technology brings new findings new innovations, new breakthroughs, and new conversations. The driving force behind the new Web site is to quickly and easily deliver this content to the user. Through the use of blogs or posting discussions/comments, members can easily share their expertise and knowledge with others.
ift.org is now organized into content-specific sections, called Focus Areas and Core Sciences, that evolved from the collective expertise and interests expressed by IFT members during research conducted over the past several years. Users can now explore Focus Areas like Food, Health and Nutrition, Food Safety and Defense, or Emerging Technologies and Ingredient Innovations; or engage in Core Sciences, such as Food Microbiology and Sensory Science (see sidebar Content Is King).
Focus on Food Laws
Public Policy & Regulations is another Focus Area on the new site. One of IFT's four roles and goals within its strategic plan is to be an Influential Advocate and Trusted Spokesorganization, including efforts around science-based public policy and regulations that impact the food science community. As the food industry becomes more global, public policy, food law, and regulatory issues are more integral to safety, defense, labeling and marketing, and import/export requirements than ever before. It's a theme that recurred throughout the findings of membership market research, member surveys, and member focus groups, and the new site works to address that need for specific public policy and regulatory content.
Expanding on the concept of quickly delivering content of interest, IFT has built a new site search. Users can now filter results by topic, and/or search the site within each specific section Food Technology magazine is now keyword searchable, with content dating back to 1999. Food Technology articles are now available as html to facilitate sharing. Users can also download a PDF of an article.
Putting the 'I' in Interactive
New features provide every user with opportunities to participate. Interactive additions to the site include videos, polls that capture visitor feedback, RSS feeds (see sidebar Rockin' RSS), and one-click ways to forward and share articles and other content.
Members will find even more ways to personalize their experience. The IFT online Community provides members with better access to IFT's vast network of food scientists and offers a real-time tool for fostering dialogue on the profession.
The Community includes convenient and secure member-only resources and extensive improvements to IFT's popular member directory. Members can customize their biographies and craft detailed pofessional profiles that are entirely searchable. With easy-to-use professional networking tools, members can connect, exchange information, and discuss food science and its application. Each member has a personal inbox where they can send and receive messages and communicate with colleagues. Members also have the opportunity to start a blog and share their views.
--- PAGE BREAK ---
In addition, members can join groups within the Community. Groups based on some of our Focus Areas are already active, asking questions, sharing knowledge, and exchanging information about the science and profession through discussions, shared documents, and more. Groups based on project work, areas of interest and expertise, and many other variables are expected to evolve as members participate. Watch for new groups as the Community gains momentum.
Hey Good Lookin'
One of the first thing you'll notice when you get to the new site is that looks very different than the former ift.org. With the new site's launch, we've also officially unveiled IFT's new visual identity, which includes a new IFT logo and tagline (i.e., Feeding the Minds that Feed the World), new visual elements, and a new combination of colors.
The new look is the culmination of several years of member feedback as well as innumerable hours of time from the dedicated volunteers of the Membership Experience Task Force.
Our new visual identity brings IFT's visual face to the world in line with the organization's mission and "personality." It's also an opportunity to bring all of our many communication vehicles and member touch-points into greater alignment, so that we're in a better position to deliver on the promise of "brand IFT."
Watch for more IFT products to reflect this new look... from the new cover design for the Journal of Food Science, debuting this summer, to Food Technology magazine, to our e-mail communications. You'll notice the change in the look of IFT.
Stay connected with IFT
With advances in technology, we're continuing to adapt our digital business priorities. Newer forms of communication and social media, like Facebook, LinkedIn, YouTube, Twitter, and Flickr, are used by our members and are now available on the Web site. To stay connected with IFT through Facebook, LinkedIn, or Twitter, just look for the icons on the new ift.org.
---
Content Is King
Our new Knowledge Center features information on publications, online courses and Webcasts, science reports, and eight Focus areas and four Core Sciences. Within these Focus Areas and Core Sciences, members can post discussions and questions, comment on other posts, and form groups with common interests.
Focus Areas
• Education & Professional Development
• Emerging Technologies & Ingredient Innovations
• Food, Health and Nutrition
• Food Processing & Packaging
• Food Safety and Defense
• Product Development
• Public Policy and Regulations
• Sustainablilty
Core Sciences
• Food Chemistry
• Food Engineering
• Food Microbiology
• Sensory Science
---
Rockin' RSS
RSS (Really Simple Syndication) is a format for syndicating news and special kinds of content from Web sites like ift.org, and having it delivered directly to you. RSS subscriptions give you one place from which you can scan headlines and summaries to read new or updated information that interests you.
To access RSS feeds, you can install a news reader. An alternative to downloading a dedicated news reader is to use a Web-based news reader such as Google Reader. Current versions of Microsoft Outlook also offer RSS aggregation functionality.
IFT is offering several RSS feeds:
• Daily News
• News Releases
• Public Policy Updates
• Meetings & Events
• Community Discussions
• Search
To subscribe, just click on the RSS icon next to the content you wish to subscribe to, and follow the directions.