You're running late. You've got to get one child to ballet and the other to soccer and just remembered you are out of milk so you swing into the parking lot of the local 7-Eleven. You are in and out with milk and back on the road before the kids brawl in the backseat. Convenience stores like 7-Eleven, Circle K, and Wawa continue to flourish despite a sluggish economy for this very reason—they are convenient. In fact, according to NACS, the Association for Convenience and Petroleum Retailing, in 2010 the U.S. convenience store (c-store) industry experienced record profits of $6.5 billion, up 35.4% from $4.8 billion in 2009 (NACS, 2011).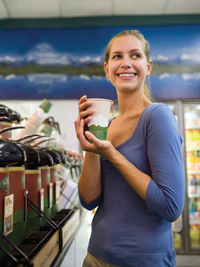 However, the segment is not without its challenges. For a majority of c-stores, tobacco and fuel are the main drivers of sales. But in an economy where tobacco sales are slowing and higher gas prices lead to less driving, convenience stores are having to shift their attention to growing their food/beverage and foodservice segments. With the stiff competition from fast food and quick-service establishments, c-stores will need to rely on convenient locations, fast service, low prices, product variety, and product quality to become destination locations for consumers.
An Evolving Environment
Cigarettes remain an in-store sales leader for convenience stores, contributing more than a third of total in-store sales, according to Mintel's Attitudes Towards Convenience Store Shopping report (2011a). This enabled c-stores to grow 2010 in-store sales by 4.4% to $190.4 billion (NACS, 2011). However, according to Packaged Facts' Convenience Store Foodservice Trends in the U.S. report, cigarette use among adults age 18+ dropped 10.8% during the 10-year period from 2000–2009. Only 8.9% of adults 18+ smoke, down 2.1 percentage points since 2000 (2011). This trend will certainly continue as the cost of cigarettes continues to increase and public smoking bans spread.
The next two top categories are foodservice (this includes coffee and fountain drinks) and packaged beverages with 17.1% and 14.9%, respectively, of in-store sales in 2009 (Mintel, 2011a). In addition, foodservice and food/beverage consumer packaged goods (CPG) offer c-stores a larger profit margin than cigarettes. Driven by the desire to increase margins, protect against gasoline sales volatility, and deepen customer relationships, the convenience store industry continues to aggressively build out sophisticated foodservice platforms designed to go head-to-head with established restaurant players.
--- PAGE BREAK ---
At the same time that these factors have pushed convenience stores to focus on their food offerings, fast food and quick-service restaurants (QSR) have been evolving their food programs to address Americans' desire for more snack food items. Traditionally, the breakfast daypart has been a leader for c-stores due to the popularity of the coffee program. With fast food operations such as McDonald's amping up their coffee and breakfast menus, c-stores will need to continue to address food quality, value pricing, convenience, and awareness to stay competitive. C-stores are in a relatively unique position. By offering a variety of reasons to stop in (gas, a household item, or prepared foods), they strengthen their convenience proposition. According to Packaged Facts, getting non-food items was viewed as "important" to 74% of c-store foodservice users (2011).
Beverages Bring Them In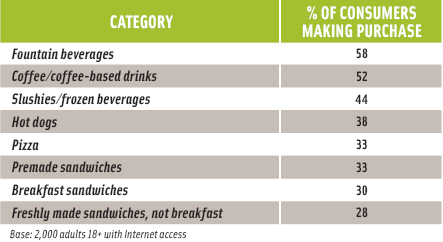 "Beverages are destination drivers for c-stores," said Catherine Porter, Senior Customer Marketing Manager, Convenience Stores, for Sara Lee Foodservice, during her presentation at the October 2011 NACS Show in Chicago, Ill. Whether on the way to work or making a pit stop during a road trip, a coffee, soda, or other beverage brings customers into c-stores. In fact, 58% of adults say they have visited a c-store to purchase a fountain beverage compared with 52% who have purchased coffee and 44% who have bought a slushie drink at least once (Table 1, Mintel, 2011b). Even the beverage segment is being challenged by competitors such as McDonald's and Starbucks, who have both taken aim at the "gulp"-sized fountain beverages. McDonald's has run a $1 for any size soda and tea promotion, while Starbucks has recently introduced its Trenta size—a 31-oz cup—for its iced coffee and tea.
One thing that c-stores have going for them is the trust consumers tend to have in their beverage programs. "When customers think of the beverage expert, they think of c-stores," said Kevin Higar, Director of Research and Consulting at Technomic. C-stores capitalize on the fact that their coffee bars offer customers a way to make their coffee just the way they want it. Offering a good selection of coffee and condiments ensures that places like McDonald's and Dunkin' Donuts won't be able to compete.
But that doesn't mean convenience stores are resting on their laurels. Several chains reinvested in their coffee programs in 2010. "I think that the competition has caused convenience stores to examine their offerings. For coffee, c-stores have had to look at what are they doing on the quality, variety, and customization fronts. Many are taking advantage of new brewing dispensing systems to provide customers with the best cup of coffee throughout the morning rush," said Mike Murnane, Director, Kraft Food Service Convenience Store Business. Both 7-Eleven and Wawa switched to a thermal dispensing system this past year. Doing this enables the stores to offer variety because they are able to maintain the quality of the coffee in smaller quantities for self-serve dispensing.
As Michael McLaughlin, Product Development Manager at Wawa, explained at the October 2011 NACS Show presentation "What's Hot in Coffee," a successful c-store coffee program has to have three main elements.
First, it must be functional. This is all about the product. If the coffee quality is not excellent, it won't matter how it is dispensed or its price point.
--- PAGE BREAK ---
Secondly, it must deliver in terms of store experience. For c-stores, it always comes back to the offerings being convenient and fast. In addition, cleanliness of the environment is a major factor in the customers' perceptions of the quality of beverages and foods being offered.
Finally, the program must excel in terms of sensory appeal. The taste and freshness must be there and be consistent across dayparts. A customer purchasing a cup of coffee at 9 a.m. and 3 p.m. should have the same quality experience. Freshness is key, which is why instead of seeing the decanters of coffee sitting out, it is much more common now to see thermal carafes or shuttles.
In addition to perfecting the main coffee offerings, many c-stores are differentiating themselves from the competition by offering original varieties, limited-time offerings (such as seasonal flavors), and organic selections. In autumn 2010, Wawa introduced a Pumpkin Spice flavor in its cappuccino offering, and it was so successful that in 2011 it rolled it out as a limited-time coffee flavor, too. And hot beverages don't have to just mean coffee; some c-stores are beginning to offer hot tea. Considered a functional beverage, tea attracts the female consumer and those age 50+, both of which are untapped demographic segments for c-stores. All of these "extras" offer variety to the consumer, but also generate a halo effect of quality, which can then be extended to other food products in the store.
Energizing the Marketplace
Another extremely popular beverage item in c-stores comes in the form of 2-oz energy shots. Adult usage rates for energy drinks and shots rose from 10% in 2004 to 17% in 2011, according to Packaged Facts (2011). In 2010, energy shots generated more than $770 million in the convenience-store channel, an increase of 31.2% in per-store sales, according to NACS State of the Industry Report of 2010 Data (2011). The leading brand in this category is 5-hour Energy, which had 87.1% share of c-store energy-shot dollar sales in the 52 weeks ending Dec. 26, 2010. While 5-hour Energy maintains the lead in the category, it hasn't stopped many others from entering and fighting for the remaining piece of the pie. Brands like Red Bull, 6 Hour Power, and Monster also duke it out for precious space in c-stores. These drinks are extremely popular in c-stores because it's the perfect place to drop by and pick one up quickly during that afternoon slump.
And with the popularity of energy shots, there has been an increase in other beverages jumping on the "energy" bandwagon. "As the beverage market evolves, the conceptual divide between scientifically engineered 'functional' beverages (such as energy drinks and sports drinks) and 'natural' beverages (such as coffee, tea, juice, and water) continues to erode," said Kara Nielson, Trendologist at the Center for Culinary Development, during her SupplySide West 2011 presentation, "New Product Opportunities in Functional/Natural RTD Beverages." For example, Sara Lee Foodservice, in partnership with Jacked Up Energy, announced the introduction of its Jacked Up Energy Iced Tea, which will be available in early 2012. This product features the energy ingredients of Jacked Up Energy shots in four tea flavors and can be found in a tea dispenser as a part of the c-store beverage bar. Also, it is increasingly common to see beverages turning to natural herbs, such as yerba mate, green tea extract, and Ashwaganda (Indian ginseng) to highlight the product as a "natural" energy source.
--- PAGE BREAK ---
Even water can be amped up. With the successful launch of Kraft Food's Mio liquid water enhancer in 2011 (Kraft expects to see approximately $100 million in revenue in its first year on the market), the company hopes to translate that success into the energy drink market with the launch of Mio Energy. To be available in two flavors—Black Cherry and Green Thunder—each half-tea-spoon that is squirted into water will contain the same amount of caffeine as a cup of coffee. Kraft plans to target Mio Energy specifically to millennial male consumers, who tend to purchase energy drinks in convenience stores.
Hot, Fresh = Better Food
When convenience stores are looking to start a foodservice program, they often begin with coffee because, when it is done right and the quality is there, it tends to convert occasional customers to regular patrons. According to Mintel, 52% of people say they have purchased c-store coffee at least once, and 28% say they usually do so (2011b). Typically, once a c-store has mastered its coffee program, it looks to extend into hot foodservice items such as breakfast sandwiches, hot dogs, etc. And an increasing number of c-stores are making this transition because it makes business sense. In 2009, foodservice sales comprised 17.3% of convenience store in-store sales, but were responsible for almost 30% of in-store margins. It is expected that foodservice sales for c-stores will rise by 5.8% in 2011 and 5.3% in 2012 (Packaged Facts, 2011).
According to Kraft's Murnane, one of the challenges c-stores face is that their foodservice items are not impulse purchases, such as the candy, soda, or gum might be. In fact, many people believe that food at c-stores does not match up in quality to food available at a QSR. Mintel has found that 33% of consumers who have never purchased food at a convenience store haven't done so because they believe the food is of low quality (Mintel, 2011b). C-stores are beginning to realize this negative association, and companies like 7-Eleven, Sheetz, and Wawa have taken steps to move beyond the traditional "roller grill" foods. Made-to-order sandwiches, fresh sandwiches, and soups help communicate better quality.
So how do c-stores drive purchases for their hot food items? According to Technomic's Higar, if c-stores can build credibility with their customers surrounding their coffee or beverage offerings, then it is more likely that they will be able to induce them to try other offerings. "If a customer is comfortable with a c-store's coffee, there is a kind of halo effect that develops where the customer says, 'well, if they put that much pride in their coffee, they probably do the same thing with their sandwiches.'"
Brand Recognition
Companies like Kraft Foods and Sara Lee understand the power of well known and trusted brands to drive c-store foodservice sales. "Our Ball Park hot dogs are definitely a huge staple within convenience stores at lunchtime," explained Sara Lee's Porter. "And now we've taken Ball Park from the roller grill into the warmer with a complete line of hamburgers. We've launched a Ball Park hamburger, cheeseburger, bacon cheeseburger, and Southern-style chicken sandwich."
Kraft also chose to capitalize on its popular Oscar Mayer hot dog brand with the introduction of a corn dough dog product. Basically, it is an enrobed hot dog that is baked instead of the traditional fried corn dog, and it can be sold off the roller grill. "The product appeals to millennial consumers because they see it as a new and innovative idea. It also appeals to older consumers who have eaten corn dogs before but haven't recently because they're trying to stay away from fried foods," said Murnane.
--- PAGE BREAK ---
Hot dog grills or rollers were among the first fast foods many c-stores sold, and few quick-service restaurants offer hot dogs. For example, 7-Eleven's Big Bite hot dog has been one of its most enduring top sellers. To build its appeal, 7-Eleven offers free toppings such as chili, onions, and cheese (Mintel, 2011b). Consumers, especially men, know that they can get a hot dog at any time of day from a c-store. For this reason, many food manufacturers are focusing on the strategy of upscaling these core product offerings to differentiate them from the competition. "Even in the last decade, things haven't really varied that far away from what the core products are," said Porter. "They definitely have changed in terms of more flavors, and the upscaling of products is really advancing. There are now more gourmet offerings, more ethnic offerings, etc., but they still remain close to the core product. For example, we introduced Angus beef and deli-style beef franks to the channel as a premium alternative to the basic hot dog."
Innovations in Packaging, Technology
Advancements in packaging and equipment technology are helping to make c-store foodservice offerings stand out and compete with QSRs. With the wide majority of customers (67%) saying they choose a c-store because it is "quick and easy when I am busy," these innovations have helped deliver quality food quickly (Mintel, 2011a). "The technology is out there that allows you to cook things fresh very quickly, which historically might have taken four times longer than a customer would give you in a c-store setting," said Technomic's Higar.
New equipment available to c-stores allows individual pizzas to be made fresh in under a minute or a scrambled egg to taste like it was just made—even if it was made four hours earlier. When this technology is combined with quality food ingredients, the customer is presented with a fast, portable, and delicious food product. Also, it enhances the image of freshness and customization. Customers are no longer faced with only a limited selection of dodgy looking sandwiches that may have been made a week ago. Instead they often have many hot, fresh food items to choose from.
Given that c-store customers are often eating on the run in their cars, packaging can significantly enhance product delivery. For Sara Lee, this is a driving focus of its c-store foodservice business. "One of the things that we really see as important within the c-store segment is handheld portable foods for that dashboard dining experience … the ones that really provide a satisfying meal solution," explained Porter. The company recently launched an improved paper sleeve for its State Fair corn dogs that has enough space in the bag to allow the consumer to add in condiments, hold the item with one hand, and eat it without creating a messy situation. The packaging of hot foods can also help maintain the freshness of the product over an extended period of time in the c-store warmers. Sara Lee's Jimmy Dean sandwiches are packaged in butcher-wrap paper, which is designed to minimize moisture loss.
Snack Attack
A November 2011 survey by Snack Factory reveals that 40% of Americans would prefer to reach for snack foods throughout the day instead of eating the traditional three square meals. What's more, many admit to indulging in snack foods for lunch (78%) and even dinner (55%). For the c-store industry, which is primarily known for its snack food selection, this is a great opportunity to increase sales and appeal to a wider audience. According to Porter, more than 40% of purchase incidents for c-stores are for the purpose of snacking. Of course, QSRs are noticing this trend and working to compete against c-stores for this snacking business. McDonald's and Burger King are appealing to consumers looking for snacks with their dollar and value menu, respectively, both of which offer discounted and smaller portioned versions of their normal menu items.
--- PAGE BREAK ---
Snacking is becoming a key driver for all dayparts at c-stores. From pairing coffee with a mini-muffin at breakfast, a hot dog with chips at lunch, to a mid-afternoon stop for candy and a soda, and into the evening with a frozen beverage, c-stores have the means to address consumers' desire for snacking at all hours. According to Murnane, the c-stores that are being aggressive and therefore successful when it comes to snacking are "looking at fresh snacks, savory snacks, and continuing to look at indulgent snacks." Consumer behavior is shifting in the way food items are viewed. For example, a hot dog or a slice of pizza can qualify as just a snack for many. Offering these "snack foods" throughout the day instead of just at mealtimes can increase sales and traffic for c-stores.
Of course, the traditional indulgent treats that most people think of when they hear snacks are still very popular. These include candy, baked goods, ice cream, etc. Interestingly, these indulgent treats can go one of two ways: they can either come in the form of a smaller, portion-restricted item or in the ever popular king-sized variety. In the second half of 2011, Kraft Foods launched a line of Oreo brownies. As a product extension of an already beloved brand, this product offers consumers a small, indulgent treat. On the other hand, there is the king-size candy bar, which in the c-store channel is the fastest-growing pack type. According to Hershey's Chief Executive John Bilbrey, the iconic chocolate company's king-size retail takeaway has increased 22% in 2011 and is considered the leader among c-store king-size bars with 54% share of the segment.
Unlike people seeking out hot foodservice items for the purpose of a meal, these snack purchases are more of an impulse purchase. In a survey by Mintel, 40% of consumers say they choose to shop at c-stores because of the convenience of being able to buy snacks where they already buy gas.
Looking Forward
According to data from SymphonyIRI Group, the convenience store channel is expected to enjoy a compound annual growth rate of 3.5% between 2010 and 2012. "The convenience store channel, particularly sensitive to economic trends, is anticipated to exhibit rapid growth in 2011 and 2012, after a healthy rebound in 2010 over 2009," states company information (SymphonyIRI, 2011). One of the key drivers of this growth is foodservice expansion. When factoring in all U.S. c-stores, and excluding fuel sales, Mintel estimates that foodservice has gained more market share during 2005–2010 than all other segments—up 3.6 percentage points to 17% in 2010 (2011a). With the growth, c-stores are focusing more on quality food offerings and variety. Of course, this has to be delivered in a fast and convenient setting to appeal to c-store customers, but with continued innovations in packaging and technology, more is possible.
In fact, more consumers are now using c-stores and QSRs interchangeably, according to findings from Technomic. Of consumers polled on their most recent convenience store foodservice purchase, 27% indicated that if they had not bought their meal from the convenience store in question, they would have purchased it from a fast food restaurant. Interestingly, that number is nearly identical to those who said they would have ordered from another convenience store.
--- PAGE BREAK ---
"Convenience stores are increasingly falling into the same consideration set as fast food restaurants," said Technomic Director Tim Powell. "This really speaks to the enhanced foodservice offerings in convenience stores as well as evolving consumer behaviors. In our recent survey of more than 3,700 consumers who visit convenience stores, 82% said they purchase prepared foods from them at least once a month, while 52% do so at least once per week" (Technomic, 2011).
Convenience stores thrive on helping consumers make more efficient use of their time, a tenet that has shaped the industry's success and opens up future opportunity. With so little leisure time on our hands, c-stores offer a means to satisfy our food and beverage needs quickly. And as technology and food innovations continue, c-stores are seeing an opportunity to meet those needs with better quality products. However, as Porter said, "the focus will and still should remain around what really gives convenience stores their advantage today—the valued variety and do-it-myself customization. That's really why consumers gravitate to the channel, and I think that's going to remain true to that competitive differentiation."
---
Does Healthy Have a Home in C-stores?
Amidst the hot dogs and king-size candy bars, do healthy snack foods have a place in convenience stores? While c-stores and health food seem like polar opposites, health and wellness is a trend that is impacting the food industry at large so why would c-stores be exempt?
With the majority of non-gasoline purchases being made by young, low- to middle-income males, health food is not necessarily top of mind (Mintel, 2011a). In fact, only 7% of convenience store foodservice users purchase food at a convenience store because more healthful options are offered. However, at the same time, sales in the perishable grocery category (fruits and vegetables) grew 12.4% on a per-store basis in 2009 (Packaged Facts, 2011). According to Mike Murnane, Director, Kraft Food Service Convenience Store Business, the increase in fresh produce could be because "these salads and fruits have been made easier to display and keep fresh with new packaging and new technology coolers that are available."
The word "healthy" seems to take on a different meaning in c-stores where most consumers aren't willing to go too far out of their preconceived notion of snack food. However, the term "fresh" is on the rise, and for c-store regulars, it lends an air of healthiness to a product. As Catherine Porter, Senior Customer Marketing Manager, Convenience Stores, Sara Lee Foodservice, explained, "Overall, consumers view convenience stores as kind of the 'land of simple snacking.' However fresh connotations—fresh sandwiches, fresh salads, fresh fruit cups—are definitely more prevalent than they were years ago."
Some food manufacturers are tweaking the formulations of their popular c-store food items to make them a bit healthier. For example, Sara Lee introduced its Jimmy Dean Delights breakfast sandwiches in the channel in 2010 to help get that "better for you" offering with whole grains and reduced calories and fat. Yet the breakfast sandwich is still recognized as a core product offering that delivers a satisfying, high-quality taste. Kraft Foods has introduced its BelVita line of breakfast biscuits, which are made with whole grains and vitamins and are a source of fiber. "It fits the on-the-go lifestyle and has been extremely popular in Europe, so we are bringing it to the United States," said Murnane.
--- PAGE BREAK ---
C-stores are slowly inching forward on the health and wellness front, but don't expect to stop seeing candy bars, hot dogs, or pizza at your local c-store anytime soon. As Porter put it, "Overall in the channel, it's just not where consumers go for health and wellness offerings."
---
foodtechnology online extra
With the recent success of c-stores, there's still room for growth. Find out more about these opportunities by reading the online extra.
Kelly Hensel is Digital Media Editor of Food Technology magazine ([email protected]).