In the current "fair" to "poor" economy, consumer confidence has weakened, but despite factors like high unemployment, stagnant incomes, increasing prices, and wavering trust in corporations in general, the foodservice industry is growing. According to the National Restaurant Association's (NRA) 2012 forecast, total restaurant industry sales are projected to reach a record high of $631.8 billion this year, a 3.5% increase over 2011.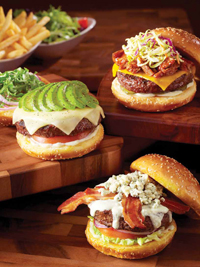 According to the NRA's National Households Survey (2011), 89% to 97% of consumers enjoy going to restaurants despite the weak economy. An increasing number of households that include single persons or empty nesters have made eating out a choice (Stewart et al., 2004). In 2011, 18% of all meals were purchased at foodservice outlets (NPD, 2011).
The foodservice industry continues to add jobs. In 2012, the workforce is projected to be nearly 13 million people working in 970,000 locations in the United States (NRA, 2012). Here's a look at key trends driving the restaurant industry.
Taste and Convenience Count
When ordering food in restaurants, 69% of customers ranked taste as a top priority, according to the International Food Information Council's (IFIC) 2011 Food and Health Survey (IFIC, 2011). In addition to the convenience that eating out offers, consumers are seeking taste sensations that are difficult to duplicate at home. Customers are also looking for choice and variety. Operators of 60% of quick-service restaurants (QSRs), 68% of family dining restaurants, 84% of casual restaurants, and 86% of fine dining establishments planned to add new menu items in 2011 (NRA, 2011). The offerings can range from a new flavor or ingredient (e.g., Angus Deluxe Burger) to new categories (e.g., frozen drinks).
Customers are becoming more adventurous in trying new and bold tastes. Restaurants are balancing between the regular menu for the "regulars" and the addition of new items for the adventurous. The Subway chain's "Go Bold" varieties include Sweet Onion Chicken Teriyaki sandwiches. Multi-ethnic (e.g., chipotle ranch burgers) and multi-flavor (e.g., mango-pineapple smoothies) sensory experiences have become very popular (Baum+Whiteman, 2012). Sandwiches are no longer made only with bread. Tortillas and pitas are some common bread replacements; the extreme version is KFC's Double Down Burger, which uses chicken breasts to sandwich bacon and cheese.
Many restaurants are also going to regional cuisines. Regional varieties of sandwiches, burgers, and pizzas (e.g., the Cheesecake Factory's Memphis Glamburgers™ and Domino's Honolulu Hawaiian Pizza and Wisconsin 6 Cheese Pizza) are some examples (Sloan, 2011).
--- PAGE BREAK ---
Fifty-eight percent of restaurant goers like to customize their food orders (Mintel, 2012). Customization gives the customer a feeling of control. Modern smartphone and online ordering technologies are seen as tools for customization as well as convenience. Savvy restaurant operators are working to make eating out a very convenient experience. The Sonic hamburger chain has an online and mobile ordering program. Self-order kiosks are starting to become more common in QSRs like McDonald's, KFC, Subway, Burger King, and Arby's.
Locally Sourced, Fresh, and Real
According to a Datamonitor consumer survey, local, natural, and seasonal foods and drinks are becoming very important to consumers. Transparency on how food is produced and made is linked to quality in consumers' views (Datamonitor, 2011). Customers want to know more about the food they eat—most importantly, where it is coming from and how it is made. Customers strongly believe that food grown locally is better. Seven out of 10 customers regard "freshness" of food and drinks as an important factor when selecting food in restaurants (Datamonitor, 2011). Seven in 10 adults will visit a restaurant that uses locally produced items (NRA, 2012). This has led restaurants to market provenance and nature to appeal to customers.
Several restaurant chains have used this trend to connect to their customers. Chipotle Mexican Grill has emphasized its natural, sustainable animal welfare and sourcing. The Washington-based chain Burgerville differentiates its menu by indicating that it uses only locally grown, seasonal, and organic ingredients. Advertisements for Panera Bread sandwiches indicate they are "fresh" from the grill, made with bread baked "fresh" every day. Subway has used the "Eat Fresh" and "Freshbuzz™" slogans extensively.
Nutrition at the Center of the Plate
Nutrition is a key factor that influences customers when eating out (Stewart et al., 2006). According to Mintel, 64% of restaurant goers are interested in seeing more healthy menu items at restaurants; consumers want taste, function, and nutrition all rolled up into one product (Mintel, 2012). Sixty-three percent of Americans would rather hear what to eat instead of what not to eat (a 7% increase from 2009) (Mintel 2012).
When thinking about the overall healthfulness of food in restaurants, Americans believe that total nutritional value is most important. This is further evidenced by the fact that equal (and significant) numbers of Americans rate a variety of specific additional factors like low sodium (44%), reduced fat/sugar/carbohydrates (43%), and total calories (43%) as important (IFIC, 2011). U.S. consumer awareness of the Dietary Guidelines for Americans has increased; it is currently 81% compared with 71% in 2010.The key drivers for dietary change are to improve overall well-being (65%) and to lose weight and improve health (56%), according to respondents in the 2011 IFIC survey.
According to NRA, 72% of adults polled in 2011 were trying to eat healthier in restaurants than they were two years earlier. Restaurant operators have noticed this trend and are trying to add healthier items to their menus. Some popular menu items where nutrition is an important factor are children's meals, salads, fruit plates, and whole grains. These items are becoming more common because of changing consumer needs and increased awareness about health and wellness. A recent study from Scarborough Market Research showed that health-conscious consumers (those who belong to a gym or buy local or organic food) like the expanding healthy menu options in QSRs; three in four of these consumers reported visiting a QSR for lunch in the month prior to being surveyed. Among the QSRs they visited, McDonald's topped the list (36%), followed by Subway (31%), Wendy's (22%), and Panera Bread (17%) (Scarborough, 2012).
--- PAGE BREAK ---
Children's Meals
Kids' meals have been an important trend in restaurants for many years, but recently more focus has been placed on balanced meals for children. Many restaurants are now offering meals for children that include produce. Better-for-you kids' meals are top on the list of trends for limited-service restaurants and among the top three trends in full-service restaurants (NRA, 2012).
Kids' meals have been an important trend in restaurants for many years, but recently more focus has been placed on balanced meals for children. Many restaurants are now offering meals for children that include produce. Better-for-you kids' meals are top on the list of trends for limited-service restaurants and among the top three trends in full-service restaurants (NRA, 2012).
Since 2011, many restaurant chains like Burger King, Chili's, IHOP, Friendly's and a few others have announced that they will be adding fruit to children's meals. In July 2011, McDonald's announced that all Happy Meals® will be sold with apple slices and a smaller portion of French fries. The company also introduced fat-free chocolate milk as a beverage option. In international markets, McDonald's has introduced some innovative ways of serving fruit and vegetables to children to make these choices more appealing (e.g., kiwi or watermelon on a stick like a lollipop and pineapple spears). In the full-service restaurant category, the Darden Restaurants chain has made French fries and sugar-sweetened beverages the option rather than the rule. All kids' meals will also automatically come with a side of fruit or vegetables and 8 oz of 1% milk unless an adult requests otherwise at Darden restaurants.
Reducing Nutrients of Concern
Many companies in the foodservice industry are addressing sodium reduction. Darden, for example, has pledged to reduce sodium and calories in all of its meals by 10% over five years and by 20% over 10 years. When deciding what item to order in a restaurant, consumers rank overall healthfulness higher than calories (IFIC, 2011). Seven in 10 Americans believe that inclusion of calorie information on menus would help them with selecting foods that are more healthful as well as with making informed decisions about their diet (IFIC, 2011). Chains like Applebee's have special menu offerings for weight-conscious diners. Weight Watchers® entrees at Applebee's are flagged with the diet program's PointsPlus® totals, and a variety of meal options feature fewer than 550 calories. Generally, consumers (71%) are concerned about the fat content of their diets, particularly the saturated fat content. McDonald's announced in 2011 that by 2020, it will reduce added sugars, saturated fat, and calories, and by 2015, McDonald's will reduce sodium an average of 15% percent overall across its national menu of food choices.
Fruits, Vegetables, and Whole Grains
Many restaurants—whether it be gourmet cafés like Labriola Bakery Café in Oak Brook, Ill., or mainstream QSRs like McDonald's—feature a variety of salads on their menus. Fruit smoothies in blended flavors are also now mainstream and affordable to the average consumer.
Whole-grain menu items are also more widely available. For a number of years, Subway has offered sandwiches in wheat buns. In the past two years, oatmeal has become a mainstream breakfast option in QSRs like McDonald's, Starbucks, Burger King, and Jamba Juice. At McDonald's, a customer can have Fruit & Maple Oatmeal all day. Whole-grain options are widely available in America's restaurants. From flatbreads to pizzas to brown rice, the customer has only to make a choice.
Another nutrition initiative that is here to stay is providing the nutritional information of menu items. Most restaurants have nutrition information available on their websites; in addition to nutrition information, many larger chains also have information on food quality and sourcing. At leading chains like McDonald's, nutrition information is also available on the packaging in most markets. Mobile ordering and smartphone applications will go a long way toward helping consumers customize their orders pre-purchase and better meet their desired nutrition needs.
--- PAGE BREAK ---
Playing It Safe
Food safety is a top priority for the foodservice industry. According to the 2011 IFIC Food and Health Survey, Americans are still confident in the safety of the U.S. food supply. Nearly two out of three Americans (61%) believe imported food is less safe than food produced in the U.S. because they believe that there is less regulation for food safety and control. Foodborne illness from bacteria remains the most important food safety issue to consumers, followed by "chemicals in food," but when asked for examples, consumers had difficulty identifying specific chemicals of concern. Three in four Americans get their food safety information from a media source. Americans trust the media, government agencies, health professionals, and food labels to deliver adequate food safety information (IFIC, 2011).
Green and Sustainable
In the 2011 IFIC Food and Health Survey, sustainability was important in making food and beverage choices for more than half (52%) of the respondents. Consumers relate sustainability to food availability for a growing population and reducing pesticide use. However, 43% of Americans also believe that advances in modern food technology (e.g., plant/livestock breeding, crop protection, and biotechnology) have or will provide benefits for them or their families.
Many restaurant companies have a corporate goal of saving the planet. Reducing carbon footprints is a big focus for the food industry, particularly in the global arena.
Starbucks is committed to green practices, and the company is building all of its new stores with LEED certification. Otarian, a 100% vegetarian restaurant chain with establishments in New York City and London, claims to be the first ever low carbon restaurant chain, using a cradle-to-grave analysis in the carbon footprinting of every item on the menu. McDonald's has operated a Sustainable Fisheries program globally for many years, and in Europe McDonald's now uses the Marine Stewardship Council eco-label in connection with its Filet-o-Fish sandwiches.
Foodservice has evolved beyond convenience. Customers are demanding more from restaurants, and eating out is not just a need or a luxury but an extension of home in fulfilling basic needs. Innovation is the mainstay of survival for the restaurant industry, and many restaurant chains are thinking beyond food to nourishment and wellness.
Brinda Govindarajan, Ph.D., a Professional Member of IFT, is Director, Scientific Affairs & Policy, McDonald's Corp., Oak Brook, IL ([email protected]).