Foods and food ingredients are increasingly exported and imported worldwide, and differing quality specifications and regulatory systems around the world make commerce difficult. International harmonization of standards, regulatory requirements, and procedures would facilitate international trade and lead to improved safety and quality of foods traded around the world. Accordingly, many organizations are working to harmonize specifications and regulations concerning product identity and quality as well as safety. This month's Food Safety & Quality column describes some of the major players and their activities in standardization and harmonization efforts.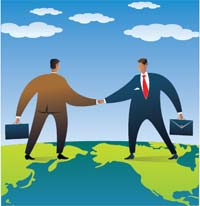 American National Standards Institute
The American National Standards Institute (www.ansi.org), founded in 1918, oversees the creation, promulgation, and use of voluntary consensus standards and conformity assessment systems guidelines for nearly every industrial sector. It is also engaged in accrediting programs that assess conformance to standards, such as those of the Conference for Food Protection.
Association of Southeast Asian Nations
The Association of Southeast Asian Nations (ASEAN) (www.aseansec.org) was established by five Southeast Asian countries in 1967 and now consists of ten member states. Among its goals are active collaboration and mutual assistance on matters of common interest in the economic, social, cultural, technical, scientific, and administrative fields and greater utilization of their agriculture and industries and expansion of trade.
The ASEAN held its International Conference for Sharing Information on Food Standards and Resource and Environmental Conservation for Food Industries in Asia Pacific in Bangkok, Thailand, in March 2011. Harmonization of food safety standards in the ASEAN was initiated by the International Life Sciences Institute's Southeast Asia Region through the formation of the ASEAN Food Safety Standards Harmonization Working Group in 2001. The working group started by reviewing the use of sweeteners, colorings, and preservatives in food at the first ASEAN Food Safety Standards Harmonization Workshop and continued discussing the ways forward for harmonization. In a series of workshops over the years, the working group developed a template and database to compare national food safety standards to the Codex General Standards for Food Additives. At the ninth workshop, held January 2011 in Singapore, the working group transferred its food safety standards database and software to the Task Force on Harmonization of Food Safety Standards for Prepared Foodstuff for further development in harmonizing food safety standards in the ASEAN.
--- PAGE BREAK ---
Codex Alimentarius Commission
The Codex Alimentarius Commission (www.codexalimentarius.org), created in 1963, is an intergovernmental body with more than 170 members. It develops food standards, guidelines, and codes of practice under the Joint Food Standards Program established by the Food and Agriculture Organization of the United Nations (FAO) and the World Health Organization (WHO) and promotes coordination of all food standards work undertaken by international governmental and nongovernmental organizations.
Codex publishes the Codex Alimentarius, a collection of internationally adopted food standards, guidelines, codes of practice, and other recommendations. They are based on the best available science, independent international risk assessments, and ad-hoc consultations organized by FAO and WHO. The standards, while voluntarily adopted, serve in many cases as a basis for national legislation and provide benchmarks in settling international trade disputes. Codex approved 24 new work projects at its 34th session in July 2011 and will hold its 35th session July 2–7, 2012, in Rome, Italy.
Conference for Food Protection
The Conference for Food Protection (www.foodprotect.org), established in 1971, provides a forum for representatives of regulatory, industrial, academic, and professional organizations and consumers to identify problems, formulate recommendations, and develop and implement practices that ensure food safety. The organization has identified the essential components of a nationally recognized Food Protection Manager Certification Program and established a mechanism to determine whether certification organizations meet these standards. The organization has also held workshops on harmonization of U.S. food regulations as well as on global fresh produce safety for retail and foodservice.
--- PAGE BREAK ---
Food and Drug Administration
The Food and Drug Administration (FDA) (www.fda.gov) participates with various international organizations and governments to harmonize standards and regulatory requirements to enhance public health and reduce contradictory and redundant regulatory requirements. The FDA participates in relevant Codex committees, and its Harmonization and Multilateral Relations Office coordinates Codex activities within U.S. agencies to encourage the development of science-based, international food safety and labeling standards. The agency's harmonization efforts also include task forces on medical devices, pharmaceuticals, cosmetics, and veterinary medicines.
The FDA points out that harmonization must facilitate international trade and promote mutual understanding while protecting national interests and establishing a basis to resolve food issues on sound scientific evidence in an objective atmosphere. Failure to reach a consistent, harmonized set of laws, regulations, and standards within the free trade agreements can result in considerable economic repercussions.
Global Food Safety Initiative
The Global Food Safety Initiative (GFSI) (www.mygfsi.com), a program that aims to harmonize international food safety standards with the support of the world's top retailers and food manufacturers, was launched in 2000. It provides a platform for collaboration among food safety experts from retail, manufacturing, and foodservice companies; service providers associated with the food supply chain; international organizations; academia; and government.
Technical working groups define food safety requirements along the entire food supply chain and achieve consensus on the skills, knowledge, and attributes that auditors should possess. The organization states that harmonizing worldwide food safety standards would increase transparency and efficiency in the supply chain, cut costs, and provide assurance of safe food for consumers worldwide.
In August 2011 the GFSI published version 6.1 of its GFSI Guidance Document, which specifies the requirements that a food safety scheme must implement to be considered for GFSI recognition and defines the key elements for the production of safe food and feed that must be included in the standard, based on the food safety principles issued by the Codex Alimentarius Commission, the National Advisory Committee on Microbiological Criteria for Foods, relevant ISO standards, and international codes of practice. The GFSI will hold its next annual Global Food Safety Conference in February 2013.
--- PAGE BREAK ---
Global Harmonization Initiative
The Global Harmonization Initiative (GHI) (www.globalharmonization.net) was founded in 2004 as a joint activity of the International Division of IFT and the European Federation of Food Science and Technology. The GHI organizes meetings, workshops, and symposia and makes presentations. In 2009 the organization published a book titled Ensuring Global Food Safety: Exploring Global Harmonization, featuring chapters contributed by food safety experts from around the world.
Huub Lelieveld, GHI President, said that members of the GHI are individual scientists employed by all kinds of organizations and industries around the world, serving on a voluntary basis. There are a number of active working groups on such subjects as nanotechnology, mycotoxins, food safety aspects of religious foods, and others. The working groups do not duplicate work that has already been done, he said, but use available material and make recommendations for further research if the information available is insufficient.
The GHI also has an ambassador program, in which GHI members in many countries communicate locally with the scientific community in local languages. There are ambassadors in such countries as Bangladesh, Russia, Ukraine, Thailand, and China, Lelieveld said, and the number is growing.
Institute of Food Technologists
Since 1992 IFT (www.ift.org) has participated in various Codex committees and task forces, including committees on food additives, contaminants, and labeling, as a nongovernmental organization with observer status. Numerous papers and symposia on harmonization have been presented at IFT Annual Meetings, and articles and editorials on the subject have been published in Food Technology over the years.
A symposium on international harmonization took place at the 2011 IFT Annual Meeting. Roger A. Clemens, IFT President and Chief Scientific Officer at Horn, discussed how compendia of quality standards for food ingredients, such as Food Chemicals Codex, aid in international harmonization. Dennis M. Keefe, Director of the FDA's Office of Food Additive Safety, said that the Codex Alimentarius Commission's standards serve as the benchmark for food safety and are vital for international trade. He said that the specifications of identity and purity developed by the FAO/WHO Joint Expert Committee on Food Additives are critical to the Codex standard-setting activities but that there is a need for specifications of identity beyond the constraints of the Joint FAO/WHO Food Standards Program. William F. Koch, Chief Standards Acquisition and Metrology Officer at U.S. Pharmaceopeial Convention (USP), discussed USP's reference standards, saying that comparison of measurement results to specifications for the quality and authenticity of food ingredients becomes meaningful only if the measurement results can be traced back to a reference standard.
IFT also keeps its members apprised of developments in food science and technology related to international policy. For example, in a September 2011 Food Technology online exclusive, Edward Scarbrough, a former U.S. Codex Manager, reported on the 24 new work projects approved by Codex at its 34th session in July 2011. IFT also added a new International Policy page to its website and regularly posts online announcements and encourages members to provide input for IFT's participation in various Codex activities.
--- PAGE BREAK ---
International Life Sciences Institute
The International Life Sciences Institute (ILSI) (www.ilsi.org) is a nonprofit, worldwide foundation established in 1978 to advance the understanding of scientific issues relating to nutrition, food safety, toxicology, risk assessment, and the environment. It brings together scientists from academia, government, industry, and the public sector to develop a balanced approach to solving problems of common concern for the well-being of the general public. ILSI receives financial support from industry, government, and foundations and has branches around the world. It is affiliated with WHO as a nongovernmental organization (NGO) and has specialized consultative status with FAO. ILSI also participates in Codex as an NGO observer organization.
An example of ILSI's efforts is the harmonization of Recommended Dietary Allowances (RDAs) in Southeast Asia. ILSI's Southeast Asia Region, with FAO support, organized workshops and meetings from 1997 through 2003 to help countries and government agencies update national RDAs based on the latest science and the utilization of national data. The meetings provided a platform for the development of a harmonized set of RDAs for use as references by southeast Asian countries.
International Organization for Standardization
The International Organization for Standardization (ISO) (www.iso.org), founded in 1947, is the world's largest developer and publisher of international standards. It is a worldwide federation of national standards institutes of more than 125 countries. Its mission is to encourage the development and harmonization of standards in the world. ISO has more than 2,800 technical groups and has published more than 118,500 international standards, including the ISO 22000 standard for food safety management systems, which applies to all organizations in the food supply chain.
Organization for Economic Co-operation and Development
The Organization for Economic Co-operation and Development (www.oecd.org), established in 1961, is an intergovernmental organization of 34 member countries whose mission is to promote policies that will improve the economic and social well-being of people around the world. It provides a forum in which governments can work together to share experiences and seek solutions to common problems. Among other things, it develops international standards for seeds, forestry reproduction material, fruits and vegetables, and guidelines for environmental practices.
United Fresh Produce Association
The United Fresh Produce Association (www.unitedfresh.org) recently finalized its Good Agricultural Practices (GAP) Harmonization Initiative. The goal was to develop a harmonized food safety standard and checklist for GAP audits and a globally acceptable auditing process that would protect consumers from potential hazards that may contaminate produce at that stage of the supply chain and would build efficiencies into the supplier audit process. This would result in one audit by any credible third party, acceptable to all buyers. The initiative is part of the Global Partnership for Good Agricultural Practices.
United Nations Economic Commission for Europe
The United Nations Economic Commission for Europe (www.unece.org) develops global food and agricultural quality standards to facilitate international trade. The standards encourage high-quality production, improve profitability, protect consumer interests, and are used internationally by governments, producers, traders, importers, exporters, and international organizations. They cover a wide spectrum of agricultural products: for example, one standard concerns the marketing and commercial quality control of dried apricots traded among member countries.
--- PAGE BREAK ---
U.S. Pharmacopeial Convention
USP (www.usp.org) is a nonprofit scientific organization that sets standards for the quality, purity, identity, and strength of medicines, food ingredients, and dietary supplements manufactured, distributed, and consumed worldwide. USP's drug standards are enforceable in the United States by the FDA and are developed and relied on in more than 130 countries.
USP publishes Food Chemicals Codex (FCC), a compendium of internationally recognized standards for the purity and identity of food ingredients. It features more than 1,000 monographs on food-grade chemicals, processing aids, foods, flavoring agents, vitamins, and functional food ingredients. Published since 1966, FCC plays a key role in safeguarding commerce and public health by providing essential criteria and analytical methods to authenticate and determine the quality of food ingredients. The standards are used in purchasing transactions and in helping manufacturers distinguish genuine products from inferior or adulterated ingredients and substances. The 8th edition of FCC is expected to be published this month.
USP also provides authenticated reference standards to ensure that analytical methods are performed with a high degree of accuracy. When the identity or purity of a food ingredient is questioned, for example, use of an authenticated reference standard can allow for a rapid and unbiased decision to satisfy quality assurance, contractual agreements, and regulations. USP offers more than 2,800 reference standards.
Still a Long Way to Go
Despite all the efforts being undertaken, there is still a long way to go before food safety and quality standards are harmonized worldwide, IFT's Clemens said. Harmonization, though well-intentioned, is extremely difficult and slow, and little progress is being made. In his experience in areas such as toxicants and residue levels in a variety of foods, he said, there is no harmonization, and in most cases maximum levels are not based on any scientific evidence. He added that there are many opportunities for food scientists and technologists to further the work toward harmonization through IFT and other organizations.
---
General Discussion on Harmonization
An excellent article titled "Global Harmonization of Standards," written by Salil Deshpande and John W. Nazemetz of Oklahoma State University, focuses on international standardization of technologies but not specifically on food safety and quality. The 2002 article provides an overall discussion of the need for international harmonization and how it is being addressed.
---
Standards & Certification
The following are some global food safety and quality standards and some of the many organizations providing auditing and certification services.
Food Safety and Quality Standards
BRC Global Standard for Food Safety (www.brcglobalstandards.com)
Food Safety System Certification 22000 (www.fssc22000.com)
Global G.A.P. (www.globalgap.org)
IFS Food Standard (www.ifs-certification.com)
ISO 22000 (www.iso.org)
Safe Quality Food Program (www.sqfi.com)
Certification Services
AIB International (www.aibonline.org)
American National Standards Institute (www.ansi.org)
NSF (www.nsf.org)
Quality Assurance International (www.qai-inc.com)
SGS Food Safety Services (www.foodsafety.sgs.com)
United Kingdom Accreditation Service (www.ukas.com)
Neil H. Mermelstein, a Fellow of IFT, is Editor Emeritus of Food Technology 
[email protected]