IFT Press Book Examines the Health Effects of Coffee
One new IFT Press book is now available from Wiley-Blackwell.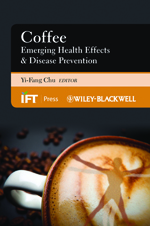 Coffee: Emerging Health Effects and Disease Prevention edited by Yi-Fang Chu presents a comprehensive review of recent research conducted on the bioactive effects of the many compounds in coffee.
Coffee is one of the most popular beverages around the world and the second-most globally traded commodity. Research conducted in the 1950s and 1960s led people to believe that drinking coffee might have negative health effects. The problem was that the research did not account for cigarette smoking, which, scientists learned later, actually masked the health benefits of coffee. Advances in research have led to new insights into how bioactive compounds in coffee affect health and wellness and diseases.
The book features extensive and balanced coverage of the overall topic with a focus on coffee constituents and their bioavailability, pro-oxidant and antioxidant properties, health benefits and disease prevention effects of coffee, and potential negative health impacts. Many studies conducted on the possible beneficial health effects of coffee have found that coffee offers protection against prostate, bladder, pancreatic, breast, ovarian, and colon and colorectal cancers, type 2 diabetes, and neurodegenerative diseases like Parkinson's and Alzheimer's diseases. Research has even shown that coffee may have positive effects on mood and cognitive performance. Despite the evidence of coffee's beneficial health effects, there are some negative ones that the book also covers. These include the negative health impacts of coffee on pregnancy, insulin sensitivity, dehydration, gastric irritation, anxiety, and withdrawal syndrome issues.
The first chapter provides general information about coffee, including its history, how it is blended, roasted, and ground, preparation methods, and consumption statistics. The remaining chapters address specific topics related to coffee constituents and the bioactive effects of coffee on specific diseases and conditions. The book is a must-have reference for food professionals who work with coffee.
Chu, a Member of IFT, is Senior Manager at PepsiCo Global Nutrition, Barrington, Ill. He previously was Head of the Global Coffee Wellness Research Group at Kraft Foods Global Inc., Glenview, Ill. The contributors, many of whom are the top researchers around the world, work for the food industry, academia, government, and the medical field.
IFT Press books, developed in partnership with Wiley-Blackwell and crafted through rigorous peer review and meticulous research, serve as leading-edge handbooks for industrial application and reference and as essential texts for academic programs.
Topics of future books in the series include food irradiation, import food safety, nanoscience and nanotechnology, dairy ingredients, food texture, foodborne pathogens in food processing, resistant starch, fats and oils, gluten-free foods, and proteins and peptides.
IFT members receive a 25% discount on all Wiley-Blackwell books. The member coupon code is available at www.ift.org. Be sure to log in and check out the Knowledge Center/Read IFT Publications/IFT Press Books links for information on how to order this book and other books in the IFT Press book series, and download a sample chapter.
For more information, call 877-762-2974, or visit www.wiley.com/go/ift.
Manuscript proposals may be sent to David McDade, Senior Commissioning Editor, at [email protected] (+44-1865-47-6546).
---
Coffee: Emerging Health Effects & Disease Prevention
edited by Yi-Fang Chu ISBN: 978–0–470–95878–0
2012
352 pp.
Wiley-Blackwell

www.wiley.com/go/ift