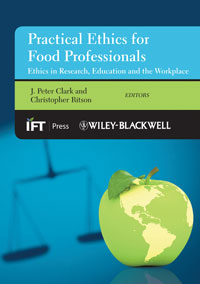 Join J. Peter Clark, one of the editors of the new IFT Press book Practical Ethics for Food Professionals: Ethics in Research, Education and the Workplace at Wiley-Blackwell's Meet the Editor event taking place during the 2013 IFT Annual Meeting & Food Expo.
Clark will be available from 3 p.m. to 4 p.m. on Monday, July 15, at the Wiley-Blackwell booth 3522 to discuss the book, answer questions about ethics in the food industry, and sign copies of the book, which will be available for purchase.
Clark is a process engineer and consultant to the food industry as well as a contributing editor of Food Technology magazine, writing a monthly column on processing since 2002. Previously, Clark has served as a chair of both the IFT Food Engineering Division and the New Products and Technologies Committee. He has worked with agencies such as the U.S. Agricultural Research Service, was an assistant and associate professor in the chemical engineering department at Virginia Tech University, and held leadership roles at companies including Fluor Daniel, A. Epstein and Sons International, and ITT Continental Baking Co. He earned his B.S. degree in chemical engineering from the University of Notre Dame and his Ph.D. degree from the University of California, Berkeley.
The book, Practical Ethics for Food Professionals: Ethics in Research, Education and the Workplace, is a guide to the most critical ethical issues that those working in food manufacturing and associated food-related industries face today. The early chapters in the book are dedicated to examining the fundamentals of ethical thinking and how lessons of medical ethics might be applied to the food industry. The book then moves to addressing some of the timely issues that have specific relevance to the food industry such as the use of genetically modified organisms, treatment of animals, health claims, food product advertising, and sustainability. The remaining chapters in the book present case studies that show how ethical thinking can be applied in real life examples.
The book is an essential reference to food industry professionals and executives who are responsible for decision-making around science, marketing, resources, sustainability, the environment, and people.
Wiley-Blackwell will also have other IFT Press books on display at its booth. For information about the 2013 IFT Annual Meeting & FoodExpo, visit www.ift.org/IFT13.
IFT Press books, developed in partnership with Wiley-Blackwell and crafted through rigorous peer review and meticulous research, serve as leading-edge handbooks for industrial application and reference and as essential texts for academic programs. Topics of future books in the series include food irradiation, nanoscience and nanotechnology, dairy ingredients, food texture, foodborne pathogens in food processing, resistant starch, fats and oils, gluten-free foods, and proteins and peptides.
IFT members receive a 25% discount on all Wiley-Blackwell books. The member coupon code is available at www.ift.org. Be sure to log in and check out the Knowledge Center/Read IFT Publications/IFT Press Books links for information on how to order this book and other books in the IFT Press book series. For more information, call 877-762-2974, or visit www.wiley.com/go/ift. Manuscript proposals may be sent to David McDade, Senior Commissioning Editor, at [email protected] (+44-1865-47-6546).
---
Practical Ethics for Food Professionals: Ethics in Research, Education and the Workplace
edited by J. Peter Clark and Christopher Ritson
ISBN: 978-0-470-67343-0 2013 298 pp.
Wiley-Blackwell
www.wiley.com/go/ift