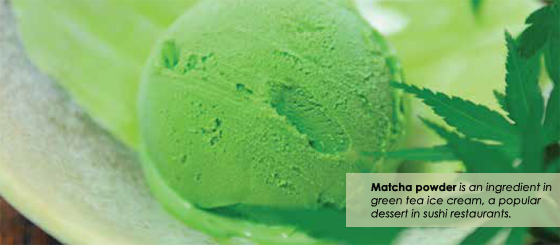 American cuisines are increasingly adopting exotic flavors from around the world. This has been especially true for flavors from Latin America. In the future, however, one can expect to see more attention focused on Asian flavors.
According to Mintel's latest research, "Today's American has much greater exposure to diverse cultures than an American 20 years ago. And as once exotic things like sushi or yoga become mainstream, we seek new, more niche marketers of cultural authenticity." Cuisines from Asia in particular are having a significant impact. The report notes that three of the most popular ethnic cuisine menu items in restaurants were Chinese, Pan Asian, and Japanese. (The other two were Italian and Mexican, and interestingly, as we will see in this article, these cuisines can be fused with Asian ingredients as well.)
These Asian flavors can be incorporated into some unexpected applications. Take pizza, for example. An Asian twist on pizza has earned top honors in the Taste of CHS Recipe Contest sponsored by CHS Inc., the nation's leading farmer-owned cooperative, and its joint venture company Ventura Foods LLC. Hidemi Walsh of Plainfield, Ind., created an Asian-flavored naan pizza featuring a zesty combination of Dean's Ranch Dip®, a Ventura Foods product, with soy sauce, garlic, spinach, Parmesan cheese, and other ingredients spread on Indian naan bread and toasted. This handheld pizza inspired by Indian cuisine would make for a perfect street food. Indian street foods are gaining in popularity as fans flock to food trucks, pop-ups, and quick-service restaurants selling fast, fresh, spicy Indian fare such as Kati Rolls, Puri with sauces and condiments, or Pav sandwiches with spiced vegetables.
Hospitality consulting agency Andrew Freeman & Co. includes "Thai the Knot" on its list of top food trends. Restaurants that feature exciting, creative takes on modern Thai cuisine are becoming some of the hottest destinations as diners become more adventurous in exploring regional Thai variations. Some examples of Thai-inspired menu items include Curry Braised Goat with Fried Shallots, Purple Yams, Mustard Greens and Peanuts, or Thai Lobster Bisque with Kaffir Lime, Lemon Grass, and Coconut Milk.
Korean cuisine is also at the fore of culinary ethnic trends as reported by publications such as Bon Appétit magazine and the website Epicurious.com. Interest in Korean cuisine has developed from the attention of star chefs. Their adaptations of traditional dishes such as Korean barbecue (bulgogi) fuse complementary flavors and redefine culinary fusion. The Kogi truck, which invented the Korean taco, has gone from niche to mainstream.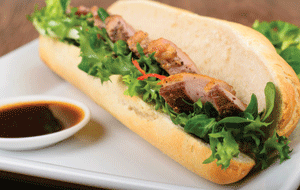 Though banh mi is actually an overarching Vietnamese term for bread, it traditionally refers to a French-inspired single-serving baguette. The sandwiches made from the bread are filled with meat, often including BBQ pork and paté, along with vegetables and an assortment of spices. Banh mi sandwiches have gained in popularity in the Chicago area with several Vietnamese restaurants having the item on their menus.
Japanese ingredients are forming interesting flavor combinations. Berry Teriyaki sauce (a recipe from Takara Sake USA Inc., Berkeley, Calif.) consists of soy sauce, blackberry, raspberry, blueberry, mirin, sake, garlic, ginger, and other ingredients. Another flavorful combination from Takara is Yuzu-Miso dressing. Both ingredients will be discussed separately later in this article.
And from China there have also been some interesting surprises. In the March 2012 Ingredients section I discussed several of these as they related to ice cream. These ice cream formulations inspired by authentic Chinese flavors included Jujube Ice Cream and Lychee Ice Cream. This article will look at other products inspired by the Chinese cuisine.
Seasoning blends can take advantage of Asian flavor combinations. For example, Wixon (www.wixon.com) offers a Sweet Korean BBQ, a delicate Asian-flavored blend featuring strong soy, savory, and heat notes. Applications include kettle-style sauces and glazes. Wixon also offers a Southwest Asian Fusion Chutney, a seasoning for cream cheese-based dips. This seasoning is described as a zesty yet delicate mix of cilantro, ginger, red pepper, and other spices.
Let's now look at ingredients from countries such as Japan, China, Thailand, Korea, and India and the potential they offer in mainstream fare. I can guarantee that this article will be a flavorful adventure.
Asian flavors can be incorporated into applications not traditionally associated with these flavors. Take pizza, for example.
--- PAGE BREAK ---
Japanese Katsu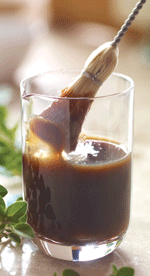 One leading trend featured in the McCormick Flavor Forecast 2013, released by McCormick & Co., Sparks, Md. (www.flavorforecast.com), is "Global My Way," which describes how people are discovering the unlimited flavor possibilities of formerly ethnic ingredients. No longer confined to their traditional
ethnic cuisines, these flavors can be incorporated into everyday eating.
According to the report, "Food fans are explaining a new way of cooking and eating inspired not by traditional global cuisines but by individual ingredients valued for their unique flavors. While still identified with particular cultures, these ingredients are no longer being limited to their native uses. Cooks are seamlessly incorporating these worldly elements into everyday cooking."
"Don't be surprised if in the next few years Japanese katsu, a tangy cross between BBQ and steak sauce, gains the broad appeal that once regional tastes like Asian hot chili sauce have achieved," said McCormick Executive Chef Kevan Vetter. In his formulations, Vetter paired katsu, a savory-sweet
Japanese condiment, with oregano leaves.
Let's look at a few examples of ways in which Japanese katsu can be used. Tamales are masa dough filled with savory or sweet fillings and wrapped in corn husks and then steamed. In this nontraditional version, Chicken Tamales with Katsu Picante Sauce, katsu sauce flavors the chicken filling and the picante sauce accompaniment.
In a second formulation, Greek Style Cold Noodle Salad, a pasta salad provides a surprising combination of Japanese udon noodles and katsu sauce with the typical ingredients found in a Greek salad. The vinaigrette is a combination of katsu sauce, olive oil, red wine vinegar, and oregano leaves. The noodle salad consists of dry udon noodles, grape tomatoes, red onion, black olives, seedless cucumber, parsley leaves, pepperoni, red bell pepper, and crumbled feta cheese.
Katsu sauce typically accompanies tonkatsu, a fried breaded pork cutlet. It may also be used as an alternative dipping sauce for recipes such as chicken or country-fried steak. The sauce can be found in the Asian aisle of some supermarkets or in an Asian market. The condiment can consist of such ingredients as
sugar, applesauce, water, vinegar, naturally brewed soy sauce, modified food starch, onion puree, tomato paste, carrot puree, spices, caramel, garlic powder, maltodextrin, and sodium benzoate.
Maybe I'm off base here, but if Japanese katsu works for applications like chicken tamales, could it also be suitable for Polish pierogi? Just a thought, but it does make you wonder.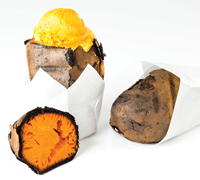 Kao Hong Shu
Sweet potatoes play an important role in a variety of signature dishes spanning a multitude of Asian countries. As the largest grower of the sweet tubular root vegetable, China supplies about 80% of the world's sweet potatoes, encompassing more than 100 varieties. So it is only appropriate that in China, roasted sweet potato is among the most popular street foods, especially prevalent during the winter season. For this familiar sweet fare, the sweet potatoes are baked in an oversized iron barrel and served plain as a dessert.
Inspired by China's street food culture, David Michael & Co., Philadelphia, Pa. (www.dmflavors.com), combined a traditionally hot and authentic Chinese dessert flavor idea with a frozen dessert application. The resulting product, Kao Hong Shu, Chinese Roasted Sweet Potato Ice Cream, was highlighted at the company's 2012 Innovation Roadshow.
Since sweet potato is becoming an increasingly popular flavor in the U.S. mainstream, such an ice cream holds potential in the market. (Other Chinese street snack foods such as mung bean milk or pea flour cake may not be quite right for the uninitiated.) Thanks to its global reputation, there are numerous applications that easily embrace a roasted sweet potato flavor, including potato and corn snacks, pudding, baked goods, confections, sauces, side dishes, and soups.
Wasabi
It's green, it's a spice, and it is usually served with sushi. I'm talking about wasabi, of course.
That little green mound of fiery hot, greenish paste is most likely not real wasabi, however, but rather a mixture of horseradish and food coloring. "Real" wasabi comes from the rhizome or stem of the wasabi plant (Wasabia japonica). It is difficult to find because it is difficult to grow and as such it can be expensive.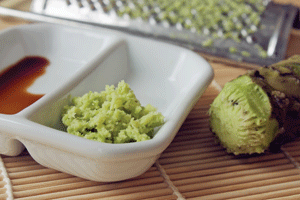 Wasabi grows naturally in streambeds—also known as sawa—in Japan. The growing conditions are difficult to maintain, and the wasabi plants require at least 18 months of growth before harvesting. It requires a constant stream of cool water, but not too much shade, and a mild climate. The United States is not the ideal country for growing this plant, except in the Pacific Northwest, where growers have had some success. It is also grown successfully in New Zealand.
Wasabi is not only used as an added spice for sushi and sashimi, but it can be found in a wide range of food products such as wasabi dressing, wasabi cheese, and even wasabi chocolate. Vox Trading USA Corp., Portland, Ore. (www.voxtrading.jp), offers a wide range of wasabi products that effectively make use of the entire wasabi plant. Dried wasabi leaves can add texture to vinaigrettes, cheeses, dips, and much more. Dried wasabi stem powder can be used in creamy salad dressings, mashed potatoes, sauces, cocktails, and other products. Dried wasabi leaf powder is suitable for enhancing the natural green color in stand-alone spices and other such products.
The company explains that the major flavor component in wasabi, allyl isothiocyanate, imparts a distinctive flavor profile combining a delicate heat and subtle sweetness. The flavor of true wasabi is very different from the neon green horseradish powders frequently found in the market. Furthermore, wasabi's isothiocyanate not only imparts the special spice found in wasabi but has been used medicinally to alleviate symptoms such as inflammations, allergies, and asthma. Wasabi is also known to have antimicrobial properties, making it a suitable pairing with raw fish and meat cuisines.
According to Vox, wasabi is traditionally grated with an ultra-fine shark skin grater and is served immediately since the flavor dissipates quickly. However, through careful management and developments in freezedrying technology, the active enzymes and substrates are kept separate, allowing the company's wasabi to maintain its flavor and chemical composition without significant degradation.
--- PAGE BREAK ---
Yuzu
A growing flavor favorite on North American restaurant menus, yuzu has been utilized in a few niche products. Yuzu is a sour Japanese citrus fruit, its flavor a cross between a delicate sweet mandarin orange and crisp sour lemon, notes Kathy McNamara, Senior Flavor Chemist for David Michael & Co. The rind is most often used to flavor savory dishes, such as fish, vegetables, and noodles. Yuzu is the signature flavor used in Ponzu, a popular sauce made with rice vinegar, seaweed, and occasionally soy sauce, and it is typically served with rice, sashimi, and tempura. Yuzu can also be utilized in sweet goods such as cakes, desserts, jams, and spreads.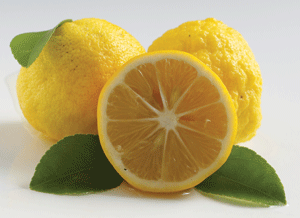 At a previous Innovation Roadshow, David Michael (www.dmflavors.com) highlighted two prototypes made with yuzu. One is a confectionery application, Yuzu Mint White Chocolate Truffle, which has a hint of spearmint added to complement the citrus flavor. According to McNamara, the Japanese food industry is known to be innovative and fun, experimenting in texture and flavor. Iconic American brands launch flavors in the Japanese marketplace that we cannot even begin to imagine. In no category is this more obvious than confections. Imagine rose-flavored gum that fights body odor, green tea Oreo chocolate bars, and soy sauce flavored Kit Kats.
A second prototype is Yuzu Kosho Japanese-Style Mayonnaise Dip, which is especially suitable for vegetables. Yuzu kosho—or yuzu paste—is made with the rind of the fruit, along with spicy chiles and salt. Spicy and bitter, it is most commonly used to complement nabe, miso soup, and sashimi. Recently featured in Food & Wine magazine, yuzo koshu could easily complement foods globally, including sandwich spreads, snack food dips, and other condiments.
Matcha
When one thinks of Japanese ingredients and the color green, wasabi quickly comes to mind. But there is another ingredient that can add a vivid emerald green color to food applications: matcha powder. Two companies that supply this ingredient are AOI Tea Co., Huntington Beach, Calif. (www.aoitea.com), and Taiyo International Inc., Minneapolis, Minn. (www.taiyoint.com).
Matcha powder is the finely milled leaf of green tea. For thousands of years, matcha has been consumed during Japanese tea ceremonies that focus on the special preparation, serving, and drinking of matcha. In more recent times, however, matcha has been used as an ingredient that not only provides that bright green color, but also a mild, grassy, "earthy" flavor. Another advantage that has been promoted is its health benefits.
Not to be confused with green tea extract, which has a distinctive bitter taste, matcha is prepared in a certain way. New leaves are handpicked, steamed, and dried, and then ground by granite stone mills, reports literature from AOI. Picking only new leaves deprives them of sunlight, making them thinner and producing a deep green color.
Green tea ice cream is a common dessert in sushi restaurants. This powder can be used in a variety of other applications, however, including yogurt, cakes, confections, chocolate, smoothies, pasta, cereal, and energy bars. Or how about a Nestlé Kit Kat with a matcha green tea coating?
AOI is reported to offer several varieties of matcha green tea as well as blends such as Matcha with Chlorella, Matcha and Gymnema, Matcha with Collagen, and Sweet Matcha. The first three contain ingredients that provide additional health benefits, according to the company. The Sweet Matcha is blended with sugar for use in smoothies, bakery applications, and iced tea.
Taiyo Kagaku Co. Ltd. has scientifically examined green tea for many years and found that the health benefits can be attributed to its various active components such as green tea catechins and the amino acid L-theanine. The company includes in its portfolio Sunphenon, a line of polyphenols rich in natural green tea catechins. These polyphenols have been shown to have numerous biochemical and physiological benefits, including antioxidant, antimicrobial, deodorant, and fat-burning activities.
In all likelihood, you'll see more matcha in the future. And you don't necessarily have to be a Buddhist to believe that.
Soy Sauce
When thinking about Japanese ingredients, soy sauce probably comes quickly to mind. And Kikkoman (www.kikkoman.com) keeps developing new innovations, including products designed to naturally enhance flavor and meet the demand for reduced-sodium formulations.
Kikkoman Dehydrated Natural Flavor Enhancers amplify savory umami qualities and allow for a salt reduction of up to 30–50%. Kikkoman NFE products replace monosodium glutamate and hydrolyzed vegetable protein to give virtually any savory application a flavor boost, and are made using the same base ingredients as regular soy sauce (soybeans, wheat, water, and salt). Through a proprietary brewing process, the typical soy sauce flavor, aroma, and color are reduced to create a neutral savory flavor booster that does not add a pronounced Asian or soy sauce perception. Kikkoman NFE-P (powder) and NFE-PY (powder with yeast extract) increase umami in meat, poultry, seafood, soups, salads, dressings, marinades, and more.
Kikkoman Less Sodium PTN Soy Sauce contains 45% less regular soy sauce, making it the lowest-sodium Kikkoman soy sauce available. A preservative-free, tamari-style soy sauce, the product features highimpact soy sauce flavor with the added benefit of reduced sodium. During manufacturing, the company uses a proprietary process to reduce sodium, resulting in a soy sauce with 15% stronger flavor and no dilution. The higher amino acid content offers increased flavor enhancement properties while maintaining balance and allowing up to 50% sodium reduction. Furthermore, the flavor will stay strong even through the harshest production and cooking environments.
Kikkoman Gluten-Free Soy Sauce is naturally brewed with four simple ingredients—water, soybeans, rice, and salt, and meets the FDA's proposed guidelines for gluten-free applications. With the increasing demand for gluten-free applications, the product enables food manufacturers to develop a broader spectrum of globally inspired products.
Although Kikkoman soy sauce has been used primarily for Asian cuisine, these products are suitable for use in a variety of savory applications. Some examples of formulations demonstrating the versatility and flavor-enhancing qualities of each product include potato chips with ranch dressing dip (NFE-PY Natural Flavor Enhancer); turkey meatballs (NFE-P Natural Flavor Enhancer); gluten-free turkey meatballs (Gluten-Free Soy Sauce); and beef meatballs (Less Sodium PTN Soy Sauce); Asian Slaw (Seasoned Rice Vinegar); and soup base (NFE-PY Natural Flavor Enhancer).
--- PAGE BREAK ---
Cherry Blossom
Wonder what George Washington with his penchant for cherry trees would have thought about this ingredient?
Regarded as the national flower of Japan, the cherry blossom, or sakura, is adored by the Japanese people. It is considered a symbol of spring and of the Japanese state of mind. Sakura trees only bloom for a few short days in Japan, and in celebration, hanami (flower viewing) parties are often held. (If I'm not mistaken, Washington, D.C., in the springtime draws many picture-taking tourists to its cherry trees as well, and this is also a time of celebration.) Sakura blossoms and leaves are stored in salt and used to decorate and flavor traditional Japanese sweets. The flavor of cherry blossom delivers a fragrant floral top note, dark berry, crisp citrus, and cooling eucalyptus.
David Michael featured a Cherry Blossom White Chocolate Truffle at one of its Roadshows.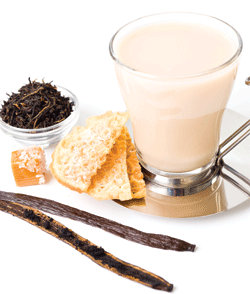 Lapsang Cappu-Tea-No
Originating from the Fujian province of China, Lapsang souchong is a black tea renowned for its smoky fragrance and taste. The robust signature smokiness is created by smoke-drying the tea over a pinewood fire, resulting in leaves that are infused with a distinct sweet, clean, and crisp smoke flavor.
According to Chinese lore, Lapsang souchong tea was not created intentionally, but entirely by accident. David Michael tells the story in its 2012 Innovation Roadshow booklet. In 1646, legend goes, the Fujian province was at risk of being brought under Manchu rule and when the army invaded, the villagers wanted to hide and protect their tea crop. In an effort to safeguard the tea leaves from rotting, the harvest was dried over readily available pinewood. When the villagers learned that this had given the tea an intense smokiness, they thought it was ruined. Sometime later when Dutch traders came to buy tea as they regularly did, the villagers thought they would try to pawn off this "special" tea crop. Much to the villagers' surprise, the Dutch loved the tea and were willing to pay even higher prices for it. Thanks to the abundance of pinewood and the ease of creating the distinct smokiness, production of the tea continued and today we have Lapsang (meaning pinewood) souchong (distinguishing the leaf variety) tea. As David Michael notes, "You have to love a serendipitous accident!"
David Michael innovators Val Barber and Cheryl Rash observe that with teas quite comfortable in the limelight as of late, the door is wide open for novel and lesser known flavor selections to make themselves known. Strong flavors are among the trends in tea right now, hoping to draw in some coffee drinkers, making the robust Lapsang souchong an ideal candidate for tea beverages and other products that borrow flavor inspiration from the wide-ranging tea category.
At its 2012 Innovation Roadshow, David Michael introduced the bold flavor of Lapsang in a smooth cappuccino-inspired milk tea drink. The Lapsang Cappu-Tea-No was served with a salted caramel vanilla pizzelle that works well to complement the rich smokiness of the lapsang flavor.
A brand new addition to the David Michael flavor library, lapsang has the capacity to extend far beyond the tea beverage sector. Its special, smoky profile would translate well in ice cream, smoothies, bourbon, rum, barbecue sauce, and mayonnaise.
Asian Tacos
Comax Flavors (www.comaxflavors.com) offers international flavors that can transform everyday food products and appeal to today's adventurous palates. One of these is the Asian Taco, which can bring forth distant tastes and fusions from all over the world.
At the Kendall College School of Culinary Arts in Chicago, work has also been done on developing the "fish taco." The flavors and ingredients of fish tacos originally came from South of the Border, but the college has developed recipes that are influenced by Asian cuisine. For example, "Barramundi Taco" not
only capitalizes on a sustainable fish that is growing in popularity, but says "Asian" with pickled daikon radish and carrot and creamy sesame-soy yogurt sauce.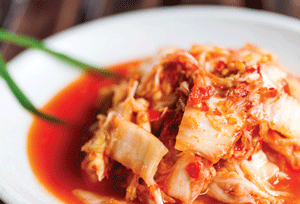 Kimchi
One of the most important foods in Korea, kimchi is a pickling of vegetables, most notably cabbage. High in fiber and low in fat, it is served practically everywhere in Korea. It can be used as a condiment, served plain, over rice, or with a variety of other foods.
Today, this simple dish once associated with Korea has spread to the United States and can be found on food trucks serving tacos, in restaurants, and even in the Trader Joe's refrigerated case. Kimchi can be made from a variety of ingredients—from Napa cabbage to cucumbers to radishes, and often is seasoned with garlic, salt, vinegar, chile peppers, and other spices. In fact, one of the strengths of kimchi, probably explaining its widespread success, is its versatility, as its ingredients can easily be blended or fused with flavors of different cultures. Fused with complementary flavors, kimchi has literally redefined culinary fusion. One chef, David Chang (Momofuku, New York) serves kimchi in butter and stew.
And kimchi is healthful. It is high in vitamin C and vitamin A, and it contains the beneficial bacteria lactobacilli, which aids in digestion.
Black Garlic
When raw garlic is subjected to a month-long fermentation process, the result is black garlic, an increasingly popular culinary ingredient. With heat only, garlic is transformed into a product that barely resembles its raw counterpart. While the garlic flavor is present, it is very subtle and what is left is a sweet and syrupy clove that has balsamic, molasses, tamarind, and raisin notes. And unlike the regular version, there is no garlic breath, which, of course, can be a definite plus.
Black garlic, a South Korean export, contains twice the amount of antioxidants as traditional garlic, as well as S-allylcysteine, a compound said to help prevent cancer. Black garlic works well in a number of savory dishes that can take advantage of its umami properties. With its sweetness and texture,
black garlic could work well in snack bars, trail mixes, and even confections such as chocolate truffles.
--- PAGE BREAK ---
Miso
Miso is a versatile, high-protein seasoning paste concentrate made from soybeans, grain (rice or barley), salt, and water.
Miso is East Asia's most important soy food. It originated in China some 2,500 years ago and was brought to Japan during the seventh century. According to its producer, Miyako Oriental Foods Inc., Baldwin Park, Calif. (phone 626-962-9633, www.coldmountainmiso.com), miso as an ingredient has come to the West to stay and will be an essential element in America's evolving cuisine.
Cold Mountain Miso, made from organic whole soybeans, cultured rice, sea salt, and filtered water, is an excellent source of protein, vitamin B-12, and other nutritious and beneficial elements.
Miso is prized by cooks for its versatility. It can be used like bouillon or a rich meat stock in soups, meatless gravies, or stew; like soy sauce, Worcestershire sauce, or ketchup in sauces, dips, and dressings; as a thickener in barbecue sauce; like chutney or relish as a topping for grains, fresh vegetables, or sandwiches; as a gravy base with sautéed or steamed foods; or even like vinegar as a pickling agent.
Miso ranges in color from cream to deep brown depending on the ratio of soybean to rice, the amount of salt, and the length of fermentation. Traditional Japanese-style miso (red and light yellow) has the richest flavor. The yellow Hawaiian style is milder and semisweet. The less-sodium Kyoto-style is sweet and can be used as a straight dip.
Some recipes using miso that are available from the company include Miso Soup with Tofu and Wakame, Miso Stir Fry, Miso Salad Dressing, Miso Dip with Tofu, and several others.
Sriracha
A Thai-style hot sauce, Sriracha is quickly gaining popularity because of its versatility. Made from a blend of chili peppers, vinegar, garlic, sugar, and salt, the sauce reportedly kicks up the heat with balanced flavor. Named after the city of Sri Racha in Thailand, the sauce has been used in Thai cuisine as a seafood condiment, as well as in Vietnamese cuisine as a topping for pho, fried noodles, and spring rolls.
According to a manufacturer, Roland Foods, the sauce creates a sweet, spicy, and tangy condiment that can be used in a wide range of mainstream dishes. For example, it can be used with ketchup or mayonnaise on burgers or fries. Or it can be blended into macaroni and cheese or into a tuna fish sandwich for a spicy spin on these classic dishes. Or it can be mixed with melted butter and served on top of shrimp for a spicy appetizer. It can be used in other formulations ranging from chicken wing recipes to sautéed leafy greens such as kale or collards.
Roland Foods offers a recipe using its Sriracha Chile Sauce in an Arrabiata Pasta Sauce. Talk about Italy and Thailand tying the knot.
Vinegar
Ingredients such as vinegar can also play an important role as a starting point for a variety of Asian sauces, noted vinegar manufacturer Mizkan Americas Inc., Mt. Prospect, Ill. (www.mizkan.com). The company has been manufacturing vinegar since 1804, and rice vinegar is among its many specialty products.
According to Mizkan, as food trucks drove onto the scene, they brought an expected trend: fusion food. A leader of liquid condiments, the company maintains that it is primed to address this latest food revolution.
In addition, the company's acquisition of Borders Foods has allowed it to expand its offerings to include jalapeno peppers, tomatillos, and enchilada sauces. As Asian and Latin flavors join forces, adding interest and depth to familiar favorites such as tacos and short ribs, this will create additional opportunities for Mizkan's portfolio.
Other Asian Flavors on the Horizon
As formulators continue to look to the "Land or Lands of the Rising Ingredient," a variety of Asian flavors are on the horizon.
Also known as jak, jackfruit belongs to the same genus as the breadfruit. The jackfruit is thought to be native to South India, where it spread to Sri Lanka and over the mainland of Southeast Asia. The fruit itself is enormous, reported to be the largest of tree-borne fruits. It has structure like that of a pineapple, but its sections are clustered in irregular clumps. The fruit is elongated, its green skin fissured by the hexagonal boundaries of the sections and covered with spikes. Each fruit contains up to 500 large, starchy, edible seeds. The fleshy part can be eaten as is, or cut up and cooked. When unripe (green), it is similar in texture to chicken, making jackfruit an excellent vegetarian substitute for meat. Jackfruit is rich in many vitamins and minerals.
Native to India and tropical Asia, lemongrass is widely used as an herb in Asian cuisine. It has a subtle citrus flavor and can be dried and powdered, or used fresh. Lemongrass has applications in teas, soups, and curries and is suitable for poultry, fish, beef, and seafood.
Or Thai red curry—a warm, complex spice which, when combined with the creaminess of coconut milk, may be used in beef, chicken, or seafood dishes.
There are so may others such as dragon fruit, carambola, lychee, and more that, well, we'll have to save some of the others for our next ethnic excursion. I told you that this article would be a flavorful experience.
Next month's Ingredients section will explore innovations in chocolate and chocolate replacers.
---
IngredienTalk:
As Americans become more acquainted with ingredients from Asian countries, they'll be learning some words that may be unfamiliar to them. One of them may be umami (the fifth basic taste). But there are many words that may give their culinary experiences a new meaning. If you're an IFT member, visit www.ift.org, type in your name and password, click on the IFT Community button, and go to the blog section. Let's share in the new vocabulary.
Learning a New Language
For many—if not most—consumers, umami may still be a somewhat mysterious term even though it is one of the five basic tastes. I'll bet that consumers can easily recognize the other basic tastes—sweet, salty, sour, and bitter. But umami? Well, let's just say that as tastes go in this group, umami is still definitely the quiet Beatle.
--- PAGE BREAK ---
However, this lack of familiarity—or understanding—may be changing soon. As consumers become more familiar with Asian ingredients being incorporated into their mainstream formulations, they will also gain a better understanding of the word "umami," which marketers and product developers can also employ to better advantage.
What exactly is umami? According to the Umami Information Center (yes, there really is such a source), umami takes its name from Japanese, and can be described as a pleasant savory (other definitions say "meaty") taste imparted by glutamate, a type of amino acid, and ribonucleotides, including inosinate and guanylate, which occur naturally in many foods such as meat, fish, vegetables, and dairy products. As the taste of umami is subtle and blends well with other tastes to expand and round out flavors, most people don't recognize umami when they encounter it, but it plays an important role making foods taste delicious.
The human tongue has receptors for L-glutamate, which is the source of umami flavor. For that reason, scientists consider umami to be distinct from saltiness. Umami, by the way, was scientifically identified in 1908 by Kikunae Ikeda, a professor of the Tokyo Imperial University. For years, there has been debate over whether umami was a basic taste much like whether Pluto is a planet or just a piece of rock. Hopefully, umami will have a better fate than the judgment on Pluto. And I'm sure it will.
I have always been fascinated with umami not only because of its potential in food formulating, but also because so many people are still not familiar with it. Over the years, I have written about umami many times for Food Technology, and as Asian foods become more incorporated into the American mainstream, I expect to continue to do so in the future.
One of my earlier references to umami was in the February 2004 issue of Food Technology when I discussed "protein tooth."
According to that Ingredients article, a "protein tooth" refers to a craving for amino acids, which are found in proteins. "The ability to taste amino acids guides us to proteins, which themselves have no taste," noted a taste researcher at Saarland University, Homburg, Germany, who was recently quoted in Nature. Glutamate, for example is a common amino acid giving high protein food its meaty, umami flavor."
"There are two main categories of umami substances: Amino acids such as monosodium glutamate and nucleotides such as IMP and GMP," continued my article. "Many common foods such as tomatoes, eggs, seafoods, and especially fermented foods, including cheese, fish products, and soy sauce, contain active umami substances. These substances are synergistic—when used in combination, their taste is amplified. According to researchers, this synergism creates a desirable taste which helps motivate the individual to eat a balanced diet, and in particular, consume health-promoting essential amino acids. Umami substances in aged meats and fish help make vegetables taste better. The glutamate in tomato-based pasta sauces combines well with the protein in meatballs, carbohydrates in the pasta, and the sprinkle of aged cheese."
In the article, I noted that researchers are looking more and more at this area of taste. Now, as American cuisines are increasingly adopting exotic flavors from around the world, including Asian countries, the time has come when the implications of this research and the actual experience of umami-rich foods are reaching the plate of the Western consumer. Reaching this stage is, of course, very exciting.
Also, in addressing today's trends and health interests, umami may also play an important role. For example, in the 2012 Ingredients section on gluten-free formulating, one of the ingredients covered was a gluten-free soy sauce from Kikkoman. This sauce enables food manufacturers to develop a broader spectrum of globally inspired formulations designed for customers who are on diets in which gluten has been restricted for health reasons. According to the company, the product has a rich flavor and a complex, pleasing aroma that enhances umami and blends seamlessly with other ingredients. Using umami, products such as these challenge the notion that "gluten-free" is synonymous with "not as tasty."
Interestingly, umami is not the only word that more Americans will learn about as they experience Asian flavors. For example, there's kokumi, which translates to "deliciousness." The compounds in foods that relate to kokumi don't have an identifiable taste in and of themselves. Rather, they appear to heighten the sensation of other flavors by activating calcium receptors on the tongue, making salty foods taste even saltier or savory foods more savory.
And there are so many other words that can be added to the new vocabulary. Take bulgogi for Korean barbecue. And then there's … But wait, to learn about some of the other emerging words, you'll have to read the article, "Land of the Rising Ingredient," which starts on page 47. In the meantime, if
you have a few choice words that you want to add, let's IngredienTalk.
---
www.ift.org
Members Only:
Read more about Asian flavors online at
www.ift.org.
Type the keyword into our search box at the upper right side of our home page.

Donald E. Pszczola,
Senior Editor
[email protected]