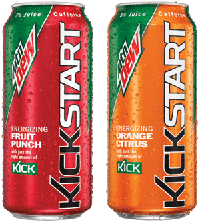 Breakfast Soda
Some consumers prefer to get their morning jolt of caffeine from a soda pop or an energy drink versus the more conventional beverages like coffee and tea. Recognizing this fact, PepsiCo, Purchase, N.Y., has rolled out Mountain Dew Kickstart. The company describes the new carbonated drink as a sparkling juice beverage with just the right amount of caffeine. The product is available in two flavors, Orange Citrus and Fruit Punch, has 80 calories per 16-oz can, and contains 5% juice. The can features a slim design reminiscent of similar container shapes for energy drinks. "Our consumers told us they are looking for an alternative to traditional morning beverages—one that tastes great, includes real fruit juice, and has just the right amount of kick to help them start their days," said Greg Lyons, Vice President, Marketing, Mountain Dew. "We heard them loud and clear and created a completely new offering with Kickstart to give them exactly what they asked for."
---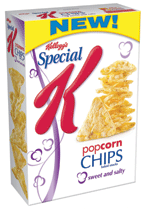 Popcorn Chips
Kellogg Co.,
Battle Creek, Mich., has extended its
Special K
brand further into the snack aisle with the release of
Special K Popcorn Chips
. The new snacks are available in three varieties—
Sweet & Salty, Butter,
and
Sea Salt
. They come in either a .77-oz bag or 4.5-oz carton. For the
Butter
flavor, a serving size of 28 g (28 chips) has 120 calories (only 20 calories from fat), 22 g of carbohydrates, 170 mg of sodium, 2 g of protein, and 2 g of total fat. The
Butter
variety contains milled corn, vegetable oil (canola oil with TBHQ for freshness, palm oil, sunflower oil) with 2% or less of salt, natural & artificial flavor, corn germ, dextrose, nonfat milk, maltodextrin, butter (cream, salt), annatto extract for color, and disodium inosinate & disodium guanlyate.
---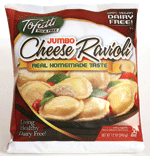 Dairy-free 'Cheese' Ravioli
Tofutti Brands, Cranford, N.J., makers of premium dairy-free cheeses and desserts, is expanding its frozen food line with the introduction of the first completely egg-free, dairy-free cheese ravioli. Available in two varieties (i.e., Jumbo and Bite-Sized), the ravioli's are stuffed with Tofutti Better than Ricotta Cheese. In addition to being a dairy-free substitute for the estimated 80 million lactose-intolerant Americans, Tofutti's Cheese Ravioli's now provide a brand new alternative cheese option for the fast-growing vegan population. The cholesterol-free products deliver 210 calories (90 calories from fat), 4 g of protein, 280 mg of sodium, and 10 g of fat per serving. To prepare the frozen ravioli, consumers can boil the frozen ravioli for 6–8 minutes and add their favorite pasta sauce. Tofutti's Ravioli are available at virtually every major supermarket chain across the United States as well as many independent health and specialty food stores.
---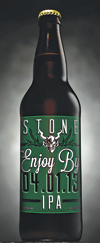 Another Way to Say Fresh
How do you tell consumers that your product is "fresh" and "special" at the same time? Stone Brewing Co., Escondido, Calif., does so with its recently launched Stone Enjoy By 04.01.13 IPA, an India Pale Ale style of beer. The new brew—available in 22-oz bottles and on draft—features a strong hop profile, thanks in part to the 11 different hop varieties added throughout the brewing process. The "Enjoy By" date printed on each bottle reflects the date by which the beer must be consumed. And the brewery is making sure it will be. On April 2, if any beer remains on the shelf, it will immediately be removed. "This is the most ambitious Stone Enjoy By IPA release to date, with the highest number of areas [17 states] being included in its distribution," said CEO and cofounder Greg Koch. Consumers can visit the website www.stonebrewing.com/enjoyby/ and use the interactive map to find exactly which retailers, restaurants, and bars are carrying the beer.
---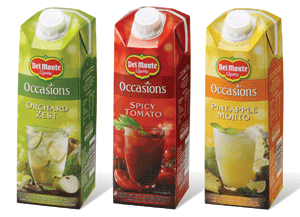 Juice Drinks for Adults
Del Monte UK, Middlesex, has launched a new line of fruit-based drinks targeted at adults in the UK. Del Monte Occasions combines popular fruit with the flavor of classic drinks. The versatile juice range can be served neat with ice or blended with alcohol for easy-to-mix special drinks. Varieties include Pineapple Mojito, Spicy Tomato, and Orchard Zest. "Traditionally, get-togethers go hand in hand with a celebratory drink," said Tony Gill, Commercial Director of Del Monte UK. "The new Occasions juice range provides non-drinkers with something a bit more special than standard soft drinks. The product is so versatile that it can also be served with alcohol, making it ideal as an easy to make cocktail or high ball." The juice drinks are packed in combifitMidi 1,000-ml cartons with resealable screw caps from SIG Combibloc, Linnich, Germany.