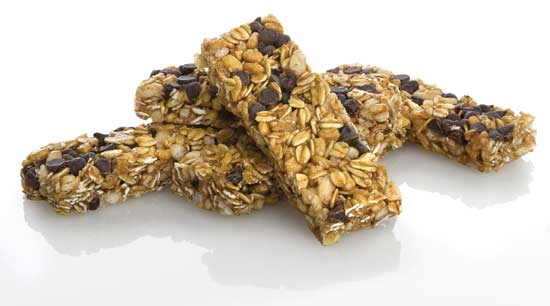 Encapsulation is an important part of food and beverage product development but one that most consumers may not consider. Encapsulation can mask the unpleasant flavors of otherwise healthful ingredients or protect probiotics during shelf life to ensure that consumers get the promised benefits, for example. Encapsulated ingredients can be found in just about every food product category, including bakery, confectionery, meat/poultry, beverages, dairy, snacks, and convenience foods.
Product developers and ingredient manufacturers employ encapsulation to control the release of food ingredients and protect them during the processing environment or during storage. Ingredients that are often encapsulated can include vitamins that need protection from oxygen and moisture, flavorings that are designed to be released at a certain time during mastication, colorings that are encapsulated to release at different times for color-changing effects, and enzymes that need to be immobilized during certain processes. Even gases can be encapsulated to provide interesting eating sensations (think of Pop Rocks and other popping candy where carbon dioxide is encapsulated by sugar crystals).
Researchers continue to refine or develop new materials to form the "coatings" or "shells" around the core. Some are experimenting with whey protein isolate, guar gum, and carrageenan to protect cardamom essential oil in a dry powder, enhancing its handling and storability (Mehyar et al., 2014). Others are exploring the use of chitosan and silica to produce a thermally stable shell around a core material that can be included in the batters of breaded products to produce a crispier crust (Kang and Chen, 2014). Cho et al. are investigating chitosan and sodium tripolyphosphate for the purpose of encapsulating resveratrol and controlling its release (2014). And Wang et al. are focusing on lipids that can function as a carrier system to deliver microalgae oil (2014).
There are plenty of examples of encapsulation technologies and core ingredients being used in product prototypes and consumer packaged goods. Glanbia Nutritionals, Fitchburg, Wis. (www.glanbianutritionals.com), featured NutraShield™ caffeine, which uses encapsulation technology to improve the taste of the caffeine, in the Energy Premix that it showcased at the 2014 SupplySide West show. QualiTech, Chaska, Minn. (www.qualitechco.com), uses proprietary encapsulation technologies to make its Season-ettes™ granules less prone to moisture migration and have better temperature stability to help avoid stickiness or smearing of bakery toppings on packaging. McCormick & Co. Inc., Sparks, Md. (www.mccormickcorporation.com), developed FlavorCell ®, a proprietary process to encapsulate liquid and solid flavorings whereby the matrix that surrounds the flavorings protects it from heat, moisture, and oxidation. Coloring ingredients manufacturers have created encapsulation technologies to protect naturally derived colorings from heat, light, and oxidation.
Ingredient Options to Build Encapsulation Shells
Encapsulation can involve using emulsions, high pressure processing, and extrusion techniques, but to achieve this you need an appropriate shell material, and that is where hydrocolloids come in, says Maureen Akins, technology manager at TIC Gums, White Marsh, Md. (www.ticgums.com). The company manufactures starches, gums, and other hydrocolloids used to formulate encapsulation shell walls appropriate to the processing conditions and finished products. More specifically, these ingredients used as encapsulation agents must function as sufficient emulsifiers and remain stable long enough to get through the entire process without separating, says Akins. Gum acacia, also known as gum arabic, is widely used in encapsulation technologies. TIC Gums' TIC Pretested ® Gum Arabic FT Powder, for example, is a spray-dried gum arabic used in the encapsulation of flavor oils. Gum arabic, however, is only available from a specific region in Africa, where it is derived from the acacia tree, and this limited growing area could affect worldwide supplies of the ingredient should some unforeseen circumstance beyond the control of ingredient suppliers occur, explains Akins. Therefore, TIC Gums continues to add alternative ingredients to its portfolio that can provide the desired functionality in encapsulation techniques.
Preventing Flavor and Aroma Loss
Encapsulated and spray-dried essential oils and oleoresins that are part of the EZ-Caps™ line offer several advantages to product developers, says Amandine De Santi, business manager for Naturex, Avignon, France (www.naturex.com). The encapsulation technology helps to protect the volatile aromatic compounds in the oils and oleoresins against flavor and aroma loss during processing and during the shelf life of the finished product that contains the encapsulated ingredients. There is consistency of strength and flavor from batch to batch. Encapsulating the oil-soluble ingredient and spray drying it into a powder creates a water-dispersible ingredient, which makes it useful in beverage applications and instant drink mixes. Finally, De Santi adds that because the EZ-Caps essential oils and oleoresins are in powder form, they are easier to handle, store, and use than liquid ingredients.
--- PAGE BREAK ---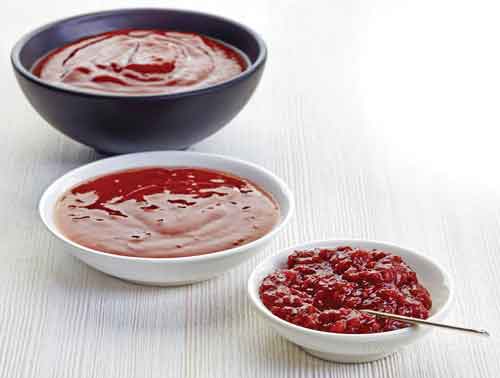 Maltodextrin, a combination of maltodextrin and modified starch, or gum arabic are ingredients used to formulate the shell, explains De Santi. Manufacturers can use the EZ-Caps essential oils and oleoresins in several types of applications, including the aforementioned beverages and instant drink mixes, as well as dry seasoning blends and sauces. Capsicum, ancho, pasilla, Szechuan pepper, allspice, lemongrass, basil, fennel, rosemary, and thyme are just a few of the different essential oils and oleoresins available. During the 2014 IFT Food Expo, Naturex showcased ginger and mustard extracts in Papaya & Ginger Potato Crisps and Blueberry & Mustard Potato Crisps and chipotle flavoring extract in Chipotle BBQ Sauce.
Technique Enhances Nutrients
The Super Micro Atomization Retention Technology (SMART™), a proprietary microencapsulation technique from The Wright Group, Crowley, La. (www.thewrightgroup.com), produces a line of encapsulated vitamins, minerals, and other nutrients that have improved performance in fortified foods and beverages.
These nutrients are available under the SuperCoat ® line and provide food manufacturers with a number of benefits over ingredients that are not encapsulated; benefits include increased shelf life and stability in extreme processing conditions like heat and pH. The microencapsulated coating is also said to help mask the undesired tastes, odors, and mouthfeel that many vitamins, minerals, and various nutrients can impart and protect the ingredients from reacting with other micronutrients. The company offers a variety of coating types to create the SuperCoat coatings and chooses from a number of different encapsulation technologies to produce the microencapsulated coatings that surround the nutrient cores.
Product developers can choose from SuperCoat nutrients such as vitamins, a range of amino acids, and various forms of iron, magnesium, manganese, potassium, and zinc. Botanicals like gingko biloba and green tea extract and nutraceuticals ingredients like chondroitin sulfate and alpha lipoic acid are offered, too. Product concepts developed by the company's food technologists highlight the functionalities of various SuperCoat ingredients. A Trail Mix Protein Bar fortified with SuperCoat Omega-3 and SuperCoat Bake Stable Vitamin C has improved stability of omega-3 fatty acids to light and oxygen and increased retention of vitamin C potency during baking. The SuperCoat Caffeine used in an Energy Chew remains stable during processing, and the microencapsulation of the caffeine helps to mask the bitterness of caffeine and provides a slow release of the nutrient. A Lemon Poppy Seed Muffin can maintain a nutritional claim throughout its shelf life thanks to the SuperCoat Bake Stable Vitamins, which are said to have increased vitamin potency retention during baking and reduced interactions with other nutrients.
Researchers Investigate Microencapsulation Developments
"There are different ways that we can define microencapsulation," explains Moshe Rosenberg, professor with the Dept. of Food Science at the University of California–Davis, whose research team specializes in microencapsulation technologies. "I prefer to look at microencapsulation as a micro-packaging technique where tiny droplets or particles of desired compounds or materials are packed into envelopes that are designed to protect them and allow their delivery at different times, different conditions, and even at the desired region in our GI tract."
Any type of encapsulation begins with the selection of the materials that will comprise the shell, or microcapsule, but food product developers cannot choose just any material, says Rosenberg. "In the food business, microencapsulation is especially a challenging business because unlike the pharmaceutical industry or the chemical industry, we food technologists are quite limited in the selection of encapsulating agents that the material is used to capture and entrap the sensitive compounds." Because they are dealing with food products, he says, the materials need to be GRAS.
--- PAGE BREAK ---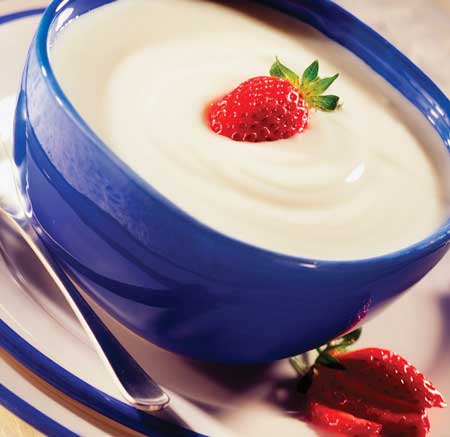 Microencapsulation can be expensive in many cases, remarks Rosenberg, but it does offer benefits to manufacturers, and the careful selection of the type of microcapsule is critical to this. The different materials used to create the microcapsules depend on the ingredient/ingredients that need to be encapsulated such as essential oils, colorings, probiotics, and vitamins and processing conditions. Ultimately, though, these ingredients have to be released from the microcapsules. "We spend, I believe, more time and more efforts on developing encapsulation methods and microcapsule products; however, we need to spend more time developing an in-depth understanding about the release of the encapsulated material and the different conditions in our GI tract environment that is quite harsh," states Rosenberg.
There are ways that researchers can control the way the encapsulated ingredients will be released. "If we use water-soluble material as the encapsulating agent or the wall material, just mixing it in water will immediately dissolve the wall matrix and will release the content. This is very simple, the most basic release mechanism. A more sophisticated release mechanism that we have developed is aimed at allowing slow release or prolonged release of the content. So rather than having a burst of release of the encapsulated material, we can extend the release of the content over a desired period of time in specific conditions. It can be by sensitivity to specific pH, especially in the case of microcapsules that are aimed to release their content in our GI tract."
View a video to learn more about microencapsulation and the work that Moshe Rosenberg and his team do.
Chromeless Video Player branded for IFT
Improving Flavor Stability
As part of its dry flavor delivery capabilities, Sensient Flavors LLC, Hoffman Estates, Ill. (www.sensientflavors.com), utilizes encapsulation technologies to enhance flavor stability, modify flavor release, provide visual benefits, and more, says Bill Smith, beverage R&D director at Sensient Flavors. "We utilize a wide range of matrix encapsulations in order to meet specific customer application needs such as enhanced performance, cost effectiveness, and a wide range of industry applications." The basic matrix for encapsulation the company uses is composed of food-grade starches and sugars, but other specialty materials can be used for select ingredients. "Some of our encapsulating materials are more functional in the area of protecting the quality of the flavoring, while other approaches focus on delivering a particular particle size for optimum performance," explains Smith.
--- PAGE BREAK ---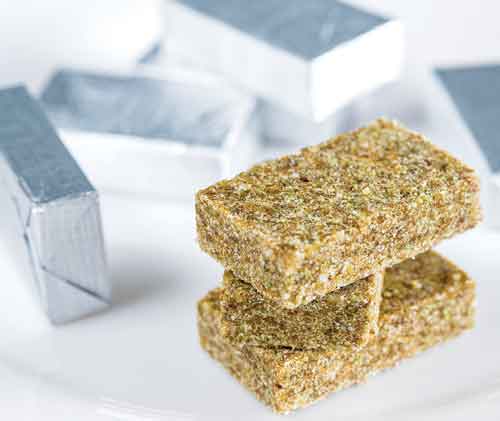 Sensient Flavors' matrix-encapsulated powdered flavor systems are available in different particle sizes and include spray-dried, spray-agglomerated, granulated, and spray-coated versions. Each of these versions has different benefits and functions, according to the company. The spray-agglomerated encapsulated powders are said to have high flowability and improved mixing and dissolution characteristics. The granulated powders have a larger particle size for use in applications where visual effects are required. The materials used to create the spray-coated powders allow for the release of small amounts of flavor over time, generating a "head space" of aroma, which plays into consumer product preferences. These ingredients function in cold-water-soluble beverages, hot instant beverages, chewing gum, crème filling for bakery applications, dry mixes, compressed tablets, stock cubes, instant noodle mixes, and topical applications.
Fish Oil without the Fishy Taste
Research shows that the omega-3 fatty acids in fish can have beneficial effects on heart and brain health. Food manufacturers continue to formulate omega-3s into a range of food and beverage products to add value to the products and capitalize on the growing popularity of the ingredient. The problem is that the fish oil that provides omega-3s can often impart a fishy taste and aroma to foods and beverages. Ingredient developers present a solution to this by using microencapsulation to encapsulate fish oil to provide the stability needed to help produce a tasteless and odorless ingredient.
Powder-loc™ microencapsulation from DSM Nutritional Products Inc., Parsippany, N.J. (www.dsm.com), allows manufacturers to formulate fish oil-based omega-3 in many different food and beverage products without the taste or smell of fish. The patented Powder-loc technology uses a double shell to protect the eicosapentaenoic acid (EPA) and docosahexaenoic acid (DHA) and keep the aroma and taste of the oil from migrating into the food product. Other technology uses single-shell protection where the oil forms a core surrounded by a single shell. This leaves the outer shell vulnerable to breakage during processing, which would release the oil prematurely. The Powder-loc technology protects the oil within a multi-shell inner matrix and an outer shell that surrounds it, giving it the ability to stand up to processing conditions and high temperatures and protecting the oil from oxidation. DSM Nutritional Products uses the Powder-loc microencapsulation on its MEG-3 ® EPA/DHA and DHA ingredients.
During the 2014 IFT Food Expo, BASF Nutrition & Health, Florham Park, N.J. (www.newtrition.basf.com), showcased some of its encapsulated fish oil ingredients in product concepts that illustrate healthier snack options. The free-flowing powder ingredients are part of the Dry n-3 ® line that includes options high in either DHA or EPA/DHA. The product concepts Chocolate Almond Nut Butter Plus DHA and Be Active Bar Plus Omega-3 were formulated with Dry n-3 DHA 11 and Dry n-3 12 Food, respectively. In addition to providing a source of omega-3 fatty acids that are tasteless and odorless, the company also reports that the encapsulation helps to prevent oxidation of the omega-3s.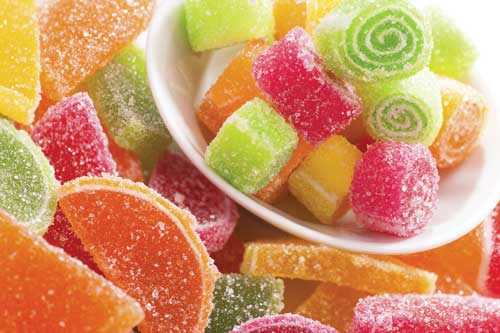 Functions of Encapsulated Ingredients
Encapsulated acidulants, salts, and antioxidants under the Meatshure® line from SensoryEffects, St. Louis, Mo. (www.sensoryeffects.com), promise to provide consistent pH levels, microbial safety, and shelf-life improvements in meat products. The various Meatshure ingredients can prevent protein extraction, discoloration, and moisture migration while they deliver salt flavor in fresh/frozen sausage, meatloaf and hamburgers, pizza crumbles, meatballs, and meat rubs; reduce oxidative rancidity of fats in meatloaf and hamburgers; lower pH in pizza crumbles and meat sauce; and prevent acid denaturation of surface proteins and add acid notes to savory flavor profile in meat rubs. The ingredients are also said to reduce time required for thermal processing in meat sauce; direct acidification in pepperoni, summer sausage, meat snacks, salami, and pork roll; control alginate reaction to yield desired binding in fabricated/formed meats; and sustain a slow release of acid to lower pH in diced ham. In addition to these functions, the Meatshure ingredients help to protect the color and texture of meat.
--- PAGE BREAK ---
For bakery applications, the company offers leavening, acidulants, and preservatives under its Bakeshure® line. The technical functions that these encapsulated ingredients provide to a range of bakery products that include fresh, refrigerated, and frozen are acidification, antimicrobial preservation, dough conditioning, flavor delivery, leavening control, and moisture control. The encapsulation of the ingredients helps to prevent unwanted interactions with other ingredients in the formulation like yeast and gluten. Manufacturers are able to control the specific time release, temperature release, and reaction of active ingredients, according to the company.
An additional line of encapsulated ingredients for a specific application is Confecshure® encapsulated ingredients for confectionery products like sour candies, fruit candies, chewing gums, bubble gums, chocolates, and mints. Ingredients that can be encapsulated for the line are acidulants, foaming agents, flavors, sweeteners, sugar, and sugar derivatives. Acidulants help to give sour candies a mouth-puckering sensation, but they are affected by production and storage factors. Encapsulating the acidulants addresses flavor loss and premature flavor release, discoloration, sugar inversion, hydroscopicity, and absorption of moisture that can occur throughout processing or storage.
Encapsulation Reduces Caffeine's Bitter Taste
Caffeine is added to energy drinks and other food and beverage products being positioned as energy and lifestyle boosters. To meet the needs of product developers who want to formulate better-tasting and more-effective energy food and beverage products, Vision Processing Technologies, Owatonna, Minn. (www.vision-processing.com), offers an encapsulated caffeine ingredient said to not have the bitter taste that other caffeine sources may have.
The technology used to create the Smart Release™ Encapsulated Caffeine produces an ingredient that is taste-free with a particle size in the 75–100 micron range, according to the company. The technology can also produce customized encapsulated caffeine to meet certain product specifications and processing conditions like high heat or a slow release.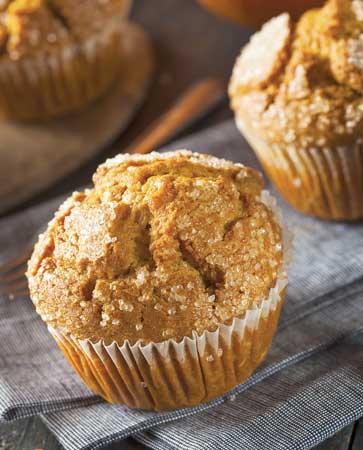 Control Ingredient Release for Better Baking
Encapsulated ingredients for bakery applications from Clabber Girl Corp., Terre Haute, Ind. (www.clabbergirl.com), can help to improve performance and keep food fresher for longer.
The proprietary multi-phase encapsulation release system, InnovaPhase™, releases the active ingredients that can help provide leavening, control pH, enhance the effectiveness of preservatives, ensure consistency, or improve shelf life during several phases. The first phase of release occurs during mixing when liquid is added and second phase of release is when heat is applied. The InnovaBake ® Encapsulated Leavening Systems allow food manufacturers to control both the reaction of the active ingredients and the time they are released. The line includes encapsulated sodium bicarbonate for use in muffins, cakes, pancakes, and pizza dough. The leavening ingredient is encapsulated by a protective lipid coating that protects it from premature release and subsequent formation of carbon dioxide gas but then dissolves when heat is applied to produce the appropriate leavening.
InnovaFresh™ Encapsulated Fumaric Acid also features a protective lipid coating around the fumaric acid that protects it during bread proofing allowing for the yeast to develop. As the bread bakes, the coating dissolves to release the fumaric acid, which lowers the pH of the bread at a key time to improve the performance of the preservative calcium propionate. In tortillas and flat bread, InnovaFresh Encapsulated Fumaric Acid is said to enhance mold inhibition throughout the production process and improve the texture by eliminating translucent spots.
--- PAGE BREAK ---
Starches to Build Encapsulation Matrices
Ingredients from Ingredion Inc., Westchester, Ill. (www.ingredion.com, www.foodinnovation.com), provide emulsification and film-forming properties for the encapsulation of flavors, fats, vitamins, and minerals. Spray-drying encapsulation involves forming an oil-in-water emulsion, atomizing the emulsion, and instantly drying by hot air convection. Ingredion offers Q-Naturale® SF sugar-free encapsulation matrix for spray-drying encapsulation. Q-Naturale SF is an ingredient system based on quillaja that allows for high oil load encapsulation while protecting against oxidation and providing spray-drying efficiencies. For use in encapsulating flavors, spices, and vitamins, Q-Naturale SF is said to increase oil load, prevent evaporation of volatile components, mask off-flavor notes, and replace expensive ingredients like gum arabic.
Its Capsul ® and Capsul TA are modified food starches derived from waxy maize and tapioca starch, respectively, used to encapsulate flavors, vitamins, and spices and can be used in cloud encapsulation. Spray-dried flavors prepared with either of these ingredients are used in dry beverage mixes and bakery dry mixes. Capsul and Capsul TA can prepare clouds with a high fat content. The ingredients encapsulate other water-insoluble liquid or solid substances like vitamins and fatty esters. Hi-Cap® 100 is also used to encapsulate flavors, clouds, vitamins, and spices. This modified food starch derived from waxy maize can replace expensive encapsulating agents like gum arabic and gelatin. The film-forming ability of the ingredient is said to reduce the losses of volatile active ingredients during spray-drying and storage. Another ingredient offered is N-Lok ® 1930, a low-viscosity ingredient that can encapsulate flavors, particularly ones that are susceptible to oxidation like orange and lemon flavors.
Next month's Ingredients section will discuss developments in dairy ingredients and improvements to dairy products.
---
Protect Nutrients from Degradation
Product developers need to consider several factors when encapsulating nutrients like vitamins and minerals for use in fortified foods. These include the chemical and physical properties of the micronutrient and how it interacts in the finished product, the appropriate type of encapsulation, and the characteristics of the coating matrix, explained Alice Wilkinson, vice president of quality and nutritional research and development at Watson Inc., West Haven, Conn. (www.watson-inc.com).
Speaking at the 2014 SupplySide West show at a presentation titled "Key Considerations in the Formulation of Nutrient Premixes and the Benefits of Microencapsulated Nutrients," Wilkinson added that product developers are increasingly considering the finished product itself when choosing ingredients to make the encapsulation matrix. This means that they need to know if the finished product will be non-genetically modified, will be free of hydrogenated ingredients, or will be sold at a store like Whole Foods, which has established guidelines as to what ingredients can or cannot be used in products that the store carries for sale.
Several encapsulation technologies are useful in encapsulating nutrients for premixes that are used to fortify food and beverage products. With hot melt encapsulation, a lipid-based matrix is sprayed onto every particle in a powder to build a complete shell around it; it is important that every particle is fully encapsulated to keep oxygen or moisture from breaching the encapsulation matrix and destroying the interior core ingredient, said Wilkinson. This method is useful for encapsulating B vitamins and in powder beverages that have a thick enough base to suspend the encapsulated nutrients. Aqueous coating of nutrients for premixes can be thought of as a primer coat. When a structure has a nonuniform structure with bumps in it, Wilkinson explained, aqueous coating can fill in the bumps to provide a smoother surface before a different type of encapsulation method is used. She also mentioned solvent coating, which protects ingredients that are sensitive to very low pH values and very high temperatures, and spray-drying, where a dispersion or emulsion of an ingredient within another ingredient is created and then dried very quickly to form a powder from a liquid.
---
Fight Food Adulteration
Encapsulated DNA particles may help thwart food counterfeiters and aid in the identification of adulterated products like olive oil (Puddu et al., 2014). Researchers from ETH Zurich used silica to encapsulate the DNA, which is used as a unique code to indicate the place of origin and identify particular oils. This heat-resistant "tag" as the researchers called it can be added to the oil in extremely small amounts and still be effective. Something so tiny can be extracted from the oil and analyzed relatively easily thanks to the iron oxide nanoparticles that are added to the encapsulated DNA, making it magnetic. The researchers are testing the magnetic tags and have found that they disperse well in oil without causing any visual changes, and can be removed using a magnetic. One millionth of a gram per liter is all that is needed to test the authenticity of oil, write the researchers.
---
www.ift.org
Members Only: Read more about encapsulated ingredients online at www.ift.org. Type the keywords into the search box at the upper right side of the home page.

Karen Nachay,
Senior Associate Editor
[email protected]