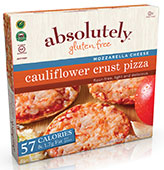 New take on gluten-free pizza
Absolutely Gluten Free Foods introduced the first nationally available gluten-free pizza made with a flourless cauliflower crust. The frozen mini pizzas are topped with either mozzarella or nondairy mozzarella-style topping and clock in at just 170 calories and 5–6 g of fat per serving.
"The cauliflower pizzas not only address the fast-growing gluten-free market, but the low-calorie, low-fat and lactose-free market as well," said Absolutely Gluten Free's Mordy Dicker. "Being able to fulfill the needs of these rapidly growing markets with America's favorite food is a win-win for the retailer and the consumer."
Certified kosher by the Orthodox Union and free from genetically modified ingredients, the pizzas come three to a single-serving box and retail at a suggested price of $4.99.
---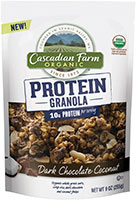 Pea-protein granola
Cascadian Farm
recently launched its
Protein Granola,
the first organic granola on the market to feature pea protein. It
joins
Protein Chewy Bars,
which were released earlier this year, in the brand's range of pea-protein-based products.
"Alternative, plant-based protein sources are trending globally as consumers seek ways to incorporate more of it into their daily diets," said Taylor West, marketing manager for Cascadian Farm. "Following the January release of our Protein Chewy Bars, we're excited to give consumers even more organic protein alternatives with our two new Protein Granola varieties."
The organic, non-GMO granola—available in Dark Chocolate Coconut and Apple Crisp flavors—comes packaged in 9 oz resealable bags that make it easy to store at work or tote along as a snack. The cereal provides 10 g of protein per serving, as well as 230–250 calories, 5–8 g of fat, and 4 g of dietary fiber. Protein Granola can be found nationwide at mainstream supermarkets and select natural food stores for a suggested retail price of $4.49.
---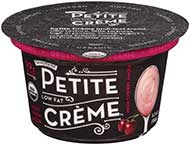 Greek yogurt alternative
Stonyfield Farm
recently released its line of mild, creamy
Petite Crème
yogurt-like fresh cheeses that offer the same health benefits as Greek yogurt but with less tartness.
"As organic Greek yogurt makers ourselves, we're not trying to replace Greek, but we know that there are people out there looking for something to add to their fridge and others who never really got into Greek yogurt," said Sophie Schmitt, director of marketing at Stonyfield. "We discovered some people are eating Greek yogurt even though they don't like it. We wanted to give each and every one of those people something to love."
Each flavor packs 10 g of protein and just 100–130 calories into 5.3 oz of fromage blanc, a fresh cheese eaten like yogurt in France. Paying homage to this origin, each flavor's name is French-inspired, from La Vie en Strawberry to Mon Cherry Amour to Ooh Lala Peach. The full line is available at select retailers for a suggested retail price of $1.89.