IFT Fellow nominations now open
The IFT Fellow designation recognizes exemplary professionalism in the field of food science. This honor, which is awarded to a just a fraction of a percent of IFT's membership, is given based on peer recommendations that take into account nominees' accomplishments in the areas of scholarly advancement, service to the food science and technology profession, inspiration of others to excel in the food science and technology field, primary responsibility for the success of a new food product, and/or improvement of the human condition via food science and technology.
"There's such a small percentage of IFT's membership that gets to claim this distinction, and it really is humbling," says Chris Daubert of North Carolina State University, who was named a Fellow in 2015. "When I look over the names that are included among the ranks of the Fellows that IFT claims, it's an amazing list of people. … To me, it's also an acknowledgement, or a recognition rather, that what I do each and every day serving our students, serving our stakeholders, is recognized and is valued—that it is indeed making a contribution back to our discipline."
Daubert encourages IFT members to submit nominations for this next class of Fellows. "We all stand on the shoulders of our predecessors, of those folks that paved the way for any of our achievements, and we need to continue to look out for those who come out after us," he explains. "We have to acknowledge our peers and make sure that they understand that this community recognizes and acknowledges their work and their contributions to the discipline."
IFT will honor the new Fellows with a ceremony held during IFT16 in Chicago. To nominate a peer, click here.The deadline to submit nominations is Feb. 26, 2016. Email Erin O'Connell ([email protected]) or Kate Dockins ([email protected]) with any questions.
Leveille earns Trailblazer distinction
The Trailblazer Award, which is jointly awarded by the Academy of Nutrition and Dietetics and the Institute of Food Technologists, recognizes exceptional individuals who have advanced the science at the nexus of food science and nutrition science. During the 2015 Food and Nutrition Conference and Expo, held by the Academy of Nutrition and Dietetics, Mary Ellen Camire, immediate past president of IFT, presented the 2015 Trailblazer Award to IFT Past President Gilbert A. Leveille.
Upon accepting the award, Leveille thanked both associations and proceeded to give a lecture on the symbiotic relationship between nutrition science and food science that makes each discipline stronger. Leveille commenced his lecture with a brief history of food science, beginning with the late 19th century, which he described as the era of chemistry and gaining an understanding of macronutrients, and proceeding to the 21st century, which he termed the "omics" age. He also gave a brief history of nutrition science, highlighting the research of Roger John Williams and Linus Pauling, two pioneers in nutrition science.
Leveille, an IFT emeritus professional member and Fellow, explained that even though food science and nutrition science operated independently of each other in the past, the late 20th century ushered in collaborative research between the two. He believes the 21st century holds great promise for nutrition science and food science, including a better understanding of how food and nutrition can benefit health and prevent chronic disease.
Keener receives land grant award
Purdue University presented Kevin Keener with the Spirit of the Land-Grant Mission Award for his work in food process engineering, sanitation, and waste management. The annual award is given to a faculty member whose work exemplifies Purdue's land-grant mission of discovery, engagement, and learning. An IFT professional member, Keener received $10,000 to support his research program.
Keener's contributions to improving food processes and safety include a machine that fries food with infrared energy, a system that uses liquid carbon dioxide to quickly cool eggs and double their shelf life, and an in-package bacteria-killing plasma technology that works in less than a minute.
"Dr. Keener is a remarkable innovator who has developed a wide variety of technologies to help solve problems in food sanitation and waste management," says Karen Plaut, director of agricultural research and associate dean for research and faculty affairs. "He is tireless in his dedication to sharing his uniquely broad expertise with students, industry, government, and entrepreneurs to enhance food process engineering, reduce waste, and improve food safety systems in the U.S. and abroad."
--- PAGE BREAK ---
Student members earn FMI scholarships
The Food Marketing Institute (FMI) awarded scholarships to several IFT student members pursuing careers in food systems auditing. The scholarships each include a $3,000 grant and a trip to the Safe Quality Food Institute International Conference.
The following students received scholarships: John Fox, Iowa State University; Jabari Hawkins, University of Maryland Eastern Shore; Lisa Lafountain, North Carolina State University; Robson Machado, Pennsylvania State University; Abigail Snyder, Cornell University; Weber Stibolt, University of Delaware; and Amanda Wilder, Kansas State University.
"I'm delighted to extend my congratulations to the next generation of industry leaders who will continue to advance the mission of the FMI Foundation in the area of food safety and defense," says Leslie G. Sarasin, FMI president and CEO and president of the FMI Foundation. "These rising stars hail from amazing academic institutions that respect the science and practice of food systems auditing."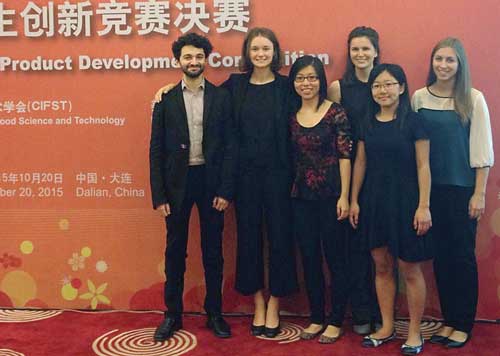 IFT team takes second in China competition
A team of students from McGill University representing IFT placed second in the CIFST & IFT Global Product Development Competition at the 2015 Food Summit China, where they competed against four other teams from universities in China. The team presented TiraVerde, a tiramisu-inspired dessert that uses avocados and includes added protein and fiber. The McGill team was selected to compete after winning the IFTSA & Mars Product Development Competition at IFT15.
Maningat returns to MGP
MGP appointed Clodualdo "Ody" Maningat to serve as both vice-president of ingredients research and development and chief science officer. Prior to his most recent role as vice-president of research and development and technical services with Manildra Group USA, Maningat spent 27 years at MGP.
"We are thrilled to have Ody back on our team at MGP," says Mike Buttshaw, vice-president of ingredients sales and marketing. "His in-depth knowledge of plant starches and proteins, particularly in the wheat area, is widely recognized on both a national and global scale. Ody will lead our research and innovation efforts as we strive to capture value share with our current and future specialty ingredients. The result will be a further strengthening of MGP's ability to provide the best and most innovative solutions for our food industry partners today and in the future."
Maningat, an IFT professional member, first joined MGP as a research and development chemist. In 2002, he was promoted to vice-president of applications technology and technical services, and he also served as corporate director of research and development and quality control.
Food Technology wins design award
FOLIO magazine presented Food Technology with a 2015 Ozzie Award in the Use of Digital Imagery category for its January 2015 cover.
--- PAGE BREAK ---
---
Getting to Know Marianne Gillette
Each month, we meet one of IFT's valued volunteers.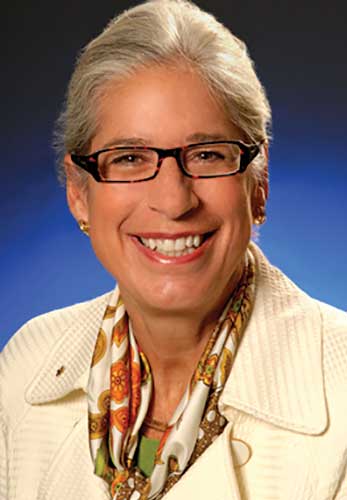 Marianne Gillette credits her longtime involvement with IFT to serendipity—something she says is probably true for most members. "In 1978, my boss was not able to make it to the IFT annual meeting and asked me to sit in on a division executive committee meeting for her. I enjoyed the meeting and was very impressed with the people I met (in awe, to be truthful—these were icons in my field)," explains Gillette. "That simple errand started me on a path to become a president of IFT 30 years later!"
In addition to leading IFT, Gillette has also served as chair of the Maryland Section and the Sensory Evaluation Division, and she has spoken at many symposia and short courses, including the CFS Prep Course. Gillette credits these roles with shaping her career. "Early in my career I was able to network with impressive role models and professional icons, which helped to shape my own professional character and values," she says. "As a young professional, the opportunity to work with other professionals in the same field provided me with extraordinary perspective, resources, and grounding that I cannot imagine my career without. Without IFT as my mentor, my view and my career would have been significantly more limited."
That career has been spent at McCormick and Co., where she started as a sensory analyst before assuming a variety of roles within R&D. She also served as director of marketing on the business-to-business side and recently retired from the role of vice-president of applied research.
Gillette encourages all members to find a way to get involved. "I would tell any food professional that their career potential, performance, success, and enjoyment will be enhanced significantly by engagement with IFT through active engagement in a work group at the section, division, or global level."
---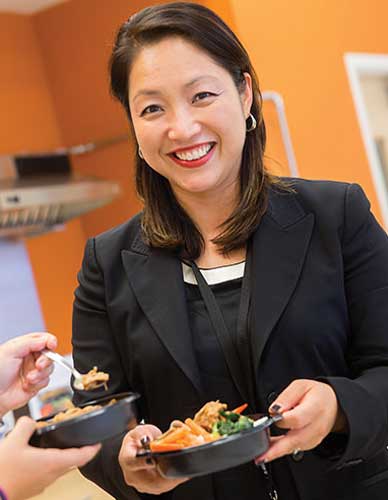 IFT short course opens doors
The Food Science for the Non-Food Scientist short course, one of IFT's most popular offerings, arms members without food science training with the knowledge they need to better understand the science of food. This knowledge is valuable enough on its own, but for one attendee, the course gave her something even greater: the connections to create her own food company.
While attending the class during IFT's 2012 annual meeting, Suji Park met John Rupnow, a professor at the University of Nebraska-Lincoln (UNL) and one of the course's instructors. When she told him about her interest in introducing Korean product lines to the United States and improving food processing techniques of Asian products, Rupnow suggested she contact the UNL Food Processing Center.
There, a team that included IFT member Laurie Keeler helped Park develop recipes to appeal to an American audience. "The role of the FPC is to connect people with ideas with the market," says FPC director Rolando Flores, an IFT professional member and head of the Dept. of Food Science and Technology. Since beginning her relationship with the FPC, Park has launched her company, Suji's Cuisine USA, which is located on the Nebraska Innovation Campus.
Park says she signed up for the Food Science for the Non-Food Scientist course because she had no science background; "that's who I was, that's that I was looking for," she says. While the course has created the opportunity for her to open her company, she also believes that the class is a must for anyone who is going to be working with food. "As a developer or marketer or producer or whatever role you have, without understanding food science, there's a food safety risk no one should neglect."
Rupnow also encourages people who "came into the food industry through the back door" to consider signing up for the course. In addition to providing a basic overview of food science to people working in sales and other areas, he says that the class can offer scientists insight into how their particular areas of focus might be different within the food industry. For example, someone with a background in microbiology may not know the specifics involved in working with food microbiology, and the course can help fill in some of those details.
The most recent Food Science for the Non-Food Scientist course was held in Chicago at IFT's headquarters in November. It will take place once again during IFT16, but in the meantime, a completely revamped online version of the course will be available mid-December.
---
In Memoriam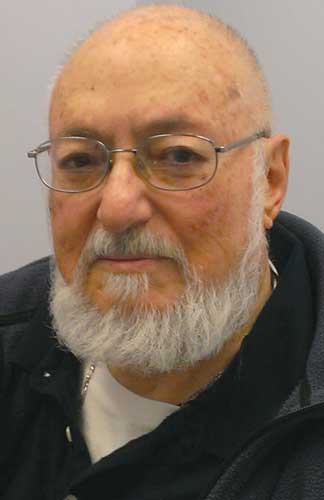 Herbert Weinstein, an emeritus member of IFT, passed away Nov. 10, 2015, after a long illness. Born in Mexico City, Weinstein received his BS from Universidad Nacional Autónoma de México in Mexico City and his PhD from MIT in 1966. Weinstein was a longtime staff member at General Foods. He traveled the world for the company and helped build the first frozen vegetable plant in Mexico. After stints with companies such as Unilever, Weinstein drew on his international experience and expertise in nutrition and product development to begin consulting. He was a founding member of Stratecon International, an association of food industry consultants.
IFT also notes the passing of the following members: Jeff Laughlin and Thomas F. Oeth
Have some news to share about yourself or another IFT member? Email [email protected].