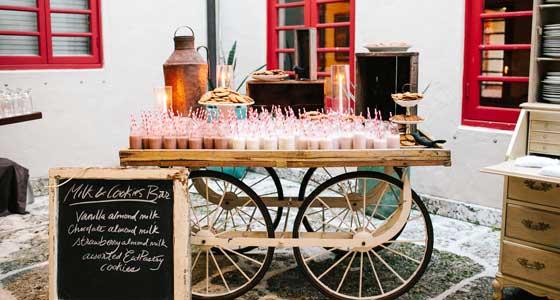 For up-and-coming vegan chef and entrepreneur Jay Astafa, the decision to part ways with dairy came at an early age. In 2009, at just 16 years old, he introduced an entirely vegan menu at his father's Italian pizzeria in Long Island, N.Y. The 3 Brothers Pizza Café menu was a tremendous success, drawing a cult following, an award for "Best Vegan Pizza" from PETA, and mentions in The New York Times as well as other media outlets.
Now with some formal education from New York's Natural Gourmet Institute and International Culinary Center under his apron, chef Astafa has launched onto the New York City culinary scene with a boutique vegan catering company and aspirations of opening a vegan restaurant this year. Last April, the now 22-year-old chef also gained the opportunity to demonstrate his skills to a larger audience when he appeared on the Food Network's Rewrapped with Joey Fatone. On the reality cooking show, one of the judges noted that he was nervous about the young chef's use of plant-based milks in place of dairy but was pleasantly surprised after trying his coconut milk shake.
Astafa says he's used to some initial skepticism about his plant-based dishes. "Seventy percent of customers aren't vegetarian or vegan, but most are really impressed with the taste and texture of the dishes; they can't believe the food is vegan," he says. Recalling the resolution to go dairy-free that helped launch his career, he says that aside from personal qualms about eating animal products, "There are so many alternatives to dairy; there just wasn't a reason to use it anymore."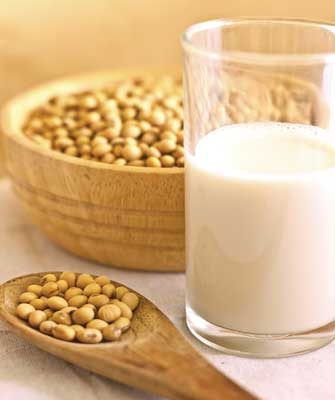 He offers no favorites. Cashew milk is his "go to" neutral product for use in everything from mashed potatoes to ice cream to his signature buffalo mozzarella-style cashew cheese. He uses soy milk in baking "because it works just like regular milk" as well as for making vegetarian butter (a combination of lactic acid, soy milk, coconut oil, and soy lecithin). Coconut milk is his preference in sweet desserts like panna cotta, and he enjoys almond milk as a beverage because he likes the taste and finds that it "pairs well with cookies."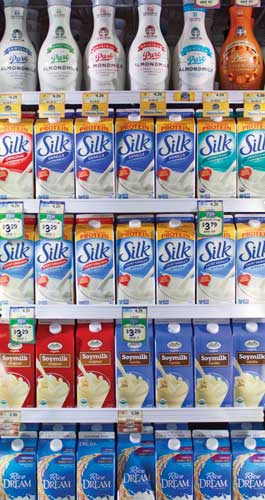 The vegan chef's experience is characteristic of a national drift away from dairy to multiple nondairy alternatives, but if it sounds too exceptional an experience, then consider what's going on in grocery stores. The trend has not gone unnoticed by Janet Little, director of nutrition for Sprouts Farmers Market, Phoenix, Ariz. "Within the last five years, the selection of dairy-free milk substitutes has increased from the three most common—soy, rice, and almond—to include coconut, quinoa, and flavored almond milks," she says. Sales of coconut milk continue to climb, and another hot seller for Sprouts is quinoa, which is high in protein and gluten-free. The grocery store also offers Vanilla Flax Milk by Good Karma Foods, Prairie du Sac, Wis. Although almond is the most common nut milk, the grocery store also carries hazelnut and cashew varieties. Sprouts also just started carrying a new product from Blue Diamond Growers, Sacramento, Calif., called Almond Breeze Hint of Honey that Little says is popular among children. "The nondairy milk category is growing because of the wide selection and an increasing population of people who are either lactose-intolerant or are looking for vegetarian options," Little says.
What's clear from the market trends is that nondairy milk manufacturers, grocery stores, retail outlets, and restaurants are all increasingly diversifying their portfolios to include a variety of nut, grain, and seed milks. No longer are consumers limited to the choice of soy and rice when seeking out nondairy milks. Consumers are certainly showing an interest in plant-based alternatives, including flavored options. Undeniably, the decision to go dairy-free has never been easier, more nutritious, or tasted so good.
--- PAGE BREAK ---
The Nondairy Milk Market
The milk market continues to be dominated by refrigerated skim and low-fat milk, as well as refrigerated whole milk, with skim and low-fat milk showing declines in market share between 2011 and 2013 and whole milk showing a slight increase, according to information from Chicago-based market researcher Mintel.
Mintel suggests that the skim and low-fat milk declines may indicate that consumers are switching to nondairy milk and possibly increasing their consumption of whole milk. With continued innovations and improved marketing messages focusing on the health attributes of dairy milk, in combination with the continued success of nondairy milk, Mintel forecasts that the entire category will reach $30.4 billion in retail sales by 2018.
Preliminary wholesale dollar sales projections for the nondairy milk category topped out at $1.2 billion in 2014, according to Gary Hemphill, managing director of research for Beverage Marketing Corp., New York, N.Y. That's nearly 30% growth since 2010. Almond milk had a 42% total market share in 2013 and a preliminary projection of 56% share in 2014. By comparison, soy milk had a 45% market share in 2013 and a preliminary projection of about 34% share in 2014.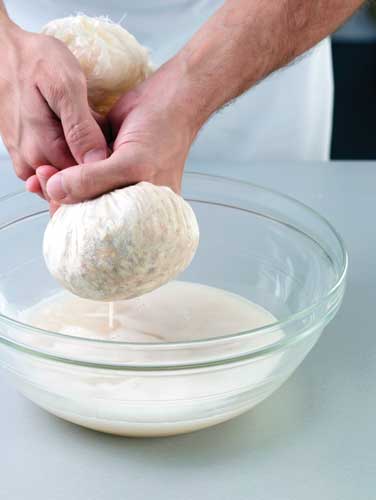 Because of its Silk™ and Alpro brands, WhiteWave Foods, Broomfield, Colo., had the strongest presence in the nondairy milk alternatives category with 13% market value share in 2013, according to Euromonitor senior analyst Diana Cowland. With its recent acquisition of So Delicious Dairy Free, Eugene, Ore., for $195 million, the company has made a "sensible move" that could cement its lead in the plant food category overall, Cowland writes. The So Delicious Dairy Free brand is expected to expand its presence in the health and wellness arena because of its ability to take advantage of WhiteWave Foods' supply chain in the United States, Europe, Middle East, and Africa.
Refrigerated almond milk sales topped out at $828 million for the year-long period ending (Y/E) Nov. 2, 2014, reports IRI, a Chicago based market research firm. In that segment, WhiteWave Foods led with sales of $413.8 million for Y/E Nov. 2, 2014, up nearly 36% vs the prior year. Blue Diamond Growers followed closely behind with almond milk sales of $326.8 million, sales growth of nearly 42% vs the prior year period. Of the top five refrigerated almond milk manufacturers, Califia Farms had sales of $9.6 million and experienced the most growth at nearly 323%, followed by Hiland Dairy at $3.2 million in sales and 169% growth.
Refrigerated coconut milk sales topped out at $57.3 million for Y/E Nov. 2, 2014. White Wave led the segment with sales of nearly $38.0 million, up 26%, followed by Turtle Mountain Inc. at $16.7 million and 14% growth. IRI also reports that refrigerated soy milk sales were $322.3 million for Y/E Nov. 2, 2014, down 16%. WhiteWave led in sales with $240.1 million, followed by private label soy milk, 8th Continent, Booth Brothers, and Odwalla.
Dairy-Free Demographics and Developments
Nondairy milk sales are driven mainly by health trends. These include lactose intolerance as the United States becomes more culturally diverse, the obesity epidemic, and a leaning toward use of more allergen-free and non-soy options for plant-based protein. In terms of front-of-package messages, health claims, or nutrient-content claims, "vegan" and "lactose-free" top the list in importance, according to Elaine Tecklenburg, who authored the November 2014 report titled Functional Foods, Key Trends and Developments in Ingredients for Packaged Facts, Rockville, Md. Calcium has also been an important claim, along with vitamin D, which isn't a surprise since these beverages are a replacement for dairy milk. Non-GMO continues to also be important to consumers, says Tecklenburg.
The popularity of plant-based milk varieties also has a lot to do with protein. More specifically, it's the combination of protein as king of "hot functional food ingredient trends" in the United States and "an increased demand for sustainable, vegan, allergen-free options" that's currently driving development of more plant-based protein sources. But adding plant protein sources to beverages does come with challenges, including browning reactions and changes in color, flavor, texture, and shelf life, says Tecklenburg.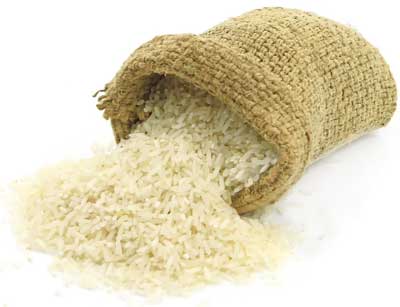 Nondairy beverages must also, to some extent, regard dairy milk as a benchmark for nutritional comparison. Unlike soy milk, which is inherently high in good quality protein, other plant-based milk sources are deficient. To boost protein content, it's increasingly common to see pea protein being added, such as to Silk™ Protein + Fiber Almondmilk and Good Karma Protein + Flaxmilk. "Blends of plant proteins may offer greater formulation flexibility, both from a cost and product quality standpoint," Tecklenburg offers. For example, "combining regular (non-sprouted) rice protein with pea protein provides for amino acid complementation of sulfur-containing cysteine and methionine amino acids from rice protein with lysine from pea protein," she notes.
Another challenge for nondairy milks has been "added sugars." While dairy milk naturally contains lactose that inherently provides a certain level of sweetness, plant-based alternatives don't, and they require the addition of sweeteners. "This is a consideration for nondairy beverage marketers both as scrutiny over added sugars heats up and as consumers and nutritionists continue to prefer obtaining nutrients from whole food sources rather than through formulation of multiple ingredients or the addition of individual nutrients," Tecklenburg says. For this reason, manufacturers have started to offer "unsweetened" and "no sugar added" varieties to their product lines where they weren't previously available, along with "light" and reduced-calorie options with or without a noncaloric sweetener such as stevia to lend sweetness.
Obesity and, in particular, child obesity has been one of the largest threats to dairy milk due to high amounts of fat and calories. Households with children are the most likely to purchase both milk and nondairy milk, according to Mintel, with parents seeking out options with fewer calories, which creates some challenges for whole milk. Flavored options have also offered advantages to parents who prefer nondairy beverages as delicious nutritional drinks to fill in as replacements for sugary beverages for children.
Mintel reports that there is still a need for "more variety catering to adult preferences." Dairy-based milk isn't the only beverage that is taking a hit from nondairy milk. Respondents to a Mintel survey cite the appeal of both flavored milk and nondairy milk as a healthier beverage replacement for carbonated soft drinks. Mainly, these consumer preferences are due to health-focused messages on nondairy beverages, such as having calcium and vitamin D, but especially protein.
--- PAGE BREAK ---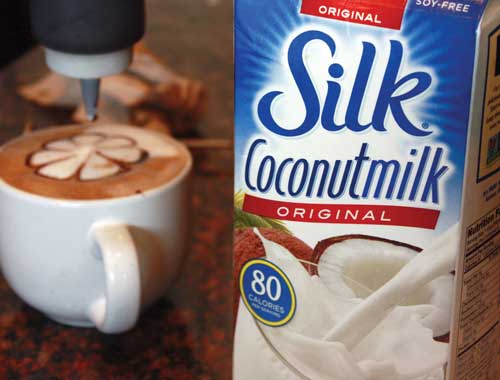 A Lot of Lactose-Free Lattes
At Higher Grounds Roastery in Gilbert, Ariz., co-owner and assistant manager Dani Kahn works on perfecting her skills at latte art using almond milk. Aside from cow's milk, Kahn offers her customers a choice of three plant-based milk options for lattes: soy, almond, or coconut. She uses Silk™ brands from WhiteWave Foods that include Silk™ Almondmilk, Silk™ Soymilk, and Silk™ Coconutmilk. The company has also just introduced new Silk™ Original Cashewmilk and Unsweetened Cashewmilk. So far, Kahn says, Silk™ Almondmilk is the crowd favorite mainly due to its characteristic amygdalate flavor, but also because customers tire of ubiquitous soy milk and are concerned that soy milk may contain genetically modified ingredients despite the fact that WhiteWave includes the NonGMO Project Verified logo on its carton labels.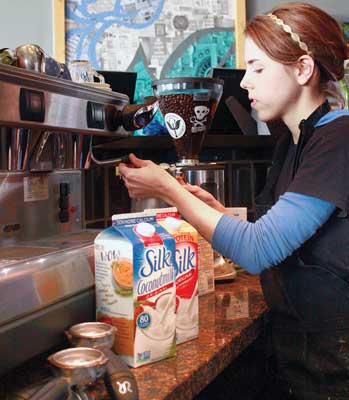 As Kahn prepares an almond milk latte for a customer, she says that the trick to getting the almond milk to foam right is to keep it below 150°F, so the proteins won't denature, clump up, or burn. She adds that there are some kinds of nondairy milks made especially for baristas to withstand high heat for foaming for use in latte art. During Coffee Fest Portland last October, for example, Pacific Natural Foods, Tualatin, Ore., hosted the "almond challenge," which allowed baristas to try their hand at latte art using their most recent addition, Barista Series™ Original Almond Beverage. Suffice it to say that it was a popular event with lots of latte creations made with plant-based milks. The Barista Series™ also includes Original Soy and Organic Original Chai Latte.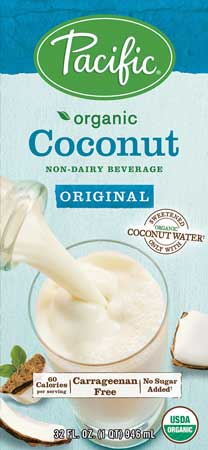 In March 2015, Pacific plans to diversify its offerings further by launching a line of Organic Coconut nondairy beverages that will include three flavors: Original, Original Unsweetened, and Vanilla Unsweetened. The new products will deliver a nutritional difference—having been sweetened only with organic coconut water with no sugar added and as excellent sources of vitamin D, B-12, and medium-chain fatty acids from coconut. All of the varieties are dairy-, carrageenan-, soy-, and gluten-free. "We are noticing softness in flavors like soy and rice as consumers shift to new varieties in nuts and grains: almond, hemp, coconut, hazelnut, and blends," says Pacific brand manager Christina Reyes. "This is partly driven by consumers' adventurous mindset to try different flavors as well as diverse dietary and nutritional needs. We are also seeing an expansion in usage occasions as consumers are incorporating dairy alternatives into their daily regimen: cereal, baking, smoothies, coffee, etc."
The shift from soy and rice milk to other varieties like almond is part of a national trend in coffee shops. Last September, Dunkin' Donuts, Canton, Mass., announced it was adding Vanilla Almond Breeze Almondmilk to its menu as an alternative to milk and cream. According to a Reuters report this fall, Starbucks Corp., Seattle, Wash., is testing coconut milk as a milk alternative in stores in Los Angeles, Cleveland, and Oregon. In addition, Peet's Coffee and Coffee Bean & Tea Leaf chains, both based in Los Angeles, Calif., have been offering almond and coconut milk at least since last March to appeal to customers' increasingly diversified plant-based milk preferences.
Meanwhile, for Hoda Mahmoodzadegan, founder and CEO of Molly's Milk Truck Beverages, Ramsey, N.J., the decision to debut a café-style almond milk beverage was all about health. The gourmet health food truck blends almond milk with cold-brew Colombian coffee, exotic blends of imported chai, and agave nectar to produce a 12-oz serving that is 90 calories or less. Mahmoodzadegan came up with the recipe after a workout because, as she says," "I was sick of the sugary garbage I was getting at quick-serve coffee chains." Molly's beverages are distributed through Dora's Naturals and are available at Whole Foods retail locations throughout New York, New Jersey, and Connecticut.
Competing with Cow's Milk
The ever-expanding variety of nondairy alternatives might lead some to the question, "Will regular, plain cow's milk become obsolete?" Probably not, considering that dairy milk's going through innovation of its own. But in the refrigerated sections of some grocery stores, cow's milk is starting to look a little crowded out—and perhaps a bit unexceptional—next to the growing number of plant-based varieties that each flaunts its own set of features reaching far beyond the universal "lactose-free" and "dairy-free."
Browsing through display shelves at Sprouts Farmers Market reveals a plethora of front-of-package messages vying for attention. The message information includes what else they're "free of" (examples include soy, gluten, cholesterol, casein, eggs, MSG, and GMOs); nutrient-content claims such as "good source of protein" or "excellent source of fiber;" comparative claims such as "50% more calcium than milk;" and health claims such as "heart healthy." The expanding variety of selections is also proving to be a testing ground for new flavors or "hint of" flavors like chocolate or honey; blended versions like almond-coconut or almond-soy; and the seasonal, including "pumpkin spice," "mint chocolate," and "nog." Never before have chefs and consumers had so many selections for use in recipes, on cereal, or to enjoy with cookies.
David Despain, a member of IFT,
is a freelance writer and nutritionist based in Gilbert, Ariz. ([email protected]).