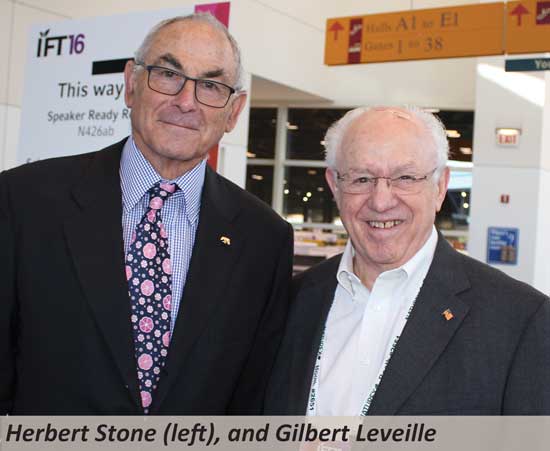 Stone wins Harris Award
IFT Past President Herbert Stone was selected as the 2016 Harris Award recipient and delivered a lecture this fall at The Ohio State University. The award is given annually to recognize excellence in and contributions to the discipline of food science, and it is also intended to engage students in interactions with high-stature awardees to motivate scientists young and old in advancing their careers.
The selection committee, which was headed by assistant professor and IFT member Chris Simmons, seeks to recognize the accomplishments of an outstanding individual who made substantial contributions to the advancement of food science or technology. "Given Herbert's impact on sensory science with the development of the Quantitative Descriptive Analysis (QDA) descriptive methodology and Tragon Corp. as well has his service to the food science community with his role as IFT president, the committee felt he was well deserving of this award," says Simmons.
Stone, a codeveloper of the highly influential QDA technique, was selected in recognition of his expertise in human nutrition and sensory evaluation of consumer products such as food, beverages, and home and personal care items. In a lecture titled "A Sensory Life–5 Decades of Seeing, Smelling and Tasting," Stone shared anecdotes about the path of his career.
Nominations are now being accepted for the 2017 Harris Award; visit fst.osu.edu/about-us/harris-award-0 for more information and to access the nomination form.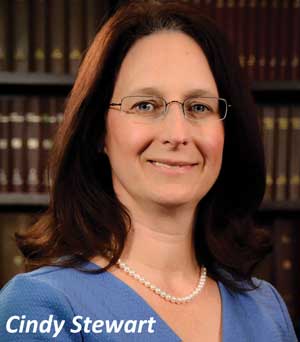 Stewart earns alumni recognition
The College of Agricultural and Natural Resources at the University of Delaware recognized IFT President-Elect Cindy Stewart with its Distinguished Alumni Award, which celebrates the accomplishments of the university's alumni.
Stewart has "earned the recognition," says Dallas Hoover, a professor in the Dept. of Animal and Food Sciences at the University of Delaware, who nominated her for the award. Hoover was also Stewart's undergraduate and MS advisor for her food science degrees. He notes that Stewart "works hard, is articulate, and is a problem solver who works well with people; plus, often times she keeps her sense of humor while others about are losing theirs."
Hoover adds that this award is also meaningful for the university's food science program. "Our program has been one of the smaller ones in the college for some time; having Cindy earn this award helps substantiate our program here on campus, brings us some recognition, and that is very much appreciated," he says.
Employers finding value in CFS
Congratulations to the more than 1,800 food professionals who have earned the Certified Food Scientists (CFS) credential since the program launched in 2013. These food scientists have each achieved a career milestone that demonstrates their mastery of the applied knowledge and skills necessary to meet today's food industry challenges. CFS credential holders represent 55 countries, including Australia, Canada, and China, spanning six continents. All of the Fortune 500 food and beverage consumer products companies employ CFS certificants, and hundreds of large and small companies are quickly realizing the benefits of employing CFS credential holders.
"CFS certification gives our clients and others that we work with reassurance that the food scientist they're interacting with meets certain qualifications and criteria," says Peter Salmon, global vice-president, consulting solutions, at Covance Laboratories, who is also a Certified Food Scientist.
To learn more about how you and your organization can get involved with the CFS program in the new year. Applications are currently being accepted for any of the testing windows offered in 2017, starting with the Feb. 13–March 3 window.
Swartzel returns to Aseptia
Aseptia announced the return of Ken Swartzel, one of its cofounders, to the role of science adviser. Swartzel joins the team in this position following a short retirement after 40 years of service to North Carolina State University.
"Aseptia is doing what I have been focusing on for a big part of my academic career," says Swartzel. "Becoming commercial and becoming a commercial success, that's what I've worked toward since the early 1980s."
Swartzel, an emeritus professional member of IFT and IFT Fellow, has published more than 120 scientific papers and acted as principal or coprincipal on numerous projects, garnering outside monetary support surpassing $26 million. Among his research goals were new thermal-preservation processes that yield high-quality, nutritious, safe, and economical foods. A past winner of IFT's Nicolas Appert Award and a Certified Food Scientist, Swartzel earned his BS, MS, and PhD from NC State.
--- PAGE BREAK ---
Candidates sought for 2017 Macy Award
The Minnesota Section of IFT is accepting nominations until Jan. 1, 2017, for the 2017 Harold Macy Food Science and Technology Award.
The award, established in 1981, is given annually to recognize an outstanding example of food technology transfer or cooperation between scientists or technologists in any two of the following settings: academic, government, and private industry. The purpose of the award is to advance the profession and practice of food technology and to honor Harold Macy, former dean emeritus of the University of Minnesota and a founding member of IFT. The awardee will receive a plaque, $2,500 honorarium, and travel expenses to address the Minnesota Section at the annual Macy Award meeting in Minneapolis–St. Paul.
Candidates from all IFT sections are eligible for this award. Click here for nomination forms. Submit completed forms to Mary K. Schmidl at [email protected].
ASABE recognizes Keener
The American Society of Agricultural and Biological Engineers (ASABE) named Kevin Keener a 2016 ASABE Fellow. Keener, a professional member of IFT, is director of the BioCentury Research Farm Center for Crops Utilization Research and a professor in the Dept. of Food Science and Human Nutrition at Iowa State University. Keener was inducted during a ceremony this summer at the 2016 ASABE Annual International Meeting in Orlando, Fla.
IFT16 sessions available online
If you attended IFT16 as a Total Access registrant, you have free access to the Online Session Catalog through June 2017 using the promotion code sent to you. The catalog includes the audio and PowerPoint presentations from the more than 100 sessions held during the show (as long as presenters gave permission to record audio and share handouts), including featured and general sessions. Content is conveniently bundled into scientific tracks. In addition, for the first time, more than 100 ePosters are available.
If you didn't attend IFT16 or didn't register for Total Access, you can still access these sessions Click here to access the catalog. Pricing varies.
Gray joins HORN
HORN recently added Nick Gray as account manager for HORN FoodTech. Based in Dallas, Gray will provide technical sales support to food technologists in Texas and other Southwest states. Gray comes to HORN with more than 10 years of sales experience serving broad markets, including the food industry.
"Nick is smart, intuitive and adds a Southern charm to his approach when providing solutions to customer challenges," says Jacqueline Grisotti, vice-president, HORN FoodTech. "Our company's history is built on relationships. Nick has the right combination of relationship-building expertise and the knowledge base of the territory to give us confidence in his ability to thrive in serving our customers and expanding HORN's business in the Southwest."
A member of IFT, Gray is also involved with the Texas Food Processors Assoc. He graduated from Wichita State University.
---
Getting to Know Carl Winter
Each month, we meet one of IFT's valued volunteers.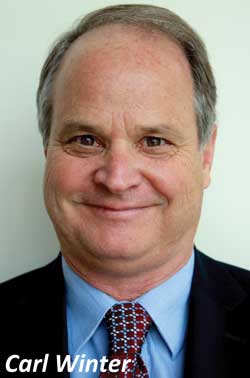 IFT has provided me numerous opportunities to develop and build upon my own skills, particularly in the area of communication," says Carl Winter, and his involvement in IFT has always centered around communicating about food science. Right after joining the organization, Winter, extension food toxicologist and vice-chair of the Dept. of Food Science and Technology at the University of California, Davis, became a Food Science Communicator, eventually serving as chair. He has also served as an associate editor for the Journal of Food Science and has provided communications training for young professionals in the food industry and in academia.
"Along the way, I have learned much more about IFT and have forged dozens of meaningful professional relationships and personal friendships," says Winter. "IFT has also supported my professional growth through nominations to serve on national and international committees and by successfully nominating me for awards."
IFT has also supported him in his food science–related hobby: penning parody music and videos about food safety and toxicology that include "We Are the Microbes" and "50 Ways to Eat Your Oysters." Winter credits IFT with being instrumental in helping him spread his creations, including allowing him to share his music at the three dozen section visits he made as an IFT Distinguished Lecturer. "I'm very pleased with the success of the music in reaching diverse groups and have even published a few papers demonstrating the effectiveness of incorporating the music into food safety educational curricula, including one article published in IFT's Journal of Food Science Education," he reflects. [Visit foodsafe.ucdavis.edu to check out his music.]
In addition, his stint as lecturer helped Winter communicate with a diverse audience of food science professionals across the United States. "[These section visits] provided me a great opportunity to travel, to meet interesting people, and to share my science with appreciative audiences," he reflects. "It doesn't get any better than that!"
Winter has a lot on his plate, but he says that it is important to engage in volunteer efforts to enrich his professional life. "As an academic, it is generally recognized that volunteer service with scientific organizations is an expected responsibility of the position. Fortunately, IFT provides so many opportunities that it isn't difficult to select those that can positively influence one's career," he says. "Stick your neck out a little and say 'yes' to volunteering opportunities. You never know what the outcome of volunteering will be, but it is often very satisfying. On the other hand, if your inclination is to always say 'no,' then you can be assured that no opportunities for satisfaction will present themselves."
---
Section Meetings
New York
Dec. 17: 75th anniversary celebration. West Orange, N.J.
Click here.
---
In Memoriam
Malcolm Bourne passed away Oct. 3, 2016. A longtime member of IFT, Bourne graduated from the University of Adelaide with a BS in chemistry. After a decade working at Mum's Own in Adelaide, he completed an MS in food science and PhD in chemistry at the University of California, Davis, before joining the faculty of Cornell University, as a full-time research professor at the Agricultural Experiment Station. His work there centered around rheology and food texture and he wrote the definitive book on texture still used today. He lectured in more than 40 countries, worked to advance the use of soy milk in Asian countries, headed up a symposium in 1984 to further agriculture in China, and spent two years helping to set up a graduate food science department at the University of the Philippines. After retiring, he became emeritus professor at Cornell and continued to lecture around the country and the world, as well as mentoring students and others in their fields of study. An IFT Fellow and Certified Food Scientist, Bourne received the Nicolas Appert Award in 2011 and the Bor S. Luh International Award in 1992.
Dean Duxbury passed away Oct. 9, 2016. An active member of IFT at both the national and local level, Duxbury graduated from the University of Wisconsin with both BS and MS degrees in food science. He joined IFT as a student member in 1956 and spent 44 years of his career in the food research, food processing, and related industries at companies that included Libby, McNeill & Libby, Putman Publishing, and the Swift & Co. Research & Development Center. His team developed many of the first space foods for the Army Research Labs in Natick, Mass., and he also headed a five-company consortium to develop a unique replacement package for shelf-stable canned field rations—the retort pouch—which has been adopted worldwide. Duxbury also served as an editor of Food Processing magazine and served as IFT's director of professional development. A past chair of the Chicago Section, he became an IFT Fellow in 2003 and was awarded the Chicago Section Service Award in 1990.
IFT notes the passing of the following member: Merlin Fischer
Have some news to share about yourself or another IFT member? Email [email protected].