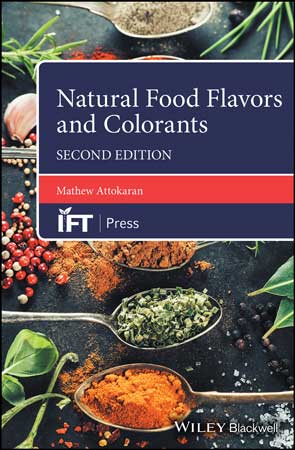 IFT Press Book Covers Natural Flavors, Colors
In the second edition of his IFT Press book Natural Food Flavors and Colorants (ISBN: 978-1-119-11476-5), author Mathew Attokaran draws on more than 50 years of experience in food chemistry and technology to create a detailed guide to natural food flavors and colors in one comprehensive volume.
First published in 2011, this new edition has been fully updated, including new chapters on colored vegetables and stevia. Divided into three parts, the book begins with analysis, general properties, and techniques related to flavors and colors and also provides regulatory information on synthetic colors in food. The book's second part describes the various natural flavors and colorants that are available, alphabetized for convenient reference, and includes all relevant developments that have occurred since the publication of the first edition. Researchers and manufacturers may find the FCC description of many products and the Identification Numbers of regulatory bodies especially valuable. The book's final part examines future prospects for research workers and manufacturers.
With an index that provides a quick explanation and understanding of the various compounds, techniques, and subjects covered, this guide will be useful to researchers, teachers, regulators, formulators, and food manufacturers.
IFT Press books, developed in partnership with Wiley-Blackwell and crafted through rigorous peer review and meticulous research, serve as leading-edge handbooks for industrial application and reference and as essential texts for academic programs. Topics of future books in the series include sustainability, flavor and satiety, nutraceuticals, and food packaging. IFT members receive a 35% discount on all Wiley-Blackwell books. The member coupon code is available at www.ift.org. Be sure to log in and check out the Knowledge Center/Read IFT Publications/IFT Press Books links for information on how to order this book and other books in the IFT Press book series. For more information, call 877-762-2974, or visit www.wiley.com/go/ift. Manuscript proposals may be sent to David McDade, Wiley-Blackwell publisher, at [email protected] (+44-1865-47-6546).
---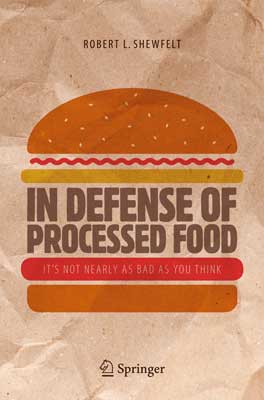 Book Review
In Defense of Processed Food: It's Not Nearly as Bad as You Think
by Robert L. Shewfelt. (ISBN: 978-3-319-45392-7). Copernicus Books, a brand of Springer International Publishing.
Robert (Rob) Shewfelt, professor emeritus of food science at the University of Georgia, draws on a wealth of knowledge, resources, and insights "to counter the idea that processed foods are a hazard to our health and responsible for most of the problems associated with the American diet." The book preface provides a note on science, including how it works, how it's reported, and the influences that affect how we perceive what's reported, as well as the complex world that biologists, social scientists, nutritionists, and food scientists study. The preface also delves into how our views of foods, food scientists, and food-related health concerns have evolved over the years.
The format of the book is a compelling Q&A style, with each of 10 chapters titled by a main question with seven related subtitles that serve as potential answers; each of these discussions are followed by Shewfelt's personal answer to the question that reflects his scientific perspective. Shewfelt covers a variety of topics, such as obesity, processed foods, local foods, food addiction, chemicals, clean labels, nutritional quality of foods, food safety, and sustainability, and explains how "processed food can be a part of a responsible diet." Shewfelt also shares his viewpoint on Big Food, food pundits, and food scientists, noting, for example, that food pundits seem to be "creating a Food Fantasyland that is not compatible with modern-day life."
Indicating that he takes "particular care in citing sources to support statements declared in the book," Shewfelt lists in a notes section an impressive 1,300-plus sources by chapter and page number. An equally impressive bibliography identifies 193 books, 256 journal articles and book chapters, and 20 resources in the videos, songs, radio shows, and television series category.
Shewfelt stated that he wrote the book "to provide another side of the conversation about food we are having in American society" and hopes it will spur a "wider, more rational conversation." He shares in plain language an extensive knowledge of foods, food science, and the food system, as well as some interesting personal and career anecdotes. I believe the book will indeed inform and aid further conversation about our food supply.
—Rosetta Newsome, PhD, CFS, Director, Science & Policy Initiatives, IFT ([email protected])
---
Books Received
Foodborne Diseases, Third Edition, edited by Christine Dodd, Tim Aldsworth, Richard A. Stein, Dean Cliver, and Hans Riemann. Elsevier (ISBN: 978-0-12-385007-2).
Molecular Methods for the Detection and Characterization of Foodborne and Environmental Pathogens, written by Suresh D. Pillai and Jessica A. McKelvey. DEStech Publications (ISBN: 978-1-60595-079-2).
Cereal Grains: Assessing and Managing Quality, Second Edition, edited by Colin Wrigley, Ian Batey, and Diane Miskelly. Elsevier (ISBN: 978-0-08-100719-8).
The Stability and Shelf-Life of Food, edited by Persis Subramaniam and David Kilcast. Elsevier (ISBN: 978-1-85573-500-2).