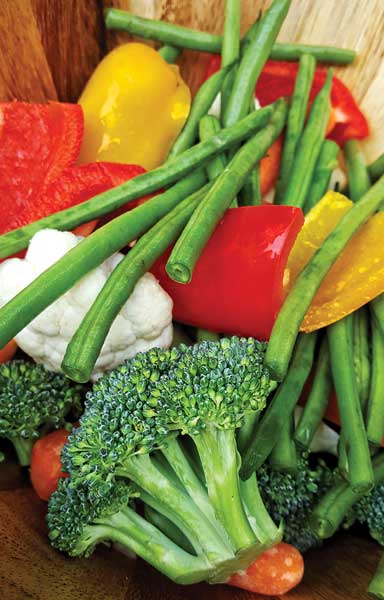 Seasoned veggies win taste test
Mothers' pleas to "eat your vegetables" have gone largely unheeded in the United States, where 87% of the U.S. population fails to meet vegetable intake recommendations. With unpleasant taste being the primary reason for the shortfall, a study in the Journal of Food Science investigated whether consumer acceptance could be increased if spices and herbs were used to enhance palatability.
In total, 749 panelists were screened and recruited, either as likers of the vegetable being tested or as general vegetable likers. Four sessions evaluated the effect of seasoning within each type of vegetable, including broccoli, cauliflower, carrot, and green bean. Each panelist was allowed to evaluate only one vegetable type, to mitigate potential learning effect. Overall, the results showed that seasoned vegetables were significantly preferred.
When general vegetable likers and specific vegetable likers were compared in terms of their preference between seasoned and unseasoned vegetables, the pattern varied across different vegetables; however, seasoned vegetables were generally preferred. The study's findings demonstrate the effect of seasoning in enhancing consumer liking of vegetables, which may lead to increased consumption.
FDA samples herbs, guacamole, avocado
In an effort to protect consumers and ensure food safety, the U.S. Food and Drug Administration (FDA) has begun testing fresh cilantro, parsley, and basil, as well as processed avocado and guacamole, for certain microbial contaminants. The large-scale sampling assignments will help the FDA assess the rates of bacterial contamination in these commodities, as well as identify possible common factors among the positive samples.
The agency plans to collect 1,600 samples for each assignment. As of January 1, 2018, 35 domestic samples and 104 imported samples of fresh herbs had been collected. None of the domestic samples tested positive. Of the imported samples, four tested positive for Salmonella, three tested positive for Shiga toxin-producing E. coli, and none tested positive for E. coli 0157:H7.
Out of 58 domestic guacamole samples, three tested positive for Listeria monocytogenes. Out of 49 imported samples, one tested positive for Listeria monocytogenes.
Study samples found to be positive for microbial hazards will be subject to appropriate regulatory and enforcement actions. In the first quarter of data collection, imported products capable of causing disease were prevented from entry into the United States and domestic products were voluntarily recalled.
From 1996 to 2015, the FDA reported nine foodborne outbreaks linked to basil, parsley, and cilantro, which resulted in 2,699 illnesses and 84 hospitalizations. Seven outbreaks were attributed to Cyclospora cayetanensis; one was attributed to E. coli O157:H7; and one was attributed to Shigella sonnei. The FDA is seeking to obtain baseline estimates of the prevalence of Salmonella and Shiga toxin-producing E. coli in cilantro, basil, and parsley. The agency also intends to test for Cyclospora cayetanensis during the summer months, when Cyclospora-related illnesses typically occur.
Tapping the potential of nutraceuticals
Nutraceuticals that have health benefits substantiated by clinical data could be used as powerful tools to prevent and treat medical conditions, according to a review published in the British Journal of Clinical Pharmacology.
The study, led by Ettore Novellino and Antonello Santini of the University of Napoli Federico II in Italy, stressed the need for a proper definition of nutraceuticals and clear regulations to ensure their safety. "Nutraceuticals, in the collective imagination of the consumer, tend to be confused and wrongly identified with many other products available on the market on the basis of potential health benefits," says Novellino. "An evaluation of the safety, the mechanism of action, and the effectiveness of nutraceuticals—and substantiating this with clinical data—is the central point that differentiates nutraceuticals from food supplements."
Santini added that the growing demand and interest in nutraceuticals justifies the need for a restructuring of the entire regulatory framework that differentiates nutraceuticals from food supplements. "We propose a regulatory system that is similar to the one used for drugs, which is more rigorous and more complex than the one commonly accepted for food supplements," he concludes.
Helping preschoolers choose healthy foods
Approximately one in four preschoolers in the United States is overweight or obese, making preschool a critical period for developing lifelong healthy eating habits. A new study published in the Journal of Nutrition Education and Behavior determined that preschoolers who learned how to classify food as healthy or unhealthy were more likely to say they would choose healthy food as a snack.
Participating in the study were 235 children, aged 3–6 years, who were asked to identify and select a preference for a snack pictured in 13 pairs of items differentiated as high contrast (e.g., carrots versus donuts) and low contrast (e.g., crackers versus chips). After analyzing data, the researchers determined that the preschoolers' ability to categorize food was predictive of hypothetical food choices.
More preschoolers were able to name than classify high contrast food comparisons and to classify them than to say they would choose the healthy alternative as a snack. Low-contrast pairs seemed to be outside preschoolers' ability to differentiate. Older preschoolers could identify healthy foods, categorize food, and were more likely to report they would choose healthier foods for a snack, a finding consistent with the cognitive skills that improve during preschool years.
"Preschoolers may not be able to detect small differences between food to classify them as healthy and unhealthy, and the labels of 'good' and 'bad' food are not always accurate," reported lead study author Jody S. Nicholson. Rather, preschool nutrition education programs should simplify information into developmentally appropriate concepts, she believes. "Using one-dimensional descriptive phrases, such as how often food should be consumed, would be more accurate and developmentally appropriate."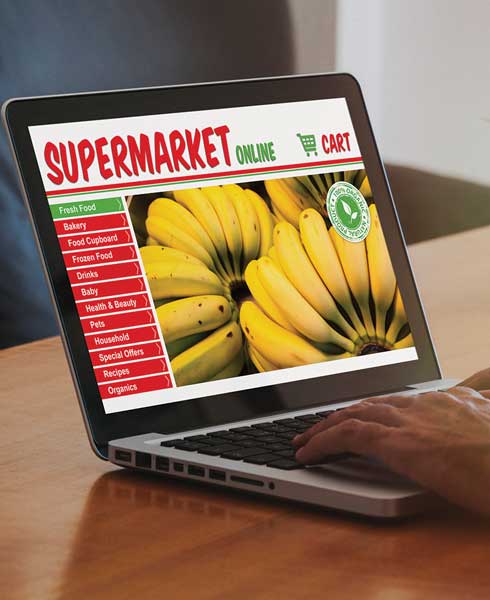 Online grocery shopping takes off
The digital grocery landscape is quickly rising, according to a study by the Food Marketing Institute and Nielsen. Findings indicate that 70% of consumers will be grocery shopping online in as few as five to seven years. The estimated $100 billion spend, which is equivalent to every U.S. household spending $850 online for food and beverage annually, will occur by 2022 or 2024.
Key findings show that omnichannel shopping has passed the tipping point, with online grocery shopping on an accelerated path to industry saturation. Previous research predicted that consumer online food and beverage spend could reach $100 billion by 2025. The new report indicates that adoption has far outrun initial predictions, such that the timeline could be cut by as much as half.
"The grocery industry is currently in the age of digital experimentation, where the roadmap on how to navigate and achieve real and profitable growth continues to evolve," says Chris Morley, U.S. president, FMCG and Retail, Nielsen. "While analytics will continue to be critical for retailers and manufacturers to understand the digitally engaged food shopper on a deeper level, a collaborative approach to balancing physical and digital sales strategies is the key to unlocking omnichannel success."
---
News Bites
• Archer Daniels Midland and Cargill have reached agreement to launch a joint venture to provide soybean meal and oil for customers in Egypt.
• Bühler is building a coffee processing plant for the Norwegian coffee producer Joh. Johannson that combines innovative roasting technology with record low greenhouse gas emissions.
• Bunge North America announced that it has purchased Minsa, a wholly-owned U.S. subsidiary of Grupo Minsa S.A.B. de C.V. The acquisition includes corn flour mills in Red Oak, Iowa, and Muleshoe, Texas.
• Cargill has entered into a joint venture with ARASCO on a new corn milling facility to meet the growing demands of Saudia Arabia's food and beverage industry.
• Conagra Brands has entered into a definitive agreement to sell its Del Monte processed fruit and vegetable business in Canada to Bonduelle Group.
• General Mills has entered into a definitive agreement to acquire Blue Buffalo.
• Lesaffre has acquired Alltech's yeast extract facility in Serbia.
• Nestlé has acquired a majority stake in Terrafertil, a company selling natural, organic, plant-based foods and healthy snacks.
• Ocean Spray has reached a definitive purchase agreement to acquire Atoka Cranberries, located in Manseau, Quebec, from The Bieler Group.
• Sensient Technologies announced that it has reached a definitive agreement to acquire the natural color business of GlobeNatural, a leading natural food and ingredient company based in Lima, Peru, and owned by the Michell Group.
• Denver-based Smashburger announced that Jollibee Foods, Asia's largest foodservice company, has agreed to acquire an additional 45% of the brand, bringing Jollibee's ownership stake to 85%.
• Synergy Flavors, a leading global supplier of flavors, extracts, and essences, funded two recently completed primary schools in Antohomaro and Farahalana, Madagascar, which are beginning to accept students for classes.
• Univar has entered into a strategic long-term agreement with Cargill's food ingredients and bio-industrial business in the United States and Canada.
• Valensa International announced a joint venture agreement between its parent company, EID Parry, and Synthite Industries, which includes a $6.5 million investment to establish a new plant for the extraction of Parry Organic Spirulina to produce phycocyanin for dietary supplements, and functional and medical foods.

Margaret Malochleb,
Associate Editor
[email protected]