When it comes to a sweet indulgence that satisfies a multitude of tastes, it's hard to beat frozen desserts. From fat-free sorbet to full-fat custard, plain vanilla to tangy tamarind, the frozen confection market has something for everyone.
A national survey conducted in 2017 by an independent research firm for Arctic Zero, a leader in better-for-you frozen desserts, found that seven in 10 people say they crave ice cream at least once a week—and nearly a quarter crave it daily. Yet 60% resist the desire to indulge because of concerns about calories, sugar, fat, and artificial ingredients.
Amit Pandhi, CEO of Arctic Zero, believes that taste is the most important quality for consumers, "but that's balanced with a desire for high quality and more ethical ingredients," he says, along with an emphasis on healthier indulgence.
"The ice cream industry continues to grow … with products that fit within the Food and Drug Administration's definition of 'healthy' driving the growth, expanding 85% last year," he adds, citing Nielsen data.
There's no question that consumers are increasingly health conscious, and as interest in lighter dessert options expands, the frozen desserts market is responding with products that are not only lower in calories and fat, but that increasingly include nutritional and functional ingredients, along with flavor twists designed to tempt even the most disciplined individuals.
Witness the overwhelming success of Eden Creamery's Halo Top, named by TIME magazine as one of "The 25 Best Inventions of 2017." The low-calorie, protein-enriched ice cream alternative allows consumers to indulge in a guilt-free treat in a wild assortment of flavors—including Pancakes & Waffles, Red Velvet, Birthday Cake, Cinnamon Roll, and Mochi Green Tea—all for between 280 and 360 calories a pint. Launched in 2012, the brand gained traction for several years until its sales soared by 2500% between 2015 and 2016. By fall of 2017, Halo Top had become the best-selling ice cream brand in the country.
Halo Top's phenomenal success notwithstanding, the U.S. market for frozen desserts is a mature one. Although occasionally a product such as Halo Top will cause a stir that increases sales, the success of a new product usually comes at the expense of existing ones, as opposed to adding sales overall (Packaged Facts 2017).
For 2016, Packaged Facts estimates that the market for all ice cream and frozen dessert sales, including packaged ice cream and frozen novelties sold through retail channels and ice cream purchased at foodservice outlets, was just shy of $28 billion. This figure includes $12.3 billion on the retail side and $15.7 billion from foodservice. Total ice cream and frozen dessert sales are projected to approach $30 billion by 2020, with retail dollar sales growing to almost $13 billion and foodservice surpassing $16.3 billion (Figure 1).
Ice Cream Influencers
A number of forces are shaping the frozen desserts market, and the players who have identified them are reaping the rewards. In addition to the ongoing demand for healthier, better-for-you products, there has been an upsurge in nondairy and plant-based alternatives, along with the introduction of new and exotic ice cream flavors, and an increase in gelato and superpremium ice cream. Many of these developments are the brainchildren of start-ups that have identified niches in which they can make headway within the mature U.S. market.
In this type of environment, opportunities are available to those whose innovations resonate with key consumer interests, meaning that giants such as Unilever and Nestlé are facing off against a growing number of local, regional, and specialty manufacturers, as well as private label brands. According to Packaged Facts, the two major companies control about 44% of the market, with private labels taking up another 17%, leaving a large number of smaller players to share the rest of the pie (Figure 2).
Nondairy, Vegan, and Plant-Based Alternatives
Among the smaller players making their mark in nondairy frozen desserts is the aforementioned Arctic Zero. Founded in 2010, the company is a pioneer in reduced-calorie, low-glycemic, lactose- and gluten-free ice cream alternatives. Pandhi spoke about his company's approach to product development with the release of the results of the National Ice Cream Month survey: "Millions of Americans want to be able to indulge without compromising their health or their fitness goals. Dietary restrictions and considerations are a key driver of this response and we see this trend in our other marketing research."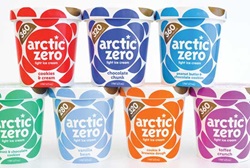 Arctic Zero's Fit Frozen Desserts line, created for consumers who want to "taste the sweet life with zero guilt," includes dipped bars weighing in at 80 calories each; Creamy Pints in flavors such as Cake Batter, Cookie Shake, Vanilla Maple, and Hint of Mint, for just 35 calories per serving and 150 calories per pint; and Chunky Pints, which feature the addition of nuts, chips, and fruit while maintaining only 75 calories per serving. The products have been so successful that Arctic Zero recently launched a line of light ice creams with the same health-conscious focus, but made with real milk, cream, and cane sugar.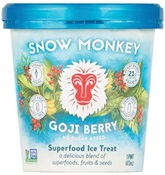 Chobani-backed Snow Monkey is also making headway in nutrition-focused frozen desserts. Touting its Superfood Ice Treat as Ice Cream Reinvented, the brand packs its vegan, plant-based, dairy-, nut-, and gluten-free products with protein, antioxidants, and fiber for an energizing, all-natural treat. One of seven companies chosen out of more than 550 applicants to take part in the 2017 Chobani Food Incubator program, Snow Monkey has expanded its reach to more than 200 stores, including Whole Foods, and last year was named one of the best vegan ice creams by Bon Appetit magazine.
Another entry in vegan and plant-based brands that is differentiating itself with nutritional claims is So Delicious, a line of frozen desserts made with cashew, coconut, soy, or almond milk. Available in pints, bars, and sandwiches, the desserts are certified vegan and Non-GMO Project Verified, and are made with organic ingredients whenever possible. Integral to the So Delicious brand is its commitment, as stated on the company website, to "treating everyone and everything—animals, the environment, each other, our partners, and our community—with unwavering respect."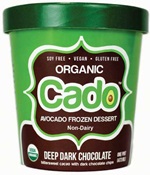 Taking plant-based inventiveness in a different direction is Cado, an avocado-based, nondairy ice cream that boasts heart-healthy fats and organic ingredients. Last year, Cado—available in Deep Dark Chocolate, Simply Lemon, and Mint Chocolate Chip flavors—was recognized by Whole Foods in its top trends forecast for 2018 as an example of a "plant-forward" brand to try.
There's no question that the plant-based frozen desserts market has room for both large and small players willing to step forward with creative offerings. Says Tom Vierhile, innovation insights director, GlobalData, "We are seeing more innovation in 'vegan' ice cream products that contain no dairy ingredients, including some launches from bigger brands. Häagen-Dazs Non Dairy Ice Cream launched about a year ago and is made with soy, almond, or cashew milk. Ben & Jerry's Non-Dairy Frozen Dessert is also relatively new."
Pandhi believes that as consumers continue to embrace plant-based diets, more nondairy options will appear in grocers' freezers. "According to a recent report by Future Market Insights, the global market for plant-based ice creams will reach a value of a billion dollars by the end of 2017 and will grow to an estimated $2.45 billion by the end of 2017," he says.
Light Ice Cream
Targeting health-conscious consumers seeking a low-calorie, low-fat, or fat-free option, light ice creams have been on the market for decades but have recently begun refocusing their efforts to better compete with premium, plant-based, and nondairy products. The emphasis on clean ingredients and nutritional components, such as protein, which drive other segments of the frozen desserts market, are also influencing innovations in light ice cream.
Ben & Jerry's recently launched Moo-phoria! line is a prime example. Weighing in at 140–160 calories per serving, the light ice cream preserves the creamy taste and flavorful add-ins of the company's premium line but with 60% to 70% less fat and without sugar substitutes or sugar alcohols. Made with organic milk and cream, and Fairtrade-certified ingredients, Moo-phoria! is available in three flavors—P. B. Dough, Caramel Cookie Fix, and Chocolate Milk & Cookies.
Arctic Zero's recently introduced Light Ice Cream, which is sweetened with natural cane sugar, is made without sugar alcohols, corn syrup, or artificial sweeteners. Pandhi says the line was a response to feedback from consumers that the company's Fit Frozen Desserts "missed the mark on delivering the taste and texture of real ice cream. We also heard that others in the low-cal ice cream category tempt with taste, but do not satisfy their desire for clean ingredients, particularly when it comes to sweeteners."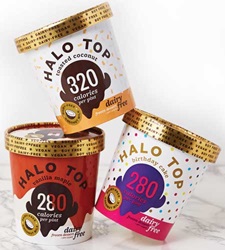 Halo Top, the leader in nondairy alternatives, also has a stake in the light ice cream market with its low-calorie, low-carb, high protein, and low-sugar offerings, available in 25 flavors. Halo Top first capitalized on the added-protein trend in its dairy-free products and continues to do so in the dairy-based versions.
A more recent addition to the high-protein light ice cream trend is Three Twins' Slim Twin line, a low-fat, organic ice cream that is free of added salt, glycerin, and artificial sweeteners, and weighs in at only 240–320 calories per pint. Stacked with 24 grams of protein, a pint meets about 12% of the Daily Value.
Other companies joining the high-protein trend in light ice cream include Enlightened, maker of low-calorie, low-sugar ice cream pints and bars, and Breyer's, which aims to recreate the same rich taste of its premium line with Breyer's Delights.
Superpremium Soars
Despite the influx of lighter, healthier frozen dessert offerings, consumers continue to crave the decadent sensory experience of premium ice cream. According to Arctic Zero's National Ice Cream Month survey, while 99% of people like ice cream, more than half do not eat it or limit their consumption because of concerns about health. Capturing the attention of these consumers requires an approach that acknowledges their concerns but also revels in the experience of an indulgent dessert. Successful companies are reaching consumers, says Alex Beckett, associate director, Mintel Food & Drink, "by celebrating all that these new, low-calorie players are not. [They are] celebrating the quality and the source of the cream, the decadent thickness of the texture, and generally trying to convince consumers that 'hey—you are worth this calorie bomb.'"
Laura Bergan, director of innovation, marketing, development at Barry Callebaut, manufacturer of chocolate and cocoa products, agrees. "The ice cream and gelato categories have seen tremendous movement in offerings and solutions," she says. "Traditionally, ice cream manufacturers utilized compound coatings and inclusions within their product lines. However, in the past few years, there has been a movement to use real chocolate in the coatings and the swirls or inclusions inside. This gives a food manufacturer the opportunity to claim made with real chocolate, which is a driver of premium offerings. Consumers have also seen different inclusion types, such as chocolate curls and filled inclusions that offer enhanced texture and more excitement for the savvy consumer. These premium offerings have provided opportunities for ice cream companies to elevate their brands and demand higher price points from their consumers."

Among the smaller brands making their mark in superpremium offerings is Foxy's Thoughtful Ice Cream. A small-batch ice cream made with 16% butterfat and 20% less sugar than comparable products, Foxy's is enhanced with prebiotics and probiotics. Produced in flavors such as Oregon Cherry Vanilla, Uncle Mike's Double Chocolate, Rocky Road Less Travelled, and Rather Thoughtful Vanilla, the brand focuses on thoughtfully sourced, luxurious ingredients with what founder Angus Murray calls "added stealthy healthy stuff."
Another brand that has heeded the call for balancing health with indulgence is Breyer's, which launched its Gelato Indulgences line in eight varieties—including Raspberry Cheesecake, Chocolate Fudge Truffle, Salted Caramel Truffle, and Pistachio-Biscotti. Based on its commitment to high-quality ingredients, the premium line is made with sustainably farmed vanilla, along with milk and cream that comes from cows not treated with artificial growth hormones.
The use of high-quality ingredients is also the focus of Unilever's Talenti brand of gelato and sorbetto, which features such ingredients as vanilla from Madagascar, mangos from Maharashtra, and pistachios from Sicily. In addition to crafting premium products that supply an intense, satisfying taste experience, the Talenti brand caters to a variety of tastes and preferences, with products available in vegan, reduced-sugar, and dairy-, fat-, and gluten-free versions.
Along with the emphasis on quality ingredients and healthy mix-ins, smaller players have been tapping the market for allergen-free frozen desserts. Among superpremium brands, a recent entry is A La Mode Shoppe, which introduced a 16% butterfat, allergy-friendly ice cream made in a dedicated nut-, sesame-, and egg-free facility, the first of its kind in the country. A La Mode Shoppe provides a creamy, decadent experience in flavors that range from Pink Sprinkle vanilla to Partly Cloudy blue cotton candy to Speed Bump dark chocolate and marshmallow to Wired coffee with chocolate chips.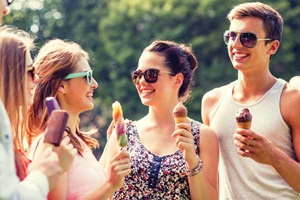 Catering to Gen Z
Consumers in their preteens and early 20s are a driving force behind food innovations, and frozen desserts are no exception. Perhaps the most food-savvy generation among current consumers, their awareness about health, nutrition, and the role food plays in creating novel experiences and a rewarding life is shaping their tastes and making food companies take note of their preferences and demands. Says Vierhile, "The desire of younger consumers to live a healthy lifestyle is probably the top influencer for the frozen dessert market. Younger consumers are more likely to exercise than older consumers and are also more likely to perceive natural and organic products in more of a positive light than older consumers."
Bergan agrees. "It is no secret that the younger generations are driving change or demanding different food solutions in the market," she says. In an effort to provide more healthful options, Barry Callebaut introduced a cocoa powder alkalized with baking soda as opposed to other alkalizing agents. "This allows food manufacturers to claim on pack 'cocoa processed with baking soda' instead of 'cocoa processed with alkali,'" she says. "Since baking soda is a more familiar product to consumers, this fits the younger generations' desire for clean labels with well-known ingredients."
In addition to clean labels, Generation Z consumers, who represent 27% of the U.S. population, seek brands that support their personal brand and story, according to research conducted by NPD. As a result, vegan, nutritionally enhanced, and nondairy products are popular, as are those using ethically sourced ingredients, such as the cage-free eggs in Ben & Jerry's Moo-Phoria! Light Ice Cream, which, says Vierhile, "reflect[s] the interest of younger consumers in animal welfare issues."
Two additional introductions geared to young consumers, who often prefer snack foods to traditional meals, are Häagen-Dazs Cookie Squares and Ben & Jerry's Pint Slices, mini-desserts that can be enjoyed on the go and provide "a moment of indulgence rather than a huge tub," according to Beckett.
Offered in Dulce De Leche and Vanilla flavors, the Cookie Squares line features a cookie topped with a layer of ice cream, then coated in a chocolate shell and drizzled with chocolate, to deliver what Häagen-Dazs calls "a multi-textural experience."
Ben & Jerry's Pint Slices takes a slightly different approach by placing the focus on the ice cream itself, enhanced with "plenty of chunks and swirls" and a chocolate coating. Offered in familiar flavors such as Cherry Garcia and Chocolate Chip Cookie Dough, as well as innovations such as The Tonight Dough and Americone Dream, the slices are marketed as a portable way to enjoy a delicious, high-quality frozen snack.
Mochi Mania
One of the breakout trends of the past few years is mochi, a traditional Japanese dessert consisting of a cake made of sweet rice dough that is steamed, pounded, and formed into a shape. Mochi ice cream is made by encapsulating a ball of ice cream within the cake, resulting in a delightful combination of a cold and creamy center enrobed in a soft, sweet outer shell.
Last year, Whole Foods opened self-serve mochi bars in about half of its locations. The bars feature traditional flavors such as vanilla and strawberry, along with more adventuresome offerings like matcha green tea, red bean, black sesame, and Kona coffee.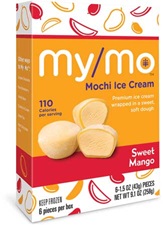 My/Mo has been a leader in the mochi ice cream market, with three product lines and a playful approach to marketing that riffs on the multi-textural appeal of the dessert. "Pinch it. Poke it. Squeeze it. Stack 'em. Roll one to a friend. Sink your teeth in. Wipe the powder from your lips. Feel the sensation changing with every bite. It's sweet and cool and gooey and great," invites the My/Mo website. Available in eight ice cream flavors and four nondairy and vegan flavors, as well as pints of traditional ice cream enhanced with mochi bits, Mi/Mo's offerings marry the creaminess of ice cream with the snackability and chewiness of mochi rice cakes.
Hawaii-based Bubbies Homemade Ice Cream Desserts has also focused on innovations in mochi ice cream, offering 19 versions in such mouthwatering flavors as Raspberry White Chocolate, Lychee, Pistachio, Guava, Passion Fruit, Sakura, and Chocolate Espresso. The company recently extended its line with vegan offerings in Mango, Cherry, Vanilla, and Mint, for only 80 calories per serving. At the launch of the vegan line at Expo West 2018, Bubbies CEO Rich Schaffer commented, "This new frozen dessert will fulfill a unique market niche that has been asking for a vegan, non-GMO alternative, and we are pleased to offer it in a tasty array of flavor options."
The Next Frontier
Capturing a share of the frozen dessert market requires creative thinking, along with the ability to foresee which trends will captivate the imagination and palates of consumers. One area that holds nearly unlimited possibilities for invention is flavor. Given the expanding influence of world cultures, today's consumers are more open to trying new combinations of traditional flavors, as well as new flavors inspired by other cultures.
While truly exotic flavors have yet to establish a strong foothold, companies that are willing to take the leap may well find a new niche. Says Beckett, "Mainstream ice cream has been a bit slower to innovate around botanical and exotic, ethnic flavors, compared with, say, soft drinks and other sectors of the food industry." And although some imaginative combinations have been introduced by a few gelato players, "overall," says Beckett, "there's plenty of scope to meet consumer demand for more tantalizing, memorable flavors by using thrilling spices."
Among the flavors Bergan sees trending are coffee and tea flavors, including mocha, latte, and matcha and green tea. "Spice flavors have also been on the rise," she says, "which can include more simple spices such as cinnamon or ginger, or more extreme such as pepper-type flavors. Sweet and salty continue to be on trend with the more traditional nut and chocolate flavors or the more recent common salted caramel or more trending bacon in chocolate."
Texture is also positioned to play a prominent role in Western ice cream innovation over the next few years. At Barry Callebaut, an innovation team has been chartered to identify new ways to offer a more multi-sensorial eating experience through inclusions, fillings, decorations, and the unique textures of nut pastes, butters, and brittle crunches. "Consumers are driven by texture and the excitement it can bring to a product line," says Bergan.
Research by Mintel confirms this. Consumers are looking for all-encompassing sensory experiences. According to the firm, ice cream lovers "want to feel wholly stimulated and tangibly engaged with the act of eating. Ice cream, with its capacity to offer textures beyond just frozen and soft, is a rich area for innovative textures."
---
The Global Perspective
Location, demographics, and culture all play a role in market growth and product innovation on a global basis. In China, consumers have recently become more interested in having ice cream as a dessert at home, with 39% of consumers indicating the preference compared with 28% in 2015 (Mintel 2018). This shift in consumption patterns may slow a decline in volume sales and also contribute to China's expected domination of the market in terms of ice cream and frozen dessert consumption (Future Market Insights 2018).
While established markets like the United States and the United Kingdom are struggling for growth (Mintel 2017a), the market in India is expanding, having experienced a compound annual growth rate (CAGR) of 13% over the past five years. In 2017, volumes were set to overtake those of more established markets, including the United Kingdom, with ice cream sales in India forecast to reach 381.8 million liters in 2017 and 657.2 million liters in 2021. Also on the rise are the Indonesian and Vietnam markets, which experienced a CAGR over the past five years of 11% and 9% respectively (Mintel 2017b).
With the ice cream market rapidly expanding in the East, it's no wonder that one in three ice cream products (32%) were launched in Asia Pacific in 2016, up from 26% in 2013. This compares with a decline in North American launches, from 19% to 14% during the same period (Mintel 2017b).
Margaret Malochleb is associate editor of Food Technology magazine ([email protected]).