Tara McHugh named WRRC director
Tara McHugh, contributing editor of Food Technology, has been selected as the center director for the Western Regional Research Center (WRRC), one of four regional laboratories within the Agricultural Research Service of the United States Department of Agriculture (USDA). McHugh is the research leader of the Healthy Processed Foods Research Unit at WRRC and had previously served as acting center director.
McHugh is an internationally recognized expert in innovative food processing, edible films, and nanoscience, as well as a leader in high-impact technology transfer. A Fellow of IFT, she has authored 150 peer-reviewed publications and patents, led 29 Cooperative Research and Development Agreements and 15 large grants, presented her research at more than 150 scientific meetings, and received a multitude of awards, including two USDA Secretary Honors Awards, the Arthur S. Flemming Award, and three Federal Laboratory Consortium Awards.
According to Area Director Robert L. Matteri, McHugh and her team's cutting-edge science has "positively impacted the food industry and rural economies, adding value to specialty crops and co-products, while creating jobs and improving human health." Since becoming research leader, McHugh's personal research program has received more than $6 million in extramural funds, and her unit has received over $12 million in extramural funds.
McHugh received a PhD in food science from the University of California, Davis, and sits on the department's industry advisory board.
Leadership Election deadline approaching
As a member of IFT, you have the opportunity to help shape the future of the organization by participating in the Leadership Election, which takes place from February 1 through March 4, and will determine the next IFT president-elect, board of directors members, and Nominations & Elections Committee members.
During the election period, IFT's voting membership will elect one member for president-elect, four members for the board of directors, and three members for the Nominations & Elections Committee. As a reminder, candidates brought forth by petition for the Nominations & Elections Committee must have submitted and completed their nomination and candidate information form to be eligible. Take some time to learn about the candidates, why they want to serve, and their visions for IFT at ift.org. IFT members can cast their ballots electronically from any internet-accessible computer worldwide.
Please forward any questions about the slate, petition process, or the online election to Anna Desai, staff liaison to the Nominations & Elections Committee, at [email protected].
---
Getting to know Paulina Widger
Each month, we meet one of IFT's valued volunteers.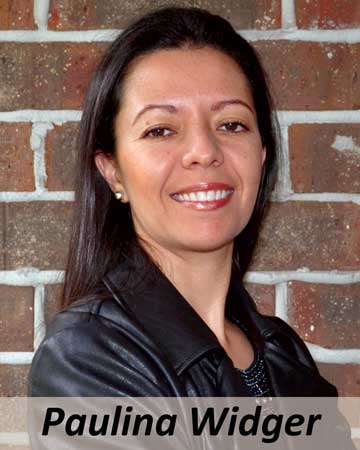 As a little girl I dreamed of coming to America, and just before my 18th birthday I made the official move from my small hometown of Loja, Ecuador, to Los Angeles," says Paulina Widger. Although the move was a culture shock, it also paved the way for a rewarding career in the food industry. Knowing the important role education would play, Widger says she "got started in college classes while I took my first job working in research and development in the cosmetics industry."
After spending 10 years in an R&D environment, says Widger, "I think I've found my sweet spot in my career as a technical sales manager for Ingredients Inc. I really love working with people to solve problems, growing new business, and setting new goals every day! I enjoy the challenges, and the fun and excitement that the food industry brings with new products and new market disruptors every year."
Widger first became acquainted with IFT when she attended several events sponsored by the Florida Section. "Coming from another industry," she says, "I was looking to get involved and get 'plugged in' with as many leaders, food scientists, and go-getters as I could find. It wasn't long before someone offered me the opportunity to become chair-elect, and then chair, and I have enjoyed every minute ever since!"
From a professional standpoint, Widger feels her experience as a volunteer has given her exposure to every corner of the industry—from R&D and food science to marketing, regulations, and sales and purchasing. On a personal level, "this has also been an amazing development tool for me," she says. "I now have colleagues that I call close friends and have learned so much from so many different people. Working with IFT has sharpened my leadership and team-building skills."
As a young professional, Widger attended IFT's annual event, where she met students who were trying to break into the industry. "It has been very gratifying to see many of these young professionals move into great job positions that they love and start amazing careers," she says. "This sort of thing inspired me to also join the University of Florida Food Science Board of Advisors, where we mentor and advise the staff and the graduating students on the state of the industry and what is best for their future."
Looking ahead, Widger feels the future of the food industry is bright. "A group of us attended the SIAL show in Paris a few months ago, and they had an event there called the 'Future Lab,' which predicted major industry changes that are coming. Feeding a global population with billions and billions of people, so many new technologies are going to appear: from plant- and insect-based proteins to new farming technologies and new product advancements. It's just going to be a blast watching all of the new things unfold in front of us."
---
Section Meetings
British Columbia
Feb. 27: Suppliers' Night. Burnaby, B.C. Click here.
New York
March 20: Suppliers' Day and Career Fair. Secaucus, N.J. Click here.
Ohio Valley
Feb. 28: Dinner With IFT President Michele Perchonok. Cincinnati. Click here.
Oregon Section
Feb. 25: Suppliers' Night. Portland, Ore. Click here.
Puget Sound
Feb. 26: Suppliers' Night and Symposium. Seattle, Wash. Click here.
Southern California
March 6: Suppliers' Night Expo. Anaheim, Calif. Click here.
Western New York
March 26: Food Industry Expo. Rochester, N.Y. Click here.
Have some news to share about yourself or another IFT member? Email [email protected].