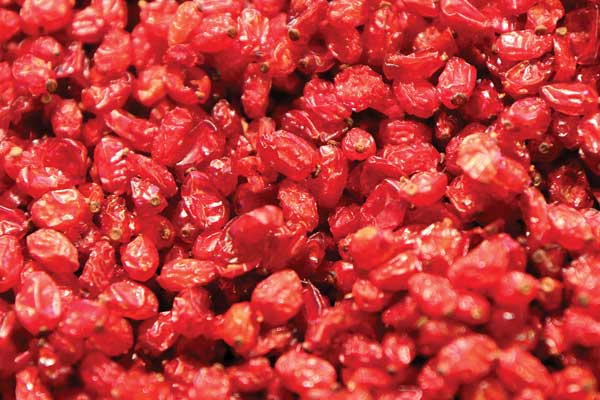 Improving desirable attributes in dried pomegranate arils
Studies of dehydrated fruit have provided useful information about the chemical characteristics and the technology that can improve fruit quality, but none have included consumer insights. Recently, a study published in the Journal of Food Science investigated consumer preferences about dried pomegranate arils using different technologies, while linking the consumer data to descriptive and volatile composition data.
A total of 19 volatiles of dehydrated pomegranate arils were determined using solid-phase microextraction and gas chromatography–mass spectrometry. Partial least square regression (PLS) results indicated that consumers' overall liking was positively correlated with "pom ID," "sweet," and "fruity" attributes, as well as volatile compounds of the esters family.
Overall liking was negatively correlated with "off-flavor" and "burnt" attributes related to the furan compounds family. Penalty analysis indicated that the sample corresponding with a current commercial product needed improvement on the "pom ID," "fruity," and "sweetness" parameters. All samples that were processed using proposed new drying techniques received more positive responses than the commercial sample.
The consumer data and its relationship with analytical and descriptive sensory data showed the main drivers of liking being high esters and low furan compounds content, high fruity and sweet attributes, and low seed hardness. In addition, penalty analysis showed that a possible improvement of the commercial products could be attained by using ''Mollar de Elche" cultivar and an osmotic dehydration pretreatment using 100% concentrated ''Wonderful" pomegranate juice.
The researchers conclude that their results could be used by pomegranate derivative or dried fruits companies to improve their procedures and make more successful products that meet consumer demands.
How food systems can safeguard against threats
Businesses and organizations that grow, distribute, and supply food must withstand and rebound from a variety of acute and long-term disruptions, including civil unrest, cyberattacks, sea-level rise, or funding cuts. A study from the Johns Hopkins Bloomberg School of Public Health identified key characteristics of organizations that may lead them to be more prepared.
Roni A. Neff and colleagues interviewed representatives of 26 businesses and organizations in Baltimore that supply, distribute, and promote access to food. They found that the organizations able to recover more quickly had 10 characteristics in common: formal emergency planning; staff training; reliable staff attendance; redundancy of food supply, food suppliers, infrastructure, location, and service providers; insurance; and post-event learning after a disruptive event. Organizations that were large, well-resourced, and affiliated with national or government partners tended to display more of these characteristics.
The authors conclude that a more resilient food system is needed to ensure all people have safe and reliable access to food following both acute and longer-term crises. They highlighted several critical areas for targeted intervention by local, state, and federal governments, such as creating opportunities for smaller, less-resourced organizations to share information and pool resources.
Further research will help food system organizations, researchers, and government officials identify vulnerabilities in regional food systems and strategies to improve resilience in the face of growing threats.
Technology spurs growth in processing equipment
The global food and beverages processing and packaging equipment market is expected to expand at a compound annual growth rate of 4.1% from 2017 until 2022, to reach $78.6 billion, according to an analysis by Frost & Sullivan. Improved economic conditions in emerging nations, changing dietary preferences globally, and a rising demand for nutritious and ready-to-eat food products are among the factors spurring expansion.
"With increasing food and beverages product demand and a growing emphasis on food safety, food processors are reliant on equipment manufacturers to provide processing and packaging equipment that is agile and utilizes advanced technologies to minimize energy usage, operate at a higher efficiency, and improve yield," said Arun Ramesh, team lead, agriculture and nutrition, visionary science, Frost & Sullivan.
The global demand for food products has led equipment manufacturers to acquire, merge, and partner with companies to leverage technology innovation. To remain competitive in an evolving market, Ramesh recommends that players create smarter products by investing in new capabilities such as advanced data and analytics and robotics and automation, and extend their capabilities to offer full solutions, including installation, monitoring, services, and integration.
Additional factors imperative to growth include upgrading to advanced machinery to cater to changing consumer preferences and consumption patterns, and using machine learning and other tools to predict process delays, make improvements to engineering, and optimize equipment design.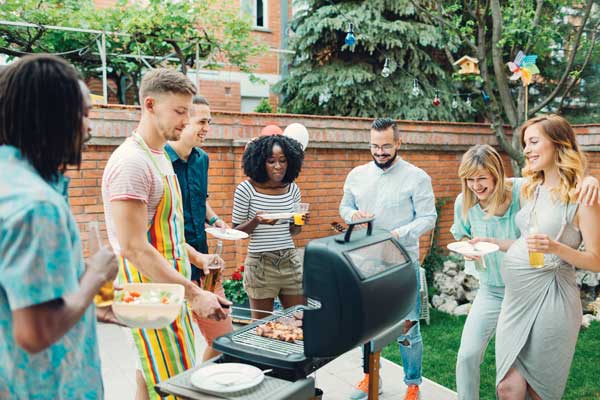 Neighborhoods affect dietary choices
Living or moving to a neighborhood with a higher socioeconomic status is associated with better adherence to dietary recommendations, according to a study from the University of Turku, Finland.
Researchers studied the connection between neighborhoods' socioeconomic status and dietary choices from data covering over 16,000 Finnish adults. Dietary habits were reported with a short survey and, on the basis of the answers, the researchers formed an index describing the correspondence between eating habits and national dietary recommendations.
Half of the participants lived at the same address for the entire six-year follow-up, but whether participants moved to the neighborhood or lived there the entire time, the same phenomenon occurred—people in a neighborhood with a lower socioeconomic status had a lower score in the food index than those in a more prosperous neighborhood.
"Of the single food items, people living in neighborhoods with a higher socioeconomic status ate sausage, meat, fish, and vegetables according to recommendations, whereas people in the less prosperous neighborhoods more often adhered to the recommendations concerning dark bread and consuming alcohol," said lead author Docent Hanna Lagström from the Public Health unit of the University of Turku. "The consumption of nonfat milk, fruits, and berries did not correlate with the neighborhood socioeconomic status," she added.
Lagström finds it interesting that people who moved to a neighborhood with a higher socioeconomic status ate more healthily than those who moved to a less prosperous one. "This could implicate that neighborhoods can offer a very different selection of food items and therefore narrow the opportunities to improve one's diet or to follow the recommendations," she notes.
Beverage trends make a splash
Craft beverages will be a hit in 2019, according to early results from the National Restaurant Association's (NRA) annual "What's Hot" survey, which gathers responses from approximately 650 professional chefs, all of whom are members of the American Culinary Federation.
Nearly 65% of respondents indicated that craft, artisan, and locally produced spirits are on tap as the industry's No. 1 alcoholic beverage trend in 2019. On the nonalcoholic side, 51% said craft and house-roasted coffee would simmer over in 2019.
"At restaurants and other foodservice operations today, beverages, including wines, spirits, beers, and nonalcoholic drinks, are big traffic drivers," said Hudson Riehle, the NRA's senior vice president of research. "Offering craft liquors, wines, and other beverages allows restaurants to distinguish their drink programs from their competitors. At the same time, putting a more local, sustainable spin on beverages is particularly appealing to Millennials, who, in general, are more apt to support smaller, different, more socially responsible businesses and products."
---
News Bites
• The Almond Board of California announced a $6.8 million research investment that will support 75 independent projects focusing on finding new uses for almond hulls and shells, water sustainability, and honey bee health.
• Cargill has acquired Colombian-based Campollo, one of the country's leading producers of chicken and protein products. Cargill also announced plans to invest $235 million in the Philippines to grow its business in the country in the next two years.
• Celsius Holdings, maker of the fitness drink CELSIUS, announced that the company has secured distribution agreements with distribution partners in the Anheuser-Busch and PepsiCo networks.
• Comax Flavors opened two new facilities in China, an R&D Innovation Center in Shanghai and a flavor manufacturing facility in Huaibei City, Anhui Province.
• The Dutch Royal FrieslandCampina, a global dairy company, has announced the acquisition of U.S.-based importer and distributor Jana Foods.
• Flowers Foods has completed its acquisition of Canyon Bakehouse, a privately held, gluten-free baking company based in Colorado.
• Givaudan has launched MISTA, a new innovation platform for the food industry, designed to enable start-ups and established corporations to optimize ideas, products, people, and investments.
• Ingredion announced several steps to accelerate production of plant-based proteins globally. As a result of the company's combined $140 million in strategic investments, two North American manufacturing facilities will produce pea-protein isolates and a range of pulse-based flours and concentrates in 2019. Ingredion has also entered into a relationship with Matsutani Chemical Industry to manufacture ASTRAEA Allulose in Mexico and market it across the Americas.
• Kraft Heinz has entered into a definitive agreement to acquire Primal Nutrition for approximately $200 million.
• Lakeview Farms, a manufacturer of refrigerated desserts, dips, seafood salads, and spreads, recently acquired Tribe Mediterranean Foods.
• Nestlé Waters North America has announced that it will achieve 25% recycled plastic use across its U.S. product portfolio by 2021, with a goal of reaching 50% by 2025.
• New Age Beverages, a Colorado-based organic and natural beverage company, acquired Morinda Holdings, a healthy lifestyles and beverage company with operations in more than 60 countries, for $85 million.
• Pizza Hut, a subsidiary of Yum! Brands, announced that its U.S. business has entered into a definitive agreement to acquire QuikOrder, an online ordering software and service provider for the restaurant industry.
• Unilever has signed an agreement to acquire the Health Food Drinks portfolio of GlaxoSmithKline in India, Bangladesh, and 20 other predominantly Asian markets.

Margaret Malochleb,
Associate Editor
[email protected]