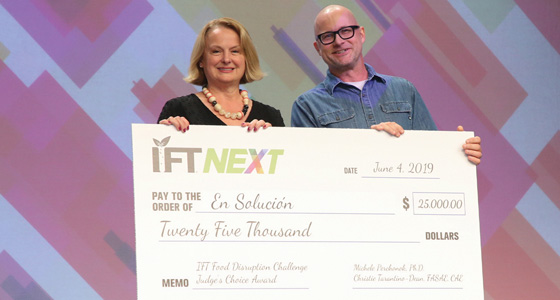 En Solución, creator of an innovative, environmentally friendly postharvest wash solution for leafy greens and produce, won the $25,000 cash prize and was honored as the IFTNEXT Future Food Disruptor of the Year™ in the 2019 IFTNEXT Food Disruption Challenge™ pitch competition, which brought the competition's five finalists together at the IFT19 annual meeting in New Orleans in early June to promote their companies' inventions to a panel of judges.
Kenton Harmer, CEO of En Solución, began his four-minute pitch highlighting the recent foodborne outbreaks linked to fresh produce. With packaged salad sales of $5.5 billion a year, according to Nielsen Perishables Group data, the risk of contamination is certainly not insignificant. The current method of using extreme concentrations of chlorine in a postharvest wash to eliminate pathogens is harmful to the workers and the environment, and it "still can't kill all pathogens," explained Harmer.
"Packaged salad producers need a better solution for postharvest wash," Harmer told the panel of six judges and the 600+ attendees. The solution, he proposed, is the patent-pending technology his company invented, which enables the encapsulation of ozone gas within 1 trillion nanobubbles of water. "Ozone is the most effective against pathogens," said Harmer.
In the Q&A session with the judges following his pitch, Harmer explained how difficult it was to figure out how to get the ozone gas—which is very hazardous on its own—into the bubbles. His team learned a lot as they iterated, and now the solution they developed has a provisional patent. The goal is to one day license the technology to a manufacturer.
To date, the company has received funding from the U.S. Department of Agriculture and a Small Business Innovation Research grant from the U.S. Food and Drug Administration. The $25,000 prize for winning the Food Disruption Challenge will enable the company to hire a microbiologist, Harmer told Food Technology magazine in an interview after the session. He also expressed how invaluable the entire process of the competition was for him and his team. In particular, the mentors helped him realize that it's okay to talk about the company's social mission to not only keep food safer, but to keep the workers making our food safer as well.
Harmer hopes that in the near future the En Solución technology will be used widely across the fresh produce industry. To make this happen, the company is "bringing the industry really close to us," explained Harmer. Company leaders are visiting with produce growers to explain the benefits of their technology. "We want to become established as the nanobubble ozone people," Harmer told the judges.
People's Choice Award
Food Disruption Challenge finalist Heliponix, developer of an in-home hydroponic growing device called GroPod, was chosen by audience vote as the recipient of the competition's $5,000 People's Choice Award. Developed by Scott Massey and his business partner, Ivan Ball, both of whom are recent Purdue University engineering graduates, the GroPod is designed "to turn everyday residential consumers into self-sustaining hydroponic farmers," Massey said.
The energy-efficient, dishwasher-size appliance, which features Keurig-style seed pods, can yield a full supply of leafy greens, herbs, and microgreens in a 30-day growing cycle. Although to date the young entrepreneurs have sold just 12 units, Massey is confident about the GroPod's growth potential: "This is something we truly see as becoming a mainstream appliance," he said.
The five finalists, each representing an emerging and investment-ready startup, were selected in a months-long process that kicked off in November with 75 applicants who went through two rounds of competition before the group was narrowed down to 10 finalists. A third round of judging further narrowed the group to the five finalists.
Other finalists, who shared their entrepreneurship stories in the Food Disruption Challenge, included Chinova Bioworks, Gabanna, and Yarok Microbio.
Chinova Bioworks is a supplier of a natural clean label preservative called chitosan that is extracted from mushrooms. Chief Executive Officer Natasha Dhayagude delivered the pitch, explaining that chitosan's defining characteristics include its ability to serve both as a broad spectrum and customizable preservative solution.
Gabanna is working to commercialize a healthy food ingredient called matooke derived from green bananas grown in East Africa. "We're on a mission to share matooke with the world," said Chief Operating Officer Richard Both.
Yarok Microbio is the developer of a fast pathogen-detection technology. Company founder and Chief Executive Officer Jonathan Sierra highlighted the fact that unlike some other microbial detection solutions, Yarok detects only live bacteria and delivers results within minutes.
Judges for the competition were Jon Atkinson, CEO of The Idea Village; Christian Brown, managing director of NOLA Holdings; Jeff Grogg, managing director, JPG Resources; Robert Lalka, executive director of the Albert Lepage Center for Entrepreneurship and Innovation at Tulane University; Tracy Landau, president and chief brand strategist, MarketPlace; and Jaime Leclerc Tulley, a food scientist, food writer, and entrepreneur. Israel-born and New Orleans–based chef Alon Shaya served as host and emcee for the session.
Trailblazer sponsors of the IFTNEXT Food Disruption Challenge were The Annex by Ardent Mills and Naturex. In-kind sponsors were Mattson and Richards Patent Law. eFive was the Visionary sponsor.