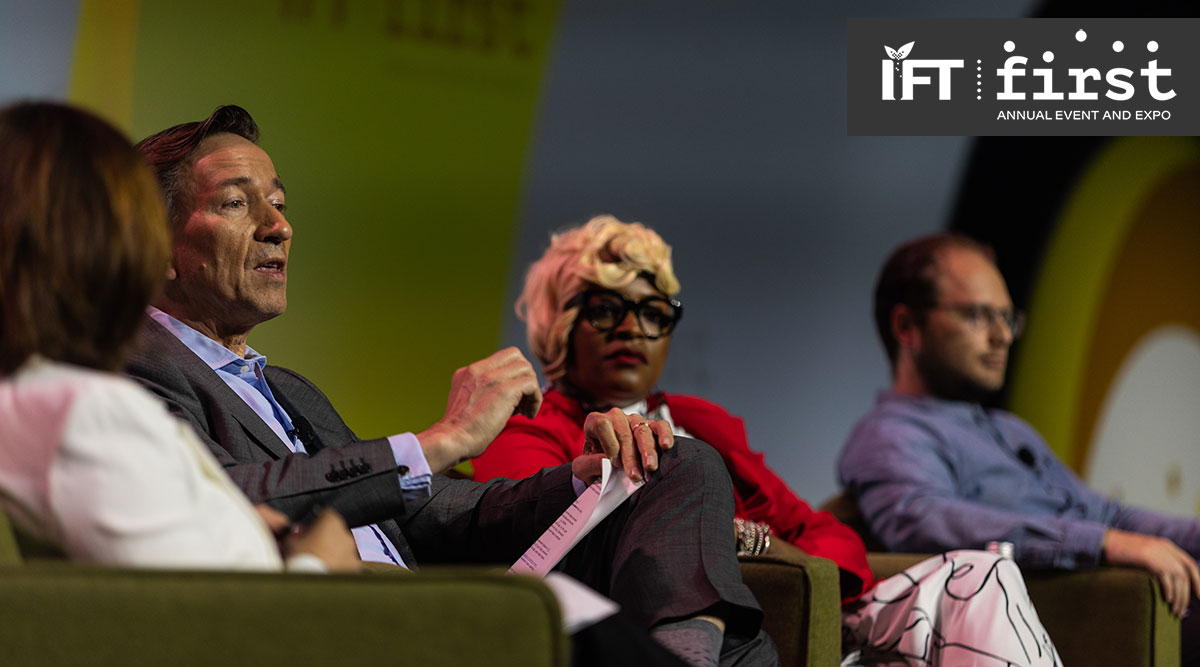 It's one thing to want to eat healthy in order to stay healthy, but quite another when serious health issues make dietary changes imperative. That's when knowing who to trust really matters, whether that means food manufacturers, food retailers, or advice givers.
Navigating the COVID-19 pandemic and now, its aftermath, consumers are managing the rising costs of living, looking proactively for foods that will protect their health and well-being, and trying to discern which businesses and institutions are worthy of their trust.
Sharing their personal stories, a panel of three consumers addressed how their food choices were and are impacted by crisis at a Tuesday IFT FIRST featured session.
For Brandon Steele, an anti-money-laundering analyst and longtime vegan, his multiple sclerosis diagnosis was a turning point. Though he had been health and environmentally conscious for years, now he also needs to choose foods that will control nerve and immune system inflammation. Not only does the incurable condition affect his quality of life, so does the cost of food and the cost of living, Steele says.
He shops the retail stores and brands he trusts and bases his trust decisions on whether he is convinced a business shows a consciousness toward health promotion and environmental protection and appears honest. If products are clear with their labels, so much the better, Steele adds.
Charmaine Gardner, an events manager for an art gallery and a mother, was diagnosed with high blood pressure, and amidst food shortages during the worst days of the pandemic, worried about obtaining healthy foods for her family and herself. Compounding the stress, skyrocketing price increases meant she had to be careful what she bought.
"There were so many unknowns we were all dealing with. It became a manner of prioritizing the essentials … buying more vegetables and protein and hoping the stores wouldn't run out of good food. I wanted to make sure I kept the ebb and flow of breakfast, lunch, and dinner for the family as normal as possible."
Gardner says she felt better shopping at grocery stores with a wider variety of foods, such as Jewel, where it felt easier to purchase ingredients for healthy meals that taste good. She is loyal to the Perdue brand, because she feels they raise and feed their poultry in an ethical manner.
Ashlee Cook, a cosmetics product developer, says she is used to reading ingredient lists on cosmetic products, but didn't feel the need to read food labels until her daughter started exhibiting signs of having behavioral issues. She wondered if something in her daughter's diet was causing problems.
Cook responded by limiting added sugar, switching to as much organic food as she could, and eliminating artificial dyes and sweeteners from her daughter's diet. "Most of my research, like most consumers, is coming from the internet. You have to be very wary of who you're following. I'm trusting the experts as much as I can, but there's also a lot of trial and error."
Andy Zygna, CEO at European Institute of Technology, a European Union funded non-profit charged with supporting the health of both people and the environment, acknowledges that consumers need trustworthy, objective, science-based information that's easy to understand. "There are a lot of fake-news (types) of websites that give you really bad information about food," he cautions.
Meanwhile, Cook experimented with her daughter's diet, limiting sweets and pushing more protein and vegetables. "You see the difference the day makes by the food she eats."
But, Cook acknowledges, "It's hard to feed a four-year-old. They don't always want to eat what you want to give them." If she had one wish, she says, it would be so see childrens' food products become healtihier, with reduced sugar and without dyes or artificial sweeteners.