Everybody loves bread! Fresh in-store bakeries sales top $15 billion. Subway, baking fresh bread daily, is the nation's seventh largest restaurant chain, with sales of $3.5 billion. Creative crusts have added a new competitive element to the $30-billion-plus pizza business, specialty breads top the list of most purchased gourmet food items, and "wraps" and "hot pockets" have provided lucrative natural packaging options for today's portable fare.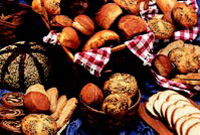 Bread has also gained importance in restaurants. In fact, it usually gives the first impression of a restaurant's food quality and often gauges how much attention patrons believe the chef pays to its menu. While dinner rolls, bagels, and French/Italian breads are still the top-selling restaurant items, with wraps most frequently added to menus, according to Restaurants & Institutions magazine's Menu Census, specialty breads, flat breads, and breadsticks now top the list of bakery products most in demand, according to the 1998 American Culinary Institute Survey. Watch for chefs—particularly the younger chefs raised during the 1980s boom in bread baking and ethnic dining—to continue to create unique signature loaves and taste-tempting packaging alternatives to tortillas, pitas, focaccia, flat breads, and more.
With America's passion for new flavors, sampling, and sharing, "bread baskets" are destined to soar. At the same time, the current appetizer trend to dipping bread and mini-open-faced sandwiches will spawn a lucrative market for creative condiments, toppings, salsas, and spreads. More important, as bistros and brasseries return, watch for French-directed hearty peasant breads, cooking en croute—especially stews and hearty pies—and fresh, wholesome foods served atop puff pastry to gain renewed attention. 
At the same time, as the trend to upscale, fast-food dining accelerates, expect a new focus on specialty breadfoods, such as panini sandwiches, mini-loaves, stuffed breads, and small bread-enrobed stuffed treats to be dipped into steaming soups, stews, and other portable, high-end fare. Mediterranean bread salads, Italian calzones, peasant breads of Eastern Europe (with potato, cheese, and/or cabbage filling), and Americanized bread puddings will also offer comfort diners and gourmets alike a new and exciting range of filling foreign foods. 
With today's restaurant-spoiled, take-out tastes, it's not surprising that supermarkets and food marketers alike are seeking to capitalize on the draw of fresh-baked breads. After all, it's one of the few categories where freshness is infinitely more important than flavor or form. For example, Holiday Market in Canton, Mich., has turned its year-old "Stone House Bread Artisan Program" into a destination point for shoppers. Lured by the tempting aroma of the brick oven, kept stoked 24 hours a day, 25% of shoppers leave the store with bread in hand. 
Likewise, hot on the heels of the success of the self-rising crust, "fresh baked" continues to attract pizza marketers. Papa Murphy's Take 'N' Bake Pizza—"They don't bake them, they don't serve them, and only rarely do they deliver them"—now boasts 415 stores in 16 states, with 100 to be added this year. 
The rise of fresh-baked artisan and ethnic breads has also been credited with rejuvenating the sandwich category. With Generation Xers the largest consumers of the 45 billion sandwiches eaten every year, sandwiches will remain an American favorite for a long, long time. While burgers, grilled chicken, and club sandwiches are the most frequently ordered, grilled sandwiches and vegetable sandwiches are quickly gaining ground. 
As our grab-and-go lifestyle accelerates, the next generation of sandwiches will mimic main meals. These hand-held feasts will feature vegetables, sauces, and condiments in addition to the protein and "anything-but-boring" bread. Grilled sherry-marinated onions, creamy cashew butter, and red-pepper jam are just a few of the new creative condiments catching the attention of chefs. With 226 new sandwiches added to chain restaurant menus in 1998, according to the Chain Account Menu Survey, look for unending creativity—from Schlotsky's muffaletta-style to Bruschetta Benedict and Arby's Panini mini-meals. 
With all the interest in bread, it should be getting more attention from today's food marketers. Bread-based snacks are a "natural" to satisfy our desire to "stay full." What about breadstick dips, English tea sandwiches as afternoon treats, or mid-morning bite-size breakfast sandwiches? Why not add garlic sticks or Vienna rolls to frozen dinners? Clearly, bread's moldable, foldable quality makes it an excellent "package" for portable foods. So why are all "hot pockets" virtually the same? You can own a category by developing ground-breaking forms! 
Face it: bread is the ultimate functional food. It's not only a natural package, but also a great way to deliver nutritional benefits. And the Food and Drug Administration has given whole grains an even more important role with its recent approval of a cancer and heart disease health claim. While dairy products may lead the functional foods category in Europe today, the next wave will be the bakery sector. With prebiotic, probiotic, high-fiber, and cholesterol-lowering options, bread may well be the sleeping giant in this fast-paced market segment. 
As in-store bakeries cut into commercially prepared baked goods profits, smart bakers will not only continue to supply foodservice with quality products, but explore inter-industry options and functional food opportunities as well. I'm looking forward to a new generation of delicious and nutritious bread-based meals.
by A. ELIZABETH SLOAN
Contributing Editor