Spaghetti, macaroni, mostaccioli, tortellini, linguini, lasagna, ravioli, rigatoni, ziti, and couscous, . . . these are only some of the names we give to pasta, which simply means "dough" or "paste."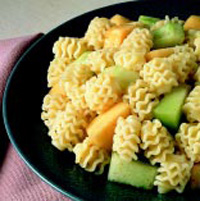 Whatever the name we call pasta by, it doesn't take much work by the old noodle to see that its popularity shows no signs of diminishing. Statistics indicate that consumers eat such dishes more than once a week. And children eat more pasta than any other age group, accounting for 62 pounds a year. In 1997, pasta in the United States was a $5.5 billion market and rapidly growing.
This month's Ingredients section will be looking at some of the new ingredient developments in pasta and pasta products. To do this, I thought it might be fun to take a little different approach than I normally do. And so I collected and analyzed more than 50 pasta recipes which best reflect some of these new developments and their impact on future pasta products.
Since there are a lot of pasta formulations out there (literally thousands) I saved some time by collecting these recipes from the Web site of the National Pasta Association. As I am hoping to interact with my readers, please visit the Web site at www.ilovepasta.org and see if you agree with some of my observations about these recipes and the trends they reflect. Or if you have additional opinions, feel free to e-mail me what you think.
I warn you in advance though that many of these recipes have photos and you might get hungry by looking at them. (That's probably normal, as a recent survey by Reuters/Zogby found that 32.4% of 1,201 adults polled thought Italian culture bestowed us with the best-tasting food.) I took a break at this moment to have some baked ziti. While I am gone, please click on the above Web site address.
Well, I'm back again. Hopefully you're on the Web site already collecting your own recipes. Before we start though, I want to emphasize again the wide variety of recipes at this Web site—in fact, one can truthfully say that there really is a pasta out there for all paisans. From these recipes, I focused on 12 ingredient developments that I thought were the most interesting. Also, keep in mind that this section's Product Update is on pasta ingredients which may have potential functional and nutritive value in many of these recipes.
Here are some of these ingredient developments:
Vegetables. The National Pasta Association recommends that pasta be combined with roasted vegetables for a new taste sensation. Roasting is said to intensify the flavor of vegetables, releasing sugars which then caramelize into a naturally sweet glaze. Possible vegetables for roasting include onions, bell peppers, eggplant, fennel, winter squash, radicchio, mushrooms, garlic, zucchini, green beans, shallots, and carrots.
--- PAGE BREAK ---
Also, adding green vegetables to pasta can help in meeting the Recommended Dietary Allowance for folate (folic acid), a key nutrient, especially for pregnant women, as it helps to reduce the risk of neural tube defects. Studies have also shown that it may protect against heart disease and some types of cancer.
Pasta is fortified with folic acid (the Food and Drug Administration requires that enriched grain products contain this nutrient). Two ounces of pasta, or approximately one cup cooked, are said to provide at least 25% of the recommended daily intake for folate. Since green vegetables naturally contain folate, their addition to pasta can help double the amount of folate you're getting and further help in meeting daily folic acid requirements.
Some pasta recipes using vegetables include Angel Hair with Pink Tomato Sauce, Peas, and Roasted Peppers; Warming Rotini with Roasted Vegetables (asparagus, scallions, carrots, and zucchini); Penne with Zucchini; Creamy Mushroom-Asparagus Pasta Toss; Rotini with Pork and Broccoli; and Three Bean Pasta (made with kidney beans, chickpeas, and green beans).
Fruits. With the exception of the tomato, fruit is traditionally not associated as an ingredient in pasta dishes. This may change, however, for several reasons.
First, fruits—like vegetables—are a source of folic acid, which provides the benefits discussed above. Also, the use of fruit in pasta dishes can help reduce calories. Examples of healthy recipes include Pasta Salad with Pineapple-Mint Salsa (calories from fat 5%), Pork and Pear Pasta (calories from fat 11%), and Pasta with Chicken in Pineapple Juice (calories from fat 16%).
Second, recipes such as Orange Asparagus Stir-Fry and Penne Pasta with Lemon-Infused Vegetables demonstrate how combining the sweetness of fruits and the savory notes of vegetables with pasta can create a variety of interesting flavors and textures, in addition to providing health benefits.
Third, when fruits are incorporated into pasta, the combination can make for novel desserts. For example, Dessert Lasagna consists of 12 pieces of lasagna, ricotta cheese, kiwis, strawberries, blackberries, almonds, and mint sprigs as a garnish. The recipe received an award in the 1998 America's Signature Pasta Recipes Contest, sponsored by the National Pasta Association and The Culinary Institute of America. Other refreshing formulations include Ricotta-Stuffed Shells with Lemon and Raspberry Sauces, Cool Radiatore Melon Salad, and Minted Pasta and Fruit Salad.
Finally, fruits can help create seasonal items. For example, Autumn Pasta With Apples and Cranberries is made with wide egg noodles, turkey ham, green onion, Granny Smith or MacIntosh apples, nutmeg, sharp Cheddar cheese, and dried cranberries.
--- PAGE BREAK ---
Hotter Ingredients. When I think of traditional macaroni and cheese, words like "cheesy," "creamy," "thick," and, yes, even "bland" (but in a comforting sort of way) quickly come to mind. Or when I think of home-made lasagna or mostaccioli, I remember them being flavorful and a little spicy, but never, never HOT. Things change, however. In last month's Ingredients section, I noted that soups and sauces are being developed that meet consumers' desires for heat in their foods. It probably comes as no surprise then that pastas are becoming hotter as well.
Let's look at some recipes that demonstrate the different ways that the heat level can go up and up:
Classic Mac 'n Cheese is made with Cheddar cheese, grated Parmesan cheese, and let's not forget, of course, the cayenne pepper. Pasta (Angel Hair) with Fresh Salsa uses roasted bell peppers (preferably yellow) and roasted jalapeno peppers to create the salsa served with the angel hair pasta. Super Bowl Manicotti Enchiladas is manicotti filled with a mixture of sauteed beef, onion, green pepper, green chilis, sour cream, and salt. The manicotti is then placed on top of a picante sauce, the remaining sauce is poured evenly over the pasta, and the whole dish is baked. Rigatoni Mexicali consists of rigatoni, Southwestern-seasoned chicken strips, green peas, diced tomatoes, chili powder, and shredded sharp Cheddar cheese. Mexican-Style Bow Ties features a mixture of grown beef, cumin, and chili powder combined with pasta, tomatoes, corn, green pepper, cheese, and onions. A mixture of yogurt and salsa is added.
Fusing with American Foods. Today, pasta is fast moving beyond its ethnic origins, fusing with foods that are part of the American cuisine. Many of the products resulting from this fusion re-embrace the development of American foods while meeting consumers' desires for comfort foods. Furthermore, from this fusion, new products are created having novel tastes and textures which become distinctly American. For example, at the store I saw one such product, Pizza Lasagna, which is a lasagna in a pizza-style meat sauce, topped with onions, red pepper, mushrooms, bacon bits, dry sausage, and four cheeses.
Many of the recipes also reflect such a fusion. Sloppy Joe Spaghetti Cups consists of cups formed by spaghetti and filled with a beef mixture, then topped with cheese. Beef stew is made with small pasta shapes, lean meat, sliced carrots, celery, and stewed tomatoes. "BLT" Pasta consists of medium pasta shapes, lean bacon, tomatoes, and fresh spinach leaves instead of lettuce. (The name "BST" probably wouldn't catch on.) And, of course, for those sports fans from the Midwest, there's Beer Brat Pasta, made with medium pasta shapes, bratwurst, beer, and low-fat Cheddar cheese. Other recipes include Vegetarian Spaghetti Pizza, Barbecue Chicken Pasta, Barbecue Beef Lasagna, Beef Stroganoff Pasta, and Fajita Pasta.
Fish and Seafood. Beef, chicken, turkey, and pork have all been used as toppings, fillings, or ingredients with pasta. However, fish and other seafoods may also be increasingly finding their way in meatless or "health conscious" pasta dishes. Previous articles have addressed how refined fish oils containing omega-3 fatty acids may play a role in the prevention or treatment of cardiovascular disease and other health problems, and these deodorized oils have been demonstrated successfully in pasta sauces. Besides their health benefits, seafoods are also suitable as an ingredient for creating rich, exotic, culinary pasta dishes.
Some recipes include Maryland Crab Shells, jumbo pasta shells stuffed with crab meat, green pepper, and red onion; Seafood Pasta Stir-Fry, consisting of medium-shape pasta, shrimp, scallops, ginger, orange juice, and bell pepper; and Crispy Angel Hair Cakes with Scallops, Escarole, and Tomato Coulis, an appetizer creation which won an award in the 1998 America's Signature Pasta Recipes Contest. Other seafood pasta dishes include Smoked Salmon Fettuccine Alfredo, Honey-Mustard Rotini and Tuna, and Springtime Penne and Swordfish Stir-Fry.
--- PAGE BREAK ---
Cheese. Where would we be without cheese, which provides the flavoring for many pasta dishes? In particular, blends of cheeses can contribute special or enhanced flavors. For example, Pasta with Three Cheeses is made with part-skim ricotta cheese, white or yellow low-fat Cheddar cheese, and Parmesan cheese. Cheesy Baked Ziti consists of low-fat ricotta, shredded low-fat mozzarella, and grated Parmesan. Special cheeses can also provide different textures important to the formulation. Penne with Tomatoes, Basil Leaves, and Blue Cheese has finely crumbled blue cheese, while Angel Hair with Fresh Spinach, Peas, and Goat Cheese is made with soft goat cheese or herbed cheese spread. Also, salsa may be combined with various cheese combinations and used as a sauce for macaroni and cheese and other pasta dishes.
Soy. Soy may be used as a healthy ingredient in the formulation of pastas. In looking over these recipes, I couldn't help wondering what impact soy-based ingredients such as soy flours would have had on them, especially in the areas of meatless or vegetarian pastas, and the fusion dishes. My guess is that several of these recipes could easily be modified to include soy.
At the 1999 IFT Food Expo, a soy pasta was demonstrated that met FDA's criteria for a healthy label. (See the Product Update for more information about this pasta and the healthy and functional benefits it offers.) Some of the soy products in the marketplace include seasoned soybean tofu for use with spaghetti and pasta dishes, soy cheeses for use as pasta toppings, soy ground beef products in spaghetti sauces, roasted soynuts which add crunch to pasta dishes, and many other possibilities.
Nuts. In the Ingredients Section of the February issue of Food Technology, I discussed the health and functional benefits that nuts offer. Not surprising, many of the recipes that we've been looking at include nuts and nut products.
For instance, Peanut Butter and Bacon Spaghetti (I'm serious) uses creamy peanut butter, combined with chicken broth, milk, soy sauce, peas, bacon, and spaghetti. (Why do I get the distinct feeling that some of my dear readers at this moment are going to start e-mailing me, asking the inevitable question, "Are You Nuts?" Please remember that I am only the messenger here.)
Walnuts add their own special crunch to Apple Frittata, made with spaghetti, brown sugar, cinnamon, apple, and walnuts. Maple syrup may be used as a topping.
Other recipes made with nuts include Rotini with Pork and Broccoli (dry roasted peanuts), Pasta with Prosciutto and Goat Cheese (toasted almond slivers), Zesty California Stuffed Shells (sliced almonds), and Capellini Orange Almondine (toasted almonds).
Pasta for Use in Soups. The other day as I was walking through a food court at lunchtime, I saw that one of the specials being promoted was pasta soup, and I realized that you can't always eat pasta with a fork. Food formulators are using a variety of ways to make soups less traditional, and the use of pasta is one way to create innovative products.
The recipes we've been looking at cover a variety of novel pasta soups. These include Summer Pasta Soup with Herbed Cucumber, which is served chilled (small pasta shapes, cucumbers, chicken broth, and low-fat yogurt); Pasta Vegetable Soup with Croutons (small pasta shapes, chicken broth, carrots, celery, onion, croutons, and Parmesan cheese); and Pasta Chowder (small pasta shells, ditalini, or stars, minced clams, shredded Cheddar cheese, onion, garlic, and parsley).
--- PAGE BREAK ---
Flavors and Seasonings. Use of flavors and seasonings have created a variety of innovative pasta dishes. For example, flavored pastas made with vegetables, hot peppers, and seasoning-fruit/vegetable combinations such as lemon pepper or tomato basil have become increasingly popular. Furthermore, a broad range of spices such as curry, reminiscent of Indian cuisine, are transforming traditional dishes, fusing them with international cultures.
Some recipes illustrative of these kinds of flavors and seasonings include Curried Pasta Salad with Cucumber Raita (curry powder, fresh mint, and jalapeño pepper), Golden Lamb Curry Noodles (curry powder, cayenne pepper, cinnamon, and garlic), Floribbean Pasta Risotto with Shrimp & Black Beans (red bell pepper, Caribbean jerk seasoning, garlic, and cilantro), Linguine with Spicy Thai Shrimp Sauce, Golden Cinnamon Orzo, and Ham & Eggs Breakfast Pasta with Basil.
The Shape of Things to Come. A wide variety of pasta shapes are available, including angel hair or capellini ("fine hairs"), rotini ("spirals" or "twists"), ditalini ("Little Thimbles"), orzo ("barley"), vermicelli ("little worms"), fettuccini ("small ribbons"), bow ties ("butterflies), fusilli ("twisted spaghetti"), wagon wheels, and many, many others. In fact, according to the National Pasta Association, there are more than 600 pasta shapes produced worldwide, and there are many new ones being developed. (See Product Update for some of these new pasta shapes that are being made available.)
The shape of the pasta and the sauce should complement each other. For example, thin, delicate pastas should be served with light, thin sauces, while thicker pasta shapes such as fettuccine work well with heavier sauces. Pasta shapes with holes or ridges such as mostaccioli or radiatore, are suitable for chunkier sauces.
The recipes we are looking at for this article typify a wide range of pasta shapes, too numerous to mention here. However, since one of my favorite shapes is the wagon wheel, the recipe Wagon Wheels with Tomato Ale Sauce (turkey sausage, beer, low-sodium tomato puree, and applesauce) caught my attention. Although this formulation is obviously for adults, that pasta shape has always brought out the kid in me, and I find it a particularly fun shape.
And speaking of children, any visit to a store will find new pasta shapes designed for them in mind. Here are a couple of examples. Kraft Foods, Glenview, Ill., introduced Kraft Pokemon Macaroni & Cheese featuring six popular characters in pasta shapes—Pikachu, Squirtle, Charmander, Polwhirl, Meowth, and Jiggllypuff. Fran's Healthy Helpings, Burlingame, Calif., features Soccer-oni & Cheese—soccer ball- and shoe-shaped pasta with cheese sauce, served with mixed fruits and broccoli florets.
Colors of the Rainbow. If you've been looking on the Web site while reading this article, by this time you will know that many of these pasta dishes have attractive colors resulting from combinations of ingredients with the pasta. However, pasta itself can also be colored, changing from its traditional beige to encompass all colors of the rainbow. Of course, we're all aware of the green color of spinach pasta or the orange color of some cheese tortellinis, but today pastas are becoming even bolder and more original. Some pastas can even be striped or colored to resemble other foods such as fruits or chocolate. According to Irena Chalmer's The Great Food Almanac, colored pastas are made with the addition of a range of natural colorants, such as black squid ink, spinach, beet juice, tomato paste, herbs, carrots, and chocolate.
--- PAGE BREAK ---
PATENTS
Preparation of shelf-stable filled pastas. U.S. patent 6,001,405, filed 8/25/1997, issued 12/14/1999 to R. Bajracharya et al., assigned to Nestec S.A. Describes a process for the preparation of precooked, high-moisture, shelf-stable or refrigerated, acidified filled pasta products in which the combined water activity is less than 0.93 and the combined moisture content is less than 55%. The shelf-stable pasta having a pH up to 5.2 has an acceptable taste.
Production of legume pasta products by a high temperature extrusion process. U.S. patent 5,989,620, filed 9/19/1997, issued 11/23/1999 to N. Wang et al., assigned to University of Saskatchewan. Describes legume pasta products which have a superior texture and integrity compared to previous types produced by traditional methods. The products are made by a process where the legume flour, water, and other ingredients are mixed, cooked, and extruded through a die. These products are developed to help a small but significant portion of the population which cannot tolerate wheat gluten.
Calcium fortified pasta and process of making. U.S. patent 5,945,144, filed 5/15/1998, issued 8/31/1999 to D. Hahn et al. Describes a pasta product containing about 75% wheat flour, water, and at least 800–8,000 mg of calcium per pound of product. The process includes mixing the ingredients, extruding, then drying the pasta at temperatures from about 130°F to about 200°F, and at a relative humidity to control the drying rate to a moisture content of about 13%.
---
Products & Literature
NEW PASTA SHAPES
are available which include orecchiette, pennoni, and rotolini. Orecchiette has a distinctive shape, resembling a little ear, which is maintained in such applications as pasta salads. Pennoni is described as a jumbo penne, while rotolini is said to be a large, fancy version of rotini. The new shapes are added to the manufacturer's portfolio, which includes more than 150 pasta shapes and custom pasta products. For more information, write to A. Zerega's Sons, Inc., P.O. Box 241, Fair Lawn, NJ 07410 (phone 201-797-1400; fax 201-797-0148)—
or circle 351.
RECENT PASTA DEVELOPMENTS from Dakota Growers are updated. First, four new pasta shapes are being marketed—orecchiette, gnocci, trotolle, and rainbow farfalle. All pasta is made from No. 1 Hard Amber Durum wheat. Second, six organic pastas are being offered, including spaghetti, linguine, fettucine, elbow macaroni, rotini, and penne rigate. The new items will carry the seal of organic certification guaranteeing 100% organic pasta. Third, quicker cooking pasta shapes are being developed that retain the premium quality of conventional pastas yet reduce cook time by as much as 50%. No-boil lasagna will be added to the convenience line in the next six months. Dakota Growers is reportedly the world's only farmer-owned pasta manufacturer, consisting of nearly 1,100 durum wheat farm families from North Dakota, Minnesota, and Montana, and is a leading supplier of dry pasta to the store brand, ingredient, and foodservice markets. For more information about these developments, write to Dakota Growers Pasta Co., P.O. Box 21, Carrington, ND 58421-0021 (phone 701-652-2855; fax 701-652-3552)—or circle 352.
CHEESE POWDERS—called Exceed Plus—are said to provide an immediate cheese flavor impact, cheese aroma, and lasting cheese flavor for use in traditional macaroni and cheese and other products. The cheese powders are formulated to deliver a well-rounded balanced flavor profile, can enhance other sources of cheese in the application, and are certified kosher. According to the manufacturer, the powders may be used as a convenient and economical alternative to refrigerated block cheeses in most applications. For more information, write to Kraft Food Ingredients Corp., 8000 Horizon Center Blvd., Memphis, TN 38133 (phone 901-381-6500; fax 901-381-6524)—or circle 353.
--- PAGE BREAK ---
PASTA SAUCES have been developed which are said to give new flavor twists to traditional pasta dishes. The Americana Pasta Sauce Collection features Creamy Lemon-Peppercorn, a fusion of lemon and peppercorn notes, balanced with bell peppers, onion, and garlic; Chuckwagon Barbecue, which is full of tangy tomatoes, onions, molasses, brown sugar, and a hint of bacon; and Homestyle Chicken Supreme, a blend of slow cooked chicken and vegetables in a creamy sauce with accents from onions, celery, carrots, and peas. The sauce products are available in dry mix form, and can be portion packed, with dry noodles added to create complete kits. Also available is a sauce collection which updates traditional Italian flavors: Creamy Pesto combines traditional pesto ingredients with an unconventionally creamy sauce; Sun-Dried Tomato Basil is a medley of sun-dried tomatoes and authentic Italian spices with a dash of garlic and parmesan; and Four Cheese Alfredo highlights sauteed onion and garlic. For more information, write to Newly Weds Foods, Inc., 2501 N. Keeler Ave., Chicago, IL 60639 (phone 773-489-7000; fax 773-292-3809)—or circle 354.
WHEAT PROTEIN enhances the performance capabilities of pasta and noodle applications. Marketed under the name Pasta Punch, the functional ingredient improves tolerance to extended heating and retort conditions, increasing textural firmness and reducing stickiness of pasta and noodles, even when overcooked. The whey protein can be used as a cost-effective substitute for whole eggs, or egg whites in a mixture. For more information, write to Midwest Grain Products, Inc., 1300 Main St., Atchison, KS 66002-0130 (phone 800-255-0302; fax 913-367-1838)—or circle 355.
SOY PASTA having a higher soy flour content than typically used, has been developed by Cargill Foods. Inclusion of soy flour (70 PDI) in the dough formulation raises the soy protein content to 6.74 g/55-g serving, and as a result, meets the criteria for FDA's recent health claim on coronary heart disease. (FDA recently ruled that 25 g of soy protein a day, as part of a diet low in saturated fat and cholesterol, may reduce the risk of heart disease. Consequently, each serving needs 6.25 g of soy protein to qualify for a healthy label.) The product, demonstrated at the 1999 IFT Food Expo, does not taste like soy and has an appearance similar to an egg-rich pasta. It is a good source of protein and fiber, is low in fat, and contains high levels of isoflavones. Research indicates that isoflavones may reduce the risk of certain types of cancer, reduce osteoporosis, and reduce the symptoms of menopause. In addition to the health benefits, the use of soy flour in pasta dough increases the machinability of the dough. The dough containing soy flour is less sticky than dough made with 100% semolina. The absorptive properties of soy flour facilitate the rolling and cutting of pasta dough. For more information, write to Cargill Foods, Soy Protein Products, P.O. Box 2817, Cedar Rapids, IA 52406 (phone 800-553-5964)—or circle 356.
WHEY PROTEINS have application in refrigerated pastas, adding nonfat dairy solids to the formulation and improving its nutritional profile. Upon heating, whey proteins thicken and gel into a structure which provides rigidity and resiliency to the pasta. Also, the use of eggs may be reduced or eliminated in some applications by using whey protein concentrate or whey protein isolate. For more information, write to Dairy Management, Inc., 10255 W. Higgins Rd., Suite 900, Rosemont, IL 60018-5616 (phone 847-803-2000; fax 847-803-2077)—or circle 357.
SEASONING BLEND, consisting of cheese, spices, and natural flavors, may be used to add zest to prepared foods such as pasta, fish, salads, and low-calorie dishes. Called Zesty Parmesan Pesto, the product features a creamy texture, a hint of garlic, and peppery heat. For more information, write to Chr. Hansen Inc., 9015 W. Maple St., Milwaukee, WI 53214-4298 (phone 414-607-5700; fax 414-607-5704)—or circle 358.
--- PAGE BREAK ---
EMULSIFIER—called Nu-Rice®—functions as a processing aid in the manufacture of dry, fresh, sheeted, and laminated pasta products. Made from rice bran, the all-natural emulsifier is said to improve dough machinability while lowering production costs, and is effective in maize, wheat, oat, rice, and potato products. For more information, including a data sheet describing the effects of the emulsifier on the output and yield of spiral pasta, write to Ribus, Inc., 20 S. Central Ave, #106, St. Louis, MO 63105 (phone 314-727-4287; fax 314-727-1199)—or circle 359.
FLAVORED PASTAS, marketed under the name Aunt Vi's, are available for the foodservice industry, industrial ingredient market, and the grocer's freezer case. These precooked products include Chipotle Pepper Linguini, Tomato Basil Linguini, and Lemon Pepper Linguini. In addition to the flavored pastas, the manufacturer offers more than 40 different types of pasta and noodle products. For more information, write to Warren Frozen Foods, Inc., 803 Eighth St., S.W., Altoona, IA 50009 (phone 515-967-4254; fax 515-967-4147)—or circle 360.
CUSTOM PASTA PRODUCTS and services are available to the retail, foodservice, and industrial ingredient industries. Primo Piatto became a wholly owned subsidiary of Dakota Growers Pasta Co., effective February 1998, and will have a combined production capacity of approximately one half billion pounds of dry pasta annually. For more information, write to Primo Piatto, Inc., P.O. Box 327, Excelsior Springs, MO 64024 (phone 816-637-3231; fax 816-637-2745)—or circle 361.
RESISTANT STARCH—called Novelose 240—is suitable for use in pasta products. Having a small particle size and low water-holding properties, the starch provides functionality and will not adversely affect dough formation and development. If measured by the AOAC test method, the ingredient will analyze as approximately 40% dietary fiber. For more information, write to National Starch and Chemical Co., 10 Finderne Ave., Bridgewater, NJ 08807-0500 (phone 800-797-4992; fax 609-409-5699)–or circle 362.
CELLULOSE, an insoluble dietary fiber ingredient, may be used as a noncaloric bulking agent in low-calorie pasta formulations. The ingredient has a strong tendency to hold liquid. Depending on its fiber length, cellulose can hold about 3–10 times its weight in water or about 2–8 times its weight in oil. During the cooking process, cellulose will increase water pick-up and the final pasta cooked weight can be increased significantly. This functionality can also be used to develop rapid-cooking pasta which is more consumer friendly. Cellulose can also form complex matrices with starches, which can then greatly increase the water-retention properties of both ingredients. The ability to control moisture by cellulose will lead to a reduction in the stickiness of the pasta dough. Consequently, cellulose can help facilitate the extrusion process. For more information, write to Fiber Sales & Development Corp., P.O. Box 88940, St. Louis, MO 63188 (phone 314-982-2631; fax 314-982-4980)—or circle 363.
by DONALD E. PSZCZOLA
Associate Editor