The term "melting pot" has never meant more than when it is applied to foods. In recent years, ethnic foods, cooking techniques, and ingredients have set America's culinary pace. Stir-frys, tortilla wraps, and fajitas mainstreamed onto menus. Asian-influenced bowl meals took center stage. And egg rolls, wontons, and taquitos gave us a new perspective on bite-sized foods.
As awareness and trial of ethnic cuisines increase, so will their influence on American palates and fare. According to the National Restaurant Association's Ethnic Foods II survey, awareness of Japanese (sushi), Thai, Vietnamese, Korean, and Middle Eastern cuisines has increased significantly since 1994. Nearly three-quarters of Americans have tried Mandarin, Hunan, and Szechuan foods in addition to the traditional Cantonese. More than half have eaten Japanese, Greek, Cajun, or Creole; one-third Indian or Japanese sushi; and about one-quarter authentic Thai, Mediterranean, Middle Eastern, or Vietnamese. While these emerging cuisines are consumed on an occasional basis, with restaurants dictating tomorrow's dinner table fare, their impact will be sustainable and strong.
Asian. While Southwestern/Mexican and Italian dishes still dominate the menus of U.S. chain restaurants, non-Chinese Asian and Caribbean are coming on strong. Asian cuisines will continue to inspire noodle bowls, aromatic main dish noodle soups, Asian chicken salads, seared fish, and skyrocket sizzling rice salads, localized vinaigrettes, and tea bars. Thai-inspired satay, pad noodles, and jasmine rice have already grabbed mass market appeal. Vietnamese sandwiches—French bread spread with pates topped with marinated grilled vegetables, meat, or poultry and smothered with aromatic herbs/spices—have fast become metropolitan "grab-and-go" fare. Tempura, mochi—the short-grained sweet rice in sticky rice cakes—miso, and other aromatic soups, will find new followers for Japanese cuisine beyond sushi and sashimi. Traditional Korean dishes, like bibimbop—where soybeans, bok choy, and other greens are dropped into a bowl of sizzling rice, often with a raw egg quick cooked on top—are creating "eatertainment" value. Asian vegetables—especially bok choy and Daikon—have found their way onto chain restaurant menus, and lime-ginger and wasabi dressings, fish sauce, lemon grass, 7-spice and galangal—a milder cousin to ginger—aren't far behind.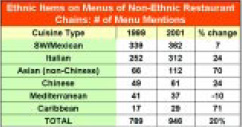 Island. Call it tropical, Caribbean, Floribbean, or Jamaican, Island cuisines are jammin' across America. From mango martinis to coconut chutneys, Caribbean cuisine is being touted for its combination of high-heat grilling, caramelized sweetness, and the fast-emerging trend to "cooking with fruit." Expect mango, guava, papaya, passion fruit, pineapple, plantains, coconut, and lime flavors to stay strong. Masters of fire and heat, Island cooking will generate a complementary demand for "cool and colorful" and "sweet and spicy" fruit salsas, salad dressings, grilling sauces, and searing marinades and rubs. A sweet new note of sugar cane, molasses, maple, or honey will be key. Light and tropical fruit–based salads, fruit'n'spicy meat, poultry, and desserts, cold fruity marinated fish, and big bold flavors are driving it onto mainstream menus. Signature bonito, jalapeño and poblano peppers, as well as allspice, cilantro, cloves, tamarind, and thyme, will continue to grab culinary and consumer attention.
Middle Eastern and Mediterranean. The signature ingredients of Mediterranean cuisine, such as balsamic vinegar, olives, olive oil, roasted garlic, marinated vegetables, wine vinegars, and Romesco sauce, are all enjoying skyrocketing mainstream popularity. Perhaps the most exciting "sleeper" cuisine is still Middle Eastern. Hummus, kebabs, and rice pilaf have become so Americanized that they are barely associated with the countries they came from. Grape leaves stuffed with savory fillings, flatbreads, sheep's milk cheeses, pomegranate syrups, signature yogurts, and classic spices like saffron, cumin, and cinnamon all provide alternative flavor experiences.
Virtually all of these more-exotic cuisines offer creative alternatives to many of Americans' most popular foods, such as Mongolian barbecues or Meshaweh, a Middle Eastern barbecue pit. From pide, the Turkish equivalent of pizza, or mezze, a Near East version of antipasto, to the dozens of one-dish meals like paella, bouillabaisse, or even meat and potato pies, the opportunities for "crossover cuisines" are endless. As more trained chefs become familiar with these cuisines, they will translate them for Americans, creating new flavors and food forms, too!
by A. ELIZABETH SLOAN
Contributing Editor
President, Sloan Trends & Solutions, Inc.
Escondido, Calif.