The Institute of Food Technologists' 2002 Annual Meeting & FOOD EXPO® will be held in Anaheim, Calif., on June 15–19. More than 1,700 papers will be presented during the Technical Program, and more than 840 companies will be exhibiting their products and services in nearly 2,100 booths.
To give you advance information about what to expect prior to the event, the May issue featured a Preview describing many of the papers and exhibits. This June issue features an Update describing selected additional papers and exhibits as of press time.
We hope this information will be of use to you in planning your attendance at the Annual Meeting & Food Expo!
INGREDIENTS
50 Ingredient Hot Spots Highlighted  
More than 160 ingredient developments were featured in the Ingredients part of the 2002 IFT Annual Meeting & Food Expo Preview, appearing in the May issue of Food Technology. This article will continue that ongoing story, providing the latest updates and other new information related to the area of ingredients that will be highlighted at our show in Anaheim, Calif., June 16–19.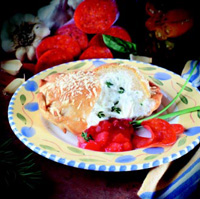 Using this new information, this article will focus, in particular, on 50 ingredient hot spots—areas that the attendee may especially want to check out. These 50 developments are in no particular order and are designed as a continuation of the material that was presented in the May issue. Consequently, when you're doing your planning on what to cover at the show, you might want to read this article in conjunction with the ingredients preview in the May issue to get the most value out of the material.
Keeping this in mind, here are 50 ingredient developments spotlighted at our show:
1. Culinary dishes highlight new flavors and ingredients. A variety of flavors and ingredients available from Kraft Food Ingredients, 8000 Horizon Center Blvd., Memphis, TN 38111 (phone 901-381-6500; fax 901-381-6525) will be highlighted in the dishes prepared by culinary chefs.
In the May issue, we featured a newly introduced CharRoast flavor which offers food manufacturers a distinctive slow-roasted profile and more development advantages than traditional roast flavor.
Also making their debut at the show are a new Pepperoni Flavor, expanding the company's vegetarian savory flavor line (photo shows Calzone made with the flavor); two new products that merge the benefits of pasteurized process cheese products with the high impact of aged Cheddar cheese: Pasteurized Process Cheddar and Granular Cheese, and Pasteurized Process Cheese Sauce Base 200; and a multi-bag case of Baker's® Angel Flake Coconut, a more convenient and cost-effective product for the foodservice segment. Kraft Food Ingredients, Booth 2120
--- PAGE BREAK ---
2. Schedule of events provided. A daily schedule of presentations by Archer Daniels Midland's family of food ingredient processing groups will be provided. These presentations discuss a broad line of products from such groups as ADM Cocoa, ADM Corn Processing, ADM Milling, ADM Oilseed Processing, ADM Specialty Ingredients, and ADM Natural Health & Nutrition.
The following is a schedule of events:
• Sunday. Theme of the opening day is bakery/confections. Among applications spotlighted are pre-cut cake with chocolate medallion, a candy bar sampled and wrapped for give-away, and a carbonated drink. The diversity of bakery ingredients from ADM, its pilot plants in Kansas City and Decatur, and quality assurance will be discussed.
• Monday. Featured vanilla and chocolate mint drinks are made with PFL, an easily dispersible soy protein ingredient combining isolated soy protein, fiber ingredient called Fibersol, and lecithin. Presentations on soy foods, Novasoy isoflavones, and NutriSoy soy proteins will be given, and applications such as a meatless burrito, bean and fruit chutney, and taco dip and chips with cheese showcased.
• Tuesday. ADM Cocoa, customer service, and a corporate overview video will be the focus of this day. Applications highlighted include cookies, pasta salad, and carbonated drink. ADM, Booth 6813
3. Media food fair and tasting highlights healthy ingredients. Cargill Foods is hosting a Media Food Fair and Tasting Sunday, June 16, 10–11 a.m. in Room 207C on level 2 of the Anaheim Convention Center. Reporters and editors are invited to taste more than a dozen prototype products made from new Cargill ingredients. The company's different businesses offer ingredients for healthy living and active lifestyles.
A range of ingredients will be displayed, including soy protein that promotes heart health and other functional ingredients. Among the likely fortified food samples are cappuccino, ice cream, energy bars, yogurt, cookies, muffins, energy drink, breakfast beverages, functional breads, and various candies.
Cargill technical and scientific staff will be available to answer questions and provide one-on-one interviews. Information bout the prototype products will also be offered at the booth.
For more information, write to Cargill Foods, 15407 McGinty Rd. W., MS 96, Wayzata, MN 55391 (phone 612-742-2185; www.cargillfoods.com). Cargill Foods, Booth 2113
4. Business units showcase innovative ingredient solutions. Several of its highly specialized business units will be featured by Kerry, Inc., 100 E. Grand Ave., Beloit, WI 53511-6109 (phone 608-363- 1670; fax 608-363-1332; www.kerryingredients.com). Ingredient innovations from each of these units will be showcased.
Kerry Specialty (Booth 4520) will present Orange Zinger Smoothies featuring specialty lipid powders; a Nacho Cheese Snack Bar made with dry cheese and cultured dairy; and Mocha Cappuccino featuring creamers and foaming agents.
--- PAGE BREAK ---
Kerry Sweet (Booth 4120) will show why it has the scoop on customized ingredients for use in the manufacture of ice cream, confectionery, cereal, snack foods, bakery, and nutritional products. Highlighted products are chips, variegates, and particulates for use in "create-your-own-ice cream"; agglomerates in "create your own snacks"; and extruded specialty ingredients in nutritional bars.
Kerry Seasonings (Booth 4320) will feature product ideas that demonstrate the company's range of seasoning technologies and formulation capabilities for prepared food applications. Highlighted will be products with flavorful seasoning blends designed for rice, pasta, sauces, meats, and other prepared foods.
Kerry Coatings (Booth 4520) will demonstrate fun and innovative coated foods made with new coatings technologies. Products will include a Caraway Seed Breader, a Circus Breader with colorful extruded cereal particulates, and a coating system that protects particulates within breaders. The system doesn't appear fried and enhances the appearance of the product.
Nutriant (Booth 3920), an innovative new Kerry company, will unveil a menu of fortified products exhibiting the strengths of its advanced nutrition-based technologies. Products include textured soy protein found in Meat Analog Drummies; isolates in create-your-own smoothies; as well as nuts, flour, and concentrates in snack food.
Acquired companies, SPI Foods and Ringger Foods (Booth 3920), will show how they pack the crunch in extruded foods. Their extruded grain ingredients, including crisp rice, are used throughout the food industry as an excellent source of crunch and volume in breakfast cereals, chocolates, snack foods, granola bars, and other confections. Their showcased novel food replacement bars highlight savory seasonings and extruded pieces.
5. New name for a family of companies. A family of companies—Daminco, SoyLife, Schouten USA, and Orffa Foods—will be introduced under the new name Acatris. The resulting integrated, multi-faceted global organization combines the expertise of established leaders in a wide range of fields. It will provide tailor-made solutions needed to improve the marketability of the customer's current and future products.
Products featured by the company include natural and synthetic antioxidant solutions, lubricants, release agents, bakery dough improvers, vitamin/mineral enrichment blends, additives and processing aids, stabilizers, gelling agents and emulsifiers, and health ingredients derived from soy, flax, and fenugreek.
For more information about this important ingredients development, write to Daminco/Acatris, 3300 Edinborough Way, Minneapolis, MN 55435. Daminco/Acatris, Booth 2342
6. New findings presented on fiber. A new fiber product from sodium alginate will be presented by Optipure, 6984 Bandini Blvd., Los Angeles, CA 90040 (www.optipure.com). The soluble dietary fiber is extracted from the seaweed kombu (kelp) and processed in a special way to produce a low molecular weight compound (protected by U.S. patents 5,283,076 and 5,324,526).
According to the manufacturer, what makes this fiber superior to other soluble fibers is its ability to dissolve in water without gelling. It can be easily formulated into drinks, energy bars, soups, and many other products.
Recent scientific studies are available on how the product can maintain healthy cholesterol levels, help facilitate regularity, and reduce risk of heart disease. It also aids with the excretion of harmful substances from the body, and can help regulate blood sugar in diabetics.
A press conference on this fiber will be held Monday, June 17 at 9:00 a.m. Researchers from Eniwa Research and Development Laboratory in Japan will provide the presentation. OptiPure, Booth 2243
--- PAGE BREAK ---
7. Take a worldwide tour. Here are just a few examples of companies coming from different parts of the world to the IFT Annual Meeting & Food Expo:
• A range of beta-carotene products marketed under the name Altratene will be presented. Powder and oily formulations of beta-carotene will be available for use in beverages, margarine, bakery products, dairy products, soups, noodles, flavors, dietary supplements, or other applications where a stable, bright yellow to orange color is desired or where provitamin A enrichment is needed. Allied Biotech Corp., Taiwan, Booth 1706, 1707
• Hydrocolloids ranging from ultralow to ultra-high viscosities in varying rates of hydration and particle size are featured. Ultra-low viscosity grades of guar gums for niche applications will be highlighted. Lucid Colloids, Ltd., India, Booth 1806
• Cookie granules, chocolate inclusions, and other inclusion or topping ingredients are available for use in yogurt, ice cream, confections, baked goods, and other applications. Industria Dolciaria M. D'orsogna Sa.S, Italy, Booth 8906
• Butters with specific melting profiles for use in biscuits or puff pastries, butters which can be spread straight from the refrigerator, and low-fat or low-cholesterol butters and creams will be among the range of products highlighted. These products are obtained exclusively through physical and natural transformation of carefully selected dairy cream or butter. Corman, Belgium, Booth 6824
• Spices, spice mixtures, additives, and extracts are available for meat production. These ingredients may be used for ham coatings, preparation for smoked-meat manufacturing, spice emulsions, and preserving. Trumf International, Czech Republic, Booth 8124
• Natural ruby red, full-flavord tomato powders, T-3000 and T-4500, are produced by spray-drying tomatoes that are harvested when they are fully ripened and at peak color and flavor. The low-temperature process preserves the tomatoes' flavor and color. These products are suitable for applications requiring excellent color and flavor profiles and longer shelf life. Transa, Spain, Booth 5414
• Baker's and brewer's yeasts will be introduced for use in soups, sauces, gravies, yeast spreads, vegetable pate, snacks, and other products. Bio Springer, France, Booth 2200
• A natural plant substance that effectively blocks cholesterol taken into the body through diet will be introduced. Called EuChol™, the substance lowers cholesterol level in plasma. Its effectiveness has been scientifically proven in human clinical trial. Eugene Science, Inc., Korea, Booth 1908
• Soy isoflavone products have been developed and manufactured for use in bars, breads, cereals, and other products. Nutragen 3-10 isoflavone content includes high levels of genistin, genistein, daidzin, and daidzein. These levels are much higher than in soy germs and soy isolates. Nutragen 3-10 fibers, natural to soy protein concentrates, are important for improving bioavailability of isoflavones. Fibers are also known to lower cholesterol and for weight reduction. Solbar Plant Extracts, Israel, Booth 7307
• New gel-pressing technology for kappa carrageenan provides improved carrageenan extracts with higher gelling powder and low syneresis. The technology is said to offer the food industry a cost-effective, high-performing stabilizer and gelling agent. It is especially suitable for meat applications. Ceamsa, Spain, Booth 2403
• Various ingredients containing healthy and functional fish fatty acids (EPA and DHA) will be highlighted. These include omega-3 powders, dry microencapsulated omega-3, and natural fish oil concentrate in powder form. Also featured will be olive oil powders. Kievit, The Netherlands, Booth 2633
--- PAGE BREAK ---
• GMO-free soya bean isolate for the meat and nutritional markets will be highlighted. Other products include proteolytic enzymes, caseinates, and a complete range of protein hydrolysates. Pangaea Sciences, Inc., Ontario, Canada, Booth 2204
• Natural fruit juices and concentrates will be featured. Upon specification of the customer, tropical pre-mixes will also be manufactured. Passina Products, The Netherlands, Booth 8516
• Lactic acid bacteria (starter cultures and probiotics) are available for the health and food industries. Core business is the production of pure cultures such as Lactobacillus, Staphylococcus, Bifidus, and other types. THT, Belgium, Booth 6824
• A natural seaweed-derived mineral source high in calcium and magnesium may be used to fortify foods while delivering a high-quality taste and texture. Latest addition to the product line is Aquamin S, which is suitable for calcium fortification of acidic food systems. Marigot Ltd., Ireland, Booth 3820
• New functional beverages with sensitive ingredients can be created using a line of products marketed under the name LifeTop. These products are designed to protect sensitive ingredients such as probiotic Lactobacillus reuteri during storage and distribution. Because of this protection, shelf life can be extended from a few weeks to a year. BioGaia AB, Sweden, Booth 2006
• A full line of dehydrated fruits and vegetables will be presented. Featured products include evaporated apple dices, rings and wedges; low-moisture applice dices and nuggets; low-moisture powders; and dehydrated bell peppers and tomatoes. Ingredients may be used in hot cereals, baked goods, nutritional bars, packaged snacks, and specialty foods. AgroCepia, Chili, Booth 5945
• New fruity crunchy chunks will be introduced. Other products highlighted include European caramel and crunches, bake-stable chewy caramels, caramel inclusions for ice cream, and caramel paste for baked goods. SuCrest GmbH, Germany, Booth 2108
• Alginic acid, alginate salts and propylene glycol for use in a variety of food segments are featured. Kimica Corp. (formerly Kimitsu Chemical Industries), Japan, Booth 5747
• Japanese snacks—rice crackers, seafood snacks, candies, and peanut crackers—will be highlighted. Daihachi Co., Ltd., Japan, Booth 1628
• Companies from China are making their presence felt in a number of areas. Here are only a few examples of these companies:
Qingdao Dewei Group Co., Ltd. (Shandong, Booth 2102), a manufacturer and trader of seafood, pet food and squid; Luoyang Kangen Biological Co., Ltd. (Shanghai, Booth 3914), a supplier of sodium D-isoascorbate, erythorbic acid, and potassium sorbate; Zibo Zhongxuan Biological Product Co., Ltd. (Shando, Booth 8038), a manufacturer of xanthan gum; and Baoding WayChein Food Ind.Co., Ltd. (Hebel, Booth 2206), a supplier of sodium diacetate, which can be regarded as a mold proof agent and fresh-keeping agent for food.
--- PAGE BREAK ---
Kaihua Huakang Pharmaceutical Co., Ltd. (Zhejiang, Booth 3912), a producer of the sweetener xylitol; Wujin Niutang Chemical Plant (Jiangs, Booth 2203), a manufacturer of aspartame; Zhuhai Elegant Aromatics Co., Ltd. (Guangdong, Booth 4013), a specialist in producing aromatic chemicals; and Rui Yuan Flavor Co., Ltd. (Shandong, Booth 5906), a manufacturer of aromatic flavor raw material and food chemicals.
Shanghai Desano (Shanghai, Booth 6446), a manufacturer of active pharmaceutical ingredients and marketer of products that enhance the well-being and quality of human life; Fenchem Enterprises Ltd. (Nanjing, Booth 2305), a supplier of functional food additives, especially nutraceuticals and herbal extracts; Shanghai Apple Food Industry Co., Ltd., (Shanghai, Booth 3913), a producer of savory flavors, caramel color, flavor enhancers, and snack food ingredients; Citrus Group- China (Human, Booth 2405), a food additives industry group whose key businesses include preservation and accidulants; and Sichuan Leshan Tiancheng Industry Co., Ltd. (Sichuan, Booth 2306), a specialist in the development, manufacture, and marketing of vacuum freeze-dried ingredients.
8. Marketing opportunities for Nutrigenomics. Market segmentation opportunities for nutrigenomics is one of the presentations of a symposium, "Nutrition Can Be a Winner: a Toolbox for the Development and Marketing of Nutritious and Indulgent Foods." Examples of nutrigenomics continue to emerge from basic science. Some of the science has evolved to the point of early commercialization.
Research has shown that subpopulations respond to dietary patterns in ways that are different yet predictable based on knowledge of genetic profiles. Patterns of dietary and biological response can lead to health or disease. Examples in the area of cardiovascular and central nervous system health demonstrate the strong connection between nutrition and genotype.
Just as pharmacogenomics endeavors to design a customized pharmaceutical regimen for each individual's genetic make up, nutrigenomics is a genetically based nutrition and dietary intervention approach that will result in dietary supplements, functional foods, and medical foods that maximize the health of each individual.
Nutrigenomics affords new market segmentation opportunities as well as new markets for the food industry. Paper 68-3, Tuesday, 10:05 a.m.
9. Commemorative booklet on onion flavors issued. A commemorative booklet highlighting 50 years of producing onion flavors will be issued by Dragoco, Inc., 10 Gordon Dr., Totowa, NJ 07512-2204; www.dragoco.com). The complimentary booklet features articles on history, technology, taste profiles, and many more areas.
Also available will be a variety of hors d'oeuvres made with onion flavors by the company's product development chef. Dragoco, Inc., Booth 6525
10. Four divisions highlight broad range of ingredients. Four of its ingredient divisions will be highlighted by ACH Food Companies, Inc., 7171 Goodlett Farms Pkwy., Cordova, TN 38016-4909 (phone 800-344-8656; fax 901-381-3066; www.achfood.com).
A leader in the development and manufacture of custom-designed fats and oil ingredients, Humko Oil Products will focus on its value-added process capabilities, including fractionation, blending, deodorizing, and hydrogenation.
--- PAGE BREAK ---
A variety of rice products to foodservice, retail, and food manufacturing segments are manufactured and marketed by Humko Rice Specialties. Highlighted will be long-grain parboiled rice and rice flour, instant/precooked rice, IQF Rice, and a variety of rice mixes.
Specialty grain-based ingredients including crisp rice, extruded grain particulates, rice flours and blends, soy protein crisp rice, and specialized functional grain-based products will be highlighted by PGP International.
Bulk nondairy creamers will be the subject of the fourth division.
Take a tour through these divisions and learn more about specialty shortenings and oil-based products, specialty rice products, extruded grain-based particulates, nondairy spray-dried products and cheeses, nutritional ingredients, and other ingredient systems. ACH Food Companies, Booth 4814
11. Patriotic concepts using flavors will be highlighted. Several new innovative product concepts using flavors have been developed under the theme, "Sweet Land of Liberty," by David Michael & Co., 10801 Decatur Rd., Philadelphia, PA 19154 (phone 215-632-3100; fax 215-637-3920). Some of these concepts include a frozen dessert, a novelty pop, and several variations of ice cream cakes.
The frozen dessert, which will be highlighted at the IFT Food Expo, is a special combination of strawberry sorbet, vanilla ice cream, and blueberry sorbet. The Liberty Pop™ is a novelty popsicle featuring strawberry, lemon/lime, and blueberry flavors. Several innovative ice cream cake ideas are available as well, including sheet and layer designs.
Visit the booth to learn more about these red, white, and blue concepts. David Michael & Co., Booth 2505
12. Novel ingredients from Japan making debut. A variety of novel ingredients will be highlighted by Mitsubishi International Corp., 520 Madison Ave., New York, NY 10022 (phone 212-605-2408; fax 212-605-1810) and its Japanese partners.
Natural seafood flavors will be introduced to the North American market by Senmi Ekisu Co. Ltd. The full line of flavors are said to impart not only a rich taste and aroma, but also function as water-retention agents. A food ingredient, sardine peptide, is used in a number of products in Japan to help treat hypertension.
A seasoning made by enzymatic hydrolysis is available from Dai Nippon Meije Sugar Co. Called Enzap, the seasoning contains low-molecular-weight peptides which create a full-bodied taste. Applications include soups, snacks, processed foods, sauces, and many others.
A soluble soy polysaccharide called Soyafibe-S has been developed by Mitsubishi in coordination with Fuji Oil Co. Made using special technologies for extracting and refining water-soluble polysaccharides from soybeans, the ingredient offers a variety of benefits. According to the manufacturer, it has up to 70% dietary fiber, emulsifying and film-making properties, and the ability to stabilize protein molecules in a low pH range, especially below pH 4.0. Low-viscosity, refreshing lactic beverages can be produced.
--- PAGE BREAK ---
A versatile soy derivative manufactured by Fuji Oil Co. is a soy peptide that has an amino acid composition similar to that of soy protein. Marketed under the name Hinute, the ingredient is highly water soluble in alkaline and acid conditions and its viscosity is much lower than that of soy protein. Properties include increased absorption, promotion of fat metabolism, and anti-fatigue effect.
A green tea extract called Thea-Flan is manufactured by Ito En, Ltd. and distributed and marketed by Mitsubishi. The extract has catechin or tannin content which offers medical benefits such as lowering cholesterol and allergies and providing antimicrobial properties. It can prevent food oxidation and is protein reactive, making it compatible for soy milks.
A soy flour called Uni-Cell is made by Japan Cell Foods using enzymatic technology that breaks down soy cells into their constituent parts. The result is that the flour is free of beany taste and odor typically associated with conventional soy flours, while maintaining its nutritional value.
Lyophilized Bifidobacteria BB536, a highly concentrated Bifidobacterium longum powder, is manufactured by Morinaga Milk Industry Co., Ltd. The product is said to improve intestinal environment, stimulate immunity, prevent diarrhea, and suppress harmful bacteria. The powder, which has exceptional room temperature stability, has viable cell count and may be used in infant formulas, dietary supplements, and fortified/functional foods.
A variety of health-promoting ingredients will be unveiled by Maruzen Pharmaceuticals Co. These ingredients (and their health properties) include soy isoflavone (bone density and strength maintenance); Indian dates, monacolin J, and kohki leaf (lipid and fat metabolism normalization; linden flower (antistress); alpinia leaf, purple hull rice, and lotus seed germ (anti-aging); turmeric, silymarin powder, licorice, and oyster (liver protection); gymnema and yacon leaf (sugar metabolism normalization), and tiencha and kohki leaf (free radical scavenging/antioxidants). Mitsubishi International Corp., Booth 5305
13. Flavored water made with grapeseed extract. A low-calorie flavored water which is said to have the same antioxidant capacity as a typical serving of fruit per 20-oz bottle will be shown by Polyphenolics, a division of Canandaigua Wine Co., Inc., 12677 Rd. 24, Madera, CA 93639 (phone 219-243-9825; fax 219-243-9826; www.polyphenolics.com). This product will be colored with the company's new grape-based carmine replacement and will have 50 mg of grape seed extract (MegaNatural) per 8 oz and the RDA of vitamin C.
Polyphenolics has recently self-affirmed MegaNatural Gold grape seed extract and MegaNatural GSKE grape skin extract as GRAS for beverages. Both are 100% soluble in water or alcohol, have an ORAC value of more than 16,000, and are synergistic with vitamins C and E.
The company's most recent addition to the product line is Rubired grape juice extract, which contains 25% anthocyanins and 45% total phenols. This product has the same phenolic profile as pure juice. Polyphenolics, Booth 2611
14. Symposium focuses on enzymes. Enzyme uses in the food industry 2002 is the subject of a symposium sponsored by Food Chemistry Div. and Product Development Div. The symposium will look at the ever-broadening use of enzymes in the food industry. Presentations will cover their use in flavors, sugar processing, carbohydrate conversion, dairy, baking, and in food ingredients. Session 94, Wednesday, 9 a.m. to 12:00 p.m.
--- PAGE BREAK ---
15. Sunflower butter will be introduced. A sunflower butter will be introduced by Red River Commodities, Inc., 501 42nd St. NW, Fargo, ND 58102 (www.redriv.com). Called Sunbutter, the product is made from sunflower seeds by Sungold Foods. It has a smooth texture and may be used as a substitute for peanut butter in most recipes. Free samples are available. Red River Commodities, Inc., Booth 2532
16. A gem of a product. New coextruded products combining two and three flavors in one component product will be unveiled by Custom Industries, 9807 S. Forty Dr., St. Louis, MO 63124 (314-353-5220; fax 314-353-320). Called Co-Extruded Gems, the product includes chocolate marshmallow, chocolate orange, chocolate raspberry, cranberry orange, graham marshmallow, mixed berry, peanut strawberry, and strawberry banana.
The company has recently opened a new research and development center and corporate office in St. Louis, Mo. The new center will provide a comprehensive approach to support customers' need by incorporating both a product research and development area and an applications demonstration kitchen. The R&D Center is an interactive resource, allowing the customer to work onsite with the research and development team to increase product speed to market. Custom Industries, Booth 2335
17. Synthetic lycopene determined as GRAS. A synthetic lycopene product called LycoVit® will be featured by BASF Corp., 3000 Continental Dr. N., Mount Olive, NJ 07828-1234 (phone 973-426-2600; www.basf.com). The product has been determined as generally recognized as safe (GRAS) based on scientific procedures by an external panel of experts, and a notification of this determination is being submitted to the Food and Drug Administration.
The experts determined that the synthetic lycopene product is substantially similar to naturally occurring lycopene and is safe to use in conventional foods for nutritional fortification. Product categories in which the lycopene may be used include breakfast cereals, drinks, instant soup, low-fat dressing, meal replacements, meatless products, nutrient bars, salty snacks and crackers, and yogurt.
GRAS status has been confirmed for three products: LycoVit 10% powder, used for dietary supplements and certain food forms requiring compression, such as extruded products; LycoVit 10% CWD, a cold-water-dispersible form for use in water-based products such as beverages; and LycoVit Dispersion 20%, which is dispersed in an oil and used in soft gels as well as in foods which are oil-based, such as salad dressings and cheese spreads. BASF, Booth 4810
18. "Brownulated" brown sugar offers numerous advantages. A brown sugar which offers numerous advantages over conventional brown sugar will be introduced by Domino Specialty Ingredients, 1100 Key Hwy. E., Baltimore, MD 21230 (dominospecialtyingredients.com). Called Brownulated Brown Sugar, the product is now made without adding caramel color.
According to the manufacturer, the product is said to give the desired browning effect without having to list caramel color on the label. It resists caking better than ordinary brown sugars and flows freely, facilitating automatic batching.
The company manufactures and sells value-added carbohydrate-based ingredients. Many of the products in the line are produced with a patented cocrystallizaiton process that incorporates a secondary ingredient within the carbohydrate crystalline structure. This greatly increases the solubility, dispersibility, and stability of the products as a result of the low moisture content. Domino Specialty Ingredients, Booth 6510
19. Functional ingredients help improve health benefits of Asian foods. Developing technologies on functional ingredients for improving the health benefits of Asian foods is the subject of a symposium sponsored by the International Div., Nutraceuticals & Functional Foods Div., and Chinese American Food Society. Papers in the symposium include developing ingredients from the soybean, health implications of ingredients in Asian diets, trends in Chinese functional foods, bioactive plants as ingredients in functional foods, new hydrocolloidal ingredients for improving the health benefits of Asian foods, and the development of beta-glucan components and their health benefits. Session 27, Sunday, 2:30 p.m. to 5:35 p.m.
--- PAGE BREAK ---
20. Where flavors and functional ingredients meet. Latest innovations in flavors and concept beverages/confections will be unveiled by Blue Pacific Flavors & Fragrances, Inc., 1354 S. Marion Ct., City of Industry, CA 91745-2418 (phone 626-934-0099; fax 626-934-0089; www.bluepacificflavors.com).
These highlighted innovations include functional fruit drinks, ultra-high-temperature dairy/soy beverages, and jelly beans formulated with inulin.
Heart Wellness beverage juice drink is formulated with such ingredients as green tea polyphenols, grape seed extract, and omega-3s.
Also featured will be new reaction coffee flavors which are UHT stable. These include Espresso, Irish Cream, Hazelnut, and Vanilla Nut. Blue Pacific Flavors & Fragrances, Inc., Booth 4243
21. Lutein-fortified prototype applications unveiled. An assortment of prototype products fortified with FloraGlo® brand lutein will be highlighted by Kemin, 600 E. Court Ave., Suite A, Des Plaines, IA 50309 (phone 515-248-4000; fax 515-248-4051; www.kemin.com). Some of these will include new GRAS categories that will be announced at the show.
The company will also be sampling several brand-name beverage products soon to reach the grocery store shelves.
Research and development staff will be on hand to share formulation data and strategies. Marketing staff will also provide data showing the opportunities available for manufacturers in the growing functional food and beverage category. Kemin, Booth 4828
22. Applications that say "olé." Hispanic flavors in snack mixes and salsa applications will be shown by Mission Flavors & Fragrances, Inc., 25882 Wright Circle, Foothill Ranch, CA 92610. Highlighted applications available for sampling include Chili with Lime-Seasoned Peanuts and Chili with Lime Tomatillo Salsa. Mission Flavors & Fragrances, Inc., Booth 8003
23. New French sauces make their debut. A line of concentrated gourmet sauces and roasted brown stocks prepared by classic French methods will be introduced by Ariake USA, Inc., 8 Corporate Dr., Orangeburg, NY 10962. Called Gourmet Royal, the line will complement the company's current line of meat, seafood, vegetable, and cheeses bases.
According to the manufacturer, the new line will enable formulators to achieve the Gold Standard. Shown at the IFT Food Expo are Demi-Glace de Veau, a browned veal sauce; Demi-Glace de Volaille, a browned chicken sauce; Fond de Hommard, a full-bodied lobster stock with the right balance of wines and butter; and Sauce a l'Americaine, a finished lobster sauce with rich, buttery, brandied notes.
Chef Eric Lynch will be available at the booth to help answer questions about the new sauces. Ariake USA, Inc., Booth 6830
24. Glittering array of products may catch your eye. A line of customizable bases and mixes for breads, rolls, scones, pancakes, crepes, and sweet goods that are formulated with high levels of protein will be introduced by Watson Foods Co., Inc., 301 Heffernan Dr., West Haven, CT 06516 (phone 203-932-3000; fax 203-932-8266). High-protein, low-carbohydrate diets are growing in popularity in the mainstream for weight loss and fitness, as well as for serious athletes and body builders seeking maximum performance and reduction of body fat.
--- PAGE BREAK ---
According to the manufacturer, the bases will be available in forms appropriate for packaging as consumer bakery mixes or in concentrated form for the commercial baker for production of high-quality, high-protein breads, bagels, and rolls.
Also highlighted will be new applications for edible glitter (shown in photo), a novel way to deliver color. New applications being developed this year include breakfast cereals, tortilla chips, potato chips, cheese puffs, jelly beans, gum drops, gelatin candies, and pan-coated candies. Edible glitter adds an eye-catching color so bright, it literally sparkles, changing the whole appearance of foods, snacks, and candies.
Edible glitter comes in a wide range of colors, and new flake sizes and flake thicknesses are making their debut. Custom color blends are also available. The company will be showing several new application prototypes for glitter.
Customized premixes will be shown in a range of new applications:
For example, a health cookie, suitable as a breakfast replacer, will be demonstrated. A cross between a cookie and a muffin, the application is formulated using a premix to supply the nutritional equivalent of a bowl of breakfast cereal and milk. They are soft baked and come in a variety of flavors.
Also, utilizing nutritional premixes are a new meal replacement shake and nutritional bar, both designed for women who wish to loose weight, maintain a healthy weight, and increase energy levels. Watson Foods Co., Inc., Booth 6706
25. Getting your vitamin E through almonds. A study funded by the National Institutes of Health and published in the New England Journal of Medicine adds to the growing body of evidence in understanding the role of vitamin E in health. One ounce of almonds are said to provide 50% of the RDA for the alpha-tocopherol form of vitamin E, the form recommended for best absorption and utilization. More information about health studies regarding vitamin E, health benefits of almonds, and recipes will be available from Almond Board of California, 1150 9th St., Suite 1500, Modesta, CA 95354 (phone 209-549-8262; fax 209-549-8267; www.almondsarein.com). Almond Board of California, Booth 5126
26. Selecting the right powders. In selecting the appropriate freeze-dried fruit or vegetable powder, certain factors must be considered. For example, if hygroscopicity is an issue in the customer's manufacturing facility, it is recommended that Crystal Caps freeze-dried powders be chosen which are suited for that environment rather than working with ingredients that require sensitive handling. If the customer wants high flavor to reduce added ingredients, then Juice Plus™ freeze-dried powders are suggested. Knowing the specifications for the customer's final product can help select the most suitable product to support certain needs, such as labeling, taste profile, functionality, or cost range. Representatives from Crystals International, Inc., 600 W. Dr. ML King Jr. Blvd., Plant City, FL 33566-5117 (phone 813-754-813-757-6060) will be on hand to discuss these parameters, and a media press conference will be held on Monday, June 17 to introduce new product lines and a Web site. Crystals International, Booth 5600
27. Open Sesame! Use of sesame ingredients helps create opportunities for the manufacture of innovative snack foods. Wheat/soy sesame sticks available in plain and honey roasted will be highlighted by Terra Harvest Foods, Inc., 2154 Harlem Rd., Loves Park, IL 61111 (www.terraharvest.com).
Furthermore, sesame bits are excellent for chocolate and candy coatings or for inclusion in candy bar items.
Terra Harvest Foods is a leading manufacturer of sesame, corn, and rice snacks in the United States and Canada. Rice products are also available in Australia through Terra Harvest Foods Australia PTY, Ltd. Terra Harvest Foods, Booth 8800
--- PAGE BREAK ---
28. Explore new concepts with gum systems. A nutritional beverage fortified with soluble dietary fiber (Meyprogat 20) and calcium (VersaCal) will be featured byRhodia Food, 259 Prospect Plains Rd., Cranbury, NJ 08512 (phone 609-860-4000; fax 609-860-0245; www.us.rhodia.com).
Also highlighted are new texture concepts with new gum systems. A line of carrageenans (Meypro Sol, Gel, and Lact) will be introduced for many different food applications. Additionally, a new line of functionally enhanced guar and locust bean gums, Meyprogat, Meyprodor, and Meyprodyn, will make their debut. Rhodia Foods, Booth 5715
29. Fruit and gel make for a refreshing treat. Fruit products—Fruit-n-Gel Bowls and Fruit Bowls—will be highlighted by Dole Packaged Foods Co., One Dole Dr., Westlake Village, CA 91362 (phone 818-874-4000; fax 818-874-4535). Fruit-n-Gel Bowls include Pineapple in Lime Gel, Peaches in Strawberry Gel, and Mandarin Oranges in Orange Gel. Fruit Bowls are offered in such versions as pineapple, tropical fruit salad, peaches, and mandarin oranges. Dole Packaged Foods Co., Booth 3503
30. Fruit-based beverages for weight loss. The latest developments in fruit flavors and fruit-based ingredients will be shown by American Fruits & Flavors, 10725 Sutter Ave., Pacoima, CA 91331 (phone 818-899-9574; fax 818-899-6042; www.americanfruit.com). The company is the parent of American Fruit Processors and Mutual Flavors, both of which are also exhibiting their newest developments.
American Fruit Processing will be unveiling weight-loss beverages, Wild Berry and Tropical/Citrus100% Juice Blends. Two new energy/isotonic 50% Juice Drinks in Strawberry and Lemon Flavors will be shown by Mutual Flavors, as well as new spray-dried flavors.
American Fruits & Flavors will present their full line of fruit concentrates, blends, natural sweeteners, fruit-based products, and fruit flavors. American Fruits & Flavors, Booth 3710
31. Edible images for your pie. Innovative ideas for edible decorating of pies and other food products will be presented by Lucks Food Decorating Co., 3003 S. Pine St., Tacoma, WA 98409 (phone www.Lucks.com). Highlighted at the show are the company's newest applications, an edible image baked on pies and 3-D edible images.
The company manufactures edible images, print-ons, liquid colors, molded sugar decorations, icing roses, and many other items for creating fun and innovative products. Edible decorations are available for cakes, pies, cookies, cones, ice cream and novelties, candy, chocolates, and more. Lucks Food Decorating Co., Booth 8432
32. Encapsulated baked bread flavor highlighted. Flavor delivery systems for use in baked goods will be highlighted by Balchem Encapsulates, P.O. Box 175, Slate Hill, NY 10973 (phone 877-222-8811; fax 845-355-4204; www.balchem.com). Flavorshure flavor deliver system features encapsulated baked bread flavor in fresh baked American-style biscuits.
Other applications demonstrated include encapsulated flavor particulates as additions to hot dogs, and encapsulated yeast that provides stability in bread mixes and frozen doughs. Balchem Encapsulates, Booth 4524
--- PAGE BREAK ---
33. New enzyme preparations introduced. Two new enzymes will be introduced by Amano Enzyme USA Co., Ltd., 1157 N. Main St., Lombard, IL 60148 (www.amano-enzyme.co.jp). Diglycosidase is a novel enzyme for transforming isoflavone glycosides into isoflavone aglycones in soy products. This enzyme preparation utilizes all nine isoflavone glycoside isomers found in soybeans.
Yeast lactase for breaking down lactose in milk at neutral pH will also be making its debut. Amano Enzyme USA Co., Ltd. Booth 8507
34. Chefs demonstrate pasta's versatility. Technical demonstrations showing how different quality grades of durum wheat affect pasta quality and performance will be provided by Dakota Growers Pasta Co., One Pasta Ave., Carrington, ND 58421 (phone 701-652-2855; fax 701-652-3552; www.dakotagrowers.com). Chef demonstrations will apply dry pasta to frozen entrees and deli salad applications. Also, new pasta shapes will be introduced, including 4-Seasons Rotelle, Rainbow Farfalle, 10-in and 20-in Mafalda, and sheeted kluski noodles. Dakota Growers Pasta Co., Booth 5732
35. Antioxidant, calcium fortifier featured. A water-soluble plant extract exhibiting high antioxidant properties in a range of food applications will be highlighted by Barrington Nutritionals, 500 Mamaroneck Ave., Harrison, NY 10528 (phone 914-381-3500; fax 914-381-2232; www.barringtonchem.com). Called Origanox™, the extract belongs to the Labitae family, is offered in various standard grades of antioxidant activity and is considered GRAS. It is recommended for use in both fresh and processed applications of meat, poultry, and fish products to prolong shelf life and preserve freshness. Other applications include beverages, dressings, baked products, marinades, mayonnaise, snacks, spices, seasonings, and natural pigments. It is stable under high temperatures, very active in low dosages, and is highly effective for water systems and emulsions of up to 90% fat.
Also featured is an instantly soluble and highly bioavailable form of calcium. Called InstaCal™, the product is suitable for mineral fortification of a large variety of food and health food products. According to the manufacturer, its instant solubility makes it novel and it is tasteless, odorless, and colorless when dissolved. It has several instant food and beverage applications including beverage powders, soup powders, coffee creamers, tabletop sweeteners, cocoa powder mixes, instant puddings and jellies, sports powder drinks, and various health food products. Barrington Nutritionals, Booth 5744
36. Green tea powder presented. Japanese high-quality green tea powder, called Matcha, will be presented by AIYA America, Inc., 60 E. 42nd St., Ste. 2223, New York, NY 10165 (www.aiyaamerica.com). The product may be used as an ingredient, is available in an organic form, and is certified as kosher. According to research, the ingredient offers potential health value. Ceremonial Matcha Tea tools will also be available. AIYA America, Inc., Booth 8201
37. Carrot-derived ingredients featured. Frozen slushies using carrot juice from concentrate as a nutritious and colorful base will be highlighted by Wm. Bolthouse Farms, Inc., 7200 E. Brundage Lane, Bakersfield, CA 93307-3099 (phone 661-366-7209; 661-366-9236; www.bolthouse.com).
Other ingredients derived from fresh California carrots include Hydrobind™ purified carrot fiber for controlling moisture in baked goods and fillings; Hydrobind purified carrot isolates for controlling moisture in processed meats; and low-acid certified aseptic carrot puree and juice concentrates.
These ingredients may be used in beverages, baked goods, soups, dressings, dips, salsas, sauces, gravies, snack foods, rice and pasta side dishes, health foods, and baby foods. Wm. Bolthouse Farms, Inc., Booth 6034
38. New soymilk smoothie base added. A new soymilk smoothie base featuring a refreshing taste complemented by the functional food properties of soymilk will be featured by Sunrich Food Group, Inc., 3824 SW 93rd St., Hope, MN 56046 (phone 507-451-6030; fax 507-451-8201; www.sunrich.com). The smoothie base has been added to the company's line of organic and identity preserved soymilks. Sunrich Food Group, Inc., Booth 1735
--- PAGE BREAK ---
39. Iron fortifier provides high bioavailability. An iron fortification system that disperses insoluble iron in liquid formulations without any precipitation will be presented by Taiyo International, Inc., 4700 W. 77th St., Ste. 175, Edina, MN 55435 (phone 952-832-5273; fax 952-832-9897; www.taiyoint.com). Called SunActive Fe, the system is stable gainst heat, salt, pH, and oxidation, and causes no unpleasant iron flavor or change in color. It is mild on the gastrointestinal system, providing a non-irritating iron fortification, and has superior absorption properties and bioavailability. Taiyo International, Inc., Booth 3905
40. Ingredients produced by award-winning farming practices. Fruit and vegetable ingredients for manufactured food products are grown and processed by Stahlbush Island Farms, Inc., 3122 Stahlbush Island Rd., Corvallis, OR 97333 (phone 541-757-1497; fax 541-754-1847; www.stahlbush.com). Frozen vegetable and fruit purees will be featured for use in soups, baby foods, baked goods, and beverages. Conventional, certified organic, and sustainable purees and IQF vegetables and fruits are available. The company purees fresh products directly from the field, which gives customers high solids, improved yields, and lower ingredient costs. Recently, the company received a U.S. Presidential Award for its sustainable farming practices. Stahlbush Island Farms, Booth 5738
41. Flaxseed ingredients introduced. High-lignan concentrate from flaxseed will be introduced by Pizzey's Milling, Box 132, Angusville, MBR0J 0A0 Canada (phone 204-773-2575; fax 204-773-2317; www.pizzeys.com). Flaxseed is one of the richest sources of lignans, a type of phytoestrogen.
Also making its debut is Fine 30 M Flaxseed, a very finely milled, pasteurized full-fat flaxseed product for the nutritional supplement industry. It may be used in drink powders and nutritional supplements and has superior texture properties. Pizzey's Milling, Booth 2446
42. Sweet soy highlighted. Sweet soy will make its debut by PMS Foods LP, P.O. Box 1099, Hutchinson, KS 67504-1099 (phone 316-663-5711; fax 316-663-7195; www.pmsfoods.com). The company is a major producer of soy-based textured vegetable protein products, both flavored and unflavored. The flavored analogs imitate, replace, or extend different types of bacon bits as well as all meats. Unflavored textured vegetable protein, Ultra-Soy, delivers high-quality protein to a variety of food applications. PMS Foods, Booth 3942
43. Calcium-fortified mac and cheese featured. Innovative applications showcasing specialty dairy ingredients will be highlighted by Commercial Creamery Co., 159 S. Cedar St., Spokane, WA 99204 (www.cheesepowder.com).
Products spotlighted include new snack seasonings, a yogurt drink, and calcium-fortified macaroni and cheese. Commercial Creamery Co., Booth 5703
44. Flavor imparts a smokey bacon flavor. A smokey bacon flavor will be introduced by Innova, A Griffith Laboratories Co., 2021 Swift Dr., Oak Brook, IL 60523 (phone 630-928-4814; fax 630-928-4820). Called Smokey Bacon-Type Natural Flavor, the product will be showcased in a commercially available cheese sauce.
According to the manufacturer, the product imparts a savory, smokey bacon flavor in sauces, soups, and gravies. It is available in a dry powder form, has a clean label, is vegetarian, and can be kosher certified. Innova, Booth 4327
45. Next-generation dietary fibers provide health benefits. Healthy ingredients, inulin (Raftiline®) and oligofructose (Raftilose®) will be showcased in innovative applications. These next-generation dietary fibers provide important health benefits, including increased calcium absorption and enhanced digestive health through the power of prebiotics. Oraft Active Food Ingredients, Booth 3306
--- PAGE BREAK ---
46. Natural blue and green color blends available. Natural blue and green color blends will be introduced by ColorMaker, 3309 E. Miraloma Ave., Ste. 105, Anaheim, CA 92806 (phone 714- 572-0444; fax 714-572-0999; (www.colormaker.com). These blends are available as free-flowing powders with moisture levels below 5%. They are light- and heat-stable, but generally not pH stable in solution below 6.0. The blends are available for use in compressed tablets and food applications. ColorMaker, Booth 3417
47. Frosted nuts highlighted. Frosted/glazed almonds, pecans, and walnuts will be featured by John B. Sanfilippo & Son, Inc., 2299 Busse Rd., Elk Grove Village, IL 60007 (phone 847-593-2300; fax 847-593-3085; www.jbssinc.com). The company offers one-stop shopping for the customer's nut needs, including all nut varieties, praline coatings, chocolate coatings, peanut butter, and cookie dough coatings. John B. Sanfilippo & Son, Inc., Booth 8803
48. Vegetables/fruits have a campfire cooked flavor. A new product line, Smokehouse Roasted premium vegetables and fruits, will be introduced by Jon-Lin Frozen Foods, 1620 N. 8th St., Colton, CA 92324 (phone 909-825-8542; fax 909-370-4014; www.jon-linfoods.com). The vegetables and fruits are lightly coated with extra virgin olive oil, then roasted over an open flame, resulting in a product crisp in texture, brilliant in color, and having a distinct, campfire cooked flavor. The product line is available in a variety of cut sizes, ranging from strips and diced to minced and pureed. Jon-Lin Frozen Foods, Booth 8205
49. Applications having high soy content showcased. Shakes and crackers having a high soy protein content will be highlighted by Unified Products, Inc., 20001 So. Western Ave., Torrance, CA 90501 (phone 310-381-0500; fax 310-381-0549). Also featured are puffed micropellets for inclusion in bars and snack mixes. The company manufactures private label snack and cracker pellets in all grains, including soy, rice, wheat, corn, potato, and multigrain. A wide range of sizes and shapes are available. Unified Products, Inc., Booth 6838
50. More first-time ingredient exhibitors. Let's not forget stopping in at the new kids on the block. Here are a few more:
• Custom manufacturing of pasta for all food processing applications will be presented. Pasta, made with semolina durum, is produced which has a superior performance and consistency. Pasta USA, Inc., Booth 2645
• Processing of eastern U.S. grown Concord Grapes info clarified juice and concentrates for sale to the industrial ingredient market is specialized. Offered are customized blend concentrates of Concord and Vinifera varietals. Growers Co-Operative Grape Juice Co., Inc., Booth 6839
• High-quality pork-skin gelatin products are available to all segments of the food industry, including confections, desserts, baked goods, dairy products, and meat products. Type A Pork Skin Gelatin will be highlighted. Gelnex, Booth 2743
• A range of freshly frozen ready-touse chopped leaf herbs from a leading United Kingdom producer will be introduced. Frozen Herbs Ltd., Booth 2616
--- PAGE BREAK ---
• A new line of finished ingredients for the flavors and fragrance industry will make its debut, along with an added new line of botanical extracts and essential oils. Dannier Chemical, Inc., Booth 2008
• Insoluble fibers and powders for use as beneficial ingredients and processing aids in a variety of applications will be presented. CreaFill Fiber Corp., Booth 2600
• Food/feed ingredients spotlighted include IMP, GMP, I+G, Beef Bone Stock, L-Carnitine, D-Biotin, L-Cysteine, and Glycine. CJ Corp., Booth 3841
• Columbus Egg with a naturally high level of omega-3 fatty acids will be introduced. Compared to standard eggs, the content of saturated fats is decreased by 20% and the polyunsaturated fats are increased by 50%. The egg is also rich in vitamin E. The nutritional benefits of the egg are the result of the hens' enhanced diet. Belovo US Inc., Booth 6824
• Natural California wild rice, fully cooked wild rice, and wild rice chips are featured. Fall River Wild Rice, Booth 1602
• High-quality raisins and raisin products from California will be presented. Lion Raisins, Inc., Booth 2713
• A U.S.-based global flavor house with its headquarters in Chicago will demonstrate a variety of products and flavors that reflect an understanding of consumer trends. Mastertaste, Booth 2127
• All kinds of small chocolate pieces of excellent quality for use in ice cream, cereals, frozen pastry, and baked goods will be highlighted. Products include flakes, shavings, curls, squares, drops, and others. Ulmer Schokoladen GmbH & Co., Booth 2408
• Roasted carob powder called Carovit may be used as a cocoa substitute, chocolate spreads, breakfast cereals, chocolate bars, milk and soy shakes, dietetic products, biscuits, and other products. Alimcarat S.L., Booth 2300
by DONALD E. PSZCZOLA
Associate Editor