Mergers and acquisitions obviously can be very expensive, time-consuming, and complicated affairs. A strategic relationship or alliance in which two companies—frequently supplying very different ingredients—work together to develop a new ingredient or prototype can avoid these potential problems, while providing advantages for both parties.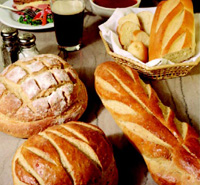 A strategic alliance between companies may also prove to be an effective way to penetrate into a particular market or meet a growing trend. For example, in the October 2004 Ingredients section, we saw several examples of this as they related to the confectionery area. In particular, strategic efforts were made to further the development of confections for the Hispanic market, as well as develop new products—e.g., those that combine heat with other flavors—that meet certain trends that can then be translated into the larger marketplace.
A strategic alliance with another company, especially a foreign-based one that already has proven experience with reaching a desired market, can certainly prove to be a cost-effective alternative to a scenario in which a company goes on its own in product development, incurs all the costs involved, and is faced with the possibility that the product developed might not succeed in the marketplace.
Perhaps, from a product development perspective, the most important benefit of a strategic alliance is the gaining of a specific technology through which novel ingredients, many of them with health-promoting properties, can be created. In the past few years, we have seen more and more of this. For example, a portfolio of low- or no-trans-fat oils and shortenings may be created using a novel enzymatic interesterification technology, as in the case of an alliance between Archer Daniels Midland Co. and Novozymes. Or new soybean varieties may be produced and marketed, as through an alliance with Monsanto and Cargill.
Interestingly, even today's mergers and acquisitions, at least from a product development standpoint, are taking on the appearance or characteristics of strategic alliances, although usually on a larger scale. Compare that to years ago when takeovers were an effective way to acquire a competitor's business and advance up the food chain. Today, however, companies being acquired are from diverse ingredient areas. The value that each of these companies provides is part of a larger design by the purchasing company to create more fully developed products, meet current consumer trends as well as anticipate future ones, reach a broader range of markets, and hopefully make more money. And even more news on the positive side, many of these companies are allowed to maintain their own identity and their own staff.
--- PAGE BREAK ---
Important alliances are also being formed between companies whose mutual focus is on similar areas such as nutrition. Through their agreement, both parties are finding positive ways to benefit. For example, in 2002, an alliance was formed between Fortitech, a leading global supplier of customized nutrient systems for the food, beverage, and pharmaceutical industries, and BASF AG, a leading chemical company.
As ingredient suppliers become more sophisticated, developing prototype applications that are market ready (and, as such, taking over many of the traditional responsibilities of the food manufacturer), strategic alliances—ranging from mergers and acquisitions to cooperative joint ventures—become more essential. With each new addition, another layer is added to the company's core—ideally, this practice is done in a very careful, controlled manner with the company's vision focusing on the future.
Not surprising, the process of communicating food science information can be influenced by strategic alliances, as well. Recently, I attended the 2004 Joint Meeting of the American Association of Cereal Chemists and the Tortilla Industry Association. Together, these two associations made for a strong combination: AACC is a leader in providing scientific and technical information to professionals in the grain-based food industry, and TIA represents the fastest-growing segment of the U.S. baking industry. And even closer to "home," recall the 2004 IFT Annual Meeting + Food Expo® where IFT and the Research Chefs Association cosponsored a New Product Development Pavilion. The successful event demonstrating the combination of of culinary arts and food science will continue to encourage other such programs as well.
This month's Ingredients section will discuss a number of strategic alliances and the products that resulted from these alliances. The alliances that will be looked at occurred over the year 2004. Consequently, some major alliances may not be highlighted simply because they occurred prior to that time. Also, it is the intent of this article to focus on the many ingredient developments—nd I suspect we're only at the tip of the iceberg—that have come out of these alliances. For that reason, I'm emphasizing the functionality and nutritional benefits of these ingredient developments rather than the costs, the specific terms of the transactions, and the history of the transactions and the parties involved.
As you will soon see by the following developments, the ingredients landscape is certainly changing in very exciting ways:
--- PAGE BREAK ---
Encapsulated fish oil introduced. An encapsulated fish oil product rich in long-chain omega-3 fatty acids eicosapentaenoic acid (EPA) and docosahexaenoic acid (DHA) is being introduced as the result of a manufacturing and supply agreement between National Starch, 10 Finderne Ave., Bridgewater, NJ 08807 (phone 800-787-4992; fax 609-409-5699; www.foodstarch.com) and Omega Protein Corp., 1717 St. James Pl., Ste. 550, Houston, TX 77056-3497 (phone 877-866-3423; fax 713-940-6122; www.omegapure.com).
According to the agreement, Omega Protein will be the exclusive provider for all of National Starch's requirements for the fish oil. National Starch will encapsulate Omega Protein's OmegaPure® product into a free-flowing dry powder called Novomega™, which will then be marketed to National Starch's word wide customer base.
In the agreement, Omega Protein has granted National Starch a license to use the OmegaPure trademark in connection with the packaging of its products. The agreement is for an initial term of two years and may be extended by the parties.
"We are excited about the opportunity to introduce OmegaPure to National Starch's global customer base," said Joe von Rosenberg, Omega Protein's President and Chief Executive Officer, "especially in light of the recent Food and Drug Administration announcement concerning the importance of EPA and DHA in fighting coronary heart disease. The FDA health claim should encourage the development and production of foods fortified with long-chain omega-3s."
Omega Protein manufactures an odorless, taste-free fish oil that has been highly refined and purified. It has been approved by the FDA as a (General Recognized as Safe) GRAS ingredient for direct inclusion in a number of food categories, expanding the availability of essential long-chain omega-3 fatty acids beyond fish and other seafood. Potential uses for the highly refined, purified ingredient include buttery spreads, liquid eggs, salad dressings, and other functional foods. The ingredient is derived from menhaden, a fish rich in omega-3 fatty acids that is not utilized as seafood and is available in the Gulf of Mexico.
National Starch is a leading producer of innovative starch-based ingredients for the global food industry. The company provides viscosifiers, texturizers, mouthfeel enhancers, emulsion stabilizers, resistant starches, and functional native starches that improve the quality, processing, stability, and nutritional value of foods and beverages to more than 1,000 food manufacturers.
Because the ingredient is available in powdered form, it should help broaden applications for the fish oil, provide functionality benefits such as ease of use and convenience, and provide the potential health benefits of the liquid version. It may also compete with a number of other ingredients derived from other sources that are high in the essential fatty acids.
--- PAGE BREAK ---
Enhanced soybean oils developed. A collaborative effort among all areas of the soybean industry, Qualisoy is an agricultural initiative focusing on improving the quality and competitiveness of U.S. soybean varieties. The initiative goals include developing very healthful soybeans and soy oil, reducing environmental impacts of livestock production with improved soybean meal, and improving the overall competitiveness of the U.S. soybean industry.
The initiative and its direction is guided by the work of farmers, researchers, and representatives from multinational seed and chemical companies, regional agricultural companies, processors, food companies, and food and feed industry associations. Advancements of the initiative were in the spotlight at the annual Soy Symposium, cosponsored by the United Soybean Board and the Soyfoods Association of North America. The focus of this year's event was "Creating a Healthier America—the Role of Soy."
Recently, several technological developments have occurred which not only support the overall initiative, but of relevance to this article, the increasing importance of strategic alliances and partnerships to advance the goals of that initiative. Here are some possible examples:
• A new low-linolenic soybean variety recently introduced by Monsanto Co., 800 N. Lindbergh Blvd., St. Louis, MO 63167 (phone 314-694-1000; www.monsanto.com) will be processed and marketed for food use by Cargill, Inc., 15407 McGinty Rd. W., Wayzata, MN 55391 (phone 952-742-2000; fax 952-742-2185; www.cargillfoods.com).
Monsanto's Vistive soybeans, developed through conventional breeding, reportedly contain less than 3% linoleic acid compared to the typical 8% found in traditional soybeans. The result is a more stable soybean oil, with less need for hydrogenation. Because soybeans with a lower linolenic acid level reduce the need for partial hydrogenation, their application in processed soybean oils will reduce the presence of trans fatty acids in processed soybean oil.
For the 2005 growing season, Cargill will be contracting with Iowa growers for up to 50,000 acres of Vistive soybean production. Cargill will pay a premium to producers who grow these soybeans under contract, then it will crush and sell the processed soybean oil to food companies. The soybeans will be processed at the company's facilities in Iowa Falls, Cedar Rapids, and Des Moines.
Monsanto's leading soybean breeders and research scientists have worked for more than a decade to develop the soybean variety which is said to maintain performance and yield parity with leading soybean varieties, as well as offer agronomic benefits. For 2005, the low-linolenic soybeans will be available under Monsanto's Asgrow® brand.
Beginning January 1, 2006, all food products and dietary supplements bearing a nutrition facts panel that are regulated by FDA and sold in the U.S. will be required to list trans fat content. "Given demand for alternatives to foods containing trans fats, our entire industry has been diligently pursuing development of new approaches," said Stan Ryan, President of Cargill's Dressings, Sauces, and Oils business unit. "Vistive soybeans represent another innovative approach to addressing the trans fat issue, and we are excited to part of that solution."
--- PAGE BREAK ---
According to Kerry Peet, Vice President of U.S. Crop Production for Monsanto, these soybeans support the strategic direction of Qualisoy, an industry coalition devoted to developing and commercializing enhanced compositional traits that add value to U.S. soybeans. Monsanto announced earlier this year that it is supporting the program with important gene sequence data and an $8.4–million grant earmarked for ongoing research and communication.
• A new soybean oil that enables foodservice providers and food processors to reduce or eliminate trans fatty acids in their products has been introduced through an alliance between Bunge Ltd., 50 Main St., 6th floor, White Plains, NY 10606 (phone 914-684-2800) and DuPont, 1007 Market St., Wilmington, DE 19898 (phone 800-441-7515 or 302-774-1000). Marketed under the name Nutrium Low Lin Soybean Oil, the product reportedly has a low linolenic acid profile of less than 3% and offers better natural stability and increased shelf life. When used for frying, the low-linolenic oil eliminates the need for partial hydrogenation.
The oil is derived from Pioneer® variety 93M20, developed by DuPont subsidiary Pioneer Hi-Bred International, Inc. Bunge will manage marketing and distribution of the oil, and it expects to produce approximately 20 million lbs from the 2005 crop and have full-scale commercial availability—nearly 1 billion lbs—by 2009. In 2003, foodservice providers and food processors used more than 5 billion lbs of frying oil.
"With the alliance, Bunge and DuPont can ensure a high-quality product, reliable supply, and efficient delivery from the plant breeder to the farmer to the food company," said Carl Hausmann, president and CEO of Bunge North America.
Soy-based beverages in aseptic packages developed. Two innovators in the food industry—an ingredient supplier providing nutrient fortification and a specialist in beverage processing and packaging— developed jointly several prototype beverage applications. These products—Solae™ soy-protein-containing beverages in aseptic packaging—were highlighted at the 2004 SupplySide West Show by The Solae Co., P.O. Box 88940, St. Louis, MO 63188-1940 (phone 314-982-1983; fax 314-982-1121; www.solae.com), in a strategic alliance with Tetra Pak, 101 Corporate Woods Pkwy., Vernon Hills, IL 60061 (phone 847-955-6000; fax 847-955-6500; www.tetrapakusa.com).
The Solae Co.—an alliance between DuPont and Bunge Ltd.—makes available Solae soy ingredients for use in a growing number of new and innovative products. Among the products shown included Radiance, a blend of fruit juice and vegetable flavor fortified with soy protein, antioxidants, and calcium to help women maintain their immune system and healthy skin and bones; Tempo, a blend of 10 essential vitamins and minerals, soy protein, whey protein, and fruit flavors, to provide adults with sustained energy; ChockaLotta, a chocolate beverage fortified with soy protein, calcium, and vitamins and minerals for children's nutrition; and Kidoozle, a creamy chocolate beverage fortified with soy protein, calcium, and vitamins for children to build strong bodies.
The beverages were offered in convenient single-serve Tetra Prisma® aseptic packages, reportedly the next generation in portable drink containers. The packages are compact, lightweight, and easy to hold. Tetra Pak's packages and processes keep beverages fresh, protecting nutrition and flavors without preservatives.
--- PAGE BREAK ---
Tetra Pak, a global leader in liquid food processing and packaging, recently received IFT's Food Technology Industrial Achievement Award for its Tetra Recart AB retortable carton packaging system. This system offers an alternative to most foods currently packaged in metal food cans, standup pouches or glass jars. These might include vegetables, soups, ready-meals, fruit, pasta meals, and salsa. Because of its six-layer cardboard laminate structure, the package in able to withstand the low-acid-food retort process, making the contents shelf-stable and offering food quality reportedly on par with retort cans or glass jars.
Such a packaging concept may prove to be financially rewarding for ingredient suppliers interested in promoting the functionality and health benefits of their ingredient, as in the case of Solae's soy proteins which are also taking advantage of the special branding label which would appear on the package. Food manufacturers, such as Hormel Foods Corp., are launching their chili brands—Hormel® Chili and Stagg® Chili—in the carton package.
New low-carbohydrate bread line introduced. A cooperative effort between French Meadow Bakery, Minneapolis, Minn., and Pharmachem Laboratories, 265 Harrison Ave., Kearny, N.J. 07032 (phone 201-246-1000; fax 201-246-8105; www.pharmachemlabs.com) has resulted in a new low-carbohydrate bread line. The line, which will be marketed under the Carb Watcher™ label, includes sourdough and multigrain dinner rolls, bread, and tortilla shells made with the nutritional ingredient, Phase 2 Starch Neutralizer.
An extract of the white bean, the ingredient has been shown to significantly reduce the absorption of starch calories in a pilot study. It has also been shown to reduce weight in two separate human weight control studies. The ingredient, which has been used in several popular weight loss supplements, is available from Pharmachem.
"Other bakeries have tried to reduce carbohydrates by producing breads that contain more gluten than any other ingredient. This process has resulted in a less than desirable taste and often rubbery texture," noted the president of French Meadow Bakery. "Our new Carb Watcher line demonstrates that it is possible to make a reduced-carb bread that is not only healthy, but also tastes great."
The ingredient is simply added to a yeast-free, organic formula.
Gum system designed to provide suspension of cocoa and minerals. On September 30, 2004, J.M. Huber Corp., 333 Thornall St., Edison, NJ 08837-2220 (phone 732-549-8600; www.huber.com) acquired a leading global producer of specialty hydrocolloids CP Kelco, 1313 N. Market St., Wilmington, DE 19894-0001 (phone 866-821-1325; fax 302-594-6260; www.cpkelco.com). CP Kelco was formed in September 2000 through the union of the Copenhagen Pectin/Food Gums Div. of Hercules Inc. and the Kelco Biopolymers business of Monsanto Co.
--- PAGE BREAK ---
The global producer of hydrocolloids is now part of Huber's Engineered Materials sector, which includes Noviant, a leading producer of carboxymethyl cellulose that was acquired in 2001. According to Robert B. Toth, CP Kelco's president and CEO, "Huber is very much aligned with our strategic direction and committed to growing our business. As part of this dynamic organization, we will be even better positioned to serve our customers with an increased number of functional products, greater global reach, and enhanced technical capabilities."
CP Kelco, part of the J.M. Huber Corp., offers an extensive product line which includes carrageenan, pectin, locust bean gum, gellan gum, xanthan gum, microparticulated whey protein concentrate, and other novel biopolymers. Most recent, the company introduced KelcoGel® HM-B gellan gum, a hydrocolloid system that has been specially designed to provide suspension of cocoa and minerals in ready-to-drink neutral-pH dairy-based beverages.
Without proper stabilization, a cocoa powder dust can form on the bottom of the container. These stability issues can occur in neutral pH dairy beverages such as flavored milks, ready-to-drink coffee or tea beverages, and nutritional beverages. In addition to cocoa, suspension of insoluble minerals and fibers in milk-based dietary and fortified beverages can also be a challenge. The new gellan-gumbased system is suitable for suspension in these applications. It can be used at low levels, providing minimal mouthfeel and having no adverse impacts on flavor. It also disperses well without lumping, hydrates easily, and is heat stable, making it compatible with dairy UHT and HTST equipment.
New access to short-chain fructooligosaccarides. Corn Products International, Inc., 5 Westbrook Corporate Center, Westchester, IL 60154 (phone 800-443-2746; fax 708-551-2700; www.cornproductsUS.com) has acquired a 75% majority ownership stake in GTC Nutrition LLC, 600 Corporate Circle, Ste. H., Golden, CO 80401 (phone 800-522-4682; fax 303-216-2477; www.gtcnutrition.com).
GTC supplies a variety of short-chain fructooligosaccharides (scFOS) and other ingredients for the food and animal nutrition industries. As part of the agreement, Corn Products International and Japan-based Meiji Seika Kaisha, Ltd. have entered into a technical licensing agreement, which gives Corn Products access to the technology to produce scFOS. A new manufacturing channel will be installed at one of the company's Canadian facilities to produce scFOS. The channel is currently scheduled to begin operation by the end of 2005.
Patrick Smith, chief executive officer of GTC Nutrition, notes the advantages that will result from the new business development. "Our new alliance not only ensures GTC access to scFOS from a North American facility, but will also position GTC for substantial growth, allowing us to better serve our growing customer base." 
The agreement will reportedly combine GTC's marketing focus on health-promoting ingredients with the production expertise and global resources of Corn Products International. GTC will continue to market its current line of specialty ingredients to customers in North America, South America, and Australia/New Zealand. These ingredients include NutraFlora and FortiFeed short-chain FOS, Natureal oat bran concentrate, CalciLife prebiotic mineral formulation, and xylitol.
--- PAGE BREAK ---
Soy protein featured in line of meat-less foods. A branding partnership has been formed between Archer Daniels Midland Co., 4666 Faries Pkwy., Decatur, IL 62526 (phone 217-424-5200; fax 217-451-2233; www.admworld.com) and Boca Foods Co., Madison, Wis. ADM's soy protein marketed under the name NutriSoy® is now featured in Boca's entire line of meatless foods for mainstream retail outlets. This brand has become the newest addition to the growing list of products containing the soy ingredient.
The NutriSoy label easily and quickly identifies for consumers that the product is made with nutritious soy protein. In October 1999, FDA approved the use of a health claim on food labels to communicate that consuming 25 g of soy protein per day as part of a diet low in saturated fat and cholesterol may reduce the risk of coronary heart disease.
"Together, in partnership with NutriSoy, we can further raise awareness about the benefits of soy, as well as call out to consumers that Boca products are made with high-quality soy proteins such as NutriSoy," said Kevin Scott, General Manager of Boca Foods.
Producing resistant starches from high-amylose corn. A business alliance for the production and marketing of a new resistant starch derived from high-amylose corn has been formed between MGP Ingredients, Inc. (MGPI), P.O. Box 130, Atchison, KS 66002-0130 (phone 913-367-1480 or 800-255-0302; fax 913-367-0192; www.mgpingredients.com) and Cargill Inc., P.O. Box 5625, Minneapolis, MN 55440 (phone 952-742-6000; fax 952-742-7393; www.cargill.com).
Under the business alliance, which has an initial term of five years, Cargill will manufacture the starch called Fibersym™ HA, according to a patent licensed exclusively to MGPI. The new resistant starch will be marketed in the coming months by both companies under MGPI's Fibersym brand name.
The ingredient may be used in a wide variety of products that are higher in fiber and lower in net carbohydrates. According to R. Creager Simpson, president of Cargill Food & Pharma Specialties, "the ingredient when combined with Cargill's other functional ingredients creates more options for food companies to enhance their lower net carb product development. This new resistant starch broadens Cargill's existing lines of health-promoting ingredients such as ActiStar™ (a resistant maltodextrin), Oliggo-Fiber® inulin, and our broad lines of polyols and soy protein products."
Formerly known as the FiberStar™ brand, MGPI's line of resistant starches was recently renamed Fibersym™ to more effectively convey the line's functional similarities to fiber rather than typical starches. These resistant starches are said to deliver more than 70% dietary fiber, while possessing low-water-holding capacity, a neutral flavor, a smooth texture, and a white color. Applications cover a wide range, including breads, tortillas, pizza crust, cookies, muffins, waffles, breakfast cereals, snack products, and nutrition bars.
The new starch ingredient joins MGPI's other resistant starches, which include a wheat-based resistant starch, Fibersym™ 70, and a potato-based variety, Fibersym™ 80 ST. Recently, MGPI and Penford Corp., 7094 S. Revere Pkwy., Englewood, CO 80112 (phone 303-649-1900; fax 303-649-1700; www.penfordfoods.com), formed a marketing and production agreement regarding the potato-based resistant starch. Under the agreement, MGPI will market the ingredient which will be produced by Penford using patented processes exclusively licensed to MGPI.
By the end of 2004, Cargill plans to begin producing and marketing tapioca-based resistant starches for use in food products. This product line expansion is possible through an exclusive sublicense based on the patent licensed exclusively to MGPI. The business alliance also gives Cargill the opportunity to participate with MGPI in future product innovations from corn and other plant sources.
--- PAGE BREAK ---
Opportunities for flavors in lowtrans-fat applications. At the 2004 SupplySide West Show, several prototype low-carbohydrate, high-protein nutrition bars formulated with lipid-based inclusions and bits called SensoryEffects™ were highlighted by Loders Croklaan, 24708 W. Durkee Rd., Channahon, 60410 (phone 800-621-4710; fax 815-730-5202; www.SensoryEffects.com). These delivery systems can impart combinations of flavor, aroma, color, and texture to baked goods; achieve flavor and visual impact where fruit pulp or peel cannot deliver desired effect; and boost the impact of natural flavor/aroma post bake. Made with no trans or hydrogenated fats, they are available in standardized versions or can be customized to provide sensory experiences ranging from sweet or spicy to subtle or bold.
The nutrition bar prototypes demonstrated at the show reflect the success that strategic alliances can have in creating innovative ingredients.
In 2003, Loders Croklaan, a producer of fats and oils, was purchased from Unilever by the IOI Group, a Malaysian supplier of palm oil products. That acquisition created an opportunity to supply the food industry with a number of innovative ingredients based on palm oil that are free of trans fatty acids and offer functionality benefits.
More recent, Loders Croklaan is working strategically with a flavor supplier Robertet Flavors, 10 Colonial Dr., Piscataway, NJ 08854 (phone 732-981-8300; fax 732-981-1717) to develop flavor solutions that work well with the company's lipid-based ingredients. For example, the prototype nutrition bars were available in a variety of flavor profiles including Banana Nut Bread (ripe, nutty, cinnamon spice notes), Blueberry (sweet, fruity, juicy), Caramel (rich, dark, sweet), Chocolate (creamy, milky, roasted cocoa notes), Cinnamon (pungent, sweet), Lemon (juicy, tart, slightly sweet), Oatmeal Raisin (brown, raisin with cinnamon notes), and Peanut Butter (roasted nut, buttery).
These prototypes reflect the growing opportunities that flavors have in the development of low-trans ingredients and applications. Because of these opportunities, it is likely we may be seeing more such strategic alliances with flavor suppliers in these areas.
Green-tea-ingredient developments brewing. Two leading companies in green tea innovation and processing technology have aligned, reportedly forming the world's largest green tea extract manufacturer. The new corporate entity, China-based Taiyo Green Power Co., Ltd., results from the acquisition of Wuxi Green Power Bio-Product Ltd. in Jiangsu Province, China by Japan-based Taiyo Kagaku.
The merger creates a green tea extract manufacturer with an annual capacity of 2,500 metric tons of product for the food, dietary supplement, and pharmaceutical industries. The company has selected New York-based Marco Hi-Tech as its exclusive sales and distribution agent to the dietary supplement market in the U.S.
The new entity will maintain the exclusive Chinese license to Procter & Gamble's patented solvent-free green tea processing technology. Harnessing of this technology results in green tea extracts with superior sensory characteristics while maintaining a high concentration of polyphenol antioxidants. The license was originally granted to Wuxi Green Power and transfers over to the new company.
A pioneer in the manufacture, research, development, and application of green tea extracts, Taiyo offers a full range of high-quality, health-promoting green tea ingredients, including catechins, polyphenols, and L-theanine for use in foods, beverages, and dietary supplements.
For more information about this alliance and ingredients available, write to Taiyo International, the North American sales office for Taiyo Kagaku, 5960 Golden Hills Dr., Minneapolis, MN 55416 (phone 763-398-3003; fax 763-398-3007; www.taiyokagaku.com).
--- PAGE BREAK ---
New corporate name suggests innovation in phosphates. Innophos, Inc., P.O. Box 8000, Cranbury, NJ 08512-8000 (phone 609-495-2495; fax 609-860-0138; www.innophos.com) is the new corporate name for the North American specialty phosphate business of Rhodia. The business was acquired from Rhodia by Bain Capital, a global private investment firm, in August 2004.
The company has launched its operations as an independent business, with its new name signifying the innovation in phosphates that has been the cornerstone of the company's success. It will be operated by the same management team that oversaw the business under Rhodia's ownership.
"As an independent company, we look forward to building on our reputation as a market leader in the phosphates business, with particular strengths in research and development," said Randy Gress, Chief Executive Officer. A leading North American manufacturer of specialty phosphates, the company serves a diverse range of customers across multiple applications, geographies, and channels. Its ingredients may be used in a wide variety of food and beverage, consumer product, pharmaceutical, and industrial applications.
Further strengthening business platform, Danisco A/S, Copenhagen, Denmark, has completed its acquisition of Rhodia Food Ingredients, excluding the company's food phosphates business (discussed above). These food ingredients, which include cultures, texturants, and food protection solutions, are offered to food processing companies operating in such countries as Europe, North America, Latin America, and Asia.
The primary focus areas of the business are dairy, dessert, beverage, health products, meat and savory products, and baked goods. The products are integrated into Danisco's global product offering.
Rhodia's product portfolio is said to complement Danisco's existing core business. The takeover of Rhodia's activities is in line with Danisco's strategic goal to further strengthen the business platform through acquisitions and organic growth. According to a company representative, the addition of Rhodia's food ingredients will help expand Danisco's product platform in the specialty product and texturant product categories, as well as create a new product division, Danisco Cultures. Additionally, Danisco will take over production in several countries.
Strategic alliances of different colors. Over the past year, major color suppliers have been forming strategic alliances, many of them global. Here are some examples:
• Sethness Products Co., 3422 W. Touhy Ave.,Chicago, IL 60645-2717 (phone 847-329-2080; fax 847-329-2090; www.sethness.com) and France-based Roquette Freres have formed a joint venture to engage in the manufacture and marketing of caramel color. The venture, Sethness-Roquette, began engineering of its new site in 2003 and will be operational by the end of 2004. The new state-of-the-art facility is located adjacent to Roquette's largest carbohydrate plant in Lestrem, France. The complementary strengths of the two family-owned companies are said to offer special advantages to customers worldwide, including bringing 200 years of production experience and commitment. The joint venture will produce a full line of caramel color, both liquid and powder, as well as customized products.
• D.D. Williamson & Co., Inc., 1901 Payne St., Louisville, KY 40206 (phone 502-895-2438; fax 502-895-7381; www.caramel.com) has reached an agreement with Swedish food distributor Norfoods to build growth in the caramel color market of Nordic countries. The distribution agreement reportedly stretches the reach of the U.S. caramel color supplier into the Nordic network through AB R. Lundberg in Sweden, Norfoods in Denmark and Finland, and Norfoods Handel in Norway. The strategic move follows D.D. Williamson's acquisition of Cargill's Cerestar caramel color operations in Manchester, United Kingdom.
--- PAGE BREAK ---
• RFI Ingredients, 300 Corporate Dr. #14, Blauvelt, NY 10913 (phone 845-358-8600; fax 845-358-9003; www.rfiingredients.com), a manufacturer of natural products for the food, functional food, and dietary supplement industries, and England-based Overseal Foods Ltd., a global natural colors manufacturer, have signed an exclusive partnership agreement. Under this agreement, RFI will represent Overseal's complete product line in North America in the food, functional food, and dietary supplement markets.
Overseal has an extensive product line, including natural beta carotene, carmine, curcumin, paprika, and turmeric, as well as an anthocyanin-based range, red beet, caramelized sugar, and lutein. The agreement covers the supply of individual natural colors as well as custom formulations, one of Overseal's core strengths.
The Overseal line reportedly complements RFI's current emphasis on natural products in the food, functional food, and dietary supplement industries. Additionally, the custom formulation area is of particular interest to RFI, which has strong formulation capabilities in the functional food area with its existing nutraceutical-based product line.
Strategic alliance results in encapsulated flavors. A strategic alliance to manufacture and market microencapsulated flavors throughout North America was formed between global flavor and stabilizer manufacturer David Michael & Co. Inc., 10801 Decatur Rd., Philadelphia, PA 19154-3298 (phone 215-632-3100; fax 215-632-2920; www.dmflavors.com) and Balchem Encapsulates, a business segment of Balchem Corp., 52 Sunrise Pk. Rd., New Hampton, NY 10958 (phone 877-222-8811; fax 845-326-5717; www.balchem.com).
Balchem, a leader and pioneer in the field of microencapsulation technology, will microencapsulate a broad range of flavors for David Michael. Marketed under the trademark "MichaelCap microencapsulated with Balchem™," these flavors have application in a number of foods and beverages, such as baked goods, dairy products, tea or coffee beverages, confections, meats, and nutraceuticals.
The technology used reportedly offers a number of benefits vs traditional spray drying. The flavor load is increased by as much as 100%, while the proprietary coating process provides for a longer shelf life, typically 18–24 months, and improved stability under heat, high moisture, and oxidation. The encapsulated flavors are being offered with multiple coating materials for controlled release and application-tailored flavor delivery systems. The technology also offers a benefit of coencapsulation of multiple ingredients, both flavoring and nonflavoring.
Skip Rosskam, president and CEO of David Michael, said, "This alliance provides our clients with access to today's state-of-the-art microencapsulation technology. Equally as valuable will be future access to the next generation of microencapsulation that Balchem will develop and deliver through our alliance."
--- PAGE BREAK ---
Immune-enhancing ingredient available in flavor systems. NutraGenesis LLC, 76 Highland St., Brattleboro, VT 05301 (phone 802-257-5345; fax 802-251-6981; www.nutragenesisnutrition.com) and Flavor & Fragrance Specialties, 3 Industrial Ave., Mahwah, NJ 07430 (phone 201-828-9400; fax 201-828-9449; www.4ffs.com) formed a strategic alliance regarding the marketing, product development, sales, and distribution of OptiNutrin™, a food ingredient which is said to support natural immune defenses to help maintain good health. Effective in low doses, the immune-enhancing ingredient may be used in a variety of foods and beverages.
Through the alliance, the ingredient will be available in a wide variety of custom-formulated flavor systems for use in the following food and beverage categories where GRAS affirmation has been granted: baked products, non-alcoholic beverages, hard candy and cough drops, process fruit juices and beverages, and meal replacement products.
The ingredient, coupled with FFS's flavor and product development expertise, is expected to allow customers an opportunity to formulate functional foods and beverages that are tasty and provide a strengthened and enhanced immune system. According to Suzanne McNeary, president of NutraGenesis, "Our strategic relationship with a company of FFS's experience and reputation affords us the opportunity to develop a variety of OptiNutrin™ flavor systems for a wide assortment of GRAS-affirmed functional food and beverage products with immune health claims."
Acquiring rosemary extracts business. Naturex, Inc., 300 Wavery Ave., Mamaroneck, NY 10543 (phone 914-381-5995; fax 914-381-5985; www.naturex.com) has acquired the rosemary extracts business of Colorado-based Hauser and New York-based RFI. The company specializes in the manufacture of natural extracts used for coloring, flavoring, preservation, and nutraceutical properties.
With the acquisition, Naturex has strengthened its position in the rosemary extracts market. Under the agreement, it obtained Hauser's manufacturing and application patents on the protection of citrus flavors and co-pigmentation of anthocyanin pigments), technology, and trademarked products such as StabilEnhance™ and ColorEnhance™; as well as RFI's rosemary business (customer base and products inventory).
Kerry's 2004 strategic acquisitions. In 2004, Ireland-based Kerry Group plc completed a number of strategic acquisitions covering such businesses as ingredients, foodservice, and flavors. When these acquisitions are taken together, the Kerry Group significantly extended its food ingredients platform to include bioingredient and pharma-ingredient applications; broadened its flavor development technical and regional base, and expanded its interests in the U.S. branded beverage foodservice and natural foods sectors.
Here is a quick rundown of these developments:
--- PAGE BREAK ---
• The food ingredients business of Quest International was acquired by Ireland-based Kerry Group plc to form a new unit, Kerry Bio-Science Div., 5115 Sedge Blvd., Hoffman Estates, IL 60192 (phone 800-263-8799; www.kerryamericas.com). This division will provide six product groups, including emulsifiers, proteins, hydrocolloids, yeast-based ingredients, enzymes, and fermented ingredients. It will service such worldwide markets as pharmaceutical, culinary, snack, bakery, dairy, and confectionery. This acquisition, in particular, was said not only to complement existing ingredient businesses but establish a number of important new growth platforms which this division will manage.
• Also part of the acquired ingredients businesses was Arla Foods' Cremo Ingredients, based in Denmark. This business is a leading supplier of dairy ingredients and flavorings, serving the savory, convenience, and snack food sectors throughout Europe and Asia.
• In the foodservice area, acquisitions included Oregon Chai, a leading branded supplier of natural Chai Tea Latte mixes, concentrates, and ready-to-drink products, serving beverage chains, groceries, clubs, and natural food stores in the U.S. and Canada; and Extreme Foods, a producer and marketer of ready-to-use ice-blended fruit smoothies and coffee frappes, marketed under the JetTea and JetCafe brand names, serving the flavored beverages sector of the U.S. foodservice industry.
• Mastertaste Inc., a Kerry Group company, acquired four flavor companies, including J. Manheimer, Inc., Teterboro, N.J., a leading formulator and supplier of natural flavors for the beverage, confectionery, meat, and soup industries; Flavurence, Los Angeles, Calif., a major West Coast manufacturer with expertise in natural fruit flavors, particularly tropical and exotic; Mexico-based Laboratorios Krauss, a flavor manufacturer with an expertise in sweet flavors and a strong presence in the bakery sector that may play an important role in Mastertaste's expansion efforts in Mexico, Latin American, and the Caribbean; and Italy-based Fructamine, a leading producer of authentic Italian-style flavors for the European savory, bakery, and soft drink markets.
Expertise in adding phytosterols to food formulations. Archer Daniels Midland, 4666 Faries Pkwy., Decatur, IL 62526 (phone 217-424-5200; fax 217-451-2233; www.admworld.com) has entered into a strategic alliance with a pioneer of plant sterol technology, Korea-based Eugene Science, Inc. This alliance gives ADM marketing rights in North America and Europe for Eugene Science's phytosterol technology marketed under the name Euchol™. Ingredients produced by the technology will be marketed by ADM as part of the CardioAid™ family of phytosterol ingredients.
--- PAGE BREAK ---
Eugene Science developed a line of phytosterol powdered and liquid ingredients that are suitable for beverages and a variety of food products including milk, soymilk, juices, functional beverages, and yogurts. Both the powder and liquid ingredient forms deliver flexibility in formulating phytosterols into readily dispersible product applications. In 2001, Eugene Science launched in Korea the first cholesterol-lowering consumer drink, CholZero™, formulated with its EuChol™ water-dispersible plant sterol product. Since then, additional products enriched with the cholesterol-lowering ingredient have been marketed in Korea and Japan. Also, a major launch of a new beverage containing this ingredient is expected in Asia in the near future.
ADM phytosterol and phytosterol ester products have been sold for several years in leading retail food products. A representative of ADM noted that this agreement will broaden the company's portfolio of phytosterol products, and is further evidence of its commitment to providing special formulation technologies for healthy, functional food and beverage ingredients.
In 2000, FDA issued an interim final rule authorizing a health claim for plant sterol esters. Recently, the agency has indicated that the claim may be applied to free sterols. Foods containing at least 0.65 g per serving of plant sterol esters (0.4 g free sterol equivalent), eaten twice a day with meals for a daily intake of at least 1.3 g (0.8 g free sterol equivalent), as part of a diet low in saturated fat and cholesterol may reduce the risk of heart disease.
Enzyme for cake production developed. At the 2004 International Baking Expo, an enzyme was launched that reportedly is the first product of the partnership between Denmark-based Danisco Specialties and the U.S.-based biotech company Genencor. Called Grindamyl™ PowerSoft, the enzyme has been developed for cake production, reportedly doubling the shelf life of cakes so that they maintain their soft mouthfeel without becoming dry or sticky.
According to Jan Sindesen, president of Danisco Specialties, the enzyme allows Danisco to target a new market that has not previously used enzymes to the extent possible. In the months ahead, the company will focus on marketing the enzyme, and customers will work on implementing the solution in their bakeries. The U.S. is the first country to approve the enzyme.
Since 2000, the two companies have had a cooperation agreement on the development of new enzymes for food. This alliance gives Danisco access to patented technology and allows Genencor to benefit from the other company's extensive knowledge of foods.
--- PAGE BREAK ---
Most of the strategic relationships discussed in this article have at least one characteristic in common: as alliances, they benefit both parties. We can especially see these benefits during a trade show when both "partners," in promoting their new development, are also promoting themselves and each other. We can also see this symbiotic relationship in the logos that are being developed, or in the labels that are being created. Again, I didn't see that kind of relationship, especially so actively promoted, a decade ago.
And what about the future? Will these kinds of relationships continue?
Interestingly, many of the alliances discussed in this article seem to be leading to other alliances which in turn are leading to others, almost like a ripple effect. For example, we may see two companies forming a joint venture and the subsequent company that is formed taking the expertise of its two parents and forming a strategic alliance or alliances with other companies representing different areas of expertise. Although the subsequent developments may be unrelated, the fact that these strategic relationships can be linked (like relationships in a family tree) may have a positive impact on overall product development. A sharing of information, better networking, a quicker grasp of trends, stronger understanding of present goals as well as the anticipation of future directions may all be occurring because of the linkages formed by strategic alliances.
In the September issue of Food Technology, I noted that food professionals need to better explore first-, second-, and third-order implications of such ingredient developments as low-trans fats, low-carb, nutraceuticals, and a range of ingredient solutions for addressing the complex issue of obesity and other related health problems. Strategic alliances by themselves and in relation to other strategic alliances may help to better facilitate that difficult task.
Because of these strategic relationships, it is possible that the ingredients landscape—how ingredients are developed, the technologies used, the advantages that these ingredients offer, and the applications that are developed—is gradually changing or morphing into something else. Ideally, that "something else" —whether it's a different medium or approach, a global setting, or just the beginning of new or novel relationships between partners who a decade ago might not even have been speaking to each other—will have a profound impact on product development and the future children it sires.
Next month's Ingredients section will highlight ingredient developments for enhancing the functionality and nutritional value of breads, tortillas, and other bakery products.
by DONALD E. PSZCZOLA
Senior Associate Editor
[email protected]