Some of the most lucrative and sustainable mass-market food trends debuted in gourmet and specialty markets. For example, energy beverages, nutrition bars, and sports drinks originated in the sports performance segment. Refrigerated salad dressings and pre-cut and bagged salads first appeared in natural food markets. Bottled water came from health and natural food stores; imported, artisan, and high-end natural cheeses from gourmet delicatessens; and fortified yogurt smoothies from health food stores and natural juice bars. While not all specialty market success stories will translate to the mass market, the potential is greater than ever.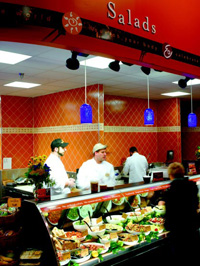 Energy beverages were the fastest-growing supermarket category in 2003, nutrition bars were 4th (up 17% last year), and sports drinks were 7th (up 19%). Refrigerated salad dressings were 2nd (up 26%), and pre-cut and bagged salads topped $2 billion in supermarkets alone. Bottled water was up 17% in grocery stores; imported, artisan, and high-end natural cheeses were up 7%; and fortified yogurt smoothies were up 68% (IRI, 2004, 2003).
Many foods consumers want—such as fresh prepared convenience foods, higher-quality, additive-/pesticide-free foods, and environmentally, agriculturally, and animal-friendly products—are also beginning to cross over from premium markets to the mass market. In 2003, for example, better quality products emerged as an important reason why one-third of supermarket shoppers regularly shopped for foods at other locations, right behind convenience and price. In 2004, 26% of grocery shoppers said they shopped other channels for higher-quality products, up from 18% in 2003. Variety was another important reason (FMI, 2004).
Just over four out of ten adults say they will choose products and services that are environmentally friendly and that they will make purchase decisions with an understanding of the effect they will have on the health and sustainability of the world, its environment, and people. According to NMI (2004a, b), 39% of adults say it is important for their store to have food from farms with a commitment to sustainable agriculture; 46% completely agree that they care about socially responsible business; and 38% will usually purchase products from companies whose values are most like their own.
Moreover, as Americans continue to widen their culinary sphere, accelerate their interest in health, and position convenient high-quality natural foods as one of the "little luxuries of life," the opportunity for crossover products will continue to grow. Continued spending at restaurants and growth in the high-end, full-service "white-tablecloth" segment will also fuel the demand for premium foods. The National Restaurant Association forecasts that restaurant-industry sales will continue to rise throughout 2004, reaching a record $440 billion and marking the 13th consecutive real sales growth for the industry—full-service restaurant sales are expected to reach $157 billion in 2004, for a growth rate of 4.6%, while quick-service restaurants (QSRs) are projected to grow 3.9% (NRA, 2004a).
--- PAGE BREAK ---
Traditionally, the demographics of the prime gourmet/specialty store shopper coincided with those of the Baby Boom generation—in their peak earning and spending years—with consumers age 45 and over having the highest propensity to purchase specialty foods. However, perhaps most important, is the role that America's young adults—more culinary and health-aware than any other generation in history—are likely to play in ensuring the long-term opportunity for specialty foods.
Nearly one-third of young adults age 15–24 eat their evening meal at a restaurant three or more times per week—almost double the frequency of any other population segment (FMI, 2004). Ethnic foods are used more frequently by this age group, with more than 7 out of 10 young adults buying ethnic foods in a supermarket at least once per month. Use decreases with age to 4 in 10 shoppers over age 65. In a Wharf Research study (Wharf, 2003), 87% of those age 15–21 years were familiar with quesadillas, compared to 73% of those age 55–74; 86% with sushi vs 72% of the older groups. Six out of 10 young adults were aware of spring rolls, 48% pot-stickers, 45% pesto, and 16% samosas.
According to Packaged Facts (2004a), those age 18–24 are the most likely to say they like to eat gourmet whenever they can, closely followed by those 25–34. These two age groups also index the highest among those consumers who like to try new foods. But in terms of younger folks and food, fresh, simple, and sophisticated it will be! This group does not "prefer" foods prepared as an "art form"—common at so many high-end restaurants—and indexes among the lowest for those with a preference for spicier foods, quite contrary to popular belief. Those age 15–24 are also more likely than the general population to shop at ethnic specialty stores (24% vs 10%, respectively) and natural/organic stores (11% vs 10%, respectively)—posing a serious question for the industry as to the direction shoppers will take in the future (FMI, 2004).
Surprisingly, conventional supermarket gourmet aisles lead the market for gourmet foods and beverages, ringing up almost 45% of total retail dollar sales, followed by gourmet/specialty stores (34%) and warehouse clubs (5%), according to a Packaged Facts (2004a) report. The report projects that retail sales of all gourmet foods/beverages will reach $35.3 billion in 2004 and $43.5 billion by 2007. Gourmet beverages and confectionery, the largest segment, accounts for 49% of retail sales, followed by foods and ready-to-eat meals (33.4%) and condiments/cheese (18%).
At the same time, natural product sales in all channels reached $42.8 billion in 2003, an 8.1% increase over 2002 (Spencer and Rea, 2004). Natural product retailers saw their sales rise to $20.5 billion, a 9.9% increase over 2002. Mass-market sales rose 7.8%—higher than last year but still less than their natural counterparts. Organic food sales reached $10.3 billion in 2003 (up 20%), with 44% of sales occurring in the mass market.
The remainder of this article will explore trends likely to cross over from the gourmet/specialty, natural/organic, gourmet deli, and high-end restaurant markets.
--- PAGE BREAK ---
Specialty Foods
Condiments, with sales of $1.82 billion last year (up 7%), have long dominated the $22.9-billion specialty foods market and are more than double the sales of its closest followers: tea, cheese, coffee, snacks, cookies/bars and cooking oils (Mintel, 2004). As customers search for new and trendy items, new product introductions have kept pace, rising to 3,250 in 2003. New "meal" products jumped 538%, dairy products 101%, snacks 93%, soups 35%, and pet food 22%. In the past two years, sales of specialty milk, cream, and half-and-half climbed 48% as more small dairies came to market. Free-range, exotic, and high-nutrient-content eggs rose 43%, frozen fruits/vegetables 40%, puddings 34%, cold/hot cereals 31%, conserves/jams/nut butters 28%, juices/functional beverages 29%, cheese 25%, and nuts, seeds, dried/fruits and trail mixes 25%.
Pesto, laced with some of America's favorite ingredients—basil, garlic, and Parmesan cheese—and its new-found generation of roasted red pepper and sun-dried tomato sauces, will find a new role in sandwiches, salads, and sauces. Flavor-laden spreads such as Peace Works' Meditalia's Mediterranean Spreads including Green Olive and Tuscan Eggplant Spread—will also be in high demand.
Flavored vinaigrettes are moving from salads to sauces, showing up on sandwiches and grilled foods and as garnishes at the center of the plate. Gourmet mustards and horseradish, now commonly mixed into mayonnaise or yogurt, are key ingredients in crusts on fish and meats. Aioli, the garlic–mayonnaise Mediterranean basic now paired with ethnic flavors and ingredients, will find a plethora of new uses from sandwiches to dipping sauces. Wildwood Harvest Foods' Wildwood Organic Aioli Spread Mayonnaise Alternative is egg- and dairy-free and comes in garlic, lemon-dill, and creamy chipotle flavors.
From olive oil flavored with truffle and lemon to toasted and organic sesame oils, flavored oils are bringing unusual mild flavors to foods, whether used as a bread-dipping first course or for adding a sizzling finish to hot, cooked foods. While extra-virgin olive oils are being smoked, pressed with Meyer lemons, or mixed with vanilla flavors, other oils like Soofer Co.'s Sadaf Pure Grapeseed Oil—high in antioxidants—are finding mainstream appeal. Oils from avocado, nuts such as almond and peanut, rice bran, and tea are being touted for their health properties. Pistachio oil offers an intense nut flavor and a distinct emerald green color for topping salads or ice cream. Macadamia nut oil and rice bran oil—commonly used in Japanese cooking—can withstand high heat. Pumpkin seed oil is best used as a dressing. Golden West Specialty Co.'s Tophe Rice Bran Oil is made in the U.S. from rice grown by American farmers.
Hot on the heels of the healthy oil trend is the move to healthier and gourmet butters as flavored alternatives to peanut butter or traditional spreads. Nut butters, which soared 26% in the natural channel last year—such as NSpired Natural Foods' Almond, Cashew, and Macadamia Nut Butters with no trans fats, hydrogenated oils, sugar, artificial flavors, colors or preservatives—will have strong mass market appeal. Peanut Better, Inc.'s Peanut Better comes in Deep Chocolate and Vanilla Cranberry sweet flavors and Thai Ginger & Red Pepper and Hickory Smoked savory flavors. European butters—such as Keller's Creamery's Plugra European Style Butter, which is richer and creamier than American butters—are also developing a strong following.
--- PAGE BREAK ---
Chutney—any spicy, relish-like condiment that contains fruit or sometimes a vegetable, vinegar, sugar, and spices—is likely to rival salsa, not just as a dip, a topping for meat or fish, or an accompaniment to cheese but also as a sweet-and-sour flavor enhancer for many foods. Savory jams and marmalades, now laced with everything from roasted garlic to jalapeños, are not only becoming the next generation of "toast toppers" for those shunning anything sweet, but are also frequently mixed into dressings, vinaigrettes, marinades, glazes, and cream sauces as a common recipe element.
And when it comes to salsa, take a taste of Riba Foods, Arriba!'s California-style Berry Mango Salsa and Mandarin Avocado Fire Roasted Salsa. And guacamole lovers will surely go for Cedar Run Farms' all-natural, low-carb Chunky Asparagus Salsa or Zesty Asparagus Guacamole!
As tea drinkers upgrade to finer, more-indulgent teas and the media tout tea's antioxidant and potential weight-loss properties, a new generation of health-directed tea aficionados is emerging. Tea sales in 2003 jumped 12.2% in specialty stores, reaching $838 million (Mintel, 2004) and 20.9% in natural food stores (SPINS, 2004). More-exotic teas, such as Yogi Tea's African Redbush Peach, Egyptian Licorice Mint, and Andes Yerba Mate, are capturing more-adventuresome drinkers. White teas, which are made from the tender young buds that have not fully developed, are among the most popular new entries. Organic and "after-dinner" dessert-flavored teas such as Hain Celestial Group's Celestial Seasonings' English Toffee and Vanilla Hazelnut teas are fast gaining in popularity, as are its fruit teas.
Tazo Tea's Juiced Iced Teas in Plum Delicious and Wild Orange flavors have created a new niche in the iced tea market, along with Tazo's Organic Iced Green Tea and Lemon Ginger Iced Tea. Traditional Indian Chai—a savory mixture of tea, milk, sugar, ginger, cardamom, and other spices—continues to gain in popularity in hot and cold forms. Rooibos gives Yogi Teas' Redbush Chai an unusual distinction, in comparison to its traditional Black Chai and Green Chai. Yogi also offers creamy Tea Latte concentrates in Classic India Spice and Vanilla Hazelnut. Oregon Chai's ready-to-drink Chai Tea Lattés and iced tea concentrates in Expresso, Honey, Almond, and Organic varieties are another cutting-edge trend.
Healing and herbal formulas such as Yogi Tea's Women's, Bedtime, Calming, and Stomach Ease teas continue to provide natural remedies for a variety of ailments. Estate teas—which identify the estate or farm on which they are grown—are also commanding unprecedented attention.
Tea for kids is another hot item. Khoisan Tea from South Africa is targeting children with its latest flavored rooibos teas, which include Bubbly Gum and Vanilla Gorilla. And Whitward of Chelsea, a popular UK tea and coffee retailer, has launched a new chain of teashops in the U.S.
--- PAGE BREAK ---
Celestial Seasonings—the Number 1 brand in the tea category—has added a new Natural Cider mix line in flavors such as Apple Caramel Kiss and Honey Vanilla Apple.
Sales of specialty coffee, coffee substitutes, and cocoa in 2003 jumped 11.1% in gourmet stores in 2003, reaching $811 million, and a whopping 42.9% in natural food stores (Mintel, 2004). Artisan roasters, who hand roast daily in small batches and ship within 24 hours to ensure freshness are setting the pace—Peets Coffee & Tea is the Number 1 coffee brand in the natural channel. New and exciting exotic sources and blends continue to demand attention. Currently in vogue are coffees sourced in the Pacific, especially those from Sumatra and New Guinea; American coffees from Costa Rica, Guatemala, and Panama; and African and Arabian coffees, including those from Kenya and Ethiopia. "Fair-trade" coffee—whose aim is to guarantee farmers a respectable wage and use responsible agricultural techniques—is moving mainstream. Also grabbing customer attention are organic, kosher, non-GMO, and shade-grown coffee. Mount Hagen Instant Coffee, the category leader in natural food stores, was the first freeze-dried, certified organic regular and decaffeinated instant coffee. Skylar Haley's Achieve One is a high-protein, low-carb, fortified, ready-to-drink, single-serve coffee. And Caffé Botanica has introduced coffee beans infused with herbs and minerals.
Sweetener sales increased 3.9%, reaching $555 million, in 2003 in the specialty markets and 35.2% in natural food markets (Mintel, 2004; SPINS, 2004). Pure maple syrup and gourmet honeys, such as manuka, orange blossom, and clover, can add excitement to any food. Florida's Crystals mills its cane, organic, and demerara sugars right on the farm. Wholesome Sweeteners offers all-natural demerara, brown muscovado, and dark brown molasses sugars.
Fancy chocolates continue to gain appeal as carb counters look for a better way to cheat. Chocolate-covered pretzels, cherries, and strawberries are just a few of the best-selling items. Quickly attracting new customers are smaller portions sizes and packaging of decadent items in single-unit premium packages. Premium truffles, fudge, and almond toffee remain key players. Artisan and hand-made or hand-dipped chocolates appear to be immune to the low-carb and sugar-free trends. In-store bar markets that may feature up to 500 different individual bars are also grabbing customer attention.
The demand for organic candy and fruit leathers remains particularly strong for kids. Fair-trade candy is a growing trend, as are chocolate products that benefit the Rain Forest. Diet candy jumped 90% across all channels, and 3% of all candy was sugar-free or low carb last year (NCA, 2004). Low-carb, no-sugar-added premium options like Seattle Chocolates' Skinny Truffles line are right on target, and so are the company's sophisticated truffle bars in flavors like Seville Orange, Black Forest Cherry, and Lemon Mousse. Harbor Sweets' chocolate whimsical Sea Creatures are also available sugar-free.
--- PAGE BREAK ---
Natural Foods
As the desire for food "purity" gains momentum, the natural channel will continue to grow. NMI (2004a) reports that 63% of consumers use natural foods/beverages and 40% use organic; 53% think it is important for their store to have foods grown without pesticides, 49% foods that are natural, and 35% foods that are free of GMO's; and 18% only use natural sugars like honey and raw sugar. Also playing an increasingly important role in food purchases is avoiding antibiotics, hormones, and additives.
Led by Whole Foods Market and Wild Oats Markets, food sales in natural product stores reached $11.4 billion in 2003 (Spencer and Rae, 2004). Packaged groceries topped $2.0 billion in 2003 (up 12%), produce $1.8 billion (16%), nutrition bars $1.0 billion (25%), dairy $934 million (11%), frozen/refrigerated $935 million (11%), bulk packaged $927 million (8%), and foodservice, deli, restaurant, and juice bars $805 million (9%). Natural product stores averaged 9.9% growth last year, ranging from 8% in the Mountain region to 6% back East.
With $4.4 billion in 2003 sales (up 17% last year), organic foods are a dominant force in the natural channel (Spencer and Rae, 2004). In terms of category sales, produce, led by Earthbound Farms, remains the largest segment ($1.5 billion, with 86% of all produce sold classified as organic), followed by packaged grocery ($779 million, 38% organic), dairy ($626 million, 64% organic), non-dairy ($380 million, 80% organic), and non-alcoholic beverages ($236 million, 64% organic). While still a relatively small category, organic fresh meat and seafood enjoyed the highest growth rate (51%), followed by nutrition bars and beer/wine, both at 48%. Other categories also enjoying significant growth were produce 19%, dairy 18%, packaged grocery 17%, and frozen/refrigerated prepared items 16%.
Attitudes about the "meat" case are changing, too. NMI (2004a) reports that half of consumers are more interested in organic beef products, and 42% in natural beef, than they used to be, and 35% are now more concerned about the safety of the meat supply. Claims of "certified humane," "free-range," "grass-fed," "no antibiotics or hormones," "kosher," "halal," and "ground today, sold today" are everywhere.
Organic and all-natural meats are now cutting across all varieties and forms, from lamb to buffalo. Maverick Ranch Natural Meats offers a full complement of pork, buffalo, lamb, beef, and air-chilled free-range chickens, which have an 85% lower bacteria count than water-chilled poultry. Laura's Lean competes in the natural, low-fat category and now offers a precooked pot roast and barbecue. Wellshire Farms offers All-Natural Shredded Pork in BBQ Sauce, All-Natural Polska Kielbasa, and other all-natural products. Other major players are Applegate Farms, which offers antibiotic-free, no-nitrate cold cuts, cheese, and deli items, and Coleman Natural Products, which offers all-natural, uncured beef hot dogs and more than 500 SKUs of beef cuts.
--- PAGE BREAK ---
Marketers are also touting quality by certifying the breed, such as Meyer Natural Angus's Quality Angus Beef, "raised naturally to taste best. A "Certified Hereford" program is also underway. Japanese Kobe Beef—astonishingly tender, finely marbled, and richly flavored—is now being sold in premium stores; the cattle are massaged with sake and fed a daily diet that never includes ordinary grains and grass. Premium Obe Organic Beef, raised naturally in Australia by OBE Beef Pty. Ltd., is another super-premium meat. Shelton's Premium Poultry's Shelton's Naturally Delicious frozen dinners feature Turkey Meatloaf and other favorites made with all-natural, free-range poultry, with no antibiotics, growth hormones, or preservatives.
Dave's Hook and Line Caught Gourmet Albacore "no salt added " tuna and Natural Sea's Wild Premium Alaskan Pink Salmon—"no salt added, sustainably-harvested and rich in heart-healthy omega 3's"—are also grabbing customer attention. And right on target for the low-carb movement is Pecan Wells Jerky Co.'s Natural Turkey, Pork, and Beef Jerky with "no erythorbate, no nitrite, no MSG, minimally processed and raised without hormones."
All-natural and organic convenience entrees and meals are another explosive category. Fairfield Farms' Organic Classics line offers home-style entrees, such as Organic Chicken Tetrazzini, and organic vegetarian entrees, such as Southwest Cornbread & Red Beans under the Moosewood label. Fantastic Foods' shelf-stable vegetarian meals include popular Risotto, Spanish Paella, and Mushroom Stroganoff. Convenience foods that support sustainable practices are also finding a receptive audience; examples include Natural Sea's Tuna Noodle Casserole and Ian's Natural Foods' all-natural frozen Kid's Fish Sticks, Chicken Nuggets, and Alphatots potatoes.
Prepared Indian and Asian meals are two of the natural channel's fastest-growing prepared meal segments. Ethnic Gourmet Foods' all-natural Ethnic Gourmet Bowls range from Pad Thai with Shrimp to Szechwan Vegetarian Chicken. Amy's new Indian frozen meals include Samosa Wraps, Mattar Paneer, and others. Arch Foods' Curry Classics range from Chicken Curry to Chicken Tandoori with Spinach and other authentic flavors. Among the most popular Asian brands are Thai Kitchens' extensive line of products, including Noodle Cart Rice Noodles, Thai Peanut Mixes for sauces and baking, and Thai Kitchen Organic Coconut Milk, and Simply Asia's Rice Noodle Soup Bowls, sauces and Instant Rice Noodle Soups.
Other gourmet convenience items, such as Rice Expressions' organic rice mixes that cook in just three minutes, rival any mainstream convenience product. Organic frozen breads such as French Meadow Bakery & Café's 100% Spelt Garlic Texas Toast and Fresh Gourmet's Organic Seasoned Premium Croutons are other natural crossover items.
--- PAGE BREAK ---
Frozen fruits and vegetables are another skyrocketing category, rising 23% in 2003 (SPINS, 2004). The Number 1 brand is Cascadian Farms, which markets 100% organic frozen fruits, such as sliced gourmet-quality peaches, cherries, and blackberries; vegetables, such as California, Thai Stir-Fry, and Garden Blends; and upscale frozen side dishes such as Szechuan Green Beans and Vegetarian Skillet Meals.
Alexia Foods, which offers a wide range of gourmet frozen potato products, also enjoyed significant growth in 2003. The company's all-natural, trans-free, organic Oven Crinkles come in Onion & Garlic and other flavors. Its Oven Reds are made from Columbia Basin Red Potatoes blended with 100% pure olive oil and upscale seasonings such as Sun-Dried Tomatoes & Pesto.
Baking mixes, supplies, and flours, many of them directed at a low-carb lifestyle, were another fast-emerging category last year, up 34% (SPINS, 2004). CarbSense Foods unveiled an extensive line of low-carb dry baking mixes, ranging from pancake, pizza crust, and bread SKUs to brownie, cake, and biscuit, although Atkins Nutritionals' Baking Mixes and Low Carb Flour posted the most-dramatic growth in the category. Category leader Arrowhead Mills, which packages its 100% Certified Organic whole-grain flours in sturdy, recyclable paper bags with protective UV lining, offers 18 diverse flours, including millet, amaranth, spelt, unbleached white flour, and other flours. The company also offers a diversity of organic baking ingredients, mixes, and breakfast cereals.
Bob's Red Mill, which also enjoyed significant growth, provides a wide variety of stone-ground exotic flours made from 100% organic grains, such as Bean & Pea & Lentil Flour, Potato Flour, Sweet Rice Flour, and 10 Grain Flour, as well as mixes, such as Irish Soda Bread, many of which are gluten free.
Three categories continue to sell more product in the natural channel than in the mainstream—organic baked goods (65% of total baked goods sales), organic soup (60%), and organic yogurt and kefir (59%) (SPINS, 2004). All-natural and/or organic gourmet soup—single-serve or family-sized, fresh refrigerated and frozen—is one of the many categories helping to drive traffic in natural stores. Restaurant supplier Kettle Cuisine's Fresh Soup for One line of fully cooked and ready-to-heat gourmet soups—ranging from Organic Carrot Ginger to Hungarian Mushroom—are also color coded by the type of stock. All of Heartland's 100% Natural refrigerated ready-to-serve-soups are under 220 calories per serving. Fairfield Farms' Moosewood brand offers a wide range of organic refrigerated soups, chowders, stews, and sauces, including Broccoli Parmesan Sauce. Natural Sea's Clam Chowder and Lobster Bisque are cooked in small kettles and made from "sustainably harvested" shellfish.
Although the soyfoods market is starting to show signs of maturity in several categories, total retail sales increased 10% in 2003, hitting the $4.0-billion mark (Soyatech/SPINS, 2004). Soy-based energy bars (up 12%), soymilks (11%), and soy yogurts (24%) continued to show strong growth. The advent of fortified soymilks like Silks' Soymilk Enhanced with omega-3 and antioxidants, cultured/probiotic soymilks like WholeSoy & Co.'s Cultured Soy Drink, and new positionings like Kikkoman's Pearl Soymilk's "great with cereal" or Whole-Soy & Co.'s low-carb and low-sugar Lite Soy Smoothies, should help to broaden the appeal.
--- PAGE BREAK ---
Up-and-coming soy categories include chips/snacks, like GeniSoy's Low Carb Tortilla Chips and Low Carb Crunch Bars, cookies/snack bars, shelf-stable juices, and functional beverages with soy—like Leading Brand Inc.'s Soy2O—all grew by more than 100% in 2003. Tofu sales, spurred by a number of prepared products, including Soga's Grilled & Marinated Tofu in Tomato Basil, were up 4.5%. Cold cereals, hot cereals, meal replacements, and soynuts were among the year's losers.
Soyatech confirms that new meat alternatives, frozen entrees, nondairy foods, private-label products, and low-carb foods with soy will fuel the category. Nutrition Kitchen's Soybean Pastas and El Burrito Mexican Food Products' Soyrizo, SoyTaco, Meatless Taco Filling, and Breakfast Soy Sausages are among the products to watch.
And while not necessarily soy-based, the number of new vegan products commands attention, as does the increasing incidence of gluten-free products. Deep Foods, Inc.'s Green Guru line of frozen Indian, Thai, and Chinese dinners, Alberto Natural Foods, Inc.'s 100% Organic Vegan Pastas, and Vegan Eats' Soy Jerky are some cutting-edge concepts.
Spurred by the success of Cascadian Farms' organic ready-to-eat breakfast cereals and Kashi's diverse cereal line—ranging from Heart to Heart to Good Friends to Seven in the Morning—organic ready-to-eat cereal sales across all channels continue to soar! Recent additions in the natural channel have focused on two categories: exotic grains and young children.
Organic eggs, a favorite of low-carb natural consumers, also posted impressive sales, led by Giving Nature Organic Eggs and Chino Valley Ranchers, and made even more healthful by Gold Circle Farms' high-vitamin-E, DHA eggs.
Undoubtedly most important is the impact of low-carb foods. With NMI (2004a) reporting that 67.6% of consumers used high-protein foods in 2003 (up 10.1% over 2002) and 66.0% used low-carb foods (up 7.5%), it's not surprising that low-carb sales—excluding products such as produce, meat, and coffee/tea—reached $485 million in the natural channel in 2003 (Spencer and Rae, 2004). Large health food stores sold the largest share of low-carb foods, $137 million, or 17% of sales. Whole Foods reported 4% of sales coming from low-carb products, while Wild Oats reported 8%. Literally hundreds of low-carb products are being introduced every month, all of them worth watching, especially DeBoles' Carb Fit Spaghetti, Todd's Health & Fitness Products' 2-Carb Pizzas, Bagels, and 3-Carb Breads, and Southwest Dairies' LeCarb Dairy Drink and other "milks" from companies that use membrane technology to remove the lactose from regular whole milk, leaving wholesome ingredients like milk proteins and calcium behind.
--- PAGE BREAK ---
Gourmet Deli Foods
Low-carb diets have given customers permission to indulge in high-protein foods like meat, cheese, quiches, and other gourmet deli favorites such as smoked fish, sausage, pâté, mousses, and olives. More than ever, Americans are looking to high-end delis for more sophisticated take-home meals—like Cooper Farms' Apple and Cranberry Stuffed Turkey Breast Roast—culinary-wise quick snacks/mini-meals, upscale foods for home entertaining, and, recently, foods that meet their dietary agenda.
Half (51%) of adults say they would buy more from the deli if the food was guaranteed fresh, 43% if meals were healthier, 42% if items were prepared to order, 39% if sampling was permitted, and 37% if a fixed-priced meal was available (IDDBA, 2004). Salads, followed by sandwiches, are now the most-consumed deli item, up 20% in the past five years.
All-natural, organic, nitrite/preservative-free, and breed-certified meats are also becoming an important trend. Orders of turkey—which 45% now order weekly—chicken, and fried chicken are at their highest level ever. While boldly flavored varieties remain popular, watch for more-savory/less-sweet, uniquely wood-smoked, and lighter flavors like basil and tarragon to come on strong.
Across the board, Asian and Hispanic influences continue to appeal in the deli meat case. More exotic fowl, including various breeds of duck, Guinea hen, pheasant, quail, and ostrich; darker meat portions; and smaller birds like Cornish hens represent a new gourmet niche. At the same time, suppliers like Farmland Foods have developed a portfolio of low-carb meat and poultry items—the top-ranking weekly dinner among carb watchers—to help deli operators create low-carb menu options and special deli sections.
With ham remaining the Number 1 sandwich for more than 20 years, it's not surprising that French bistro, Serrano, and other traditional cured, smoked, and country hams are enjoying renewed popularity, including Smithfield's Virginia, Bavarian, and Canadian Maple hams. Italian cured meats—Cappola, Mortadella, Coppa, and Pancetta—are another explosive trend. Ethnic salami and sausages of all kinds, especially Hispanic varieties like chorizo and bolita, andouille, and classic German sausages such as Braunschweiger, are fast gaining attention. Highly flavored retro premium meats like pastrami and corned beef are also enjoying a triumphant return, as are slow-roasted pork, brisket, and authentic barbecue items, especially with a twist. Old World items will continue to add excitement as customers discover the regions of Spain, Greece, Germany, and South America, too.
With Boomers' growing preference for fish and seafood over meat, deli operators are adding more marinated seafood items—prepared clams, oysters, and muscles; sushi, sashimi, and ceviche; smoked delicacies, including salmon, sturgeon, trout, and a wide range of domestic and imported caviar; pickled products; and gefilte fish. Signature seafood salads, skewered ocean tidbits, and bisques/chowders are helping to draw upscale customers.
--- PAGE BREAK ---
Cheese sales—which jumped 12% in specialty stores and 21% in natural stores in 2003—are an integral part of deli operations (Mintel, 2004; SPINS, 2004). Swiss, Parmesan, Provolone, Muenster, Italian blends, Feta, and Queso Fresco and other Hispanic cheeses top the list in terms of total retail sales—Queso Fresco up 21% from 2002–03, all other Hispanic cheeses up18.2%. However, it's the specialty cheeses that are getting the attention. Crema Mexicana was the fastest grower in the specialty cheese aisle, up 141% in the last two years, followed by fresh Mozzarella 41%, Cheshire 36%, Manchego 30%, Queso Blanco 27%, Mascarpone 22%, Butterkase 22%, yogurt cheese 22%, Gloucester/Cotswold 22%, and Queso Fresco 21% (Wisconsin, 2004).
America's artisan and farmstead cheeses have ignited a worldwide cheese war. Mozzarella Fresca produces world-class, 100%-natural California Mozzarella, Mascarpone, and Ricotta cheeses, and Wisconsin's Belgioioso Cheese, Inc. produces Auribella, Asiago, Gorgonzola, Pepato, and Kasseri. American artisan sheep and goat cheeses are another new direction. Firefly Farms offers organic Fresh Mountain Blue and Buche Noir goat cheeses; the latter coated in French vegetable ash and aged for several weeks. American goat cheeses now range from Brie to washed rind, triple creams, and hard aged cheeses. Domestically produced Latin American cheeses such as Queso Fresco, Cotija, and Panela are also finding a welcome market. Strong-flavored European washed rind cheeses such as Epoisses, Munster Taleggio, and Reblochon are also finding favor, along with Liederkranz and Limburger.
At the same, time the influx of imported cheeses continues to excite customers. Classics like Jarlsberg and English Cheddar are now joined by a variety of German cheeses such as Käserei Champignon's Knoblauch, Rougette, Montagnolo, and Cambozola. Spanish cheeses such as Tronchon, Iberico, and Tetilla have strong gourmet appeal. Gourmet quiches, fondues, Mozzarella salads—such as Cantare Foods' Fresh Italian Antipasto Salad and Mediterranean Salads—and dessert goat cheeses such as Woolwich Dairy's Madame-Chevre Elite cranberry and port or red pepper–topped chevre.
The demand for premium items such as pâté continues to grow. Fowl, mildly spiced and liquor-enhanced pâtés, and spreadable mousses such as Alexian Foods' VerMousse—duck and pork liver with sage and vermouth—are gaining in popularity. The addition of olives, nuts, and even fruit—such as orange or port to duck pâté—is another recent trend, as are venison, rabbit, and veal pâtés. Gourmet crackers—such as Cape Cod Potato Chip's new Late July Organic Round Saltines or Back To Nature's White Cheddar Rice Thins are also important deli staples.
Sales of appetizers in delis—such as Sevan Bakery's Mediterranean Thin Crust Pizzas and Turnovers—jumped 22% in 2003 (IDDBA, 2004). Like specialty and low-carb breads, spreads, and sauces are key players on deli shelves. Sun-dried tomato pesto spreads, olive tapenade, Creole relish, fresh gourmet pasta—such as Putney Pasta's Butternut Squash or Black Bean & Habanero Ravioli with Green Chili Sauce—and sauces are other popular items. Dips and salsas are other important offerings, including G&G Specialty Foods' authentic Greek skordalia or melitzanes dips, Lundberg's Pico de Gallo Bean & Rice Chips, and Cedar's inventive Hommus Scoopers.
Gourmet snacks such as Mama Mellace's Cinnamon, Butter Rum, and Cranberry Pecans and PeaNotz's Roasted Soy Notz Crunch Mixes are also enjoying brisk sales. Sticky Fingers' all-natural English scones, jams, and curds come in a variety of upscale flavors. Controlled Carb Gourmet offers "outrageously delicious" brownies and cookies; La Paloma offers Concha, Polvoron, and Orejas cookies; and the Cannoli Factory offers cannoli and tiramisu.
--- PAGE BREAK ---
Fine Dining
With nine out of ten consumers agreeing that they like lots of choices on menus so they can decide exactly what they want to eat (NRA, 2003), monitoring restaurants to determine up-and-coming food trends is a better barometer than ever. Although white-tablecloth restaurants still inspire most culinary trends, casual-dining and chain restaurants are also increasingly affecting taste trends.
NRA's Tableservice Operators Survey (NRA, 2004b) asked operators what foods customers were ordering more of compared to two years ago. In fine-dining establishments, seafood entrees topped the list—64% of operators reported that their customers ordered more seafood entrees—followed by salad entrees 56%, vegetarian entrees 39%, take-out items 36%, appetizers 35%, pork entrees 34%, beef entrees 30%, specialty coffee 29%, and spicy dishes 27%. Only 19% ordered more chicken, 19% more pasta, and 4% more turkey entrees than in the past.
In the casual-dining segment, salad entrees topped the list—56% of operators indicated an increase in salad entree orders—followed by seafood entrees 53%, take-out items 52%, vegetarian entrees 48%, chicken entrees/appetizers 36%, spicy entrees 31%, beef entrees 30%, and pork entrees 29%. Interestingly, nearly twice as many casual-dining patrons as fine-dining patrons ordered a pasta entree.
Analysis of the "Top 100" chain restaurant menus (Technomic, 2004) reveals that Asian was again the largest-growing menu category in terms of U.S. sales in 2003, up 27.2%, followed by donuts 20.5%, Italian 14.3%, BBQ 13.3%, varied menu 9.0%, steak 7.3%, limited-service Mexican 7.3%, sandwich 6.5%, burger 5.3%, and seafood and chicken 3.4% each. Pizza fell 1.3%, and casual Mexican dropped 17.9%.
Food Beat (2004) observes that there are significant differences in the protein component of appetizer menus of the Top 200 chains and their finer-dining counterparts, as monitored by its Trendspotter service. With the low-carb craze so prominent, this is an important observation. Shellfish topped the fine-dining protein appetizer list at 43%, followed by cheese 20%, fish 19%, pork 7%, and chicken 3%. Conversely, cheese topped the protein appetizer list in the Top 200 chains at 37%, chicken 19%, shellfish 18%, pork 6%, and fish 4%. Other trends include the continued popularity of small bites, samplers, and trios of items. Food Beat has also observed more fruit in salads, a strong jump in flavored mayonnaise, and Amuse Bouche—bite-sized treats served before the meal. Another major trend in fine dining is the move to smaller portion sizes, especially for gourmet desserts, like those from Galaxy Foods, which also has a low-carb line.
Last, with the popularity of the Food Channel, cooking magazines, and celebrity chefs, analyzing media coverage can also be an important clue to future trends. According to Packaged Facts (2004b), Italian remains the ethnic cuisine most covered by the media, nearly double the coverage of French cuisine, which falls in second place, with Asian a not-too-distant third. In 2003, Spanish cuisines received slightly more coverage than Mexican, and nearly double any other "trendy" cuisines, including Caribbean, Latin, Thai and Indian! 
by A. Elizabeth Sloan,
Contributing Editor
The author, a Professional Member of IFT, is President, Sloan Trends & Solutions, Inc., P.O. Box 461149, Escondido, CA 92046. E-mail: [email protected].