The organic foods market is dynamic and growing. According to the Organic Trade Association, sales of organic dairy foods grew by 21% in 2003, beverages 20%, fruits and vegetables 20%, snack foods 30%, and meat, fish, and poultry 78%. A real sleeper category is organic foodservice, which grew 45% in 2003. Once the supply side is secure, this category will have unlimited growth potential. Organic items are already appearing on university, college, public school, and corporate campuses, national parks, top restaurants, and fast-food cafes and are even available in vending machines.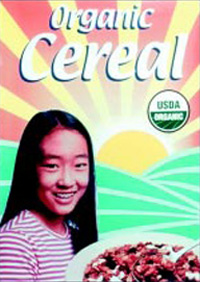 Both conventional and organic foods are produced in a similar manner, and both must meet the rigid U.S. Dept. of Agriculture and Food and Drug Administration food safety regulations and strict HACCP and food quality assurance programs. However, certified organic ingredients and food products must additionally meet the requirements of USDA's National Organic Program (NOP), implemented on October 21, 2002, and specified in Section 205 of the Code of Federal Regulations (7 CFR 205).
This means that all organic raw materials, ingredients, processing aids, etc., must meet the NOP requirements and the production systems. In other words, farm, ranch, livestock materials, and processing and manufacturing (handling) facilities must be fully documented and inspected and certified annually by a USDA-accredited certifier, domestic or foreign (NOP 205-100-290).
Labeling Categories
An organic ingredient is any substance used in the preparation of an organic agricultural product that is still present in the final product as consumed. According to Subpart D, "Labels, Labeling and Market Information" (NOP 205.300-311), several labeling options are available:
100% Organic. Any product sold, labeled, or represented as 100% Organic must contain only 100% organically produced raw materials or ingredients, including processing aids, except water and salt, which are exempt. The labeling is the most stringent. The label must state "Certified Organic by____(USDA Accredited Certifier)" and may bear the USDA Organic seal and/or the accredited certifier's seal on the principal display panel.
Organic. Any product sold, labeled, or represented as Organic must contain 95% or more organically produced raw materials and/or ingredients. The remaining ingredients must be organic, unless they are not commercially available or are non-agricultural substances or non-organically produced agricultural products consistent with the National List (NOP 205.601-606). The label must state "Certified Organic by ____(USDA Accredited Certifier)" and may bear the USDA Organic seal and/or the accredited certifier's seal on the principal display panel.
Made With Organic Ingredients. Any product sold, labeled, or represented as Made with Organic Ingredients must contain 70% or more organically produced raw materials and ingredients. The remaining ingredients must be organic, unless they are not commercially available or are non-agricultural substances or non-organically produced agricultural products consistent with the National List. The label may include up to three organic ingredients on the principal display panel and must state "Certified Organic by____ (USDA Accredited Certifier)." The USDA Organic seal may not be used, but the accredited certifier's seal may be used.
--- PAGE BREAK ---
Products containing less than 70% organic ingredients may only identify the certified organic ingredients on the information panel—by stating "organic ingredient" or using an asterisk to identify the organic ingredient. No reference to organic may be made on the principal display panel; the statement "Certified Organic by___" may not be used, since these manufacturers are not usually certified; and the USDA Organic seal and the accredited certifier's seal may not be used. This labeling category is seldom used.
Ingredient Requirements
An organic handler(processor/manufacturer) must make every effort to obtain qualified organic ingredients that are "compliant for organic production" by contacting at least three potential suppliers, conducting formulation and laboratory testing, and thoroughly documenting the due-diligence process, which must be supported by verifiable records and vendor correspondence.
Organic ingredients cannot be produced using excluded methods (GMOs, etc.), sewerage sludge, or ionizing radiation (NOP 205.301(F)(1)–(4)); cannot contain sulfites, nitrates, or nitrites added during the production, except wine (NOP 205.301(F)(5)); cannot use non-organic ingredients when organic ingredients are commercially available (NOP 205.301(F)(6)); and cannot include organic and non-organic forms of the same ingredient (NOP 205.301(F)(7)).
Commercial availability is the ability to obtain a production input in an appropriate form, quality, or quantity to fulfill an essential function in a system of organic production or handling, as determined by a USDA-accredited certifier after a thorough review and approval of the organic systems handling plan. Cost of the organic ingredient is not a consideration. Although water and salt are excluded from the organic product calculation, they must not contain added materials not on the National List, e.g., yellow prussiate of soda and other anticaking agents, etc.
Organic ingredients may vary in color, contain natural minerals, differ in nutritional profiles, be limited in supply, and may come from sources and processes that are not approved for certified organic products. Organic food manufacturers must conduct a thorough due diligence when sourcing ingredients for the formulation and pilot runs of the proposed organic product, and they must secure sufficient and consistent supply prior to product introduction.
Every day, more and more organic colorants, flavors, and processing aids are available to the organic product formulator. However, by and large, the industry is dependent on non-organic materials that are compliant with the National List, i.e. are "Non-Organic Compliant Ingredients." Formulators must carefully review the National List and clearly understand the annotations, which in many cases specify how these materials must be derived and/or produced.
Most USDA-accredited certifiers require that the suppliers of the non-organic ingredient and/or processing aid complete both excluded methods affidavits and ingredient affidavits for each Compliant Non-Organic Ingredient. These documents must be completed, signed and dated, and verified for authenticity. Paying attention to these details can save the product developer considerable time, money, and embarrassment.
With today's ever-growing organic ingredient diversity, quality, taste, and flavor, there is no reason to produce a poor-quality organic product. Certainly, unlike their conventional counterparts, organic product developers do not have a large selection of chemical additives available. However, through creativity, innovation, clean technologies, and culinary skills, they can create an award-winning certified organic product that will meet all of the desired product quality profiles, except one—price. Organic raw materials, ingredients, qualified processing aids, etc., will cost 10–100% more than their conventional counterparts.
Organic ingredients and finished products will always cost more because they are not commodities (nor should they be treated as such), are based on fair trade, and usually are not as readily available with an unlimited supply unless they are forward contracted. This is where direct supplier-side partnerships are creating a new paradigm in the way agricultural products are produced and sold. It is also the best way to build a guaranteed sustainable supply of high-quality certified organic raw materials and ingredients.
For many newcomers to the organic products industry, sourcing a qualified, consistent supply of functional certified organic ingredients can be a nightmare. It is the primary reason that many manufacturers give up before the prospective organic product ever leaves the industrial chef 's kitchen or pilot plant.
--- PAGE BREAK ---
Qualifying Ingredients
Organic food manufacturers must practice due diligence in evaluating potential ingredients. They must do the following:
For organic ingredients or processing aids:
• Decide whether the ingredient is 100% Organic or Organic.
• Obtain organic product spec sheets, certificate of analysis lot number, etc.
• Obtain organic certification certificate or transaction certificate.
• Verify that the certifier is USDA accredited.
• Determine whether the ingredient is NOP compliant (obtain Foreign Certifier NOP Compliant Statement).
• Complete the commercial availability requirement and document.
For non-organic ingredients or processing aids:
• Verify that the ingredient/processing aid is NOP compliant.
• Review carefully the National List and thoroughly read the annotations.
• Obtain the product spec sheet, material safety data sheet, and certificate of analysis by lot number.
• Obtain from each supplier the excluded methods affidavit and ingredient affidavit.
• Determine whether the commercial availability requirements have been met.
• Not assume anything—the burden-of-proof is on the manufacturer.
For all ingredients:
• Determine whether the supplier is on the qualified vendor list.
• Make sure that the ingredients meet all quality assurance requirements.
• Make sure that the supply is consistent, reliable, and secure.
• Make sure that the ingredient is functionally sufficient.
This is a laborious process. However, doing it right the first time will make life easier, save considerable time and money, and lay an excellent foundation for organic certification and the success of certified organic products.
--- PAGE BREAK ---
Preparing for Inspection
Every year, thousands of conventional facilities are being professionally prepared for organic product inspection and certification by a USDA-accredited certifier. Many manufacturers use experienced organic specialists, while others tackle the task themselves. It makes no difference who does it—it just has to be done right the first time.
Before a plant facility can be inspected and certified to produce organic products for labeling and sales under the NOP, a formal certification application and organic system handling plan must be submitted to a USDA-accredited certifier with the appropriate fees, which can run from $350 to several thousand dollars, depending on how the certifier calculates the annual application and inspection fee and expenses and the organic sales assessment fees.
The certification application and organic systems handling plan usually consists of 15–20 pages of questions to be completed by the applicant and submitted with relevant support exhibits to the certifier. The sidebar below lists eight critical points in the certification process. Next, the certifier completes a pre-inspection review, authorizes the inspection of the production facility, and assigns a qualified inspector to conduct the on-site inspection.
Although this whole process is handled in a confidential manner, it is essential to mark and identify all business-sensitive proprietary information and request in writing that the certifier treat all information as "Confidential and Proprietary" and notify you before any information is released without your knowledge to USDA or other government authorities under the Freedom of Information Act.
When preparing for the on-site inspection, it is essential that one person (usually the quality assurance manager) be responsible for the internal management of the organic program. This manager and all operations managers must clearly understand the organic handling requirements and relevant Organic/Standard Operating Procedures (O/SOPs) for the plant facility.
The manager must carefully study the certification application and organic systems handling plan, be functionally familiar with the NOP requirements and the materials and procedures that are prohibited or permitted for use while conducting an organic product batch run. He or she must have operations knowledge relative to sanitation/cleandown procedures, organic batch processing, and structural pest management and the O/SOPs to prevent any possible contact and/or commingling of the organic ingredients/products with non-organic and/or prohibited materials throughout the production operation.
The manufacturer must also have a demonstrated audit trail system in place so all organic product ingredients, packaging materials, and finished product are traceable throughout the organic system—receiving, manufacturing, finishing, and shipping. Transparency is the essential element to a functional organic audit trail.
Prior to the actual inspection, a mock organic inspection should be conducted, following the organic process flow, procedures, and protocols established to handle the organic product to maintain organic product integrity. In addition, a mock organic product recall can be used to verify that the organic system plan is fully operational and verifiable. Pilot runs are another good way to test and verify the organic system. Good clean records of these activities can be very useful during the first inspection year.
--- PAGE BREAK ---
Conducting the Inspection
Usually the inspection is scheduled by the inspector and/or the consultant at a mutually acceptable date and time. The manufacturer should make sure to have an agreement with the certifier/inspector as to what the inspection fee and expenses will be, prior to the plant inspection. If these costs are not in the certifier's fees, the manufacturer is responsible for payment.
Normally the organic inspector arrives at the plant facility, goes through the general introduction, and gets right to business. He or she will explain the inspection process, review the organic systems plan with the manufacturer to make sure that there have been no additions or corrections to the OSP since the documents were submitted to the certifier. If there are updates, the manufacturer should provide the inspector with replacement documents (clean copies) and make sure that a set of these documents are also sent to the USDA-accredited certifier's office.
Once the interview and OSP are verified, a plant tour is the next order of business. The inspector usually wants to start at receiving and inventory handling and follow the organic product process flow, product traceability, and the manufacturer's ability to maintain the organic product integrity throughout the organic system.
The use of clear dedicated color signage throughout the production and handling process is a sure way to demonstrate the ability to segregate and protect the organic ingredients/products while in the warehouse, staging, processing and finishing. Green "organic" pallet tags and bin or area markers are important.
After the physical plant walk-through with the inspector, there may be followup questions relative to process flow and/or sanitation O/SOPs to clarify. The manufacturer should answer the questions straightforwardly and openly. If there is a gap in the organic system, it should be admitted and fixed immediately to satisfy the NOP requirements.
Before the inspector leaves, it is common practice to conduct a post-inspection exit interview, which will be documented and signed and dated by the inspector and the organic program manager, and a copy will be left with the manufacturer. The entire process can take 4–6 hours, depending on how well the manufacturer is prepared and the capability of the inspector.
--- PAGE BREAK ---
After the Inspection
This process varies among certifiers, but it is commonplace for the inspector to prepare a written narrative of the plant inspection and submit this organic inspection report with all relevant updates and/or attachments to the accredited certifier for inclusion in the certification review process. Within 4–8 weeks, the accredited certifier will issue an organic certification certificate listing the certified entity, control number, address, and a list of the organic products that the plant is authorized to produce organically. It is not unusual to also include notification of minor non-compliances that must be completed within a specified period of time. These minor non-compliances must be formally responded to by the certified entity, clearly demonstrating that they have been corrected and that the organic systems handling plan is fully NOP compliant.
If there are major non-compliances resulting from the plant inspection, they must be remedied prior to the issuance of the organic certification certificate. The manufacturer should do everything possible to avoid this by preparing a professional organic systems handling plan and making sure that the OSP is operational and that all involved are well educated about the organic system requirements prior to the on-site plant inspection. All in-plant OSP training should be documented.
Once the certificate is in hand, the NOP-compliant plant facility is ready to produce certified organic ingredients and/or products. The organic certification never expires unless the facility becomes non-compliant for some reason. However, an annual inspection and recertification is required. The second year will include a much more in-depth organic product audit, including gross raw materials/ingredients received and net finished organic products produced.
If a manufacturer plans to export organic products to the European Union, United Kingdom, Japan, Korea, etc., it must make sure to advise the accredited certifier at the time it requests the application, or there will be much additional work to do after the plant is certified. Organic products cannot be exported to these countries, until the additional country-of-importation requirements have been met.
Some in the conventional food system would say this whole procedure requires extraordinary effort. It does, but, as many successful food manufacturers have realized, the organic market is dynamic and diversified, has accelerated growth, and is now a trend market that everyone should be a part of today, not tomorrow.
Growing the Market
Obviously, a paradigm shift would be the most important thing that could happen to food and agriculture. It could make the greatest difference to the small and medium-sized producers and bring social, economic, and environmental benefits that are essential to rural families and communities and have a major positive impact on the developing community worldwide.
Some would say that organic food production is losing its way and that only big producers and food manufacturers will be involved in the next 10–20 years. We do not see it that way. However, maintaining the highest-quality organic standards is essential to a level playing field. In the next 50 years, conventional and organic food and agriculture will move much closer together. That will be good for everyone.
The entry of certified organic products across all aspects of the mainstream food system is essential for the organic industry to continue its extraordinary growth in the future. Done right and based on high quality standards, this can only benefit us all. How this will be done and how much of the overall food market certified organic products will occupy remain to be seen, but some of the visionaries project market dominance representing 50% or more of the global food market—a dream to build on!
--- PAGE BREAK ---
Critical points in organic product certification
• Type of organic product (100%, 95%, 70%, etc.). Detailed formulation for each organic product.
• Source verification of raw materials and ingredients (organic and non-organic), including processing aids and additives, etc.
• Clearly defined technical manufacturing processes, unique and proprietary processes, extraction methods, etc.
• Plant layout, process flow for each organic product and equipment; including capacity, quality assurance program, lab testing, sampling, product recall, and recordkeeping.
• Sanitation and maintenance program, organic/standard operating procedures, etc.
• Structural pest management program, approved procedures and materials, etc.
• Batch processing, product segregation, prevention of commingling and contact contamination throughout system.
• Audit trail system and verifiable recordkeeping system for traceability from purchased sources through final product shipped.
Author Harding is President, AgriSystems International, 125 W. 7th St., Wind Gap, PA 18091. Author Davis, a Professional Member of IFT, is Assistant Director of Technical Services, Food Processing Center, University of Nebraska, 143 Food Industry Complex, East Campus, Lincoln, NE 68583-0930. Send reprint requests to author Harding ([email protected]).