Shortly before this year's IFT Annual Meeting + Food Expo, I read a newspaper article on how doctors, by using genetic science, will be able to predict someday what diseases an individual is susceptible to.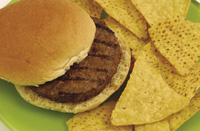 I thought, wow, the mass media will be discussing terms such as "gene expression" and "nutrigenomics" in a context that mainstream readers will readily understand. But then to my disappointment (although not necessarily surprise), the remainder of the article focused on how most people may not want to know what potential diseases await them down the line, especially if there's a good chance that they're going to die from them.
And sure enough, the next day, on a popular radio talk show, a barrage of very frightened listeners called in, venting on how they do not wish to know when and how they're going to die, that this information would destroy their current peace of mind, lower their quality of living, and possibly even take some years off their normal life span. Ignorance is bliss was the general consensus, although a medical authority was given 60 seconds on the air to explain the possible benefits that having such genetic knowledge could bring. But by that time, some of the more agitated listeners had probably already thrown themselves out of windows or in front of moving vehicles to escape their predestined fate.
Unfortunately, these people missed the point, that by having such knowledge, it is possible, through diet, lifestyle habits, and other factors, to change their fate, much like Scrooge in Dickens' classic altered his. Of course, Dickens' story was a tale of redemption, but ironically one can't help wondering if it may actually have been an undigested piece of meat that was responsible for Scrooge's condition that night. Or, since he was too cheap to buy fruits and vegetables, perhaps that bowl of gruel he had for lunch also added to his digestive problems.
Whatever the reason, if a character like Scrooge could change his destiny, I think it's also possible for the average consumer to do the same. Perhaps, that explains why, as I traveled in the sweltering heat to our show in New Orleans, it suddenly felt a little bit like Christmas in July. And when I covered the array of new ingredient developments highlighted at this year's Food Expo, I could not help feeling that I, too, was being visited by a trio of ghosts—only mine were the spirits of Ingredients Past, Present, and Future, all of them suggesting how different secrets in the areas of health, functionality, flavor, texture, and overall quality could be unlocked by the ongoing evolution of ingredients.
Accordingly, when I came upon a new ingredient development or trend, I did not view it as simply a static moment in time, a snapshot of what was happening at this year's Food Expo. Rather, I thought about where this development came from, where it was today, and where it was going. It was interesting to see how many of these developments—for example, carbohydrates, fiber, whey proteins, and fruits and vegetables—were following this evolving road in product formulation. Even of greater importance, if these ingredient developments reached their full capability— from both functionality and health perspectives—they could play a valuable role in possibly changing the "genetic" fates that frighten so many individuals.
--- PAGE BREAK ---
Like Scrooge seeing the light, I suddenly felt like shouting good tidings to all. But fortunately I restrained myself, thinking that most attendees would only mistake my enthusiasm for an overconsumption of Hurricane drinks.
So, instead, I am using this opportunity to focus on the potential significance of a number of ingredient developments highlighted at this year's show, keeping in mind how they evolved from their roots to their current status, and how they are moving forward in product formulating. Along the way, these ingredients hopefully will help to unlock many secrets—i.e., answer questions—in such areas as flavor, texture, functionality, and, of course, health.
Texture: The Fourth Dimension?
Traditionally, texture may not have always gotten the same attention—or level of success—in product development as flavor or appearance. Take, for example, the first generation of fat-replacement products in the early 1990s, many of them falling to the wayside because the texture attributes of fat could not be duplicated or because more attention was spent on reducing fat levels than on sensory properties.
If so, then things may be changing soon, according to National Starch Food Innovation, Bridgewater, N.J. (phone 800-787-4992, www.foodinnovation.com). At its booth, the company referred to texture as the fourth dimension, and discussed a product development and marketing approach with texture at its focus.
"While flavor and packaging concepts are advanced, texture virtually remains an unexplored territory for food formulators," maintained the company. "In the future, demographic preferences for a desired texture need to be taken into consideration when creating applications for the consumer."
At the booth, visitors were invited to sample three prototypes with the same flavor but different textures. Using a computer terminal, the taste testers ranked their preferences, from favorite to least preferred, and provided reasons for their choice, the mood that the texture elicited, and demographic information such as sex, age, race, country, and occupation.
The prototype changed each day of the show. On the day I took the taste test, the highlighted item was a chocolate-flavored "snacklet," while on the previous day it was a pudding dessert ranging in texture from super creamy to gel-like. The results of such tests could then be used to shape texture development, tailoring it to a consumer preference based on demographics.
Interestingly, such an approach would make possible not only more choices of a particular product in the marketplace, but also choices that would ultimately appeal to a broader range of consumers. For example, a line of pudding desserts could be developed whose textures were specifically designed for such groups as children, men, women, and older adults.
--- PAGE BREAK ---
National Starch also highlighted several prototypes that demonstrated the use of its texture-enhancing ingredients. Red Curry Soup with Coconut Foam was formulated with a new line of functional flours said to maintain the positive attributes of traditional flours while expanding and improving their use in packaged and prepared foods. In this soup, the grain-based ingredient delivered a totally different mouthfeel, eliminated the processing difficulties that made traditional flours problematic in texture delivery, and improved the overall quality of the soup. Applications for this ingredient include gourmet and premium foods, refrigerated and frozen meals, refrigerated and frozen soups, home-style and premium sauces, baby foods, natural and organic soups, sauces, and meals.
Passion-Mango Tart Filling was made with Prima 600, a functional native starch which delivers processing tolerance and superior freeze–thaw and shelf-life stability. It delays the onset of syneresis and gelling while providing end-product quality and premium texture. The filling had a very fruity taste with a non-pasty texture.
Carbs: A Rising Phoenix?
Mark Twain once said, "Reports of my death have been greatly exaggerated." The same observation can also be applied to the low-carbohydrate trend. While the craze aspects certainly have diminished—e.g., bread is no longer declared dead by the media, and Atkins Nutritionals has filed for bankruptcy—a variety of ingredient developments still reflect the ongoing evolution of this trend, as well as play an important role in food formulating, from both health and functionality perspectives.
The fact that this trend survives—although hopefully under a new moniker, as the term "low carb" probably did more harm than good—should not be too surprising when considering the pressures faced by food manufacturers to reformulate their products to address such health problems as obesity and type 2 diabetes.
Furthermore, an awareness of the glycemic index, a measure of the degree to which foods affect blood-sugar levels, is rapidly growing among consumers, and the perception of the role it can play will be fueled by marketers of food ingredients and food products. However, there is also scientific debate over whether the glycemic index can be trusted as a reliable tool to help control appetite, weight, obesity, diabetes, and other health concerns. Published glycemic index values of specific foods can vary by up to 25%, and values can also vary widely from individual to individual. The measure can also be affected by factors such as the serving size, degree of processing and preparation, and even ripeness and serving temperature.
At this year's IFT Annual Meeting + Food Expo, a panel of experts explored food companies' capabilities of modifying carbohydrate ingredients, the physiology and science behind eating and its effect on glycemic levels, and the changing landscape that manufacturers and consumers now navigate. One panelist observed, "While the low-carb message is still heard, it is being restructured in applicable and useful directions. This sets the stage for a new understanding of carbs. For example, certain types extend satiety, lower insulin response, and reduce cholesterol."
--- PAGE BREAK ---
While the low-carb trend is being "restructured" in useful directions, food formulators must not forget their past lessons: foods that provide good-for-you benefits are not necessarily enough; they must also taste good, be convenient, and possess the right functionality attributes.
A few examples featured at Food Expo reflect the possible directions that, like the mythological phoenix rising from its ashes, the low-carb trend may be taking:
• A food processing technique, the CarboStar Method, makes possible the creation of pasta and other starch-containing foods that can help treat patients with type 2 diabetes by substantially reducing blood glucose levels.
"To help address the need for healthy foods that taste good, we have developed a method to make starch function like dietary fiber," said Ajay Chawan, President of Saatwic Foods, Brentwood, Tenn. (phone 615-372-7462, www.saatwic.com). "Processed foods made with the method have 32% more fiber, 40% fewer calories from carbohydrates, and a lower glycemic response."
In the patented method, propylene glycol alginate, an extract of seaweed, is used to strengthen the protective wall of a starch cell, impeding release of its calorie-rich contents as it moves through the digestive system. Studies confirm a 40% caloric reduction without any change in taste, texture, and safety.
• Some of the new directions that carbohydrates are taking were reflected in a range of prototypes available from Cargill, Wayzata, Minn. (phone 952-742-5928, www.cargill.com). Operating under the theme, "Your Partner at Every Life Stage," the company designed its booth to showcase healthy solutions aimed at Baby Boomers (adults age 50–59) and "tweens" (children age 8–12).
For example, a fiber-enhanced hamburger bun was formulated with GrainWiseTM, an ingredient derived from the aleurone layer of the wheat bran. It maintains the taste and texture of white bread while delivering a good source of fiber.
Other products included a breakfast cereal made with ActiStar resistant starch and MaizeWiseTM whole-grain corn flour; a reduced-calorie cheesecake made with polyols, including erythritol; a water that promotes joint health that consists of OptaFlexTM natural chondroitin, Oliggo-Fiber® inulin, AscendTM trehalose, and erythritol; and a reduced-calorie juice drink with SpecialFxTM natural nutritive sweetener.
• A carbohydrate whose low glycemic response and slow energy release opens new opportunities in health-promoting foods and beverages was introduced by Palatinit of America, Morris Plains, N.J. (phone 973-539-6644, www.palatinit.com). The ingredient PalatinoseTM, also known under the generic name isomaltulose, is a disaccharide derived from sucrose.
--- PAGE BREAK ---
Like sucrose, the carbohydrate is fully digested and provides the same caloric value. However, it is digested much slower, leading not only to a low glycemic response but also to a prolonged glucose supply for enhanced energy. The ingredient may be used in breakfast and dairy drinks, enhanced instant teas and coffees, and wellness and functional drinks.
• A whole-grain flour, Ultragrain White Whole Wheat, is made by a milling technology that allows it to retain whole-grain nutrients, while at the same time delivering the fine texture of popular white flours. The product has a lighter, more golden flour color; a softer, smoother texture; and a reduced visibility of bran specks often noticed in other whole-wheat flours. At Food Expo, the ingredient was highlighted in such New Orleans fare as beignets, hush puppies, and muffaletta sandwiches by its manufacturer ConAgra Food Ingredients, Omaha, Neb. (phone 402-595-4000, www.conagrafoodingredients.com).
• A family of Inscosity® instant, stabilized starches was highlighted in sauces, meats, toppings, dressings, and baked goods by Grain Processing Corp., Muscatine, Iowa (phone 563-264-4265, www.grainprocessing.com). Also shown were Pure-Gel® stabilized starches that demonstrated moisture-binding character in precooked frozen foodservice products.
According to the company, "the recent low-carb craze and the trend to mininize carbohydrate content in foods taught food formulators to utilize the most functional carbohydrates for the particular application."
Vanilla: Over Its Crisis?
Throughout the 1990s, increased demand for vanilla exceeded production. This situation, complicated by a market that was vulnerable to speculation and the fact that vanilla plantings take four years to reach full production, resulted in the infamous vanilla crisis which began in late 1999.
Because of this crisis, real vanilla became unaffordable or unavailable, especially for smaller manufacturers, and was eliminated from many products. Not surprisingly, food and beverage developers found alternatives to pure vanilla and are now hesitant to put it back into their product formulations.
"Today, the vanilla crisis has ended, and oversupply is likely to keep prices reasonable for the next few years, said Rick Brownell, Vice President of Vanilla Products, Virginia Dare, Brooklyn, N.Y. (phone 718-788-1776, www.virginiadare.com) during a press conference. "Vanilla is still the world's most popular flavor, although worldwide consumption of vanilla beans is about half of what it was five years ago."
When asked whether the crisis would occur again, he gave several reasons why he thought such a scenario would be unlikely. First, some manufacturers will continue to use vanilla alternatives, so the demand for pure vanilla may not be as great as it was in the 1990s. Second, vines remain productive for many years. And third, production has increased in both traditional and non-traditional vanilla-producing countries.
--- PAGE BREAK ---
In 1999, Madagascar and Indonesia accounted for 90% of the world's production of vanilla beans. Now, two additional countries have become major producers as well. The first is Uganda, which revived the industry which was largely abandoned under the dictatorial regime of Idi Amin. "Then the remote island nation of Papua New Guinea burst onto the vanilla scene with a huge crop just two years ago, catching nearly everyone in the industry by complete surprise," said Brownell.
The Papua New Guinea crop consists mostly of Tahitian-type vanilla beans, a species which comes from a much hardier vine. These beans have an entirely different flavor and aroma profile (fruity, floral, anise-like) than beans from other origins—Madagascar (creamy, pruney, hay-like), Indonesian (smoky, tea-like), Ugandan (creamy, pruney, woody). This different profile might stimulate the use of vanilla in a broader range of applications, such as beverages, puddings, sorbets, ice creams, and baked goods.
Other vanilla-producing countries might also be emerging, including India, Costa Rica, and China. And Brownell speculates that the world might see a possible decline of Indonesia as a bean producer, as occurred with Mexico.
Brownell provided an overview of the major vanilla-producing countries, including environmental and social conditions unique to each that are likely to influence the production and pricing of vanilla beans in the future. The press conference attendees were invited to taste for themselves the differences in flavor profiles of vanilla beans and rate each according to sensory descriptors.
So what's in store for vanilla? The future looks bright. New and customized flavor profiles are being developed. Vanilla is finding its way into new products, including nonfood applications such as vanilla toothpaste. In the U.S., Hispanics from Mexico and Central America may provide a potential market for vanillas based on their demographic tastes. And, of course, soy-based drinks, health bars, and other nutraceutical/functional foods are a "healthy" market for vanillas.
Whey Proteins: A Case of Moodoo?
Whey is the fluid by-product of cheese manufacture. Because it is produced in far greater volume than cheese, the dairy industry was faced with billions of pounds of waste which needed to be utilized or disposed of. Considering the growing rate of cheese production and the ever-tightening constraints on the disposal of processing plant effluents, the problem of what to do with whey grew in major importance.
Fortunately, through research efforts, creative thinking, and hard work, ways were found to put whey to productive use. Initially, the functionality of whey as an ingredient was explored. Then its nutritional benefits were highlighted. And today its individual components are being increasingly promoted for their nutraceutical properties.
--- PAGE BREAK ---
The progress of whey continues, as indicated by the number of developments highlighted at Food Expo. The following are some innovative examples of whey's emerging uses:
Three prototypes from Dairy Management Inc. (DMI), Rosemont, Ill. (phone 847-803-2000, www.innovatewithdairy.com) showcased how whey ingredients can respond to trends and formulation challenges:
A whey-protein-enhanced, whole-grain, apple-cranberry muffin provides 12% of the recommended daily value of protein and twice the protein of a regular muffin. The formulation contains whey protein concentrate which boosts protein content, improves yield, adds a clean neutral flavor, helps prevent moisture loss, and contributes to Maillard reaction and desirable golden brown color.
A mango-flavored isotonic protein beverage offers 10 g of whey protein isolate in one serving. An exceptional feature of this drink is its clarity. "Whey proteins have the unique ability to remain clear at the low pH found in most isotonic drinks," said Kimberlee Burrington, Dairy Ingredient Applications Coordinator at the University of Wisconsin's Wisconsin Center for Dairy Research. "The whey proteins used in this beverage remain soluble at pH 4.5, the point at which other proteins become insoluble, making whey protein a highly useful fortifying ingredient in acidic beverages."
A bite-sized, Cheddar cheese–flavored, protein-enriched snack is made with whey protein concentrate, which provides twice the protein of a typical snack cracker, and whey protein crisps, which add a crispy texture. The formulation also contains whey permeate which contributes to a browning effect while enhancing the snack's baked-cheese flavors.
The whey protein crisps used in the above formulation were provided by Grande Custom Ingredients Group, Lomira, Wis. (phone 920-269-7188, www.grandecig.com). Called WPCrisp, these ingredients are made by combining whey protein with a natural starch in a patented extrusion process. The product, which provides 50–70% protein, has a mild milk flavor and a crunchy texture. It can be eaten alone as a snack, flavored or coated, mixed with other healthy ingredients, or used as an inclusion. Potential applications include cereals, snacks and granola, trail mixes, nutrition bars, salad toppings, frozen dessert toppings/coatings, and yogurt toppings. The product comes in four standard sizes and can also be customized.
At Food Expo, the company demonstrated how flavors such as banana, strawberry, cinnamon, and Cheddar can be incorporated into these whey protein crisps. Color can also be added, further broadening their application possibilities.
In an interview with Food Technology, William C. Haines, Consultant and former Vice President of Product Innovation at DMI, discussed the future possibilities of whey. Among these innovative uses include whey polymers, textured whey proteins, and the "defunctionalization" of whey proteins—the making of products that have improved flavor and mouthfeel. He also speculated on work being done to create by-products of by-products that which can provide enhanced functionality and health properties.
As you can see, whey has evolved from a by-product to a value-added ingredient put to a myriad number of productive uses. One can't help wondering sometimes if whey's growing success as an ingredient doesn't have something to do with magic. Or to use the term that Grande Custom Ingredients employed in a recent marketing campaign, perhaps it's a case of moodoo.
--- PAGE BREAK ---
Putting the Brakes on Hunger?
One of the major uses for emulsifiers has been as a stabilizer of oil/water mixtures. But ingredients with emulsification capabilities have many other uses as well that food formulators are increasingly taking advantage of. These include modifying the rheology of chocolate; strengthening of dough, crumb softening, and retardation of staling in bread; stabilization of protein, fat, and water emulsions in meat products; and rheological modification of sorbet, ice cream, and other dairy products.
Furthermore, as shown at Food Expo, emulsions are gradually being taken to a new level, playing an increasing role in addressing obesity, creating novel delivery systems for health management, and helping to replace trans fatty acids.
One of the most novel applications for emulsions was highlighted by Netherlands-based DSM Food Specialties (phone +31 15 279 3263, www.dsm-foodspecialties.com). At the show, the company launched Fabuless™, a novel emulsion clinically proven to create and maintain a feeling of satiety. The weight-management ingredient is a combination of palm and oat oils. According to the company, the patented oil-in-water emulsion may be incorporated in dairy products such as yogurt, milk, or slimming shakes.
The ingredient's fine oil droplets are made from palm oil coated with fractionated oat oil, which contains a large amount of polar lipids. The microstructure prevents the digestion of the palm-oil core of the droplet in the stomach and small intestine.
Consequently, the droplets pass relatively undisturbed through the first part of the digestive tract into the latter part of the small intestine (the ileum). Undisturbed fat in the ileum is recognized by the body as a signal that it has had enough food for a while, and the brain is informed that there is no need to take in more calories.
This signaling mechanism, referred to as the "ileal brake mechanism," causes a satiety effect, which is proven to make the individual eat less. While this is happening, the Fabuless fat is digested further down the ileum and colon.
The oil-in-water emulsion, which consists of 40% fractioned palm oil, 2.5% fractionated oat oil, and water, is a fluid, white creamy homogeneous dispersion. Products made with it have a higher consistency than their low-fat references, are perceived as creamier and fuller, and are less subject to syneresis. When processed correctly, the droplets are embedded in the typical protein network found in yogurt and other dairy products. It also increases the viscosity of fermented milk products, promoting a firm, smooth, and creamy product texture.
"At a time when consumer and government interest in health and obesity has never been higher, Fabuless represents a significant new product development opportunity for dairy and other food manufacturers," said Rob Minnee, DSM Business Manager of Weight Management. "Its launch opens up exciting possibilities for manufacturers to develop a number of different products for an identified range of target consumer groups."
Furthermore, he noted, "unlike many other weight management solutions, Fabuless does not rely on considerable individual effort and discipline, but has been designed to help people control their food intake and maintain a healthy diet without sacrifice."
--- PAGE BREAK ---
Fiber: A New Face Lift?
Traditionally, fiber ingredients are promoted for providing the health benefits of dietary fiber. These include improving the function of the digestive system, stimulating beneficial bacteria for a healthier colon, reducing calorie content, and increasing calcium uptake. Studies, although not yet conclusive, are also looking at fiber's role in the prevention of certain diseases.
At Food Expo, several companies demonstrated how fiber-based ingredients provide additional benefits that go beyond their traditional capabilities.
For example, Citri-Fi is produced from a plant fiber, but its primary function is not as a dietary fiber, according to its manufacturer, Fiberstar, Inc., Willmar, Minn. (phone 320-231-1829, www.fiberstar.net ). Rather, the ingredient, which is derived from citrus pulp, serves as an effective moisture management tool. It enables the incorporation of a significant amount of additional water, in a tightly bound form, into food products without increasing the level of free water in the product. As a result, it can be used to replace up to 50% of fat in food products without changing the taste or texture of the product to which it has been added. The new ingredient may be used in a wide variety of food products, including baked goods and ground poultry and meat products.
Inulin can be used to stabilize water into a creamy structure with the same mouthfeel as fat, according to Orafti Active NA, Malvern, Pa. (phone 610-889-9828, www.orafti.com). Using small amounts of inulin improves the taste and texture of low-fat products. It gives a better balanced flavor, provides more body and mouthfeel, and stabilizes emulsions and dispersions. It also improves the stability of mousses and foams. High-performance versions of inulin are also available which offer advantages over standard inulin, including a 50% reduction in dosage for fat replacement and mouthfeel improvement in most applications, improved acid stability, and an absence of sweetness.
Another area where fiber ingredients are finding use is sweetness and the textural properties associated with sweeteners. Prebiotic fibers known for their sweetness are available from Roxlor LLC, Wilmington, Del. (phone 302-778-4166, www.roxlor.com). The company introduced two new products: BeFlora PlusTM 20x, which exhibits the same taste and formulating properties as the original version, BeFlora, but has 20 times the sweetness of sucrose; and CitriSweet—a blend of prebiotic oligofructose, fructose, and a proprietary sweetener system—which is 10 times sweeter than sucrose and is said to be excellent at masking off notes from soy, whey protein, vitamins, and minerals.
Also, a sweet liquid fiber product, Frutalose L85, from Sensus America, Monmouth Junction, N.J. (phone 646-452-6144; www.sensus.us), offers a number of functionality benefits. These include a pleasant sweetness, proper texture, humectancy, and flavor enhancement. Extracted from chicory root, the low-calorie product has 85% fiber, 75% solids, and a low glycemic index.
According to Rhonda Witwer, National Starch's Business Development Manager of Nutrition, "Not all consumers are trying to add fiber to their diet—some are much more interested in specific benefits instead of the nutritional content." Her observation can apply to a number of innovative fiber ingredients that are demonstrating their functionality and potential health benefits and opening up new opportunities in the food marketplace, especially in the areas of fat replacement and low-glycemic-index foods.
--- PAGE BREAK ---
New Sweetener Synergies?
If we were discussing sweeteners a decade ago, we would probably describe them first by their type, using words such as nutritive, non-nutritive, natural, and artificial. Each sweetener would promote its own individual benefits, the name of the manufacturer would be closely associated with the branded sweetener it produced, and rarely would we see a product combining different types of sweeteners.
This scenario began to change when the synergy of sweeteners began to be actively promoted. Perhaps the first company to do so, Nutrinova advanced the Sunett Multi-Sweetener Concept, which combined the benefits of acesulfame K with those of other sweeteners, both nutritive and non-nutritive. Gradually other companies followed in its footsteps, adopting this approach with their sweeteners.
As companies looked at the synergistic benefits of different sweetener products, they also examined—or reexamined—the individual benefits that each sweetener brought to the formulation, including functionality, health, and marketing perspectives. Not too surprising, the types of applications these sweeteners are finding use in are also being broadened to include categories such as "mid-calorie" or "slow energy release."
At Food Expo, sweetener blends, more than ever before, were highlighted, each creating a distinctive product and adding to the ever-increasing number of sweetener alternatives available to the food formulator.
For example, a zero-calorie sweetener blend called ShugrTM consists of erythritol, maltodextrin, and tagatose. It is said to offer diet and diabetic-friendly products a taste that is virtually indistinguishable from that of table sugar, and so will not require a masking agent. In addition, it offers excellent cooking and baking properties, as well as a low glycemic index. The product is distributed by DNP International Co., Inc., Irvine, Calif. (phone 949-428-8660, www.dnpint.com).
Studies focusing on the use of high-intensity sweeteners in fruit-flavored and sugar-free chewing gum were presented by Nutrinova Inc., Somerset, N.J. (phone 732-271-7221, www.nutrinova.com). The company conducted sensory studies to identify the differences between chewing gums containing various high-intensity sweeteners and blends during prolonged chewing. The results showed that, in most cases, acesulfame K blends provide a higher flavor and sweetness scores earlier in the chewing process and prolonged flavor and sweetness.
The company also determined flavor similarities and differences between several high-intensity sweeteners and blends, including acesulfame K/aspartame/sucralose in two- and three-way combinations. The chewing gum with 30/70 acesulfame K/aspartame was found to be higher in sweet and berry flavor than any other blend during a seven-minute chew time. All other blends were higher in flavor than a 100% aspartame-only gum.
Sweetener blends, because of their synergistic sweetness properties as well as the value of their individual components, will continue to play an important role in product formulation. In fact, their importance will be further enhanced as the focus on low glycemic index and slow-energy-release carbohydrates grows.
--- PAGE BREAK ---
Taking the Soy Challenge?
Soy has had a long and interesting evolution. Once closely associated with tofu, soymilk, and products found in health-food stores, it evolved into its current status as a functional and good-for-you ingredient in a broad range of applications, including snacks, baked goods, meatless products, coating systems, soups, clear beverages, mashed potatoes, and so on.
Part of soy's success was due to several advancements in agriculture, processing, and flavor/flavor masking which have helped minimize the functionality challenges associated with soy—in particular, eliminating its once-characteristic strong beany taste. Another part of its success, at least in my opinion, was the realization by the soy industry that if soy's potential health benefits were promoted without taking into consideration its functionality, sensory properties, and ability to work with other ingredients, then soy would not achieve the level of success that it has.
Another interesting dimension to the story of soy has been its relationship with dairy. Years ago, soy and dairy would have been viewed as totally separate markets. Furthermore, as competitors, the relationship between the two industries in terms of exchanging information on technology, processing, and health studies would not have always been the most productive. This may be changing, as well, as more companies are combining soy- and dairy-based ingredients into a formulation.
For instance, attendees visiting the Solae Co. booth were asked to blindly taste two vanilla meal-replacement beverages—one made with dairy protein and the other with a soy/dairy protein blend—and give their preference for overall liking. The soy/dairy beverage made reportedly came out on top, with 60% preferring it over the all-milk beverage. These results were said to be consistent with results of in-house consumer panels conducted by the company earlier this year, which showed significant preference for the soy/milk beverages.
In taste tests conducted at the booth, consumers rated the soy/milk beverage better on overall appeal, flavor, texture, and aftertaste. Across a variety of applications, including ready-to-drink and powdered beverages and nutrition bars, researchers from the company have found that soy and milk proteins are very compatible from both flavor and nutrition standpoints.
"Blending soy and dairy together is a great option for food manufacturers looking for relief from high milk ingredient pricing, and looking for new marketing opportunities centered on the complementary benefits of milk and soy," said Jean Heggie, Marketing Leader, North America Food for the Solae Co., St. Louis, Mo. (phone 314-982-1983, www.thesolaecompany.com). "At Solae, we invest in research of the health benefits of our products, as well as invest in how we can deliver those benefits in foods that meet consumer taste expectations."
Both vanilla-flavored meal-replacement drinks included 10 g of protein per 11-oz serving. The control beverage, made with milk proteins, included a combination of nonfat dry milk and calcium caseinate. In the soy/dairy beverage, 20% of the milk protein, or 100% of the caseinate, was replaced with soy protein. Both beverages had identical nutritional profiles, but the protein cost of the blended formula was nearly 10% lower than that of the all-milk "control" beverage after eliminating the caseinate.
--- PAGE BREAK ---
Chefs, Chefs, Everywhere?
As anyone who has attended Food Expo over the past few years knows, the approach of combining food science knowledge with culinary expertise in food product development has become well established. It originated a couple of decades ago when FIDCO developed the concept, along with a specialized vocabulary and even a school that taught how art and science could be effectively combined. Prior to that, it was generally viewed that chefs and food scientists followed approaches that were too different for them to ever work effectively together.
At this year's Food Expo, a variety of exhibiting companies used corporate chefs to prepare dishes that demonstrated the functionality and health benefits of the company's ingredients. And with each new show, there are signs that this approach keeps evolving.
In addition, a variety of special events demonstrated how sophisticated this approach has become. They included an interactive New Product Development Pavilion featuring presentations combining the culinary innovation of research chefs with the technical expertise of food scientists; Mintel's "Global Trends and Tasting Presentations"; and Innova's "Taste the Trend" Presentations.
Because of the large number of exhibiting companies which employ this approach, it would be impossible to describe all the different preparations that I tasted. Consequently, I have chosen one company, Kraft Food Ingredients, Memphis, Tenn. (phone 901-381-6500, www.kraftfoodingredients.com), whose booth resembled an upscale café, to typify this culinary trend.
Several menu categories highlighting the use of innovative ingredients that offer solutions to culinary challenges in product development were shown by Kraft under its concept theme, Chef's Table. For each category, a variety of dishes were either available for sampling or could be prepared for special customer requests. Food Technology staff was invited to sample some of the following dishes:
• Hand-Held Snacks. Panzerotti-Style Italian Cheese and Chicken Rolls were made with restricted-melt Italian-style cheese sauce. Holiday-Style Turkey Cranberry Rangoon highlighted Kraft Neufchatel Cheeze Blend and Chicken Pan Drippings Flavors—a new line of flavors which enable food product developers to attain an authentic, home-cooked taste without increasing their cooking and manufacturing times.
• Meat, Poultry, and Fish. Mediterranean-Style CharGrilled Beef Medallions spotlighted the trend toward cuisines of Mediterranean and Morocco, regions known for their spices and herbs. This dish featured roasted spices accented with Kraft's CharGrill Style Flavor which captured the flavor notes of cooking on a charcoal-fired grill. Other dishes in this category included Parisian Bistro-Style Turkey Burgers made with Turkey Pan Drippings Flavor and Yucatan-Style Grilled Shrimp with Cilantro-Lime Butter made with Cuisine of Mexico–Puebla-Style Flavor and CharGrill-Style Flavor.
• Entrees. Mexican Country Pasta Bake with Peppers, Corn, and Black Beans featured a creamy cheese sauce with the flavors of Cheddar and Monterrey Jack and the heat of jalapeños. These flavors are delivered by a single ingredient, Restricted Melt Cheese Sauce with Jalapeño Peppers. Another dish included Thai-Style Caramel Glazed Fried Chicken Nuggets, made with Caramel Sauce, Cuisine of Asia Flavor, and sweetened coconut concentrate.
• Desserts. To round out the meal, scrumptious dessert items included Dulce de Leche Nutter Butter Chocolate Coupe, made with Kraft Neufchatel Cheez Blend, Caramel Sauce, and Nutter Butter® Peanut Butter Sandwich Cookies, and Caramelized Apple Cream Tart with Grape-Nuts® Streusel containing Kraft Soft Cream Cheez Blend, Grape-Nuts®Cereal, and Nilla® Wafer Crumbs.
--- PAGE BREAK ---
Reformulating Formulating?
In the past, there were different ways that a food formulator might make a particular product healthier. One way was fortifying the product with a particular nutrient, such as a vitamin or mineral. Another was reducing the level of a particular component in the food—whether it be fat, carbohydrates, or some component that was currently receiving negative publicity. A third way was focusing on certain applications such as nutrition bars, beverages, and meal replacement systems to deliver the healthier attributes.
Today, the approach toward making a product healthier has become much more sophisticated, as companies develop prototype applications that are much more mainstream and popular. These range from pizza to chili to an assortment of frozen entrees, and companies are reformulating them using a variety of ingredients from their portfolio to provide both nutritional and desirable functionality attributes. The approach these companies are taking is, in a sense, reformulating the traditional formulating process, and hopefully it will lead to healthier, good-tasting products that can be served in fast-food outlets, restaurants, and perhaps even in the supermarkets themselves.
One company that has adopted the reformulation mantra is ADM, Decatur, Ill. (phone 217-424-5200, www.admworld.com). At Food Expo, ADM showcased its Le Menu du Jour, a wide range of New Orleans–style foods that were reformulated with ingredients from the company's portfolio. For example, Nola Creole featured grilled chicken-flavored NutriSoy NextTM, a line of soy-based meat analogs that duplicate the taste, texture, and appearance of whole-muscle meat products; Gumbo Ya Ya contained an oven-roasted, chicken-flavored meat analog; and New Orleans Sandwich highlighted the newest addition to this line of meat analogs, a pork-flavored variety.
Another ingredient that was used in a variety of prototypes was Enova oil, a vegetable oil derived from soy and canola. It is composed of high concentrations of diacylglycerol (DAG), a type of fat which is metabolized differently by the body. Instead of being stored as fat, the majority of DAG fat is burned as energy. The ingredient was used in the Gumbo Ya Ya, the Nola Creole, Whole Grain Hushpuppies, Chocolate Almond Biscotti, Hearty Baguette, and Bread Pudding with Chili Chocolate Sauce.
Other prototypes (and ingredients) included Buttery Pecan Soy Soft Serve (NutriSoy® organic whole soybean powder and Fibersol®-2 digestion-resistant maltodextrin), Fortified Hurricane Blast (Fibersol-2 and Bioblend® enrichments), Calcium-Powered Citrus Water (calcium citrate), Low-Trans Cinnamon Danish (NovaLipidTM interestified soybean and hydrogenated cottonseed oils), and Bayou Red Beans and Rice.
What's Up, Doc?
Fruit- and vegetable-based ingredients offer a variety of benefits in formulations, including color, texture, flavor, and nutritional properties. However, like the other ingredients discussed in this article, fruits and vegetables are also evolving, finding a broader range of uses as well as demonstrating an increasing number of health properties based on scientific studies. The directions that these ingredients are moving toward are also being influenced by a number of new—and frequently—exotic sources.
--- PAGE BREAK ---
Take, for example, the acai berry, a Brazilian fruit that is high in fiber, anthocyanins, minerals, and vitamin E. A convenient acai juice powder for the food, functional food, and dietary supplement industries was launched by RFI Ingredients, Blauvelt, N.Y. (phone 845-358-8600, www.rfiingredients.com).
Furthermore, you don't always have to go to the remote jungles of Brazil to find fruits and vegetables that offer surprising benefits. The carrot has been long associated with good eyesight, but how about its water-binding properties? A carrot fiber, called HydrobindTM, is said to absorb more water than other natural fibers, binding up to 18 times its weight in water. Because it binds so well, it can improve the yield of a wide variety of processed meat and poultry products, while helping to deliver taste and texture. The ingredient, which disperses easily in dry or liquid applications without heating or extensive mixing, is available from Wm. Bolthouse Farms, Bakersfield, Calif. (phone 661-366-7280, www.bolthouse.com).
When you think of fruit applications, you probably think of sweet ones like ice cream or baked goods. But fruits are increasingly finding their way into savory products as well. For example, two sauce formulations, a Plum Barbecue Sauce for Beef and Pork, and a Creole Plum and Mustard Sauce, were highlighted by California Dried Plum Board, Sacramento, Calif. (phone 916-565-6232, www.californiadriedplums.org). Culinary formulations using dates were available from California Date Administrative Committee, Indio, Calif. (phone 760-347-4510, www.datesaregreat.com). These award-winning recipes included Yucatan Rack of Lamb with Roasted Corn and Date Tamale, and Pepper Crusted Beef Carpaccio with Date, Frissee, and Date Vinaigrette.
Some of the future directions of fruits and vegetables were also demonstrated by Vegetable Juices, Inc. (VJI), Bedford Park, Ill. (phone 708-924-9500, www.vegetablejuices.com). The company, which updated its graphics and logo to include the words, "Natural Ingredient Solutions," demonstrated innovative solutions in the areas of health and functionality.
Systems: Doing It All?
At one time, ingredient suppliers focused on selling individual ingredients, usually from a specific category. For example, a starch supplier would sell starches, while a flavor supplier would offer flavors. Accompanying these products would be a generic formulation sheet describing what application the ingredient was being used in, what percentage level the ingredient would be used at in the formula, and a listing of other ingredients in the formula. These additional ingredients would usually be supplied by other companies. In short, most of the research and development work was done by the company purchasing the ingredient.
This approach, however, began to change, for several reasons. Ingredient suppliers with larger capital as well as a futuristic vision began to acquire key companies that would add to their ingredients portfolio and expertise. Other ingredient companies with vision but not necessarily capital began to enter into strategic partnerships with other companies to formulate products that would benefit the needs of both parties. Food manufacturers, because of cutbacks in staff and other resources, could not always do their own research and development, so they began to rely on the increasing sophistication of the ingredient supplier.
And as ingredient suppliers began to develop prototypes demonstrating the health and functionality benefits of their ingredients, they looked for approaches that would aid them in the formulation process. Some of these approaches included recognizing up-and-coming trends, so that products could be created to meet these emerging developments; putting an emphasis on cutting-edge technologies that could lead to ingredients with improved characteristics (e.g., soy); combining the expertise of chefs and food scientists; and putting an emphasis on reformulating products, making them healthier and better tasting.
--- PAGE BREAK ---
The result was the systems approach, where a company uses a wide range of ingredients from its portfolio to develop finished products which demonstrate to the customer the benefits of these ingredients, as well as a prototype application where most of the research and development work was already done. Seeing some of these sophisticated applications at this year's Food Expo clearly underscored how far some of these ingredients suppliers have come since those days when they focused on selling a particular ingredient for use in a generic application.
I have chosen two companies to illustrate this systems approach:
Kerry Ingredients, Beloit, Wis. (phone 608-363-1200, www.kerryamericas.com), has been refining this process for several years. This year, the company promoted the message "Think fresh" and suggested several ways for food and beverage manufacturers to deliver this concept, with each way illustrated by prototypes.
For example, the company delivers fresh insights by developing new foods that provide real-time response to changing consumer needs. Products included Chicken Tikka Pizza with Natural Seasoned East Indian BBQ Flavor, Cherry Almond Bar with Extruded Soy Crisps, and Caramel Chocolate Crisp Bar with Omega-3 Coating. The company also made available new-to-the-industry flavors created by and for consumers. These included Choco-potle Thigh Strips with a blend of dark chocolate and chipotle flavor, and High-Protein Grapefruit Smoothie Popables that provide 30% of the recommended daily allowance of vitamin C.
Tate & Lyle, Decatur, Ill. (phone 217-423-4411, www.tateandlyle.com), has recently taken up the systems approach. Known as the manufacturer and supplier of Splenda® sucralose, the company uses its technical expertise and diverse product range—including sweeteners, starches, wheat proteins, acidulants, and gums—to help food and beverage producers meet today's challenges.
The company's evolving program to meet these challenges is organized around four new services—CreateTM, OptimizeTM, RebalanceTM, and EnrichTM. Taken together, these services help create innovative new products, optimize costs, rebalance the health profile of brands, and enrich the nutritional benefits of a product, all without compromising on taste, and at a low development cost.
At Food Expo, Tate & Lyle profiled three prototypes:
1. A reduced-sugar chocolate milk drink made with ingredients that provide heat-stable sweetness, a rich and creamy mouthfeel, and 45% less added sugar and fewer calories than full-fat, full-sugar chocolate milk.
2. A whole-grain snack cracker in which substantial amounts of wheat flour have been replaced with functional proteins and flavor/texture-enhancing ingredients that provide appropriate dough-machining properties, contribute a light and crispy texture in the presence of higher levels of dietary fiber and protein, and add a mild sweetness which enhances flavor.
3. A flavored water, enhanced with vitamins and calcium citrate, that is made with a system that provides a well-balanced sweetness, a fresh and fruity flavor, and 85% fewer calories per serving compared to full-sugared beverages of comparable sweetness.
Over the coming months, the company will be introducing a variety of other ingredient solutions that will take a systems approach to help reformulate food products and beverages. I think the same can be said for an increasing number of other companies who are taking this approach.
--- PAGE BREAK ---
So What's Next?
This article has looked at a number of ingredient developments highlighted at the 2005 IFT Food Expo, focusing on where they came from, and, perhaps more important, where they're going. In that sense, Food Expo serves as a good barometer, measuring not only what the hottest developments are in the industry, but also giving attendees some perspective on their future implications in product development.
There are many other ingredient developments that could easily demonstrate an ongoing evolution in food formulating. Eggs, salt, fats and oils, delivery systems, chocolate, proteins, and flavor enhancers are just a few examples. I'm not forgetting to include flavors on this list, but we're covering those developments in a separate article by Karen Banasiak elsewhere in this issue. As you read her article on what exciting flavors were shown at this year's Food Expo, I encourage you to think about them from a "past and future" perspective as well.
As you probably already noticed, throughout this article each of my headlines was posed as a question. After all, when dealing with the future, one can never be quite sure what the outcome will be. But hopefully, based on the information highlighted at this year's IFT Annual Meeting + Food Expo, you answered each one in the affirmative.
Which leaves us with the million-dollar question: What's next?
A prototype that Kerry highlighted, a High-Protein Grapefruit Smoothie Popable, may give us some insight. Products such as these which combine convenience with nutrition, flavor, and a unique format may help deliver good-for-you benefits that lead to a healthier lifestyle, provide an alternative source for vitamins and other nutrients, and ultimately, when taken with other reformulated foods and beverages, help the individual live a healthier life, perhaps even escaping that genetic fate earlier mentioned.
I should note, however, that certain foods can have an impact on drug absorption, so it becomes necessary for researchers to look for combinations of foods and drugs that can enhance performance. But I would also like to add that researchers should continue to study the components of foods themselves and see which combinations of those foods can play a role in maximizing an individual's health. The old axiom Eat a balanced diet can at least increase the chances that an individual may be getting the components needed to enhance that personal health.
For other answers to the question of what's next, we'll just have to wait until the 2006 IFT Annual Meeting + Food Expo to see. But you can be sure that there will be some exciting developments in the "Magical Kingdom" of tomorrow's food formulating.
--- PAGE BREAK ---
Delivering New Solutions?
An established technology, microencapsulation continues to move in new directions, addressing a variety of functionality challenges, providing novel delivery systems for health-promoting components, and helping to differentiate products in the marketplace.
One development that will fuel its progress is the recent acquisition of Loders Croklaan USA's encapsulation and agglomeration business by Balchem Corp., New Hampton, N.Y. (phone 845-326-5600, www.balchem.com). The acquired business will continue to be operated primarily out of Channahon, Ill., with certain product manufacturing moving to other Balchem operations.
"The integration of Loder's fluidized-bed encapsulation and agglomeration technologies with our current technologies will provide superior product lines that will address many needs in the food industry," said Dino A. Rossi, President and CEO of Balchem Corp. "Additionally, this acquisition enhances Balchem's strategic initiatives as a supplier of encapsulated and agglomerated ingredients for use in the pharmaceutical industry."
The company is particularly excited over the prospect of developing novel applications for these markets, which supports its commitment to technology growth and strengthening of business.
---
Cheesy Options?
A new source for dairy ingredients, including processed and imported cheeses, is provided by a newly formed company, the Kantner Group, Wapakoneta, Ohio (phone 419-738-4060,
www.europroteins.com
). Making its debut at Food Expo, the company was formed when Euro Proteins, Blue Valley Foods, and Chianti Cheese joined forces.
Among its cheese products are imitation, substitute, process, and pizza types; custom formulations; grated hard Italian cheeses, and fresh mozzarella, ricotta, and provolone. Other ingredients include cream and yogurt powders, dairy proteins, dough developers, and customized products. The new company operates three AIB-certified manufacturing sites in the U.S., all with HACCP programs in place, and provides the combined dairy expertise of the three former companies.
The new business development may prove to be especially timely as a variety of cheese options are being explored today. In an interview with Food Technology, Dean Sommer, Cheese Technologist with the Wisconsin Center for Dairy Research, discussed how low-fat cheeses have better flavor, body, and texture than products a decade ago; healthy ingredients such as probiotics and omega-3s are being successfully incorporated into cheeses without affecting their quality; and Hispanic cheeses are being created that have an authentic taste and texture.
Several products highlighted at Food Expo confirm Sommer's insights. For example, Sargento Foods Inc., Plymouth, Wis. (phone 920-893-8484, www.sargentofoodingredients.com) exhibited an array of shredded cheeses that boost the flavor of salads. These Bistro Blends included Mozzarella with Sun-Dried Tomatoes and Basil, Mozzarella and Asiago with Roasted Garlic, and Cheddar Salsa with Tomato and Jalapeño Pepper.
--- PAGE BREAK ---
Off to the Cybrary?
At every Food Expo, there are always certain trends and ingredient developments that stand out because a number of exhibitors are emphasizing them. Sometimes, it's an application such as white tea; other times it might be a certain flavor like acai berry.
When faced with these similarities, I can't help wondering how these companies, which are working independently of each other, zero in on these trends and arrive at similar conclusions.
The sourcing of this kind of information may itself be seeing an evolution, much like the other developments discussed in this article. Obviously, it is very important for ingredient suppliers to stay ahead of emerging trends by knowing what strategic customers and prospects are working on, early in the development process.
One new way of accessing this data on raw materials and formulation is a "cybrary," a Web-based raw materials and formulation database for research and development professionals launched by Chemidex, Inc., Lenexa, Kan, (phone 913-307-9010, www.chemidex.com).
Access to the search engine, designed by former formulation chemists and research scientists, is free to qualified members of the R&D community. The powerful tool allows professionals to get new products to market faster, cutting development time through immediate access to raw materials technical data, including specification sheets, sample formulations, and more.
"Chemidex's search technology takes formulators to the actual databases containing the specific technical product information that a chemist needs to deliver exceptional products to market," said Mathew Perry, Vice President of Business Development. "The search engine significantly shortens the invention process while ensuring the selection of the best raw material ingredients for every application."
Raw material ingredients are listed in the cybrary on a fee basis for raw material suppliers, who benefit from exposure to more than 23,000 research scientists around the world.
---
by Donald E. Pszczola,

Senior Associate Editor 
[email protected]