My first business enterprise, like that of many youngsters, was the operation of a lemonade stand. Ingredient needs were simple—water, some lemons, and a little sugar. And there were always thirsty customers around, especially when the summer got hot.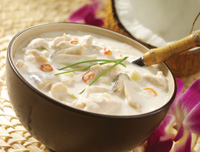 Today, with everyone carrying around their own bottled water—in countless varieties, no less—I suppose my lemonade stand would have had a much harder time succeeding. In fact, I probably would have been bankrupt long before puberty set in. Unless, of course, I was willing to take the next step in my formulation of that traditional beverage—one that would help me capture a greater share of the market or at least compete with those pesky bottled water products.
"That next step" is not always easy to determine, but this year's IFT Food Expo® sure gave me some lemonade for thought. By that I mean the array of prototypes I saw presented different ideas on how to upscale or add value to traditional products, whether they were lemonade or chicken soup. And along the way, these concepts helped meet a whole range of important considerations, including taste, functionality, health, and marketing trends.
Take lemonade, for example. The incorporation of vanilla and mint flavors to that beverage could provide an especially cooling refreshment. Or a mango-flavored lemonade could be created for the Hispanic market but could also "spill" over into the mainstream. For those with gourmet tastes, a lemonade could be made with a foamy topping speckled with bits of color or flavoring. Kids might like a lemonade that comes in different colors such as blue or orange or possibly rainbow.
And then there's the health potential. Since beverages with healthy monikers are currently popular, how about "a good source of fiber" lemonade made with a combination of fibers that do not compromise textural or taste properties? Or a lemonade made with different sweetener solutions? Or a vitamin-fortified lemonade made with a vegetable flavoring such as cucumber or carrot?
For aspiring operators of lemonade stands across the country, this article will certainly give you some "lemonade for thought." For everyone else, keep in mind the different ways that ingredient suppliers are taking the next step in how they approach food formulating. To help underscore these different ways, this article will include a variety of sidebars, "Sampling the Expo," that highlight innovative food and beverage prototypes.
Directly following this article, Ingredients coverage of the IFT Food Expo will continue with Karen Banasiak's story, "Alliances Foster New Developments." As you will see, another way that ingredient companies are taking that next step is through strategic alliances.
--- PAGE BREAK ---
Re-energizing Soy-Extended Meats
A number of meat and meat-free concepts showcased a new structuring technology based on soy protein. The Solae Co., St. Louis, Mo. (phone 800-325-7108, www.thesolaecompany.com), unveiled this technology, named SoleCina™, which is said to create a new generation of soy-extended meat products and meat analogs.
A blend of isolated soy protein, wheat gluten, flavorings, and other ingredients is combined with meat or poultry to produce a finished product that mimics the taste, texture, bite, and appearance of traditional products, but with fewer calories, less fat, and less cholesterol. Soy-extended ground meat products have excellent moisture control and release, with the soy absorbing the meat juices and releasing cleanly the flavors. Because of the soy's functionality, the products also offer increased cook yields, as well as excellent freeze-thaw stability and extended holding times.
At the IFT Food Expo, one of the applications the company highlighted was Tex-Mex Shreds, a blend of seasoned, mechanically separated chicken and soy protein, which can be used for wraps, burritos, and other international-inspired entrees and appetizers. Other innovative possibilities that can be created using the technology include riblets, steak tips, medallions, patties, beef strips, meat chunks, burrito/taco fillings, and chili shreds. Photo shows a shredded beef dish which emphasizes the textural attributes that can be produced using the process developed by Solae.
The amount of soy and how it is incorporated varies with each application, according to Jonathan McIntyre, Solae's Vice President of Research and Development. A poultry application might require 70% hydrated soy and 30% chicken—the latter to primarily provide flavor—while a beef rib tip might call for a 50-50 ratio. As to incorporation, the dry ingredient can be hydrated whole or it can be shredded and then mixed in with the ground meat.
The SoleCina technology is not necessarily limited to products containing meat, but can be used to produce a superior meat analog with a wide range of textural characteristics that resemble whole muscle meat and poultry. McIntyre noted that the secret of the product's effectiveness is its alignment of long fibers that cannot be found in other meat analogs.
"There are certain characteristics that consumers expect in a meat-free product, and we think our technology is well-positioned to deliver those attributes," said Tony Arnold, Solae's President and Chief Executive Officer. SoleCina is the latest example of the company's expansive portfolio of soy protein ingredient innovations.
--- PAGE BREAK ---
Creating Products for the Hispanic Consumer
If you want to create successful products for the rapidly growing Hispanic population in the U.S., it is important to understand the diverse taste preferences of this multicultural market. That was the message emphasized by Virginia Dare, Brooklyn, N.Y. (phone 718-788-1776, www.virginiadare.com), at a press conference where it shared the results of its ongoing consumer research into the taste preferences of Hispanic consumers, and the influence of traditional Hispanic flavors on mainstream food and beverage products.
At last year's IFT Food Expo, Virginia Dare demonstrated the taste attributes of various vanilla extracts including Bourbon, Indonesian, Ugandan, and Papua New Guinea. This year, the company discussed vanilla preferences with the U.S. Hispanic and non-Hispanic consumer.
According to Rick Brownell, Virginia Dare's Vice President of Vanilla Products, "Our research indicated that Hispanic consumers have a stronger preference for Papua New Guinea (Tahitian type) than non-Hispanics. This product profile is characterized by strong anise-like and floral notes. Bourbon Vanilla, on the other hand, seems to have universal appeal among both market segments."
Brownell urged that because Hispanic consumers fall into many subgroups, products developed for any target audience need to be acceptance tested with those specific groups and then measured for crossover appeal with the mainstream population.
Virginia Dare also did a preliminary study on strawberry flavor preference in ice cream. Hispanic and non-Hispanic adult consumers were pre-screened for frequent ice cream consumption and given two leading commercially prepared strawberry ice cream samples. While the non-Hispanic participant had no significant preference, the Hispanic consumer preferred the ice cream that had a fruitier taste over the fruit-dairy taste of the other choice.
Mangoes are popular with many groups of Hispanic consumers, and Virginia Dare created three mango flavors that showcased the varietal characteristics of this fruit. These distinctly different flavors included Indian Type (a sweet, peachy mango, typically of the Keitt/Tommy Atkins varieties), Mexican Type (a red-green ripe mango typically of the Haden variety), and Manila Type (a juicy mango typically of the Alaulfo variety). Beverages incorporating these flavors were tested with groups of Hispanic and non-Hispanic consumers for flavor preference. Taste panel results indicated that the Hispanic panels significantly preferred the Mexican Type, while the non-Hispanics chose the Indian Type. All three products were well received by both groups.
At the IFT Food Expo, the company showcased these three mango beverages. Also highlighted were Mojito beverages—Key Lime, Strawberry, and Raspberry—that combined the flavors of fruit, rum and mint, and several Hispanic-flavored sweet goods, including Pineapple Empanada, Dulce de Leche Pastry, and Guava Genoise Cake.
--- PAGE BREAK ---
Hispanics are the fastest growing segment of the U.S. population, accounting for 50% of the annual population growth. The 41.3 million documented Hispanics in the U.S. today represent 14% of the total U.S. population. It is estimated that by 2050, the Hispanic population of the U.S. will exceed 100 million or 24.4% of the U.S. population. Furthermore, this market segment is a mosaic of people from many different countries of origin, ancestries, and racial and ethnic groups, and can encompass Mexican, Spanish, Puerto Rican, Cuban, Central and South American, and Dominican.
Hispanic consumers can also significant vary from each other by their personal and collective history, especially their length of time in the U.S. Acculturation (the process of picking and choosing between the best of both worlds) and assimilation (the process of rejecting the old and accepting the new) are important factors in consumer behavior among all immigrant groups. Product acceptance is also influenced by a number of other factors, including exposure to products in and from the native country, channels of distribution, education, disposable income, and marketing communications and promotion.
Identification of the consumer target should be based on an assessment of the market niche potential, noted Anton Angelich, Virginia Dare's Group Vice President of Marketing. Product marketers must ask themselves a series of important questions. These include: (1) is the target market large enough to be profitable; (2) is there any taste preference overlap between Hispanic subgroups for this product; (3) will new or existing mainstream products cross over to the Hispanic consumer in this category; and (4) will Hispanic-developed products cross over to the mainstream consumer?
Finding the Next 'In-This-World' Flavor
"New Emerging X-citing Trends" (or N.E.X.T., for short) was the focus of Wild Flavors, Inc., Erlanger, Ky. (phone 859-342-3600, www.wildflavors.com), as it demonstrated its abilities to identify future trends and to create products that meet customers' requirements for taste and health. Under this theme, the company showcased a wide range of food and beverage prototypes made with flavors and technologies from its portfolio.
Some of the prototypes reflected different international cuisines. For example, a Thai coconut chicken soup, Tom Kha Kai, was formulated with chicken, coconut milk, lime, lemongrass, mushrooms, green onions, Thai chilies, and fish sauce. Horchata, a traditional Mexican-style rice beverage, was blended with tamarind in a creamy dairy base—the formulation contained 24% juice, including apple concentrate and tamarind puree. A lentil salad with an Indian garam masala vinaigrette featured dried fruits and nuts, shredded coconut, red lentils, pistachios, raisins (black, red, and golden), peanuts, yogurt, curry, garlic, onion, and other spices. Other examples included Chilled Moroccan Tomato Soup (with yogurt and lemon pepper); Caribbean Seafood Ceviche, consisting of shrimp and scallops, diced watermelon and pineapple, jalapenos, onions, lime juice, cilantro, mint, ginger, cayenne pepper, and other ingredients; Habanero Smoked Sausage containing peppers, herbs, tomatoes, jalapenos, fresh lime, garlic, and onion; and Mango Lassi, an Indian beverage featuring a fresh mango flavor with creamy yogurt notes and containing 20% juice.
Beverage and confectionery prototypes, in particular, demonstrated a number of unique flavor combinations. Some examples included Cucumber-Lime Weight-Loss Water (see sidebar on page 76), Apple Sugar Rose Water, Vanilla-Mint Lemonade, Pumpkin Punch (a combination of pumpkin and pineapple flavors), White Chocolate-Raspberry Milk, Orange Basil Rooibus Tea Spritzer (a slightly carbonated effervescent tea with orange and basil flavors), and Red Wine Peppercorn Truffles (a creamy chocolate confection combining red wine and peppercorn flavors).
Some of the prototypes also reflected nutraceutical considerations. For example, an Immunity Dessert consisted of low-fat ice cream made with purple carrots, chai tea, and a blend of immunity-providing components.
In addition, the company highlighted LightShield™, a mineral-based system which prevents the formation of light-activated off flavors in high- and low-acid dairy products, allowing manufacturers to use any form of packaging for these applications. Also shown was SaltTrim™, a heat- and pH-stable system that simultaneously blocks the negative taste of potassium chloride while keeping the true taste and mouthfeel of salt; when used in conjunction with potassium chloride, it enables a reduction of salt by up to 50% without affecting taste, and is customized for each finished product.
--- PAGE BREAK ---
Rising to the Top
Foams are increasingly used by chefs and food manufacturers to create product with distinctive textures, flavors, and eye appeal. To help food professionals create their own foam in an easy convenient way, TIC Gums, Belcamp, Md. (phone 410-273-7300, www.ticgums.com), introduced a new gum blend, TIC Pretested® Stabilizer® Culinary Foam.
Designed for use in specialty dishes where a culinary foam adds a burst of flavor, texture, and flourish, the system consists of a blend of gums chosen for their own special properties. Emulsifiers help provide the foam's airy appearance, gelling agents supply structure and set, and other stabilizers contribute additional viscosity and suspension characteristics. Working together, these gums create consistently perfect foam.
According to Frances K. Bowman, TIC's Marketing Manager, there are a range of possibilities for culinary foams created by the new gum system. It can be used in beverages such as teas and coffee, in desserts as a flavorful flourish, and in entrees as a way to infuse hints of flavor and create visually striking plates. For example, a citrus food foam for a meat application can consist of lemon, lime, and orange juices; sugar; salt; and the gum system. At the IFT Food Expo, foam-topped iced tea was available for sampling.
For commercial production, culinary foam can be packaged in aerosol cans similar to those used for whipped cream and sold as a topper for desserts and cold drinks. Typical usage levels range between 1-2% of the finished liquid blend.
In addition, TIC Gums spotlighted other gum systems that help in formulating products with the right texture, taste, and appearance. TIC Pretested Saladizer® Mayo Cold Set helps address processing difficulties common in the manufacture of reduced-fat mayonnaise-type dressings and sauces. The gum system can be incorporated using a cold process instead of the traditional method in which heat is used to activate component starches. Heating during manufacturing causes slowdowns in batch production and can affect the consistency of reduced-fat mayonnaise-type formulations. The cold-water-soluble system is typically combined with water in a mixing tank before other ingredients, such as preservatives, sugar, egg whites, salt, and other flavors are added. Usage levels are typically 6–7%.
Compiling a Dictionary for Nuts
Although the sensory characteristics of peanuts are well documented, no attempt has been made in the past to qualify and quantify the appearance, aroma, flavor, and textural characterstics of treated and untreated almonds. Creation of a standard lexicon for almonds would provide researchers with a valuable tool to understand the range and importance of each of these sensory characteristics for that particular nut.
The Almond Board of California, Modesto, Calif. (phone 209-549-8262, www.AlmondsAreIn.com), commissioned Sensory Spectrum, Inc., to evaluate 36 samples of raw almonds, representing 20 different almond varieties, procured from sources across California. Based on the information compiled, a science-based almond sensory lexicon was created. The present lexicon contains 86 attributes divided as follows: 15 appearance terms, 9 aroma terms, 36 flavor aromatics, 3 basic taste and 4 chemical feeling factor terms, and 19 textural terms and definitions.
--- PAGE BREAK ---
According to Gail Vance Civille, President of Sensory Spectrum, Inc., "Lexicon creation is dynamic; as new attributes are uncovered and/or understanding of given terms is expanded to be more specific, this lexicon may grow and change."
At the 2006 IFT Annual Meeting + Food Expo, the Almond Board of California unveiled the new lexicon. In addition, new study results were presented that will expand almond product knowledge. The first study looked at the stability of almonds for military use. The second provided a sneak peak at how almonds may help curb hunger. More information about the potential health benefits of almonds as an ingredient will be discussed in the Nutraceuticals IFT Post-Show article starting on page 103.
Stabilizing Low-Fat Ice Creams
Low-fat ice creams that have the taste and texture of full-fat versions can be produced using a new stabilizer system, Gelstar® IC 3542, developed by FMC BioPolymer, Philadelphia, Pa. (phone 215-299-6000, www.fmc.com). An ice cream that demonstrated the functionality benefits of the system was highlighted at the IFT Food Expo.
The system, which replaces butterfat or milk solids nonfat content by 1 to 2%, imparts added body and mouthfeel normally associated with higher-fat products while maintaining or improving the stability of the ice cream over time and temperature.
During distribution, ice cream is subjected to freeze-thaw cycles that promote the formation of ice crystals. Because the new stabilizer system minimizes the amount of moisture that melts and reforms into ice crystals, a rich, creamy ice cream is maintained. It also provides excellent support and firmness to ice cream by forming an insoluble matrix around the air cells. This adds stiffness during the extrusion of the ice cream, added body during hardening, and smoother meltdown of the ice cream. This enhanced stability of the air cells or foam offers ice cream manufacturers new capabilities when ice cream is extruded in novelties.
Using different polyols and non-sucrose ingredients to provide sweetness and added body can create changes in the freezing point of ice cream. The stabilizer system can address this problem by offering greater protection against heat shock while adding creaminess to the ice cream. Unlike traditional hydrocolloids, it imparts "solid-like" properties to the formulation, allowing for fuller body and less crumbly textures.
"FMC has conducted more than 200 individual ice cream challenge taste tests that compared a 10% fat ice cream to ice cream with less than 5% fat and using Gelstar technology," noted Chip Venables, Senior Scientist for the company. "Greater than 80% of the participants identified the low fat ice cream with the Gelstar technology as the full-fat product."
--- PAGE BREAK ---
Crispy Blueberries?
A new ingredient solution, Coated Snack Create 700 from Tate & Lyle, Decatur, Ill. (phone 217-423-4411, www.tateandlyle.com), is used to formulate coated baked products, enabling manufacturers to develop innovative dual-textured snacks with a light, crispy shell and a soft center.
According to Doris Dougherty, the company's Senior Food Scientist, moisture is removed with baking, which results in a light and crunchy texture with mild sweetness. Additionally, because the coating is made with sucralose (Splenda®), it has bake-stable sweetness. The coating may be flavored or textured in a variety of ways without adding high amounts of fat or sugar. Depending on the formulation, fat can be lowered from zero to 4.5 g/30-g serving.
The coating can be used on such snacks as fruit pieces, peanuts, soynuts, and sunflower kernels. Coated blueberries, a crunchy and novel fruit-based snack, were highlighted at IFT Food Expo.
In addition to snacks and bakery, Tate and Lyle presented a number of prototypes that demonstrated ingredient solutions for beverages (a lemonade made with Rebalance™ M60, a coprocessed maltodextrin and sucralose that is 60 times sweeter than sucrose); for dairy (chocolate milk drinks formulated with combinations of sucrose, fructose, and sucralose); and dressings (chicken with Asian ginger sauce and buttermilk ranch dressing made with Rebalance 800, a combination of thickeners, texture-enhancing ingredients, and sucralose).
Providing Whole-Grain Solutions
A variety of whole-grain options providing nutritional value without compromising taste were introduced by ConAgra Food Ingredients, Omaha, Neb. (phone 800-851-9618, www.ConAgraFoodIngredients.com). The focus of a promotion campaign, "Answers for a Whole-Grain World," these innovative developments help food formulators meet the special processing and functionality challenges associated with whole grains.
"The challenge for manufacturers is to create new products and reformulate existing products with whole grains that appeal to the sensibilities and tastes of mainstream consumers," said Mike Veal, Marketing Director for ConAgra Mills.
At the IFT Food Expo, the company featured Soft Chocolate Chip Cookies made with Ultragrain Soft, a whole-grain flour developed specifically for cakes, pastries, and cookies. Like the original Ultragrain, which was suitable for breads, pasta, pizza dough, and tortillas, this product is said to preserve the mild flavor, color, and texture of refined flour while retaining the fiber, phytonutrients, and antioxidants of 100% whole wheat.
A second whole-grain solution, Sustagrain® Barley, is naturally high in dietary fiber and low in starch, making it one of the lowest-glycemic-index grains commercially available. See sidebar on page 86 for its use in an Asian dish.
Also spotlighted are coated and toasted oat products. By enrobing traditional oat flakes with honey or other coatings, the company offers a versatile whole grain that is suitable for granola bars, ready-to-eat cereals, and yogurt inclusions. Coatings can also be fortified with omega-3 fatty acids, vitamin E, or other nutraceuticals.
--- PAGE BREAK ---
Conceptualizing Savory
A variety of savory concepts were highlighted at the IFT Food Expo, suggesting perhaps that savory might be moving further into nontraditional applications such as snack bars or desserts. These ingredients also offer flavor-enhancement properties which can prove helpful in the formulation of low-sodium products.
For example, taste-neutral, flavor-enhancing ingredient, Maxarome Select, improves taste and quality perception in a variety of formulations, including snacks, dressings, soups, low-fat cheeses, and meaty products. The ingredient is the newest addition to a high 5´-nucleotide yeast extract range from Netherlands-based DSM Food Specialties (phone + 0031 15 2793474, www.dsm-foodspecialties.com). The high-nucleotide specialty yeast extract allows for sodium reductions from 40% to 60% and can be used in combination with other taste enhancers from the company to achieve a creative synergy.
A new line of certified organic yeast extracts, Savorganic, is available from Savoury Systems International, Inc. Branchburg, N.J. (phone 908-534-6621, www.savourysystems.com). The product line, offered in both powder and liquid form, may be used for flavor and flavor enhancement in savory applications. It is the newest addition in a portfolio that includes Chef Select specialty flavors for culinary use.
A variety of profiles including savory are offered by an expanded line of agglomerated powdered chicken broth and powdered broth and fat products from International Dehydrated Foods, Inc., Springfield, Mo. (phone 417-881-7820, www.idf.com). For meaty or savory profiles, IDF features a variety of flavorful, cost-effective formulations for seasoning blends, flavors, bouillon, sauces, gravies, marinades, batters and breadings, stuffing mixes, and snacks.
Savory formulations that are low in sodium, such as soups, sauces, and gravies, can be improved by a line of multifunctional flavor enhancers called Magnasweet from MAFCO Worldwide Corp., Camden, N.J. (phone 856-968-4054, www.magnasweet.com).
Using Eggs to Keep Foods Stable
The summer 2006 issue of The Eggsaminer, a product development resource for formulating foods with egg ingredients, described how eggs provide important stabilization properties. The quarterly newsletter was one of various pieces of literature handed out by the American Egg Board, Park Ridge, Ill. (phone 847-296-7043, www.aeb.org).
Egg products perform multiple functions in foods, many of them characterized as stabilization. For example, they have the ability to thicken and create gels, as well as emulsify. They can be used to create foams, which result in lighter, airier products, and help maintain the aerated structure throughout the product's shelf life. They can bind components in a number of ways—in noodles, for example, they can function as a protein binder. In frozen pasta, they can prevent ice crystallization.
--- PAGE BREAK ---
Building Body in Beverages
Scientists at CP Kelco, San Diego, Calif. (phone 858-292-4900, www.cpkelco.com), shared their latest research findings on how mouthfeel is developed in beverages. The company claims that the research could strengthen the link between the physical properties and sensory effects of products, and help food manufacturers choose the right level of thickeners to use.
Results of tests performed by the company demonstrated that building body into a beverage is not just a matter of adding viscosity. Rather, the density of the beverage was also a contributor. This means that mouthfeel comes from the thickness of the beverage as well as the specific gravity it has.
Thickeners, such as pectin, that have a low viscosity are used at a higher level, helping to build mouthfeel from both density and viscosity. Higher-viscosity products such as xanthan gum build up body from viscosity alone.
Interestingly, the flavor and aroma properties showed little change as the thickener was varied. In many cases, body or mouthfeel can be thought of as being independent of the flavor and aroma of the beverage. This gives the formulator freedom to change a thickener system without making major changes to the flavor used.
For the tests, a range of thickeners from CP Kelco's product line were included in a model fruit-flavored beverage sweetened with a blend of high-intensity sweeteners. Thickeners included pectin, xanthan, cellulose gum, and gellan gum. These samples were compared to a negative control (no thickener) and a positive control (sugar only). A sensory evaluation technique was used to evaluate nearly 40 different sensory attributes. Samples were also put through a detailed instrumental evaluation, including rheological tests, density measurements, and electronic nose and tongue measurements.
At the IFT Food Expo, the company showcased a no-sugar-added fruit drink which demonstrated the different impact that various hydrocolloids can have. According to the company, the findings of the study can have a major impact, helping beverage formulators find the right combination of sweeteners and thickeners to mimic the body of a sugar-sweetened beverage.
Seeing Red
A new brilliantly red-colored carrot in frozen form from Wm. Bolthouse Farms, Inc., Bakersfield, Calif. (phone 661-366-7205, www.bolthouse.com), offers the food developer a nutritious and cost-effective way to revitalize many traditional dishes, as well as create exciting new ones. Its consistently rich color does not rub off, run, or fade, even during thawing or cooking.
Marketed under the name Nutri-red, the frozen carrot has the same taste and texture as typical orange carrots and may be used in all types of frozen food applications. According to Don Bailey, the company's Regional Sales Director, the red carrot provides 100% RDA of vitamin A per 4-oz serving for women and per 5-oz serving for men, while also contributing high levels of lycopene, similar to those found in tomatoes. Orange carrots are an excellent source of vitamin A while yellow carrots contain xanthophylls.
No genetic engineering was involved in the development of the Nutri-red carrot, which, starting in the summer of 2006, will be available year- round in a variety of forms, including diced, smooth sliced, bias sliced, and shoestring cuts. The carrots will be packaged in cartons and bulk totes.
In addition, a tri-color blend of red, yellow, and orange carrots (shown in photo) is offered to help companies liven up the color palette and presentation of their frozen foods. "These carrots provide a new, sweeter means to add color than other vegetables commonly used," noted Bailey.
--- PAGE BREAK ---
Adding Fiber to Lemonade
A water-soluble fiber product, Nutriose, enhances the taste of sugar-free and light drinks by compensating for the body and mouthfeel typically lacking in these kinds of beverages. The family of soluble fibers made from corn and wheat is being exclusively distributed in the U.S. and Mexico by National Starch Food Innovation, Bridgewater, N.J. (phone 908-685-5000, www.foodinnovation.com), through an agreement with France-based Roquette Freres, the manufacturer of the ingredient.
The latest addition to National Starch's portfolio, the ingredient fits in well with the company's focus on nutritional ingredients for digestive health and energy management. The ingredient, which offers approximately 85% total dietary fiber, provides desirable solubility, viscosity, stability, taste, and digestive tolerance. At the IFT Food Expo, a "good source of fiber" lemonade demonstrated the functionality benefits of the ingredient, including its excellent taste and texture. In the future, the company will be focusing on beverage, dairy, and other high-moisture systems where the addition of dietary fiber will open up new opportunities for food formulators.
The new addition also serves as an excellent complement to other ingredients in the portfolio. For example, in a highlighted prototype, Curried Apple Bisque with Minted Greek Yogurt, the ingredient worked well with Novation® 8600, a functional native rice starch. While Nutriose boosted the nutritional value of the bisque, the rice starch provided excellent viscosity, freeze-thaw stability, and labeling advantages. The company is also planning on developing formulations combining Nutriose with an insoluble fiber, Hi-maize® resistant starch, providing foods with both functionality and health benefits that these two ingredients offer.
Texturizing with Wheat
A new textured wheat protein, Wheatex® RediShred, has the look and texture of shredded beef, pork, and chicken, along with many types of seafood products. The new wheat protein product was launched by MGP Ingredients, Atchison, Kan. (phone 913-367-1480, www.mgpingredients.com).
Wheatex highly functional textured wheat proteins possess a neutral flavor profile that requires no masking. with spices or seasonings. In addition to meat replacement, they also perform as a meat extender and can be incorporated in grain-based snack food formulations to enhance textural quality. The line comes in a wide variety of sizes, shapes, and colors to meet customer specifications.
Problem-Solving with Cheese
A number of ingredient companies demonstrated how new cheese developments can be used to solve culinary challenges or add new innovations to existing products.
• Prototypes, representing different menu categories including appetizers, soups and sauces, entrees, and desserts, were formulated with cheese products by Kraft Food Ingredients, Memphis, Tenn. (phone 901-381-6500, www.kraftfoodingredients.com), under the supervision of its new Senior Executive Chef, Michael Morrison. The company invited Food Technology staff to sample several of the prototypes and see for themselves how ingredients from the company's portfolio can help provide innovative solutions.
For example, Creamy Cheese Bisque with Onion Trio and Crab Garnish used Kraft® Cream Cheez Blend as a base. Its tartness reportedly enhanced the flavor of the soup. Normally, Swiss cheese is not thought of as creamy, but the company developed a product which has that characteristic, making it especially suitable for sauces. And, for use as a unique appetizer, a savory cheesecake was developed (see sidebar on page 81).
Two prototypes, Vegetarian Four Cheese Pizza with Woodfired Crust and Pasta Castella in Quattro Formaggio Sauce, incorporated Kraft Grated Asiago, Parmesan, and Romano Cheese Blend. The combination of granular, Italian-style natural cheeses provides an authentic, full-bodied flavor with the slightly nutty note of Asiago cheese. The cost-effective blend is made exclusively with cow's milk.
--- PAGE BREAK ---
Also highlighted were Exceed® Plus cheese flavor ingredients which are used to enhance a product's overall cheese profile. Available in powdered form, they work to maximize the cheese flavor in any application and provide a balanced, versatile, and convenient option to natural or process cheese without sacrificing taste. Using a low level of the ingredient in place of cheese can help reduce costs and still maintain flavor. The ingredient was showcased in a dipping sauce for chicken kabobs.
• Emerging whey protein and cheese ingredients were spotlighted by Leprino Foods, Denver, Colo. (303-480-2600, www.leprinofoods.com), at its on-site development kitchen. These ingredients are designed to provide improved functionality, enhanced nutritional value, and better flavor and heat stability.
The Temp Pro line of functional whey proteins emulsify in high retort and UHT processes without falling out of solution. The heat-stable proteins for ready-to-drink beverages are said to offer an excellent flavor profile and do require the masking of bitter aftertastes associated with other protein products. The ingredients are said to deliver a higher whey protein content, ranging up to 6% (Temp Pro) to 12% and beyond (Temp Pro+). Another ingredient highlighted at the IFT Food Expo was Hy-D Pro hydrolyzed whey protein for use in nutrition bars and snack applications.
On the cheese side, reduced-fat cheddar and reduced-fat Monterey Jack products were introduced to help meet nutrition objectives and achieve melt and mouthfeel characteristics desired by the consumer. The growing market for Mexican entrees and appetizers was the inspiration for the company's new Queso Amarillo and Queso Blanco cheeses that can replace Cheddar, Colby, or Monterey Jack with less oil release and with the desired melt attributes.
• Naturak Cheese Bistro Blends in bold flavors were highlighted by Sargento Foods, Inc., Plymouth, Wis. (phone 800-795-7090, www.sargentofoodingredients.com). Also shown were custom IQF fillings and stuffings made with performance-specific cheeses blended with meats, vegetables, and other savory components for use in refrigerated and frozen entrees.
'Aspiring' to Healthier Snacks
A new food-systems platform from Archer Daniels Midland Co., Decatur, Ill. (phone 217-424-5200, www.admworld.com), is designed to help snack food formulators bridge the critical gap between indulgence and healthy eating.
Aspire Food Systems provide customers with co-innovation opportunities to deliver snack foods that support consumers' desire for healthful, on-the-go eating. Customers are given access to ADM's product development expertise, tools, and ingredients to improve the nutrition, flavor, and functionality of new or existing snack foods and bars.
--- PAGE BREAK ---
Among the options included are customized formulations for snack pieces, cookies, trail mixes, crackers, wafers, and nutrition and energy bars. Among the ingredients available for these formulations include isolated soy and wheat proteins, extruded protein pieces, whole-wheat flour, dietary fibers, edible bean powders, phytosterols, low-trans shortening and soy lecithin, crystalline fructose, and vitamin and mineral enrichment blends. Several of these ingredients are used in combination to provide additional benefits.
At the IFT Food Expo, ADM highlighted snack bars formulated with Aspire Food Systems.
In a related development, ADM recently formed a joint venture with Matsutani Chemical Industry Co., Ltd. and Matsutani America, Inc. The joint venture supports the worldwide sales and marketing of Fibersol-2™, a soluble dietary fiber ingredient that can be used in a variety of food and beverage applications as well as dietary supplements. The ingredient has been exclusively produced by ADM since 1999 and the company will continue to manufacture it for both Matsutani Chemical, which invented the ingredient, and for the joint venture. The ingredient will play an important role under the Aspire platform, underscoring the value of the new venture.
Lemonade for Thought
As you can see from the developments discussed this year, companies continue to become more sophisticated in their approach toward food formulating. Developing a closer understanding of the Hispanic market and applying that knowledge to the mainstream, reformulating traditional foods with flavors and ingredients representing a wide range of international cuisines, creating better reference or measurement tools to help understand the characteristics of a particular ingredient and its relationship to other ingredients in a formulation, introducing new ingredient platforms to give formulators added assistance to solve specific functionality challenges, and making improvements to traditional ingredients are only some examples of what it means to take that next step in product formulating.
And as ingredient companies continue to become more sophisticated, their partnerships with food and beverage companies become even more valuable. I know I couldn't operate my lemonade stand today without their help. Of course, I may have to raise my prices a bit. A nickel a glass may be too cheap.
---
SAMPLING THE EXPO
Ice Cream on the Cob?
Don't worry about your dentures when eating this product. Comax Flavors, Melville, N.Y. (phone 631-249-0505, www.comaxflavors.com), featured a soft-serve ice cream that tasted like sweet corn on the cob. The product, which contained 12% fat, is made with the company's Artificial Corn Flavor, giving it that special taste reminiscent of backyard picnics and summer festivals. And while vanilla and chocolate probably have nothing to worry about when it comes to the frozen dessert market, this flavor, according to the company, did prompt a surprising number of inquiries. "People thought the idea was very interesting," said Agneta Weisz, Comax's Vice President of Flavors & Technology. She noted that "many attendees came back to try it again and they also sent colleagues to try it as well." Interest in such a flavor may open up new opportunities in ethnic or seasonal niches.
--- PAGE BREAK ---
Salad Days for Water
The flavor of cucumber with its green, slightly bitter taste seems more appropriate for salads. But how about taking that flavor, combining it with the citrus notes of lime, and using it in a water beverage? Wild Flavors, Inc., Erlanger, Ky. (phone 859-342-3600, www.wildflavors.com), did just that when it demonstrated its Cucumber-Lime Weight-Loss Water. The refreshing drink, the kind you might associate with health spas, is also made with green tea polyphenols, hydroxyl citric acid, chromium, L-carnitine, calcium, and fiber. The development of this flavor reflects an out-of-the-box thinking which might change the way we view mainstream drinks, especially water beverages that are so popular today.
Bringing Clarity to Chocolate 
Sniffing (and tasting) this clear beverage, I could think of only one thing: chocolate. And for good reason. The application demonstrated a new flavor distillate, Cocoa Treattarome™ Dark 9900, launched by Treatt USA, Lakeland, Fla. (phone 863-668-9500, www.treatt.com), to celebrate the 120th anniversary of its parent company. Wholly distilled from cocoa, the water-soluble product can be used at varying dosage levels. At 0.1% as a sole flavoring, it offers an intense chocolate character, while at 0.05% or less, it produces a mild, creamy cocoa aroma. It is particularly suitable for use in clear beverages, alcoholic drinks, juices, and dairy products, and, according to the company, it blends well with banana and other flavors.
A Savory Cheesecake?
This is not your typical cheesecake. First of all, it's not sweet. And it's definitely not for dessert. Savory Smoked Salmon Cheesecake was on this year's menu from Kraft Food Ingredients, Memphis, Tenn. (phone 901-381-6500, www.kraftfoodingredients.com). This savory cheesecake was made with a number of ingredients offered by the company, including Kraft® Neufchatel Cheez Blend, Woodfired Grill Flavor® (Mesquite), and Grey Poupon® Classic Dijon Mustard. And don't be fooled by that honey-graham crust—there are no sweet ingredients to leach into it. Definitely would make for a novel, upscale appetizer.
IFTini—Slushy, not Stirred
Four colorful slushies featuring nonalcoholic "flavor shots" were served up by Cargill, Inc., Minneapolis, Minn. (phone 952-742-6000, www.cargill.com). Adults were able to enjoy Key Lime Mojito, Ruby Red Mimosa, and Caramel Apple IFTini flavors—each providing a tantalizing zing to the taste buds. And for kids, there was a Scuba Blue variety. These slushies were among several innovative beverage prototypes highlighting Cargill's portfolio of flavors, texturizers, emulsifiers, sweeteners, health-promoting products, and ingredient systems. Other concepts included a refreshing cranberry pomegranate smoothie, an energy sports punch, and a mandarin-flavored water that was organically sweetened.
Shrimp with an Asian Flair
An international dish, Asian Shrimp served with Roasted Pineapple Rice, highlighted several ingredients from ConAgra Food Ingredients, Omaha, Neb. (phone 800-851-9618, www.ConAgraFoodIngredients.com). Sustagrain® Barley, under the ConAgra Mills brand, is a variety of waxy barley that has more than 30% total dietary fiber. Nearly 50% of this fiber is cholesterol-lowering beta glucan. Gilroy Foods™ GardenFrost® Asian Blend is a vegetable and herb puree characterized by a burst of lemongrass and green onion. Other ingredients in the formulation include Gilroy Foods Controlled Moistured™ diced green peppers and diced red peppers.
No Reason to Cry
A Caramelized Onion prototype contributed a savory flavor to soups and sauces, as well as a rich brown color. The new product, which may be listed on an ingredient statement as Caramelized Onion Juice Concentrate, was the latest product developed by a company known for its caramel colors, D.D. Williamson & Co., Inc., Louisville, Ky. (phone 502-895-2438, www.ddwilliamson.com). Previously, the company had produced Caramelized Rice and Caramelized Apple, and because of customer interest, is developing additional prototypes derived from fruits, vegetables, and other carbohydrate sources.
by Donald E. Pszczola, 
Senior Associate Editor 
[email protected]