When thinking of Disney's Magic Kingdom, attractions such as Space Mountain, Cinderella's Castle, the Haunted Mansion, and the Magic Carpets of Aladdin quickly come to mind. All of these events offer a pretty strong magic, there can be no doubt of that.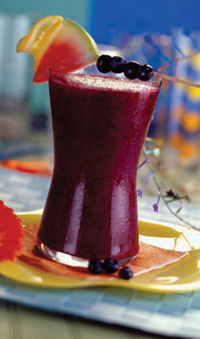 Not to be outdone, this year's IFT Annual Meeting + Food Expo® is conjuring up its own special "ingredient" magic. You might ask, "What are some of these new and emerging developments?" Well, you can try rubbing that old lamp over there—the one in the sand—and see if you get your answer. But, if that should fail, I recommend reading the following Ingredients Preview, which will provide you with an "early bird" tour of several ingredient kingdoms and the innovations they offer.
The photo of the blueberry-watermelon smoothie shows the kind of drink that you might find while journeying through these magic kingdoms. Here are a few other examples:
• The flavors and textures of places such as Laos, Cambodia, and Vietnam will be demonstrated in a variety of dishes. This culinary approach, one of the latest food trends, is characterized by hot, sour, salty, and sweet flavors and will take you into a sensuous Flavor Kingdom.
• From "green" white chocolate to lollipops with colored glitter, we will see how food and beverage applications can be colorized in a variety of new ways. Innovative delivery systems, blends combining caramel color with natural colors, synthetic colors with reduced levels of dust, and new carotenoid products will be encountered as you pass through the Color Kingdom.
• New and improved innovations help deliver flavors, colors, and nutrients. Microencapsulated flavors are designed to release under certain time or temperature conditions. Add a little heat to products with confectionery coatings that contain flavors such as ginger, jalapeno, and chili. Customize edible strips and drinkable gels to deliver flavors or create value-added products. The Kingdom of Delivery Systems will take you to faraway places.
• Cheeses and cheese products are being transformed, moving them beyond traditional perceptions. Techniques are being employed to produce Hispanic cheeses that have an authentic taste and texture. The addition of novel colors and flavors are helping to create cheeses that are specifically marketed for children. And cheeses are being paired with other foods for creative packaging combinations. If you love cheese like Wallace and Gromit—or a certain mouse friend who resides nearby in Disney World—then take this road to the Kingdom of Cheese.
• As you enter the Kingdom of Fruits and Vegetables, take note of the variety of ways in which these ingredients are processed and used. From juices and dehydrated forms to roasted vegetables, meat replacers, and fruits that help to retain moisture or replace fat, you should be able to find a fruit or vegetable product to suit your need.
• The use of coffee and coffee flavors is becoming a major crossover trend. In the Coffee Kingdom, you'll find applications such as ice creams, frozen drinks, liquors, muffins, cheesecake, salad dressings, and marinades. Coffee the beverage is also being updated to include fortified ingredients, innovations in home brewing, and a broader range of gourmet flavors.
And, of course, there will be many other innovations from the Kingdoms of Starches, Gums, Enzymes, and Proteins, just to name a few, for you to explore this year. Hopefully, these developments will grant all your ingredient wishes.
So, please. Stop rubbing that lamp!
--- PAGE BREAK ---
CPI celebrates 100th anniversary
Corn Products International, Inc. is celebrating its 100th anniversary this year. At the IFT Food Expo, the company will be commemorating this milestone by providing a look at its history as well as showcasing its ingredients in a range of prototype products.
Incorporated in 1906, the company has played a major role in the creation of the modern corn refinery and is the number one worldwide producer of dextrose. It is also a leading regional producer of starch, high-fructose corn syrup, and glucose. Recently, the company expanded its portfolio to include a line of gluten-free bakery mixes and other specialty ingredients.
Cake will be served daily at 2 p.m. to help celebrate the company's birthday. Corn Products International, www.cornproductsus.com, Booth 2557
Savor the flavors of Southeast Asia
Southeast Asian countries—Vietnam, the Yunnan Province of China, Myanmar (Burma), Laos, Cambodia, and Thailand—collectively form the Mekong River Region. Much like those living in the Mediterranean, these people have a common palate and approach to food with cuisine characterized by hot, sour, salty, and sweet flavors.
Attendees will be able to savor the flavors and textures of Southeast Asia by sampling applications made with a line of sensuous yet simple seasoning blends and marinades. One such dish is Chili-Scented Lemongrass Beef shown in photo. Information will be available on this latest food trend, ingredients that are part of this cuisine, and the technologies that are available to reproduce the flavors from this region of the world. Griffith Laboratories, www.griffithlaboratories.com, Booth 2967
Prototypes highlight healthier snacking
Food manufacturers face the challenge of providing active and health-conscious consumers with products that are nutritious, convenient, and great-tasting. ADM will highlight a number of its resources which can help meet this demand. Attendees will be able to sample an array of better-for-you snacks and beverages, all made with innovative ingredients from the company.
NovaLipid™ zero- and low-trans-fat oils and shortenings will be used in gourmet cookies, shredded pork empanadas, and vegetarian chicken wings. A trail mix nutrition bar combines candy-coated chocolate and Ambrosia® chocolate chips with the functional appeal of high-protein crisps. A children's chocolate drink is formulated with Ambrosia chocolate, CornSweet low-glycemic crystalline fructose, and Fibersol-2™ soluble fiber. For adults, an exotic Vanilla chai tea meal replacement features Novasoy® isoflavones, crystalline fructose, NutriSoy® soy protein, and Enova oil, which the body metabolizes differently so that less fat is stored in the body.
ADM will also be highlighting a new food system approach, Aspire, designed to address customers' needs for advanced co-innovation opportunities. Archer Daniels Midland, www.admworld.com, Booth 2514
--- PAGE BREAK ---
What's N.E.X.T.?
Two new ingredient technologies and a focus on several emerging trends will be emphasized by Wild Flavors. In its booth presentation, the company is adopting an approach referred to as N.E.X.T.—New Emerging X-citing Trends.
LightShield™ is an ingredient-based system which prevents the formation of off-flavors in dairy products due to light exposure. The technology, which will be discussed in Paper 68-2, may be used in both high- and low-acid products, and allows manufacturers to use any form of packaging for their dairy application.
SaltTrim™ is a system that simultaneously blocks the negative tastes of potassium chloride while keeping the true taste and mouthfeel of salt. When used in conjunction with potassium chloride, it enables a reduction of salt by up to 50% without affecting taste.
The company will demonstrate several food and beverage concepts that reflect different cultures, including Mediterranean, Cuban/Caribbean, Mexican, Pan Asian, Indian, and some American favorites. The company will also showcase concepts in wellness categories including immunity, anti-aging, weight loss, and heart health. Crossover trends will include coffee flavor used in such food items as muffins, cheesecake, salad dressings, and marinades. Wild Flavors, Inc., www.wildflavors.com, Booth 2500
From concept to consumer
How market trends and consumer insights can be translated into tasty, innovative product concepts that address consumer needs will be demonstrated by Cargill Foods.
The company will incorporate its broad range of ingredients into a number of prototypes representing baking, beverage, snack, cereal, and dairy categories. These include a high-fiber, whole-grain bun; reduced-calorie yellow cupcakes with no sugar added; trans fat-free tortillas; a cranberry pomegranate juice-based smoothie with heart-healthy ingredients that can help reduce cholesterol; a whey protein-based energy sports beverage; a mandarin-flavored water sweetened with organic erythritol; a protein-packed snack bar; a "healthier indulgence" chocolate bar; and coated extruded cereal with whole grain.
In addition, an ice cream will feature the expertise of the Degussa Food Ingredients business recently acquired. This partnership brings a range of texturizers, emulsifiers, and flavor systems and blends to the ingredients portfolio. Cargill Foods, www.cargill.com, Booth 1939
View the art of amerizku
Flavor technologies and aroma components will be showcased in an array of applications, including a meatless entrée, a soft-serve ice cream with a twist, and refreshing iced beverages.
While sampling these healthful, flavorful foods and beverages, attendees will be able to view the art of ameriziku, an ancient Japanese candy-making technique in which molten sugar is formed into whimsical, animal-shaped lollipops. Shan Ichiyanagi will demonstrate this artistry. Comax Flavors, www.comaxflavors.com, Booth 3210
--- PAGE BREAK ---
Veggie pizza showcases three-cheese blend
A combination of granular, Italian-style natural cheeses—Kraft Grated Asiago, Parmesan, and Romano Cheese Blend—will make its debut at the IFT Food Expo. The three-cheese blend provides an authentic, full-bodied flavor with the slightly nutty note of Asiago cheese.
Made exclusively with cow's milk, the cost-effective blend complements a variety of foods, including pasta, pizza, sauces, baked breads, snacks, and salads. Two prototype applications, Vegetarian Four Cheese Pizza and Pasta Castella in Quattro Formaggio Sauce, will demonstrate its functionality at the show.
The blend comes packaged in a 25-lb poly-lined, corrugated case and has a shelf life of up to 180 days when stored in a cool, dry place. Kraft Food Ingredients, www.kraftfoodingredients.com, Booth 2520
New opportunities for cheeses
Ethnic cheeses, cheeses specifically oriented for children, and new pairings of cheeses with other foods such as cheese breads or pre-packaged cheese-and-cracker combos are some of the emerging opportunities for U.S. cheesemakers.
Hispanic cheeses, for example, are being created that have an authentic taste and texture. Controlling homogenization is one technique that researchers at the Wisconsin Center for Dairy Research are currently evaluating to produce authentic ethnic cheeses that also meet U.S. processing standards.
Researchers have developed techniques for adding new flavors and colors to process cheese and mozzarella while also controlling fat content and performance. Flavors such as cotton candy, bubble gum, green apple, and watermelon can be added to process cheese to make them more fun for children.
Cheese technologists will be on-hand to discuss developments related to cheese research, technology, and functionality. Dairy Management, Inc., www.innovatewithdairy.com, Booth 3231
Make mine mac and cheese and sour apple
A line of savory-flavored edible glitter can be sprinkled on to a main entrée to change its flavor profile. A fortified macaroni and cheese dish, for example, will be available for sampling with these different flavored glitters. Attendees can choose from flavors such as Cheese Burger, Jalapeño, Tex/Mex, Pepperoni Pizza, or Sour Green Apple.
Flavored glitter allows consumers an easy way to customize their foods or beverages, getting the flavor or color they want from a traditional dish such as macaroni and cheese. Made with gum arabic, the edible glitter can provide instant flavor impact, creating a spicier version of mac and cheese with Jalapeño or even a fruitier version with Sour Green Apple. Watson Foods Co., Inc., Booth 2189
--- PAGE BREAK ---
Soy ingredient enhances taste
A liquefied tofu product, Tofu Puree, is available for industrial use as a base for a variety of food products, including baked goods, pasta, soup, desserts, sauces, dressings, and meat alternatives, and as an alternative ingredient to dairy products.
Sensory tests are reported to show that Tofu Puree has a low beany flavor and creamier texture than other soy ingredients. It is made with soybeans, water, and a coagulant. The use of a coagulant and homogenization help to create the smooth texture of this product, which comprises tofu particles of small size (the average particle size is 14 μm). Morinaga Milk Industry Co. Ltd., www.morinagamilk.co.jp, Booth 874
Okara offers functional benefits
Okara, a novel high-fiber and high-protein ingredient derived from soymilk, is said to offer functional benefits in various food systems. The ingredient can be used in meat and bakery items, and has been shown to have water- and oil-binding and emulsification properties.
Analysis of okara in meat systems show a 5–8% yield increase in cooked pork sausage and a 10% yield increase in cooked ground beef. The addition of 5% and 8% okara to the filling and dough portions of filled pasta products such as cheese ravioli prevents syneresis in the pasta filling during freezing and thawing.
Okara is also useful in formulating gluten-free bakery products or trying to remove wheat allergens from products such as cookies and nutritional bars. Different levels of okara were evaluated in a chocolate chip cookie formula; 5% okara proved to be the optimal level for increasing shelf life. A gluten-free shortbread cookie formulation will be presented to demonstrate how okara can be used to develop gluten-free bakery products. SunOpta Ingredients, www.sunopta.com, Booth 2171, and Session 069-05  
Soy allergen replacement available
Poultry producers seeking a non-allergen replacement for the soy protein isolate binders and extenders that they use for moisture retention to boost cook yields and reduce formulations costs can use a carbohydrate-based ingredient called MoisturLok®.
The ingredient is made from dextrose and dextrin, is available in liquid or powder form, stable at room temperature, and helps to prevent freezer burn and syneresis. The liquid has a sweet taste and the powder has a neutral flavor.
During a New Products & Technologies session, test results of the functionality of the ingredient will be explained. MoisturLok replaced soy protein isolate in whole muscle and chopped and formed chicken breast products. Both products were extended 18% with a brine solution made up of salt, water, phosphate, modified corn starch, and either MoisturLok or soy protein isolate.
After processing, the finished products were tested. The results show that the samples prepared with MoisturLok had a 3–6% increase in processing yields and a 3–9% reduction of freeze-thaw purge. Advanced Ingredients Inc., www.advancedingredients.com, Booth 1686, Session 069-02
--- PAGE BREAK ---
Liquid coffee extracts for ingredient use
Shelf-stable liquid coffee extracts have application in ice creams, gelatos, ready-to-drink beverages, iced/frozen drinks, and liquors. They are produced by a process which extracts coffee from freshly roasted beans, capturing the flavor and fragrance of fresh brewed coffee in a shelf-stable liquid format.
Products are derived from 100% Colombian Medium Roast and Dark, available in caffeinated and non-caffeinated versions. Double Dark, a new premium product, is very popular for ingredient use because of its bold and hearty flavor. In addition, proprietary custom blends are also offered. The products are now being packaged in 1,000-liter nitrogen-flushed totes.
Coffee tastes may be used in a variety of ways: as the featured attribute of a beverage, as a secondary attribute of a beverage, as an attribute dominated by two other flavors or textures in a beverage or ice cream, and as a background note in food applications. To understand the differences, experts will be on hand to discuss the subject of coffee extracts and their use in food and beverage products and will provide guidelines that may be helpful when analyzing potential opportunities for utilizing liquid coffee extracts. X Café LLC, www.x-cafe.com, Booth 859
Brewed on demand
Liquid coffee sales are a substantially growing sector of the U.S. coffee market. A bag-in-box liquid coffee extract, Coffee on Demand, makes possible the brewing of coffee with speed and consistency. An ideal product for high-demand food-service applications, the shelf-stable liquid coffee extract maintains the flavor and aroma of fresh-brewed coffee.
A bag-in-box that easily installs into dispensing equipment ensures a consistent and high-quality liquid coffee product. Benefits include high quality, consistent taste, shelf stability, ease of use, and no messy grinds. Autocrat Coffee & Extracts, www.autocrat.com, Booth 657
Coffeehouses face potential competition
A new report shows that American consumers are moving away from traditional, home-brewed coffee in favor of upscale, premium-priced coffee selections. Coffeehouses have more than doubled their U.S. sales in the past five years to an estimated $8.3 billion—a figure which is expected to more than double in the next five years.
According to the report, coffeehouses face potential competition from fast-food restaurants who are rolling out their own premium coffees, such as Dunkin' Donuts, Burger King, and most recent, McDonald's. Prepackaged, ready-to-drink coffee beverages also offer future growth competition, as manufacturers are turning their sights to increased product innovation. Home brewing may also gain some energy with the newly launched pod brewer, providing one-cup brewing for consumers. Mintel, www.mintel.com, Booth 2814
Matrix protects pigments
Natural pigments can be used to provide vivid colorings to confections and other food applications. These pigments can be made by a process that involves sequestering natural dyes into an insoluble rice protein matrix. While any dye can be encapsulated using the process, red cabbage juice color (purple), beet juice color (fuchsia), and turmeric (yellow) provide hues closest to the primary colors.
Since the mean particle size of the pigments is in the range of 7–9 microns, color coatings made with the pigments are void of speckles. Pigments of different colors can be blended together to obtain a wide array of intermediary colors. Color measurements of coatings made with pigments containing red cabbage or beet showed that they were very stable over time in the light or in the dark. Coatings made with the turmeric-based pigment were also very stable in the dark, but were sensitive to light. Colarome Inc., www.colarome.com, Paper 68-3
--- PAGE BREAK ---
'Green' white chocolate? 
Natural color blends combining caramel color with natural colors can enhance the visual appearance of beverages, confections, baked goods, and dairy applications. Liquid and powdered versions showcase numerous shades of red, orange, yellow, green, blue, and purple.
Also available are Natural Color Blend Emulsions which can be readily incorporated into cocoa butter or palm kernel oil for chocolate and confectionery applications. Products that can be created include "red" white chocolate or "green" white chocolate.
For organic food and beverage products, a line of caramel colors has been introduced. The colors, which are certified organic, are available in hues ranging from pale yellow to deep brown, and are stable to acid, salt, and alcohol. An organic caramelized rice syrup for enhanced visual appeal in sauces and dressings, granola bars, muffins, snacks, and cereals is also highlighted. D.D. Williamson & Co., www.caramel.com, and colorMaker, Inc., colorMaker.com, Booth 1128
Powder imparts 'Flamingo Red' hue
Natural food color, Shade "Flamingo Red," delivers a consistent true-red hue over a very broad range of pH levels. The latest addition to the Exberry line of colorants derived from fruits and vegetable, it has application in yogurts and other low-acid dairy products, ice creams, smoothies, and soy-based foods such as veggie hot dogs where it can provide a desirable "meat" look.
The powdered color does not affect flavor of the finished food product. It is very stable to heat and light, has excellent shelf-life stability, and is certified kosher and halal. The colorant is manufactured without chemical solvents or preservatives.
Experts will be on-hand to discuss the advantages of this new colorant over other anthocyanin-based colors. GNT USA, Inc., www.gntusa.com, Booth 3026
Colors enhance lollipops and éclairs
Beta-carotene can add an appealing yellow or orange color to baked goods, fillings, and frostings. Mini Eclairs, with beta-carotene giving the cream filling its desired yellow color, will be available for sampling.
The yellow to orange colors provided by beta-carotene suggest buttery or citrus flavors, and heighten the perception of these flavors in the finished product. The colorant can be used to increase consumer appeal, clean up a label statement, improve nutritional value, and attract consumers looking for antioxidant activity.
Another way to deliver color is through edible glitter. Lollipops formulated with Carnival Glitter will be handed out for those individuals taking a break from mini éclairs. The lollipop shown in photo creatively resembles a paintbrush. Watson Foods Co., Inc., Booth 2189
Carotenoid provides deep red color
New carotenoid product, Beta-Apo-8'-carotenal, provides a deep red color for use in cheeses, margarine, salad dressings, soups and sauces, dairy products, confections, and pastries. The nature-identical colorant, launched under the brand name Alratene Apocarotenal, is available as an oily suspension or as two different solutions.
The product allows food manufacturers to enter into the red color territory with a very potent, healthy, and nature-identical colorant. It is widely used in cheeses and salad dressings, but can easily be applied to a larger variety of food products.
This colorant becomes the latest addition to a wide range of highly stable and versatile carotenoid formulations, encompassing dry powders, high-potency emulsions, and oil suspensions. Other exciting carotenoids will be introduced in the future. Allied Biotech Corp., www.altratene.com, Booth 3363
--- PAGE BREAK ---
Colors demonstrate reduced levels of dust
A reduced-dust form of color, marketed under the name Sol, is one of several recently introduced innovations for use in foods, beverages, and pharmaceutical products. The synthetic color, which has high solubility, is available in FD&C Red #40, Yellow #5, and Yellow #6. Also highlighted is the newly developed reduced-dust form of FD&C Blue #1 called Magic Crystals.
Other developments featured include Lake Superior, a new range of lakes which are brighter and easier to disperse in dry form. A wide range of custom blends can be made in dry form, liquids, and dispersion in any solvent.
Samples of these innovations and literature will be available with experts on hand to discuss their use in a variety of applications. Roha USA LLC, www.rohadyechem.com, Booth 4117
New ways to enhance value
A new generation of edible strips allows for the use of flavors such as cranberry, orange, and green tea, and vitamins and herbal extracts. Information about these technologies and how they can be customized to meet specific product needs will be presented.
A new beverage called Drinkable Gel comes in various textures from light syrup to soft gel. Harder gels can be shaped and put into suspension in the drinkable gel. This water-based beverage provides health benefits, since active ingredients such as vitamins, minerals, and herbal extracts can be integrated into the gels to create value-added products. BioEnvelop Technologies, www.bioenvelop.com, Booth 1263
Salt suits snack applications
The benefits of Star Flake® Dendritic Salt, a high-purity salt with a porous crystal structure, will be highlighted. This salt, which is described as a hybrid that combines the best features of both flake and granulated salts, exhibits a variety of one-of-a-kind physical properties. It has a larger surface area allowing it to dissolve more rapidly than compacted flake and granulated grades. A rapid dissolving rate can provide adequate protein extraction in emulsified meat products or reduce the mixing time in the hydration of marinades.
Additionally, Dendritic Salt provides special advantages in the preparation of liquid/solid blends, such as soluble spices, where oils or oleoresins are plated onto a salt carrier. Its porous structure allows the salt to adsorb liquid internally as well as on its surface, and it can retain liquids over time.
The salt is also well-suited for snack applications. Its notched crystal surfaces provide adherence to snacks such as potato chips, cheese collets, and oil-popped popcorn. When blending oil slurries for cheese collets, Dendritic Salt blends more rapidly and provides a more uniform dispersion than other granulated and flake grades. Morton Salt, www.mortonsalt.com, Booth 2907
Microencapsulation helps flavor food
The next generation of microencapsulated flavor systems offers an alternative to product developers who can benefit from a technologically advanced encapsulated flavor.
MichaelCap™ microencapsulated flavors are said to provide many benefits over spray-dried flavors. A proprietary coating process protects the flavor against oxidation, which provides for longer shelf life, typically 18–24 months. The product provides an overall flavor load increase by as much as 100%. A multi-coating process allows for more than one flavor to be incorporated into the matrix; the control of flavor release is made possible through time/temperature; and each flavor can be released separately based on time/temperature in both oil and water systems. In addition to including one or more flavors in the matrix, proteins, antioxidants, acids, vitamins, minerals, nutraceutical ingredients, and colors can be incorporated.
Since MichaelCap flavors withstand high temperatures and can be designed to release at a specific temperature, they are useful in baking applications and products that undergo thermal processing. Other applications in which the product can be used are meat analogs, dairy, dry gravy and soup mixes, tea bags, confectionery, coffee blends, snacks, and cereals.
MichaelCap is available in a variety of flavors, including vanillas, mints, citrus, savory, sweet, cocoa, and other sweet brown flavors. David Michael & Co., www.dmflavors.com, Booth 2861
--- PAGE BREAK ---
Enzyme improves cheese making
A cheese-ripening enzyme, Accelerzyme® CPG, significantly reduces cheese maturation time and eliminates bitter peptides that may be formed during maturation by culture bacterias or other enzymes. The carboxy-peptidase activity of the enzyme accelerates cheese flavor development by releasing C-terminal amino acids such as phenylanine, leucine, methionine, and valine from proteins and peptides.
With a unique pH profile, the enzyme's activity remains low during the early stages of cheese-making, rising significantly once the pH level in the cheese has been reduced by culture activity. Free from other enzymatic side activities, it is thermo-labile and its activity is dormant during standard pasteurization, ensuring problem-free whey processing.
Technical experts will be on-hand to discuss how the kosher/halal-approved, allergen-free enzyme can be used and to present product applications. DSM Food Specialties, www.dsm-dairy.com, Booth 2015
Enzymes extract soluble fiber
Two new enzymes will be launched for use in the extraction of soluble fiber. Depol 761P increases the amount of available soluble fiber from wheat bran by 46%. If a non-GM option is required, Depol 762P produces an 18% increase in the amount of soluble friber from wheat bran.
Results and details of a full range of soluble-fiber enzymes will be provided. Experts will also be available to discuss the company's focus on the use of specialty enzymes in such key areas as egg processing, fruit and vegetable maceration, protein hydrolysis, and flavor applications. Biocatalysts, Ltd., www.biocatalysts.com, Booth 542
Enzyme cross-links proteins
An enzyme, Activa transglutaminase, restructures muscle foods such as red meat, poultry, and seafood, and may be used in most food systems that contain protein. With its ability to cross-link any protein or combination of proteins that contain a sufficient amount of the amino acids glutamine and lysine, it offers food manufacturers a number of opportunities to create new or improved textures.
Fish having different colors and textures can be joined to create novel products with texture and eating characteristics that make them appear to be naturally produced. Using this process, a seafood sausage containing such components as cod, shrimp, scallion, and salmon can be created. Other innovations including the processing of shrimp into value-added patties, improving the texture of calamari rings, the formation of minced clams or clam pieces into strips, and the production of large, consistently textured scallops from smaller pieces.
The company will be highlighting a number of protein-containing food prototypes that are formulated with this special enzyme. Ajinomoto Food Ingredients LLC, www.ajiusafood.com, Booth 2186
--- PAGE BREAK ---
New lipid ingredients offer special functionality
Two new lipids or lipid derivatives will be introduced for their functionality in a variety of foods and health care products. Both products are stable to oxidation, free of taste and color, and have no trans fatty acids.
Drewpol® 3-5-CC is a poly-glycerol ester derived from medium chain fatty acids. Like Neobee® Medium Chain Triglycerides, the ingredient can be used as a carrier of flavors, vitamins, essential oils, and colors. However, it is special in that it exhibits a relatively high viscosity of 100 cP at 25oC and a low freeze point of –40oC.
Erythritol distearate (EDS) is capable of acting as a surface-active lipid and was developed to provide a high melting lipid component in microencapsulation. Available as a hard flake, it has a uniquely high melting point of 80oC.
Also highlighted is Drewpol PGPR, a polyglycerol polyricinoleic acid that is Generally Recognized as Safe for use as an emulsifier in margarine, low-fat margarine, spreads, creamers, and dairy analogs. Table margarines using the ingredient demonstrate improved stability, are easier to spread, and exhibit a reduction in splatter when used for frying. Stepan Co., www.stepan.com, Booth 2136
High-oleic oils offer better performance
High-oleic, trans-fat-free oils offer superior frying performance and nutrition, and are more stable than their low-linolenic-acid traditional counterparts. They have a longer fry life than traditional cooking oils and do not interfere with food's natural taste.
Each type of high-oleic oil has functional properties suited to different applications. Frying and baking applications in both the industrial and foodservice segments take advantage of the enhanced stability of these high-oleic oils. The availability of high-oleic oils depends on plant breeding and identity preservation by oil producers and processors. Manufacturers are now accomplishing this, and significant quantities of these oils are available for large-scale users, as well as smaller foodservice businesses. Formal Lecture 42
Phytosterols improve vegetable fat spreads
Although phytosterols provide beneficial health effects, they are difficult to formulate into foods because of their insolubility in water and limited solubility in fats and oils. To improve the shelf life of vegetable fat spreads, a new formulation has been developed which incorporates a combination of phytosterol esters and free stanols.
Experimental results indicate that free phytosterols exhibit greater protection against oxidation of vegetable fat spread during storage, compared to their esterified counterpart. Their addition also reduces polymerization and changes in molecular weight, while improving color, viscosity, and texture. Forbes Medi-Tech, Inc., Paper 13-6 and Booth 3176
Ingredient maximizes cheese flavor
A new flavor ingredient has been developed using proprietary technology to help food product developers create signature flavors or enhance a product's overall cheese profile. Available in powder form, Exceed® Plus 4010N is a natural cheese flavor that works to maximize the cheese flavor in any application. This ingredient is said to provide a balanced, versatile, convenient, and cost-effective option to natural or process cheese without sacrificing taste. According to the company, using a low level of Exceed Plus in place of cheese in a product can help to reduce costs and still maintain flavor.
It can be used in a variety of applications, including snacks, sauces, soups, and casseroles, and it functions well in freezing, coating, batter and breading, retorting, and baking processes. An American sauce application featuring the new ingredient will be available. Kraft Food Ingredients, www.kraftfoodingredients.com, Booth 2520
--- PAGE BREAK ---
Improve flavor with less salt
For years, doctors have warned patients that the overconsumption of salt can lead to adverse health effects. SaltTrim™ technology can help to reduce the use of salt in products without compromising flavor by simultaneously blocking the negative tastes of potassium chloride while keeping the true taste and mouthfeel of salt.
A technology, not an ingredient, SaltTrim is customized for each finished product. Blend SaltTrim into the dry ingredients just as you would salt without having to reformulate the finished product; only the potassium chloride and SaltTrim levels need to be adjusted. The heat- and pH-stable technology can be used in a variety of applications and is labeled as "natural flavor" on the ingredient deck of the finished product. Wild Flavors Inc., www.wildflavors.com, Booth 2500
Solution to masking undesirable flavors
A line of flavor masking agents promises to mask off notes and flavors from a variety of ingredients used in food and beverage applications. Wix-Fresh Miner was designed to mask the iron and metallic notes and off taste of meats that come from grass-fed animals and help to retain the original taste of the meat products. The ingredient reduces the green, grassy notes when it is used at 0.25% in fresh whole muscle and ground beef.
Magnifique Umami helps to enhance the umami taste or savory perception of many foods such as soups, gravies, meats, cheese sauces, and savory snacks without the addition of glutamates of nucleotides. Magnifique SugarLift™ helps to enhance the overall sweetness profile of sugar without the addition of high-intensity sweeteners. Wixon Inc., www.wixon.com, Booth 2175
Vegetables add ethnic flair
Gilroy Foods™ GardenFrost® Purées—vegetable and herb blends in Asian, Latin, and Mediterranean flavor profiles—add a distinctive ethnic character to food products. Each has its own fresh flavor: the burst of lemongrass and green onion in the Asian blend; the bite of peppers, cilantro, cumin, and lime in the Latin blend; and the mix of Provençal herbs and olive oil in the Mediterranean blend. These new purées along with Fire-Roasted Jalapeño and Fire-Roasted Tomato varieties are said to make GardenFrost one of the broadest purée lines in the industry.
Proprietary Softfrozen™ technology is used to freeze the purées, locking in true vegetable and herb flavor. The purées thaw four times faster than traditional hard-frozen purées, which can help to lessen processing and staging times. They keep fresh for two years under frozen conditions and can go from freezer to refrigerator and back again. Use the purées in any application that calls for fresh, frozen, dehydrated, or processed vegetables.
Low-moisture frozen vegetables with intense flavor, color, and nutrition offer the true flavor of vegetables with much less hassle. Controlled Moisture™ Vegetables are produced through a process that removes up to 50% of the water, resulting in less weeping during production and more nutrition per pound. They are available in standard vegetable and fire-roasted grilled varieties. ConAgra Food Ingredients, www.conagrafoods.com, Booth 2531
--- PAGE BREAK ---
Book explains blueberry's advantages
Everything you would want to know about blueberries is discussed in the Blue Book, which offers, amongst other information, suggestions for new blueberry product prototypes. You will learn why flavor, antioxidant benefits, and consumer appeal have made the cultivated highbush blueberry an ingredient for innovative product design.
Some market research has shown that blueberries' healthy image has helped to increase sales of blueberry-rich products around the world and has made the blueberry one of the most popular fruits for use in cereals, baked goods, beverages, confections, and dairy products. Studies have shown that consumers are willing to pay 30% more for products that contain real blueberries. Blueberries are available year-round in many formats: fresh, frozen, dried, purée, concentrate, and juice and from whole to powdered. The color and sweet, fruity flavor of blueberries provide intriguing possibilities for Grab 'n Go formulations and many other areas of product development. 
Samples and copies of the Blue Book will be available. U.S. Highbush Blueberry Council, www.blueberry.org, Booth 1581 
Juices deliver authentic flavor
Refresh, satisfy, and quench the thirst of customers seeking healthy beverages with new non-thermally concentrated juices. Using proprietary processing methods, aromas and top notes are preserved, resulting in authentic flavors. The process enables the finished concentrates to retain a high level of phytonutrients, including antioxidants.
The juices are available from both fruit and vegetable sources, as blends, or designer systems that combine the different fruits or vegetable juices with other components to function as a concentrated beverage base. Organic concentrates are available and Brix level is intermediate. The juices vary from mid- to high-clarity for inclusion in clear beverage formulation. Samples of Key Lime Vegetable, Tropical Vegetable, and other juices will be offered. Vegetable Juices Inc., www.vegetablejuices.com, Booth 4126.
IQF fruits meet Dole's standards
When Dole Packaged Foods expanded its fruit ingredients capabilities to include frozen fruit, it also made sure that the frozen fruit was worthy of the Dole brand quality. 
Now available in an industrial pack, Dole Individually Quick Frozen (IQF) Pineapple is selected to meet the high Dole product standards and have the benefits of quality, consistency, and convenience of the entire Dole Frozen Fruit line. The Dole processing methods and facilities help prevent Dole IQF Pineapple from bruising and blemishes and lock in fresh texture, taste, and nutrients.
Visit the company's booth for information about and samples of Dole Tropical Gold™ Pineapple and Dole IQF Bananas. The company also offers both packaged and frozen fruit, including pineapple, pineapple juice, pineapple juice concentrate, bananas, and other tropical fruits. These products work well in smoothies, desserts, and meat and seafood dishes and on pizzas and salads. Dole Packaged Foods Co., www.dolefoodservice.com, Booth 986
Vegetable-based meat substitute offered
Gardein™, a savory blend of vegetables and grains, is prepared and slow-cooked to have the authentic taste and texture of premium lean meat. This cholesterol-free and fat- and trans-fat-free meat substitute is said to contain more protein that lean skinless chicken breast, more than twice the protein of an egg, and four times more protein than tofu.
The product performs well in different types of sauces and its taste, shape, size, and texture can be customized to suit specific applications. It is pre-cooked, IQF, pasteurized, and ready-to-use and retains 100% yield after preparation. Frozen product has a one-year shelf life and fresh product lasts 60 days. Garden Protein International, www.gardenprotein.com, Booth 3829
--- PAGE BREAK ---
Symposium examines global market
In a global market, the life cycle of a food ingredient or product is affected by the intersection of international regulatory, scientific, and consumer requirements. From raw material sourcing through product development through regulatory approvals, label claim substantiation, and consumer acceptance, each step in the process must be carefully evaluated to address international guidelines and requirements.
A symposium presents an overview from several key international markets on the critical regulatory steps for food ingredient approval. The symposium also looks at the scientific and cultural environment that impacts the regulatory climate and consumer acceptance of a new or existing product. Presentations highlight the similarities and differences among markets in the European Union, United States, China, and Japan. Successful strategies will be presented for managing development and introduction of a food ingredient in the global marketplace. Formal Lecture 61
Pavilion showcases what's new overseas
Pavilions showcase similar products and services under one roof to help the attendee find the latest product information for a particular aspect of the food industry. One of the most popular pavilions is the Food Ingredients (Fi) International Pavilion which meets the needs of an increasing number of IFT attendees seeking vendors with global capabilities. 
The International Pavilion provides a special arena for purchasing agents, buying teams, and other decision-makers to find new products and vendors with the capacity for business overseas.
Chinese presence grows stronger
When visiting our Chinese friends, you might want to greet them by saying, "Ni hao" (pronounced nee how), which means, "hello."
More than 70 companies from China are featuring a variety of food additives.For example, Ecobio Biotech Co., Ltd., Booth 4428, highlighting preservatives and enzymes used in food manufacturing. Leading Star Foods, Inc., Booth 1993, provides a portfolio of nuts, kernels, preserved fruits, spices, and beans. And Anhui BBCA Biochemical, Booth 850, offers a line of products, including citric acid, sodium citrate, monosodium glutamate, and lactic acid.
Other showcased additives include dietary fiber, sweeteners, and nutraceutial ingredients from Techno Food Ingredients Co., Booth 976; a series of hydrocolloids for use as texturizers from Hong Kong Sheli Ltd.,Booth 1163; and sorbic acid and potassium sorbate from Nantong Acetic Acid Chemical Co., Ltd., Booth 1483.
Furthermore, many of the exhibitors from China can be found in a pavilion organized by China Food Additive Association (CFAA) and The China Council for the Promotion of International Trade (CCPIT), an institution representing the economic and trade sectors in China. CFAA/CCPIT, www.cpit.org, Booths 2535, 2735, and 2935
'Gel network' provides suspension
Gellan gum, Kelcogel® HS-B, suspends and stabilizes such ingredients as soy proteins, cocoa, calcium, and fiber in soy-based beverages. Without proper stabilization, these ingredients create an undesirable sediment or sludge found at the bottom of the beverage.
The gum is produced by a process which ensures that it disperses and hydrates easily to form a consistent "fluid gel" network under common beverage processing conditions. The gel network is extremely pseudoplastic, capable of suspending insoluble particles without imparting highly apparent mouthfeel viscosity. This functionality allows beverage manufacturers to formulate stable and homogenous beverages without sacrificing the organoleptic properties of the beverages. CP Kelco, www.cpkelco.com, Booth 2526
--- PAGE BREAK ---
New gum ghatti offers superior emulsification
A new gum ghatti product, Gatifolia SD, offers superior emulsification ability, exhibiting high efficiency even in systems where gum arabic cannot be used. Produced through a special non-chemical physical process, this ingredient can be easily dissolved in cold water, imparts viscosity at an intermediate level between gum arabic and gum karaya, and offers greater acid resistance and salt tolerance.
The gum has a stabilizing effect in flavor emulsions, powdered flavors, and color emulsions for beverages, and also in food products such as mayonnaise and high-fat-content dressings. It may also be used as a coating agent and as a source of fiber. The cost-effective emulsifier is has GRAS status in the United States San-Ei Gen F.F.I. (USA), www.saneigen.com, Paper 69-9 and Booth 4237
MCC/pectin acts as stabilizer
A new microcrystalline cellulose (MCC) ingredient coprocessed with pectin provides low-pH protein-based beverages with stability and extended shelf life. Depending on the composition and use level, the ingredient, Avicel® BV 2815, may be used as a sole stabilizer or in combination with other hydrocolloids to achieve a higher level of quality.
In low-pH protein-based beverages, protein aggregation and sedimentation must be prevented, along with serum separation. This ingredient provides a structural network to achieve greater stability and extended shelf life in a cost-effective manner. When MCC is coprocessed with high methoxy pectin, the activated network can suspend protein solids, such as milk, soy, or whey protein, in these acidified beverages. This network acts to prevent sedimentation, provides added emulsion stability, and adds desirable mouthfeel at a low viscosity. FMC BioPolymer, www.fmcbiopolymer.com, Paper 68-5 and Booth 2510
EGGSpand protein knowledge
Egg proteins provide structure and coagulative properties to bind food products such as snacks, processed meats, and prepared entrees. They can coagulate and create gels, readily replacing the gluten-containing ingredients typically used in the manufacture of frostings, custards, and fish surimi.
Egg proteins can improve the mouthfeel of sweet goods and puddings by providing substantial body and smoothness. They can thicken sauces, gravies, smoothies, and other viscous products that normally rely on starch ingredients. Egg proteins can even tenderize gluten-free bread substitutes.
Experts are on hand to discuss the ability of the egg to perform more than 20 functions, including foaming, leavening, emulsifying, binding, thickening, coating, coloring, and controlling crystallization. Custom-blended egg products that include carbohydrates, gum, starch, sugar, and salt are available to meet manufacturers' specifications and to improve functional performance.
Available are complimentary subscriptions to the quarterly newsletter, EGGSaminer, and a monthly electronic newsletter. American Egg Board, www.aeb.org, Booth 3516
--- PAGE BREAK ---
Whey proteins help replace fat in hot dogs
An oral presentation, "Utilizing Whey Proteins in Regular, Reduced-Fat, and Fat-Free Hot Dogs," will provide some of the latest information on how whey proteins can help make meat products of varying fat levels more appealing from a functionality perspective.
The presentation, held on Tuesday, 9:20 a.m., will discuss how whey protein isolates and concentrates can be used in processed meats to increase cook yield, reduce syneresis, improve texture and emulsifying capacity, and enhance organoleptic characteristics.
DMI experts will also be on hand to discuss the functionality benefits of whey proteins in a variety of applications. Prototypes using dairy ingredients will be available for sampling. Dairy Management Inc., www.innovatewithdairy.com, Booth 3231
WPH has improved flavor
A whey protein hydrolysate (WPH) has been developed which eliminates the bitter taste that frequently limits the use of these ingredients. In sensory panel testing, the flavor-improved WPH scored high in desirable attributes such as "overall acceptability" and "flavor." It scored much lower than competing samples in such areas as "brothiness" and "bitterness."
With its significant taste advantage and functional contributions such as acid and heat stability, mitigation of hardness in extruded bars, and assistance to texture and shelf life, the new WPH is a powerful tool for creating foods that deliver nutrition while tasting good. It will be showcased in a ready-to-drink iced coffee beverage, which will demonstrate its functionality benefits, including improved taste, heat stability, and high solubility. Hillmar Ingredients, www.hilmaringredients.com, Booth 2710
Rice starch adds juiciness to processed poultry
Rice starch, Remyline AX-DR, increases tenderness, juiciness, and yield in processed poultry. Its fine grain size (2–8 microns) enables it to penetrate the meat pieces more easily. Also, its soft gel affects the meat's tenderness in a positive way.
If 1–1.5% of the starch is added to 13% water, 0.5% salt, and 85% chicken fillet, the meat will provide juiciness, a short bite, unchanged taste or flavor, and a yield increase of about 12.5%. Under static conditions, two starch granule swelling phases occur. The first takes place at 62°C. At this temperature, the starch will bind 20 times its weight in water. The secondary swelling occurs at 75°C and peaks at 85°C. After this temperature, the rice starch can bind up to 35 times its weight in water.
Another benefit of rice starch results from its ability to gelatinize quickly at low heat. At 70°C, it achieves maximum binding almost immediately. This prevents water loss during cooking. A&B Ingredients, www.abingredients.com, Booth 4429
--- PAGE BREAK ---
Resistant wheat starch acts as a fat replacer
A pregelatinized cross-linked resistant wheat starch, FiberRite™ RW, functions as a fat replacer, while enhancing fiber levels in a variety of food applications. It is suitable for use in all types of leavened and unleavened products, dairy products, confections, sauces, salad dressings, and frozen food products.
Demonstrating a smooth mouthfeel and a fat-like texture, the wheat-based starch is stable during repeated freezing and thawing cycles without the loss of more than 20% of water. It also displays high dietary fiber content, low caloric density, and excellent stability during cooking. The technology used to make this ingredient can be applied to virtually any type of starch. MGP Ingredients, www.mgpingredients.com, Paper 69-4 and Booth 2154
Potato starches provide high viscosity
A line of potato starches containing 99% amylopectin offers a variety of functionality benefits over conventional modified potato starches, including a fast viscosity development at low temperatures. The Eliane starches are pH and freeze-thaw stable, and may be used in such products as desserts, bakery creams, fruit fillings, and sauces.
In spoonable and pourable dressings, for example, the starch provides such features as high viscosity, smooth texture, clean flavor profile, and lower gelatinization temperatures. In low-fat, clear dressings, the starch can replace combinations of hydrocolloids while still improving clarity and maintaining optimal textural characteristics. Avebe America, Inc., www.avebe.com, Booth 3206
Corn syrups deliver key benefits but with less sugar
Reduced-Sugar Corn Syrups (RSCS) with a dextrose equivalent of up to 36 delivers functionality benefits similar to those of traditional higher-dextrose corn syrup products. Containing less than 10% sugars, RSCS provides a low sweetness compared to sucrose, and is suitable for such products as milk powders, coffee whiteners, and baby foods where sugar reduction is desired without the need for sweetness.
Unlike regular corn syrups, the reduced-sugar version results in less browning during heating, making it appropriate in fruit preparations, nutritional bars, pie fillings, and other products. The clear syrup has a clean taste, is easy to handle, and is physically stable at room temperature. Roquette America Inc., www.roquette.fr, Paper 13-2 and Booth 1357
Distillate adds sweet taste
Wholly distilled from cane sugar, Sugar Treattarome 9807 imparts an authentic sweet taste to a variety of food and drink systems, without adding sugar or calories. The clear product is made using a short-duration, low-temperature process to ensure that the distillate retains the character of the original food from which it is named.
Because of its water solubility, it is particularly suitable for clear beverages, carbonated and alcoholic drinks, diet varieties, and dairy products. It works in synergy with artificial sweeteners, where it is effective in masking harsh notes. Treatt USA, www.treatt.com, Booth 1728
--- PAGE BREAK ---
Sweet news for flavorists
A new booklet provides flavorists with an overview on how to incorporate high-intensity sweetener, acesulfame potassium (Sunett®), into various formulas. It contains starting points, recipe information, and general guidelines for the sweetener in several key product categories.
Latest advancements in blending Sunett with other sweeteners will be highlighted. These sweetener blends offer a reliable taste that promotes the quick release of flavors in different beverage categories. Nutrinova, Inc., www.nutrinova.com, Booth 1732
New additions to a natural sweetener line
Natural sweeteners—tapioca, white rice, and white sorghum syrups—are well suited for formulating gluten-free foods and beverages. Produced by a natural enzymatic process, the hypoallergenic ingredients are the most recent additions to the BriesSweet™ line of natural sweeteners.
In addition, the company is introducing tapioca maltodextrin products. These agglomerated, free-flowing powders offer increased dispersibility. Briess Malt & Ingredients Co., www.briess.com, Booth 1276
Acidulant improves meat safety
In 2005, Purac introduced Purasal Powder S sodium lactate powder, and interest for a sodium lactate/sodium diacetate in a powder form has led to the development of Purasal Powder Opti.Form. Both acidulants can be used in fresh meat and cooked whole muscle and emulsified products and are especially developed for spice blends.
Opti.Form is formulated with sodium salt of natural L(+)-lactic acid and sodium diacetate. This combination is used in the meat and poultry industry for controlling Listeria monocytogenes. The acidulant, which is available in liquid and powder forms, can help to increase food safety, extend shelf life, enhance flavor, and protect the color of meat and poultry products.
Also available are lactic acid and lactates that increase shelf life, regulate pH, improve flavor, and improve food safety. Purac America, www.purac.com, Booth 1524
Stability of calcium-fortified foods seen
Soluble calcium complexes improve the stability of calcium-fortified foods and beverages. Sol-U-Cal, a proprietary form of calcium fumarate, is stable in solution in combination with citric acid and is used for the fortification of clear beverages and to improve the texture of fruits and vegetables. Fruit juice beverages fortified with Sol-U-Cal are said to have a stronger fruit flavor than the same beverages fortified with other calcium salts.
The smooth, sour taste and fruit flavor enhancement make malic acid a useful acidulant in beverages, candies, and fruit preparations. The company's malic acid forms stable, soluble calcium complexes and eliminates the precipitation of calcium salts in finished products during storage and distribution. Fumaric acid is used in tortillas because its acid strength allows a low level of it to be used and it has a mild flavor impact. Information about developing new products using these ingredients will be available. Bartek Ingredients, www.bartek.ca, Booth 3506
--- PAGE BREAK ---
Food acidifier has low-acid flavor
Low-flavor-profile acidulants allow for the creation of shelf-stable acidified foods without sour flavors and can also be used to control both internal and surface contamination in a variety of foods. Potential applications in which these acidulants can be used are ready-to-eat meals, fresh produce, and prepared foods.
Technology that incorporates these acidulants to help control or prevent contamination in foods such as pies, ready-to-eat pasta, ready-to-eat rice, meat analogs, cookie dough, waffles, and tortillas has been developed. In addition to controlling bacterial contamination, this technology is shown to be helpful in controlling surface browning in foods such as apples, potatoes, and other fresh-cut produce. Information and data about these acidulants will be presented at a Technical Session. XIM Group LLC, www.ximgroup.com, Booth 1585, and Session 068-01
Pre-mixes have less calories
HalfBlends pre-mixes have been formulated to have half the calories of traditional mixes on a dry-weight basis. These mixes can be used for producing cookies, pasta, and cakes. A patent-pending flour-replacement technology uses a blend of proteins, gums, and enzyme-resistant starches to replace the starch component of standard flour. Food Industry Technology, Booth 1583
Whole-wheat flour has customer appeal
Food manufacturers looking for a way to create premium, whole-wheat products that appeal to consumers now have new WheatSelect™ white spring whole-wheat flour.
It delivers the health benefits of whole-grain nutrition but with a lighter color, softer texture, and milder taste that consumers prefer. Advanced flour milling processes produce a fine-grind flour that optimizes granulation size for baking performance. It can be used in a wide range of products, including breads, buns, bagels, tortillas, pizza crust, pasta, cookies, crackers, breakfast breads, pancakes, waffles, snacks, and cereal bars.
WheatSelect flour was developed through an alliance with the breeding company WestBred LLC. The breeding and selection process was paired with extensive testing to develop proprietary wheat varieties with improved performance attributes. The end result is a product that delivers improved baking characteristics, such as volume, and mixing and processing tolerance. Horizon Milling LLC, a joint venture between Cargill Inc. and CHS Inc., www.cargill.com, Booth 1939
Wheat flours show functionality benefits
A line of natural, grain-based ingredients designed to maintain the positive attributes of traditional flours and expand and improve the ways that they can be used in packaged and prepared foods has been developed. The Homecraft™ product portfolio includes three functional wheat flours, each designed to address functional shortcomings of native flours such as lack of freeze/thaw stability, sensitivity to processing, and poor cold-water thickening. They allow product developers and chefs to add the positive values of flour—taste, appearance, and clean label—without the stability and processing issues that often come with the use of flour in high-moisture foods.
Homecraft Create 765 offers textural stability through as many as 12 freeze/thaw cycles. Homecraft Create 730 can be used in products that will be subjected to intense food processing conditions because it has a higher threshold of tolerance to viscosity breakdown than traditional flour. Homecraft Express 760 is pregelatinized, allowing the use of flour in products designed for cold water or reconstitute and microwave applications.
These ingredients are minimally processed to maintain the wholesome, natural goodness of their grain bases, meaning they have a better, more balanced profile than typical function-providing additives. Products in the line are considered ingredients, not additives, so food products can carry a "flour" designation on the package. National Food Starch Innovation, www.foodinnovation.com, Booth 2151
--- PAGE BREAK ---
Treatt celebrates 120th anniversary
In 1886, Richard Court Treatt, an essential oil merchant in London, founded Treatt. This year marks 120 years of innovation in the flavor industry, and to celebrate Treatt will showcase its latest range of 100% natural berry and tea Treattarome™ products and its high-impact citrus fractions and specialty chemicals.
Developed using proprietary technology to guarantee maximum flavor entrapment, Treattarome flavor distillates impart an authentic, juicy character to food and beverage applications. When used at varying levels, they provide either an intense fruity flavor or more delicate top notes. Treattarome products are produced from the named food allowing flavorists to make a positive clean label declaration.
These latest berry and tea additions complement Treatt's existing portfolio of Treattarome products, which include tropical fruit, melon, brown, sweet, savory, teat, coffee, and vegetable notes.
The specialized citrus fractions can be used by flavorists and product developers to create the desirable notes demanded by consumers. Treatt USA Inc., www.treatt.com, Booth 1728
Panel reveals Hispanic flavor preferences
Virginia Dare will share the results of its ongoing consumer research into the taste preferences of Hispanic consumers and the influence of traditional Hispanic flavors on mainstream food and beverage products.
Refreshing mango beverages will showcase some of the varietal characteristics of this fruit. A classic mojito featuring tangy citrus and cool mint will also be served, along with an array of Hispanic-flavored sweet goods. Information about vanilla for the Hispanic market will also be available.
Each application demonstrates that creating successful consumer products requires an understanding of the taste preferences and culinary traditions of Hispanics from different geographical and cultural origins. Virginia Dare, www.virginiadare.com, Booth 2067
Meat flavors deliver high-impact taste
A new line of savory meat flavors offers customers greater flexibility in choosing the perfect flavor solution for a particular need and application. The flavors, launched under the Robust® brand name, deliver a range of cooking nuances, including sautéed, grilled, fried, fully cooked, char-broiled, roasted, fatty, and smoked. These flavors, which provide for clean labeling and meet kosher restrictions, work well in poultry, beef, pork, main meals, side dishes, soups, sauces, gravies, snacks, and appetizers. The company also produces savory flavors such as cheese, vegetable, chili, seafood, dairy, and alcohol under its SavorNotes line. Innova/A Griffith Laboratories, www.innovaflavors.com, Booth 3170
--- PAGE BREAK ---
Cargill completes acquisition
The acquisition of Degussa's food ingredients operations by Cargill Inc. was completed April 5. Cargill formally welcomed the former Degussa employees to the company.
"Acquiring Degussa's food ingredients operations was a cornerstone investment in our strategy to become a leading provider of specialty ingredients that help our food customers respond to consumers' preferences for flavorful, nutritious, and convenient food products," said Warren Staley, Chairman and Chief Executive Officer.
The operations acquired by Cargill include texturant and flavoring capabilities and will help to strengthen the company's portfolio of texturant ingredients and systems, emulsifiers, flavoring, and health-promoting ingredients. The acquisition will also build upon Cargill's existing flavoring and related businesses to establish a strong position internationally, serving the beverages, confectionery, dairy, and savory industries.
The operations are located around the world, and will provide Cargill with a platform for further growth into the fast-developing markets of Eastern Europe, Asia, and Latin America. Cargill Inc., www.cargill.com, Booth 1939 and Degussa Corp., www.degussa.com, Booth 2810
National Starch distributes Nutriose
National Starch Food Innovation and Roquette Frères recently signed a distribution agreement appointing National Starch as the exclusive distributor of the Nutriose® soluble fiber product line in food and beverage segments in the United States and Mexico.
National Starch will be responsible for the sales of the Nutriose products into all food and beverage categories except confections, nutrition bars, pharmaceuticals, and over-the-counter dietary supplements and health care products. Nutriose, a water-soluble fiber ingredient, will complement National Starch's Hi-maize® resistant starch insoluble fiber. National Starch Food Innovation, www.foodinnovation.com, Booth 2151, and Roquette America Inc., www.roquette.fr, Booth 1357
Collective group to exhibit
For the second year, Ag-West Bio is organizing a collective exhibit and trade mission to the IFT Annual Meeting+ Food Expo®. The group will consist of companies, research centers, universities, and organizations from Saskatchewan and will highlight and explain the research, product development, bio-processing, and analytical capabilities and commercialized products available from these entities.
One area of emphasis will be the development of healthful food products, especially products that contain legume and grain ingredients. For example, scientists studying lentils have developed a method to incorporate them into cheesecake, maintaining the smooth, creamy texture of cheesecake while increasing the amount of fiber, protein, and folic acid.
Information about this and other developments using healthful food ingredients and about the participating companies will be available. Ag-West Bio Inc., www.agwest.sk.ca, Booth 1557
Farbest to sell Avebe starch
Avebe Food and Farbest-Tallman Foods formed an alliance that will allow Farbest to manage the sales and marketing of Avebe potato starches in North America. This new relationship will allow for enhanced customer service and broader sales coverage and improved response time, accuracy, and performance. It will also allow Avebe to focus on the delivery of groundbreaking new technology and product innovation such as Eliane™, a GMO-free amylopectin potato starch. Avebe America Inc., www.avebe.com, Booth 3206, and Farbest-Tallman Foods Corp., www.farbest.com, Booth 3206
--- PAGE BREAK ---
• Sea salt
from the Mediterranean will be made available to home cooks nationwide. Made popular by celebrity chefs, the specialty salt provides a greater sensory experience than table salt, but can be used in many of the same applications as either a topping salt or in gourmet recipes. Sea salt is offered in both fine and coarse varieties. Information on this product is available, including a variety of recipes.
Morton Salt,
www.mortonsalt.com
, Booth
2907
• Focus theme, "More ingredients, more answers," highlights Kerry America's capabilities. The company will be unveiling primary research insights into industry trends driving new product development, a wide array of new and emerging food ingredient applications, and product development solutions. With a specialized approach to layering technologies and capabilities, the company offers proactive problem solving necessary to develop innovative food formats. Kerry Americas, www.kerryamericas.com, Booth 2545
• Corn bran products, TruBran™, will be introduced. A variety of prototypes showcasing the high dietary fiber content of this ingredient will be available for sampling. Other highlights include starches that provide instant viscosity for use in sauces and baked goods, and starches that demonstrate their moisture-binding character in precooked frozen foodservice products. Grain Processing Corp.,www.grainprocessing.com Booth 2573
• Custom sauces and marinades are among the new products that will be introduced. Highlights include dipping sauces for bread (Fruit Salsa, Mexican Chocolate, Falafal, and Taste of Sicily); savory sauces (Bold BBQ, Honey Dijon, Red Thai Curry, Roasted Red Pepper, and Chipotle Pepper); and caramel for dipping applications, nutraceutical bar fillings, and drizzle. Skjodt-Barrett Foods, www.skjodt-barrett.com, Booth 3372
• "Grab 'n Go" trend is the major theme of IFT/RCA Culinology demonstrations. Although these foods are easy to eat and clean up, no one single grab 'n go option will suit all diners. So watch food scientists collaborate with top chefs as they serve up a wide range of innovations to meet this trend. IFT/RCA Culinology demonstrations
• Citrus fiber, Citri-Fi, serves as a moisture management tool to enable the incorporation of a significant amount of additional water into food products. Learn how this fiber can be used in hot dogs, pie crusts, tortillas, and a variety of other products. Fiberstar, Inc., www.fiberstar.net, Booth 1839
• New flavors and masking agents will be showcased in a number of applications, including flavored teas, ice creams, soy beverages, and nutrition bars. Virginia Dare, www.virginiadare.com, Booth 2067
• "Bistro Blends"—shredded cheese, combined with bold flavors and ingredients—help liven up a variety of food products. Blends include Cheddar & Monterrey Jack with Tomato & Jalapeno Peppers, Mozzarella with Sun-Dried Tomatoes & Basil, and Mozzarella & Asiago with Roasted Garlic. Sargento Foods, Inc., www.sargentofoodingredients.com, Booth 2194
• Cheese products, including a range of blends, analogs, and substitutes, will be available for sampling. Depending on the customer's need, cheeses can be high melt, low melt, or fat free. Products can also be custom built to fit a variety of applications. Hormel Specialty Products, www.hormelingredients.com, Booth 1553
--- PAGE BREAK ---
• "Stretching the boundaries" of pasta filata string cheese has been achieved. The product has exceptional stretch characteristics and a tender mouthfeel. Its smooth and creamy taste is suitable for herbed and spicy breadings or for other flavoring opportunities, while its cream color enables the addition of different colors. Experts will be on-hand to also discuss innovative reduced-fat and melt-control cheese products and nutritional whey proteins. Leprino Foods, www.leprinofoods.com, Booth 1979
• Not-so-ordinary flavors for pasteurized process cheese include Mozzarella & Pepperoni, Ham & Cheese, American & Sausage, Oaxaca, Pizza Loaf, Italian Blends, Monterey Jack with Habanero Peppers, and many others. Thiel Cheese & Ingredients, www.thielcheese.com, Booth 4421
• Learn more about soybeans, soy-related health news; soybean marketing expertise; soy-based ingredients such as soy protein, flour, and oil; and soy product research and development. Additionally, information about developing soy-based trans fatty acid solutions, including low-linolenic soybean oil, is available. United Soybean Board, www.talksoy.com, Booth 1925
• A range of soy-based food ingredients processed using a chemical-free technique is available. Soy Innovations International, Booth 3203
• Exclusive soybean varieties and ingredients, including whole soybeans, soy flour, soymilk powder, and roasted soynuts, impart the least soy taste in products. U.S. Soy LLC, www.ussoy.com, Booth 4528
• Liquid soy proteins, soy protein powders, and soy flours marketed under the name Benesoy™ offer a number of functional purposes. Soyroast full-fat soy flour improves crust color, increases water absorption, extends shelf life, and is a replacement for eggs and dairy solids in bakery applications. The low-fat soy flour improves texture of bakery applications and acts as a thickening agent in soups and gravies. Devansoy, www.devansoy.com, Booth 2599
• A complete line of meat analogs, including chicken- and pork-flavored whole-muscle meat replacers that closely simulates cooked whole-muscle meat is available. ADM, www.admworld.com, Booth 2514
• A patented way of creating a bland-tasting isolated soy protein has been developed. Prolisse® soy protein isolate can be used in beverages, bars, snacks, bakery goods, meat and vegetarian products, prepared foods, and more. Cargill Inc., www.cargill.com, Booth 1939
• Integrated extractions system facilitates the production of liquid coffee extracts and coffee concentrates.The spinning cone column forms the core of the system, allowing for the rapid, efficient, and cost-effective separation of volatile compounds, such as aroma and flavors. Flavourtech, www.flavourtech.com, Booth 1138
• Coffee portfolio includes shelf-stable coffee extracts, Espresso Roast and Medium Roast Café Concentrates; custom coffee powder blends; and various spray-dried coffees. Extraction and essence process captures the complex flavor volatiles of coffee. Blue Pacific Flavors and Fragrances, www.bluepacificflavors.com, Booth 4135
• "Formulating with Coffee: How Egg Products Fit In" is the title of an article in the Spring 2006 issue of The EGGSaminer. Coffee extracts, syrups, and powders can serve as ingredients in a variety of egg-based products. For example, custards, puddings, and flan-style desserts are now available in coffee flavor, along with ice creams and frozen custards. American Egg Board, www.aeb.com, Booth 3516
--- PAGE BREAK ---
• Iced coffee beverage made with whey proteins will be available for sipping. Find a whey to try out this brew. Hillmar Ingredients, www.hilmaringredients.com, Booth 2710
• Coffee flavors are being used in a wider range of food applications, including muffins, cheesecake, salad dressings, and marinades. Learn more about this crossover trend by sampling prototypes made with these flavors. Wild Flavors, Inc., www.wildflavors.com, Booth 2500
• Various color solutions are demonstrated under the theme "Color Is In Our Nature." These solutions include SensiJet™, a delivery system that provides full-color digital imagery on a variety of food products; SpectraFlecks™, inclusions that add sparkled bursts of color; and a full line of natural colors—annatto, beet, turmeric, anthocyanins, carmine, paprika, carotenoids, titanium dioxide, and caramel. Sensient Colors, Inc., www.sensient-tech.com, Booth 1751
• The vital role that colors play in the perception of a product will be highlighted by an array of applications representing different trends and global cuisines. The products utilize Colors From Nature®, a line of natural colors made from raw materials such as fruits and vegetables. The colors encompass a complete range of choices from the spectrum. Wild Flavors, wildflavors.com, Booth 2500
• "Shades of Things to Come" is the title of a Product Selection Guide describing a broad range of FD&C Lakes. These certified, water-insoluble colorants eliminate color bleeding in water systems, disperse easily in high-fat systems, and have excellent heat and light stability. Noveon Hilton Davis, www.noveonhiltondavis.com, Booth 4224
• A sky blue hue can be provided by a natural colorant derived from a vegetable extract. The color is especially suitable for use in confections, baked goods, and interactive foods marketed towards children. RFI Ingredients, www.rfiingredients.com, Booth 1567
• Caramel colors, ranging from light yellow to reddish browns to the darkest browns, are available for use in foods and beverages. The wide spectrum of liquid and powdered caramel colors offers flexible, stable, and economical coloring solutions. Sethness Caramel Color, www.sethness.com, Booth 1048
• Natural pigments—chlorophylls, curcuminoids, carotenoids, and anthocyanins—are extracted from a variety of vegetables. Also offered are blends of these natural colorants, the Vege'Brite line, which help obtain shades not directly available with one natural pigment. Naturex, www.naturex.com, Booth 2817
• Food color concentrates, Coloreze™, are produced using natural and certified food colors, making it easier and less expensive to add color to food applications. Formats include pigment dispersions, liquid colors, paste colors, and powder blends. International Foodcraft Corp., www.intlfoodcraft.com, Booth 4935
--- PAGE BREAK ---
• Cochineal extract and carmine colors, in low-allergen forms, are available. Representatives will be on hand to discuss data regarding the allergenicity of traditional cochineal and carmine colors as well as provide data that demonstrates the low allergenicity of these new products. San-Ei Gen FFI, Booth 4237
• Heat things up with a naturally flavored, easy-to-melt product, Hot Coats™ Confectionery Coatings. These trans fat-free coatings are available in ginger, jalapeño, and chili flavors and can be used to coat pretzels and chips and enrobe fruit or centers. They contain the flavor in the product, eliminating the need for extra ingredients and ensuring proper flavor intensity. Wilbur Chocolate, a Cargill company, www.cargill.com, Booth 1939
• Coatings based on corn protein (Zein) and cellulose seal confectionery pieces and dried fruits; improve gloss, moisture, and heat resistance; and allow the pieces to remain free flowing. Centerchem Inc., www.centerchem.com, Booth 4927
• An ingredient, Stepan® EDS was originally designed to protect sensitive nutritional ingredients by enrobing them in a hard high-melting lipid. Now research shows that it is capable of starch complexion and crystal modification, acts as a surface-active lipid, and provides an efficient moisture barrier. Stepan Co., www.stepan.com, Booth 2136
• A variety of encapsulates are designed to exhibit specific functions for certain food and beverage applications. Balchem Encapsulates, www.balchem.com, Booth 1954
• Chocolates, chips, inclusions, and cocoa powder help deliver a chocolate flavor and texture to foods and beverages. Barry Callebaut, www.barry-callebaut.com , Booth 2567
• Enzymes for food processing, brewing/ethanol, animal feed, and functional foods are available. Enzymes offered by the company include carbohydrases, proteases, lipases, cellulose, xylanase, pectinase, and others. Enzyme Development Corp., www.enzymedevelopment.com, Booth 867
• Enzyme formulations that comply with customer needs and specifications can be developed. Advances in biotechnology continue to result in the creation of cost-effective enzymes with special functionalities. Experts will be present to discuss these latest advancements and how enzymes can be used in an array of food applications. Valley Research, www.valleyEnzymes.com, Booth 1364
• Specialty enzyme blends and enrichment premixes have application in various food processing applications such as bakery products, beverages, cereal milling, and sugar production. Equichem International, Inc., www.equichem.com, Booth 3367
• Pepsin and pancreatin will be featured, along with enzyme blends, fungal enzymes, papain, and bromelain. A number of potencies for each enzyme are offered to meet customer needs. American Laboratories, www.americanlaboratories.com, Booth 4726
--- PAGE BREAK ---
• Enzymes enhance the quality or production efficiency of many food products, including wine, juice, fruit, beer, bread, alcohol, and pasta. Literature and copies of newsletter will be offered describing new enzyme advancements and the beneficial effects they have. Novozymes, www.novozymes.com, Booth 2597
• Line of chicken fat powders has been expanded to included Agglomerated Powdered Chicken Broth and Powdered Broth and Fat. The agglomerated form offers optimum dispersal with the flavor and aroma of typical cooked chicken. These cost-effective powders provide such benefits as improved functionality, a variety of flavor profiles ranging from light to savory to roasted, and versatility. International Dehydrated Foods, Inc., www.idf.com, Booth 1341
• Addition of omega-3 fatty acids into foods can cause off flavors because these oils are prone to oxidation. To address this problem, a patented process, Powder-loc™, has been developed that microencapsulates the oil in a gelatin matrix with double shell protection for inclusion in foods. The technology protects the oil within a multi-shell inner matrix with a protective outer shell surrounding it. Ocean Nutrition Canada Ltd., www.ocean-nutrition.com, Booth 335
• Fat solutions for today's food formulating will be highlighted. These include the SansTrans™ no trans, non-hydrogenated fats, oils, and shortenings, and Freedom Series no-trans, non-hydrogenated coating fats. Bakery prototypes showcase trans-free flavor inclusions made with omega-3s. Loders Croklaan, www.croklaan.com, Booth 2904
• Shortening and shortening flakes provide zero trans fats without compromising functionality and taste in a variety of applications, including biscuits and pizza crust. Golden Foods, www.gfgb.com, Booth 3361
• Lactic yeast extracts from the Saporesse savory line of yeast extracts provide flavor enhancement in cheese products and offer a way to reduce salt without affecting taste in a variety of applications. Synergy Flavors Inc., www.synergytaste.com, Booth 3372
• A snack food application will feature XALT™ Natural Flavor Enhancer, a natural flavor system that can help to reduce sodium in various snack foods, prepared foods, and baked goods by up to 40%. Blue Pacific Flavors, www.bluepacificflavors.com, Booth 4135
• A wheat-free, non-GMO Natural Flavor Enhancer (7203) will be introduced. Nikken Foods Co., www.nikkenfoods.com, Booth 3914
• A custom-designed approach, Spicetec™ Amplify™ salt flavor enhancement technology increases salty taste perception and boosts the overall flavor impact while decreasing the amount of salt in a product. ConAgra Food Ingredients, www.conagrafoods.com, Booth 2531
--- PAGE BREAK ---
• Organic yeast extracts and salt replacers are offered. Savoury Systems International Inc., www.savourysystems.com, Booth 1285
• The properties of licorice were used to develop Magnasweet®, which subtly alters sweetness, improves the mouthfeel of the finished product, and minimizes unwanted aftertaste. Mafco Worldwide Corp., www.magnasweet.com, Booth 1354
• Solutions to off-flavors due to artificial sweeteners, heat, light, and oxidation deterioration in foods and beverages is offered. Ogawa & Co. Ltd., www.ogawa.net, Booth 1589
• Figs help to hold in moisture in baked goods and fig purée can be used to replace fat in baked goods. Whole, diced, and sliced figs, Fruit Nuggets™, and fig paste, concentrate, fillings, and powders are available. Blue Ribbon Fig Paste can be customized from Calimyrna, Mission, Adriatic, or Kadota fig varieties. Blue Ribbon Fig Slurry is a pumpable, spreadable, flowable mixture of fig concentrate and fig paste perfect for use in salad dressings, vinaigrettes, sauces, marinades, and baked goods. Valley Fig Growers, www.valleyfig.com, Booth 977
• Carrots in specialized cuts are available for retail and foodservice use. Hydrobind® Carrot Fiber improves yield in processed meat and poultry products, reduces breakage in extruded products, and enhances viscosity in sauces. Carrot juice products are available in single-strength NFC or concentrate or cloud-stable juices or purées. Reformulated Vedge Vegetable Juice Blend delivers the fresh taste of tomato and carrot juice. Bolthouse Farms Inc., www.bolthouse.com, Booth 1065
• Shelf-stable shiitake mushroom concentrate with intense flavor and aroma will be highlighted. Sautéed onion paste (55% solids), sautéed minced onion paste (55% solids), and sautéed garlic paste (70% solids) provide sweet, clean flavor and aroma to sauces and meat and poultry products. Nikken Foods Co., www.nikkenfoods.com, Booth 3914
• Research has shown that molecular methods are useful in orange juice identity and adulteration detection compared to traditional methods. Adulteration of processed citrus juice is a serious problem in the juice industry. Session 039D-01
• Dried plums and plum powders, purées, and juice concentrates function as natural humectants, fat replacers, and antimicrobial agents. These product improvements result from dried plum's naturally occurring fiber, sorbitol, malic acid, and antioxidants. New information supporting dried plum use as a natural way to extend bakery and meat products shelf life will be presented. California Dried Plum Board, www.californiadriedplums.org, Booth 3141
• Sample the smoky notes of roasted chilies, savory richness of roasted sun-dried tomato paste, and deep, rich essence of fresh dried, sun-dried, and organic dried tomatoes. Culinary Farms, www.culinaryfarms.com, Booth 1786
• Customized carrot juices, purées, and concentrates are useful in soups, beverages, condiments, sauces, and snacks. New applications for the use of all portions of the carrot are continually being developed. Potatoes and citrus are also available. Grimmway Farms, www.grimmway.com, Booth 4214
• Type replacers for juice concentrates are blended to meet your product specifications. Wild Blueberry Type Replacer and Mango-Peach Blend will be highlighted. Learn about other fruit and vegetable concentrates, purées, purée concentrates, and essences. Kerr Concentrates Inc., www.kerrconcentrates.com, Booth 1379 • Roasted vegetable blends that contain savory flavor-enhancing tastes add color and texture to many food products. Comarco Products Inc., www.comarco.net, Booth 1622 
--- PAGE BREAK ---
• Juices, juice blends, flavored coffees, and flavored teas are available. Tropical Paradise Beverages, www.tropicalparadisebeverages.com, Booth 838
• Meat-derived ingredients, Taste-Pro, include chicken, beef, and pork bouillons, animal fats, and meat extracts. They can be used to provide a meaty taste and smell to powdered soups, flavorings, and animal feed, while enhancing their protein content. Regis, Ltd., Poland, Booth 350
• New chocolate product, Twin Chips, are miniature, pyramid-shaped drops of rich chocolate sectioned into two-toned quarters of alternating dark and white chocolate, peaking into a swirled tip. Aalst Chocolate, Ltd., Singapore, Booth 749
• Little fruit spheres, manufactured by a freeze-drying technology, may be used in chocolate bars, breakfast cereals, instant desserts, and other products. Called Paradise Pearls, these ingredients are available in a number of fruit varieties and sizes. Paradiesfrucht.gmbH, Germany, Booth 648
• Miso products for use in soups and other dishes are featured. Miso pastes formulated with popular Japanese garnishes such as seaweed and tofu are also available. Miyasaka Brewery Co., Ltd. Japan, www.miyasaka-jozo.com, Booth 3181
• International source provides global information on tree nuts, including their health and nutrition benefits, food safety, government standards, and government regulations regarding trade barriers and trade quality standards. Database also provides scientific news and statistical and market outlook. International Tree Nut Council, www.treenuts.org, Spain Booth 1683
• Reduced-fat whipping cream may be difficult to whip with little or no foam stability. Addressing this problem, cellulose-based ingredient solutions called AeroWhip™ may be used to formulate low-fat versions with improved stability and organoleptic properties. Aqualon, a division of Hercules, www.aqualon.com, Booth 686
• Gum stabilizer, Aragum RS-120, may be used in heat-stable spray-dried flavors and can improve flavor retention in bakery products. Aragum EM-602 encapsulates high oil levels and helps reduce cost by using a combination of synergistic emulsifying gums. TIC Gums, www.ticgums.com, Booth 1882, 2183
• Carrageenan-based blends are suitable in stabilizing and emulsifying a variety of dairy products, including chocolate milk, milk shakes, and ice creams. They help to prevent cocoa settling and separation, stabilize milk and fat suspension, and provide a thick and rich mouthfeel. Martsons Food Corp., www.martsonsfoodcprp.com, Booth 1586
• Arabic gums and carageenans, marketed under the Excel Series, will be highlighted. A formulation guide, "Ingredients for Texture," will be available. Excelon, www.exceloninternational.com, Booth 2699
• A jelly, formulated with carrageenan-based CarraJell, will be showcased. Jellies made with the ingredient are firmer, and have a clean, fruitier flavor. Carrageenan Co., www.carrageenanco.com, Booth 1970
• Gelatin, a valuable source of protein, is suitable for formulating confections, pastries, savory meat and sausage products, beverages, dairy products, and desserts. Marketed under the name Gelita®, the ingredient has the ability to bind water, allowing it to be used for gelling, thickening, and stabilizing foods. Gelatin also forms a thermo-reversible gel that melts in the mouth, creating a smooth and unique mouthfeel. Gelita North America, www.gelita.com, Booth 2910
--- PAGE BREAK ---
• Hazelnuts, a quality source of protein, is discussed in a new brochure, Consumer Attitudes and Usage: Nuts Add Value. The brochure takes an in-depth look at the awareness of selected nuts, the frequency of usage of hazelnuts, and the likelihood of consumers trying new foods with hazelnuts. Hazelnuts are valued for their indulgent flavor and upscale appeal. Hazelnut Council, Inc., www.hazelnutcouncil.org, Booth 4531
• New hydrolyzed collagen, from bovine origin, exhibits excellent organoleptic characteristics. Collagen is widely used as a protein source in sports drinks, nutritional bars and foods, and tablets. Rousselot, www.rousselot.com, Booth 3923
• Meat ingredients introduced this year are Oven Slices, Shred Cut Meats, and Quartered Slices. Other items in the portfolio include ham, pork, turkey, chicken, and beef in a variety of forms, such as logs, ground, diced, chips, sliced, and strips. Land O'Frost, Inc., www.landofrost.com, Booth 3279
• Instant starches, Merigloss, are specifically processed to ensure that the starch granules are not broken during the instantization process. The new range of granular waxy maize-based starches provides improved clarity, gloss, and viscosity when compared to traditional drum-dried instant starches. They are particularly suited for use in fruit preparations and bakery fillings. Tate & Lyle, www.tateandlyle.com, Booth 1957
• Native starches, Novation Prima, are especially effective in frozen foods, products which undergo multiple freeze/thaw cycles prior to consumption, and refrigerated products requiring a long shelf life. In addition to having excellent freeze/thaw stability, the new starches deliver the functional performance expected from a modified food starch without being physically modified. National Starch Food Innovation, foodinnovation.com, Booth 2151
• Modified food starch, Inscosity™, provides viscosity without heating or cooking. The cold-water-swelling corn starch demonstrates excellent freeze/thaw and steam table stability without syneresis and is suitable for neutral to mildly acidic pH hot- or cold-water-dispersible applications. Grain Processing Corp., www.grainprocessing.com, Booth 2573
• Modified tapioca starch, Expandex, creates a moist and expanded crumb in dough products such as bread and pizza crust. It also enhances the crispness of fried products such as beignets and doughnut holes. Corn Products, www.cornproducts.com, Booth 2557
• Ten solution sets—co-processed combinations of sweeteners, starches, and other ingredients—will be showcased in dairy, beverage, snacks, and bakery prototypes. The solution sets are designed to help reduce sugar, calories, or fat, without compromising taste and texture. Also highlighted will be the functionality benefits of Splenda® sucralose. Tate & Lyle, www.tateandlyle.com, Booth 1957
• Molasses products provide consistent flavor and color, and are available in a variety of grades. Also highlighted are sucrose-based ingredients made by a co-crystallization technology. Domino Specialty Ingredients, www.dominospecialtyingredients.com, Booth 1345
• Sweetener blend, Shugr™, contains erythritol, maltodextrin, tagatose, and a trace amount of sucralose. The low-glycemic, zero-calorie blend tastes, cooks, and bakes like cane sugar. DNP International Co., www.dnpint.com, Booth 1054
--- PAGE BREAK ---
• Sweetener alternatives include organic agave juice and licorice extract. Alfred L. Wolff, Booth 550
• High-intensity sweetener, PureLo®, is derived from the Lo Han Guo fruit grown in China. It is highly soluble and stable, and can be used alone or in combination with other sweeteners to modify flavor. Barrington Nutritionals, www.barringtonchem.com, Paper 13-1 and Booth 3183
• A sweetener system utilizing citrus extracts and natural flavors is part of a blend, CitriSweet, that also contains prebiotic oligofructose and fructose. The blend is 10 times sweeter than sucrose, and may be used solely for its sweetness or to round out flavors. Roxlor International, www.roxlor.com, Booth 1785
• A low-acid vinegar made from red wine vinegar and fig and grape juice concentrates—Blue Ribbon Fig Balsamic Vinegar—is useful as an ingredient in salad dressing, vinaigrettes, sauces, and marinades. Valley Fig Growers, www.valleyfig.com, Booth 977
• A line of citrics, including citric acid, citrate dihydrate, and Liquinat®, a citric acid solution, are used widely in the food and beverage industries because of their pleasant taste, pH properties, good sequestering abilities, and excellent solubility. Jungbunzlauer, www.jungbunzlauer.com, Booth 3200
• Regulating acidity in food is a function of Gadolin Calcium, a freely soluble, highly bioavailable formulation from a citrate-based calcium source and dietary fibers. Gadot Biochemical Industries Ltd., www.gadotbio.com, Booth 1448
• Balsamic, wine, and apple vinegars are useful in many applications including salad dressings. SK Food International Inc., www.skfood.com, Booth 1892
• Potassium sorbate is offered in granular, powder, and spherical-shaped beads. APAC Chemical Corp., www.apacchemical.com, Booth 3186
• Ascorbic acid is available for use in foods and beverages. Premium Ingredients International, www.premiemingredients.com, Booths 3523 and 3724
• Citric acid and potassium sorbate are available. Great Earth Chemical, www.greatearthchemical.com, Booth 4931
• Stablized whole-wheat flours and blends, natural oat fibers, and stabilized brans can be used in a variety of bakery applications, such as breads and cookies, cereal products, and nutritional and granola bars. Grain Millers Inc., www.grainmillers.com, Booth 676
• High-fiber toasted bran crumbs and cereals can be used as breadings, coatings, and inclusions. Kellogg's/Keebler Food Ingredients Group, www.kelloggingredients.com, Booth 1838
• Rice is available in a variety of forms, including milled, parboiled milled, parboiled instant, instant, and specialty. Riviana Foods Inc., www.rivianaindustrial.com, Booth 1725
• New pasta shapes and whole-wheat, organic, and high-protein pasta are useful in dry, refrigerated, frozen, and canned food products. Zerega Pasta, www.zerega.com, Booth 777
--- PAGE BREAK ---
• Rice starch, Remyline XS-B, exhibits process stability while maintaining a clean label. Remypro soluble rice protein, a hypoallergenic protein source, can be used to fortify nutritional beverages, infant formulas, and meal replacement products. Remyflo micronized rice flours improve crispiness in a variety of coating applications. A&B Ingredients, www.abingredients.com, Booth 4429
• Pasta products that perform in specific manufacturing environments are available. American Italian Pasta Co., www.aipc.com, Booth 1481
• Enjoy Asian-inspired dishes made with a variety of flavor combinations, then try desserts featuring MichaelCap® 3-D encapsulated flavors. African red tea truffles and flavored teas will also be featured. David Michael & Co., www.dmflavors.com, Booth 2861
• New flavor ideas for the confectionery, bakery, savory, and beverage markets will be highlighted in finished applications. Information about Flavor Workshops will be available. Bell Flavors and Fragrances, www.bellff.com, Booth 1935
• Sample food applications made with culinary wine reductions and distilled spirit reductions, including French Brandy, Kentucky Straight Bourbon Whiskey, and Scotch Whiskey. Todhunter Foods & Monarch Wine, www.todhunter.com, Booth 1476 
• A line of NAT'Arom™ oleoresins, essential oils, spices, and herbs, has been extended to include a range of flavoring extracts such as tamarind, licorice, chicory, and fenugreek. These water-soluble extracts have rapid solubility and are ideal for use in ready-to-drink beverages, soups, and dry powder mixes. Naturex, www.naturex.com, Booth 2817
• The latest range of heat-stable, sun-ripened fresh fruit flavors, including Sun-Ripened Nectarine Flavor, Pink Grapefruit WONF, Passionfruit WONF, and Asian Dragonberry Fruit Punch WONF, will be showcased in juice milk drinks and diet teas. Blue Pacific Flavors, www.bluepacificflavors.com, Booth 4135
• A selection of sweet and savory products that incorporate new and innovative flavors will be presented. Lionel Hitchen (Essential Oils) Ltd., www.lheo.co.uk, Booth 2781
• A line of organic-certified flavors, including beef, chicken, vegetarian, vegetable, and specialty, will be offered. Summit Hill Flavors, www.summithillflavors.com, Booth 1376
• Wasabi products, including Wasabi Type Flavors Natural in Water, Wasabi powder, and oil-soluble and spray-dried forms, will add heat to salad dressings, dips, cocktail sauces, cheese, snack foods, and condiments. Accurate Ingredients, www.acing.net, Booth 1835
--- PAGE BREAK ---
• Topics pertaining to flavor chemistry, including flavor adsorption, binding, identification, composition, perception, and analysis will be presented. Sessions 39 and 110
• Kemin Industries and Camlin have entered into an alliance whereby Camlin will supply Kemin key synthetic antioxidant molecules. These molecules will be used in Kemin's En-Hance™ antioxidants for human food and Pet-Ox® for pet food. Kemin Food Ingredients, www.kemin.com, Booth 2586
• Kerry has acquired Custom Industries, which manufactures particulates for bakery and ready-to-eat cereal applications and confectionery ingredients for sweet goods, and Nuvex Ingredients, which specializes in customized high-protein and fiber nutritional lines. Kerry, www.kerryamericas.com, Booth 2545
• Barrington Nutritionals has been named the exclusive distributor for BioVittoria's Luo Han fruit concentrate, which will be showcased. Barrington Nutritionals, www.barringtonchem.com, Booth 3183
• Solae Co. and Monsanto have entered into an agreement to develop and market a new line of soy proteins with improved flavor and solubility. Solae Co., www.thesolaecompany.com, Booth 2028
• P.L. Thomas was recently appointed as Vitiva's strategic partner for the sale of Vitiva products in the United States and Canada. P.L. Thomas & Co., www.plthomas.com, Booth 942
• Graceland Fruit Inc. and Milne Fruit Products Inc. have partnered in the production and sales of fruit juices as Graceland Fruit continues to expand its product line of industrial food ingredients. Graceland Fruit Inc., www.gracelandfruit.com, Booth 865
• Fuchs North America is the new name for Baltimore Spice. The company will focus on three segments of the seasoning and spice industry: industrial seasonings, foodservice, and food ingredients. Baltimore Spice Inc., www.baltimorespice.com, Booth 1767
by Donald E. Pszczola,
Senior Associate Editor 
[email protected] 
by Karen Banasiak,
Assistant Editor 
[email protected]