Several years ago, my family's beloved dog, Murphy, fell ill, and the veterinarians who examined her were perplexed as to what was wrong. Eventually, the doctors discovered that Murphy's condition was due to a phosphorus imbalance and could be remedied through medication and a change in diet, from foods that contained beef, chicken, and turkey to venison and lamb and foods formulated as vegetarian.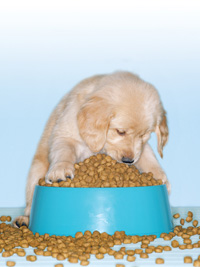 When the opportunity came up to write this article, I thought a little more about what happened to Murphy and how a change in her diet (and a small pill given once a day) was able to help alleviate the health problems she faced. Here was an example of how the pet food industry, by formulating different foods, was addressing the specific health needs of an animal much like the human food industry does (think calcium fortification in foods and beverages to help prevent osteoporosis).
This is not the only way the food industry is helping pet owners to care for and pamper their pets. Just walk up and down the aisles of pet supply stores and you will see hundreds of varieties of pet food, toys, clothes, furniture, grooming products, and high-tech products, all evidence of how companion animals such as dogs and cats have become just that—true members of the family rather than just a living burglar alarm or walking mousetrap.
A Growing Market
According to the 2005/2006 National Pet Owners Survey by the American Pet Products Manufacturers Association (APPMA), 63% of households in the United States own a pet, which equates to 69.1 million homes, and 45% of those households own more than one pet. The survey also indicates that 43.5 million households own at least one dog and 37.7 million households own at least one cat. More households own dogs and cats than any other companion animal, so I have chosen in this article to examine the development of foods for dogs and cats only. The number of dogs owned as pets is 73.9 million, and the number of cats is 90.5 million.
That's a lot of pets to feed, and consumers are spending the money to do it. The APPMA survey indicates that in 2005, $14.7 billion was spent on pet food in the U.S. market, and it estimates that that number will increase to $15.2 billion in 2006. According to Packaged Facts, New York, N.Y., during the first six months of 2006, pet food manufacturers launched 175 new dog and cat food products, including product extensions, in the U.S. This number of products was almost as many as the number of products that debuted in the entire previous year.
To sell the pet food, manufacturers need to develop nutritionally sound products that the animals will enjoy eating and to persuade consumers to purchase the products.
--- PAGE BREAK ---
"Since our dogs and cats can't go to the store to buy the food they want to eat, we must appeal to both the owners' and pets' needs," says Paul Cooke, Vice President of Trade and Industry Development for Nestlé Purina Pet Care Co., St. Louis, Mo. "Today's pet owners have expectations in terms of the taste, nutrition, and overall quality of the food they feed their pets. But the ultimate test is the way their pet behaves when they feed them the food. If pets won't eat it or act like they don't like it, it doesn't matter how appealing the food is to the owners."
Much like the foods that we consume, foods for pets have changed considerably. A biscuit product introduced in England in the late 1800s is thought to be the first commercially produced pet food for dogs. It did not take long for companies in Europe and the U.S. to develop their own formulas for biscuits. In the years after World War I, canned horsemeat for dogs, canned cat food, and dry meat-meal dog foods became available in the U.S. Through the 1950s and '60s, canned products featuring a variety of meat choices, dry cat food, and soft-moist products were developed.
As time passed, food technologists and veterinarians formulated dog and cat foods to meet the nutritional needs of the animals' life stages, such as formulas for puppies and kittens, active adults, and older animals. As product developers and veterinarians continue to learn more about the health and wellness of dogs and cats, they will reformulate these types of products to meet additional health needs.
These nutritionally balanced products are not the only type of pet food that manufacturers are developing. Remember that commercially produced biscuit first introduced more than 100 years ago? Bet it tasted awful. Today, you can feed your pet food that comes in a variety of gourmet flavors and contains better-quality meat, poultry, fish, and grains. Novelty food products, including pet "candy" and squeezable sauces, are available. There is even vegetarian pet food.
Sound familiar? Check out the food in the grocery store or in your own pantry, and you will see that many of the trends in foods and beverages processed for human consumption—functional foods, indulgent treats, attractive colors, mouth-watering flavors—have crossed over into the pet food aisle.
--- PAGE BREAK ---
Targeted Nutrition
As the numbers of people demanding healthier food continues to increase, it stands to reason that they want to feed their pets healthier food, too. Recognizing this trend, pet food manufacturers have begun to develop innovative new pet foods and technologies, says Cooke.
One of these new products is Beneful® Prepared Meals, a family-style, ready-to-serve meal that combines real meat, wholesome grains, and fresh vegetables. Introduced in March 2006, the meal is packaged in a clear, resealable plastic container—a packaging first in the pet food industry, according to Cooke. Consumers were even involved in part of the development of the product.
"We used a Purina research methodology called Consumer Creation research, in which we literally set up a 'farmers market' of every kind of fresh food available and asked consumers to create their ideal dog food," says Cooke. "The recipes the consumers created were later fine-tuned by Beneful nutritionists to ensure that they provided 100% complete and balanced nutrition for dogs." The company also uses proprietary research methodologies to conduct flavor, texture, and palatability tests.
Humans are able to eat a variety of foods throughout the day to meet their nutritional needs. Dogs and cats can't so many pet food products are formulated to be their main source of nutrition. These products are labeled as "complete and balanced" and are tested to ensure that they meet standards (see sidebar).
The manufacturing of food formulated to meet the nutritional needs of dogs and cats who are at specific stages of their lives, who have the proclivity to put on weight, or who are small or large in stature is not new, but the more-sophisticated formulations that target specific health problems are. Nutritionists, food technologists, and veterinarians all play a role in formulating many of these foods.
Some of the formulations contain such ingredients as glucosamine, thought to help maintain cartilage for healthy joints; fatty acids such as docosahexaenoic acid for proper brain development and healthy skin and hair; and antioxidants to strengthen the immune system. Other products are vegetarian or are formulated for pets that suffer from intolerances to certain food ingredients. Still others are said to contain a balance of certain ingredients to help maintain a healthy urinary system or prevent hairballs in cats.
The Eukanuba Veterinary Diets line of dog and cat food produced by Iams Co., Dayton, Ohio, is sold only in veterinarian offices. The line contains foods that target specific health needs, such as skin and coat maintenance; kidney problems, including kidney failure; urinary tract maintenance, to prevent development of struvite-associated and calcium oxalate–associated crystals; and gastrointestinal conditions such as vomiting, constipation, colitis, and inflammatory bowel disease.
--- PAGE BREAK ---
Ingredient suppliers also play an important role in the development of these types of pet foods. According to Gregg Griffin, Director of Sales and Marketing for American Dehydrated Foods Inc., Springfield, Mo., his company responds to the trends of formulating healthier foods for an animal's life stages or nutritional needs by developing specific ingredients, such as an allergen-free protein source for use in some dog and cat foods. "Just as human therapy and treatment consistently advance, there are similar findings within the pet food ingredient industry to nutritionally improve the lives of dogs and cats," he says.
Del Monte Foods, San Francisco, Calif., recently launched Nature's Recipe® Large Breed Recipe dog food for dogs that weigh more than 50 lb and a line of dog treat products that are formulated without ingredients that may cause food intolerances or allergies. Large-breed adult dogs are more prone to experiencing joint problems, as the size and weight of these dogs can put more stress on joints. To help maintain properly functioning joints, the food contains glucosamine and chondroitin.
The company's line of dog treats includes three new varieties, Joint & Hip, Teeth & Breath, and Skin & Coat. Glucosamine and chondroitin are used in the Joint & Hip variety. Chewing on a sprig of parsley or spearmint-flavored gum helps us to keep our breath fresh, and oil of parsley and spearmint flavor are used in the Teeth & Breath formula to help keep dogs' breath fresh, too. The Skin & Coat variety contains such ingredients as omega-3 and omega-6 fatty acids, vitamins A and E, and zinc to prevent scaly skin and a dry coat in dogs. Incidentally, research has shown that these ingredients also help to maintain healthy skin and hair in humans.
From Old Mother Hubbard, Chelmsford, Mass., comes Wellness® WellBites, Pure Rewards, and WellBars® dog snacks that, according to the company, "make it easier for dogs to live well, eat well, and be well." These new wheat-free products combine meat, fruits, vegetables, and grains and come in a variety of textures and flavors.
Mars Inc., McLean, Va., offers Pedigree® 2-Step Weight Program, which includes two formulas: Pedigree Weight Loss and Pedigree Weight Maintenance. The first is formulated to help dogs lose up to 10% excess body weight in 12 weeks. It contains more than twice the protein of Pedigree Complete Nutrition dry food, which will help dogs burn more calories, according to the company. After the 12-week period, dogs on the program can be fed the second formula, which is a combination of meat protein (though not as much as the first formula), rice, and vegetables. The company says that the protein and fat levels are balanced to help promote and maintain lean muscle mass while keeping off excess body fat.
Regardless of the food that pet owners feed their pets, they must realize that what is good for humans to consume may not always be good for animals. Take fiber as an example. Research has shown the benefits of consuming high-fiber diets for humans, but high-fiber diets in cats and dogs can interfere with the absorption and digestibility of other nutrients.
--- PAGE BREAK ---
Humans need to be cognizant of the types of fat consumed. Not so for dogs and cats. An article in the September 1, 2006, issue of the Journal of the American Veterinary Medical Association reports on how dogs and cats have more good cholesterol than bad cholesterol in their bodies and can therefore consume saturated and unsaturated fats without the risks of heart disease that humans face. The author, John E. Bauer, Professor at the College of Veterinary Medicine and Biomedical Sciences at Texas A&M University, writes that saturated fats are actually "facilitative" for dogs and cats because they increase the taste and improve the palatability of foods, provide calories, and promote the absorption of fat-soluble vitamins. Too much of any type of fat, though, could lead to obesity in pets.
The intake of another ingredient that many of us monitor, especially those with diabetes, is sugar. There are many sugar substitutes available, and one in particular—xylitol—is reported to be quite harmful, even fatal, to dogs. A clinical report in the October 1, 2006, issue of the Journal of the American Veterinary Medical Association presents new evidence about the deleterious effects of xylitol consumption in dogs. According to the authors, veterinary toxicologist Sharon Gwaltney-Brant and veterinarian Eric K. Dunayer, both with the Animal Poison Control Center of the American Society for the Prevention of Cruelty to Animals in Urbana, Ill., xylitol triggers the release of a significant amount of insulin in dogs, and this leads to a drop in blood sugar. In rare cases, the liver can fail. Humans are not affected by xylitol consumption in this way, as it does not contribute to high blood sugar levels or a release of insulin.
Going Gourmet
Humans love to indulge, especially when it comes to what they eat and drink. Packaged Facts states that about one-fifth of American adults are consumers of gourmet products and this $41.2-billion market is projected to grow to $62 billion by 2009. And consumers are not spending money on these types of products only for themselves. The company also reports that the pet food market is projected to reach nearly $19 billion by 2010, and that part of this growth will come in the gourmet area.
Recognizing this trend, pet food manufacturers now offer a range of gourmet items with menu-inspired flavors and ingredients. Earlier this year, Nestlé Purina introduced its Fancy Feast® Elegant Medleys Gourmet cat food. This product combines yellowfin tuna, white meat chicken, or wild salmon with sauces and broths, whipped egg soufflé, and garden greens. According to the company, the visual and aromatic appeal of the product to humans and cats is unique to this cat food. What's more interesting about this product is that it was introduced at the Aspen Food and Wine Classic in June 2006, the first time that a cat food has been showcased at the event.
Nestlé Purina also offers products to tempt the taste buds of man's best friend. Its Alpo Chop House Originals features flavors found in upscale steak houses such as ribeye, top sirloin, filet mignon, and pork tenderloin. Its Mighty Dog® Seared Filets is available in porterhouse steak flavor.
--- PAGE BREAK ---
Cat foods offer a wide array of fish and other seafood flavors, as well as grilled, roasted, and rotisserie meat flavors. Mars' Sheba® cat food is available in Alaskan king crab, bluefin tuna, gourmet salmon, seared ahi tuna, shrimp, Maine lobster, Pacific halibut, rainbow trout, grilled chicken, roasted turkey, rotisserie chicken, and filet mignon flavors. Notice how specific the seafood flavors are in cat foods sold today and how this has changed from the all-encompassing fish flavor or the generic salmon or tuna flavors of cat foods sold years ago. The company says that as consumers learn of the gourmet qualities of seafood, their cats should be part of the trend.
Nutro Products offers some of the more-daring meat, seafood, vegetable, and flavor combinations in its Max Cat Gourmet Classics cat food line. Beef Ragoût is made with beef, peas, carrots, and potatoes; Hunter's Stew contains real venison; Seafood And Tomato Bisque features salmon broth, whitefish, mackerel, and tomato paste; and Orleans Seafood Jambalaya contains fish broth, chicken, mackerel, salmon, ground rice, tomato paste, shrimp, and even red peppers.
Some products allow pet owners to season their pets' food, as well as accent or change the flavor of the food. From Iams comes Iams® Savory Sauce in roasted turkey, pot roast, roasted beef, bacon, and country-style chicken flavors. The sauce comes in a squeezable bottle shaped much like ketchup bottles and can be used as a topping or a mix-in for dry or moist dog food.
"The Iams brand learned that many pet owners were mixing their dog's dry food with things like gravy, broth, and table scraps," says Amy Dicke, Technical Services Veterinarian for Iams. "These homemade 'mixers' added unwanted calories and did not always provide optimal nutrition. Thus, we introduced Iams Savory Sauce, which offers a healthy addition to the dog's diet." Made with real meat, poultry, and vegetables, the sauce is fortified with vitamins, minerals, and antioxidants and is available in formulas for puppies and adult and older dogs.
Savory Market Inc., Santa Fe, N.M., produces a shakable seasoning blend, Savory Dog Pet Food Seasonings, in bacon, beef, sausage, and chicken flavors. These blends are made with natural meat flavors and can be used on dry or moist dog food.
Some of these flavors and ingredients may seem unusual for dogs and cats, but Dicke mentions that the foods undergo a variety of taste and palatability tests, as dogs and cats rely heavily on their senses of smell and taste when evaluating food. After the food passes the smell test, preference testing of taste and texture is often conducted in the pets' home environment to collect data in real-life conditions, she says. The tests allow the company to determine the most desirable tastes and textures of products, and this ultimately leads to the acceptable products being sold in stores.
--- PAGE BREAK ---
Let Them Eat Cake!
Who doesn't love to indulge in a delicious dessert item? The foods that we enjoy, however, can cause serious health problems in dogs and cats. Ice cream and other dairy products, for instance, can often upset the digestive tract of dogs. Now pets can indulge in dessert items that are specially formulated for them. Some items released over the past year illustrate how pet owners are increasingly feeding their pets treat products that mimic the shapes, textures, and flavors of foods that they consume.
• Cookies. Many people love to bake cookies for their children. Now they can treat their pets just like their children, with Bowie Wowie's oven-ready, refrigerated cookie dough from Diva Doggie, Rolling Meadows, Ill. The cookies bake in the oven and have the look, smell, and texture of cookies that we would eat. They contain no sugar, fillers, artificial flavors, or by-products and are available in carob chip, oatmeal, snickerdoodle, and peanut butter varieties.
• Desserts. Natural Choice Healthy Desserts contain real fruits and whole grains such as oatmeal and flaxseed, contain no added sugars, and have less than 100 calories per serving. Released in July 2006 by Nutro Products, these "desserts" come in apple torte, berry cobbler, carrot cake, and pumpkin crumble varieties.
• Frozen Treats. Produced by Dreyer's Grand Ice Cream, Oakland, Calif., Frosty Paws® frozen treats for dogs are made with whey, soy flour, and animal fat; are fortified with protein, vitamins, and minerals; are available in original and recently released peanut butter flavors; and contain no added sodium, sugar, or artificial flavor and colors.
And Dogsters LLC, New York, N.Y., has developed a line of frozen novelty treats for dogs called Dogsters. The line includes Nulty Snow Cups, a cheese-based, ice cream–style product; Mintë Kissably Fresh Snow Cups, a cheese-based, ice cream–style product made with spearmint; United Fido Orbiters, which resembles an ice cream sandwich and is made with oat cookies and cheese-flavored filling; Yogurt Combos, a carrot and cheese–flavored product that contains flaxseed, omega 3 and 6 fatty acids, and prebiotics; and Ice Crunchies The One Calorie Dog Treat, a beef-flavored frozen ice pop.
• Snacks. Many other treats available have evolved significantly from the dog biscuit first introduced more than 100 years ago. Del Monte Foods recently introduced Snausages® Fortune Snookies, a flat biscuit with sayings such as "Cats are not chew toys" printed on it in edible ink, and Pup-Peroni® Ribs, beef-flavored, short rib–shaped snacks.
"The humanization of pets is the single-biggest trend driving our business," says Matthew Park, Vice President of Marketing for Del Monte Foods. "People are passionate about their pets, and they want to feed them food that looks and smells as good as their own food."
The company also offers two dog snacks that are shaped and smell like Italian cuisine favorites. Snausages® Roverolis is a soft and chewy, ravioli-shaped product that smells like marinara sauce, and Canine Carry Outs® is a soft and chewy, pizza slice–shaped product made with Italian seasonings and cheese flavor.
Similar Trends
Many of the trends in human and pet foods are remarkably similar, especially with respect to health and nutrition. Health-conscious pet owners are more likely to feed their pets healthy food, so the pet food developers have responded by formulating a variety of food products that contain healthy ingredients or are fortified with certain vitamin and minerals. As different trends for our food continue to develop, we will likely see some of those trends reflected in the pet food industry.
--- PAGE BREAK ---
Standards & Labeling
Commercially processed pet foods in the U.S. are regulated by government agencies, such as the Food and Drug Administration (see www.fda.gov/cvm/petlabel.htm), the U.S. Dept. of Agriculture, and the Federal Trade Commission, as well as the Association of American Feed Control Officials (AAFCO), an organization of state and federal officials who regulate pet food production, labeling, distribution, and sale.
The Federal Food, Drug, and Cosmetic Act requires that pet foods be pure and wholesome, contain no harmful substances, and be truthfully labeled. The Code of Federal Regulations lists the approved food additives and Generally Recognized As Safe (GRAS) substances permitted in pet foods.
Pet food labels must declare that the product is a pet food; identify the net quantity; the name and place of business of the manufacturer, packer, or distributor; and list all ingredients in descending order of predominance by weight, identified by their common or usual names.
AAFCO developed four rules that govern the percentages of named ingredients in the total pet food product:
Under the "95%" rule, a food labeled as "tuna cat food," for example, must be at least 95% tuna, excluding the water used for processing. This rule applies to products that contain mostly meat, poultry, or fish.
Under the "25%" or "dinner" rule, the named ingredients must be at least 25% but less than 95% of the product, excluding the water used for processing. The name of the product must include a qualifying descriptive term such as "Beef Dinner for Dogs." This rule applies to ingredients of animal and non-animal origin, so if a label reads "Lamb and Rice Formula for Cats," the amounts of lamb and rice combined must total at least 25% of the entire product.
Under the "3%" or "with" rule, products that contain at least 3% of a minor ingredient can use the term "with" in the product name, e.g., "Cat Food With Tuna." Do not confuse "Tuna Cat Food" with "Cat Food With Tuna." The former contains at least 95% tuna, while the latter contains 3% tuna.
Under the "flavor" rule, the product must contain an amount of the specified ingredient that can be detected by specially trained animals, but no specific percentage is required. An example is "Beef Flavor Dog Food." The ingredient in the product may actually be the named ingredient, but it is often something else that can provide the flavor, such as a meal or by-product.
by Karen Banasiak, a Member of IFT, is Assistant Editor of Food Technology magazine ([email protected]).