There is a food dimension beyond that which is known to the formulator. It is a land not only of flavors and ingredients, but of emerging applications, of what was and what could be. You are about to take a journey through this land whose boundaries are blurred by scientifi c and culinary imaginations. Quick, there's a recipe up ahead. You are about to enter "The Crossover Zone."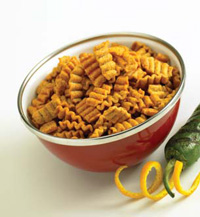 Okay, so I'm not Rod Serling, the host of that cult television show, The Twilight Zone. But over the next few pages, I will be your personal guide for a look at flavors that have made a crossover from traditional applications to a more diverse range of products. Crossover ingredients such as coffee, tea, chocolate, spices, fruits, and many others can blur the boundaries of traditional formulating, creating opportunities today for some very interesting product differentiations. They can infuse mainstream products with fl avors from around the world or bring to the marketplace new applications that combine the characteristics of different food and beverage categories.
My earliest encounter with a crossover flavor would have been coffee. Coming from a family of avid coffee drinkers, I still remember as a youngster tasting a tan-colored ice cream and griping that there was something wrong with this "vanilla" flavor. And, of course, the family had a good laugh at my expense. Learning from this experience, I naturally assumed that coffee cake—another popular item in our household—was made with coffee. The family had another good laugh, again at my expense. Sometimes I wonder if these humiliating experiences did not have some kind of effect on my choice of careers.
Since then, there has been a proliferation of flavors that have made crossovers. Several factors can have an infl uence on why these ingredients are making such transitions. These might include health and wellness considerations, growing exposures to international cuisines, product differentiation in the marketplace, and the influence of current trends.
This month's article will look at several of these crossover flavors. Some of them have had long associations with one particular food, and only gradually are making their appearance in a number of other applications. Others are making their journey more quickly. Some of them have had their origin in mainstream products and are now moving into nutraceutical or wellness sectors, while others started in the health area and are trying to penetrate the mainstream markets. Some will come as no surprise while others have tended to be overlooked or even are unfamiliar to the mainstream consumer.
And, of course, it's always interesting to speculate on future crossover ingredients. Perhaps the following examples might provide a few guidelines regarding what crossover ingredients wait around the corner.
--- PAGE BREAK ---
Java Jamboree
Coffee may very well be one of the earliest crossover flavors, finding initial uses in ice creams and bakery icings or fi llings. Later, coffee made an interesting crossover from hot beverages to iced drinks, where it gained popularity, fi nding its way to mainstream coffee houses and other retail establishments.
Today, formulators are taking advantage of the growing popularity of coffee across several food and beverage categories. One of the most innovative examples of this occurred in 2006 when the Coca-Cola Co. launched Coke Blak in the U.S. The product, a premium blend of Coca-Cola, natural flavors, and coffee essence, provided a unique taste and was a good indicator of how coffee could be used to create a hybrid application.
Here are a few other ways we can find coffee percolating as a crossover ingredient. An at-home cooking kit, Perky Savory Coffee Sauce, is available from ahh! Gourmet (www.ahhGourmet.com), a food company based in San Francisco, Calif. Made from coffee beans, the shelf-stable gourmet sauce imparts warmth, complementing dishes such as portobello mushrooms, beef, and tofu. It is said to be caffeine free, low in sodium, and fat free. The Wm. Wrigley Jr. Co., Chicago, Ill., introduced in Germany a new chewing gum, Kona Crème, which is flavored with coffee powder but contains only a trace of caffeine. The Hershey Co., Hershey, Pa., will introduce in 2008 its line of Starbucks Chocolate™, along with the promotional message, "When coffee dreams, it dreams of chocolate." The new product offerings, which combine chocolate with Starbucks beverages and café flavors, will include origin-inspired solid chocolates, indulgent truffles, and exotic chocolate-coated coffee beans.
According to X Café LLC, Princeton, Mass. (phone 978-464-8010, www.x-cafe.com), its line of shelf-stable premium coffee extracts are used as ingredients in bottled or canned beverages, liquors, frozen drinks, ice creams, gelatos, frostings and fillings, dairy products, and other applications. Interestingly, the company can provide coffee ingredients using specialty coffees from a variety of countries such as Sumatra, Kenya, and Guatemala. Each of these coffee varieties can create a distinctive and signature taste that carries through in the company's special extraction process. If so, it's possible to create a Guatemala Coffee Ice Cream or a Sumatran Coffee Sauce in the marketplace.
X Café adds that coffee tastes may be used in a variety of ways: as the featured attribute, as a secondary attribute, as an attribute dominated by other flavors or textures, or as an attribute that provides a background note. As coffee crosses over into other applications, it is especially important to understand the differences and follow guidelines that may be helpful when analyzing potential opportunities for utilizing liquid coffee extracts in different food and beverage sectors.
--- PAGE BREAK ---
Autocrat Coffee & Extracts, Lincoln, R.I. (phone 401-333-3300, www.autocrat.com), also offers regular and organic coffee extracts that may be used to fl avor ice cream and other dairy products, iced cappuccino drinks, soy beverages, and alcohol-based products. To meet the demand for coffee extracts, the company recently purchased a multi-million dollar state-of-the-art extraction facility.
Flavor companies are also developing different prototype applications that make use of their coffee extracts. For example, Wild Flavors, Inc., Erlanger, Ky. (phone 859-342-3600, www.wildflavors.com), applies its coffee fl avors in a variety of prototypes, including muffins, cheesecake, salad dressings, and marinades. Blue Pacifi c Flavors, City of Industry, Calif. (phone 626-934-0099, www.bluepacificflavors.com), offers a coffee portfolio that includes shelf-stable coffee extracts, coffee concentrates, custom coffee powder blends, and various spray-dried coffees.
Grilled for Taste
Traditionally, grilling or wood-fired cooking has been associated with meats and vegetables, but this is no longer the case. Today, there are recipes for dishes ranging from grilled pound cake with pineapple salsa to grilled fruits to soups with fi re-roasted flavors.
Flavors that replicate these cooking processes can be incorporated into a wide variety of foods, as demonstrated by Kraft Food Ingredients Corp. (KFIC), Memphis, Tenn. (phone 901-381-6500, www.kraftfoodingredients.com). Using grill flavors from its Flavors of Cooking™ line, the company developed a number of prototype appetizers, soups, and desserts—nontraditional applications that help illustrate the potential opportunities that these flavors have as crossover ingredients.
For example, a Fire-Roasted Flavor, recently introduced by the company, delivered a special smoked taste to such prototypes as Fire Roasted Pizza Straws with Cheddar Cheese Sauce or Fire Roasted Potato and Cheddar Soup. Organic Grill Flavor®, also a new addition, was used in a Corn Bisque to provide charbroiled, savory notes associated with cooking over charcoal. (When I sampled the corn bisque, I thought it might make for an interesting relish-like condiment or sauce.)
A fried dessert prototype, Oreo® Cheesecake Dippers with Raspberry Caramel Sauce, also took advantage of a grill fl avor. The caramel sauce that accompanied the item contained Woodfi red Raspberry Flavor to give it subtle smoky note.
--- PAGE BREAK ---
According to Chef Michael Morrison, Senior Executive Chef for KFIC, grill flavors are fi nding use in a broader range of nontraditional applications. He noted, for instance, that such a fl avor may be used in a cake icing. A savory cheesecake can be formulated with a Mesquite Woodfired Grill Flavor to create a novel, upscale appetizer. Grilled fruit is another area that is becoming increasingly popular. A fruit such as cherries can refl ect a wood-fired fl avor such as applewood or another source of wood.
Fire-roasted vegetables are becoming an increasingly popular ingredient, fi nding use in a broader range of applications. Fire Roasted Vegetable Purees from Vegetable Juices, Inc. (VJI), Bedford Park, Ill. (phone 708-924-9500, www.vegetablejuices.com), add authentic roasted notes and visual character to soups, sauces, salad dressings, marinades, dips, pizzas, baked goods, and prepared entrees. The company uses a proprietary fire-roasting system to caramelize the natural sugars in vegetables, deepening the flavor profi le by adding a smoky, rich flavor and aroma. Examples of purees include eggplant, onion, tomato, jalapeño, tomatillo, red bell pepper, and green bell pepper. A prototype application, Marsala Roasted Onion & Tomato Dip, showcased the rich notes of Roasted Onion Puree and Roasted Tomato Puree.
According to Chris Stepan, VJI's Corporate Chef, the new fire-roasted solutions are helping to inspire a variety of recipes that are designed to satisfy the ever-changing tastes of the consumer. Currently, the company is working on such prototypes as Baba Ganoush (an eggplant dish), Mole Verde (a sauce combining such ingredients as chocolate, chili, and garlic), Ajvar (a relish made from red bell pepper, eggplant, garlic, and chili pepper), Baja Salsa, and Roasted Red Pepper Spread.
At the 2007 IFT Food Expo, Bell Flavors & Fragrances, Northbrook, Ill. (phone 847-291-8300, www.bellff.com), showcased how a traditional Chicago-style hot dog could be enjoyed with some nontraditional condiments. These included Roasted Poblano Ketchup and Roasted Red Bell Pepper Relish with Pomegranate Molasses.
As formulations become more internationally diverse, even meat and poultry dishes that have been exposed to fi re or have fire-roasted flavors applied to them are not necessarily traditional. Take, for example, Fire Roasted Chicken Cannelloni with Alfredo Cream Sauce, a prototype from Kraft. Also, casual surfi ng on the Web can discover such recipe ideas as Guadalajara Burgers made with Brazilian rum and avocado salsa. Conclusion: Barbecues in the future will certainly be interesting affairs.
As can be seen, the flavors discussed in this section are defi nitely "fi ring up" new applications and crossover concepts.
--- PAGE BREAK ---
Maple—Not Just for Pancakes
When thinking about maple flavor, the first image that probably comes to mind is warm syrup for breakfast foods such as pancakes or waffles. However, because of its rich, indulgent flavor (and aroma), maple may be crossing over into territories that include dressings, marinades, chocolate, ice cream, condiments,snacks, and main dishes.
In fact, FONA International, Inc., Geneva, Ill. (phone 800-308-3662, www.fona.com), cited maple as a potentially key flavor in the "premiumization" of foods and beverages. Consider, for example, the potential that maple can have in upscale snacks and frozen desserts, especially when combined with inclusions such as nuts or fruit fillings.
Recently, Virginia Dare, Brooklyn, N.Y. (phone 718-788-1776, www.virginiadare.com), conducted a study to determine awareness and preference of various traditional regional flavors, foods, and beverages from around the country. Not too surprising, one of the flavors associated with New England was maple, a popular ingredient in candy from that region. This flavor could be used to formulate products that can provide a feeling of comfort or indulgence as well as a health or nutritional boost. A prototype, Maple Healthy Baked Snack, demonstrated how a formulation could combine indulgence with health, using a maple flavoring. The company maintained that by using regional flavors, food and beverage processors could develop new products or product extensions that appeal to consumers on a broader basis.
Bell Flavors & Fragrances also incorporated a maple flavor in one of its nontraditional condiments served at Food Expo. The prototype, Smoky Maple Mustard, combined the maple flavor with a smoky bacon type fl avoring. From flapjack to frankfurter, maple fl avor has crossed over a very broad territory.
One of the reasons for maple's new emergence has to due with its ability to be partnered with ingredients that exhibit heat, savory qualities, or sweetness. The McCormick® Flavor Forecast 2007, published by McCormick & Co., Inc., Hunt Valley, Md. (phone 410- 527-8753, www.mccormick.com), highlighted the pairing of wasabi and maple. With the sweetness of maple balancing wasabi's heat, the combination may be used in a number of applications. It can be blended with soy sauce and garlic as an alternative to traditional teriyaki sauce; used as a glaze for shrimp, ribs, chicken, or salmon; or served as a dipping sauce for fruits such as plantains, pineapple, and melon.
--- PAGE BREAK ---
In addition to its distinctive taste and aroma, its versatility, and its compatibility with other ingredients, maple is offered in a variety of forms, such as syrup, sugar, butter, and even as a flavoring in teas and other beverages. Quebec-based Citadelle Maple Syrup Producers Cooperative (phone 819-362-3241, www.citadelle-camp.coop), features several maple products that provide functionality benefits and convenience—traits which can also help propel maple into broader uses. For example, maple butter and a thick pure maple syrup (Clearly Maple) are said to provide exceptional texture, making them highly versatile ingredients in ice cream, yogurt, chocolate candy, and baked goods. These products do not require refrigeration, do not crystallize, are very stable, and keep for over a year at room temperature.
Maple continues its emergence as an ingredient in foods for all meal occasions, ranging from breakfast foods to desserts. Of course, you can still enjoy maple syrup on your pancakes, but as product development becomes more sophisticated and more culturally diverse, maple can take on new meanings.
New Crossovers Brewing for Tea
All teas are produced from the Camilla sinensis tea leaf. However, it is the processing—or rather the amount of oxidation that the tea leaves undergo—that determines the basic tea type. And it is this oxidation that produces the distinctive color and taste characteristics of each type of tea.
Because of its antioxidant benefi ts, tea's use as an ingredient has been explored in a number of formulations. Over the past few years, green tea, in particular, has become a popular ingredient in a variety of crossover applications. In the marketplace, a retailer of gourmet coffees, Caffe D'Amore, Pasadena, Calif. (www.caffedamore), recently introduced a Green Tea Smoothie with Matcha to its Frappe Freeze line. The smoothie is a mix of exotic spices, sweet cream, and matcha green tea.
At the 2007 IFT Food Expo, Blue Pacifi c Flavors, City of Industry, Calif. (phone 626-934-0099, www.bluepacificflavors.com), showcased a Green Tea Frozen Yogurt. Fuchs North America featured a Green Tea Yogurt Party Mix, made with a seasoning containing yogurt and green tea flavors. And Treatt USA, Lakeland, Fla. (phone 863-668-9500, www.treatt.com), introduced to the U.S. market Green Tea Treattarome 9767, a product wholly distilled from the named food which can be incorporated into numerous applications such as juices, alcoholic drinks, dairy products, and dressings.
--- PAGE BREAK ---
Green tea is also fi nding its way into the confectionery market. At the recent 2007 All-Candy Expo, the Hershey Co. featured Green Tea Hershey's Kisses. The candy, which so far is being marketed in China, has a milk chocolate shell with a green cream center that has a distinct matcha taste. Other products at the show that highlighted green tea included a sugar-free Green Tea Function Gum from Canada-based Action Candy Co., Concord, Ontario, and a green-tea-fl avored mint from Oral Fixation Mints, Hopewell, N.J.
Danisco USA, Inc., New Century, Kansas (phone 913-764-8100, www.danisco.com), launched Guardian™ Green Tea Extracts, which have a complementary fl avor that enhances natural fl avors of foods and may be used as an alternative to other antioxidants. The natural antioxidant properties of green tea are particularly effective for products highly susceptible to oxidation, including low-fat, trans-fat-free products and foods with a high content of polyunsaturated fat. Key applications for these extracts include dressings, soups, sauces, meat, poultry, and seafood products.
With green tea perhaps paving the way, an interest in other types of tea has been increasing. And not too surprising, these types, like green tea, are fi nding their way as crossover ingredients. Robertet Flavors, Piscataway, N.J. (phone 732-981-8300, www.RobertetUSA.com), introduced a new line of water-soluble white tea flavors for use in beverages, dairy products, nutraceuticals, syrups, yogurt, ice cream, sorbet, and other products. Milder than both black and green teas, white tea possesses a light, yet full bodied tea character. Its slightly sweet flavor profile lacks the "grassy" undertones sometimes associated with green tea. The natural white tea flavors are said to blend well with other tea profi les and fruit flavors.
A recipe from Redco Foods Inc., Little Falls, N.Y., which distributes Salada teas, describes how white tea can be combined with chicken soup as a remedy for alleviating the symptoms of colds and flu. White Tea Chicken Soup, although a home remedy, may give soup processors food for thought. Recent studies have shown that the health benefits of white tea are numerous and that the antioxidants found in white tea help boost the immune system. Studies have indicated that compared to other varieties, white tea contains even higher amounts of fl avonoid antioxidants.
Out of Africa is coming red tea, derived from an African plant, rooibus or "red bush"—a broom-like member of the legume family. (Because it is not produced from the Camilla sinensis leaf, it is technically not considered a "real" tea.) The tea is becoming more popular in western countries because of its high levels of antioxidants (and lack of caffeine). Like tea leaves, it can be served oxidized (red) or unoxidized (green), with the latter version having more antioxidants intact.
--- PAGE BREAK ---
According to the database of Netherlands-based Innova Market Insights (www.innovadatabase.com), the uses for rooibos are expected to grow, especially as focus shifts to African fl avors and health extracts in general. A scan of rooibos products launched in 2006 found that while chief applications were still limited to hot and iced teas, the flavor was also being incorporated into juice, juice drinks, and chocolate. U.S., Germany, and South Africa recorded the most new product launches containing rooibos.
And of course let's not forget the crossover uses for black tea which is still the most popular tea worldwide, accounting for 80% of all tea that is produced and consumed in the U.S. This tea has a stronger flavor and much darker color than green tea. At the 2007 IFT Food Expo, Elite Spice, Inc., Jessup, Md. (phone 800-232-3531, www.elitespice.com), featured a Mandarin Black Tea Rub for seasoning chicken. The seasoning is especially suitable for stir fry or kabob applications. The blend consists of sea salt, spices, sugar, orange peel, dehydrated vegetables (garlic, onion, and green onion), black tea, sesame seed, paprika, and orange oil.
Confectionery items may also be formulated with black tea as an ingredient. At the 2007 All-Candy Expo, Chua Chocolatier, Carlsbad, Calif. (www.chuaochocolatier.com) launched a milk chocolate bar infused with Earl Grey Tea. The bar is said to combine bergamot citrus tones with the company's private blend of premium milk chocolate.
As these examples demonstrate, tea time is no longer confined to a beverage where the greatest choice is to serve it hot or iced. Rather, tea as an ingredient can extend to any hour of the day, finding use in a broad range of crossover applications.
Vanilla—Right on the Bean
Think vanilla is just for ice cream? Well, think again. That seemed to be the view of Julie Snarski, Manager of Culinary & Foodservice Development for David Michael & Co., Philadelphia, Pa. (phone 215-632-3100, www.dmflavors.com), as she described how the company has explored alternatives uses for vanilla in products ranging from tomato-based beverages to cream sauces.
"In savory items, vanilla can enhance natural sweetness, soften an acidic bite, add a signature fl avor profi le, and round out an overall fl avor profi le," said Snarski. At the 2007 IFT Food Expo, she demonstrated a number of crossover applications for vanilla.
--- PAGE BREAK ---
For example, one savory prototype application, Pork Meatballs in Bourbon Bar-B-Que Sauce, combined vanilla (Premier Process® 2X Vanilla Extract) with soy sauce, Bourbon, brown sugar, and chipotle fl avors. A second prototype, Wild Mushroom Vanilla Cream Sauce Served with Chicken contained vanilla extract with garlic, mushroom, and onion flavors. The sauce worked well with the chicken marinade which used a roast chicken type flavor.
In addition to savory products, vanilla is crossing over into applications that themselves are crosses or hydrids of other foods. A beverage crossing over into dessert territory? A dessert crossing over into the beverage area? David Michael highlighted vanilla in several of these dessert beverages. "One of the latest dessert trends, these beverages are not quite milkshake and not quite ice cream," noted Snarski. One example shown was a White Chocolate Forest Cake variety, which featured cherry and vanilla flavors complimented by a coconut zig-zag.
Vanilla's versatility in prototypes was highlighted by a number of other companies. Fuchs North America, Owings Mills, Md. (phone 800- 365-3229, www.fuchsnorthamerica.com), incorporated vanilla flavor in seasoning blends. For example, Vanilla Machiatto Sticky Buns featured Vanilla Cappucino Seasoning, which reportedly delivered "the ultimate in morning comfort: a sticky bun and coffee all in one," while Vanilla Latte Wafers with Marshmallows dipped in Blood Orange-Scented Chocolate–described as a sweet, tart, indulgent dessert—used Vanilla Latte Seasoning Blend in the wafers. Kerry Ingredients, Beloit, Wis. (phone 608-363-1200, www.kerryamericas.com), created an interesting twist on a classic dessert with its popable vanilla crème brulee snack. The extruded prototype, Vanilla Crème Brulee Healthy Pops, provided rich, creamy fl avors (with a hint of sweetness and vanilla) and an indulgent mouthfeel sensation. And in 2006, Wild Flavors, Inc. Erlanger, Ky. (phone 859-342-3600, www.wildflavors.com) developed a lemonade with a vanilla-mint flavor.
Recently, Frutarom USA, Inc., North Bergen, N.J. (phone 201-861-9500, www.frutarom.com), developed a vanilla ingredient, Solid Extract Vanilla Bourbon FR, that may be used in a wide range of formulations. The ingredient, a concentrated version of standard vanilla extract, does not contain alcohol and offers an authentic vanilla fl avor. It is available in a highly concentrated syrup form, making it especially suitable for coffee outlets that sell specialty coffee selections. The ingredient is said to meet the needs of customers who use vanilla in both UHT and HTST pasteurization applications. Because of its benefi ts, the ingredient may help stimulate some crossover applications.
As you can see, vanilla is not just for ice cream. But if you happen to be a vanilla ice cream fan, don't worry. You can still get your vanilla the old-fashioned way—a scoop at a time.
--- PAGE BREAK ---
Dark Chocolate Provides Guiding Light
In recent years, chocolate has practically been reinvented as a crossover ingredient, moving into a variety of nontraditional applications. If you recall, the September 2006 Ingredients section, "Thinking Outside the Box (of Chocolates)," looked at some of these directions. Since then, its popularity has not diminished in any way and in fact continues to be fueled by the current interest in dark chocolate, the distinctive flavors that a specific source can provide, and the potential health benefits of chocolate. Not surprisingly, the 2007 All-Candy Expo highlighted a number of chocolate innovation in the confectionery area, which can provide further stimulus for dark chocolate's growth in other food and beverage sectors.
One sector seeing chocolate's use is marinades, rubs, and seasonings. Diva Chocolate, Clackamas, Ore. (www.diva-chocolate.com), launched in the U.S. a new line of chocolate grilling rubs designed to season a variety of meats. The chocolate range is infused with a variety of spices, allowing consumers to expand their chocolate-craving desires beyond traditional dessert items.
The application of cocoa/chocolate in culinary products is expanding to sauces such a mole, a blend of chocolate, chilies, tomatoes, and spices that is usually served with meat or poultry. Marinade prototypes from Kerry Ingredients, Beloit, Wis. (phone 900-334-4788, www.kerryamericas.com), have combined dark chocolate with chipotle pepper in the mole tradition of southern Mexico. Furthermore, savory sauces are not necessarily limited to savory applications. A sweet item such as bread pudding can be topped with a chili-chocolate sauce, thus providing a hot fl avor with a sweet taste.
Several formulations at the 2007 IFT Food Expo highlighted the crossover potential for chocolate. Fuchs North America, Owings Mills, Md. (phone 800-365-3229, www.fuchsnorthamerica.com), served up a Fresh Baby Field Greens with Chocolate Balsamic Vinaigrette. The balsamic dressing combined strawberry and chocolate flavors for an experience that was tart, bitter, and sweet. Cargill, Wayzata, Minn. (phone 952-742-7575, www.cargill.com), showcased such prototypes as a Chocolate Hazelnut Bread and Chocolate Hazelnut Ready-to-Eat Cereals.
And as this article mentioned earlier, a new development and distribution agreement between Starbucks Coffee and the Hershey Co. will extend the possible opportunities for chocolate. Work is being done to translate Starbucks coffeehouse fl avors into distinct chocolate products that also contain fruits, nuts, herbs, and spices.
--- PAGE BREAK ---
Cumin Crosses Over
Spices can play a key role as crossover ingredients. They can help defi ne and differentiate products, make consumers more familiar with a broad range of international cuisines, reformulate traditional formulations, create bolder fl avors, or even work with sweet flavors to form novel taste experiences. The fact that spices have seen a gradual but steady growth only reinforces their impact and opportunities in this area.
It would be easy to write an entire article on the value of spices and spice blends, but because of space considerations I will choose one spice—cumin—that demonstrates very well how spices are crossing over into different, nontraditional applications and some of the factors that are infl uencing their new directions.
According to McCormick® Flavor Forecast 2007, published by McCormick & Co., Inc., Hunt Valley, Md. (phone 410-527-8753, www.mccormick.com), cumin first became popular in America with the emergence of Southwestern and Mexican cuisine. Now, as chefs continue to experiment with South American, North African, Indian, and Middle Eastern dishes, consumers are realizing that cumin's fl avor has a much wider range. An essential ingredient in many spice blends, cumin is available in seed and ground seed form, and can be toasted.
One of the innovative flavor pairings that the McCormick report explored was cumin and apricot. Potential applications for the pair include tagine of lamb or chicken, braised meat dishes, couscous, and rice. Apricot chutney made with cumin can complement such dishes as Tandoori Chicken or Chicken Korma, while apricot preserves spiced with cumin can create a glaze for pork or poultry. This pairing illustrates how spices and fruit can be used to create a combination of sweet and savory tastes.
Mintel also predicts that the use of Indian and Moroccan flavors will be on the rise in food formulating, fueling the presence of cumin and other spices. They especially have a strong potential in such categories as sweet desserts and appetizers. One interesting application that I saw at the 2007 IFT Food Expo was a sauce that combined caramel with cumin.
Griffi th Laboratories, Alsip, Ill. (phone 800-346-4743, www.griffithlaboratories.com), offers a portfolio of Mediterranean flavors (Morocco, Greece, Italy, Spain, Greece, and Lebanon). In several of these cuisines, cumin is a key spice. For example, a flavor of Lebanon, Baharat, contained nutmeg, coriander, cumin, clove, cinnamon, and black pepper, while a Moroccan flavor, Ras El Hanout, contained garlic, saffron, cinnamon, cumin, ginger, paprika, and turmeric).
--- PAGE BREAK ---
Wild Flavors, Inc., Erlanger, Ky. (phone 859-342-3600, www.wildflavors.com), developed prototypes that highlighted crossover flavors. One example was Curried Chicken Meatballs with Indian Butter Sauce, a variant on an Indian dish, "butter chicken," made by adding marinated and roasted chicken to a sauce consisting of butter, tomato, almonds, and spices such as cumin.
It is interesting to note that Griffi th used hamburgers to showcase its Mediterranean flavors, while Wild chose meatballs to refl ect its Indian fl avors. This perhaps suggests that although the application may be nontraditional for that particular ingredient, at the same time the application chosen is also very familiar or mainstream to the American consumer.
One other trend that may be helping to fuel cumin as a crossover spice is its ability to be toasted. Toasting ingredients may be seeing a resurgence. Recently, Kraft Food Ingredients introduced a savory flavor, Golden Toasted Butter, for use in a variety of applications such as vegetables, soups, batters, gravies, snacks, breads, and pastries. The versatile, dry product is said to deliver the authentic taste of sweet cream butter that has been slightly toasted in an oven. Toasted sesame seeds are another example of a development that has been gaining in popularity, adding a certain taste, texture, and crunch to the application. And, of course, ingredients such as toasted garlic, have played a flavorful role in food formulating. If the "toasting trend" is taking off, that could have a further infl uence on the use of cumin as a crossover ingredient.
It's a Sweet Heat!
Whenever tourists encounter for the first time the high temperatures of a dessert climate, they are inevitably told, "But it's a dry heat." In food formulating today, an equivalent response might be, "It's a sweet heat."
In recent years, we have seen many food applications that impart heat, usually through the use of different varieties of chilies and other spices." By pairing these "hot" ingredients with sweeter ingredients and fl avors, the heat level is tempered some, creating new opportunities for crossover applications.
--- PAGE BREAK ---
Kerry Food Ingredients, working with Mastertaste, have highlighted a number of food prototypes that demonstrated the versatility of these sweet and heat combinations. For example, pit ham featured a natural cranberry-chipotle glaze made with freeze-dried honey powder. Or a wavy graham snack was complemented with a honey-orange-chipotle seasoning. At Snaxpo 2007, the companies developed Jala-Potle Berry Blast, a snack containing a mix of strawberry, raspberry, blueberry, chipotle peppers, jalapeños, red bell peppers, sea salt, cane juice, onions, and garlic.
Another example of sweet and heat was an ice cream prototype created by McIlhenny Co., Avery Island, La. (phone 337-373-6105, www.tabascoingredients.com). Tabasco Bread Pudding Ice Cream featured a custard-fl avored ice cream with habanero bread pudding pieces. A cinnamon and whiskey sweet sauce topped the dessert.
Perhaps one of the best examples of sweet and heat is the inclusion of heat in chocolate. A few years ago, I remember seeing one item (at a fancy gourmet show) of chocolate made with jalapeños. At this year's All-Candy Expo, there were several examples of dark chocolate containing various levels of heat. Next month's Ingredients section on confectionery ingredients will look at some of these products.
Ripe for Crossover
At one time, cranberries were firmly associated with a relish used around Thanksgiving. Then it made its way into fruit drinks. And today, its use as an ingredient is practically unlimited, finding application in breads and baked good goods, salad toppings, cheese, cereal bars, dairy products, and even in chewing gums.
Blueberries are another example of a fruit that has had a long and interesting crossover history. Over the years, it made a journey from such traditional uses as jams and jellies, toppings for pancakes, bakery fillings, and ice cream inclusions to the less traditional—savory sauces, dressings for meat and poultry, cheese products, pairings with chili peppers, and products promoted for children. According to the U.S. Highbush Blueberry Council,Folsom, Calif. (phone 800-824-6395, www.blueberry.org), Hispanic applications are one of the most exciting areas for blueberry crossover. In savory dishes, the acidic sweetness of blueberries is a match for aromatic herbs and picante spices. In marinades, salsas, and adobos, blueberries balance the heat of chiles. In fruit-fl avored drinks called ponches the color of blueberries enhance the product.
Factors such as potential health benefits, distinctive flavors and flavor combinations, visual appearance, and incorporation in international cuisines all provided a stimulus for the entry of these fruits in a diverse range of products. These factors are also playing a role in the success of other fruits as crossover ingredients. Acai and goji berries are two examples of fruits that have been touted as superfoods, thus increasing their potential in a variety of applications, including smoothies, yogurts, sorbets, dairy-based desserts, and other foods and beverages that are consumed for daily nutritional requirements.
--- PAGE BREAK ---
And, of course, there is a host of other fruit flavors with crossover potential. According to the Flavor Radar of FONA International, Geneva, Ill, (phone 630-578-8600, www.fona.com), emerging flavors include Blood Orange, Asian Pear, White Peach, Yuzu, Mangosteen, and Lychee, just to name a few. Interestingly, some of the flavors offer a distinctive aromatic fragrance that can play an important role n crossovers, especially in areas related to beauty, wellness, and beverages. Aromatic fruit fl avors may also help guide the way for floral flavors, such as rose, hibiscus, and lavender, and create bloomin' opportunities for crossover applications.
Wild Flavors developed a number of prototypes that demonstrate the crossover potential of fruit fl avors, especially when combined with different spices. Some examples include Relaxing Cinnamon Pear Ice Cream, Asian Pear Vinaigrette, Berry Cardamom Beverage, Mango-Ginger Beauty Drink, Wolfberry-Lime Green Tea, and Acai Pomegranate Enhanced Water.
The Next Crossover and Beyond
Do-do, do-do, do-do, do-do, dooooooo. What's that strange music I hear? Must be time for the wrap-up.
More and more, today's ingredients are moving in directions previously unexplored by mainstream formulators. This article has looked at only a few examples of crossover fl avors, but there are so many other possibilities. Furthermore, it's interesting to speculate on what some of the future crossover ingredients will be.
For example, the 2007 All-Candy Expo showcased a number of innovations regarding a candy classic, licorice. With licorice apparently fi nding a new popularity, is it possible that it can make the crossover and be used as an ingredient in a number of nonconfectionery applications? Mint, also long associated with the confectionery and oral health care area, may now be used in mint-flavored beverages, such as bottled water, and as a refreshing ingredient in sauces and other culinary preparations.
--- PAGE BREAK ---
And what about the cucumber? Can this veggie make its way beyond the traditional salad? It's possible. In Japan, PepsiCo introduced for the summer Pepsi Ice Cucumber, a mint-colored soda based on the flavor of the crisp green gourd. Flavor companies are also developing such prototypes as a water beverage combining the green flavor of cucumber with citrus notes of lime. Cucumber can play a key ingredient in crossover cuisines such as Mediterranean. For example, Tzatziki Sauce contains flavors such as yogurt, mint, and cucumber.
Even salt is not necessarily limited to savory applications. Imagine, for example, a rich caramel topped with a chocolate coating and fi ne crystals of fl eur de sel ("fl ower of salt"). Or a chocolate bar made with dark chocolate, goji berries, and Pink Himalayan Mineral Salt for a combination of sweetness and saltiness.
As more ingredients make the crossover, lines will continue to be blurred between product categories. A beverage, for example, can be a hybrid of a cola and a coffee. A traditional hamburger can fuse with a Mediterranean dish to create a very different sensation. And the term crossover does not necessarily have to be limited to fl avors either, but can relate to texture, shapes, and forms. From that perspective, crossovers as a concept are themselves … well, crossing over.
As you can see, we've entered into a very exciting dimension. We are seeing territories that formulators are only beginning to explore in … "The Crossover Zone."
Next month's Ingredients section will look at new fl avor and ingredient developments within the confectionery arena.
---
Are Crossover Flavors 'Mushrooming'?
Black Perigord French Truffl e (Tuber melanosporum) in concentrated powdered form is distributed by Nutragenesis LLC, Brattleboro, Vt. (phone 802-257-5348, www.nutragnesis.nutrition.com). Unlike traditional cultivated black winter truffl es which are only available in whole truffl e or pieces, MasterFlavor™ Truffl e is a dry powder which potency has been signifi cantly enhanced by the milling process.
Because of its concentrated fl avor-actives, the black truffl e powder may be incorporated into a wide range of savory and sweet applications, including sauces, chocolate, wines, and other products that can benefi t from its fl avor enhancement properties. Historically, truffl e has not been consistently available or affordable for these types of applications. Processing the truffl e into a powder dramatically increases the surface area of the truffl e to create a very potent, certifi ed organic umami source. The powder is oil-dispersible, fat soluble, kosher, providing fl avor enhancement at low usage levels.
And speaking of fungi, mushrooms may also be gaining in popularity as a crossover ingredient. Take, for example, a prototype Shitake-Truffl e Potato Bite from Fuchs North America. The prototype combines exotic mushrooms into a lightly seasoned mashed potato blend to give traditional potato bites a gourmet fl air.
---
by Donald E. Pszczola,
Senior Associate Editor
[email protected]