At each year's IFT Food Expo®, I am always amazed at how far the functional food and beverage industry has come. Toward the end of my last year of graduate school, I remember learning about new terms such as functional foods, nutraceuticals, and phytochemicals. Fast forward to this year's Expo, where five out of six prototypes showcased in the Student Product Development Finals contained some added healthy ingredient, from whole grains and fiber to antioxidants, green tea, and probiotics. How much the industry has grown!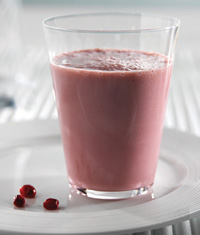 According to Innova Market Insights, Duiven, Netherlands (phone +31-26-319-0650, www.innovadatabase.com), four of the top 10 trends in 2008 indicate how functional foods and beverages have entered into mainstream consumers' lifestyles: Going natural, condition-specific foods and beverages, novel functional applications, and beauty foods. Prototypes featured also demonstrate how functional foods and beverages have evolved into sophisticated products for consumers. Here are some key developments.
Heart Health
"The Cooking Cardiologist" created some New Orleans favorites, like jambalaya, with heart-healthy phytosterols at the Cognis Nutrition & Health Group booth, LaGrange, Ill. (phone 708-579-6188, www.cognis.com). Richard Collins, Director of Wellness at the South Denver Heart Center, demonstrated his heart-healthy recipes featuring Cognis' Heart Choice® naturally sourced plant sterols. The company's spotlight on heart health featured food and beverage samples that included Heart Choice phytosterols, Omevital™ omega-3 fatty acids, and Covitol® natural vitamin E.
Prototypes from Cargill Inc., Minneapolis, Minn. (phone 866-456-8872, www.cargillhft.com), reflected consumer demand for heart-health and increased fiber intake. These included Barliv™ barley betafiber juice beverage, low-fat milk with CoroWise™ plant sterols, and a probiotic juice smoothie with inulin. Barliv barley betafiber helps reduce cholesterol without adding unwanted taste implications. The Food and Drug Administration allows this source of soluble fiber to carry a soluble fiber heart-health claim. The low-fat milk featured CoroWise plant sterols, and the juice smoothie featured Viabile® Bif-6 probiotic cultures and Oliggo-Fiber™ prebiotic inulin.
--- PAGE BREAK ---
Beauty Foods
In addition to heart health, Cognis also focused on "Beauty from Within," launching a series of concepts to help customers create foods and beverages that reduce stress, protect skin, and enhance healthy aging. Multiple Cognis ingredients support these personal care concepts, including Betatene® natural mixed carotenoids, Tonalin® CLA, Xangold® natural lutein esters, Omevital® omega-3 fatty acids, and Covitol® natural vitamin E. Xangold lutein can help improve skin hydration and elasticity and protect against UV damage. Tonalin CLA is an effective "body shaper" to give consumers a lean, slim contour. Covitol natural vitamin E protects the skin from free radical damage.
DSM Nutritional Products, Parsippany, N.J. (phone 800-526-0189, www.unlimitednutrition-na.dsm.com), also spotlighted how ingredients can enhance beauty. Its platform includes focusing on UV protection, skin barrier maintenance and hydration, oxidative stress protection, and skin structure, metabolism, and repair. For example, for UV protection, the company offers antioxidant vitamins C and E; carotenoids such as FloraGLO® lutein, Optisharp® zeaxanthin, redivivo® lycopene, and CaroCare™ beta-carotene; and polyphenols such as Bonistein® genistein, Hidrox® olive polyphenols, Teavigo® epi-gallocatechin gallate (EGCG), and Resvida™ resveratrol. Beauty product examples at the show included HydraBella, a refreshing beauty water containing a combination of vitamins C, E, and B-complex as well as 30 mg of EGCG/serving. Another prototype, Fruitful, contained cranberry, orange, peach, and mango juices, all packed with powerful antioxidants for healthy aging.
Bone Health
Vitamin K is essential for calcium utilization in the body. PL Thomas & Co., Morristown, N.J. (phone 973-984-0900, www.plthomas.com), highlighted the health benefits of vitamin K-2 (menaquinone-7 version). The company offers MenaQ7™, a vitamin K supplement shown to be safe and effective at just 45 mcg/day. Two recent studies have shown that natural vitamin K-2 intake was associated with a reduced risk of hip fractures and that a better vitamin K status was associated with a more pronounced increase in bone mass in healthy children.
--- PAGE BREAK ---
Leprino Foods, Denver, Colo. (phone 303-480-2600, www.leprinofoods.com), highlighted bone health with its LE-Pro Cal™ calcium, lactose, and whey protein. Lactose boosts absorption rates of calcium, phosphorus, and iron, while whey protein helps build muscle and bone.
An essential ingredient for bone health, calcium was featured in several baked products and beverages. A Southern-style corn muffin was formulated with Levona® Brio, a new zero-sodium and calcium-enriched leavening agent from ICL Performance Products LP, St. Louis, Mo. (phone 800-244-6169, www.icl-perfproductslp.com). Purac America Inc., Lincolnshire, Ill. (phone 847-634-6330, www.purac.com), featured calcium-fortified champagne cocktails that contained Puracal® XPro calcium lactate gluconate. Innophos Inc., Cranbury, N.J. (phone 609-495-2495, www.innophos.com), offers VersaCAL® Clear, a highly soluble calcium phosphate ingredient that is useful in formulating clear beverages.
Active Lifestyles
Bioenergy, Minneapolis, Minn. (phone 763-757-0032, www.bioenergy.com), showcased Bioenergy D-ribose, which is said to accentuate the body's natural process of energy synthesis by reducing the loss of energy during stress and accelerating energy and tissue recovery.
TandemRain Innovations Inc., Vancouver, Wash. (phone 360-606-4806, www.tandemrain.com), is the exclusive marketer of ActivMSM, a GRAS-designated methyl-sufonylmethane that has been shown to reduce inflammation, improving overall joint health. The company works with various clients to develop new products or to enhance existing products by adding functional ingredients to make products healthier, more nutritious, and better for the environment. A recently produced line of sports drinks and foods, Sports Rejuvenation™, contains ActivMSM.
--- PAGE BREAK ---
From Weight to Immunity
Many exhibitors offered ingredients that help consumers maintain a healthy weight and blood pressure, enhance immunity, or reduce stress. In addition to addressing these health conditions, companies focused on one-of-a-kind applications and ingredient offerings.
Interhealth Nutraceuticals Inc., Benicia, Calif. (phone 707-751-2800, www.interhealthusa.com), showcased ChromeMate®. Research has revealed the ability of this ingredient to reduce vascular inflammation and other cardiovascular risks, including high blood pressure and cholesterol. It also helps to maintain healthy blood sugar levels and body weight.
Biothera, Eagan, Minn. (phone 877-699-5100, www.biotherapharma.com), showcased its natural immune-enhancing ingredient, Wellmune WGP®, in an oatmeal raisin bran muffin. This GRAS-approved glucopolysaccharide ingredient is clinically proven to enhance key immune responses and promote health, wellness, and vitality. Other featured prototypes included a savory chive and dill muffin, a tart cherry almond muffin, cherry fruit-flavored chews, and lemonade.
Fortitech Inc., Schenectady, N.Y. (phone 518-372-5155, www.fortitech.com), addressed a variety of health conditions with its custom-blended premix solutions. For improved mood and stress reduction, dark chocolate bars were infused with a combination of gamma-aminobutyric acid (GABA), magnesium, L-theanine, L-tryptophan, and ashwaganda extract. A cosmeceutical drink was flavored with goji berry and contained a blend of collagen, CoQ10, and lutein to help nourish the skin and deliver anti-aging benefits. Heart-healthy nutrition bars contained nutrients such as L-carnitine, L-arginine, and zinc to help lower blood pressure and the risk of heart disease.
Caravan Ingredients, Lenexa, Kan. (phone 800-669-4092, www.caravaningredients.com), featured its custom vitamin and mineral premixes in a fruit and cereal bar and a high-energy loaf. Two slices of DynaCal™ high-energy loaf provided a good source of 10 essential vitamins and minerals. BioBlend 10-A™ fruit and cereal bar provided a good source of 10 essential vitamins and minerals plus 5 g of fiber and 16 mg of omega-3 docosahexaenoic acid (DHA).
Fiber
Novel applications for dietary fiber were abundant on the show floor. International Fiber Corp., North Tonawanda, N.Y. (phone 888-698-1936, www.ifcfiber.com), featured a high-fiber lasagna that included Italian sausage made with NutraFiber® BFC40 Bamboo Fiber and lasagna noodles made with JustFiber® WWF200 White Wheat Fiber.
--- PAGE BREAK ---
Grain Processing Corp., Muscatine, Iowa (phone 563-264-4265, www.grainprocessing.com), showcased a soft-serve frozen dairy dessert formulated with Maltrin OR™, an organic rice maltodextrin. Matsutani America Inc., Itasca, Ill. (phone 630-250-8720, www.matsutaniamerica.com), showcased Fibersol-2®, a digestion-resistant maltodextrin, in Soyjoy® nutrition bars and Welch's 100% Grape Juice with Fiber.
National Starch Food Innovation, Bridgewater, N.J. (phone 908-685-5000, www.foodinnovation.com), featured a whole-grain lemon blueberry muffin with Hi-maize® whole-grain corn flour and a cherry almond muffin with Hi-maize 260. Recent stories in popular consumer magazines have discussed natural resistant starch's health benefits. "These stories are reporting that foods with natural resistant starch have fewer calories, provide a fat burning effect, make you feel fuller longer, lower glycemic response, aid in energy management, and support the growth of beneficial bacteria in the digestive tract," said Rhonda Witwer, Senior Business Manager, Nutrition.
Promitor™ Soluble Corn Fiber from Tate & Lyle, Decatur, Ill. (phone 217-423-4411, www.tateandlyle.com), added benefits to Blueberry & Cherry Fruit Shots, Flavor + Stick Pack, Chocolate and Vanilla Soft Serve Ice Cream, and Smoky Chipotle Hummus. The use of Promitor Resistant Starch resulted in 5 g of fiber/30 g serving of a black bean chip.
New fiber ingredient introductions ranged from an agave-derived inulin to pea fiber. GTC Nutrition, Golden, Colo. (phone 303-216-2489, www.gtcnutrition.com), introduced BioAgave™, a plant-derived source of inulin. Derived from the Blue Weber agave plant in Mexico, it contains 90% inulin. Caramel syrup mixed in a Better-for-you Frappe-cappuccino Dessert promoted digestive health with BioAgave as well as NutraFlora® prebiotic fiber.
Dow Chemical Co., Midland, Mich. (phone 800-488-5430, www.dow.com/fortefiber), showcased a new fiber source, Fortefiber, in Berry Smart Bars at the booth of Univar USA, Redmond, Wash. (phone 425-889-3400, www.univarusa.com). Univar also showcased Samba Cooler fortified with fiber, calcium, magnesium, and vitamin C.
Pea fiber is the new addition to the Vitacel® line of dietary fiber that includes wheat, oat, potato, organic apple, and sugarcane fibers from J. Rettenmaier USA, Schoolcraft, Mich. (phone 269-679-2340, www.jrsus.com). Stabilized rice bran from NutraCea, Phoenix, Ariz. (phone 602-522-3000, www.nutracea.com), is a nutrient-rich ingredient that supplies dietary fiber, vitamins, minerals, phytonutrients, and protein to maintain healthy glucose and cholesterol levels.
--- PAGE BREAK ---
Grain Millers Inc., Eugene, Ore. (phone 541-687-8000, www.grainmillers.com), featured Oat Fiber BCS30, a natural fiber. It is available as certified organic. ConAgra Food Ingredients, Omaha, Neb. (phone 402-595-5153, www.conagrafoodingredients.com), introduced its line of Ancient Grain flours and blends, milled from amaranth, quinoa, millet, sorghum, or teff. According to the Flax Council of Canada, Winnipeg, Canada (phone 204-982-2115, www.flaxcouncil.ca), flaxseed delivers soluble and insoluble fiber, high concentrations of omega-3 fatty acids, phytoestrogenic lignans, protein, and antioxidants.
Almond Board of California, Modesto, Calif. (phone 209-549-8262, www.almondsarein.com), discussed newly conducted research on prebiotics. For example, a study conducted by the Institute of Food Research found that finely ground almonds significantly increased the levels of certain beneficial gut bacteria.
Proteins
At a session organized by the American Egg Board, Park Ridge, Ill. (phone 847-296-7043, www.aeb.org), Donald Layman, Professor Emeritus, Dept. of Food Science and Human Nutrition, University of Illinois, discussed the nutritional benefits of high-quality protein. Insufficient protein intake is related to obesity, osteoporosis, sarcopenia (loss of muscle), and diabetes. Leucine, one of nine essential amino acids, plays a key role in metabolism as a regulator and nutrient signal. Foods high in leucine include whey protein isolate, milk, and eggs. Craig "Skip" Julius, Product Development Leader, Gordon Food Service, discussed some new products incorporating various forms of protein to achieve different functions within the product. For example, eggs provide functionality, including structure and volume, in gluten-free products.
Dairy Management Inc., Rosemont, Ill. (phone 847-803-2000, www.innovatewithdairy.com), presented a symposium, "Dairy and Weight Management," detailing research on the relationship between dairy food consumption and weight management. At its booth, DMI offered a whey protein-enriched blackberry performance drink, which can aid in muscle recovery after exercise. A peach-flavored drink with whey protein and fiber helped to promote satiety.
At a Supplier Solution Session held on the Food Expo floor, Stolle Wellness, Cincinnati, Ohio (phone 513-489-7997, www.stollewellness.com), discussed how bioactive milk proteins have been shown to complement the body's anti-inflammatory response, enhance antibody function, improve joint flexibility, and improve athletic performance. Stolle's bioactive milk-derived ingredients include MicroLactin™, a bioactive milk protein concentrate; LactoMune™ a bioactive whey protein concentrate; and UltraLactin™, a bioactive skim milk powder.
Other exhibitors highlighted one-of-a-kind protein applications and new ingredients. A "pixie stick" green tea formulation showcased Hilmar 9410, a highly dispersible whey protein isolate from Hilmar Ingredients, Hilmar, Calif. (phone 209-667-6076, www.hilmaringredients.com). Caramel-flavored protein gels contained Hilmar 9400 whey protein isolate and Hilmar 8800 alpha-lactal-bumin-enriched whey protein concentrate for an extra boost of branched chain amino acids.
--- PAGE BREAK ---
A global culinary experience featured the versatility of Supro®Max structured vegetable protein. Solae Co., St. Louis, Mo. (phone 314-659-3000, www.solae.com), offered coconut curry chicken with 50:50 Chicken-Supromax Strip and Korean bulgogi with 50:50 Beef Trim-Supromax Strip. Supro Soy Protein added heart-healthy benefits to a pomegranate-acai smoothie.
MGP Ingredients Inc., Atchison, Kan. (phone 866-547-2122, www.mgpingredients.com), showcased textured wheat proteins in meat extender applications. The Wheatex® line has a neutral flavor profile and can be used as an extender in shredded beef, chicken, fish, turkey, pork, or seafood. It also functions as a meat replacer.
ADM, Decatur, Ill. (phone 800-637-5843, www.admworld.com), featured NutriSoy® high-protein crisps that contain up to 85% protein made from soy and wheat. The 60% and 80% versions are made from soy. The crisps were featured in a cranberry-apple crisp bar.
Gelita USA Inc., Sergeant Bluff, Iowa (phone 712-943-5516, www.gelita.com), featured its Gelita collagen. The amino acid composition of this ingredient is said to improve the condition of skin, hair, and nails, as well as improve joint health.
Healthy Fats
Qualisoy, St. Louis, Mo. (phone 314-579-1583, www.qualisoy.com), focused on healthier soybean oils. Qualisoy is a collaboration of soybean growers and processors. Low-linolenic soybean oil can be used as a direct replacement for lightly hydrogenated oil in several applications. Pioneer, a member of Qualisoy, will offer a limited supply of high-oleic soybean oil in 2009, pending regulatory approval. High-oleic oil offers high oxidative stability, 0 g of trans fatty acids/serving, and a lower total saturated fatty acid content (12%) than commodity soybean oil. Other healthier soybean oils in development include a mid-oleic/low saturated fat product and soybean oil with 10 times the current level of omega-3 fatty acids.
--- PAGE BREAK ---
AarhusKarlshamm USA Inc., Port Newark, N.J. (phone 973-344-1300, www.aak.com), highlighted specialty fats that are low in saturates or zero trans fatty acids. EsSence™ shortening blends eliminate trans fatty acids, are non-hydrogenated, and can reduce saturates by up to 75%.
With advances in lipid technology, Olean brand olestra, from P&G Food Ingredients, Cincinnati, Ohio (phone 800-477-8899, www.pgfoodingredients.com), allows snack manufacturers to make great-tasting, low-calorie, zero-fat foods.
The popularity of omega-3 fatty acids was evident with the number of omega-3 suppliers on the show floor, as well as the variety of applications showcased by these companies. Wright Group, Crowley, La. (phone 800-201-3096, www.thewrightgroup.net), showcased DHA omega-3 in lemon poppy seed muffins, soy chicken nuggets, and probiotic meal replacement bars. SuperCoatO-mega-3™ microencapsulation offers improved nutrient durability and enhanced taste and odor masking.
life'sDHA™ from Martek, Columbia, Md. (phone 410-740-0081, www.martek.com), is a vegetarian source of DHA and is found in a growing number of foods and beverages. The company featured the ingredient in several new products, including a Minute Maid beverage and Crisco® Puritan® Canola Oil. Lipid Nutrition, Channahon, Ill. (phone 815-730-5244, www.lipidnutrition.com), showcased DHA-fortified sugar cookies formulated with Marinol fish oil. One 30 g cookie boasted 150 mg of DHA.
Denomega Nutritional Oils, Boulder, Colo. (phone 303-581-9000, www.denomega.com), introduced a new ingredient, Omega-360, as a new co-branded proposition.
Fruits and Vegetables
Vegetable Juices Inc., Bedford Park, Ill. (phone 708-924-9500, www.vegetablejuices.com), introduced a new non-thermal processing method to create premium-quality juice concentrates. Proprietary separation technology creates clear juices while preserving high levels of vitamins, minerals, and antioxidants.
Consumers equate blueberries with health-promoting antioxidants. US Highbush Blueberry Council, Folsom, Calif. (phone 800-824-6395, www.blueberry.org), suggested applications—from baked goods and grain-based breads to dairy formulations, sauces, toppings, and savory dishes—into which product formulators could include blueberries.
by Linda Milo Ohr is Contributing Editor, Food Technology magazine ([email protected])