Weight management remains a constant concern for a majority of consumers. The simple science behind losing weight is: "Calories in should be less than calories out." But things are never that easy.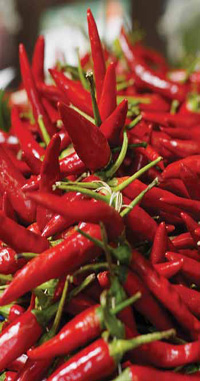 Today's functional ingredients—from proteins and fatty acids to fibers and botanicals—provide tools to help consumers in their battle against the bulge. Some promote satiety, some help burn fat, while others help build lean muscle mass. Here's a look at ingredients being promoted as benefiting weight management.
Almonds
Weight-loss plans such as Weight Watchers, the Mediterranean Diet, and the South Beach Diet consider the almond a great ingredient for weight maintenance. According to the Almond Board of California, Modesto, Calif. (phone 209-549-8262, www.almondboard.com), a 1-oz serving (about 23 almonds) is an excellent source of three nutrients (3.5 g of fiber, monounsaturated fat, and 6 g of protein), is 100% cholesterol-free, and provides only 160 calories.
It is the fiber and protein that are believed to promote satiety and affect weight loss. Wien et al. (2003) evaluated the effect of an almond-enriched (high monounsaturated fat, MUFA) or complex carbohydrate-enriched (high carbohydrate) formula-based low-calorie diet (LCD) on obesity and metabolic syndrome. Sixty-five overweight and obese subjects age 27–79 participated in a randomized, prospective 24-week trial. A formula-based LCD enriched with 84 g of almonds/day (almond- LCD) or self-selected complex carbohydrate diet (CHO-LCD) featured equivalent calories and protein.
Both dietary interventions were effective in decreasing body weight beyond the weight loss observed during long-term pharmacological interventions; however, those in the almond-LCD group experienced a sustained and greater weight reduction for the duration of the 24-week intervention. The subjects in the almond-LCD group had a 62% greater reduction in weight/ BMI, 50% greater reduction in waist circumference, and 56% greater reduction in fat mass as compared to those in the CHO-LCD group.
Chromium
Chromium picolinate (CrPic) has been shown to attenuate weight gain, but the mechanism underlying this effect is unknown. Anton et al. (2008) showed that Chromax® CrPic from Nutrition 21, Purchase, N.Y. (phone 914-701-4500, www.nutrition21.com), reduced hunger, food intake, and cravings in a subject group of 42 overweight women. They randomly assigned the women to receive 1,000 mcg of CrPic or placebo for 8 weeks. Food intake at breakfast, lunch, and dinner was directly measured at baseline, week 1, and week 8. The results showed that CrPic reduced hunger levels by 24% and food intake by 25%, as well as reduced cravings for high-fat foods. The subjects who received CrPic reduced their caloric intake by an average of 365 calories/day between their baseline and final (week 8) visit.
Fat-based Ingredients
• Conjugated linoleic acid (CLA). Derived from safflowers, CLA has been shown to decrease body fat and help build lean muscle mass. According to Cognis Nutrition & Health, La Grange, Ill. (phone 888-866-2546, www.tonalin.com, www.cognis.com), studies show that CLA safely decreases body fat in four ways: by decreasing the amount of fat stored after eating; increasing how fast fat is broken down in fat cells; increasing the rate of fat metabolism; and decreasing the total number of fat cells in the body. Pinkoski et al. (2006) gave Cognis' Tonalin® CLA or placebo to healthy men and women participating in a total-body resistance-training program. After 7 weeks, those who took the CLA had greater increases in lean tissue mass and greater losses of fat mass and percent fat. Additionally, the resting metabolic rate remained constant in these subjects, while it decreased in those taking the placebo.
--- PAGE BREAK ---
Watras et al. (2007) showed that CLA could aid in reducing body fat and preventing weight gain during the Thanksgiving and Christmas holiday season. They gave 3.2 g of CLA/day to 40 healthy, overweight men and women ages 18–44 for 6 mo. Body weight was measured monthly during the pre-holiday season (August–October), holiday season (November–December), and post-holiday season (January–March). Those who took the placebo had greater weight gain than those who took CLA. Additionally, for this group, the holiday weight change was significantly greater compared to the pre-holiday period. Six-month change in body composition was improved in the subjects who took CLA rather than the placebo. Body fat was significantly reduced in those who took CLA.
• Pine nut oil. The oil of the Korean pine nut (Pinus koraiensis) contains more than 92% polyunsaturated and monounsaturated fatty acids. It is especially rich in very long chain fatty acids such as pinolenic acid, an omega-6 fatty acid. PinnoThin™ from Lipid Nutrition, Channahon, Ill. (phone 815-730-5244, www.lipidnutrition.com), functions as an appetite suppressant that significantly increases the release of hunger-suppressing hormones such as cholecystokinin (CCK). According to the company, a study showed that within 30–60 min of taking 3 g of PinnoThin in the form of oil or its natural metabolites, the release of CCK in the blood significantly increased. The natural metabolites of PinnoThin also increased the release of another satiety hormone, glucagon-like peptide1, in the blood. Prospective food intake was also reduced.
• Oat and palm oil. Formulated in a unique and stable emulsion, Fabuless™ from DSM Nutritional Products, Parsippany, N.J. (phone 973-257-8500, www.dsm.com), is a patent-protected combination of oat and palm oils. The fine oil droplets are made from palm oil, coated with galactolipids from oat oil. Oat oil is naturally rich in so-called polar lipids such as galactolipids. Its microstructure prevents the digestion of palm oil droplets until relatively deep in the small intestine. The undigested fat arrives in the latter part of the small intestine, triggering an "appetite satisfied" signal to the brain.
Four independent studies performed at the Northern Ireland Centre for Diet and Health at the University of Ulster substantiate the ingredient's effect on reducing calorie intake. According to DSM, the results of the studies show a reduction in calorie intake at subsequent meals of from 12.5%–29%. The effect has been shown to last for more than 8 hr.
Fiber
Parnell and Reimer et al. (2009) showed that Orafti®P95 oligofructose from BENEO-Orafti, Morris Plains, N.J. (phone 973-867-2140, www.orafti.com), helped to decrease body weight and energy intake in overweight and obese adults without any lifestyle or dietary change. In the randomized, double-blind, placebo-controlled trial, the researchers gave 48 overweight or obese but otherwise healthy adults either 21 g of oligofrutose/day or an equal caloric level of maltodextrin as a control. After 12 weeks, the subjects who took the oligofructose had a reduction in body weight of 1.03 kg, while the subjects in the control group gained 0.45 kg. The weight loss affected mainly body fat mass, in particular, trunk fat mass.
The weight loss could be explained by the lower energy intake observed in subjects who took oligofructose. The researchers found that oligofructose affected postprandial blood glucose and insulin responses prior to and after the intervention period, indicating an improvement in glucose regulation. The subjects did not modify their physical activity or dietary habits.
Derived from the Amorphophallus Propol konjac root, LuraLean™ from AHD International Inc., Atlanta, Ga. (phone 404-233-4022, www.ahdintl.com, www.luralean.com), is a glucomannan ingredient supported by 60 clinical trials confirming its safety and efficacy in areas such as promoting weight loss in overweight adults, children, and adolescents; satiating people; and promoting positive metabolic effects. The recommended amount for weight loss is 1.0 g three times daily.
Introduced in 2008, Satisfit™ Weight Care Technology from Dow Food & Nutrition, Midland, Mich. (www.dow.com), is derived from cellulose and is a 100%, highly functional soluble dietary fiber. According to the company, in pre-clinical studies, the ingredient reduced absorption of saturated and trans fats, reduced weight gain, and promoted healthy fat metabolism.
--- PAGE BREAK ---
Plant Extracts
• Red pepper extract. Capsimax™ Capsicum Extract from OmniActive Health Technologies Inc., Short Hills, N.J. (phone 866-588-3629, www.omniactives.com,  www.capsimax.com), is a proprietary encapsulated form of premium, highly concentrated natural capsicum fruit extract manufactured from the active principles of hot red peppers. The results from clinical studies on capsaicinoid, the active component of Capsimax, show that it helps to increase energy expenditure, enhance carbohydrate and fat burning, and improve satiety signals.
Capsimax Plus Blend is a proprietary blend containing Capsimax and other natural thermogenic and performance-boosting agents, including caffeine, piperine (black pepper extract), and niacin. In a double-blind, randomized, placebo-controlled crossover study undertaken at the University of Oklahoma, 25 subjects exercised on a treadmill on two separate occasions. On the first occasion, they took Capsimax Plus Blend 60 min before exercise, and on the second occasion they took a placebo. The subjects who took Capsimax burned an average cumulative total of 278 more calories before, during, and after exercise compared to those who took the placebo.
• White bean extract.  A white bean extract, Phase2® from Pharmachem Laboratories Inc., Kearny, N.J. (phone 800-526-0609, www.phase2info.com), has been clinically proven to reduce enzymatic digestion of dietary starch by safely binding to and slowing the efficiency of alpha-amylase, the enzyme that initiates starch metabolism. This, in turn, reduces the caloric impact of starchy foods, and also lowers the glycemic index.
In 2006, the Food & Drug Administration conducted an extensive review of clinical data and information on Phase 2 and announced that it did not object to weight control and starch reduction claims for the ingredient and supplements containing it. Two permitted structure/function claims are "May assist in weight control when used in conjunction with a sensible diet and exercise program," and "May reduce the enzymatic digestion of dietary starches."
• Asian fruit extract. Super CitriMax® from InterHealth Nutraceuticals Inc., Benicia, Calif. (phone 800-783-4636, www.interhealthusa.com), is an all-natural fruit extract shown to reduce excess body weight, suppress appetite, and inhibit fat production, all without stimulating the central nervous system. It contains standardized levels of (-)-hydroycitric acid, an extract from the South Asian fruit Carcinia cambogia. In May 2008, the ingredient was granted a patent for its ability to promote fat oxidation.
• Prickly pear cactus fruit. The weight management potential of Cacti-Nea™, from Bio Serae Laboratoires S.A.S., France (phone +33-0-46876-7620, www.bioserae.com, www.cacti-nea.com), is linked to the elimination of excess fluids. A 7-day study with rats showed the ingredient's diuretic properties: for the same amount of water ingested, Cacti-Nea doubled the urine volume while preserving minerals compared to the control (Bio Serae, 2009). A 28-day clinical study of 49 women with normal BMI randomized to take 2 g of Cacti-Nea/day showed a positive effect on body composition by limiting fat mass gain. Those in the experimental group also showed a significant reduction of water mass after one week of treatment, and no excessive mineral loss was observed.
• Green coffee bean extract. Svetol® from Naturex, South Hackensack, N.J. (phone 201-440-5000, www.naturex.com), inhibits glucose-6-phosphatase and increases fat release from the adipose tissue. According to the company, in vitro studies have shown that pure 5-caffeoylquinic acid inhibits glucose- 6-phosphatase, a hepatic enzyme involved in the glucose release from the liver in blood circulation.
--- PAGE BREAK ---
Proteins
Proteins are essential in weight management because of their effect on satiety and role in building lean body mass. Leidy et al. (2009) found that the timing of dietary protein intake affects feelings of fullness throughout the day. They concluded that when people ate high-quality protein foods from sources such as eggs and lean Canadian bacon for breakfast they had a greater sense of sustained fullness throughout the day compared to when more protein was eaten at lunch or dinner.
• Whey protein. This ingredient has been researched for its role in weight management, satiety, muscle strengthening, and recovery. Whey is one of the best sources of naturally occurring branched-chain amino acids, including leucine, which is unique in its ability to initiate muscle protein synthesis, according to Dairy Management Inc.™ (DMI), Rosemont, Ill. (phone 800-248-8829, www.innovatewithdairy.com).
According to DMI, 10 g of whey protein added to an isotonic drink and then consumed after resistance exercise can stimulate the building of lean muscle and muscle recovery. A study at McMaster University in Canada using eight resistance-trained athletes found that subjects who ingested a carbohydrate drink containing 10 g of whey protein with 21 g of fructose after resistance exercise saw a rise in muscle protein synthesis. The drinks used in the study were formulated by the Wisconsin Center for Dairy Research at the University of Wisconsin–Madison.
• Egg protein. Vanderwal et al. (2009) showed that eating two eggs for breakfast, as part of a reduced-calorie diet, helped overweight adults lose more weight and feel more energetic than those who eat a bagel breakfast of equal calories. Compared to the subjects who ate a bagel breakfast, those who consumed two eggs for breakfast as part of a reduced-calorie diet lost 65% more weight, exhibited a 61% greater reduction in BMI, and reported higher energy levels than their dieting counterparts who consumed a bagel breakfast. The egg and bagel breakfasts provided the same number of calories and had identical weights (energy density), which is an important control factor in satiety and weight loss studies. The researchers also found that blood lipid levels were not affected during the two-month study.
• Soy protein. Veldhorst et al. (2009) recently compared the effects of a high vs a normal soy protein breakfast on satiety and subsequent energy intake, including "satiety" hormones and plasma amino acid responses. They gave 25 healthy subjects a standardized breakfast: custard with soy as single protein type with either 10/55/35 (protein/carb/fat) (normal-protein) or 25/55/20 (high-protein). Overall, the high-protein soy-custard was rated as being more satiating than the normal-protein soy-custard. Postprandial taurine concentrations were also higher 20 min after eating the high-protein custard.
Pulses
Pulses are the edible seeds of plants in the legume family, and include peas, lentils, beans, and chickpeas. Pulses contain virtually no fat and provide almost twice the amount of protein found in cereal grains. Also, one cup of pulses contains almost half the daily recommended amount of fiber. According to Pulse Canada, Winnipeg, Manitoba, Canada (phone 204-925-4454, www.pulsecanada.com), studies have shown that pulses decrease appetite, decrease body weight or body mass, and decrease waist circumference or abdominal obesity.
McCrory et al. (2009) showed that consuming the recommended 0.5 cups of pulses/day improved weight loss success, improved fasting insulin levels, lowered diastolic blood pressure, and helped to reduce chronic disease risk.
References
Anton, S.D., Morrison, C.D., Cefalu, W.T., Martin, C.K., Coulon, S., Geiselman, P., Han, H., White, C.L., and Williamson, D.A. 2008. Effects of chromium picolinate on food intake and satiety. Diabetes Tech. Thera. 10: 405-412.
Bio Serae. 2009. New clinical study: Cacti-Nea™ refines the silhouette and regains body's tone. Press release, Bio Serae Laboratoires S.A.S., France, Sept.16.
Leidy, H.J., Carnell, N., Mattes, R., and Campbell, W. 2009. Increased dietary protein consumed at breakfast leads to an initial and sustained feeling of fullness during energy restriction compared to other meal times. Brit. J. Nutr. 101: 798-803.
McCrory, M., Lovejoy, J., Oberg, E., and Eichelsdoerfer, P. 2009. Effectiveness of two levels of pulse consumption on caloric restriction adherence and chronic disease risk. Presented at Pulse Health & Food Symposium, Toronto, Ontario, February.
Parnell, J.A., and Reimer, R.A. 2009. Weight loss during oligofructose supplementation is associated with decreased ghrelin and increased PYY in overweight and obese adults. Am. J. Clin. Nutr. 89: 1751-1759.
Pinkoski, C., Chilibeck, P.D., Candow, D.G., Eslinger, D., Ewaschuk, J.B., Facci, M., Farthing, J.P., and Zello, G.A. 2006. The effects of conjugated linoleic acid supplementation during resistance training. Med. Sci. Sports Exerc. 38: 339-48.
Vander Wal, J.S., Gupta, A., Khosla, P., and Dhurandhar, N.V. 2008. Egg breakfast enhances weight loss. Intl. J. Obesity. 32: 1545-1551.
 Veldhorst, M.A.B., Nieuwenhuizen, A.G., Hochstenbach-Waelen, A., Westerterp, K.R., Engelen, M.P.K.J., Brummer, R.-J.M., Deutz, N.E.P., and Westerterp-Plantenga, M.S. 2009. Effects of high and normal soy protein breakfasts on satiety and subsequent energy intake, including amino acid and 'satiety' hormone response. Eur. J. Nutr. 48: 92-100.
Watras, A.C., Buchholz, A.C., Close, R.N., Zhang, Z., and Schoeller, D.A. 2007. The role of conjugated linoleic acid in reducing body fat and preventing holiday weight gain. Intl. J. Obesity. 31: 481-487.
Wien, M.A., Sabaté, J.M., Iklé, D.N., Cole, S.E., and Kandeel, F.R. 2003. Almonds vs complex carbohydrates in a weight reduction program. Intl. J. Obesity. 27: 1365-1372.