You say tomato, and I say "we don't have any." Earlier in 2010, that might, unfortunately, have been the answer given by many restaurants and other foodservice establishments. That was because of a severe tomato shortage caused by a bad freeze in Florida that killed much of the tomato crop, resulting in a spike in prices.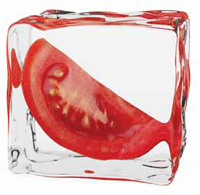 I remember visiting a Wendy's during that period and seeing a prominent sign that read: "The recent record cold in Florida and other areas has had a severe impact on the quality and availability of TOMATOES. Therefore, for a short time, we will offer them, if available, BY REQUEST ONLY." From what I heard, other restaurants had even more ominous signs, such as, "Sorry, we're out of tomatoes." And, of course, imagine the effect that this tomato shortage had on products such as salsas, spaghetti and pasta sauces, and hamburgers and other sandwiches.
This recent scenario was a vivid example of how a shortage of raw materials can force companies to raise prices, stop or postpone launches of new product lines, and scramble for alternative—sometimes lower-quality—sources.
Some shortages are temporary and brief in nature while others could be more long-lasting. Some are more predictable while others less so.
Fluctuating supplies of ingredients—and the escalating costs that result—can be caused by a number of factors, such as weather conditions, crop disease, and political instability. Other factors might include food poisoning outbreaks or scares, increased consumption, reduced acreages, and high energy costs. And the recent economy has certainly placed additional pressures on food manufacturers, which has subsequently taken its toll on prices.
In addition to economic drivers, there are health considerations entering the picture as well. Critics have argued that refined sugar increases blood sugar levels linked to diabetes and contributes to obesity. There are also concerns over potential health problems that may occur related to an over-consumption of salt. And companies are looking to reduce levels of saturated fat from their products. The President's task force was recently directed to come up with a comprehensive action plan to counter the growing epidemic of childhood obesity within a generation. Because of government health initiatives and possible legislation, several major food manufacturers today are beginning to look for ways to make their products better for consumers. In recent months, their attention has also focused on the development of gluten-free products.
--- PAGE BREAK ---
For these reasons, food manufacturers find that they increasingly must look for alternatives to traditional ingredients used in a formulations. In response, flavor and ingredient companies are developing solutions that can help extend or even replace a particular component without compromising the quality of the finished product. If successful, these systems can make a product better for you from a health perspective, provide the functionality of more expensive ingredients, and do all this while cutting costs in the process. And, in the cases where shortages of certain ingredients are the problem, they can help food developers weather the dramatic consequences that these shortages may have on food formulating.
This month's Ingredients section will discuss a variety of these solutions and how they can help extend or replace such commodities as cocoa, honey, citrus, cream, meats, sugar, salt, and many others. We'll look at some of the reasons why these extenders are needed and their potential health and functionality value.
Cocoa Conundrum
Factors such as drought and plant disease are causing supply shortages for cocoa and, in turn, rising prices. Manufacturers whose products rely on cocoa as a key ingredient are looking for alternatives that can provide the flavor of cocoa powder while overcoming challenges associated with loss of bulk.
A range of cocoa extenders and replacers from Comax Flavors, Melville, N.Y. (phone 631-249-0505, www.comaxflavors.com), take into consideration both the type of cocoa and the total percentage of cocoa. These customized flavors are available in both powdered and liquid form. Depending on which cocoa ingredient is used, there are several natural and artificial options to consider. According to the company, these flavors can replace anywhere from 10 parts to 75 parts dutched cocoa in the finished product with one part cocoa extender. The results can range from a rich chocolate taste with deep, complex notes to a light caramelic-type cocoa flavor.
A rich chocolate milkshake achieving a 30% reduction in cocoa was highlighted at the 2010 IFT Food Expo by David Michael & Co., Philadelphia, Pa. (phone 215-632-3100, www.dmflavors.com). The formulation is made with Cocoa-Mate, a cocoa extender that the company first introduced in 2002. Depending on the application, it is functionally capable of replacing up to 40% of the cocoa powder used in a finished product. The extender is suitable for use in ice cream, yogurt, beverages, puddings, toppings, baked goods such as cookies and brownies, and other applications using cocoa powder. The company developed the extender to respond to fluctuating cocoa prices brought on by a worldwide cocoa shortage.
A line of cocoa extenders is available from Bell Flavors & Fragrances Inc., Northbrook, Ill. (phone 847-291-8300, www.bellff.com). These extenders can reduce the use of cocoa up to 70% in baked goods, beverages, savory applications, and other products. The company notes that its applications team has specific ways to help provide solutions for loss of bulk caused by the replacement of a cocoa powder.
--- PAGE BREAK ---
A cocoa enhancer from Switzerland-based Frutarom (phone +41 44 782 64 64, www.frutarom.com), can enhance the cocoa already present in the product, increasing its depth and complexity to create a more luxurious taste, or can help reduce the level of cocoa for cost-saving purposes. The enhancer, available in both natural and nature-identical variants, is suitable for use in such formulations as bakery and dairy products.
In addition to the availability of cocoa powder being impacted, another derivative—cocoa butter—may also see a similar shortage. As such, there is a growing interest in developing less expensive and more readily available alternatives to this fat. A new study from Spain claims that one healthier possibility may be found in the fractionation of high-stearic and high-oleic sunflower oils. As an alternative to cocoa butter, these fats could be used in confectionery products where higher melting points are required, and may be used in chocolate products to avoid blooming. In the U.S., Fuji Vegetable Oil Inc., White Plains, N.Y. (phone 914-761-7900, www.fvo-usa.com), reportedly has a process designed to produce a cocoa butter alternative from domestic sunflower oil.
Honey Hiatus
Over the past few years, the honey crop has been impacted by a number of factors, including a decline in the amount of bee colonies caused by colony collapse disorder; drought and other weather conditions; and reduced forage area.
Furthermore, import restrictions have been placed on honey from China because of concerns regarding adulteration and contamination. The resulting shortage of honey has led to escalating prices.
In response to the uncertain honey market, several honey replacers are being developed. For example, Bell Flavors & Fragrances, Northbrook, Ill. (phone 847-291-8300, www.bellff.com), created a range of both natural and artificial honey flavors designed so that manufacturers can cut costs by using less honey without compromising the taste of the final product. Specific flavor profiles are available which can mimic different types of honey and different strengths. Some prototype formulations made with these replacers include a tea beverage with Natural Honey Flavor WONF at 0.075%, hard candy with Natural & Artificial Honey Flavor at 0.25%, and Imitation Honey with Natural Honey Flavor at 0.60% and Natural & Artificial Honey Flavor at 0.50%.
A honey replacer flavoring is available from Switzerland-based Frutarom (phone +41 44 782 64 64, www.frutarom.com). According to the company, honey can be reduced or replaced with the flavoring and invert sugar. Available in natural and nature-identical versions, it has been tried in bakery applications such as cakes, cereal bars, and muffins.
--- PAGE BREAK ---
A portfolio of natural honey distillates has been extended by Treatt USA Inc., Lakeland, Fla. (phone 863-668-9500, www.treatt.com). Honey Treattarome 9802 and Honey Treattarome 9804 deliver a sweet honey flavor to a range of food and beverage systems without adding sugar or calories. Wholly distilled from fresh honey, these ingredients impart an authentic, rich aroma and provide an effective alternative to honey in sweet formulations. Each distillate confers a different nuance—Honey Treattarome 9802 provides a mild flavor profile and dark, smoky back-end notes while Honey Treattarome 9804 brings a light floral presence and delicate honey top note to flavor compositions. Both products can be used in a variety of applications, especially alcoholic and soft beverages such as diet drinks, flavored waters, and juices; bakery products; and confections. A minimum dosage of 25 ppm is recommended. Unlike highly viscous honey, these water-based distillates can be easily incorporated into food and beverage systems and do not brown over time or physically interact with other ingredients. Other products in the portfolio include Honey Treattarome 9801, which provides an intense honey character in beverage and dairy applications, and Sugar Treattarome 9807, a natural and sugar-free distillate for an authentic sweet flavor.
A Squeeze on Citrus
Freezing temperatures and other harsh weather conditions, a bacterial citrus disease, increased consumption by developing markets, and diminished land supply have all impacted the citrus crop, causing formulators to look for alternatives to citrus-based ingredients as juices and oils. Extenders are designed to help manufacturers use less citrus oil in their formulations while maintaining a typical flavor profile.
Bell Flavors & Fragrances Inc., Northbrook, Ill. (phone 847-291-8300, www.bellff.com), developed a line of lemon juice and oil extenders that reportedly provide economic benefit and procurement solutions. A.M. Todd, Kalamazoo, Mich. (phone 269-216-2613, www.amtodd.com), produces a line of lemon oil extenders that are all natural, citrus-based systems that are said to have the ability to extend the flavor character of lemon oil up to 50% and in certain applications could achieve a total replacement. These extenders present a potential savings of 20-40%. Switzerland-based Givaudan (phone +41 22 780 9111, www.givaudan.com), offers a line of lemon oil replacers which can help match flavor profile and functionality. As a result of its citrus program, flavorists from the company have also developed a collection of new lemon and lime flavors that are said to push the boundaries of traditional lemon and lime flavors by introducing some unique characteristics such as grapefruit, tangerine, banana, spicy, and cherry notes. Though sharing common features with current familiar lemon and lime flavors, these new introductions offer a novel flavor twist.
Symrise North America, Teterboro, N.J. (phone 201-462-5637, www.symrise.com), recently unveiled a new generation of molecularly distilled citrus oils. These oils, part of the company's Naturally Citrus!® brand, have been significantly improved in terms of flavor intensity and authenticity. They are manufactured at low temperatures with short contact times through the use of short path, high-vacuum distillation technologies. Limiting exposure to high temperatures avoids burned and oxidized notes and allows the flavor of freshly peeled citrus fruits to fully develop. The molecular distillation process completely removes terpenes and bitter residue from the oils, which significantly enhances the stability of the oils while guaranteeing an authentic taste. The resulting flavor impact, authenticity, and solubility of the new generation of oils makes them suitable for clear beverages and they are also ideal for citrus applications requiring fresh, authentic taste signatures. The oils are available in lime, lemon, mandarin, tangerine, and grapefruit flavors.
--- PAGE BREAK ---
Within the framework of its "Citrus Competence" project, Frutarom (phone +41 44 782 64 64, www.frutarom.com), is presenting 27 natural and FTNF (from the named fruit) citrus flavor variants. The portfolio demonstrates that citrus flavors embrace far more than just orange or lemon. The range—which includes grapefruit, lime, mandarin, tangerine, orange, lemon, clementine, pomelo, yuzu, and blood orange—are said to display excellent stability and can be incorporated singly or in combination into non-alcoholic beverages such as flavored waters, carbonated soft drinks, juices, and juice drinks, as well as alcoholic drinks. The flavors are also suitable for dairy products, ice cream, confections, and other applications. The flavors are said to impart a wide range of nuances, with sensory descriptors ranging from zesty to sweet to pine.
Helping to "Meat" Finances
Because of the recent economy, consumers are opting for cheaper cuts of meat, reducing their meat intake by cooking casseroles or pasta dishes that may contain meat as an ingredient; and even including more meatless dishes in their diet. In such a climate, extenders and replacers can play a particularly important role, not only helping to create cost savings but in many cases better-for-you products.
Several new ingredient developments are being positioned as alternatives to more traditional meat extenders.
A pea ingredient containing both dietary fiber and starch may be used as one such meat extender. The ingredient, available under the name Swelite by A&B Ingredients, Fairfield, N.J. (phone 973-227-1390, www.abingredients.com), provides water-binding properties, and, in particular, aids in the improvement of both texture and yield, claims Gil Bakal, the company's Managing Director. Swelite binds water much like a sponge and releases it under strong mechanical actions such as chewing, thereby providing excellent juiciness," said Bakal.
A pea fiber from SunOpta, Chelmsford, Mass. (phone 781-276-5100, www.sunopta.com), has moisture-binding properties that provide higher yields in meat systems. The ingredient, SunOpta Pea Fiber 300, and an organic version, is said to contain up to 90% dietary fiber. Its bland flavor, light color, and smooth texture makes it suitable for use in both meats and meat substitutes.
An oat-derived meat extender, developed by Wixon Inc., St. Francis, Wis. (phone 414-769-3000, www.wixon.com), promotes moisture and flavor retention, as well as fiber addition. The natural proprietary blend, marketed under the name Wix-Fresh™ OatMax, allows for greater yields in a variety of meat applications. Ron Ratz, the company's Director of Protein Development, describes the ingredient as a "cost-effective, value-added flavor potentiator." He noted that its functionality makes it suitable as "an alternative to other meat extenders such as soy and starch," and "it intensifies inherent savory notes without adding any visual distractions or off flavors that could negatively impact product taste." With minimal impact to pH, the blend can be used in applications that include fresh, frozen, precooked, and further-processed meats. The company has developed several prototypes using the oat-based extender. These include a Peruvian Meatloaf and Buffalo Turkey Sliders.
--- PAGE BREAK ---
Sugar Shortage?
Currently, the average American consumes about 150 lbs of sugar per year. A new report by Datamonitor indicates that U.S. consumption of sugar and other sweeteners is more than twice that of the global average. Statistics such as these could suggest at least one scenario that is not too sweet—a future sugar shortage.
And if that does occur, if one day we find sugar suddenly in short supply, that would mean, of course, much higher prices, which could influence purchasing decisions.
This reason alone—avoiding a future sugar shortage—might give impetus to finding ways to extend or replace sugar in formulations. But then health considerations are another possible factor. Critics have argued that refined sugar increases blood sugar levels linked to diabetes and contributes to obesity. The USDA and Health and Human Services recently released its 2010 Dietary Guidelines Report in which they recommended that consumers should drink fewer sugar-sweetened beverages. And then there's the President's task force directed to come up with a comprehensive action plan to counter the growing epidemic of childhood obesity within a generation.
A variety of ingredients are being developed that hold potential for reducing or extending sugar in a formulation. For a glimpse of this, see the 2010 Ingredients section on emerging sweeteners that are appearing from around the world.
Most recent, Senomyx Inc., San Diego, Calif. (phone 858-646-8300, www.senomyx.com), signed a letter of agreement with Pepsico regarding potential collaboration related to the discovery, development, and commercialization of new sweet flavor ingredients. These might include new artificial sweet enhancers, natural sweet enhancers, and natural high-potency sweeteners for the nonalcoholic beverage category. Among Senomyx's discoveries is a sucrose enhancer, S6973, which received a GRAS designation in October 2009. It enables up to 50% reduction of sugar and may be used in baked goods, cereals, confections, gum, sauces, and other products.
Stevia-based sweeteners, which have gained much attention over the past months, may be used in combination with sugar or other sweeteners to extend sugar in a formulation. For example, Steviacane is produced through a special compound crystallization process that binds pure cane sugar and Reb A stevia together. By doing so, it achieves a more consistent, uniform dispersion of sweetness and an improved sweetness profile over a simple blend of sugar and stevia. In addition to combining the sweetness of stevia with the taste and bulking characteristics of cane sugar, it also offers a lower glycemic load than sugar so it is suitable for use in the diets of individuals with diabetes. The product was developed by Natural Sweet Ventures, a joint venture between PureCircle USA, Oak Brook, Ill. (phone 630-361-0374. www.purecircle.com) and Imperial Sugar.
An enzyme-treated stevia sweetener, Stevia FSE, is available from Health Co, Bloomingdale, Ill. (phone 800-477-3949, www.healthco-intl.com). The ingredient, which has achieved a GRAS status, uses a natural enzyme system to reportedly remove bitter aftertaste associated with stevia ingredients and enhance its organoleptic properties. The product is said to make use of the whole stevia leaf and does not require additional flavorings or masking agents.
--- PAGE BREAK ---
A proprietary analytical technology enables Symrise North America, Teterboro, N.J. (phone 201-462-5637, www.symrise.com), to identify components of the stevia plant that contribute to off-flavors, isolating those substances that could effectively mitigate any unpleasant taste.
A flavor system, Magnifique for Stevia, has been developed by Wixon Inc., St. Francis, Wis. (phone 414-769-3000, www.wixon.com), that enhances the sweetness of stevia derivatives, making stevia taste more like sugar while reducing the amount of stevia needed. The company also offers Magnifique Sweet Lift, a flavor that enhances the natural sweetness of sugar while masking the lingering taste of high-intensity sweeteners so that they taste more like sugar. This flavor was used to achieve sugar reductions in such prototypes as BBQ Baby Back Ribs Potato Chips (34%); French Toast Corn Puffs (43%), and Sweet Potato Pie Chips (51%).
A sweetness enhancer was recently launched by Comax Flavors, Melville, N.Y (phone 631-249-0505, www.comaxflavors.com). A combination of several ingredients, it reportedly adds sweetness reception by stimulating a variety of taste receptor sites simultaneously. The sweetness enhancer is essentially free of any color, aroma, or aftertaste, and it adds sweetness at half the calories of sugar while at the same time improving mouthfeel and lowering the Brix level. It is available in liquid and dry forms, making it suitable for a wide range of applications, including dairy, bakery, and savory. The ingredient may be used to reduce levels of sugar and high fructose corn syrup while improving the quality of the product.
Hopefully there will never be a sugar shortage as that would dramatically affect the industry, jobs, and formulation. Sugar is a unique ingredient, combining a number of important functionality properties, such as mouthfeel, reactivity, browning ability, and sweetness profile. The use of sugar extenders and other such ingredients is becoming increasingly important as they can help reformulate products without compromising the sugar/sweetness curve, and without using as much sugar in the process. This can prove beneficial not only if sugar supplies ever come into question but also as a proactive way of preventing a not-so-sweet scenario from occurring in the future.
Arabic (Gum) Alternatives
Gum arabic (or gum acacia) functions as an emulsifier, giving consistent flavor and appearance features to beverages. The sourcing of this key ingredient, however, has presented increasing problems. The largest supplier of gum arabic is Sudan, where drought, locust infestations, and conflict have affected the price and supply of Sudanese production. Furthermore, the gum can also perform inconsistently because of the challenging growing conditions in that country. This fluctuating cost and supply, aswell as performance inconsistencies, have prompted manufacturers to look for alternative solutions.
"The beverage industry is fiercely competitive, and the instability in the gum arabic market is a serious challenge for many of our customers," said Wen-Juin Shieh, Technical Manager of Fruits and Beverages for Cargill Texturizing Solutions, Wayzata, Minn. (phone 952-742-9246, www.cargill.com). In response, Cargill developed EmulTru™, an emulsifying starch that offers a replacement for gum arabic. Made from waxy corn, the starch is said to provide food and beverage manufacturers the same functionality in products as gum arabic does, while delivering a potential cost savings of 25%.
--- PAGE BREAK ---
According to Shieh, the starch delivers the functionality of gum arabic in flavor emulsion or cloud beverages, but at a lower cost, with longer-term emulsion stability, and with more consistent quality performance. It can remain liquid at high solids and in cold storage conditions, which presents a potential for cost savings when shipping concentrated emulsions. With the starch, the stabilizer usage level can be decreased and pre-hydration becomes unnecessary. The company showcased the ingredient in a sports drink prototype at the 2010 IFT Food Expo.
A cost-effective alternative to gum arabic is available from National Starch Food Innovation, Bridgewater, N.J. (phone 908-685-5555, www.foodinnovation.com). Extracted from the South American quillaia tree, the natural emulsifier, Q-Naturale®, reportedly offers superior processing performance and ease of use in sparkling beverages, new-age drinks, fortified waters, juices, and alcoholic beverages and cocktail mixes. Flavor companies can load 15-30% flavor oils into emulsions containing the emulsifier. Compared to gum arabic, it can be used at very low usage levels. At the 2010 IFT Food Expo, the emulsifier was formulated in a number of prototype beverages. These included a clear beverage flavored with orange oil; a clear water fortified with fiber; and an alcoholic beverage with higher clarity, enhanced flavor, increased stability, and minimal sediment.
In addition to beverages, gum arabic plays an important role in a number of food applications—in the chewing gum and confectionery area, for example. Because replacements for gum arabic have not always been readily available for these areas, concerns over an uncertain supply have been growing. TIC Gums Inc., White Marsh, Md. (phone 410-273-7300, www.ticgums.com), has developed TicaPan™, a family of gum arabic replacers for confectionery applications.
The product line, available in three versions, is said to exhibit the same or better functionality compared to gum arabic at a lower cost. Ticapan 311Coating System, a binder for sugar and sugar alcohol syrups that are used in confection coating and panning, has comparable crystallization, binding, and drying properties; at the same time, it imparts superior strength to the shell coating during the panning process and lends a crunchy texture to the finished product. It may be used as a drop-in replacement for gum arabicat usage level 2–4% of the syrup recipe. It is also standardized to the same viscosity range of a 35% gum arabic solution. TicaPAN Quick Crunch, also a binder for sugar and sugar alcohol syrups used in confection coating and panning, has comparable binding and viscosity properties but it dries faster than gum arabic and lends a crunchier texture to the finished shell. It is used as a drop in replacement for gum arabic at a usage level 2–4% of the syrup recipe. TicaPan Seal is a film former that functions as an oil and oxygen barrier for panned nuts, chocolate, and other oil-containing centers. It may be used as a sealing syrup or as a dusting powder. The gum blend promotes faster film buildup around the centers and sugar shell buildup.
Flour Power
The use of flours in a formula can provide cost-reduction solutions while helping to address growing concerns related to fat or gluten.
A specialty flour—Homecraft® Create 765 from National Starch Food Innovation, Bridgewater, N.J. (phone 908-685-5555, www.foodinnovation.com) —allows formulators to reduce fat content by as much as 60% in baked goods. The company claims that products such as reduced-fat dessert mixes, cakes, pastries, cookies, and brownies can be made with the flour and still maintain the sensory properties of a full-fat standard.
--- PAGE BREAK ---
According to Bob Allin, National Starch's Marketing Director of North America, the company compared a traditional full-fat dry mix brownie with versions that contained 25% and 60% fat reduction, matching properties such as fatty/greasy mouthcoat, chewiness, hardness, first bite, and the others that define desirable texture in baked goods. "Dry mix manufacturers can reduce fat by 25% or 60% and still deliver to their customers the indulgence, chewiness, and satisfaction they expect when they bite into an indulgent baked good," noted Allin.
The July 2010 Ingredients section looked at a number of emerging gluten alternatives. For example, a natural cassava flour from American Key Food Products, Closter, N.J. (phone 201-767-8022, www.americankeyfood.com), may be used as a substitute for wheat flour, enabling the production of gluten-free baked goods with virtually the same taste, texture, crumb, and baking characteristics as those made with wheat. National Starch Food Innovation, Bridgewater, N.J. (phone 908-685-5555, www.foodinnovation.com), introduced two new gluten-free specialty flour products that are said to closely mimic the texture and eating qualities of gluten-containing baked goods. And ConAgra Mills, Omaha, Neb. (phone 402-595-5153, www.conagramills.com), developed a multigrain flour that delivers whole-grain nutrition, functionality, and mainstream taste and texture in gluten-free formulations.
Taking the Cream Out of the Crop
Cost and seasonal variability are some of the reasons manufacturers look for alternatives to traditional dairy ingredients such as milk powder, butterfat, cheese, cream, and caseinates. At the same time, formulators do not wish to compromise on taste, texture, and other functionality attributes that dairy ingredients provide.
Let's look at few of the extenders or replacers being developed for one common dairy ingredient—cream.
Edlong Flavors, Elk Grove Village, Ill. (phone 847-631-6700, www.edlong.com), specializes in concentrated dairy flavor technology, developing a number of distinctive milk and cream flavors that offer cost reduction, batch-to-batch consistency, and stability in harsh, high-heat environments. These products, which are said to provide the authentic taste of dairy, can be used to add topnotes, provide masking effects in bases, and create signature applications. Some examples of the company's flavor profiles include Natural Heavy Cream Flavor Powder (rich and fatty with slight lactone notes), Natural Milk-Type Flavor Emulsion (rich with fresh dairy and cream notes), Natural & Artificial Milk-Type Flavor Liquid (cooked and caramelized notes reminiscent of sweetened condensed milk), and many others. They are available in a variety of forms and solubilities, and can be used to replace cream in such applications as dips, sauces, and snacks.
A line of dairy replacers, ReadiCream® from Advanced Food Systems, Somerset, N.J. (phone 732-873-6776, www.afsnj.com), reportedly can be used in place of heavy cream or half-and-half with significant cost savings. The dairy replacers improve emulsion stability, provide freeze/thaw stability and cold viscosity, and enhance shelf life. They impart a smoother mouthfeel to formulations such as sauces, soups, and fillings. When hydrated, they can be used as a 1:1 replacement for heavy cream and half-and-half, and finished products have the advantage of being lower in fat.
Functional whey protein, Grande Bravo®, has the ability to replace as much as 100% of the cream in cream sauces such as Alfredo while maintaining the proper flavor and texture properties of the fullcream product. The ingredient, available from Grande Custom Ingredients Group, Lomira, Wis. (phone 920-269-7188, www.grandecig.com), can provide enhanced texture, creaminess, and viscosity to soups, sauces, and gravies, helping to replace heavy cream or other fats in these applications.
--- PAGE BREAK ---
A new dairy booster from Frutarom allows for a fat reduction of 20–25% in dairy products, "returning the complexity of cream to the sensory profile."
A dairy fat replacer—Coyote Brand offered by Gum Technology, Tucson, Arizona (phone 800-369-4867, www.gumtech.com) —can be used in such applications as whipped cream and creamy sauces. According to the company, the system contains cellulose gel, konjac, sodium alginate, and xanthan gum. The alginate reacts with the calcium present in milk to form a gel network. The cellulose gel and the xanthan gum help introduce air to create a rich and creamy product with excellent overrun. Low-fat dips, for example, can be created using the dairy fat replacer with low-fat sour cream and low-fat buttermilk.
There continues to be a demand for cream cheese in many countries. This type of cheese is traditionally made from pasteurized fresh milk or cream, which is thickened with the aid of lactic acid bacteria and a small amount or rennet and subsequently separated. But in hot climates, especially, a reliable supply of fresh milk presents problems. With its new functional systems Stabisol FET 2 and Stabiprot 80 G, Germany-based Hydrosol (phone +49 0 41 02/202-003, www.hydrosol.de), offers manufacturers an economical alternative to fresh milk.
"We have developed a recipe with which a manufacturer can make up either a reconstituted product without milk or a cream cheese preparation containing a percentage of milk," said Hans-Ulrich Cordts, Technical Sales Manager for Hydrosol. "For the production process itself, only a cooker and a homogenizer are needed." He further explained, "The manufacturer combines in the process cooker a premix consisting of water, fat, Stabisol FET 2 and Stabiprot 80 G according to the recipe. The fat component used can be either butter fat or palm kernel fat, depending on the desired end product. If vegetable fat is used, the product is slightly whiter and firmer than with butter fat, which gives the preparation a milky, slightly yellowish color. The use of vegetable fat is especially economical and enables manufacturers to offer a comparatively inexpensive end product." The use of the two functional systems makes it possible to adjust the recipe individually in respect to consistency, texture, flavor, and price. If refrigerated, the cream cheese product will keep for about four weeks.
Shaking the Salt
Most of the commodities discussed in the article are in short supply, which results in escalating prices for the ingredients that are based on these commodities. However, one exception is salt. There is plenty of salt in supply—it would be a pretty safe guess that the world will never run short of salt—and as an ingredient salt is fairly inexpensive compared to other alternatives. However, there are growing concerns over potential health problems that may occur related to an over-consumption of salt. In response to government health initiatives and possible legislation, several major manufacturers today are beginning to look for ways to reduce sodium in their formulations. Some of these strategies involve development of salt with finer grains, combinations of sodium chloride and potassium chloride, advancements in flavor-enhancement technologies, the customization of special flavor systems, and continued research in the area of saltiness and taste receptors on the tongue.
--- PAGE BREAK ---
At the 2010 IFT Food Expo, several salt alternatives were highlighted. For example, Nu-Tek, Minnetonka, Minn. (phone 952-936-3603, www.nu-tekproducts.com), developed a reduced-sodium salt technology which modifies potassium chloride's crystal structure to enhance the flavor and functionality of potassium chloride. The resulting product tastes and functions more like sodium chloride. Wild Flavors presented a line of salt-reduction solutions based on its SaltTrim technology. These products include SaltTrim, which working in concert with sodium chloride, is designed to reduce up to 50% of sodium; SaltTrim Plus, a flavor modification product that combines potassium chloride with SaltTrim for a one-to-one-replacement of salt in topical applications such as salty snacks; and Sea SaltTrim, which utilizes low-sodium sea salt, rich in potassium chloride and other minerals, for a reduction of sodium in food applications by up to 45%. Synergy Flavors offers its line of Saporesse brand products which enable developers to reduce sodium by at least 25% without compromising taste.
In this issue of Food Technology, there will be a feature article that will cover the different approaches that food formulators are taking when developing reduced-sodium products, and I recommend reading it for a good background on how to replace or extend salt.
And we'll probably see new developments in the future, as companies create what may be termed "designer salt substitutes." One example is a magnesium ammonium potassium chloride hydrate which is said to be a true triple-salt complex and not a simple, physical mixture.
Escalating Extenders
This article has looked at several commodities which are being replaced or extended in formulations. Naturally, this practice depends on their current supply which is influenced by a number of factors. Shortages of a particular commodity may continue in the future, they may even escalate, or they may not. Obviously, it's always a good idea for food developers to be prepared. If shortages escalate, then new cost-effective alternatives need to keep the pace as well.
This "Plan B" is becoming increasingly important when you realize that there are many other areas that are or may be seeing shortages in the near future. The vanilla supply can experience unpredictable fluctuations caused by the volatile regions where these crops are harvested. Demand for mint is high, but its supply can be affected by a number of factors including weather, reducing land acreage, and availability from India. Weather-related problems in Eastern Canada and Northeastern U.S. can cause a shortage of maple syrup. Weather conditions can lead to a shortfall of fresh cranberries. And the use of products ranging from olive oil to garlic can be affected by high pricing.
To add to concerns, many of the commodities mentioned in this article are in consumer demand. Some of them may be perceived as better for you and can help address dietary concerns. Some because they offer a unique taste or functionality that is difficult to duplicate. Some are used in popular foods. And some may play an important role in emerging cuisines.
For these and many reasons, new developments in extenders and replacers will probably escalate. And it is essential that these alternatives are cost effective, especially if the economy is down.
--- PAGE BREAK ---
---
IngredienTalk:
In my sixth blog post, I perform the role of a good historian and try to separate the fats from the fiction in a look at the past three lipid wars. The following is that blog post as it appeared. If you have any responses—and you're an IFT member—please visit www.ift.org, type in your name and password, click on the IFT Community button, and go to the blog section. Let's make some history!
Fats and Peace
In my experience as a 'war correspondent,' I have covered at least three wars or fat campaigns. The first could be likened to Waterloo, the second was probably more similar to the Charge up San Juan Hill, and the third—well, that one is just beginning and of the three, may be the most complicated and the most extended but hopefully, over time, will lead to a positive outcome.
Before we analyze these different wars—and I think they were very different in nature—let's keep in mind that fats perform many vital roles in the human body. Fats provide energy, function as a building block, and help absorb essential vitamins. Furthermore, some fatty acids are essential in the diet because the body cannot make them. And from a functionality perspective, fats can act as a flavor carrier, provide food lubricity and texture, help improve food appearance, and play a critical role in frying. At nine calories per gram, however, fats certainly generate a great deal of thinking and rethinking about their value and potential role in food formulating. And in an age of obesity, saturated fat is especially gaining a lot of attention as new pressures are being placed on food manufacturers.
With that said, let's now look at these three wars, and like any good historian, try to separate the fats from the fiction.
The first war occurred back in the early and mid-1990s, during what has been termed 'the fat replacement craze.' A prevalent view seemed to hold that there was no such thing as a good fat, all fats were the same, and because they were dispensable they could easily be replaced by other ingredient systems. I was just a green kid back then, but I remember countless press conferences launching new fat replacers and for awhile there didn't seem to be any other kind of ingredient being developed. Product development definitely had a one-track mind during that period. And so, in the heat of battle, the value of fat was overlooked or minimized. Ironically, in the ensuing warfare, many fats were replaced by carbohydrate-based systems which may have raised some blood sugars at the very least and may have even had the opposite effect of what they intended in the battle to manage weight. The difficulty of replacing fat from a functionality perspective soon became clear, and many fat-replaced products failed in the marketplace.
The second—and most recent campaign—involved the elimination or reduction of trans fats, which are produced by hydrogenation. These fats are viewed as not healthy and FDA required that as of January 1, 2006, trans fatty acid contents be included on food labels, causing food manufacturers to search—some might say scramble—for alternatives to trans fats. And to a large degree, they were successful in their attempts. (There were some concerns, however, that a replacement of trans fats might lead to a surge in the consumption of saturated fats but apparently studies have shown that this has not been the case so far.)
With the war on trans fats largely over, some food manufacturers feel that the next great battle will involve saturated fats. As this may indeed be a likely scenario, perhaps it would be wise to take some time to know the 'enemy' a little better before engaging in a full frontal attack.
--- PAGE BREAK ---
First of all, it may not be quite so simple (or fair) to link saturated fats and trans fats in one breath. Trans fats—at least those that were reduced or eliminated in recent years—were the product of an industrial process. Saturated fats, on the other hand, are not man-made, and moderate consumption of these fats may even be necessary for health. Some studies have suggested that consumption of saturated fat in moderation can reduce the risk of stroke. Other studies suggest that replacing saturated fats with carbohydrates can be disadvantageous to individuals with diabetes.
Although there is currently debate regarding the impact of saturated fat on your diet, in all likelihood formulators will increasingly look for ways to reduce the levels of saturated fat without compromising the quality of the product. This entry into the foray is being fueled, in part, by various government initiatives designed to counter childhood obesity and other health challenges. Over time, formulators will probably replace some of these saturated fats with what are considered to be healthier fats.
Several healthier fat options are being developed. In recent years, we have seen how omega-3 polyunsaturated fatty acids have been linked to heart or brain health. Seed traits are being enhanced which can produce beneficial oils. And the sophisticated blending of different oils or fat fractions—and the increased functionality benefits this approach offers—adds a new dimension to the perception of fats and oils as an ingredients category.
On this eve of battle, hopefully we will proceed—and advance—with the understanding that fat offers nutritional and functionality benefits that cannot be easily dismissed, and that in the reformulation of future products, we will better recognize the benefits that each kind of fat offers, including saturated fat. If we do this, then we have at least learned something from previous battles.
So, IFT Community to Red Dog Leader, do you have my position on fats spotted? Over. (Static crackles on the radio.) IFT Community, is that cannon fire I hear? Over. Incoming. Incoming. If you can hear me, remember to keep your head down low. And as we proceed further to the sound of distant thunder, if you have a view on the future of fats, use the radio and let's IngredienTalk.
by Donald E. Pszczola,
Senior Associate Editor 
[email protected] 
www.ift.org
Members Only: Read more about extenders and replacers online at www.ift.org. Type the keyword into our search box at the upper right of our home page.