Reduced sodium. Sugar free. Gluten free. Naturally derived ingredients versus artificial or synthetic ingredients. Food formulators face plenty of challenges in developing foods and ingredients to meet consumers' demands. Then, they need to make sure that the finished products taste good and have other acceptable properties and that the ingredients used in these products function well under processing conditions and have appropriate shelf stability.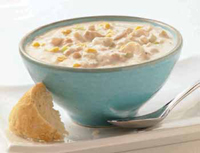 Attendees at the 2010 IFT Annual Meeting and Food Expo learned the tricks of the trade at various technical sessions that addressed these challenges and discussed potential solutions that could be achieved using sound science. And they were able to see the application of this science first hand as ingredient developers showcased their ingredients in reduced-sodium, glutenfree, and other types of prototypes. What follows are examples of how ingredient suppliers have developed and improved upon ingredients for these applications.
Focus on Functionality
A variety of ingredients that address taste, cost-optimization, and health and wellness issues were showcased in a number of prototypes from Cargill Inc., Wayzata, Minn. (952-742-9246, www.cargill.com/food).
Its new EmulTru™ emulsifying starch made from waxy corn is said to provide the same functionality as gum Arabic but with longer-term emulsion stability, and it has a potential cost savings of 25%. The ingredient forms liquid emulsions of flavor oils, neutral oils, and some nutritional supplements in carbonated, still, and juice beverages. Cargill formulated a sports drink prototype with the ingredient. The company also introduced Clear Valley® omega-3 oil, a canola/flaxseed oil blend that will allow food manufacturers to make "good source of ALA omega-3" or "excellent source of ALA omega-3" claims. Since the ingredient is plantbased and not derived from fish as some omega-3 ingredients are, the taste is neutral and not fishy. Tests conducted by Cargill show that the oil is shelf stable for more than nine months. A granola bar featured the oil, which is patent-pending and currently available for use in product trial testing.
A brownie bite made with Wilbur® Chocolate Duet™ powder mix showed how food formulators can develop a bakery product with chocolate liquor. The ingredient is a proprietary blend of chocolate liquor and cocoa mixed into a powdered form, and it is said to blend easily into baked goods and requires no melting, processing, or special storage. Manufacturers using the ingredient can label products as "made with real chocolate."
Cargill demonstrated its SaltWise® sodium reduction blend of ingredients in a reduced-sodium tortilla. The blend provides a salty taste while reducing sodium content 25%–50%, depending on the application. A pureed soup formulated with Oliggo-Fiber® inulin showed how fiber could be added to a product without compromising flavor or texture. The heat stability of the ingredient is a noted benefit, which allows it to be used in products like soup. Formulators can reduce fat in bakery products by up to 50% while keeping the taste and texture of full-fat products with CitriTex™ GSG 71 stabilizer blend. The ingredient, which contains citrus pulp fiber, helps to maintain moistness and springiness associated with full-fat products, as demonstrated in a reducedfat muffin prototype.
--- PAGE BREAK ---
Ingredients Hold Functional Promise
A menu of both sweet and savory prototypes showcased a variety of ingredients from Wild Flavors Inc., Erlanger, Ky. (859-342-3744, www.wildflavors.com).
Sunwin Stevia™ Reb-A 80 with Modifiers was used to sweeten Naturally Zero-Calorie Peach Iced Tea, Sugar-Free Blueberry Açai Pomegranate Candy, and Chocolate Cookie with 50% Less Sugar. Colorings from the company's line of Colors from Nature® provided vibrant hues to Natural Low-Calorie Blue Sports Drink, Sugar-Free Blueberry Açai Pomegranate Candy, and Naturally Colored Cereal Sweetened with Sunwin Stevia.
Several prototypes such as Raspberry Cupuaçu Relaxation & Rejuvenation Water, Lilikoi Float 100% Juice Beverage, and Jamaican Sunrise Juice Drink featured flavors from Wild's "Vacation Destination" line. The company also showcased its expertise in beverage innovation by developing Citrus Lime Fruit & Vegetable Drink and Coconut Water/White Tea Refreshment Beverage prototypes.
In addition to developing flavors, the company works with customers to develop products from the ground up. Prototypes that reflected this were Pretzel with Chicago Hot Dog Seasoning, Paloma Marinated Shrimp with Guajillo Sauce, Vindaloo Marinated Chicken with Tamarind Tomato Syrup, and Roasted Pork with Champagne Mustard Aioli.
Improving Milk's Shelf Life
An ingredient to manage oxidation and extend the shelf life of whole-milk powder and other concentrated milk products, SyneROX4®, was introduced by Vitiva at the PL Thomas, Morristown, N.J. (973-984-0900, www.plthomas.com), booth.
The high fat content and nutritional composition of milk powder and similar concentrated milk products like condensed milk, ice cream preparations, coffee creamers, and whole milk-based confectionery fillings makes them susceptible to oxidation and therefore limits their shelf life. The ingredient, a rosemary extract formulation, is said to protect and maintain the full taste of the final product without altering color or flavor. Processors add the ingredient to liquid milk at the beginning of milk powder production to protect the milk during processing. It remains in the processed milk to protect against rancidity. The company reports that SyneROX4 provides a minimum of 50% longer shelf life.
Flavor Fractions Derived from Plants
Similar to a perfume counter at a highend department store, an aroma counter at the booth for Sensus LLC, Hamilton, Ohio (513-892-7100, www.sensusflavors.com), gave IFT Food Expo attendees the chance to evaluate "true-to-nature" aroma fractions from horticultural products.
--- PAGE BREAK ---
The aroma volatiles of tea, coffee, vegetables, herbs, and botanicals were each dispersed from 10 misters. The flavor essences, base concentrates, and concentrates are used in beverages (coffee, tea, ready-to-drink, spirits, energy drinks, and dispensed beverages), dairybased dips, soups, sauces, gravies, cheese, yogurt, salsa, and canned vegetables.
The company uses processing techniques that maximize flavor recovery and eliminate off-note formation. More specifically, the volatile flavor components are captured, and a continuous processing system clarifies and concentrates the soluble solids. The captured flavor volatiles and the soluble solids are combined.
The company announced that it will expand capacity for the third time in 11 years. It is upgrading its facility to include an additional 35,000 sq ft of manufacturing space, 5,000 sq ft of research and development labs, and 5,000 sq ft of refrigerated warehouse space to maintain raw materials. The company is also investing money in state-of-the-art processing equipment.
Flour Imparts Toasted Flavor
Adding a warm toasted flavor and aroma to extruded snacks and many other applications is possible with a new Roasted Potato Flour from Briess Malt & Ingredients Co., Chilton, Wis. (920-849-7711, www.briess.com/food).
The ingredient functions as a partial replacement to standard potato flour or it can be used to add flavor and color. When used in extruded snacks, the ingredient increases expansion and helps to improve flavor and color. It thickens and also adds savory flavor to soups, gravies, and sauces.
In addition to its use in extruded potato snacks, soups, gravies, and sauces, the ingredient functions in baked potato chips, gnocchi, dry blends, seasoning mixes, meatballs and other meat mixtures, vegan foods, and breads and rolls. There are 7.8 g of dietary fiber/100 g of ingredient and 8.2 g of protein/100 g of ingredient.
In other company news, Briess announced some of its recent accomplishments in efforts to conserve energy. The company continues to reduce energy usage and carbon dioxide emissions at some of its various facilities. For example, natural gas usage was reduced by an additional 20% since 2009 by installing more heat exchangers on kilns in one of its malthouses, and electrical usage was reduced by an additional 8% by making improvements to electrical systems at the same facility. Briess first reduced energy usage by up to 20% at this and other facilities from 2006 to 2008.
--- PAGE BREAK ---
Other energy-saving efforts include recycling 99% of all waste streams, using recyclable materials in packaging material, and using waste to help generate a continuous 1.5 kWh at a farming operation.
Control Release of Active Ingredients
Clabber Girl Corp., Terre Haute, Ind. (812-232-9446, www.clabbergirl.com), provided information about its InnovaPhase proprietary multi-phase encapsulation release ingredients. The line includes InnovaFresh Fumaric Acid, InnovaFree with Cal-Rise®, InnovaYield Dough Conditioner, and InnovaBake Leavening System.
Syrups Add Flavor and Color
Sethness, Lincolnwood, Ill. (847-329-2080, www.sethness.com), offered three caramelized sugar syrups that provide both flavor and color to beverages, bakery, and meat glazes.
The syrups are available in a range of sweet to burnt notes, and their high-alcohol solubility allows them to be used in spirits and liqueurs. CS1 Caramelized Sugar Syrup has sweet, slightly burnt properties with light caramel and some maple notes. Both CS5 Caramelized Sugar Syrup and CS30 Caramelized Sugar Syrup have a sweet, slightly bitter, burnt sugar taste.
Also available is a line of caramel colors that range in color from light yellow to reddish-brown. Caramel colors are derived from the controlled heat treatment of food-grade carbohydrates, and they can be labeled as "caramel color." Because caramel colors are stable in a wide range of physical and chemical environments, they can be used in baked goods, beverages, sauces, seasonings, pet food, cereals, confectionery, and dairy products.
Wolfberry Tea Refreshes Palate
Available as smelling samples and demonstrated in finished products were black and green tea extracts, black and green tea distillates, 2-fold and 10-fold Madagascar Bourbon vanilla extracts, coffee distillate, wolfberry (goji) distillate, orange peel distillate, and more.
A wolfberry tea distillate was shown in a wolfberry tea and a 10-fold vanilla and dark chocolate extracts were showcased in chocolate milk that was made without cocoa.
Teawolf, Pine Brook, N.J. (973-575-4600, www.teawolf.com), announced a distribution partnership with Premium Ingredients International. The agreement will allow Teawolf to expand its national distribution of its liquid botanical extracts, vanilla ingredients, tea ingredients, and others.
--- PAGE BREAK ---
The company also offers a line of more than 200 botanical formulas. It also manufactures and sells ingredients for products that address various health needs. Some of these include its caffeine-free and taurinefree energy blend, chamochalm formula for relaxation, and glyconda formula for acid reflux.
Whey Proteins Increase Viscosity
Help improve viscosity and gelling in applications like soups and sauces with whey proteins from Grande Custom Ingredients Group, Lomira, Wis. (800-772-3210, www.grandecig.com).
Grande Bravo 200 and 250 provide viscosity and gelling properties when heated to 165°F and will help to form a smooth, gel-like creamy texture. Grande Bravo 300, 500, and 550 will become viscous when hydrated with water but without heat and will maintain viscosity when heated. They create a heavy, creamy mouthfeel. Grande Bravo 510 gives a slippery, slick mouthfeel to applications that require texture. And finally Grande Bravo 600 will bind water and reach a high viscosity without heat while giving foods a heavy, tacky mouthfeel.
Oil Offers Clean Flavor
Solae, St. Louis, Mo. (314-659-3694, www.solae.com), presented information about Soymega™, a stearidonic acid (SDA) soybean oil that provides a plant-based source of omega-3 fatty acids.
The oil, which is the result of a collaboration of Solae and Monsanto, is said to have advantages in taste: It reportedly has a clean flavor and can maintain flavor over the finished product's shelf life. Applications include bakery, soups, beverages, snack bars, dressings, yogurts, processed meats, vegetarian meat analogs, margarines, and shortenings. As far as nutrition is concerned, the ingredient promises to provide long-chain omega-3 heart-health benefits. It contains 20% SDA in mixed triglyceride form.
Solae provided information about the oil when used in one particular application, balsamic vinaigrette. The oil provides 375 mg of SDA/serving and represents 25% of daily recommended amount of omega-3s.
Commercialization of the oil is expected in 2012, pending regulatory approval.
Enhancing Nutrition, Improving Functionality
The Nutrivan™ line of ingredients was developed to address the concerns of consumers looking for enhanced nutrition from the foods they eat and to help product developers formulate foods that have added health benefits.
One ingredient from the line addresses weight management. According to Caravan Ingredients, Lenexa, Kan. (800-669-4092, www.caravaningredients.com), WM 1050 is a premix that reportedly controls hunger and provides a feeling of fullness. It contains oat beta glucan, fiber, whey protein concentrate, green tea extracts, and Slendesta, a potato extract.
--- PAGE BREAK ---
The company developed a high diglyceride ingredient called Trancendim™. The ingredient can be used to make trans fat-free structuring oils, shortenings, and margarines and is said to not affect taste, mouthfeel, and flavor release. It can be labeled as a monoglyceride and a diglyceride.
Concentrates Deliver Benefits
Vegetable Juices Inc., Bedford Park, Ill. (888-776-9752, www.vjiconcentrates.com), presented information about its Essentia® Liquid Flavor Systems™. These are fruit and vegetable concentrates made with the company's Advanced Concentrate Technology®, which is said to provide four benefits to beverage makers.
The first benefit refers to health and nutrition. The technology allows for retention of minerals and vitamins and preservation of antioxidant efficacy of the fruits and vegetables by using a minimally invasive cold concentration process. The second benefit is better taste. The concentrates reportedly have cleaner flavors, more resonate top notes, and greater degrees of clarity. Higher quality is the third benefit. The company reasons that because the true essence of fruits and vegetables is preserved, it gives food manufacturers a number of marketing opportunities. These include the flexibility to include more fruit and vegetable servings in the finished beverage products and the ability to use the concentrates in applications where the product developer wants to achieve a "clean label." Finally, the use of the concentrates in beverages are said to help improve consumer receptivity of those products by enhancing the overall smell and retaining the color of the fruits and vegetables.
The concentrates from the Essentia Liquid Flavor Systems line are Beet Juice Concentrate Acidified, Butternut Squash Juice Concentrate, Carrot Juice Concentrate, Celery Juice Concentrate, Cucumber Juice Concentrate, Green Bell Pepper Juice Concentrate, Onion Juice Concentrate, Sweet Potato Juice Concentrate, Tomatillo Juice Concentrate, and Tomato Clarified Juice Concentrate.
The company also presented information on its other ingredient lines. Juices can be used as natural flavorings and flavor enhancers in meats, beverages, sauces, dressings, and more.  They can accent natural topnotes with virtually no color or aftertaste. Purees provide flavor, color, and texture. Diced products are cut to specified sizes and packed in brine, which can help maintain a crisper texture and fresher flavor. Sauces and blends include such formulas as Soy, Worcestershire, Jamaican Jerk, Salsa Seasoning, Chili Garlic, Chipotle in Adobo, and Mirepoix.
Fruits, Vegetables Showcased
More than 45 fruit and vegetable ingredients were featured at the booth for Graceland Fruit Inc., Frankfort, Mich. (231-352-7181, www.gracelandfruit.com). These include infused dried fruits and infused dried vegetables; Soft-N-Frozen™, a frozen fruit that is soft to the bite for use in ice cream, frozen yogurt, and other frozen dairy and nondairy products; Fridg-N-Fresh® refrigerator-stable vegetables with a 90-day shelf life; and Wild Veggie™ vegan vegetable soup or drink.
Trans-fat-free Oils Showcased
Bunge North America, St. Louis, Mo. (800-828-0800, www.bungenorthamerica.com), introduced a line of shortenings and oils said to eliminate trans fat while offering functionality advantages.
--- PAGE BREAK ---
The shortenings and oils, available under the UltraBlends™ Enzymatic Solutions name, are produced by enzymatic interesterification. This proprietary process rearranges the fatty acids of the triglycerides to provide structure and functionality at room temperature.
According to the company, this is a general description of the process. The oil blend flows through a fixed bed system that consists of an oil purification bed and an enzyme bed. The oil purification bed removes impurities from the oil blend to ensure that the enzyme activity is optimized and the enzyme bed allows for the enzymatic interesterification of the oil blend as the blend passes through the bed.
Some of the functionality attributes of the shortenings and oils include the ability to eliminate trans fat and optimize saturated fat content while delivering a wider plasticity range, as well as creating less variability in the firmness of the dough, which is important for machining processes. Bunge also mentioned that the ingredients have no harmful by-products and that they are made with domestically sourced soybean oil.
There are several shortenings and oils in the line formulated for use in different applications. UltraBlends PhytoBake Shortening is a vegetable-based plastic shortening that contains phytosterols. Including phytosterols in the shortening not only helps to confer structure to the shortening and the finished product, but allows for the delivery of nutritional benefits that phytosterols are said to offer, according to the company. The shortening is useful in cookies, pie crusts, and cakes. UltraBlends All Purpose Shortening 129 performs best when stored and used at temperatures less than 75°F. UltraBlends Pie Shortening 219 functions best when stored and used at temperatures 42°F–48°F. Both of these contain interesterified soybean oil and hydrogenated soybean oil. UltraBlends All Purpose Shortening 133 is a specially formulated plastic shortening made from interesterified soybean oil, and it contains more solids than UltraBlends All Purpose Shortening 129, making it firmer.
Incorporating Fiber in Snacks
SunOpta Inc., Brampton, Ontario, Canada (905-455-2528, www.sunopta.com), had representatives on hand to explain the functionalities of several ingredients from its portfolio.
The Ingredients Group featured prototypes such as high-fiber snacks made with pea fiber, a mocha beverage made with Barley Balance™ beta-glucan concentrate, and brownies made with Canadian Harvest® oat fiber, while the Grains and Food Group showcased sunflowers and soybeans, focusing on how these ingredients act as costeffective nut alternatives in snack foods.
Tradin Organics USA focused on its organic agave syrup, derived from the agave plant. The sweetener is said to enhance body, lower the freezing point, stabilize foam, and enhance flavor in dairy applications. It sweetens energy drinks, juices, carbonated beverages, wines, and teas, and it increases fermentation in beers. When used in confectionery products, the agave syrup minimizes or eliminates crystallization, improves body, and enhances flavor (in fruit-flavored confections). It is a gelling agent in jams and fruit products and can enhance the natural shine of fruits used in these products. It functions similarly in yogurts, puddings, and ice creams. The hygroscopic properties of it can help increase the shelf life of granolas, depending on the usage level.
--- PAGE BREAK ---
Lentils Offer Gluten-Free Option
Whole-grain lentil flours are used to add functionality and health benefits to different applications. Lentil puffs, made using a blend of 70% whole-grain red or green lentil flour and 30% corn meal, have a light and crunchy texture, mild flavor, and neutral color. These glutenfree puffs can be used to replace wheat, soy, and rice puffs in snack foods, cereal and energy bars, cereals, and toppings. Adding flavorings and coatings to the puffs creates additional use opportunities. One serving of lentil puffs provides 21 g of whole grain and 3 g of fiber, and is a source of iron.
Lentil pasta has a mild flavor, rich color, and firm texture, and it retains texture during cooking. It is made using a blend of 40% whole-grain red or green lentil flour and 60% durum wheat semolina. Lentil crackers, which are made by blending 30% red or green lentil flour with 70% wheat flour, have a crispy texture and whole-grain flavor. Information about these was provided by Saskatchewan Pulse Growers, Saskatoon, Saskatchewan, Canada (306-668-5556, www.saskpulse.com).
Ingredients Improve Taste, Texture
Tate & Lyle, Decatur, Ill. (217-423-4411, www.tateandlyle.com), featured prototypes formulated with several of its ingredients designed to improve taste, texture, and nutrition of foods.
A Mediterranean Pizza contained Promitor™ Soluble Corn Fiber 85. This ingredient replaces sugar in the crust formulation, and according to the company, it does not affect taste or texture when used in the crust or sauce. A Lime Margarita Mix made with sucralose provided a 45% reduction in calories and sugar and a Strawberry Daiquiri Mix made with sucralose had a 25% reduction in calories and sugar.
Two pregelatinized startches—X-Pand'R® SC and Redisol® 78D—helped to create a light and crispy coating and Promitor Soluble Corn Fiber provided adhesion, crispy texture, and the benefits of fiber to Crunchy Coated Peanuts. The coating made from these three ingredients served as a base for topical sweet and savory seasonings.
The company developed a blend of rice flour, starches, emulsifier, hydrocolloid, and leavening agents. Attendees were able to try this Gluten-Free Muffin Base in a Chocolate–Chocolate Chip Gluten-Free Muffin.
Improving Gluten-Free Products
Dow Wolff Cellulosics, Horgen, Switzerland (www.dowwolffcellulosics.com), demonstrated its latest ingredient innovations in the areas of gluten replacement and fat replacement.
Methocel™ Gluten Replacement, which is derived from cellulose, is said to enhance bread, pasta, and bakery products by providing moistness for the duration of shelf life, preventing collapse during baking, and avoiding gas or bloating associated with other fiber sources. Methocel Fat Replacement, also derived from cellulose, is used in conjunction with liquid oils like canola and olive to replace trans fats and saturated fats in meat and bakery products. Fat content can be reduced by up to 60% without compromising the taste and texture of the finished products.
Finally, DowWolff offered Clear+Stable™, a high-purity sodium carboxymethyl cellulose said to improve protein protection in acidified milk and soy beverages.
--- PAGE BREAK ---
Oil Has High Oleic Content
Pioneer, A DuPont Business, Johnston, Iowa (515-727-7414, www.plenish.com), presented information about Plenish™ high-oleic soybean oil. The soybeans recently received regulatory approval from U.S. Dept. of Agriculture for cultivation in the United States.
The Plenish soybeans contain more than 75% oleic acid, the highest content of any soybean product under commercial development, according to the company. The oil is said to have high heat stability for frying, increased fry life, improved flavor, increased shelf life for processed foods, and less build up in frying equipment.
The Plenish high-oleic soybeans will be grown for ongoing field and oil testing in the U.S. and Canada in 2010 and 2011. Full commercialization is expected in 2012 pending global regulatory approvals.
Yeast Ingredients Enhance Flavor
The functional benefits of yeast ingredients, including whole dried yeasts, partially autolyzed yeasts, autolyzed yeast extracts, high-umami yeast extracts, and savory flavors were highlighted by Bio Springer, Montreal, Canada (866-464-1158, www.biospringer.com). These ingredients can be used in reduced-sodium applications and as flavor enhancers.
One Ingredient Showcased in Tacos
Z Trim Holdings Inc., Mundelein, Ill. (847-549-6002, www.ztrim.com), highlighted the functionality of a single ingredient in the components of a taco.
The ingredient, Z Trim, which is made from either corn bran or oat hulls, added moisture control and helped to improve structure, slow staling, and reduce breakage to the tortilla. It functioned as a binder and extender in the ground meat. More specifically, it meant that the meat was less oily and had less separation. When used in the cheese sauce, Z Trim replaced some fat and helped emulsify it. The ingredient functioned as an extender and thickener in the enchilada/hot sauce and as a binder and extender in the sour cream topping.
Formulating Fabulous Foods 
"Food. Formulate. Fabulous." was the booth theme for Corn Products International, Westchester, Ill. (708-551-2536, www.cornproducts. com), which offered many prototypes made with sweeteners, starches, and other ingredients. The company wanted to show how the ingredients function to create better-tasting foods. Slices of margherita pizza with a gluten-free crust were formulated with Expandex® modified tapioca starch. For a sweet treat, the company offered a reduced-sugar frozen yogurt with Enliten® high-intensity sweetener from the stevia plant and BioAgave™ inulin fiber, as well as granola clusters with NuMega® omega-3 DHA. A reduced-calorie energy drink contained Purimune™ highpurity GOS, which is said to support immune health.
Corn Products recently announced plans to acquire National Starch from AkzoNobel. National Starch operates 11 plants in eight countries, including some in which Corn Products does not have a presence like the UK, Germany, Australia, and New Zealand. The transaction is expected to close in the third quarter of 2010, subject to regulatory approval.
--- PAGE BREAK ---
Pomegranate Joins BerryFusions Line
Ocean Spray Ingredient Technology Group, Middleboro, Mass. (617-283-1578, www.oceansprayitg.com), introduced pomegranate to its BerryFusions® fruits line, joining other varieties like strawberry, raspberry, cherry, blueberry, and mango. The fruits are dried and do not require presoaking. Other benefits noted by the company include retained piece identity, absence of color bleed, and no moisture absorbed over time.
Stevia Blend Recieves GRAS Status
GLG Life Tech Corp., Vancouver, British Columbia, Canada (www.glglifetech.com), introduced BlendSure™, a proprietary blend of various components of the stevia plant. The components, which include specific glycosides like rebaudioside A and stevioside, are blended in a specific ratio to give what the company calls a sucrose-like taste profile that is both heat- and pH-stable.
The ingredient works well in carbonated beverages, and it can be combined with sugar. It has met all of the requirements for self-affirmed GRAS (generally recognized as safe). In the near future, the company said that it will file information for a no-objection letter from the Food and Drug Administration.
Reduce Sodium with Yeast Extracts
A line of certified organic yeast extracts and information about how yeast extracts can be used in reduced-sodium applications was presented at the booth for Savoury Systems International Inc., Branchburg, N.J. (908-526-2524, www.savourysystems.com). Additional ingredients presented included flavor enhancers and HVPs.
MCTs Solubilize Ingredients 
The Neobee medium-chain triglycerides from Stepan Co., Maywood, N.J. (201-712-7642, www.stepan.com), are said to act as solubilizers for flavors, colors, and bioactives, and as beverage clouding agents. They do not contain trans fatty acids and are easily digested.
Showcasing Sweeteners 
Exhibitors had a sweet time highlighting a variety of sweeteners. Blue California, Rancho Santa Margarita, Calif. (949-635-1990, www.bluecalingredients.com), manufacturers Good&Sweet™ Reb-A 99% sweetener derived from the stevia plant. SweetLeaf Stevia Sweetener, Gilbery, Ariz. (480-921-1373, www.sweetleaf.com), offers SweetLeaf® sweetener mede from purified extracts of the stevia leaf. Niutang Chemical Inc., Brea, Calif. (714-993-6885, www.niutang.com), had samples of liquid sucralose available. The ingredient can be easily incorporated into beverages.
---
SAMPLING THE EXPO
Cut sodium, not flavor
A line of salt replacers helped to reduce the sodium but not the flavor in Turkey Burger Sliders. One of the ingredients in the line, DM Choice® Natural Flavor Salt Type, can help reduce sodium by up to 30% in many applications. The turkey burgers have a 20% reduction in sodium. A line of DM Choice Natural Potassium Blockers used to minimize the bitterness and metallic off-notes of potassium is available from David Michael & Co., Philadelphia, Pa. (215-632-3100, www.dmflavors.com). The company also featured ingredients from its line of Cocoa-Mate® Cocoa Extenders in a Cool Cocoa-Mate Milkshake. The extenders can replace up to 50% of cocoa powder, including Dutched cocoa and natural cocoa, in ice cream, yogurt, beverages, puddings, toppings, and bakery products. The milkshake featured at the booth had a 30% reduction in cocoa.
---
Flavors of the world
Attendees had the chance to sample prototypes representative of four global cuisines at the booth of Innova, A Griffith Laboratories Co., Lombard, Ill. (630-928-4800, www.innovaflavors.com). The company developed its "Flavors of the World Program" that highlights ethnic cuisines from around the world by incorporating mainstream and emerging flavors, natural and artificial flavors, and some vegetarian options. Prototypes included Buffalo Chicken Tots with Creamy Garlic & Herb Dip (American Comfort), Veggie Lamb Sausage with Moroccan Dipping Sauce (Mediterranean Tapas), Chorizo Tamale Soup (Nuevo Latino), and Green Thai Curry Beef with Savory Rice (Pan Asian).
Attendees had the chance to sample prototypes representative of four global cuisines at the booth of Innova, A Griffith Laboratories Co., Lombard, Ill. (630-928-4800, ). The company developed its "Flavors of the World Program" that highlights ethnic cuisines from around the world by incorporating mainstream and emerging flavors, natural and artificial flavors, and some vegetarian options. Prototypes included (American Comfort), (Mediterranean Tapas), (Nuevo Latino), and (Pan Asian).
--- PAGE BREAK ---
---
Ethnic Chicago celebrated
Edlong Dairy Flavors, Elk Grove Village, Ill. (847-631-6700, www.edlong.com), featured prototypes based on food found in the various ethnic neighborhoods of Chicago. A Mini Meatball Sandwich (Little Italy neighborhood) had a sauce blended with Italian cheese-type flavors. A Gyros Salad with Tzatziki Dressing (Greektown neighborhood) was formulated with yogurt flavors. The company highlighted ingredients for fat- and cost-reduction applications in a Kolasczki Cream Cheese Dip (Polish community). Finally, the company featured a refreshing, creamy Mango Lasai Beverage (Indian community).
---
Fiber-enriched hot dog
Eating a staple of baseball games and backyard barbeques gave attendees a chance to increase their fiber intake. International Fiber Corp., North Tonawanda, N.Y. (888-698-1936, www.ifcfiber.com), offered a Hot Dog with Fiber made with Solka-Floc® 900 FCC, Powdered Cellulose; High-Fiber Hot Dog Bun made with Solka-Floc 200 FCC and Solka-Floc 900 FCC, Powdered Cellulose; and Tomato Dressing with Fiber made with JustFiber® SC C40, Sugar Cane Fiber. The ingredient used in the hot dog is said to help the product remain stable during freezing and cooking, reduce shrinkage, increase juiciness, and improve mouthfeel. The ingredients used in the bun function as non-caloric bulking agents and provide dietary fiber. The fiber ingredient used in the ketchup reportedly improves texture and rheology, adds pulpiness and consistency, and acts as a cost-effective ingredient for tomato extension.
---
Walnuts flavor ethnic foods
A French Style Chocolate-Walnut Macaron, Muhamarra Dip Served on a Pita Chip, and Spanish Style Walnut Romesco Sauce over Tortellini featured the crunch and nutrition of walnuts from the California Walnut Commission, San Francisco, Calif. (916-932-7070, www.walnuts.org). There are plenty of ways to enjoy walnuts. Top hot or cold cereal with walnuts, add walnuts to muffin or pancake batter, use walnut hummus as a sandwich spread or vegetable dip, add seasoned or spiced walnuts to salads, coat fish or poultry with chopped walnuts and herbs, add chopped walnuts to pizza dough before baking, and combine walnuts with rice, quinoa, or pasta.
---
Providing the right whey
A blend of whey proteins from Hilmar Ingredients, Hilmar, Calif. (209-667-6076, www.hilmaringredients.com), was featured in a Rocky Road Bar. The whey proteins used in this prototype help control moisture, reduce dough stickiness, and make the bar softer and more pliable. And to wash it down, the company offered a whey-protein-fortified orange juice. That prototype demonstrated the stability of the whey proteins across a pH range.
by Karen Nachay, a member of IFT, Associate Editor of Food Technology magazine ([email protected]).