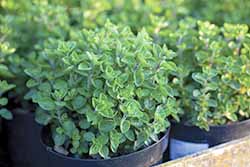 Oregano oil effective against norovirus
Oregano oil and its primary active component, carvacrol, have proven effective against norovirus, the world's leading cause of vomiting and diarrhea, according to a study published in
Journal of Applied Microbiology
.
In a side-by-side experiment, researchers studied the effects of both compounds against murine norovirus, a surrogate for human norovirus, which is nearly impossible to study in lab settings. Within 15 minutes of application, both oregano oil and carvacrol on its own were able to break down the capsid, an outer layer of proteins that surrounds the virus, which would allow another antimicrobial to enter and kill it. The effectiveness of oregano oil remained stable after those 15 minutes, but carvacrol proved even more effective, reducing the infectivity of the virus significantly within one hour.
"We have some work to do to assess its potential, but carvacrol has a unique way of attacking the virus, which makes it an interesting prospect," said Dr. Kelly Bright, who led the research at the University of Arizona.
The study, "Antiviral efficacy and mechanisms of action of oregano essential oil and its primary component carvacrol against murine norovirus," appeared in Journal of Applied Microbiology, doi: 10.1111/jam.12453.
FDA proposes changes to nutrition labels
The Food and Drug Administration (FDA) announced a series of proposed updates to the current Nutrition Facts label, which affect serving sizes, added sugars, nutrients of public health significance, and its overall layout.
In the new design, Percent Daily Value would move to the far left to help consumers better view the food in relation to the rest of their day, and the footnote will be removed to allow for a better explanation of what Percent Daily Value means. Serving sizes will change to better reflect the actual amount most people eat, such as with ice cream, and packaging for items such as 20 oz. sodas will display the total number of calories in the bottle. Because of increasing deficiencies in some groups, labels must now list potassium and Vitamin D. Also, added sugars will be broken out separately from naturally occurring ones.
The redesign is a step toward honesty and transparency in labeling, as well as a greater focus on how products affect health, according to Chuck Rudy, a Senior Partner and Executive Creative Director at Brand Union, a brand strategy and design agency. "Everything doctors say to do is reflected in the new design. The labels might be a way to get brands to think about what's in the product as well as on the package."
The FDA is asking for comments for 90 days before establishing its final version of the guidelines, and food manufacturers would have two years after the guidelines' effective date to comply.
Discussing the rate of childhood obesity
Obesity levels dropped a dramatic 43% over the last decade for children aged 2–5, according to a study published in Journal of the American Medical Association. The rate of obesity in this age group dropped from 13.9% in 2003–2004 to 8.4% in 2011–2012.
Levels for other childhood segments and adults remained stable, with more than one-third of adults and 17% of youths considered obese. According to two other recently published studies, sodium intake and access to fruits and vegetables may play a part in these levels. In a study published in Pediatrics, researchers found that high prices for fresh fruits and vegetables correlated with higher Body Mass Index recordings in children from low- and middle-income homes.
In a different study reported in the same journal, researchers linked high levels of sodium intake in adolescents with higher levels of obesity and inflammation regardless of the number of calories consumed. "Obesity has a lot of contributing factors, including physical inactivity," said researcher Haidong Zhu. "We think that high sodium intake could be one of those factors."
--- PAGE BREAK ---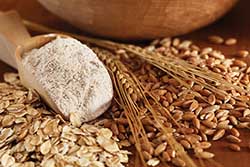 Defining 'whole grain' in Europe
Researchers with the HealthGrain EU project have proposed a standard definition of what "whole grain" means within Europe, which several countries have already adopted, according to a study published in Food and Nutrition Research.
Currently, there is no legally endorsed definition of whole grain, so what one country lists as such may differ nutritionally from what another does. "When you read '25% whole grain flour' on one product label, the same claim on a different label could mean something quite different nutritionally," said the study's co-author, Jan-Willem van der Kamp. "If use of this definition is accepted broadly, this inconsistency eventually would cease."
The new definition, which the researchers hope will be adopted across Europe, establishes whole grains as containing the same proportions of the grains' endosperm, germ, and bran that exist in nature, even if the components have been separated and recombined. It also allows for small losses of components that occur through processing, such as removing the very outer bran layer to minimize bacteria.
Shoppers not willing to pay more for non-GMOs
Two-thirds of primary grocery shoppers will not pay more for foods that have not been genetically modified (non-GMOs), according to a market research study from The NPD Group.
In the study, 2,100 panelists were asked to define genetically modified organisms (GMOs), then express their level of concern with consuming them. Many panelists were unable to provide the correct definition, which may be part of their reluctance to pay extra for non-GMOs. Specialty store shoppers though, displayed a greater sense of understanding GMOs, and half stated that they are willing to pay higher prices for non-GMOs; this group accounts for about 11% of all primary grocery shoppers.
Double-digit growth for snack bars
Often seen as a more nutritious alternative to fast food, snack bars experienced double-digit growth within foodservice channels in 2013, according to The NPD Group. Within these channels, snack bar dollar volume sales grew the most at lodging establishments, increasing by 28% over a 12-month period.
Dollar volume sales at eating and drinking establishments, noncommercial channels, and retail also experienced double-digit growth. Overall, the total dollar volume of snack bars shipped through foodservice distributors grew by 15% in the year ending November 2013.
Snack bars, such as category-leading cereal bars, provide a portable way for consumers to eat quickly and healthfully. "Snack bars meet the needs of today's on-the-go consumer who is looking for a convenient, nutritious snack or meal replacement," said Annie Roberts, Vice President of NPD SupplyTrack.
---
What's new with food companies
• Roquette America and World Food Processing announced a partnership to increase the availability of pea protein.
• Barry Callebaut has acquired the remaining 51% of Biolands Group, its longtime supplier of certified East and West African cocoa beans.
• Bell Aquaculture announced its plans to build the first-ever mill to produce feed for the aquaculture industry on a mass scale using local ingredients.
• Global functional nutrients supplier BENEO and specialty ingredients distributor Horn announced that they have formed a partnership.
• Blue Pacific received Non-GMO Project Verified certification for seven of its flavors.
• Bühler Group completed construction of a new rice and bean processing facility for Hangzhou Wahaha Group in Haining, China.
• Cargill announced that its West Kalimantan oil palm plantation received Roundtable on Sustainable Palm Oil certification.
• Chobani, Monsanto, and Clif Bar & Co. are among the companies that invested nearly $800 million in just 10 months establishing food production facilities in southern Idaho. The new plants created 5,000 jobs.
• FONA International opened a new innovation center in Guangzhou, China.
• Frutarom Industries Ltd. recently acquired CitraSource, a Florida-based citrus specialist.
• Ganeden Biotech's GanedenBC30 became the first probiotic to survive High Pressure Pasteurization during its inclusion in Garden of Flavor's cold-pressed juices. It also became the first probiotic included in a K-Cup when it appeared in Copper Moon's French Vanilla Cappuccino flavor.
• GEA Procomac sold the first-ever aseptic PET bottle-filling line to be used in India.
• Henkel and CMS Technology announced plans to work together in developing food-safe, sustainable, and microbial-resistant additives for packaging.
• Jack Link's will acquire Unilever's meat snack business, which includes European brands Peperami and BiFi.
• Kellogg Co. announced its commitment to sourcing fully traceable palm oil by the end of 2015.
• Mérieux NutriSciences Corp. recently acquired an equity position in Inspection, Diagnosis and Analysis Lab Co., a food-testing service in Saudi Arabia.
• Penford Corp. will acquire Gum Technology, which provides hydrocolloid stabilizing systems.
• Post Holdings acquired sports nutrition brands PowerBar and Musashi from Nestlé.
• Tate & Lyle PLC and McNeil Nutritionals LLC, which owns Splenda, have renewed a 30-year partnership that aims to develop the global market for sucralose.
• Unilever brand Ben & Jerry's announced that its full line of ice cream flavors will go from 80% to 100% GMO-free by mid-2014.
• The U.S. Pharmacopeial Convention has published a ninth edition of its Food Chemicals Codex, which contains identity and purity information for roughly 1,200 food ingredients.

Melanie Zanoza Bartelme,
Associate Editor
[email protected]