"Progress is impossible without change," said George Bernard Shaw, and so the Processing column is undergoing a change. J. Peter Clark, PhD, has eloquently written this column for many years and recently handed over the reins to me. I wish to thank Peter for his wise teachings and am happy to say that he will continue writing two columns a year covering the IFT annual event.
It is my privilege to have the opportunity to share my knowledge, thoughts, and visions on food processing. I plan to shed new light on the benefits and importance of food processing in enhancing the health, safety, and quality of foods. Food processing is frequently portrayed in a negative fashion, and I hope to transform that stuck thinking by writing about the many benefits of food processing for improving the healthfulness of foods in support of environmental sustainability. I will also introduce a series of "How Is It Processed?" columns this coming year.
For my first column, I thought it would be best to introduce myself and felt the most appropriate way to do that would be through writing about a topic close to my heart—the hidden gem of the U.S. Dept. of Agriculture (USDA) Agricultural Research Service's (ARS) food processing research—past, present, and future.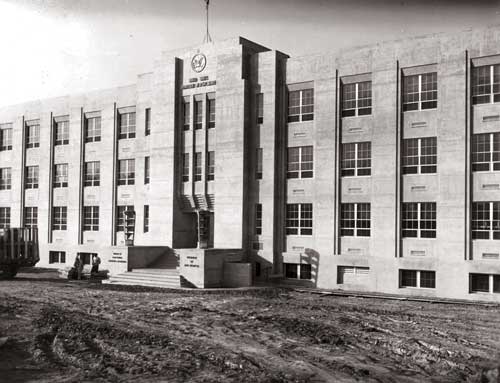 An Historical Perspective
In 1938, Congress, desperate to find ways to dispose of surplus crops and end chronic farm depression, authorized the USDA to build and staff four regional research laboratories. Their purpose was to conduct research and develop new food and nonfood uses and markets for farm commodities with regular or seasonal surpluses.
After the passage of the 1938 Act, Congress directed the USDA to conduct a survey to determine the most promising avenues of research and to recommend locations for the four laboratories. Over 10,000 research projects were reviewed and 1,300 locations visited, including 200 colleges and universities and 1,100 industrial research laboratories. Eighty potential sites for the four laboratories were evaluated. From this extensive research, four sites were selected. They were Philadelphia, Pa., for the eastern lab; Peoria, Ill., for the northern lab; New Orleans, La., for the southern lab; and the San Francisco Bay area for the western lab.
Congress appropriated $4 million to build and equip the laboratories, and funds were divided equally among the four. Building designs were the work of USDA architects and were nearly identical for all four laboratories. Each laboratory was built as a U-shaped, four-story structure containing laboratories, as well as significant open space to construct industrial pilot plants. These four ARS regional laboratories were among the first laboratories in the country built solely for research.
Each of the regional laboratories has been designated as a National Historic Chemical Landmark by the American Chemical Society. The northern regional laboratory was recognized as a chemical landmark for the development of penicillin and the southern laboratory for developing processes that improved the quality of durable press and flame retardant finishes for cotton fabrics.
The eastern and western laboratories were designated as chemical landmarks for their contributions to the processed food industry. In the 1950s, the eastern laboratory, now called the Eastern Regional Research Center (ERRC), addressed the challenge of declining potato consumption and increasing consumer demand for convenience foods through the development of novel dehydration technologies. Laboratory chief Roderick Eskew and his team found that the structure of the potato cell could best be maintained by a three-step controlled cooking sequence involving a pre-cook at relatively low temperature (150°– 165°F) for about 20 minutes to prevent the cells from softening. The pre-cook stops at the point of gelatinization while preserving cell structure, preventing the potatoes from becoming sticky when reconstituted. After the pre-cook, the potatoes are cooled to stop the cooking and further harden the cells. The third cooking step is in a steam cooker. Next drying was performed using a single-drum dryer to produce a dense flake that was low cost to package. Commercial applications of the potato flake process led to increased demand for potatoes. Later Miles Willard, originally with ERRC, went into the private sector and developed a new class of potato chip–like snacks. The U.S. Potato Board estimates that 10% of the potato crop is used in dehydration processes with half of that number turned into potato flakes. The ERRC later developed a second dehydration process called explosion puffing, which resulted in products with similar quality to freeze drying, yet faster rehydration rates at a lesser cost.
--- PAGE BREAK ---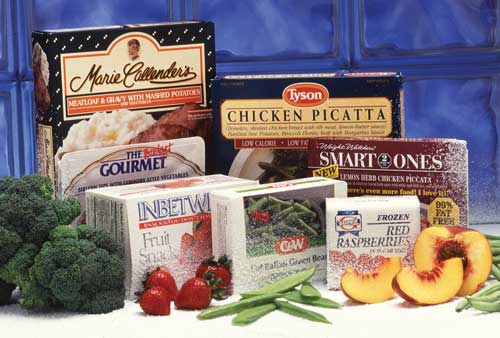 The western laboratory, now known as the Western Regional Research Center (WRRC), was recognized with two ACS National Historic Chemical Landmark awards. The first was for the groundbreaking frozen food research during the late 1940s through the early 1960s. These time-temperature tolerance studies provided the scientific basis for the reproducible, safe production of high quality, nutritious frozen foods. In close collaboration with the frozen food industry, WRRC scientists studied changes in a wide range of frozen foods as they proceeded through the distribution system to determine deviations that were acceptable or not for high quality consumer products. The scientists developed mathematical models to predict the stability and quality of frozen foods over time. They also discovered that 0°F is the critical temperature to maintain stability in most frozen foods. They established analytical methods for measuring "quality" and stability periods for frozen foods. "Dehydrofreezing," a process of partial dehydration prior to freezing that results in significant savings and quality improvements, was invented. Finally, individual quick blanching (IQB) processes were developed for high quality frozen vegetables.
The second award recognizes WRRC's world-renowned research in flavor chemistry. Keene Dimick was one of the earliest flavor chemists at WRRC. In the late 1940s, he answered challenging questions such as "Why does a strawberry smell like a strawberry?" His team built one of the first large-scale separators and concentrator systems to obtain strawberry essence. Later they built one of the first gas chromatographs in the world. WRRC scientists developed complex instruments and methods that provided scientists new insights into the complex chemistry of flavor. Through these advances, researchers improved the taste of processed foods.
Present Research
Today the Agricultural Research Service is the USDA's chief scientific in-house research agency. The ARS mission is to conduct research to develop and transfer solutions to agricultural problems of high national priority. Specific goals include ensuring high quality, safe food and other agricultural products; assessing the nutritional needs of Americans; sustaining a competitive agricultural economy; enhancing the natural resource base and the environment; and providing economic opportunities for rural citizens, communities, and society as a whole.
All four regional laboratories are still highly active in addressing agricultural problems of importance to America. In addition, ARS has six Human Nutrition Research Centers and over 90 other research locations, including several overseas laboratories. Approximately 2,100 scientists work on 800 research projects within 17 national programs in ARS. The base funded annual budget for the agency is approximately $1.1 billion. Our scientists collaborate heavily with research partners from universities, companies, other organizations, and other countries.
Since the opening of the utilization centers, ARS has patented hundreds of inventions for making use of agricultural products. Numerous important food processing research contributions have been achieved through ARS collaborations with industrial partners. Frozen orange juice quality was greatly improved by adding back single-strength fresh orange juice and/or flavor compounds to already processed juice. New methods to increase soluble fiber content and create new fat substitutes resulted in new high-fiber food ingredients. Significant process improvements in soy quality were achieved. Xanthan gum was discovered. Sourdough bread starters were identified. Lactase was applied in dairy products, and lactose-free foods were developed. Reduced-fat mozzarella cheeses, now used in the USDA National School Lunch Program, were also developed. Novel coatings were developed, which led to the introduction of fresh-cut apples in foodservice and retail chains. One hundred percent fruit bars and gluten-free vegetable wraps were invented. Sunbutter, a sunflower seed alternative to peanut butter, was developed. And vitamin D–enhanced mushrooms were introduced to the marketplace. These are just a smattering of the contributions ARS has made to food processing.
Opportunities for Technology Transfer
The ARS Office of Technology Transfer is responsible for the ARS technology transfer program and helps move ARS research discoveries to the marketplace. All four ARS regional research centers house industrial pilot plants that have been recently renovated and continue to serve as a bridge between invention and commercialization. Commercial partners interested in new endeavors may enter into cooperative research and development agreements. These research agreements are custom designed to meet the needs of the research project and provide intellectual property protection to the industrial partner.
The vision of ARS is to lead America toward a better future through agricultural research and information. It is through partnerships that we will achieve this vision.

Tara McHugh, Ph.D.,
Contributing Editor, Research Leader,
USDA Agricultural Research Service, Albany, Calif.
[email protected]