Could "carbophobia" be cutting into pasta sales? Yes, according to market research firm Mintel, which reports the compound annual growth rate (CAGR) for pasta from 2011 to 2015 was -2% in Italy, -2% in the United Kingdom, and flat in Australia, Canada, France, and the United States (Mintel 2017). But this doesn't mean pasta is passé; it just means a reinvention of sorts is needed. "The next wave of pasta products we are seeing gaining in popularity have added nutritional benefits brought by natural ingredients, e.g., fiber through whole grains; proteins via addition of protein-rich ingredients like pulses and legumes as whole flours or pea proteins, or even soy protein or rice protein," says Francesco Pantò, director, research and development at Barilla America. The pasta category is quite different from what it was five years ago, and instant noodle brands continue to undergo premiumization, according to Mintel. Here are ways manufacturers are revamping pasta (and noodles) to appeal to health-conscious consumers and those looking for new takes on a traditional food product.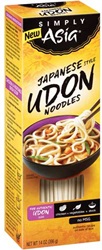 Pasta Product Portfolio
Today, pasta products from both large and small manufacturers go beyond those made with durum wheat flour or semolina flour. To start, there are the whole wheat-, whole grain-, and fiber-fortified versions, with a few examples noted here. Whole grains, specifically whole wheat and brown rice, are being used more in pasta, but spelt, farro, quinoa, and others, including ancient grains and sprouted grains, have gained the attention of some manufacturers, says Kelly Toups, director of nutrition at Oldways. Each whole grain contributes its own flavor and texture to the product, but more importantly, says Toups, all whole grains are much more nutritious than refined grains. And she adds that a lot of Asian noodles are traditionally made from some of these alternative grains like buckwheat or rice. Food manufacturers such as Al Dente Pasta Co. offer whole wheat pasta made with flax and another pasta made with chia seeds. The whole grain buckwheat is the main ingredient in soba noodles such as a version produced by Eden Foods. Lotus Foods uses two other whole grains, millet and brown rice, in ramen noodles. Skinny Pasta produces pasta made with fiber derived from the konjac root, a plant native to Southeast Asia. What makes the ingredient special, according to the company, are its satiety benefits. Italy-based Barilla, which exports its products to more than 100 countries, makes whole grain pasta with 100% whole wheat and a line of White Fiber Pasta made with resistant corn starch and various whole wheat flour ingredients. Adding fiber and whole grains to pasta formulas can pose some challenges to processing, says Anna Rosales, nutrition manager at Barilla America. Fiber can alter the texture, flavor, and color of pasta while the bran in whole grains can disrupt the protein matrix, alter the water absorption and moisture release during drying, and darken the finished product color, she says. (Read on throughout the article for ingredient solutions that help mitigate these effects.)
Gluten-free pastas and noodles often feature rice ingredients, but others can be used as well. Family-owned Pereg Natural Foods produces gluten-free pasta made from quinoa flour, for instance. For Barilla's line of gluten-free pastas, product developers at the company formulated a blend of two grains to produce pasta with an acceptable taste and texture. "To deliver a traditional pasta that is made with rice, additional ingredients are required with specific processing from granulation of the rice to extrusion and drying," says Rosales. "At Barilla, we've combined rice with corn to produce a consumer-preferred gluten-free pasta that tastes and performs like traditional semolina pasta. We've developed a customized process, raw material combination, and production that allows us to deliver a superior gluten-free product."
Plant-based proteins like beans and lentils are trending ingredients used in many food products, including pasta. Explore Cuisine offers chickpea spaghetti, while Trader Joe's produces colorful options such as Organic Red Lentil Sedanini and Organic Black Bean Rotini. Tolerant Foods manufactures pasta with red and green lentils, black beans, and chickpeas as well as pea flour.
Vegetables are other trending ingredients in niche pasta products, and Tolerant Foods features one product made with beets and another made with kale. Free to Eat promotes its Cybele's Free to Eat Superfood Veggie Pasta as containing more than one full serving of vegetables. Five versions are available (Superfood Green, Superfood Orange, Superfood Red, Superfood Purple, and Superfood White) made from such vegetables as kale, spinach, broccoli, pumpkin, butternut squash, tomato, red bell pepper, beet, sweet potato, carrot, cauliflower, and parsnips. They also contain either red or green lentils.
Ingredient Choices for Function, Nutrition
To help pasta manufacturers diversify their product offerings to appeal to consumers who follow gluten-free diets or who want to boost their fiber or protein intake, Ingredion shows how some of its tapioca and rice flours, fiber, and pulse protein ingredients enrich the health aspects and provide function to pasta products. Here experts in each product category offer their insights into formulating pasta products with these ingredients.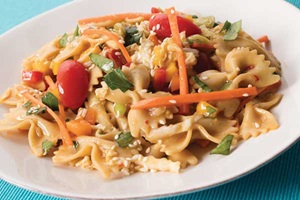 First up is a look at rice and tapioca flours, ingredients that are useful in gluten-free pastas. Ingredion offers four ingredients, each with specific functions in pasta products, as Elena De La Peña, associate, bakery and snacks application, at Ingredion, explains. HOMECRAFT Create GF 20 specialty blend of tapioca flour and rice flour provides dough elasticity and a smooth, cohesive, and chewy texture and can be used as the backbone ingredient of sheeted and extruded gluten-free pasta and noodles. HOMECRAFT Create 860 functionalized rice flour can be used alone or with other flours to make sheeted and extruded pasta and noodles. The ingredient offers freeze-thaw stability and improves ambient shelf life. De La Peña also points to the specific functionalities that two tapioca flours have in pasta and noodle applications. HOMECRAFT Create 390 tapioca flour can be used alone or in combination with other flours to provide a chewy texture and improve the elasticity of dough for gluten-free sheeted and extruded pasta and noodles. The other, HOMECRAFT Express 390, is a pregelatinized tapioca flour that provides elasticity to dough and improves sheeting and extrusion. It can also be used in combination with HOMECRAFT Create GF 20, HOMECRAFT Create 390, and HOMECRAFT Create 860. "The simple and clean label ingredient declaration of these products is highly desirable for our 'wholesome' customers," says De La Peña.
De La Peña points out two main challenges with formulating tapioca- and rice-based pasta and offers up some solutions to help manufacturers formulate successful products. The first challenge is keeping the physical structure and preventing the leaking of the starch to the water during the cooking process. "In wheat pasta, the gluten matrix, which is insoluble in water, entraps the starch granules during the cooking step, helping to keep the pasta/noodle shape intact and limiting the amount of starchy material that leaks into the cooking water. The latter is also referred to as cooking losses. In order to avoid this, pregelatinized or instant starches such as HOMECRAFT Express 390 and hydrocolloids, like TICAXAN Xanthan Powder, are needed to create a matrix the holds the bulk flour together to create a dough that can be sheeted/extruded, retain its shape during cooking, and limit the amount of cooking losses."
Maintaining a desirable texture is the second challenge. Some pastas made with tapioca or rice flours lack bite and have a mushy texture. The solution, De La Peña says, is to add some type of protein ingredient such as egg whites or pulse flour and protein concentrates, which help to improve the firmness of the cooked product and give it a more appealing in-mouth texture.
Speaking of pulse ingredients, manufacturers are considering them not only for their functional contributions to pasta formulations, but also for the health halo they can create, especially when there are concerns that pasta made solely from rice and/or tapioca flours can spike blood sugar levels. "This is exactly the beauty of using pulse ingredients in the pasta formula," says Bicheng Wu, associate at Ingredion. "The pulse ingredients have low glycemic index, and they are full of micronutrients and protein. They are truly a nutritional powerhouse. We've done a number of market research studies across different global regions and have seen that the nutritional values of pulses are very well received among consumers and that interest is growing in increasing the intake of pulses in daily diets. With pasta being a main staple in many households, adding pulses to it can be a perfect added benefit."
The conventional HOMECRAFT Pulse flours and VITESSENCE Pulse protein concentrate can be used up to 4% without affecting the flavor and texture of pasta and noodles while the clean taste, neutral flavor HOMECRAFT Pulse CT flour and VITESSENCE Pulse CT protein can be used at levels of 10%–24%, says Wu. "However, when the customer wants to add characteristic pulse flavor to the product, the conventional pulse ingredients can be used at higher usage level." In gluten-free pasta, the pulse ingredients can be used as the sole flour ingredient at 80%–90%.
While the pulse ingredients are easy to use in pasta and noodle formulations, there are a few issues that may arise. Wu says that they are simple to address with tweaks to the formulation. "When adding pulse ingredients in wheat flour–based pasta or noodles, the product becomes slightly softer than the wheat pasta as the protein in pulse flour works differently than the wheat protein. The pulse protein cannot form a network in the same way as the wheat gluten. To strengthen the structure, one can use hydrocolloids such as xanthan to address the issue. Nevertheless, we have formulated a number of pasta prototypes utilizing the clean-taste VITSSENCE Pulse CT 3602 faba bean protein and VITSSENCE Pulse CT 1552 pea protein at 14%–24% usage level. Compared to many leading brands of whole wheat pastas on the market, our prototypes showed very similar texture profile in a descriptive sensory analysis."
Pulse protein ingredients can affect the flavor of the finished products, giving them a beany taste, which poses another challenge. "To address this, the clean-taste version of pulse ingredients was created through a partnership between AGT Foods and Ingredion," says Wu. "These products have a more neutral flavor profile than the conventional products and thus are suitable for pasta and noodle applications where no to little impact on flavor is needed."
There's one last note to make about using pulse ingredients in pasta formulations. If maintaining a lighter color of pasta is the goal, steer away from pulses like black beans, red beans, and red lentils. Instead, Wu suggests using pulse ingredients derived from lighter-colored ones such as faba bean, yellow pea, and yellow lentils.
Fiber is an ingredient that has turned up in varied products like bars, beverages, yogurt, and extruded snacks. Ingredion's resistant starches allow pasta manufacturers to increase the amount of dietary fiber without affecting processing, texture, and taste, says MacKenzie Sizemore, senior technologist of global bakery and snack applications. "Pasta and noodle manufacturers face increasing pressure to deliver nutritious, appealing products at consumer-friendly prices amidst ever-evolving food regulations. As FDA fiber regulations continue to shift, manufacturers have to meet more restricted fiber definitions and increased fiber targets for nutrient content claims. In addition, as consumer attention toward glycemic health and energy management grows, manufacturers must deliver distinguished nutritional benefits. Ingredion's HI-MAIZE 260 resistant starch and VERSAFIBE dietary fibers allow manufacturers to easily adjust formulations to meet nutritional goals based on new fiber regulations, cost targets, or consumer taste and texture preferences. These fiber solutions help enable nutrition content claims, glycemic and digestion claims, and are easy for manufacturers to incorporate into pasta and noodle products without impacting processing or finished product texture."
HI-MAIZE 260 corn starch is an RS2-type resistant starch derived from high amylose corn that offers 60% dietary fiber and is clean label, gluten-free, and non-GMO Project Verified, explains Sizemore. Clinical research and 70 human clinical trials conducted over the past 20 years have shown that the ingredient helps support healthy blood sugar, digestive health, and balanced energy, she adds. "HI-MAIZE 260 resistant starch received an FDA-authorized qualified health claim that enables food manufacturers to communicate the relationship between high-amylose maize resistant starch and a reduced risk of type 2 diabetes on the packages of conventional foods like pasta and noodles." This resistant starch ingredient offers pasta manufacturers such functional properties as low-water holding capacity, a white color, and clean organoleptic qualities.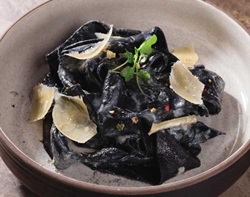 The other line of Ingredion ingredients used to boost the fiber content of foods is VERSAFIBE. The company promotes two VERSAFIBE ingredients for formulating pasta. VERSAFIBE 2470 is an RS4-type resistant starch, or chemically modified starch, that delivers 70% dietary fiber from high amylose corn while VERSAFIBE 1490 RS4-type resistant starch is based on potato and provides 90% dietary fiber, says Sizemore. "Due to the high fiber content of both products, they can provide high levels of fiber fortification at low cost-in-use, delivering on consumer nutrition goals and manufacturing price targets." Product developers will find that the ingredients are easy to incorporate into existing formulations. The ingredients are white in color and mild in flavor and have low water-holding capacity similar to wheat and semolina flours and small granule size, making them easy to incorporate into existing pasta formulations.
Novel Starch for Functional Improvements
Innovative ingredients are turning up in a number of food and beverage products across categories, adding distinction to products or meeting the needs of niche market segments. One such ingredient shows functional promise in pasta, and it's derived from an unexpected source.
NuBana Green Banana Flours are made from 100% green bananas. "We utilized different drying and processing techniques in order to develop three different products with different traits and characteristics," says Rhonda Witwer, vice president of marketing and business development at International Agriculture Group. "NuBana N100 Green Banana Flour and NuBana N200 Green Banana Flour are native starches; they maintain the natural starch granule from the banana and deliver viscosity after cooking. NuBana P500 is pregelatinized and will thicken in cold water, making it ideal for instant applications. NuBana N200 has also been carefully dried to preserve the natural resistant starch content, making it ideal to deliver high levels of resistant starch for supplements and other raw applications."
Both NuBana N100 Green Banana Flour and NuBana P500 have been successfully used in pasta formulations. Witwer explains that NuBana N100 replaced up to 25% of the flour in a standard, egg-based pasta formulation while NuBana P500, when used at 5%–7%, bound together pasta dough (including gluten-free) prior to cooking. "We are most excited about the use of NuBana P500 Green Banana Flour in gluten-free applications. Its clean label, fruit label is very appealing to gluten-free customers trying to avoid gums or other hydrocolloids."
The ingredients contribute a light brown color to the finished pasta product, but do not add flavor, says Witwer. "Food manufacturers have not yet had time to commercialize pasta products containing our products, but we expect that new products will be introduced next year." Attendees at the IFT17 event held earlier this year had the chance to learn more about NuBana Green Banana Flours; they made their debut at the expo.
From green banana flour and resistant starch to vegetable puree and pulse protein concentrates, various nontraditional ingredients are giving pasta and noodles a functional and nutritional makeover. "All in all, people love pasta as a familiar, convenient meal solution," says Pantò. "First and foremost, they want great-tasting pasta meals with good nutrition and wholesome ingredients. Pasta is a wonderful carrier to make all the goodness of these ingredients easily available and a joy to eat."
Next month's Ingredients section will discuss lipids.

www.ift.org
Members Only: Read more about ingredients used in pasta and noodles at ift.org. Type the keywords into the search box at the upper right side of the home page.

Karen Nachay,
Senior Associate Editor
[email protected]