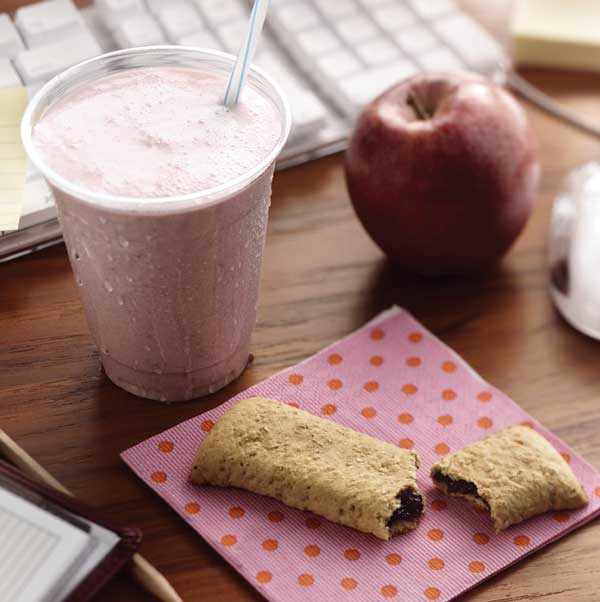 Breakfast is considered the most important meal of the day, but an increasing number of people are skipping it due to busy lifestyles. For those who understand the importance of breakfast, health is one of the top factors driving their breakfast choices. Nutritious breakfasts can provide satiety, energy, cognitive focus, weight management, and an overall healthy jump-start to the day.
Generally, a healthy breakfast should consist of a variety of foods, such as low-fat dairy, whole grains, lean protein, and fruits and/or vegetables. These provide a variety of nutrients as well as energy for both the body and brain.
"Formulators should think about health, convenience, and versatility when developing breakfast foods," notes Pam Stauffer, global marketing programs manager at Cargill. "Breakfast bars can serve as a nutritious on-the-run breakfast, and they are a great application to showcase fiber, protein, and reduced-sugar formulations. Yogurt, along with dairy and dairy alternative beverages, can also deliver on consumer desires for nutrition, convenience, and taste. We also see opportunities for bakery items with improved nutritional profiles."
Here is a look at some of the ingredients that can contribute to the healthy halo of breakfast.
Whole Grains
"Whole grains are known for their ability to provide lasting energy and satiety, which is one of the many reasons they're a great first choice of the day," says Caroline Sluyter, program director of the Whole Grains Council. "By starting your morning with a nutritious, whole grain breakfast, you're giving your metabolism a jump-start, and recharging your brain and your body. Whether you prefer oatmeal, a slice of whole grain toast, or a bowl of cereal, we recommend making it a balanced meal by including fruits and/or veggies, and a protein source, such as milk, yogurt, nuts, legumes, or an egg."
Numerous studies have pointed to the importance of whole grains at breakfast, which not only provide nutrients like dietary fiber, vitamins, and minerals, but also benefits such as satiety, weight management, and energy. For example, Williams (2014) conducted a systematic review of articles reviewing the relation of breakfast cereal consumption to nutrition and health. The review showed that oat-, barley-, or psyllium-based cereals can help lower cholesterol concentrations and high-fiber, wheat-based cereals can improve bowel function. Ptomey et al. (2015) demonstrated that both breakfast consumption and the content may be associated with improved standardized test performance in elementary school students. The subjects in the study were 698 students (age 7.5 ± 0.6 years). The results showed that those who consumed breakfast had significantly higher scores in achievement tests. In addition, consuming greater servings of whole grains was significantly related to higher scores in reading comprehension and fluency and mathematics.
"One of the breakfast trends we've noticed is that porridge is definitely making a comeback," observes Sluyter. "According to our recent 2018 Consumer Insights Survey, oatmeal is the second most popular way to consume whole grains, coming in right behind whole grain bread in first place (Whole Grains Council 2018). Here in Boston, we've even got a restaurant called The Oat Shop dedicated to serving up the perfect bowl of oats for every taste, whether sweet or savory. And it doesn't end there; as consumer interest in ancient grain varieties has steadily grown over the past several years, we've seen more consumers thinking beyond oats, and giving grains like teff, millet, quinoa, and amaranth a spin in their porridge bowls."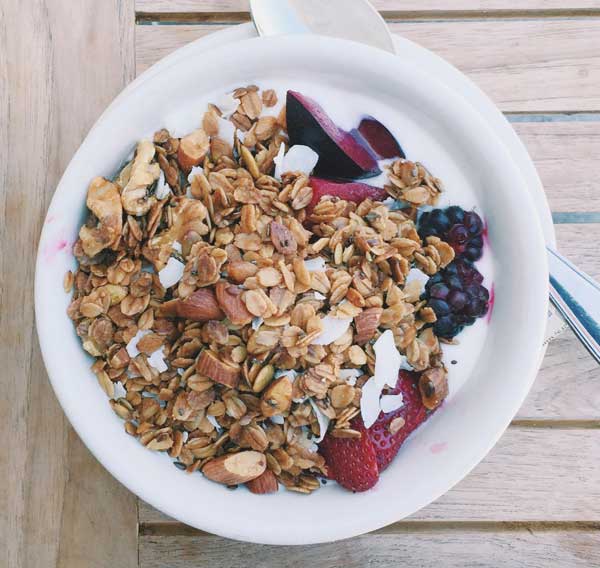 Ancient grains like teff, sorghum, and millet, along with heritage varieties of more common grains, like purple corn and black barley are showing up more and more in breakfast bars, ready-to-eat cereal, or frozen pancakes and waffles, adds Sluyter. "Consumers and manufacturers alike, are excited to discover just how much variety and versatility whole grains have to offer—from texture, to color, to flavor—and it's sparking a lot of culinary creativity."
Last year at various food industry shows, Ardent Mills showcased the creativity of whole grains in breakfast items. At IFT18, the company developed quick and convenient grain bowls with chewy, hearty IQF White Sonora, IQF Purple Barley, IQF Sustagrain, and IQF Red Quinoa topped with dried fruit and nuts. At the International Foodservice Editors Conference, the company served fiber-packed smoothies made with proprietary and identity-preserved high-fiber barley.
Protein
Protein consumption at breakfast is important for satiety as well as muscle maintenance for people of all ages. Leidy et al. (2015) showed that the daily addition of a high-protein breakfast improved indices of weight management in breakfast-skipping, overweight/obese adolescents. For the study, 57 adolescents completed a 12-week randomized controlled trial in which they ate either nothing for breakfast or a 13 g protein breakfast or a 35 g protein breakfast. The researchers assessed pre- and post-study appetite, food intake, body weight, and body composition. According to the results, the 35 g protein breakfast prevented fat mass gains over the 12 weeks, whereas the 13 g protein breakfast did not. Those who consumed the 35 g protein breakfast experienced reductions in daily hunger versus those who ate nothing for breakfast.
Information from the American Egg Board explains that the egg is the king of foodservice breakfast proteins with a 92% penetration. Next in line are bacon (84%), sausage (77%), and ham (65%), with leaner breakfast proteins like turkey sausage and turkey bacon growing in popularity. Egg protein is the standard by which other protein sources are measured. One large egg contains more than 6 g of protein, making it a highly sought-after breakfast item. One egg, which has 70 calories, also includes varying amounts of 13 essential vitamins and minerals, high-quality protein, and antioxidants.
Whey protein is a lean source of protein. A 20 g serving of whey protein concentrate 80% contains approximately 1 g of fat. A 20 g serving of whey protein isolate contains less than ½ g of fat. Both ingredients are also low in lactose, making them ideal for formulating a variety of healthful breakfast foods with wide consumer appeal. Whey protein is a versatile ingredient that can be added to a variety of breakfast foods, including convenience foods that can be eaten on the go.
U.S. Dairy Export Council has continually promoted the innovative product concepts that can be created with whey protein. At IFT18, for example, they formulated a savory Asian protein granola with whey protein crisps that were made with whey protein isolate and whey protein concentrate. To address convenience and health, U.S. Dairy Export Council has prototype formulations for portable, protein-packed breakfast bites made with low-fat cheese, whey permeate, and whey protein concentrate; a pancake mix formulated with whey protein; and 97% fat-free turkey breakfast sausage that contains whey protein concentrate.
Another popular protein source is plant proteins. "Plant proteins fit many of today's biggest trends in breakfast product development. They're perceived as nutritious, natural, label-friendly and sustainable—all critical points for discerning shoppers," says Matthew Jacobs, global product line leader of plant proteins at Cargill.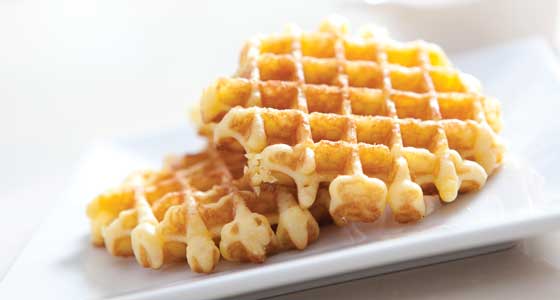 Cargill in early 2018 signed a joint venture agreement with PURIS, the largest North American producer of pea protein. "While most pea proteins bring along a host of flavor issues, PURIS pea protein is decidedly different," says Jacobs. "It's sourced from yellow pea seed varieties specially selected to minimize the off-flavors normally attributed to pulses. In addition, it's processed without the use of hexanes to bring out the best flavor possible." As a result, PURIS protein can be used to boost the protein levels of a wide range of breakfast foods, including high-protein dairy and dairy alternative drinks, frozen waffles, cereals, breakfast bars, and baked goods.
Ingredion is also investing in plant protein; in 2018 the company announced several steps to accelerate production of plant-based proteins globally. The combined $140 million of strategic investments will further position the company with an expanded, broad range of plant-based protein solutions to support increased global demand. As a result, two North American manufacturing facilities in 2019 will produce pea protein isolates and a range of pulse-based flours and concentrates. Ingredion currently offers VITESSENCE pulse protein.
Axiom in 2018 launched Cannatein hemp protein. The ingredient is fractionated from hemp hearts and has a virtually neutral flavor without the addition of masking ingredients. Cannatein hemp protein has a shelf life of up to 24 months. Other hemp protein ingredients have a shelf life between 6 and 12 months and often require refrigeration once the packaging is open. Cannatein is rich in omega-3, -6, and -9 fatty acids, B vitamins, and six other vitamins and minerals. Applications include beverages, bars, yogurt, crunchy snacks and cereals, and baked goods. The protein and fiber properties of Cannatein make it particularly beneficial for products promoted to increase satiety.
Almonds and Blueberries
Almonds and blueberries are some of the most common nuts and fruits associated with breakfast foods. This is due in part to their nutritional profiles and wide health appeal.
Almonds provide essential vitamins and minerals, 6 g of protein, 3.8 g of fiber, and 9 g of monounsaturated fats per 30 g serving. In addition, they are an excellent source of vitamin E. They add the benefits of satiety, weight management, and heart health. According to Almond Board of California, almonds are North Americans' most preferred and most consumed nut at breakfast, with 53% of North American consumers surveyed stating that almonds are the first nut they associate with cereal. Consumers surveyed felt a top benefit of almonds was the "crunchier" texture they add to cereals. Consumers then rated "more nutritious" (38%) and "tastier" (35%) as the number two and number three attributes of almonds in cereals.
The health appeal of blueberries at breakfast is due to their antioxidant properties and cognitive benefits. Phytochemicals found in fruits, such as blueberries, continue to be investigated for their health benefits in slowing the aging process, including memory loss. "Blueberry-based breakfast products and innovations have been growing exponentially in number and importance in the past two years," says Thomas Payne, on behalf of U.S. Highbush Blueberry Council. "The drinkable breakfast category is very big now, with chefs and product designers whipping drinkability into breakfast-friendly classics like blueberry cheesecake, blueberry pie, and even blueberry muffin." Blueberries are also being formulated into fiber drinks, which are increasing in popularity.
Isomaltulose
BENEO's Palatinose isomaltulose is a fully digestible disaccharide-type carbohydrate composed of glucose and fructose. Due to its unique linkage, it is fully yet slowly digested and absorbed, providing balanced and sustained energy with a lower blood glucose rise and less insulin release.
Young and Benton (2015) showed that a Palatinose-based breakfast beneficially influenced children's memory and mood throughout the morning. The study highlighted that starting the day with the right choice of carbohydrates can help children perform well at school. For the study, 75 children aged 5–11 years, from socially deprived backgrounds, attended a school breakfast club. While participating, they consumed a meal sweetened with Palatinose or glucose on two occasions, at least a week apart. Mood and cognitive performance were assessed 1 hour and 3 hours after eating. After 3 hours, the children's memory and mood improved after consuming the Palatinose breakfast. If the children had eaten the Palatinose meal on the second day of testing, they were able to process information faster and had better spatial memory later in the morning.
Next month's Nutraceuticals section will discuss animal-based protein ingredients.
---
www.ift.org

Members Only:
Read more about ingredients used to formulate foods and beverages for breakfast at ift.org. Type the keywords into the search box at the upper right side of the home page.

Linda Milo Ohr,
Contributing Editor
Denver, Colo.
[email protected]