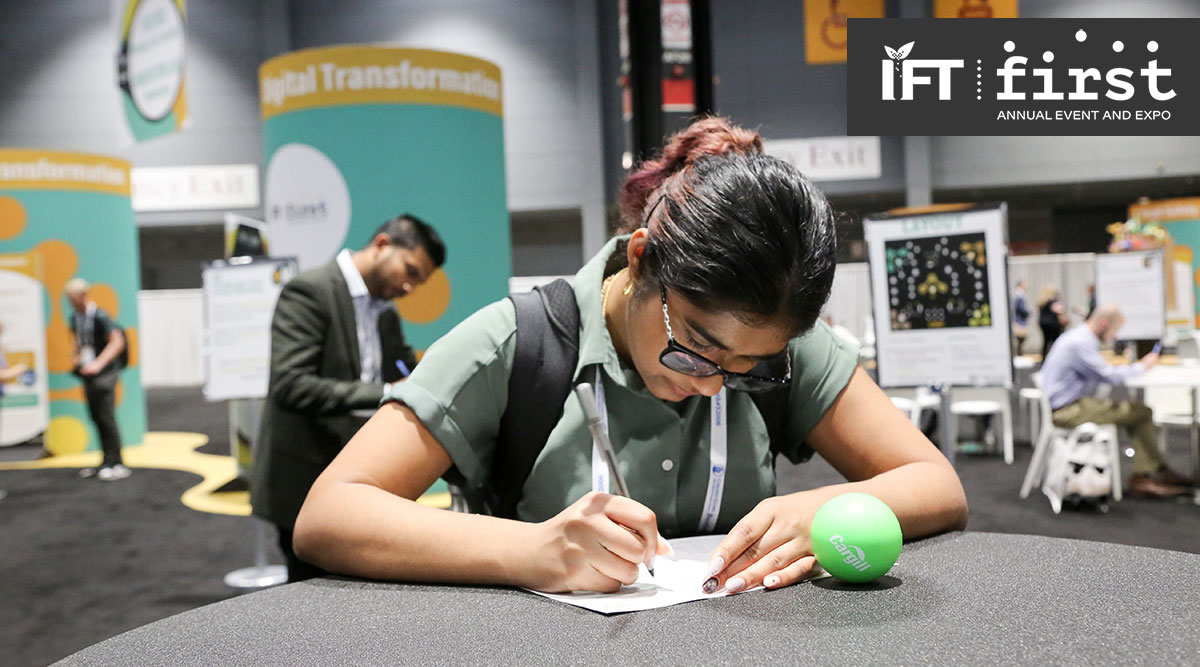 More than 900 IFT FIRST attendees navigated an interactive path toward product development creativity in the Innovation Lab held on the Food Expo floor on the final day of the event. The journey was intellectually stimulating, productive—and fun, participants said.
At the first Innovation Lab station, those who took part got to choose a consumer profile to help them focus their product development ideation efforts. The profile options spanned a range of generations, extending from Sam, a 24-year-old adventurous and active recent college graduate to 61-year-old Theodore, a prediabetic consumer thinking about retirement.
Next, the Innovation Lab participants were invited to challenge their understanding of some of the challenges facing food product developers by visiting stations that presented information through the lens of the past, present, and future. For added inspiration, the Innovation Lab featured recorded presentations from IFT FIRST scientific sessions and summaries of research poster topics.
That was one of the things that Olive Li, a professor of food science at California State Polytechnic University, Pomona, said she most appreciated about the Innovation Lab—the fact that "it brings to life a lot of the [IFT FIRST] content."
After absorbing information at stations built around themes such as consumer trust, food safety, and digital transformation, Innovation Lab participants were invited to create a product prototype that targeted the needs of their chosen consumer and then to bring it to life via generative artificial intelligence (AI) and/or by having one of the artists on hand in the Innovation Lab sketch it.
The Innovation Lab prompts that challenged her to think in new ways to solve problems were appealing to Cat Connelly, a principal scientist at dairy company HP Hood, because "that's what innovation is," she reflected.
David Despain, a senior principal nutritionist at Nestlé Health Science, chose to focus his Innovation Lab exercise on Theodore and decided to create both alcoholic and nonalcoholic versions of a beer formulated with slow-release carbohydrates, hops, and yeast beta-glucan to satisfy what he envisioned as Theodore's desire for an enjoyable but healthful beverage.
"It was really great to go through the process and see how different stations built on my idea and then to see my ideas brought life by the AI generator and the artist," Despain said. And working with Ted's profile made particular sense for Despain because one of his focus areas at Nestlé Health Science is on products for healthy aging.
Ziynet Boz, a University of Florida assistant professor of sustainable food systems engineering, opted to work with the profile of 34-year-old fitness enthusiast Miranda because she could relate to her lifestyle motivations. Boz's prototype was a nutritious plant-based powder that could be added to a shake or a variety of different food products, including desserts. Targeting a specific consumer profile helped focus her product development efforts, Boz said. "It stimulates my thinking when I have a person in mind," she noted.
"I liked how it walked you through the thought process," agreed Erica Willett, a senior culinary food scientist with Sandridge Crafted Foods, a maker of refrigerated food products. "It helped me think about things in a different way." Willett chose to focus on ham salad, which is a current Sandridge product.