One big smoothie—a frothy mix of cultures, lifestyles, and tastes. That's the Euro food market of the new millennium, whipped together by political unification, free trade, and technology. And to make sure it's fully homogenized, add a liberal dollop of Americana, some Oriental influence, and some Eastern spice to complete the Eurofood picture.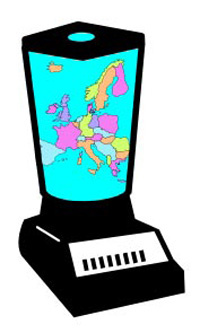 The European Union has provided a common currency, multinational food companies, mass media, the Internet, ever higher living standards, and the gradual economic integration of Eastern European countries. All these forces are collectively remapping the European food terrain. The long anticipated "United States of Europe" marketplace is rapidly taking shape. Throughout, Euro consumers have more shared food interests and tastes than differences, with some very specific exceptions.
Similar Trends, but Different Applications
While differences exist between individual countries in the European Union, and between the American market and Europe, there are also some similarities, particularly in the overall scheme of things. While the demographics vary, boomers and their younger counterparts are as busy as the American boomers. They are as health conscious and probably more quality conscious than Americans, and are becoming as multicultural. The increase in numbers of Asians and Middle Easterners has introduced new foods to the European table, much as the increase of Latin Americans and Africans has enhanced American food. The trends are similar, but the applications of those trends are specifically Euro.
• Convenience Foods Dominate Northern Europe. Urban, mobile consumers desire foods that require less preparation time. These include wider varieties of pre-cut, pre-measured frozen and chilled foods, as well as meals ready to eat. Europeans also favor "speed scratch" foods that reduce the time required for home preparation. The importance of the family meal occasion remains strong, so many processors offer streamlined meal solutions. Mars, Inc.'s Uncle Ben's United Kingdom brand, for instance, markets Risotto Range. Ad copy (followed by a recipe) reflects the genre:
"Keeping up with the rigorous demands of long working hours, keeping fit and enjoying a great social calendar—young 'twenty-somethings' on the go are always looking for the next trend setting accessory that keeps them up to date in the fashion stakes! But what's the point of looking the part unless you fuel your body to look and feel great! Now, you can rely on Uncle Ben's new Risotto Range to fit into your life like a glove, guaranteeing you tasty risotto dishes that are every 'bite' stylish! Uncle Ben's Risotto rice combined with one of Uncle Ben's Rice Stir-in sauces—Tomato and Basil, Roasted Vegetables, or Ham and Asparagus—captures a flavour of modern Italy that can be made in minutes—giving you time to get on and enjoy your evening of fun. So whether planning a trip to the gym after work, or a night out in clubland, Uncle Ben's is perfect every time. And to show you just how quick and easy, follow these three easy steps and your mealtime solutions will be solved. It's easy."
This hip approach is typical of Euro blend marketing ushered in by the multinational brands. Besides Mars, Nestlé, and Unilever, whose Swiss Igloo brand carries a variety of frozen and chilled prepared vegetables and fish dishes, other Euro marketers place a strong emphasis on meals that require minimal preparation time.
According to Marian Salzman, futurist and director of the Brand Futures Group, a subsidiary of Young & Rubicam Inc., this trend will lead to "increased convenience resulting in a redefinition of 'fast food'—instant eats with the values of home cooking."
--- PAGE BREAK ---
• Organically Grown and "Free Range" Meat and Produce. The "mad cow" outbreak, which ravaged British red meat production, coupled with Perrier's earlier benzene adulteration problem, Coca-Cola Co.'s mystery sickness, an active "green" movement, and several other recent highly publicized food safety incidents have created a super-sensitive market. Consumers consequently are highly responsive to claims of "organic" and "free range," the concept of raising animals without confinement. Danone, for instance, markets an organic yogurt in Germany under the Jahreszeit brand, packaged in a biodegradable "Eco Cup." Unilever markets a yogurt-based mayonnaise made with free-range eggs under the Calve brand, aimed at "health-conscious consumers."
"Bio-foods will become more popular as a result of fears over genetic tampering," Salzman stresses.
• Vegetarian Options Rise above Meat Concerns. France does not permit the importation of British beef because of the mad cow outbreak, and very little U.S. beef enters the European market because of regulations banning bovine growth hormone and trace antibiotics. In this anti-beef environment, and with few alternatives, vegetarian diets are on the upswing, particularly among younger consumers. An estimated 15% of teens in the U.K. are vegetarian. Products such as the Linda McCartney meat-free line from McVities's Prepared Foods cater to this growing trend.
• Functional and Probiotic Foods Expand Beyond Dairy. "Genuine soul food, that is, foods that benefit the body beyond mere sustenance," will gain significant Euro consumer support, according to Salzman. These include "products that promote health, youth, and well-being through active components stemming from scientific research."
Probiotics are live microbial supplements that improve the intestinal microbial balance. Antibiotics and other related compounds are not included in this definition. Since lactobacilli are commonly used as probiotics, either as single species or in mixed culture with other bacteria, dairy products are the most common probiotic food types. While Germany has taken the lead in probiotic diary food introductions, Italian processor Granarolo Felsinea launched its Vivi Vivo milk with live cultures, while Stefi+, a probiotic yogurt beverage with oligo fructose, has gained popularity in the Czech Republic since its launch in 1997.
Many European food companies also look to grains and candy as a means to expand the probiotic trend. For instance, German firm Schneekoppe markets a probiotic muesli breakfast product, while Zile Function+ brand toffees in Switzerland and Biolabor Toffitis brand toffees in Germany are breaking ground as the first probiotic hard candies.
• American-Style Supermarket Retailing and Fast-Foodservice Catch On. Quaint pubs, local patisseries, and bierstubes aren't about to disappear, but they're becoming less relevant to the Euro food distribution system. Arkansas-based Wal-Mart's recent acquisition of Britain's third largest food retailer, Asda, has led to the coining of the Euro-term "Walmartization." The definition relates to high volume, wide selection, low prices, and consistent customer service. For many Europeans, this is a radical concept. But for consumers, it also has driven down traditionally high retail prices by introducing more intense competition and price cutting, according to David Brown, chief European economist at Bear Stearns in London.
On the foodservice side, McDonalds and KFC are both well-established examples of U.S. fast food. Now comes Seattle-based Starbucks Coffee, which has started to open franchises within the EU. The Starbucks phenomenon prompted coffee giant Nestlé to launch its own string of Nescafe Coffee Houses in the U.K.
European countries, particularly the U.K., are beginning to develop some additional new concepts, too, moving beyond fish 'n chips, and offering more variety and larger servings, at lower prices. Casual-dining theme restaurants, called "American diners," are gaining popularity. Examples include Mash and Air, a Manchester, U.K., restaurant that combines industrial loft space, a microbrewery, and an eclectic menu. Sarasota, also in Manchester, sports a fully retractable roof.
--- PAGE BREAK ---
• Internet Technology Changes Food Preferences. The Internet is breaking down cultural barriers, freeing consumers to do far more comparison shopping—and sharing of information. "The Internet is hitting the UK like a hurricane and changing human behavior," asserts Bear Stearns' Brown. "People are becoming increasingly inquisitive, they're exploring new ways of shopping and looking out for the best deals."
Because companies describe their new foods on their Web sites, the introduction of new products is not a secret, and company scientists in one country can see what their counterparts in other countries are doing. Intellectual property is available on the Web, giving scientists a roadmap to use for direction.
• Cross-Cultural Foods Broaden Selection. The blender effect has Euro consumers experimenting with cross-cultural cuisine, the "indiscriminate blending of multicultural ingredients and preparation techniques," according to Brand Futures Group's Salzman. This trend is entangled with the fast-food revolution in Europe, with the addition of Oriental, Middle Eastern, and Latin American specialties. The movement from fast food to the theme restaurant is easily seen in Europe, and the availability of ingredients for all of these new foods simplifies product proliferation.
• Biotech Foods Are Not Necessarily Welcome. All the above sounds familiar to a U.S. reader. However, not everything American is widely accepted. Biotechnology—in particular, genetically altered fruits and vegetables—is viewed with fear by many Europeans, and it provides a diversionary rallying cry for politicians nervous about domestic production and their own food safety problems. Biotechnology joins an anti-American food product hit-list that includes bovine growth hormones in beef and antibiotic residues in various meats. Even during the recent World Trade Organization meeting in Seattle, bickering over biotech issues was audible behind the flying rocks and tear gas in the streets. Several EU member states criticized their own EU commission for agreeing to launch a working group on biotechnology within the WTO, a move supported by the U.S.
Genetically engineered products from corn starch to soy already are showing up on European shelves, and consumer acceptance is surprisingly strong. Many companies, however, have moved to eliminate the use of products from genetically modified organisms (GMOs), without really being sure that a majority of consumers share the concern of environmentalists and French farmers. The move to require labeling on GMOs doesn't concern the manufacturers particularly. In fact, some prefer it.
The current move to non-GMO products will add some cost, and may trigger some shortages in low crop years. Moreover, genetically engineered foods are gaining in European countries that are not within the EU. The debate is complicated because many socially conscious "greens" see biotechnology in a positive light—as a means to curb soil erosion, reduce pesticide use, and improve yields for the Third World. And, as a matter of consistency, herbal products with little safety or efficacy testing are being widely used and sold in Europe on the basis of long-term use, although the level of use is unknown.
Think Globally, Act Locally
The advice to think globally and act locally is good at this time. Locally may cover a larger area and may describe demographic groups more clearly than geographic groups. Consumers will decide which products they will buy, and will eventually have the last word on what products are offered in the marketplace.
---
"Genuine soul food, that is, foods that benefit the body beyond mere sustenance," will gain significant Euro consumer support . . .
Think Globally, Act Locally
For more information on Genetically Modified Organisms, see IFT's Backgrounder beginning on page 42 of this issue.
by PIERCE HOLLINGSWORTH,
CONTRIBUTING EDITOR
The author is President, The Hollingsworth Group, P.O. Box 300, Wheaton, IL 60189.