At home or away from home, soup is back on the front burner. Soup accounted for 30% of all new menu items introduced in the nation's top restaurant chains in the second half of 1999, according to the Chain Account Menu Survey. Consumer food product marketers—touting portability, pourable portions, meal kits, and more—kept pace, introducing 254 new soup products in 1999 and 119 in the first half of 2000, according to New Product News!
Although soup is still sold primarily as an appetizer or first course in restaurants, the fight for meal status continues. In a 1999 Land O'Lakes FoodWire Survey, only 46% of consumers—and 13% of foodservice operators—thought soup substantial enough to be considered a meal. In comparison, 85% felt that chili had achieved meal status, 88% thought that casseroles were meals, and 91% believed that stews could be classified as a meal.
Although Land O'Lakes found that 30% of Americans prefer to try new soup flavors when dining out, clam/seafood chowder, and chicken noodle soup top Restaurants & Institutions 1999 Menu Census' best seller list (see chart). With 10% of restaurant operators claiming rising sales, chili (No. 3) is best poised for experimentation. Seafood bisque, gazpacho, and turkey chili were most likely to be added to menus. Veggie-based soups—like tomato and broccoli—remain strong, while Asian noodle bowls add limitless creative soup-like menu items.
Chefs are enticing restaurant goers to try new soups by upgrading ingredients. These may include adding spicy sausages, substituting wild mushrooms for conventional varieties, or incorporating leftover stuffed dumplings. Americanizing ethnic options and using soup as a base for serving entrees or desserts also adds to soup use. Soup samplers are gaining in popularity. Creative chefs at Tallgrass in Chicago offer a colorful three-layer soup sampler: potato fennel, red pepper tomato, and split pea. Tallgrass also features cool favorites in summer.
Soups provide other advantages—using leftover products, encouraging crossover sales of companion items, such as breads and sandwiches, and providing a price-conscious, value-added, yet filling menu option. As a result, restaurateurs are offering super-soup stations like Campbell's StockPot branded soup kettle business. Last year, Campbell also teamed up with Chicago's Lettuce Entertain You restaurant chain to introduce the Souplife cafe. Souplife is a full in-line station with chefs attending kettles that dispense eight different soups and stews every day.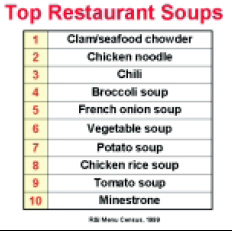 Forty percent of the U.S. population carry a meal or snack from home at least once during a two-week period. Because of this, marketers are focusing on portable options like Campbell's Soup to Go Lunch Pack, and 32-oz pourable clear containers make serving soup at home easier. Chilled refrigerated soups from Covent Garden, San Francisco, signal freshness, especially with new seasonal lines such as Minestrone with Spring Vegetables and Asparagus. Ready-to-eat, 23-oz microwavable tub soups in Broccoli-Cheddar and Tuscan Vegetable versions are another innovation from Truesoups, Kent, Wash. Mixes from Innovative Soup and Pasta Creation, Kansas City, Mo., including Tortilla, English Cheddar, and Baked Potato, are called soups but can also be mixed with pasta to create a creamy dish. For extra zip, Just for Joy soups from Turtle Island, McHenry, Ill., come with a small bottle of Tabasco sauce (in Parmesan Artichoke with roasted garlic and Jalapeño Soup con Queso flavors). Most interesting of all are Edible Bread Crocks from International Culinary Group, Vernon Hills, Ill., available in French onion, herbed chicken with spring vegetable or beef chili versions, sold at Wal-Mart Super Centers.
Skillet meals bridge the gap between soup and supper and are popular, and food marketers now offer a soup skillet meal to which the consumer adds meat, stirs, tops, and serves. We can expect to see a line of complementary soup companions, like stuffed breads, creative dippable egg rolls, or rip-and-dip sandwiches and soups. What ever happened to those portable soup bread bowls or cappuccino makers for superheated soups? When will marketers add a salad bar line of soup toppers? With car cupholders everywhere, why not fill them with soup?
Soup has always been "good food." But some manufacturers are trying to make it even better! Going beyond current "good-for-you" soups last year, Campbell Soup introduced Plus! ready-to-serve soups fortified with calcium and vitamins A, B-1, B-2, B-6, C, and E. At the same time, sales of organic soups—like those of Amy's Kitchen, Santa Rosa, Calif., and Henry's Kettle Organic Soups, Ventura, Calif., the latter featuring Carrot and Vegetarian Chicken Noodle flavors—are soaring. Natural beverage maker J.D. Knudsen has gotten into the act with a new line of hearty gourmet soups! Even soup as a true medicinal option is here. The Hain Food Group (Heinz), Uniondale, N.J., offers a chicken soup with echinacea. Artie's Own Emergency Chicken Soup, New York, N.Y., is the latest in a long list of homemade tasty cold remedy classics.
No longer seasonal, hot or cold, hearty, chunky, or thin, dried or refrigerated, portable or pourable, soup stock is rising. Soup will remain a tasty "comfort zone" for years to come! 
by A. ELIZABETH SLOAN
Contributing Editor