The phrase, "salad days," is frequently used in articles about salad dressings. The term is probably meant to suggest the popularity of salad dressings—sales of which have been rising in recent years. According to the Association for Dressings and Sauces, Atlanta, Ga., supermarket salad dressing sales totaled $1.3 billion in 1998, up 3.3% from 1997, and sales of fresh cut salads increased 19% to $1.2 billion.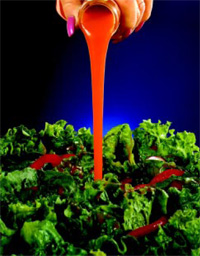 However, the term, although entertaining and imaginative, may be somewhat of a misnomer. Consider the source. Coming from Shakespeare's Antony and Cleopatra, it refers to a time of youthful inexperience. Cleopatra characterizes her long-ago romance with Julius Caesar (not the guy who developed the famous salad) as one occurring "in my salad days, when I was green in judgment, cold in blood."
As this article will show, today's salad dressings are not the result of youthful inexperience, but rather take into careful consideration a variety of factors, including health, flavor, functionality, and technological developments.
Furthermore, I suspect that salad dressing manufacturers, too, are learning from experiences incurred when they were in their "salad days." Take, for example, no-fat salad dressings. At one time, they were the focus of much product development. Today, that emphasis has shifted somewhat to include a variety of fat level options. And although salad dressings made with nutraceutical ingredients may not always be successful in the marketplace, new technological developments, emerging sources of oils, and continuing research studies may all have an impact on their future product development.
Salad dressings are available which offer consumers a wide variety of choices. Flavors, in particular, are playing a major role in a number of ways. For example, they provide a twist to traditional favorites such as Ranch and French; impart tastes reminiscent of global cuisines; help make low-fat products taste creamy and full-bodied; add citrus notes to create novel-tasting products; and help increase interest in established brands and types such as vinaigrettes. Flavors and other ingredients found in salad dressings, such as tomatoes, nuts, cheeses, and herbs help complement the ingredients found in the salads themselves, as well as enhance the nutritional value of the entire dish.
Although most people in the U.S. use some kind of salad dressing on their salad, dressings are not just designed for salads but rather are being promoted for a variety of other applications as well, such as marinades, vegetable toppings, and sandwich spreads.
For all these reasons, I don't think it's accurate to use the term "salad days" to describe the state of today's salad dressings. Or to put it another way, salads are often green, but there's nothing "green" about the following developments described in this article.
Let's look closer at some of the recent developments related to salad dressings:
--- PAGE BREAK ---
• Cholesterol-lowering ingredients. Studies have shown that phytosterols and phytostanols can reduce cholesterol levels in the bloodstream. (See the January 2001 issue of Food Technology, page 63, for a report on their use as functional food cholesterol busters in spreads and other food systems.)
Although salad dressings made with these ingredients did not gain much support in the marketplace, their discontinuation should not be viewed as a permanent setback, as evidenced by the following developments.
Archer Daniels Midland Co., Decatur, Ill., and Lifeline Technologies—a biotechnology company based in Chesterfield, Mo.—recently announced a licensing agreement for phytosterol technology which can lead to expanded uses of phytosterols and phytostanols in a variety of foods and beverages.
ADM has also formed a joint venture with Kao Corp. of Japan for the manufacturing, marketing, and sales of diacylglycerol (DAG) oil, which studies have shown can help maintain healthy triglyceride levels in the bloodstream, aid in the maintenance or loss of weight and fat mass, and help lower the level of cholesterol in the body. Developed by Kao, the product is marketed in Japan under the name Econa® oil. It is said to be indistinguishable in taste and appearance from conventional oils and may have application in such products as vegetable oil spreads, home cooking oil, and salad dressings. ADM is expecting to construct a pilot plant to produce DAG oil at its Decatur facility, which would be operational by November 2001. DAG oil was designated as GRAS by an outside panel of scientific experts. The conclusion then was reviewed by the Food and Drug Adminstration in December 2000, indicating acceptance of its safety in the U.S. 
Cargill Nutraceuticals, Minneapolis, Minn., secured an exclusive worldwide license for a technology useful for manufacturing products containing sterols and emulsifiers that aid in cholesterol management. Such a technology makes possible the introduction of sterols into a variety of food and dietary supplements. Cargill reportedly plans to partner with food and dietary supplement companies to develop worldwide applications of the technology.
Furthermore, continuing research will more likely find other economical ways of producing these ingredients, and increase the availability of these products in the marketplace.
• Variety of fat level options. The emphasis seems to have turned away from no-fat options to salad dressings that offer a variety of fat level choices. Such a range allows consumers to take into consideration the number of calories, levels of fat, and, of course, taste and texture, when purchasing a salad dressing.
Several major brands have recently introduced lower-fat dressings. Examples include Wish-Bone Just 2 Good!, Kraft Light Done Right, and some of the products found in the Hellmann's® Citrus Splash™ line.
Much of the fat in salad dressings comes from monounsaturated or polyunsaturated vegetable oils. Alpha-linolenic acid, an omega-3 fatty acid found in such sources as canola and soybean, may help cut the risk of heart disease, according to a 1999 study published in the American Journal of Clinical Nutrition. The study followed the eating habits of 76,000 nurses for 10 years, finding that those with a higher dietary intake of linolenic acid had a lower relative risk of fatal ischemic heart disease.
--- PAGE BREAK ---
• Use of citrus flavors . Citrus flavors are adding a fruity twist to salad dressings. A line of citrus-based salad dressings called Hellmann's Citrus Splash is available from Bestfoods, Inc., Englewood Cliffs, N.J. The salad dressings contain water, soybean oil, vinegar, and sugar, as well as juice concentrates which impart a sweet, citrus taste to the formulation.
The national food manufacturer reached an agreement with the Florida Department of Citrus to use its ingredients and logo to create the new line. Previously, the Florida "Sunshine Tree" symbol was used only by orange juice processors.
Flavors include Orange Vinaigrette (orange juice concentrate), Tangy Tangerine (tangerine juice concentrate), Ruby Red Ginger (Ruby Red grapefruit juice concentrate and ginger puree), Oriental Orange (teriyaki sauce and orange juice concentrate), and Tangerine Balsamic.
In addition to providing a fruity twist to your salad, the sweet dressings may be put to other uses. For example, one of the flavors, Orange Vinaigrette, is promoted on the label as an easy marinade for meat and poultry.
Furthermore, the salad dressings are supplemented with ascorbic acid; as a result, the food manufacturer claims that the salad dressings are "a good source of vitamin C."
The potential of citrus as a flavor may also be increasing. For example, at the 28th Annual NASFT Product Awards Competition, held by the National Association for the Specialty Food Trade, an olive oil with crushed Ruby grapefruits earned the Outstanding New Product 2000 award. Called O Ruby Grapefruit, the product is manufactured by O Olive Oil, San Rafael, Calif., and can impart a sweet, tangy taste to salads.
• Benefits of native starches. Native starches exhibiting the functional properties of modified starches have found application in Consorzio® salad dressings manufactured by Napa Valley Kitchens,Napa Valley, Calif. The line of starches, marketed under the name Novation, was developed by National Starch and Chemical Co., Bridgewater, N.J.
Use of the native starches in the salad dressings are said to offer a number of benefits. They play an important role in keeping the product uniformly mixed to prevent separation. They help enhance flavor release, allowing for either stronger flavors, a lower amount of costly flavor ingredients, or a combination of both.
Displaying a viscosity stability that is superior to that of typical native starches, they are able to withstand most processing parameters and can maintain viscosity after shear processing over a range of conditions.
Furthermore, while exhibiting the same process-tolerance properties of modified starches, they allow for a simpler product label—a benefit which the salad dressing manufacturer found especially appealing because of Napa Valley Kitchen's natural ingredient focus. Varieties of salad dressings which may be formulated with the native starches include Balsamic Vinaigrette, Honey Mustard, Italian with Parmesan, Mango, Roasted Garlic and Caesar, and Caesar and Roasted Garlic Ranch.
The starches, which earned IFT's 1998 Food Technology Industrial Achievement Award, include waxy maize (often used to help stabilize dressing emulsions), tapioca, and potato.
--- PAGE BREAK ---
• Enriched with vitamin E. A line of salad dressings fortified with vitamin E has been recently introduced into the marketplace. Manufactured by Kraft Foods Inc., Glenview, Ill., the salad dressings are called Kraft Taste of Life™ and are said to supply 50% of an adult's recommended daily value of vitamin E in every 2-tablespoon serving.
Studies have shown that vitamin E, an antioxidant nutrient, may play a role in preventing heart disease, lessening the cholesterol levels of postmenopausal women, enhancing the immune system, and maintaining eye health. Salad dressings fortified with this nutrient become more beneficial, helping consumers get more vitamin E into their diet.
In addition to being fortified, the dressings are made with oils that are high in monounsaturated fat (a blend of canola, high-oleic sunflower, and olive oils) and they contain 5g or less of total fat per serving, with no saturated fat or cholesterol. Depending on the formulation, other ingredients may include sun-dried tomatoes, carrots, honey, garlic, and herbs and spices.
The salad dressings are available in four flavors—Country Ranch, Garden Italian (which may also be used as a marinade), Honey Catalina, and Tomato and Garlic.
• Vanilla adds functionality and flavor. While vanilla does not immediately come to mind as an ingredient in salad dressings, the extract may offer a variety of flavor and functional benefits.
According to Nielsen-Massey Vanillas, Waukegan, Ill., pure vanilla extract can be recommended for use in creamy or vinaigrette salad dressings. In particular, Madagascar Bourbon, which offers a creamy, sweet, mellow flavor, is suitable— much like a flavored oil—in salad dressing prototypes demonstrated by the company.
In creamy dressings, such as low-fat yogurt types, pure vanilla reportedly smooths the often acidic bite of yogurt, while in vinaigrettes, it rounds out the flavors of the vinegar and oil. It is also suitable for adding flavor depth in mustard dressings and sweet dressings.
Furthermore, the vanilla extract can compliement other fruits and vegetables used in the salad. It can intensify the flavor of the fruit, adding a different flavor dimension, while reducing the acidity in tomatoes and other vegetables.
• Twists on traditional dressings. We all know that traditional or "classic" dressings would include such types as Ranch, Italian, French, Blue Cheese, and Caesar. However, in the marketplace today, there are also a wide variety of classic dressings that have been creatively modified, providing consumers with more choices. These variations might offer enhanced flavor, a sweeter or spicier taste, a creamier texture, or an appeal to health.
Take Ranch, for example, which studies have shown is the most popular of the classic dressings. From Hidden Valley are such versions as Light French Onion, Original with Garlic, B.L.T. Ranch with Bacon & Tomato, Light Sour Cream, Original with Parmesan, Original with Garden Vegetables, and (its newest version) Ranch with Sun-Dried Tomato & Feta. Versions from other companies include Kraft Light Done Right! Cucumber Ranch, Wish-Bone Just 2 Good! Deluxe Ranch, Ken's Steak House Bacon Ranch, T. Marzetti's French Buttermilk Ranch, Litehouse Lite Salsa Ranch, and countless others.
And, of course, the same is true for the other types of dressings. Here are just a few: Wish-Bone Just 2 Good! Sweet 'n Spicy French, T. Marzetti's Light Honey French, Kraft Light Done Right! Creamy French Style, Hidden Valley Honey and Bacon French, Wish-Bone Just 2 Good! Parmesan Basil Italian, Marie's Creamy Italian Garlic, Ken's Steak House Italian with Aged Romano, Newman's Own Family Recipe Italian, and Hidden Valley Caesar with Crushed Garlic.
Vinaigrette dressings, which seem to be growing in popularity, have also been creatively modified to include such ingredients as roasted garlic, red wine, sun-dried tomatoes, fruits, and nuts. Examples of vinaigrette products in the marketplace include Ken's Steak House Lite Raspberry Walnut, Wish-Bone Fat-Free Red Wine, Kraft Light Done Right! Raspberry, Kraft Roasted Garlic, Ken's Steak House Lite Balsamic & Basil, Hellmann's Chardonnay, Hellmann's Roasted Tomato Balsamic, Kraft Special Collection Greek, and Hellmann's Citrus Splash Orange.
--- PAGE BREAK ---
• Use of honey. Honey has application in a wide range of salad dressings. Some examples include Honey Ranch, Honey Dijon, Honey French, Honey Catalina, Honey and Bacon French, and so on. Its popularity as an ingredient has to do with the variety of benefits it offers, such as flavor and flavor enhancement, low water activity and low pH properties, and adding viscosity.
Two recent studies funded by the National Honey Board may have further impact on honey's use in salad applications.
First, a research project conducted at the University of Georgia-Griffin examined the effect of honey addition on the four basic senses. The study found that honey can enhance sweetness in a reduced-sugar product, balance the acidity level, and mask bitterness as well as saltiness. These findings can have relevance in the formulating of a variety of products, including salad dressings.
Second, in recent years, as salsa is becoming more and more popular in the mainstream, salsa is being used in salad dressings such as Ranch, or as a topping on salads. A sweetened salsa market is also developing. A research projected conducted at Kansas State University studied honey in heat-processed and fresh salsas. The study found that (1) honey decreased the perception of burn in heat-processed salsa, (2) increasing honey level enhanced honey flavor and crispness, (3) increasing honey level reduced water activity and moisture in processed and fresh salsa, and (4) the reduction in water activity with increasing honey level may have caused extended shelf life.
• A new healthy oil. Salad dressings made with cold-pressed hempseed oil are being test marketed in the U.S. The line of products, available from Hempola Inc., Barrie, Ontario, Canada, are being marketed as having the highest essential fatty acid content of all plant-derived oils. The oil is also rich in phospholipids and sterols.
Hempseed oil, derived from the hemp plant, has a flavor reportedly similar to that of walnut and sunflower oils combined. The oil, an emerald green color, is said to be very stable compared to other oils.
Hempola salad dressings are available in three varieties—Honey Dijon (which was the recipient of the 1999 Canadian Association of Specialty Foods award), Not-So-Traditional Caesar Dressing, and Herbalicious Vinaigrette Dressing. The dressings were highlighted at the Natural Products Expo East in Baltimore, Md.
The Food and Drug Administration permits the sale and distribution of hemp-containing food products.
• Functionality of maltodextrins. While I admit that maltodextrins are not exactly a new ingredient, it may not be a bad idea to review their functionality in salad dressings, especially when considering the continuing interest in low-fat versions.
Maltodextrins are nonsweet, nutritive saccharide polymers that are produced as a white powder. They are used in applications calling for solubility, freezing point control, film-forming properties, binding properties, crystal growth inhibition, and a viscosity/bodying agent.
In salad dressings, maltodextrins may be used to replace fat. Low-dextrose-equivalent maltodextrins form a gel-like structure in aqueous dispersions. This soft reversible gel can be used to replace part of the fat or oil in salad dressings. According to Archer Daniels Midland, a manufacturer of a line of maltodextrins called Clintose®, maltodextrins provide body, contribute to mouthfeel and creaminess, and do not mask important flavors.
--- PAGE BREAK ---
• Expanding uses. I remember years ago eating hero sandwiches (several types of lunch meat, cheeses, lettuce, tomato, onions, and green pepper) topped with salad dressing. It was like eating a giant salad between two slices of bread.
Today, other uses for salad dressings beyond that of a salad are actively promoted. They can include marinades for meat, poultry, and seafood; they can be used as a base for snack dips; or they can be used as a topping for baked potatoes, chicken wings, pizza, and other products. Recently Hidden Valley came out with an Easy Squeeze Topping & Dressing (on the grocery shelf it looks like an upside down bottle with the label on right side up) that is specifically designed to be squeezed onto a variety of foods. It is available in Original Ranch and Light Original Ranch with Sour Cream.
And getting back to sandwiches, salad dressings can also be used to create, for example, a Caesar BLT Wrap. This formulation, available from Sargento Foods, Inc., Plymouth, Wisc., consists of romaine lettuce, chopped tomato, crumbled bacon, mozzarella cheese, and Caesar dressing, all wrapped into a tortilla for convenient eating.
• Future directions. The development of future salad dressings will probably take into consideration a variety of factors, especially the following:
First, ingredients that offer health benefits will play an important role. For example, inulin, extracted from chicory root, offers a way to add fiber to salad dressings. Two trends, in particular, help underscore the potential value of inulin: a continued interest in reduced-fat salad dressings (inulin has the ability to function as a fat replacer without adversely impacting food flavor) and the emergence of nutraceutical salad dressings (inulin has prebiotic properties, encouraging the growth of beneficial microorganisms in the gut). Other ingredients that may have growing impact include soy isoflavones, omega-3 fatty acids, and plant stanols or sterols.
Second, flavors are being developed for salad dressings that are very different from those of traditional dressings—many of them being bolder, more intense, while reflecting a variety of tastes from different parts of the globe. For example, Kraft recently introduced a line of dressings called Special Collection which included Greek Vinaigrette, Italian Pesto, Parmesan Romano, Sun-Dried Tomato, and Tangy Tomato Bacon. Other novel flavors include Newman's Own Parisienne Dijon Lime, Wish-Bone Parmesan & Onion, Hellmann's Citrus Splash Oriental Orange, and Wild Thymes® Mandarin Orange Basil Vinaigrette. Many of these flavors are appealing because while providing robust taste, they are also low in fat.
Third, the functionality of different ingredient combinations can be further explored, which may present advantages in the development of new salad dressings. For example, gums such as xanthan (which is commonly used in salad dressings) may be combined with guar for good synergy. Together, they add viscosity and help stabilize the emulsion. Another example is inulin, which can work synergistically with starches and gums.
And finally, advancing technology will make possible improved or more economical ways of producing plant stanols and other healthy ingredients. Furthermore, because of their health and functional benefits, oils such as hempseed or flaxseed may lead to greater commercialization.
--- PAGE BREAK ---
PRODUCTS AND LITERATURE
Pure Vanilla, Madagascar Bourbon, is said to provide creaminess and sweet aromatics to fruit chutneys, relishes, and compotes. Vanilla smooths the acidity of cranberries or pineapple, and complements many other traditional chutney ingredients such as apple, mango, raisin, and peach. The mellow character of vanilla rounds out the flavor profile of the fruit, allowing tart and sweet to be combined without being overpowering. For more information, write to Nielsen-Massey Vanillas, 1550 Shields Dr., Waukegan, IL 60085 (phone 847-525-7873; fax 847-578-1570)—or circle 300.
Encapsulated Fruit Flavors—called MagnaCap®—are developed specifically for muffins and selected baked goods, such as cookies, cakes, and bagels. The flavors are designed to release when the internal temperature of the baked good reaches the melt point of the chosen microcapsule shell. This results in a full flavor burst and allows for greater flavor retention in the finished food. Flavors include Natural Lemon Flavor, Natural Orange Flavor, Natural and Artificial Raspberry Flavor, Artificial Blueberry Flavor, and Natural and Artificial Blackberry Flavor. Usage levels range from 0.25 to 0.35% in the finished product. For more information, write to Ottens Flavors, 7800 Holstein Ave., Philadelphia, PA 19153 (phone 215-365-7800; fax 215-365-7801)—or circle 301.
Chili Flavors, which are said to add authentic taste with consistent heat and color values, may be used in steak marinades, jerk seasonings, mole, salsa, and other products. Distinctive flavor profiles, ranging from fiery to sweet, can be imparted by these flavors which include habanero, ancho, chipotle, poblano, pasilla, and jalapeño. The natural, natural-artificial, or natural WONF formulations are available in liquid or dry forms. They are retort, process, and freeze-thaw stable, and ensure flavor fidelity through a wide range of processing conditions. In addition, they reduce microbial load and may help increase product shelf life. For more information, write to Innova, a Griffith Laboratories Co., 2021 Swift Dr., Oak Brook, IL 60523 (phone 603-928-4800)—or circle 302.
Modified Potato Gel—called PenGel 8—has specific application as a fat replacer in meat products. The ingredient, which is said to mimic fat in appearance and texture, may be used in sausage products, coarse-ground meats, and other low-fat meat applications. In consumer testing, meat products made using the potato-based ingredient compared favorably to full-fat counterparts in bite, appearance, mouthfeel, flavor, and particle definition. For more information, write to Penford Food Ingredients, 7094 S. Revere Pkwy., Englewood, CO 80112 (phone 303-649-1900; fax 303-649-1700)—or circle 303.
Roasted Soy Nut Butter may be used as a filling in snacks, candy, baked goods, energy bars, and nutraceutical products. Described as peanut-free, non-allergenic, and kosher, the ingredient is suitable in applications where peanut flavor is desirable but there are concerns regarding performance or allergic reactions. One formulation, #901-33-A, is designed for pre-bake, extruded use in cereal, breakfast, health bars, baked snacks such as pretzels and breadsticks, and confections. It can also be swirled through ice cream and novelty bars. A second formulation, #901-44-A, is aimed at post-bake deposited applications, including sandwich cookies and crackers, sugar wafers, and as a cream center in candies. Both formulations are stable. For more information, write to Wixon Fontarome, 1390 E. Bolivar Ave., St. Francis, WI 53235-4521 (phone 414-769-3000; fax 414-769-3020)—or circle 304.
Poultry Formulations were highlighted at the International Poultry Exposition, Atlanta, Ga., by Kerry Food Ingredients. The two formulations feature marinades, rubs, and glazes developed by the company, as well as cold-form extrusion technology. Thai Chicken Thang, consisting of diced marinated chicken with red bell peppers, green onions, and a fragrant blend of Thai spices, uses Prime Cut Chicken Analogue™ to extend the chicken in the formula. Orange Bourbon Chicken incorporates liquor flavors in marinated substrates. Chicken breasts are tumbled in a saucy orange and bourbon marinade with fried onion and brown sugar back notes. Red bell pepper, parsley, and coarse black pepper add savory notes as well as visual appeal. For more information, write to Kerry Food Ingredients, 100 E. Grand Ave., Beloit, WI 53511 (phone 608-363-1200; fax 608-363-1670)—or circle 305.
Citrus Zest Flavors may be used in beverages, confections, sauces and marinades, and nutraceutical products. The formulations are said to provide a more intense flavor and aroma than traditional juice flavor profiles. The natural, zest-type, WONF flavors include lemon, lime, tangerine, grapefruit, mandarin, and orange. Liquid, water-soluble and oil-soluble versions are available. For more information, write to Robertet Flavors, Inc., 10 Colonial Dr., Piscataway, NJ 08854 (phone 732-981-8300; fax 732-981-1717)—or circle 306.
Dextrins—marketed under the name Crystal Tex—are said to show consistently high solution stability. Refined from tapioca starch, these dextrins (595 and 627) are suitable for a wide range of coating, film-forming, and texturizing applications, including panned confectionery, high-solids baked fillings, bakery and snack glazes, and spray-dried flavor and fragrance encapsulation. The relatively high pH of these products reduces the risk of sugar inversion in various confectionery applications. Because of their low proportion of reducing sugars, they are well suited for savory applications and for use in dry mixes to reduce hygroscopicity. Their use results in smooth mouthfeel and clean meltdown even in high-solids fillings. According to the manufacturer, when solubilized, 627 provides a transparent, yellow/brown solution that will yield a nonhygroscopic, transparent surface film with attractive sheen and gloss. In panned confections, this extrin functions well as a replacement for gum arabic. For more information, write to National Starch and Chemical Co., Information Center, One Matrix Drive, Monroe, NJ 08831 (phone 800-797-4992; fax 609-409-5699)—or circle 307.
by DONALD E. PSZCZOLA
Associate Editor