A 'Fab' Future for Fish and Shellfish
It's time to pay more attention to fish and seafood. The U.S. Dept. of Agriculture projects that citrus and seafood/fish will enjoy the largest gains—27% and 26%, respectively—in per capita consumption between 2000 and 2020. In terms of protein preferences, Boomers and the 65 million Americans over age 55 index significantly higher for fish/seafood than for beef and chicken. Fish and seafood align well with emerging cuisines such as Mediterranean, Latin, Caribbean, and Asian. And while 40% of respondents told Mintel International that they're tired of chicken and 23% red meat, only 7% mentioned fish/seafood.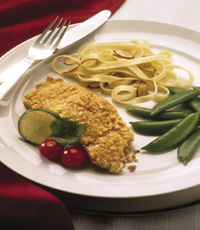 The National Restaurant Association reports that fish/seafood topped the list of menu items that restaurant operators said their patrons ordered more frequently than two years ago. According to Food Beat Inc., 18% of the top 200 chain restaurants added a new seafood entree in the first half of 2004. And with new, high-quality pre-prepared foodservice entrees such as Ocean Cuisine's UpperCrust™ Coconut Crusted Tilapia with Mango and Papaya, Icelandic Seafood's Redhook ESB Ale Battered Salmon, and Clean Springs Kitchens' Naturally Smoked Idaho Rainbow Trout in Maplewood Smoked, fish preferences will continue to diversify
America's favorite seafood—shrimp—rose 40% in chain menu entrees over the past five years, 39% in appetizers, and 90% in salads. Tuna, salmon, pollock, catfish, cod, crab, tilapia, clams, and scallops complete the list of the top 10 most frequently consumed fish items in 2003, according to the National Fisheries Institute.
As Americans turn to restaurants for snacks and socialize over appetizers and bar food, and as the boredom factor for chicken nuggets sets in, new seafood munchies like Chevy's Fresh Mex's Shrimp Ceviche, Olive Garden's Calamari and Mussels de Napoli, P.F. Chang's China Bistro's Crab Wontons, and Tampa Maid's Dipt'n Dusted Oysters will find a welcome market. And there's room to grow. Food Beat reports that shellfish represents only 18% of protein appetizers on chain menus, and fish 4%.
Rubio's Fresh Mexican Grill's Seafood Burritos—Lobster, Mahi Mahi, and Grilled Shrimp—will be strong market contenders. Indulgent premium promotions such as Red Lobster's 21st Annual Lobsterfest® and other value-conscious, all-you-can-eat promotions continue to draw diners in droves. And while seafood ranked 9th on the list of most-ordered restaurant foods for children—just above ice cream—it rarely appears on kid's menus, representing yet another high-potential opportunity.
Seafood consumption at home has also increased. Mintel reports that 28% eat fish/seafood two or more times a week, 32% at least once a week, and 17% more than once a month. Fish and seafood ranked 9th on America's weekly dinner food list and 5th among carb-conscious households, according to Multi-Sponsor Surveys, Inc. ACNielsen reports that, for the year ending 9/24/04, sales of unbreaded frozen fish rose 15.8%, frozen unbreaded shrimp 8.5%, and frozen seafood meals/entrees, like Gorton's new Grilled Fillet Meal, 9.1%. Fresh refrigerated seafood was the 9th fastest-growing supermarket category in 2003.
Products such as Morley's fresh, ready-to-cook, pre-seasoned salmon and tilapia fillets with a pop-up timer and Bertiolli's new frozen Dinner for Two premium meal kits such as Shrimp Scampi & Linguine are right on target. Chicken of the Sea's portable shelf-stable, grab-and-go pouches of Pink Salmon, Light Tuna, and Albacore Tuna are other important entrees.
The recently issued Dietary Guidelines recommend that Americans double their fish consumption. Skyrocketing interest in omega-3s, a return to calorie and fat consciousness, and continued interest in high protein make fish a health-conscious option and put added pressure on marketers to offer fewer fried and more broiled and grilled preparations.
At the same, time a growing consciousness of the environment, sustainable harvesting practices, and the overfishing of key species has caused many chefs to boycott endangered species such as Atlantic swordfish and cod and recommend farm-raised red mullet, John Dory, salmon, catfish, halibut, trough, red snapper, shrimp, and carp. Ironically, they have created a premium market for wild-caught vs farm-raised species.
It will be a tough haul. The world fish supply is dwindling, and attitudes have to be changed to move farm-raised fish mainstream. With nearly 10 million Americans at potential risk, allergies to shellfish are a growing industry concern. And with 76% of seafood now being imported, meeting customer demand will be made more difficult by country-of-origin labeling, pending import taxes on shrimp, activist concern about the environmental impact of fish farming, and an ever-growing potential for food safety issues.
by A. ELIZABETH SLOAN
Contributing Editor
President, Sloan Trends & Solutions, Inc.
Escondido, Calif
[email protected]