To borrow a phrase from New Orleans chef extraordinaire Emeril Lagasse, the 2008 IFT Annual Meeting & Food Expo® set out to—and succeeded in—"kicking it up" a notch. This year's event, held June 28–July 1, offered nearly 200 educational sessions, organized for the first time into five application-oriented tracks. A total of more than 950 exhibitors sprawled across 213,700 square feet of exhibit space, showing off new products and services. And first-time features such as peer-selected Supplier Solution Sessions on the show floor and an anti-hunger volunteer initiative called IFT Cares made appearances.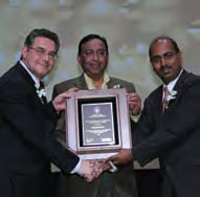 Certainly the city of New Orleans, which continues to recover from the ravages of Hurricanes Katrina and Rita, provided a warm welcome (1) to the 15,075 Annual Meeting & Food Expo attendees who arrived on the scene from 78 countries.
Hundreds of sessions offered cutting-edge science, regulatory insights, sometimes controversial viewpoints, and always ample food for thought. The timely theme for this year's event was "Driving Growth and Sustainability Through Innovation." A total of 53 sessions addressed some aspect of this theme, and of these, 20 were sponsored by Cognis Nutrition & Health.
Awards Celebration
The Annual Meeting & Food Expo got off to a celebratory start on Saturday evening with Executive Vice President Barbara Byrd Keenan (2) welcoming attendees and sharing a bit of New Orleans history before introducing IFT President John Floros (3), whom she described as "a truly driven and inspirational leader."
Floros began his presentation on a personal note by acknowledging his wife "for her inspiration, courage, and endless support" and his two teenage sons "for their constant intellectual stimulation and their understanding and encouragement."
The IFT President then referred to his observations last year about the environment of change, uncertainty, and hidden opportunities facing the profession of food science and technology.
"IFT exists to uncover such hidden opportunities and equip each of us with the tools needed to navigate through our profession as we know it today, and as we will know it in the future," Floros said.
--- PAGE BREAK ---
Floros then highlighted some of IFT's achievements in the course of the past year. Among them were the unveiling of "a living and breathing strategic plan to guide our organization, foster our most valuable programs, services, and resources and to ensure IFT's future growth," Floros said.
He also cited the contributions of members of the Task Force on Strategic Plan Implementation and noted the completion of a successful Food Summit co-hosted by IFT and the Chinese Institute of Food Science and Technology and the appointment of a Scientific Advisory Panel.
"We live in an exciting era, and we will prosper as long as we continue to marshal the ideas and energy of our members," Floros said, before moving on to "the main reason that we are all here this evening … to acknowledge our colleagues."
Floros recognized 13 Achievement Award winners and 23 newly elected Fellows for their outstanding accomplishments and contributions to the field of food science and technology. (More detailed information on the award winners will be included in the September issue of Food Technology.)
Gilbert Leveille (4) of the Wrigley Science Institute received IFT's highest honor, the Nicholas Appert Award, which recognizes preeminence in and contributions to the field of food science and technology. Leveille was honored for his leadership in researching health, nutrition, and weight management issues.
Praxair Inc. was recognized with the Food Technology Industrial Achievement Award for its controlled atmosphere system that allows turkey processors to increase yield, improve employee working conditions, and enhance animal welfare. The award, presented by Floros, was accepted by Nari Nayini, pictured center in (5) and Ami Gupta (right).
The night's roster of honorees also included 2008 recipients of the IFT Student Association/Campbell's Excellence in Leadership Award (6)—graduate student Taylor C. Wallace (right) and undergraduate Luis Enrique Perez Villarreal (center).
--- PAGE BREAK ---
Next, Floros presented a plaque to immediate Past President Dennis Heldman (7), whom he described as "a diligent and dedicated individual whose never-ending contributions to IFT over the past three years have been invaluable."
After recognizing Heldman, Floros called on IFT Student Association President Yifat Yaniv to assist in introducing Sheri Schellhaass, who will take office as IFT President in September and offered the evening's final formal comments. Before addressing the crowd, Schellhaass, at left in (8) paused to accept a gavel donated by the Student Association and presented by Yaniv (right).
Schellhaass (9) framed her speech around inspiration provided by national monuments, including the Statue of Liberty and the Lincoln Memorial. She also introduced incoming President- Elect Marianne Gillette, who will take office in September 2009.
Schellhaass concluded her speech by encouraging members to heed the words of Claude Thomas Bissell, who counseled: "Risk more than others think is safe. Care more than others think is wise. Dream more than others think is practical. Expect more than others think is possible."
A Networking Reception (10) following the Awards Celebration allowed members to take time for refreshments and conversation and provided opportunities to personally congratulate the evening's honorees. Afterward, key members of IFT's leadership paused for a photo. Pictured from left (11) are President Floros, Executive Vice President Keenan, President-Elect II Gillette, President-Elect Schellhaass, and Past President Heldman.
Keynote Session
At the Keynote Session on Sunday, President Floros welcomed attendees to IFT's 68th Annual Meeting and Food Expo and shared some of the event's highlights before introducing Executive Vice President Keenan. Keenan provided an update on the report completed by members of the Task Force on Strategic Plan Implementation.
"The main focus remains on increasing member participation and involvement in meaningful volunteer experiences," Keenan said. Other report recommendations she cited include:
• A review of IFT's global strategy that will identify strategic priorities for operating in a global environment.
• A focus on current and emerging scientific issues by identifying and prioritizing the issues that benefit food science professionals, the global food supply, and consumers.
• Public and regulatory outreach aimed at solving real, substantive food science-related problems.
• Continued alignment of organizational resources to support the strategic planning and execution of the Annual Meeting and Food Expo.
--- PAGE BREAK ---
Past IFT President Al Clausi (12) took the stage during the Keynote Session to announce that in October, the World Food Prize will be presented to former U.S. Senators Bob Dole and George McGovern "for their leadership in initiating a global commitment to school feeding programs." The McGovern-Dole International School Feeding Program has provided meals to more than 22 million children in 41 countries.
Next in the Keynote Session, President-Elect II Gillette announced the winners of IFT's Food Expo Innovation Awards, which honor exhibiting companies for outstanding innovation in products, ingredients, technologies, instrumentation, equipment, and services commercially introduced since Jan. 1, 2007. (See article on page 62.)
IFT Foundation President Jonathan Merkle (13) briefly addressed the crowd at the Keynote Session, emphasizing the role that contributions to the Foundation can play in helping to advance the careers of those interested in food science and technology.
"The IFT Foundation has disbursed a total of nearly $10 million since 1985 and has provided scholarships to over 150 graduate and undergraduate students since last fall," Merkle said.
Among the special features of this year's Keynote Session were comments by Lam Hood (14), leader of the IFT Cares community service project in New Orleans, and Natalie Jayroe (15), President and CEO of Second Harvest Food Bank of Greater New Orleans and Acadiana, with whom IFT partnered for the initiative. (See page 65 for a story on the IFT Cares project.)
Featured speaker Tom Kelley (16) easily kept the attention of a large crowd during Sunday's Keynote Session. Kelley is a best-selling author and General Manager of IDEO, the design and development firm that designed such cutting-edge products as the Apple mouse and the Palm V.
For those seeking to bring more creativity to the product development process—and who isn't?—Kelley advised incorporating the roles of "anthropologist" and "experiential architect" into the organization.
"It gets really tempting to take innovation and put it off until tomorrow," while dealing with the urgent press of today's business demands, but that's a potentially devastating mistake for a company, Kelley said.
The role of anthropologist is especially critical. What an anthropologist does for a company is to go out into the field and find "things hidden in plain sight," i.e. to identify "latent customer needs," Kelley explained. That's important, he said, because just asking consumers what they want won't generate truly innovative product concepts. The Keynote Session was sponsored by HFCS Facts and sweetsurprise.com.
--- PAGE BREAK ---
General Sessions
Sustainability was the focus in Monday's theme general session, "Environmental Sustainability and the Supply Chain." The session was moderated by Diana Rothschild (17) of Blu Skye Sustainability Consulting. Session speakers included Gene Kahn, General Mills Global Sustainability Officer; James Ewell of McDonough Braungart Design Chemistry; and George Cuevas of Sustainable Harvest at Origin. The session was sponsored by Cognis Nutrition & Health. (See sidebar on page 37 for more details on the session.)
On Tuesday, the Food Technology Panel, "Developing Products for Green, Gray, and Growing Consumers," drew a sizeable crowd and prompted a lively discussion. Food Technology Contributing Editor A. Elizabeth Sloan moderated the session and prepared detailed follow-up coverage, which appears in this issue, beginning on page 55. Panelists were Diane Crispell of GfK Roper, Laurie Demeritt of the Hartman Group, and Tom Vierhile of ProductScan/Datamonitor. The session was sponsored by DSM.
Scientific Program
The Scientific Program from Sunday–Tuesday featured 197 sessions and 1,052 presenters addressing a broad array of topics. The program breakout included 97 symposia, 13 panel discussions, 5 workshops, 2 roundtables, and 4 professional development sessions.
A total of 1,197 technical research papers were accepted for presentation at the Annual Meeting, and the meeting featured 808 poster session presenters (18, 19). There were 32 Oral Sessions with a total of 130 speakers and 8 Student Oral Professional Development Sessions with 37 speakers.
Under the New Products & Technologies banner, 3 sessions were held—2 oral sessions and 1 showcase session. A total of 24 speakers participated.
For the first time this year, the Scientific Program was categorized into tracks to help attendees more efficiently choose which sessions to attend. The five tracks were Applied Science, New Products & Technologies, Professional Business Development, Science Fundamentals, and Student Programming.
--- PAGE BREAK ---
Organizers of the Annual Meeting & Food Expo are dedicated to delivering timely, relevant information. To that end, a late-breaking session on a new FDA regulation that affects food ingredient development was added to the agenda. (See sidebar on page 49 for more details on the session content.) Here's a sampling of some of the other sessions that attracted considerable media and/or attendee attention.
• A symposium titled "What Is Natural?" drew a crowd of more than 300 for a discussion designed to help lessen confusion regarding the use of natural ingredients in food products.
• A provocative panel discussion in which participants suggested that saturated fat gets an unjustified bad rap in terms of its effect on health prompted lively discussion—despite the fact that it was held late in the afternoon on the final day of the Annual Meeting. Members of the panel included Gary Taubes, author of Good Calories, Bad Calories: Challenging the Conventional Wisdom on Diet, Weight Control, and Disease; Duke University Medical Center physician and researcher Eric Westman; and David Klurfield of USDA.
• Among members of the mainstream press, a session titled "Consumers' Refrigerators: A Danger Zone," was a particular attention-getter. Experts including Sheryl Cates (20), Research Policy Analyst at RTI International, pointed out that the majority of consumers aren't adequately monitoring refrigerator temperatures or even cleaning them regularly—with potential negative ramifications on food safety.
Overall, the Annual Meeting and Food Expo generated more than 1 million impressions in both online and print media.
An Excellent Expo
Exhibitors from 951 companies, including 159 new exhibitors, showed off new products, tools, techniques, equipment, and services during the three days that the New Orleans Morial Convention Center was home to the Food Expo. As these show floor scenes illustrate (21–27), the environment was busy, lively, and educational.
A brand new show-floor feature this year, Supplier Solution Sessions (28) on Monday and Tuesday provided attendees with an easy way to gather in-depth information and varied perspectives, all in one convenient location. Individual presentations were grouped under broad topic headings that included salt reduction, fiber, proteins, and weight management. In (29) Marcia Greenblum of the American Egg Board discusses the role of egg products in weight management.
--- PAGE BREAK ---
Participating companies included Bio Springer, Wixon, Purac America, Cargill, Gourmetceuticals LLC, Tate & Lyle, TIC Gums, Friesland Foods Domo, Stolle Wellness, Solae LLC, American Egg Board, BioNutrigen Co., and Pharmachem Laboratories.
Expo special-interest pavilions for companies that chose to exhibit within them included the following: International Pavilion—a showcase for vendors with the capacity to do business overseas; Healthy Food Ingredients Pavilion—a "one-stop shop" for attendees seeking the latest and greatest nutraceutical/functional ingredients; Food Safety and Quality Pavilion—a central location for suppliers of instrumentation, services, and processing and packaging technologies; and Organic Food Ingredients Pavilion—a key destination for those seeking certified organic products.
For those eager to glean insights into global new product trends, the Mintel Pavilion on the Expo floor was an ideal place to be. In addition to fast-paced presentations by Mintel experts Maria Caranfa, Lynn Dornblaser, and David Jago, the pavilion showcased dozens of new products from around the world (30, 31).
"It seemed that people were most interested in products from the U.S., products that provided good nutrition plus good taste, and ones that used new ingredients," said presenter Dornblaser.
Participants in tasting sessions that accompanied the formal presentations voted on their favorite product offerings, with the following results. For "Ingredient Sustainability," the favored products, ranked in order were: Phoenix Organics juices, Falafel Chips and Dips, and Starbucks Caffé Mocha Truffles. For "Inherent Goodness of Ingredients," the favorites were: Nabisco Garden Harvest Toasted Chips, Lindt Excellence Dark Chocolate with Sea Salt, and Britvic J20 Apple and Blueberry Soft Drink. For "Formulating Healthy Food for Kids," the winning items were: Chewits Truly Smoothy Crazy Animals Fruit Gums from Leaf, Clif Bar's Clif Kid Organic Twisted Fruit Real Fruit Rope, and Bakki's Colored Croutons for Soup from Land-Leben.
Market research firm Innova mixed it up at its Taste the Trend pavilion on the Food Expo floor (32, 33), treating the many attendees who visited to presentations, product tastings, research insights, and samples of packaged foods from around the globe.
The pavilion was divided into three zones. One looked at packaging technology innovations, another at flavor trends, and the third focused on consumer demands and expectations. Another key Innova presentation zeroed in on 10 top trends driving new product development in the food and beverage industry.
--- PAGE BREAK ---
Always a popular destination on the show floor, the IFT/RCA Culinology Demonstrations drew crowds as teams of food scientists and chefs showed off new product development methods linked to this year's sustainability theme. (See sidebar on page 42.)
Many attendees savored appetizers and drinks (34) during the "Taste for Science" Reception held in late afternoon Sunday and Monday on the Food Expo floor. Cash bars served beverages and several exhibitors provided appetizers and food samples. The event was hosted by the IFT Foundation, and a portion of the proceeds went to help fund programs for the next generation of food scientists.
Special Programs
A distinguished panel of regulators assembled for a session titled "IFT's Impact on Food Standards and Regulations"—an event that evolved from the traditional Government Relations Committee meeting.
In (35) David Acheson (second from left), FDA Associate Commissioner for Food, tackles a question while listening in and looking on (from left) are John Bode, Principal Attorney with the firm Olsson, Frank, Weeda, Terman, Bode, Matz; Daniel L. Engeljohn, Deputy Assistant Administrator, Office of Policy, Program, and Employee Development, USDA's FSIS; and Robert Brackett, Senior Vice President, Grocery Manufacturers Association.
One of the more interactive events on the Annual Meeting agenda was the Food Science Outreach Workshop(36) held to bring IFT's Food Science Ambassadors up to date on experiments from the new IFT Food Science Activity Guide. Here Ambassadors Josie Landon (left) of Basic American Foods and Sarah Smith-Simpson of Gerber Products Co. get a bit experimental.
--- PAGE BREAK ---
Section and Division Activities
At the Section and Division Officers Workshop on Tuesday morning, leaders of IFT Sections and Divisions were treated to an overview of IFT's plans for the future and a question-and-answer session with President Floros.
Staff presentations included a discussion of membership recruitment and retention by Jennifer London, IFT Director of Membership and Marketing, and an overview of resources available to leaders by Gail Wiseman, Director of Membership Relations. Outstanding leaders of IFT Sections were acknowledged with Excellence Awards presented by Committee on Sections Chair-Elect E.B. Russell, shown on right in (37), (38), (40), (41), (42), and (43). The leaders recognized included the following: Gillian Dagan (37) of the Florida Section; Susan Hatfield (38) of the Northeast Section; Tom McLean, Josephine Pompey, Erin Gipe, and Mark Davidson (far right) (39) of the Puget Sound Section; Susan Butris (40) of the Southern California Section; David Horowitz (41) of the Central New Jersey Subsection; Pamela Lawson (42) of the Minnesota Section; and Karen Penichter (43) of the New York Section.
Participants in the workshop also discussed results of brainstorming sessions on the Annual Meeting Scientific Program presented by Berna Magnuson, Chair of the Annual Meeting Scientific Program Committee.
Division leaders organized a host of events—scientific sessions, breakfasts, lunches, receptions, and dinners—designed to maximize opportunities for learning, socializing, and networking with peers.
The Food Laws and Regulations Division presented Robert Post, Deputy Director of USDA's Center for Nutrition, Policy & Promotion, with an Outstanding Division Leader Award. From left in (44) are Division Chair Jack Cooper, Post, and Barbara Blakistone, a Division member and an incoming member of the IFT Board of Directors.
Also during the course of the Annual Meeting, attendees were treated to presentations by insightful lecturers, including Bob Brackett (45), speaking for the Food Microbiology Division, and John Krochta (46), recipient of the Food Packaging Division's Riester-Davis Award.
In recognition of the Biotechnology Division's 25th anniversary this year, a special symposium was organized by Division members Robert Hutkins and Pina Fratamico. At the symposium, Division member Dallas Hoover (47) presented an overview of Division activities, dating back to its early days in the 1980s. Leading biotechnology researcher Roger Beachy presented a lecture that reviewed past successes of plant genetics and crop biotechnology and also identified key areas for future research and development.
--- PAGE BREAK ---
Board of Directors Meeting
Members of the IFT Board of Directors met on Friday prior to the start of the Annual Meeting & Food Expo. Treasurer Mary Wagner (48) provided a financial summary and shared year-end projections. The proposed budget for Fiscal Year 2008–09 was presented and approved.
The 2008–09 Annual Operating Plan was approved, as well. It emphasizes developing IFT's global strategy, implementing a communications plan, and identifying key scientific issues for IFT to address through programs and services.
The Board of Directors also approved the recommendations of the Task Force on Strategic Plan Implementation, making the plan IFT's organizational driver and linking volunteer, staff, and financial resources with organizational priorities.
Town Hall Meeting
IFT's second annual Town Hall Meeting (49) on Tuesday provided a chance for interaction between members and current IFT leadership. President Floros highlighted 2007–08 accomplishments, which included the successful launch of the first Food Technology Presents conference, completion of the IFT communications audit, and finalization of the Task Force on Strategic Plan Implementation recommendations.
"We need to ensure that the Strategic Plan drives all of IFT's activities," said President-Elect Schellhaass, who addressed Town Meeting attendees after Floros.
Schellhaass described priorities for 2008–09, which included developing a global strategy, implementing a communications strategy, and identifying scientific issues that IFT will champion.
Berna Magnuson (50) also addressed the group on the topic of upgrading the content of presentations at the Annual Meeting.
Floros and Schellhaass responded to questions from the audience about how IFT leadership will handle the committee structure changes that have been recommended, emphasizing that flexibility will be a guiding principle moving forward.
--- PAGE BREAK ---
Foundation Activities
A total of 130 supporters attended the IFT Foundation Donor Reception (51) held during the Annual Meeting & Food Expo. The reception highlighted the dynamic new IFT Foundation scholarship video that was also showcased during the Keynote Session. The event featured a raffle of three bottles of premium wine donated by Mary Wagner, IFT Treasurer.
Short Courses
IFT's Knowledge & Learning Center presented eight two-day continuing education courses on Friday and Saturday prior to the start of the Annual Meeting. A total of 324 participants gained focused education by attending one of the courses.
Each course was led by faculty member teams that included more than 50 experts from industry, academia, and government. In (52) Benoit Rousseau of the Institute for Perception leads a discussion on sensory issues.
Short courses were very well received, with 82% of evaluators indicating that they were satisfied or very satisfied with the overall course quality.
Other Activities
The Annual Meeting & Food Expo had a strong international flavor. More than 1,800 attendees came from outside the United States. In addition, 214 international companies exhibited.
No surprise then that the International Lounge was a hub of activity throughout the event as attendees took the opportunity to visit with friends and colleagues and to learn more about the activities of the International Division as well as various international events. International delegations represented this year were from India, South Africa, Japan (53), Canada, Brazil, Chile, and Costa Rica.
At the Past Presidents Dinner on Sunday evening, a congenial group of past presidents of IFT (54) dined and socialized with current IFT leadership, including President Floros and Executive Vice-President Keenan.
The very visible IFT booth on the Expo floor, IFT Central, (55) was the place to go for anyone seeking information on IFT's services, publications, and activities. The booth highlighted IFT's varied benefits for members and also featured tables and comfortable seating for those in need of a place to rest or meet with fellow attendees.
--- PAGE BREAK ---
And speaking of providing an ideal location for connecting with others for a relaxed conversation or informal discussion, the Conversation Café (56) on the show floor did just that.
The Hall of Honor (57) in the convention center provided the ideal forum for showcasing information and photos of this year's honorees, including the 2008 Achievement Award recipients and newly elected Fellows.
Open each day of the Annual Meeting & Food Expo, the IFT Employment Bureau was a convenient, professional resource for connecting food science professionals with top-notch employers. Companies and job seekers had the opportunity to schedule onsite interviews online prior to the meeting. As a result, 176 job opportunities were posted, 414 job seekers visited the onsite employment bureau, and 51 hiring representatives conducted interviews. A total of 320 on-on-one interviews were scheduled through the online system, with additional appointments set up via phone or as a result of the Career Fair, which took place on Saturday prior to the opening of the Employment Bureau.
The online employment bureau is accessible year-round through IFT's Career Center at www.ift.org.
The first IFT Career Fair (58) held on Saturday prior to the Employment Bureau activity was very well received. A total of 16 leading food companies greeted and exchanged career information with potential candidates throughout the day. For some attendees, this activity also resulted in formal interviews in the Employment Bureau later in the week. The 2008 Career Fair sold out early. For 2009, more space will be allocated.
Student Activities
Activities for students—ranging from scientific to social—traditionally play a major role in the Annual Meeting & Food Expo, and this year was no exception.
New this year was a lounge designated specifically for students.
--- PAGE BREAK ---
The Student Association Mixer (59), sponsored by PepsiCo, provided an opportunity for attendees to meet and mingle with other students and professionals while viewing the Chapter of the Year displays.
Following the mixer, a Welcome Assembly featured an introduction of Student Association leadership (60) and presentation of various awards, including the Excellence in Leadership Awards, sponsored by Campbell's. Jessica Colyar of Brigham Young University served as chair of the Excellence in Leadership Awards program.
Student Oral Professional Development Sessions provided students with a unique opportunity to gain experience in public speaking and to receive feedback, thus refining their presentation skills. Eight sessions were held.
A series of sessions oriented to various facets of professional development were also available for students. An interactive workshop, "Information for Food Scientists in 2008: The Good, the Free, and the Paid For," was designed to help students and young professionals navigate the growing number of information resources available to food scientists today. A symposium, "Our Changing World and the Future Leaders in the Food Industry and Academia," was sponsored by the IFT International Division and featured international speakers who discussed their experiences related to leadership in the global marketplace. A two-part session, "Career Development 101 & 102: Getting and Keeping Your Dream Job" and "What's Next for Me After Graduation," offered career planning guidance.
Other highlights of the schedule of activities geared to students included the Chapter Leaders Workshop (61) and an informalStudent Association Party, which capped off the Annual Meeting & Food Expo for many students.
Student Competitions
The Annual Meeting also provided numerous opportunities for some healthy, intellectually stimulating competition among students.
• Product Development Competition. Open to all undergraduate and graduate students, the Product Development Competition gave students a chance to take their classroom skills and apply them in a real-world situation. Each participating school's team developed a new food idea and carried the concept through marketing and production, much like a commercial product development team.
Based on preliminary written reports and photographs, finalists from six schools competed in New Orleans, with industry professionals judging the team presentations on the basis of marketing, cost analysis, packaging, and nutrition labeling, as well as the taste of the product.
--- PAGE BREAK ---
Ready-to-Dough!, a line of healthier-for-you, allergen-free, refrigerated cookie dough, earned the Michigan State University team the $4,000 1st-place award in the annual competition. The 2nd-place prize of $2,500 went to the University of Illinois at Urbana-Champaign team for its Dream Pie Bars, multi-component pumpkin pie dessert bars formulated to be high in vitamin A and a good source of fiber and calcium. The University of Minnesota team placed 3rd, winning a prize of $1,000 for its Ediballs—a snack kit that contains mini whole-grain pita pockets that kids can stuff with peanut butter and grape jelly beads.
Rounding out the list of finalists were teams from Cornell University, which developed TranquiliTea, a cosmeceutical beverage that delivers a refreshing "spa experience" in a bottle; Ohio State University, which came up with FruitZicle halved bananas filled with frozen yogurt and strawberry pieces and coated with a thin layer of dark chocolate; and Virginia Polytechnic Institute and State University, which debuted Banana Splitters in which slices of fresh bananas are cored and filled with nonfat frozen yogurt in chocolate, vanilla, or strawberry flavor and then enrobed in a thin, dark chocolate coating. Each of the finalist teams received a $1,000 travel grant.
Members of the Michigan State University team (62) from left, front are: Megan Schwannecke, Aileen Tanojo, Nichole Goldman, and Ashley Walters. Pictured in back are: Shantanu Kelkar, Eric Birmingham, and Raghav Sundar. Not pictured is Charles Pountney.
University of Illinois team members are Erika Neely, Suraya Gabel, Lauren Hong, James McKenney, Emily Darchuk, and Felicia De Santos.
University of Minnesota team members are Laura Folts, Catherine Lee, Jackie Koch, Ashley Bents, Sarah Reiner, Laura Meyer, Mary Orsted, Catrin Tyl, Brian Folger, Savitha Krishnan, Amy Tran, and Sarah Holton.
The competition was sponsored by Mars Inc.; judges were Brent Anderson from Mars Snackfood US, Chithra Panchapakesan from Mars Snackfood US, Christine Kwait from Kraft Foods/Oscar Mayer, Terry Moros from Frito-Lay, and Metty Poei from Kraft Foods. Corinne Otte of the University of Minnesota was the competition chair.
--- PAGE BREAK ---
• Chapter of the Year Competition. The Rutgers University chapter (63) received Chapter of the Year recognition, an honor that carries a $1,000 award. The award acknowledges the Student Association chapter that has the most active participation at local and national levels. The North Carolina State University chapter took 2nd place and received $500; University of California–Davis placed 3rd and received $250.
Other finalists in the Chapter of the Year competition were the University of Minnesota, University of Nebraska, and California Polytechnic State University.
The Michigan State University chapter was named Most Improved Chapter and received $250. Rashmi Tiwari of Rutgers University was the competition chair. The Chapter of the Year competition was sponsored by PepsiCo.
• College Bowl Competition. Always a crowd pleaser, the 23rd Annual Intercollegiate Food Science and Technology College Bowl Competition came down to a contest between The Ohio State University, which placed 1st, earning a $1,000 prize, and North Carolina State University Food Science Club, which came in 2nd and received a prize of $750.
Members of The Ohio State University winning team (64) include, front from left: Megan Hoffer, Sandra Zurbrugg, and Ashley Weatherington; and back: Yettella V. Ramesh Reddy, Anand Subramanian, and Rockendra Gupta.
Members of the North Carolina State University team are Prabhat Kumar, Stephanie Marshall, Michelle Lloyd, Craig Koskiniemi, and Rachel Campbell.
Prior to the last round, finalist teams from universities in each of the eight geographical areas of the Student Association competed in a preliminary round. In addition to the 1st- and 2nd-place winners, finalists included Brigham Young University, Cornell University, University of Nebraska, University of Idaho, Texas A&M University, and University of Georgia.
The College Bowl competition was partially sponsored by PepsiCo, General Mills, and the Student Association. Rachel Crockett of The Ohio State University was chair of the event.
Pictured from left in (65) are College Bowl judges Pam Vaillancourt of RQA, Roger Clemens of University of Southern California, and Leola Henry of General Mills. Moderators were Lisa Povolny of General Mills and Mary Whetstine of PepsiCo.
--- PAGE BREAK ---
• Undergraduate Research Paper Competition. In this competition, Joseph Kreger of the University of Illinois at Urbana-Champaign placed 1st; Vidya Endraiyani of Cornell University was 2nd; and Olivia Klose of Purdue University was 3rd.
The competition was co-sponsored by E.&J. Gallo Winery and Phi Tau Sigma. Gallo provided a $300 travel grant to each of the six finalists and $500, $350, and $250 to the 1st-, 2nd-, and 3rd-place winners, respectively. Arpan Bhagat of Purdue University was the competition chair.
• Graduate Research Paper Competition. In this competition, Poi-Wah Lee of the University of Nebraska took 1st place; Dennis Price of Oklahoma State University was 2nd; and Mustafa Vurma of The Ohio State University was 3rd.
The competition was co-sponsored by the Student Association and Phi Tau Sigma. The Student Association provided a $500 travel grant and a plaque to each of the six finalists, and $1,000, $750, and $500 to the 1st-, 2nd-, and 3rd-place winners, respectively. LeeCole Legette of Purdue University was the competition chair.
2009: Heading to California
Next year, IFT will be heading West—to Anaheim, Calif., (66) for the 2009 Annual Meeting & Food Expo. Beaches and theme parks have always made Anaheim a popular destination, and now, thanks to a $700 million investment, the city has become a world-class destination for business travelers, too. Visitors will enjoy revamped convention facilities and updated hotel accommodations.
And, of course, planning has already begun for both the Food Expo and the scientific and general sessions. Nearly 1,300 members participated in the theme selection process, which included an all-member online survey distributed via email and the IFT Web site. The theme for next year's Annual Meeting and Food Expo is "Food Science: From Producer to Consumer."
So mark your calendar for June 6–10, 2009. It's less than 10 months away!
--- PAGE BREAK ---
Enhancing Food Ingredients through Nanoscience
The bioavailability, efficacy, and functionality of food ingredients, additives, and nutraceuticals may be greatly enhanced through nanoscience and nanotechnology, according to several presenters at the third annual IFT International Food Nanoscience Conference. Held June 27-28 in New Orleans in conjunction with the Annual Meeting & Food Expo, the event—sponsored by Holland's Agency for International Business and Cooperation and the Advanced Foods & Materials Network (afmnet)—attracted about 150 food professionals from around the globe (1a).
Derick Rousseau, Associate Professor, Dept. of Chemistry and Biology, Ryerson University, discussed "Nanoscale Methods for Controlled Release of Bioactive Compounds." Simplicity rules when it comes to controlled delivery, said Rousseau. The research involves incorporation of water- and oil-soluble ingredients—all of which are food-grade materials—in microemulsions, solid lipid nanoparticles, and self-assembled dairy peptides.
In microemulsion research, the goal is to develop dilutable food-grade systems for controlled delivery of bioactives, said Rousseau. One of the biggest challenges is the limited number of food-grade surfactants and co-surfactants available. Most microemulsions are not dilutable, which limits their use in beverages. Solid lipid nanoparticles are oil-soluble compounds in a crystal matrix. They offer increased stability through encapsulation. Potential applications include omega-3 fatty acids and vitamins.
The goal of dairy research is to design self-assembled peptide-based nanostructures with dual functions of delivery and bioactivity.
Robert Nicolosi, Director of NanoMedicine, Center for Health & Disease Research, University of Massachusetts–Lowell, explored "Nanoemulsion Delivery of Nutraceuticals, Pharmaceuticals, and Cosmeceuticals." Nanoemulsion technology converts fat-soluble chemicals to stable water dispersions, which enhance bioavailability and efficacy, said Nicolosi. Nanoemulsions are generally stable at temperatures up to 110°C and a pH range of <2.0–8.0 and are not affected by freeze/thaw environments.
High-shear "microfluidizer" technology was employed to encapsulate various ingredients and nutraceuticals, including plant sterols, tocopherol (vitamin E), lycopene, lutein, and DHA. Nanoemulsion of plant sterols enhanced its LDL cholesterol-lowering properties in hamsters, while nanoemulsion of gamma tocopherol increased its bioavailability and antiinflammatory properties in mice, said Nicolosi. Nanoemulsion of lycopene showed greater enrichment in blood plasma in both gerbils and humans. Nanoemulsion of lutein increased its bioavailability in 8 human subjects, while nanoemulsion of DHA omega-3 fatty acids enhanced its stability.
--- PAGE BREAK ---
Kees de Kruif (1b) Research Strategist, NIZO Food Research, examined "Milk Nanotubes and Self-Assembled Structures in Food Applications." Self assembly of milk proteins is common in nature, and weak interactions lead to protein folding, micelles, or crystals, said de Kruif. Recognizing these phenomena, NIZO has been able to create α-lactalbumin nanotubes through enzyme hydrolysis technology and precise control and manipulation of processing conditions. The presence of calcium may play a role in the initial binding of the proteins. The novel protein structure (i.e., 20 nm diam nanotube with 12 nm hollow core) provides new functionalities, such as texture, encapsulation, shelf-life stability, viscosity (replaces gelatin), and nutraceuticals.
A more-detailed article on the IFT International Food Nanoscience Conference will appear in the September issue of Food Technology magazine.
by Bob Swientek, Editor-in-Chief, Food Technology
---
Senior Food Officials Look to a Sustainable Future
On Saturday, June 28, and Sunday, June 29, in conjunction with this year's IFT Annual Meeting & Food Expo, the Institute of Food Technologists hosted two exclusive events for Senior Food Officials. This invitation-only meeting was for senior academic, government, and industry leaders.
On Saturday afternoon, conversations focused on two topics—the global food crisis and environmental sustainability. Sunday morning featured a special VIP session with Tom Kelley, the Annual Meeting & Food Expo keynote speaker, where he expanded on his keynote session remarks and answered questions from the attendees.
After opening remarks by Rebeca Lopez-Garcia, chair of IFT's Senior Food Officials Program Committee, the first session of the Senior Food Officials Meeting, "Global Food Crisis—Fact or Fiction," was moderated by Victoria Spadaro-Grant (2a), Vice President of Research & Development at PepsiCo Chicago. Kent Hughes, Director of the program on Science, Technology, America, and the Global Economy at the Woodrow Wilson International Center for Scholars, explained reasons behind the rising demand and slipping supply for food and provided examples of how the food industry may meet these challenges. These potential solutions include encouraging the second green revolution and the role of biotechnology, improving water use, and finding energy alternatives, all in an effort to improve food safety, reliability, and adequacy.
--- PAGE BREAK ---
Laurian Unnevehr, Director of the Food Economics Division at the U.S. Department of Agriculture's Economic Research Service, discussed how food price increases affect food demand. Many factors lead to increased commodity prices, which in turn lead to increased retail prices for foods. Retail food prices are also being impacted by other factors as well, such as higher energy and transportation costs. This affects consumer behavior, and food insecurity is on the rise.
The second session, "The Dollars and 'Sense' of Environmental Sustainability," was moderated by Randall McIntyre, Senior Vice President at Kerry Ingredients and Flavours. In this session, Steve Hellem, (2b), Executive Director of the Global Environmental Management Initiative (GEMI), discussed existing sustainable practices in the food industry that deal with water sustainability, global energy and climate, and the supply chain.
Additionally, Joseph Fiksel, Executive Director of the Center for Resilience at The Ohio State University, discussed balancing profitability and sustainability. He mentioned that many companies have embraced sustainability, and this translates into increased stakeholder value. He offered that sustainability should be addressed as companies explore innovative processes for new foods and beverages, as well as how it may be important for companies to use a life-cycle assessment, which helps determine the carbon footprint for a product as a way of determining how "green" products truly are.
by Sarah F. Davis, R.D., Staff Scientist, IFT
---
Theme Session Addresses Sustainable Sourcing
Sustainability is a process, not an end result, said Gene Kahn (3a), Global Sustainability Officer, General Mills, speaking in the Theme General Session, "Environmental Sustainability and the Supply Chain."
No individual product or company is fully sustainable, said Kahn, founder of pioneering food company Cascadian Farm Organic, which was acquired by General Mills. Rather, "Sustainability is a continuum of improvement activities," he observed.
--- PAGE BREAK ---
Kahn was one of three industry experts, who—along with moderator Diana Rothschild of Blu Skye Sustainability Consulting—dug deeply into the topic of supply chain sustainability in the course of the interactive session. Other panelists were James Ewell, Director of Projects and External Relations, McDonough Braungart Design Chemistry, and Jorge Cuevas, Director of Trade Operations, Sustainable Harvest at Origin.
Because the issue of sustainability is so multi-faceted, Kahn recommended that a company seeking to embrace sustainability start with the aspect of the issue that is most relevant to that particular company. For General Mills, for example, the most relevant aspect is human health. Because of the nature of its product portfolio, that is the area "where we have the greatest opportunity to affect change," said Kahn.
Effective supplier partnerships are critical to achieving a sustainable operation because "95% of your environmental footprint is in the hands of your suppliers," Kahn continued. To that end, he recommended carefully thought out agreements and follow-up methodologies be established between manufacturer and supplier.
Sustainable Harvest at Origin is a specialty coffee importer and leading provider of organic and Fair Trade coffee, and panelist Cuevas shared some of the company's experiences working with coffee producers in Tanzania. Involving the producers in the process is critical, Cuevas emphasized. Farmers aren't going to be receptive to improving their growing practices, for example, he said, if they're concerned about feeding their families.
He also noted that high product quality is essential for creating an economically viable business model. "If it's not quality, none of it works," he said.
The Theme General Session was sponsored by Cognis Nutrition & Health.
by Mary Ellen Kuhn, Managing Editor, Food Technology
---
Going the Distance for the Foundation
More than 375 fitness fans registered for the eighth annual IFT Student Association/IFT Foundation Fun Run held early Monday morning in New Orleans' Audubon Park during the Annual Meeting & Food Expo. The 5K Run and 1 Mile Walk (4a) raised more than $51,000 for the IFT Foundation's Scholarship fund with support from corporations, individuals, and IFT Sections and Divisions. Ashley Hiatt from Purdue University was the IFTSA Fun Run Chair.
--- PAGE BREAK ---
Bruce Ferree of California Natural Products (4b), pictured on the right with Robert Gravani of Cornell University, was the top fund-raiser; he gathered pledges from colleagues and raised more than $2,300 for IFT scholarships.
Among the male runners, Ryan Williams came in first with a time of 17 minutes and 50 seconds (17:50), followed by Steven Powell (18:45), and Luis Garay (19:01).
Among the female runners, Julie Wankowski came in first (19:23), followed by Catherine Lee (20:16), and Becky Burnworth (20:50). Winners Williams and Wankowski are pictured in (4c).
Plaques and certificates were awarded to the winners, and participants received an official t-shirt and goodie bag. A total of 49 individuals who did not participate in the run/walk but made a donation to the IFT Foundation received an "I Slept in for the Fun Run" t-shirt.
The top male winners by age group were as follows: 20-29, Stelios Viazis (20:56); 30-39, Thomas Richardson (20:29); 40-49, Wes Shadow (20:46); 50-59, Michael Liewen (20:38); and 60 and older, John Dobol (22:35).
The top female winners by age category were as follows: 19 and under, Molly Fisher (35:48); 20-29, Sarah Newsome (23:10); 30-39, Andrea Gaebe (23:23); 40-49, Liz Perle (22:42); 50-59, Mary Dal Porto (24:52); and 60 and older, Eva Patocka (30:07).
The Cornell Food Fighters (4d) was recognized as the largest team, and the UC–Davis Happy Cows as the team with the best costume.
Platinum sponsors of the Fun Run were General Mills, Kraft Foods, and Michael Foods. Gold level sponsors were David Michael & Company, the IFT Foodservice Division, and National Starch Food Innovation. The Chicago Section IFT was a Silver level sponsor. Bronze level sponsors were Ecolab, GNT, Maryland Section IFT, MGP Ingredients, Southern California Section IFT, and Yum! Brands Foundation. Hershey Foods, Minnesota Section IFT, and Oregon Section IFT also made generous contributions to the Fun Run.
The following organizations donated products for the goodie bags: Cadbury Schweppes, Clif Bar, Corn Products, Cott Beverages, Gojo, GTC Nutrition, IFT Knowledge and Learning Center, Kagome, Keystone Foods, Kraft Foods, McDonald's, PepsiCo, Pharmavite/Soyjoy, TIC Gums, Unilever, Wal-Mart, and the Wrigley Science Institute.
by Anna Procter, Foundation Assistant, IFT
--- PAGE BREAK ---
Serving Up Sustainability
Expo attendees seeking a taste of sustainability found it—and more—at a series of Culinology demonstrations held at the Food Expo. Back for the fifth year, the demonstrations brought together IFT food scientists and chefs from the Research Chefs Association as well as student members from IFT and RCA.
Working with the theme, "The Sustainable Plate: From Farm to Table," the collaborators prepared wholly sustainable food items and treated the audience to samples (5a). The delicacies served included shepherd's pie and calas (deep-fried rice cakes). With options like these on the menu, it's no surprise that the events were popular—even drawing standing-room-only crowds on the first day.
Sunday's team included Mark Crowell (5b) of Culinex, a culinologist; culinologist Marilyn Carlson of Oberto Sausage Co; and Harvey Wolff (5c), a Seattle Art Institute student.
Monday's team members were chef Steven McHugh of Besh Restaurant Group; Kristen Manes, a food technologist with Chef John Folse & Co.; and Lyndsey White, Louisiana State University student.
For Tuesday, team members were chef Poppy Tooker; Miguel Gutierrez, Louisiana State University food technologist; and Anthony Accardo of Periqueridge Farms, a student.
by Mary Ellen Kuhn, Managing Editor, Food Technology
---
High School Students Sample Food Science
At this year's IFT Annual Meeting & Food Expo, a group of high school students (6a) from under-represented groups got to taste and see food science and technology firsthand. Ten students from Warren Easton, Auburn, and St. Mary's Academy—all schools from the New Orleans area—got to walk the expo floor. Visiting booths from varying companies, the students had the opportunity to experience different facets of the food industry.
--- PAGE BREAK ---
IFT teamed up with Tuskegee University to plan the tour. The students learned the basics about food science and IFT from a presentation by Jennifer McEntire, Research Scientist at IFT. Syed Sohail, Larry Keener, and Ralphenia Pace, from Tuskegee, went on to explain the opportunities and benefits in food science and to greet and welcome the students to the expo. After students met and talked with Tuskegee faculty and IFT food scientists, they took to the expo floor, guided by IFT staff scientists and Tony Flood of the International Food Information Council.
Companies participating in this year's tour included ADM, Aeroglide, Buddenheim, California Natural Products, Corn Products, David Michael & Co., GNT USA, Michael Foods, Shoreline Fruit LLC, Solae, and TIC Gums. Not only did students sample new foods and flavors, they also received one-on-one time with employees at the different booths. All the students left the expo with a full stomach and a craving to learn more about food science. Before leaving, Gernika Banks of Warren Easton exclaimed that she was "more interested in food than ever!"
Companies interested in participating in or sponsoring the event next year in Anaheim should contact [email protected].
by Sarah Scholl, Student Intern, IFT
---
New FDA Rule Affects Ingredients

Tucked into a law recently passed by Congress is a little-known prohibition that represents a fundamental shift in the dividing line between foods and drugs and threatens to present significant hurdles for food ingredient development.
The provision, known as section 912 of the FDA Amendments Act of 2007 (FDAAA), is already in effect. The potential widespread ramifications of section 912 make it impossible to ignore, particularly with respect to research and development.
For that reason, a late-breaking session titled "Section 912: Potential Threat to Food Innovation" was added to the schedule at the Annual Meeting & Food Expo.
The presenters were Diane McColl (7a), a Principal with the law firm of Hyman, Phelps & McNamara, P.C., who also moderated the session; Michael Landa, Deputy Director of the Center for Food Safety and Applied Nutrition, FDA; and Ashley Roberts, Vice President, Food and Nutrition, Cantox.
IFT will present this session as a Webcast in the fall; the date will be announced when it is finalized. Please visit www.ift.org/knowledge for more details.
--- PAGE BREAK ---
Division Competition Winners
The following were the winners of this year's paper competitions sponsored by IFT Divisions:
Aquatic Food Products Div.: 1st place ($500), Rosalee S. Rasmussen, Ohio State U.; 2nd place tie ($350 each), Zachary H. Reed, Ohio State U., and Sara A. Aldaous, U. of Florida.
Biotechnology Div.: 1st place ($300), Michael Eisenmenger, U. of Florida; 2nd place ($200), Anuja Patnaik, U. of Nebraska; 3rd place ($100), Tyler Tate, Oklahoma State.
Carbohydrate Div: 1st place ($500), Ellen Rees, Pennsylvania State U.; 2nd place ($400) Matt Dickey, U. of Nebraska, East Campus; 3rd place ($300) Bhimalingeswarappa Geera, U. of Nebraska, East Campus.
Dairy Foods Div. (Manfred Kroger Oral): 1st place ($750), Adrienne Roach, U. of Tennessee; 2nd place ($500), Cosmin Beliciu, Cornell U.; 3rd place ($250), Dan Wang, Cornell U.
Dairy Foods Div. (John Bruhn Poster): 1st place tie ($375 each), Khanitta Manoi, Cornell U., and Lindsay Wisener, Purdue U.; 3rd place tie ($100 each), Michelle Lloyd, North Carolina State U., and Edith Ramos Da Conceicao Neta, North Carolina State U.
Education Div. (Writing): 1st place ($500), Judy Smith, U. of Maine; 2nd place ($300), Leann Barden, U. of Wisconsin; 3rd place ($150), Larissa Valerio Junco, Universidad de la Américas Puebla.
Food Chemistry Div.: 1st place ($700), Thrandur Helgason, U. of Massachusetts; 2nd place ($500), Lauren E. Seifert, U. of North Carolina; 3rd place ($300), Vamsidhar Yerramsetty, U. of Minnesota; Award of Merit ($300), Patricio R. Lozano, U. of Illinois Urbana–Champaign; Award of Merit ($300) Eui-Cheol Shin, U. of Georgia.
Food Engineering Div.: 1st place ($1,000), Vineet Rakesh, Cornell U.; 2nd place ($500), A.M. Chuah, National Food Research Institute; 3rd place ($250), Ashish Dhall, Cornell U.
Food Microbiology Div. (John C. Ayres Poster): 1st place ($300), Alyssa Leigh Francl, U. of Illinois Urbana–Champaign; 2nd place ($200), Hongfei He, U. of Hawaii at Manoa; 3rd place ($100), Jingjing Shen, U. of Maine.
Food Microbiology Div. (Z.John Ordal Oral): 1st place ($300), Mohamed Z. Badaoui Najjar, Rutgers U.; 2nd place ($200), Mary Anne Amalaradjou, U. of Connecticut; 3rd place ($100), Catherine Simpson, Colorado State U.
Food Packaging Div.: 1st place ($500), John Koontz, Virginia Polytechnic U; 2nd place ($300), Theeranun Janjarasskul, U. of California-Davis; 3rd place ($150), Seung Ran Yoo, Ohio State U.
Fruit & Vegetable Products Div.: 1st place ($400), Illeme Bonsi, Cornell U.; 2nd place ($300), Maria Plaza, U. of Florida; 3rd place ($200) Passaporn Siricururatana, Cornell U.
International Div. (George F.Stewart): 1st place ($700), Ai Mey Chuah, U. of Tsukuba; 2nd place ($500), Ying Li, U. of Guelph; 3rd place ($200), Sang-Ho Yoo, Sejong U.
Muscle Foods Div.: 1st place ($900), Yaun Kim, Texas A&M U.; 2nd place ($600), Eunice Mah, Ohio U.; 3rd place ($300), Hakan Benli, Texas A&M U.
Nonthermal Processing Div.: 1st place ($700), Alexander Mathys, Berlin U. of Technology; 2nd place ($500), Lillian Hsu, Cornell U.; 3rd place ($300), Hudaa Neeto, U. of Delaware.
Nutrition Div.: 1st place ($700), Joseph Gigliotti, West Virginia U.; 2nd place ($500), Reuel Field, Alabama A&M U.; 3rd place ($300), Vishnupriya Gourineni, Alabama A&M U.
Product Development Div.: 1st place ($750), Heather D. Maskus, U. of Manitoba; 2nd place ($500), Naveem Vadukapuram, North Dakota State U. ; 3rd place ($250), Brandy Howard, U. of Georgia.
Refrigerated and Frozen Foods Div. (Alfred P. Schwan): 1st place ($300), Patrick D. Williams, U. of Maryland; 2nd place ($200), Yu Zhang, North Dakota State U.
Sensory Evaluation Div. (Rose Marie Pangborn): 1st place ($500), Lauren C. Hong, U. of Illinois Urbana–Champaign.
Toxicology & Safety Evaluation Div. (Susan L. Hefle): 1st place ($750), Young-Soo Song; 2nd place ($500), David Schroeder, Purdue U.; 3rd place ($300) Girdhari Sharma, Florida State U.
by Mary Ellen Kuhn is Managing Editor of Food Technology ([email protected])