Over the past year, colorings have frequently been in the spotlight. An FDA panel voted against warning labels for synthetic colors. A caramel color ingredient found itself under attack under California's Proposition 65, spurring a lawsuit. Concerns are being raised that while natural colors may offer improved functionality and stability, they may be at greater risk for adulteration.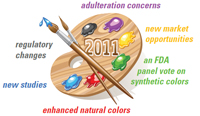 In 2011, there also have been a number of breakthrough developments that increased the stability of natural colors, as well as new ways and approaches to enhance the visual appeal of food products. A new emulsifier for food coloring received GRAS status. And other benefits of natural colorants have been focused on, including nutritional and regulatory ones. The latter was especially important in light of the "Southampton Study," which was released in 2007, and has had a continuing marketplace impact not only in Europe but in the United States and other countries.
All in all, it has been a busy—if not somewhat tumultuous—year for food colorings. And I expect the future to continue to be 'colorful.'
According to a report by Leatherhead Food Research, the global food colors market was worth an estimated $1.45 billion in 2009, with that market expected to reach—by the middle of the next decade—$1.6 billion (up 10% from its present levels). While synthetic colors are of lower cost and more stable than natural colors, natural colors are on the rise, fueled by consumer concerns over health as well as improvements in the functionality properties of natural colors.
Color additives—natural or synthetic—provide various uses in food and beverages. Colors can help correct natural variations in the actual color of the product and minimize changes that may occur during processing and storage. Colors make products more visually appealing and emphasize the flavors normally associated with various applications. Without color, food formulating would not be possible. But as this year has shown, the landscape for colors seems to be changing, and things are not as clear as they were a couple of decades ago.
This month's article will look at what I consider to be the leading color developments of this past year, and how these developments may be impacting that landscape. These 25 developments are not necessarily listed in any order of significance, and they do cover a very broad area (or perhaps palette is a better word). These might include ingredient innovations, cutting-edge research, regulatory matters, marketing opportunities, and the tapping of unexplored sources for colors. Even included here is a pink-colored cherry that reflects awareness of breast cancer.
Hopefully, these developments will catch your eye and make you think in the process.
1. FDA Panel Votes Against Warning Labels for Synthetic Colors
On March 31, a food advisory panel, convened by FDA, voted 8-6 against recommending warning labels on foods with synthetic color additives. However, the committee did call for more studies to determine if there is a link between food colors and hyperactivity in children.
--- PAGE BREAK ---
According to the Background Document for the Food Advisory Committee: Certified Color Additives in Food and Possible Association with Attention Deficit Hyperactivity Disorder in Children, March 30-31, 2011, "Based on our review of the data from published literature, FDA concludes that a causal relationship between exposure to color additives and hyperactivity in children in the general population has not been established. For certain susceptible children with Attention Deficit/Hyperactivity Disorder and other problem behaviors, however, the data suggest that their condition may be exacerbated by exposure to a number of substances in food, including, but not limited to, synthetic color additives. Findings from relevant clinical trials indicate that the effects on their behavior appear to be due to a unique intolerance to these substances and not to any inherent neurotoxic properties."
The decision by the committee that special warning labels are not needed for foods containing synthetic colors was defended by major food manufacturers. The Grocery Manufacturers Association commented on the committee's findings: "The safety of artificial colors has been affirmed through extensive review by FDA and the European Food Safety Authority and neither agency sees the need to change current policy. All of the major safety bodies globally have reviewed the available science and have determined that there is no demonstrable link between artificial colors and hyperactivity among children." The International Food Information Council also released a statement supporting the panel's decision. "It was not surprised by the FDA Food Advisory Committee's determination that artificial food colors do not cause hyperactivity in children. The scientific evidence currently does not show that food colors cause or exacerbate hyperactivity or other behavior problems in the majority of children."
The decision by the food advisory panel may very well have been the most significant event of this past year in the area of colors. Certainly the vote 8-6 and the call for more studies suggest that this discussion is far from over. Also, the fact that FDA convened this panel in the first place was at the very least suggestive, noting some change in traditional positions by the government.
An IngredienTalk blog post (see page 50 in print edition, or end of online article) will try to put into perspective the future of synthetic and natural colorants and the benefits they provide in the development of food and beverage products.
2. New Blue Helps to Create Other Color Shades
With the development of its acid-stable, natural blue color, Wild Flavors Inc., Erlanger, Ky. (phone 859-342-3600, www.wildflavors.com), has the ability to create new color shades that can be added to its Colors from Nature® line, extending color options to its customers. The "radiant" color delivers not only various shades of blue, but also provides the foundation for other colors such as green, purple, and black. These color shades are suitable for an array of food and beverage products, including alcoholic and nonalcoholic beverages, confections, baked goods, dairy products, dips/sauces/dressings/marinades, and supplements.
"Unlike previous attempts to achieve color shades such as green, purple, and black for applications by leveraging the stabilization of red cabbage or other anthocyanin-based colors at neutral pH, Wild's new blue color is unique in that it is truly stable," stated Tim Truby, the company's Vice President of Food & Ingredient Technology. "Our color technology enables us to create an excellent spectrum of other natural colors, ranging from blue-to-green as well as blue-to-purple and black."
For example, the U.S. food and beverage industry has long sought a stable green color. Chlorophyll products are approved in many countries around the world, but are not allowed in the U.S. for most applications. Juices containing chlorophyll, such as spinach, can be used but most often do not provide the required shade and have less than adequate stability. Utilizing the new acid-stable blue color to achieve natural green shades ranging from lime to forest green is an easy solution.
Purple colors solely derived from anthocyanins, such as grape concentrates, can only achieve reddish-purple hues and can be quite susceptible to factors which cause fading (such as Vitamin C). Through the use of the acid-stable blue, vibrant purples with varying levels of blue are now available for applications across the pH range.
--- PAGE BREAK ---
Black has also become an option. Although a higher level of color is needed in applications to create a dark product, a combination of colors including the new blue can offer black (as well as gray) shades for a variety of food and beverage applications.
The blue color additive has a pH range of 2.5-8.0. The current FDA-compliant blue color additives offered within the industry are only stable when applied in neutral pH products (pH 5.5-7.0). The new blue color is derived completely from fresh fruit and therefore exempt from certification. As a liquid, it is heat-, light-, and acid-stable; is water soluble; has a clean taste and smell; and can provide a brilliant blue color by itself or can be blended with other natural colors for a wide variety of color choices.
3. Caramel Color Ingredient and Prop 65
This year a food ingredient often used in caramel colors has found itself under attack. On January 7, 2011, based on a technical report from the National Toxicology Program, the California Office of Environmental Health Hazard Assessment (OEHHA) listed 4-methylimidazole (4-MEI) as a carcinogen, under Proposition 65. As a result, a group of plaintiffs—the California League of Food Processors, the American Beverage Association (ABA), Grocery Manufacturers Association, and the National Coffee Association—filed a lawsuit against OEHHA for what they claim to be a wrongful listing.
In an ePerspective (March 9, 2011) post, Maureen Storey, ABA's Senior Vice President, Science Policy, stated, "4-MEI is ubiquitous in the food supply and is found in trace amounts as a result of heating certain foods, such as caramel colors. There are four classes of caramel colors each used for different purposes by the food industry. None of the caramel colors is genotoxic. Caramel III and IV, both of which do contain 4-MEI, have been tested for rodent toxicity and have not been found to be carcinogenic. Furthermore, on March 8, 2011, the European Food Safety Authority's Panel on Food Additives and Nutrient Sources Added to Food released its report that assessed the safety of a group of caramel colors authorized for use in food in the European Union. Based on all available data, the Panel concluded that these caramel colors are neither genotoxic, nor carcinogenic, and that there is no evidence of any adverse effects on human reproduction or for the developing child."
A manufacturer of caramel color, D.D. Williamson also released a statement earlier in February. "California's decision, which was made by a regulatory agency without any public hearing or review of other research, was based on two inclusive and contradictory studies…. Caramel color has undergone complete food safety testing more than 20 times in the past 35 years, and meets rigorous food safety standards around the world. There has never been a study that showed any health risk from caramel color."
4. Addressing Adulteration Concerns for Natural Colors
Although natural colors may offer improved functionality and stability, they may be at greater risk for adulteration. The development and use of verifiable compendia standards defining the identity, purity, and level of impurities for natural colors can play essential roles in demonstrating and ensuring the safety and quality of colors and help prevent and deter economically driven adulteration.
At the 2011 IFT Annual Meeting, a timely symposium, "Food Colors: Various Aspects Affecting Their Quality and Risk of Adulteration," provided a general overview of the current U.S. and E.U. regulations of colors (natural and synthetic) affecting the industry. The session also explored opportunities and challenges of compendia standards to meet the demands of the industry, regulators, and consumers for safe food colors of reliable technical specifications.
As reported in Food Technology's September 2011 Food Safety & Quality section, "Screening for Adulterants," Jordi Serratosa of the European Food Safety Authority described how the organization conducts risk management in the EU, and Janet L. Balson of Chr. Hansen Inc. provided an industry perspective on the relationship of food safety and color regulation and discussed the effects the Food Safety Modernization Act will have on color regulation in the U.S.
--- PAGE BREAK ---
Markus Lipp of the U.S. Pharmacopeia reported that natural food colors have been the target for adulteration through the addition of synthetic colors to raise the apparent quality or the addition of inert material to increase available quantities through dilution. It is necessary, he said, to update quality standards to include robust specifications to help prevent these adulterations. He described the USP's efforts to modernize the Food Chemical Codex, the compendium of quality standards for food ingredients and test methods, and discussed challenges in the development of methods to identify all potential adulterations.
5. New Labeling Rules for Cochineal
In January 2011, FDA required food companies to label "cochineal color" or "carmine color" instead of "color added" for products containing these colorings. The requirements were reportedly revised in response to reports of severe allergic reactions to these colorants.
Sourced from the ground bodies of female cochineal beetles, the colorings are used in a variety of products, including ice creams, yogurts, beverages, and candy products. Product developers use cochineal extracts when replacing synthetic colors. These natural colorings provide a characteristic pink, red, or purple color, and demonstrate an excellent heat and light stability.
6. A New Way to See Red
A new natural red color, which contains 15% carminic acid, has been developed by Denmark-based Chr. Hansen (phone +45 45 74 74 74, www.chr-hansen.com) for use primarily in fermented milks and fruit preparations. The water-soluble product, Red Strawberry Fragaria 100 WS, is said to offer an attractive pink shade, excellent stability through shelf life, and superior process stability qualities that enable a decrease of the pigment concentration by 10-20% compared to standard carmine.
The latest addition to the company's portfolio of natural colors, the product gives manufacturers a cost-effective way to make visually appealing yogurt or fruit preparations while lowering color dosage, said Regis Roubille, Technical Industry Manager, Dairy and Fruit Preparations, for Chr. Hansen. Its process stability enables a lower concentration of the color to be used in the manufacturing process as well as providing more enhanced color consistency.
The new color is able to endure the processing treatment of the fruit preparations, maintaining excellent coloring ability throughout shelf life. "The outstanding process stability will also mean minimized color variation from batch to batch at the fruit preparation production facility and in the final yogurt. In addition, the new natural color is user-friendly as it can be added directly to the food product while stirring," noted Roubille.
Chr. Hansen has also launched a series of FruitMax® natural coloring solutions developed specifically for applications in the American food and beverage industries. (Previously, the company had rolled out this range of natural colors in Europe.) The range for the U.S. market includes seven shades from red to violet, and all are processed from edible, natural sources such as fruits, vegetables, herbs, and spices.
7. New Carotenoid Additions
An allergen-free red color for use in foods and beverages, Beta-carotene 10% Emulsion Red was launched by Switzerland-based DSM Nutritional Products Inc. (phone +41 61 815 7777, www.dsm.com). Available as an easy-to-use liquid emulsion, it is suitable for vegetarians and reportedly provides improved performance.
At low concentrations, the beta-carotene product offers pinkish pastel shades which become a strawberry red color at higher dosage rates. It is process stable, has excellent color stability, and resists ringing in beverage applications, noted John Biggs, the company's Global Marketing Manager, Beverages and Carotenoids. It contains no ingredients of animal origin and is not derived from potential allergen sources.
--- PAGE BREAK ---
The acquisition of Vitatene earlier this year has also strengthened DSM's portfolio of natural carotenoids. Vitatene, based in Spain, is a leader in the production and sales of a range of natural carotenoid products derived from fermentation of the fungus Blakeslea trispora. Its products, under the brand names Betanat and Lyconat, are new additions to DSM's current range of carotenoids, which include beta-carotene, lutein, and zeaxanthin.
8. Natural Micro-Emulsion Colors Offer Increased Stability
One complaint regarding natural colors has been a lack of stability. Food Ingredient Solutions, Teterboro, N.J. (phone 201-440-4377, www.foodcolor.com), addressed this concern with a new line of natural, stable, micro-emulsion colors known as FISclear.
According to the company, emulsions are produced with particle sizes in the range of 50-100 nm, providing greatly improved clarity and stability because of their small particle size. At this size, emulsions are often stable for years. As suggested by the name, the colors in this line are clear and do not ring.
The initial FISclear color and extract product line includes astaxanthin, beta-carotene (natural and nature-identical), apo-carotenal, carrot oil, lycopene, palm carotene, and paprika micro-emulsions. These colors and extracts provide a wide range of shades from pale to greenish yellow through various peach, orange, and pink tones to a rich, deep red. The colors are suitable for applications in clear confections, beverages, and liqueurs.
9. Refraction Attraction?
The food and beverage industry may benefit from new research that suggests that visual acuity determines favorite and least favorite hues. According to DervalResearch, a market research firm based in the Netherlands, near-sighted people (those with myopia) tend to prefer short-wave colors such as blue, whereas farsighted individuals (those with hyperopia) gravitate to long-wave colors such as red.
"It's all a matter of simple physics," explained Diana Derval, a professor and founder of DervalResearch, whose newest findings are based on neuroendocrinological science. Each color refracts differently, with colors hitting different places on the retina according to their wavelength. Short-wave colors such as blue and violet target the front. Long-wave colors such as red and yellow hit the back. The focal point of the eye is the place where all color waves meet after passing the lens, but the exact location of the focal point varies among individuals.
"Because nearsighted people focus light closer to the front of the retina, watching blue colors is effortless for them," observed Derval. "To perceive red colors, on the other hand, they have to tense the ocular muscles." Conversely, far-sighted people have an easier time with red while gazing at blue requires that they tense the ocular mucles. "People tend to gravitate toward the colors that relax them," she emphasized.
And there's a lot more to the research than simply determining people's color preferences based on their visual aberrations, added Derval. The company's findings also target the other four senses: taste, touch, smell, and hearing. Most intriguing, there is a hormonal connection to all of this sensory research. "Consumers are unique individuals but they are also predictable," she said. "Their preferences and behavior are directly linked to their biological and sensory perceptions. And these perceptions are greatly due to the influence of prenatal hormones." Drawing upon thousands of measurements in more than 25 countries, DervalResearch developed a powerful predictive biological segmentation tool, the Hormonal Quotient®. Knowing this quotient makes it possible to predict not only consumers' favorite colors, but also their preferred tastes, smells, shapes, textures, and sounds.
--- PAGE BREAK ---
Derval also authored a book, "The Right Sensory Mix: Targeting Consumer Product Development Scientifically," based on her company's research. The book explains how to understand and predict customer preference and offers tools for tailoring the sensory mix of color, shape, taste, smell, texture, and sound. It includes case studies from top brands including Red Bull, Coca-Cola, and Haagen-Dazs.
10. 'Breakthrough' Caramel Color
Conventional Class One caramel color is stable down to pH 3.5. However, D.D. Williamson, Louisville, Ky. (phone 502-895-2438, www.ddwilliamson.com), has developed DDW 520, an acid-proof Class One caramel color that is stable below pH 2.5. The company describes the innovation as a breakthrough for soft drink concentrates—one that may transform store-brand cola formulations.
The new color development recently earned the company a finalist position in the beverage innovation category for the Food Ingredients Excellence Awards 2011. This competition awards innovative ingredient companies at the Food Ingredients Europe (FiE) exposition.
As a darker Class One, it requires less dosage. Manufacturers in Europe can label it "Colour Plain Caramel." The ingredient statement in the U.S. would read "caramel color."
In addition to this new development, the company will soon be unveiling another innovation in the natural color area—a low-flavor paprika orange coloring with improved stability in beverage emulsions. More details on this product will be forthcoming in the near future.
11. New Colors for Nutraceuticals
Natural colors designed for nutraceutical tablet-coating systems were showcased by Ashland Specialty Ingredients, Wilmington, Del. (phone 800-345-0447, www.ashland.com), at Supply Side West. The company released its Aquarius coating systems, described as a natural color palette for nutritional tablets or nutraceutical products.
"Efforts by others to deliver a natural product to coat nutritional supplements have not been consistent," said Tom Durig, the company's Technical Director, Pharmaceutical and Food Ingredients. "Our scientists were able to eliminate natural colorants that are historically unstable and problematic, as well as minimize our offerings containing aluminum-based lakes in anticipation of future restrictions.
The natural colors for these coating systems are said to meet the regulatory requirements of the nutraceutical industry. "There is little overlap between colorants permitted in the U.S. and those permitted in the E.U. Our natural colors collection clearly designates solutions that comply with regulatory requirements for these regions of the world," added Durig.
Derived from vegetable, animal, and mineral sources, the organic and inorganic compounds that make up the natural colors palette for the coating systems are stable, label friendly, and easy to use. They can be combined with the company's Aquarius MG coating systems' moisture-guard line.
--- PAGE BREAK ---
12. Adding Visual Effects
A pearlescent pigment product line, introduced by Sensient Colors, St. Louis, Mo. (phone 800-558-9892, www.sensient.com), can add visual effects to foods such as cereals, confections, frostings, marshmallows, gelatin desserts, hard and soft candies, and chewing gums. Called SensiPearl™, the FDA-approved mica and titanium dioxide-based pigments help differentiate food products through luster effects, color shifts, and iridescent shimmers.
The pearlescent pigments, available in a variety of custom colors, can be labeled as natural on ingredient statements. According to the company, a one-step application process (SpectraCoat™ Pearl Dispersion) is used; it provides an evenly distributed coating that has a high gloss appearance, while reducing dusting during processing. Furthermore, because of its low usage rate, SensiPearl may be a cost-effective way to provide novelty and help differentiate the product in the marketplace.
13. Powdered Beta-Carotene Provides High Stability
According to Innova Market Insights, changes in the European regulatory levels resulted in a decline in the use of the so-called "Southampton Six" artificial colors, which have to carry a warning label since July 20, 2010. Analysis of the top colors being used in confectionery found significant declines for certain artificial colors, including quinoline yellow and sunset yellow.
However, food and beverage manufacturers are facing significant high-stability problems when using natural colorants, noted Udi Alroy, Vice President Global Marketing & Sales, at Israel-based LycoRed (phone +972-3-9381107, www.lycored.com). In response to these challenges, the company recently developed Lyc-O-Beta 1% CWS, a natural beta-carotene color in powdered form that is designed to instantly dissolve when mixed with cold water. The formulation, which provides a natural and vibrant color, is suitable for use in a variety of food and beverage applications.
"A key aspect of this new colorant is its high stability, both within the powder itself and when released into the food matrix," said Alroy. "This has been achieved by optimizing the formulation and the antioxidant system used to protect the color."
The beta-carotene product is highly stable to heat, light, and oxygen, as well as across a wide pH range. It allows variations in shade from vibrant yellow to orange. Potential uses can include carbonated or ready-to-drink beverages, decorative icing, ice cream, fruit preparations, jelly beans, panned confections, and other products.
14. Enhancing Color Stability of Paprika Powder
Paprika, a widely used coloring agent known for its bright red color, is used in a variety of foods. Because the quality of formulations using paprika is frequently judged by that color, it is critical that this color be maintained if the product is to be successful in the marketplace.
Kemin Food Technologies, Des Moines, Iowa (phone 515-559-5296, www.kemin.com), launched Fortium TR30, a liquid blend of natural rosemary extract and tocopherols that delays oxidation to maintain color in paprika and red-colored spice blends. The product was formulated to be an optimal alternative to traditional synthetic antioxidants. "Our liquid product offers a more cost-effective, consumer-friendly label option that is easy to use," said Will Schroeder, the company's Director of Research and Development for the Food Technologies division.
--- PAGE BREAK ---
15. Natural Colors Are Poppin'
At the 2011 IFT Food Expo, Kalsec Inc., Kalamazoo, Mich. (phone 269-349-9711, www.kalsec.com), demonstrated how products such as popcorn and hard candies can be colored with naturally derived ingredients from the company's portfolio. These prototypes illustrated the versatility of natural colors as well as their effectiveness as alternatives to synthetic colors.
Take popcorn, for example. Inspired by New Orleans cuisine (with a little of that ole Mardi Gras spirit), varieties (and their colors) included Bloody Mary (Durabrite® Oleoresin Paprika color) and Coconut Curry (Durabrite Oleoresin Carrot color).
For hard candy aficionados, products included Aztec Spice (Durabrite Antho Red 4-1), Yuzu (Durabrite Oleoresin Carrot), Orange Sage (Durabrite Aquaresin Paprika), and Blackberry Mojito (Vegetone® Red).
16. Emulsifier for Coloring Receives GRAS Status
A new emulsifier for food coloring is available from Stepan Food & Health Specialties, Maywood, N.J. (phone 201-712-7642, www.stepan.com). Polyglycerol polyricinoleic acid, Drewpol® PGPR, was recently declared GRAS for use in food colorings. According to the company, it has been shown to be effective in forming emulsions or suspensions in dyes, lakes, and exempt-from-certification colors for use in processed foods in which these colors are permitted. PGPR forms emulsions by adding as little as 0.1% by weight to the color additive. A maximum amount of 5% by weight of the formulation may be required, depending on the specific color additive being used.
One of PGPR's desired physical behaviors is the suspension of solids in slurry. It can be beneficial in paints and other high-solids compositions that typically require reduction in low shear viscosity. This attribute makes PGPR particularly attractive for usage in the food coloring industry, especially in the dispersing of highly stable lake colors. Additionally, the water-in-oil emulsifying ability of PGPR improves the stability of dye colorants as well.
17. Plant Expansions Meet Growing Color Demands
To meet a growing demand for synthetic and natural colors in the U.S., Roha Food Colors, St. Louis, Mo. (phone 314-289-8300, www.rohagroup.com), is expanding its St. Louis facility. Construction on the $5 million project is expected to conclude by January 31, 2012. According to CEO Rohit Tibrewala, the company has been growing at about 25% per year since 2006, and Tibrewala expects this same growth rate globally for the next four to five years.
In addition to the expansion of its St. Louis facility, Roha is completing a $15 million expansion of its world headquarters in Mumbai, India, which should be be completed by the end of 2011.
18. Nutritional Colors?
A session, "Nutrition You Can See: Colorants for food and beverages," held at the 2011 Supply Side West, focused on a range of colors for specific applications, vitamin activity, and allowable label claims.
John Foley, Technical Services, Food and Beverage, Human Nutrition, for BASF Corp., Florham Park, N.J. (phone 973-245-6000, www.nutritionbasf.com), discussed how "nutritional colors" can help drive sales. Attendees learned how carotenoids provide formulation options and benefits from packaging labels to marketing messages.
--- PAGE BREAK ---
19. The Art of Anthocyanins
France-based Naturex (phone +33 0 4 90 23 96 89, www.naturex.com) offers an array of natural color solutions. "We are continually researching new pigment sources, with a special focus on anthocyanins. Several fruit and flowers are being studied for their hue properties and their response to pH," said Lionel Lesegretain, Business Manager of the company's Nat Color™ line. "We are also investing a great deal of research into 'copigmentation' between anthocyanins as well as those involving anthocyanins with other plant-based molecules to improve the stability of this family of pigments."
Anthocyanins, either alone or blended, can provide red hues as stable as synthetic colors or carmine, noted Lesegretain. Naturex has also developed blends of pigments that mix together anthocyanins, beetroot concentrate, and carotenoids. These blends offer an effective solution to applications that need to be resistant to more neutral pH and heat.
20. The Great White Out
A white background is helpful when trying to achieve pastel colors, according to Wild Flavors. Ingredients such as titanium dioxide can be used, for example.
First-time Food Expo exhibitor Sachtleben Chemie GmbH (phone +49 2066 22-2623, www.sachtleben.de) offers white titanium dioxide pigments from its certified plants in Germany and Finland. The pure natural product of mineral origin is extremely white with a blue tone. Its chemical purity conforms with the requirements for use as a color additive in food applications. The product has no odor, taste, or calories.
21. Fruit, Vegetable Colors Provide Regulatory Benefits
GNT USA Inc., Tarrytown, N.Y. (phone 914-524-0600, www.gntusa.com), showcased its Exberry® line of natural colors made from fruits, vegetables, and plants at the Expo. Applications included savory snacks, parfaits, frozen yogurts, beverages, and confections.
These colors are becoming especially timely across the ocean where manufacturers are looking to develop products that do not contain the "Southhampton Six" food colors. The colors in the Exberry range can be used without limitations as they require no warning notices or other regulatory labels.
22. Coatings in Natural Colors
In addition to milk, dark, white vanilla, yogurt, and peanut flavors, coatings made with all natural colors are now available from Clasen Quality Coatings, Madison, Wis. (phone 608-467-1130, www.clasen.us). These coatings, under the Star line, are suitable for a wide range of applications, ranging from enrobing and bottoming to panning and drizzling. Offered in a variety of colors, the coatings can help enhance the appearance of the finished product. The natural colors complement other ingredients in the coating including non-hydrogenated oils.
23. Lake Colorant Line Increased
Capacity of Hilton Davis® lake colorant product line is being increased significantly by Emerald Performance Materials Specialties Group, Cuyahoga Falls, Ohio (phone 800-477-1022, www.emeraldmaterials.com), a move reportedly undertaken in response to increased product demand. Emerald Hilton Davis produces colorants in several forms at its Cincinnati location. The different types of colorants for use in food and beverage applications include lakes, dyes, and dispersions.
--- PAGE BREAK ---
24. New Water-Soluble Emulsions
A line of color emulsions from Wild Flavors includes four new additions to its Colors from Nature® portfolio. Betacarotene, apo-carotenal, and paprika clear emulsions deliver water-soluble, acid-stable color without opacity. New products that benefit from being crystal clear can take advantage of the appeal of added color without being cloudy.
Additionally, the company has developed a paprika cloudy emulsion that provides new red-orange shades without imparting a negative taste to the end product.
25. In the Pink
A natural Maraschino cherry with a pink color? Pink Blush from Oregon Cherry Growers, Salem, Ore. (phone 800-367-2536, www.orcherry.com), is colored with fruit and vegetable concentrates. Its festive pink color, chosen to reflect breast cancer awareness, makes it extremely versatile in baked goods, beverages, and frozen desserts.
Going to the Source
A wide range of sources are being looked at that might provide new coloring solutions or alternatives to synthetic ingredients. For example, exotic fruit by-products may provide one untapped source.
Suntava, Afton, Minn., developed a purple corn hybrid from which it extracted a vivid, natural red color alternative to synthetic red colors. SK Food International Inc., Fargo, N.D. (phone 701-356-4106, www.skfood.com), created a Crimson Red Corn for use in various cereal and snack products. It has a clear seed coat, with the color in the alerone, allowing the red color to remain intact through processing. And S&P Marketing Inc., Maple Grove, Minn. (phone 763-559-0436, www.snpmarketing.com), makes available a range of prickly pear products whose magenta color has potential as a natural coloring agent.
Colors derived from these and many other sources still being explored may provide new solutions to future challenges facing food and beverage formulators.
"Oil and water do not mix" is more than just a colloquial phrase as we will learn in next month's Ingredients section, which will look at emulsifiers and the important benefits they bring to food formulating.
---
IngredienTalk:
What is the future of synthetic colors? With the growing rise of natural colors—and in the face of certain studies—the answer to that question may become increasingly debatable. As you explore the potential fate of synthetic colors—and develop your own opinions—you may along the way see red. Or you may even feel blue. If you care to share your thoughts on this subject—and you're an IFT member—visit www.ift.org, type in your name and password, click on the IFT community button, and go to the blog section. Don't be yellow though! Share your opinions no matter how colorful they are.
Thoughts of a Different Color
About a year ago, while at a dinner banquet for a meeting, I engaged in conversation with an interesting young food scientist. His thoughts could be described as "of a different color." By that I mean they were somewhat unconventional, perhaps a little off the wall. And since my ramblings at times can be seen of that same nature…well, he caught my interest, and we talked throughout the evening over our dinner.
--- PAGE BREAK ---
One of the things we discussed was colors, and in particular the "Southampton Study" which found a link between certain artificial food additives and hyperactivity in children. As a result of the study, changes in European regulations resulted in a decline of certain artificial colors (the infamous "Southampton Six"), which have carried a warning label since July 20, 2010. And here in the U.S., this study and its impact may also be spurring food manufacturers to switch from synthetic to natural colors. (At the same time, it should be noted that many in the industry find the results of the study to be inconclusive and an FDA panel recently voted against warning labels for synthetic colors, although the committee did call for more studies to determine if there is a link between food colors and hyperactivity in children.)
But getting back to my dinner companion of that evening. First of all, he readily admitted that he didn't know a lot about how the Southampton Study was conducted or how meticulous it was in the gathering of its findings. He just wasn't sure, to what extent, that you could put behavioral problems at the door of synthetic colors. He hoped that the study took into careful consideration the nature of children and the various factors that can influence their activity, including diet (especially the consumption of sugar), level of exercise, genetics, environment, and other external events, whether they be social events such as parties or classroom situations. As I said, he made some interesting points, especially since he himself was a husband and father.
I recently asked D.D. Williamson about any of its thoughts regarding the future of synthetic colors and I got the following answers. According to Campbell Barnum, Vice President of Marketing, "In Europe, the market for naturally derived colors is now larger than synthetic. In the U.S., we believe the market for synthetic coloring is still larger than natural (not including caramel) though the gap is narrowing. And total demand for synthetic coloring in the U.S. has flattened."
And Glen Dreher, Application Scientist for D.D. Williamson had this to say: "We see requests for natural color solutions across every sector. The question is which brands. We have recently seen increased demand for natural coloring in confections and cereal, two sectors with traditionally high use of synthetic coloring. Also, snack companies are formulating additional types of natural coloring such as red beet, turmeric, purple carrot, and blend solutions."
While the future of natural colors looks bright, I'm not so sure that synthetic colors will be dying anytime soon. (I mean the fatal kind.) Depending on the application, synthetic colors still play an important role. And then there are considerations such as cost, functionality properties, and even the state of the economy. Furthermore, I think to some degree, both natural and synthetic have suffered from some misconceptions. For example, considering the low levels that colorants are used in food formulating, I'm still not convinced of the health benefits (or adverse qualities for that matter) associated with colors. Put it this way, I think the FDA Panel, even though it was very cautious in its judgment, showed good sense in calling for more studies.
If you, too, have thoughts of a different color, let's IngredienTalk!
---
www.ift.org
Members Only: Read more about Colors online at www.ift.org. Type the keyword into our search box at the upper right side of our home page.
Donald E. Pszczola,
Senior Editor
[email protected]