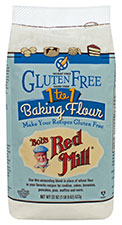 Gluten-free baking solution
Bob's Red Mill Natural Foods announced the release of its Bob's Red Mill Gluten Free 1-to-1 Baking Flour, which allows bakers to easily replace wheat flour in any recipe.
"We spent countless hours in the kitchen developing the perfectly balanced gluten-free flour blend that really eliminates the frustration and intimidation that we hear about from our gluten-free consumers when it comes to gluten-free substitutions," said Matthew Cox, vice president of marketing at Bob's Red Mill. "Not only does this flour provide the simplest conversion to a gluten-free recipe, it also provides results that are very similar to wheat flour."
The baking flour contains a blend of gluten-free components, including whole-grain brown rice flour, wholegrain sorghum flour, sweet white rice flour, potato starch, tapioca flour, and xanthan gum, which are processed in a 100% dedicated gluten-free facility.
The flour is available in stores around the United States with a suggested retail price of $4.95 for a 22 oz bag.
---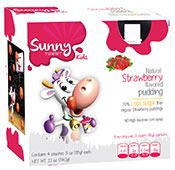 Low-calorie pudding pouches
Yabon Baby Corp. recently introduced its new brand of low-calorie dairy puddings. Made with 84% skim milk, the Sunny Yummy portable puddings contain less sugar than traditional puddings and provide an on-the-go alternative to fruit pouches. The puddings are ideal for picnics, lunchboxes, and other occasions where refrigeration isn't possible.
The puddings, which are shelf-stable for 14 months, are free from high-fructose corn syrup, preservatives, genetically modified ingredients, and artificial flavors and colors. They also provide 20% of the daily recommended amount of calcium and 2 g of protein per serving.
"By using wholesome ingredients, the brand keeps to its philosophy of bringing real food to kids while delivering delicious nutrition," said Yabon Baby Corp. spokesperson Lionel Dupin.
Available in four flavors, the puddings can be found nationwide at a suggested retail price of $3.99 for a pack of four 3 oz pouches.
---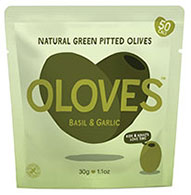 Portable, pit-free olives
I Love Snacking, a new brand launched by parent company Milas Foods, introduced Oloves, portable snack packs of flavored pitted olives.
Packaged in shelf-stable 1.1 oz bags, the olives offer an outside-the-box snack option that is also gluten-free, non-GMO, vegan, kosher, low-carb, and low-sodium.Packed with vitamin E and "good" fats, olives are also naturally low in saturated fats. They're low-calorie, too—just 50 calories per serving.
Oloves are available in four flavors— basil and garlic, lemon and rosemary, chili and garlic, and chili and oregano—at retailers nationwide for a suggested retail price of $1.49. United, JetBlue, and Delta airlines also serve them on domestic flights.